Oppo is the new luxury ice-cream that is enhanced with a superfood, has virgin coconut oil and stevia leaf instead of cream and cane sugar and contains less calories than an apple
Oppo ice-cream is opposite by name and by nature as it fuses health and indulgence; a combination that is rarely found (especially when it comes to ice-cream). All three flavours contain a superfood (how many ice-cream brands do that?) that are so creamy and delicious that you won't believe a small pot contains less calories than an apple. No wonder Oppo won the Start-Up Of The Year in the Guardian Business Awards for 2014.
There are currently three flavours available:
Salted Caramel with Lucuma (a Peruvian fruit known for being naturally sweet) which has the perfect amount of sweet and savoury for those with an indecisive tooth.
Madagascan Vanilla with Baobab is smooth, sweet, dreamy and a classic indulgent treat. Baobab is a fruit from Africa that contains Vitamin C, iron, potassium and magnesium.
Mint Choc Swirl with Spirulina isn't over-powered by mint and will kill the chocolate cravings for all the chocolate lovers out there. Spirulina is an algae that grows in Mexican, Hawaiin and African lakes and ponds and contains eight aminio acids as well as many vitamins. 

Brothers Charlie and Harry Thuillier (below) created the unique blend of flavours after a trip to Brazil left them short of money, making them rely on coconut and other exotic fruits to ensure they stayed hydrated and got all their daily intake of nutrients. When they returned, Charlie was determined to incorporate healthy, indulgent food into other peoples' lifestyles and after many attempts, Oppo arrived.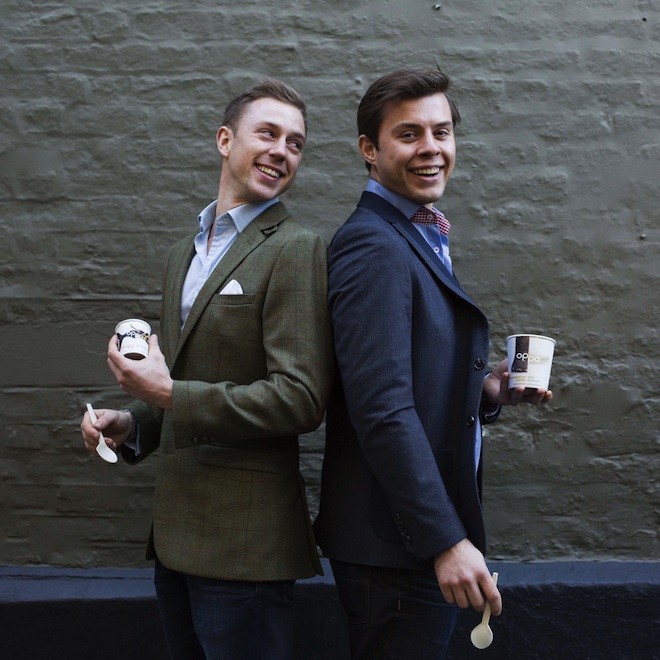 To find out more, visit the Oppo website here.
Oppo ice-cream is sold at Waitrose and online at Ocado. Find locations here.
Like this article? Sign up to our newsletter to get more articles like this delivered straight to your inbox.