Laser hair removal is no new trick, however it has come on leaps and bounds since it first hit the market. We reviewed Laser Clinics UK, for the best laser hair removal we've seen. Here's how it went
Laser body hair removal has become one of the most popular cosmetic procedures in recent years.
Among the various types of laser devices available in the market, Candela lasers have gained a reputation for being the best in the business. Why? Let us dive into discussing why Candela lasers are better than other laser devices for body hair removal.
The advancement of laser hair removal
Laser Hair Removal is something that has been around for a long time, with many happy customers! I have contemplated having this procedure done for years, but have always been put off by the price and the time taken to see results.
I came to terms that shaving and epilating was the way forward. Back in the day I tried waxing and sugaring, but that gave me terrible ingrown hairs, so in the end I stuck to shaving as who has time to run to the salon for weekly waxing sessions.
Years ago I tried a course of three laser hair removal treatments for my whole 'down-there' area, and I remember it being a painful, uncomfortable experience with no results. This is what I always thought laser hair removal was like, until the opportunity came to visit the newly established Laser Clinics.
I never knew how far laser had come, how quick, easy and painless the procedure was
I can say right now I wish I had it done sooner. Instead of creating more scars and aggravating my skin with a razor. It's funny because you never understand the pleasure of being hairless and having less maintenance in keeping your body smooth. There's already enough to do in our daily beauty routines and having such a fast paced work life, it's just one more thing to maintain.
I never knew how far laser had come, how quick, easy and painless the procedure was and how incredibly worth it, it was going to be. I visited the Laser Clinics Kensington branch, where they use medical grade laser technology for your optimal hair removal.
This treatment is performed by their state-of-the-art Candela lasers by their top tier staff, who are doctors, advanced nurse practitioners and trained therapists. And the best part? It is actually affordable, with treatments starting from just £9 a session.
READ MORE: 'This new Microneedling technique made me look 5 years younger'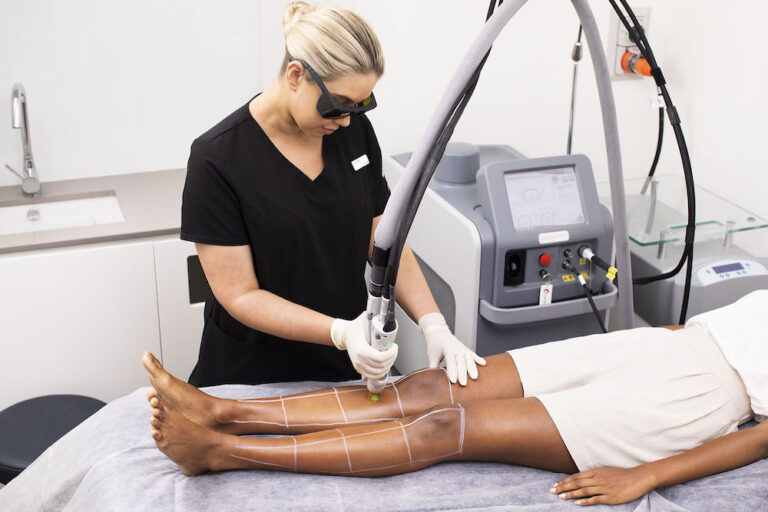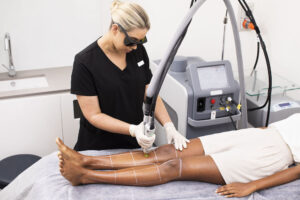 The Technology
The Candela Lasers are the world's most efficient hair reduction system, whether you have lighter or darker skin, they've got you covered. It is one of the most fast, safe, cost-effective, reliable, and permanent hair reduction systems out there.
Laser Hair Removal works by directing concentrated light to target the hair follicle at the root. The laser inhibits the hair's ability to grow without disrupting or damaging the skin's surface, so even the most sensitive skin can be treated.
Firstly, let's understand what Candela lasers are and how they work. Candela lasers are a type of laser device that emits a concentrated beam of light that targets the pigment in the hair follicle.
The laser energy is absorbed by the hair follicle, which damages the follicle and inhibits future hair growth. The Candela laser is designed to target the hair follicle without damaging the surrounding skin, making it a safe and effective method for hair removal.
One of the main advantages of Candela lasers is their ability to treat a wide range of skin types. Unlike other laser devices that are only effective on certain skin tones, Candela lasers are designed to work on all skin types, including dark and tanned skin. This is because the laser energy used in Candela lasers is absorbed by the melanin in the hair follicle rather than the skin, making it safe for all skin tones.
One of the main advantages of Candela lasers is their ability to treat a wide range of skin types
Another advantage of Candela lasers is their speed and efficiency. These lasers are designed to treat large areas of the body quickly and effectively, making the procedure relatively painless and easy. The Candela laser's unique cooling system also ensures that the skin remains cool and comfortable during the procedure, reducing the risk of burns or discomfort.
Compared to other laser devices, Candela lasers are also known for their long-lasting results. The laser energy used in Candela lasers damages the hair follicle, which inhibits future hair growth. This means that after a few sessions, the hair growth in the treated area will be significantly reduced, leaving the skin smooth and hair-free for a long time.
Candela lasers are the best option for laser body hair removal due to their versatility, speed, efficiency, and long-lasting results. The ability to treat all skin types, coupled with the laser's cooling system, makes the procedure safe and comfortable.
If you're considering laser body hair removal, it's essential to choose a reputable clinic that uses Candela lasers to ensure the best results.
View this post on Instagram
The Treatment
The most impressive thing for me was how quick and painless the procedure was. A whole body, only took approx 45 min!
The therapist started by drawing sections on the areas that were to be treated, due to their larger spot size of what the devise can cover – the areas got treated in seconds. Also I was expecting a laser that actually feels like small electrical shocks, but with the benefits of its latest technology, it also has a unique dynamic cooling device that helps to calm, soothe and protect the skin at the same time as the laser is firing its shots.
I felt very minimal sensation. I was nervous for how it would feel on my under arms – but this was even less of a sensation than the legs. Then I was dreading the vaginal area and of course I opted for the the full Monty! This is where the therapist has increased the airflow and I can honestly tell you I FELET NOTHING!
I felt no redness or discomfit, only a spring in my step to take on the rest of my day
It was over before it began. Literally felt a little too good to be true and all I was thinking approx 6 more of this and I am a hairless being, wow.
Following the treatment the therapist creamed the affected areas in their special soothing solution, I felt no redness or discomfit, only a spring in my step to take on the rest of my day.
READ MORE: Healthista Loves: Give your skin some TLC this Spring at these 5 London Beauty Clinics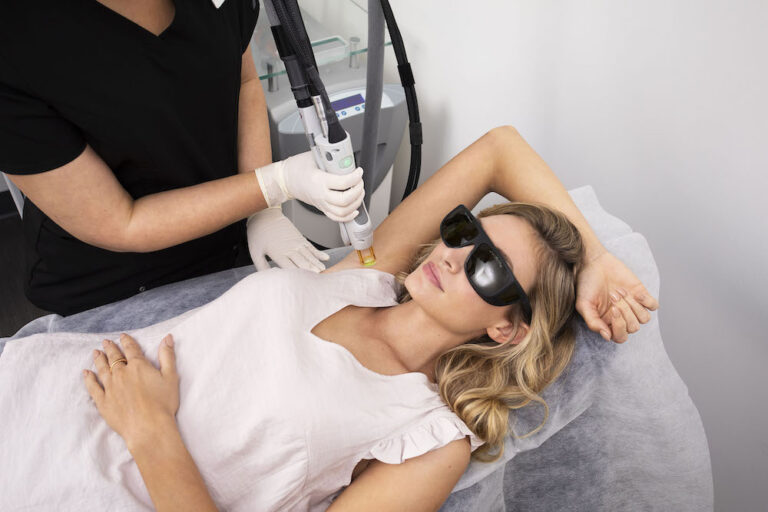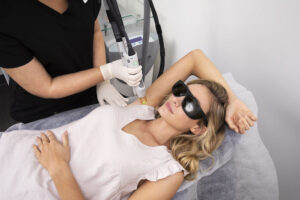 The Results
I was truly blown away to see that even after the first session my hair didn't grow back as quick, as thick or as much. It was a miracle, I could only see some patches growing back here and there.
It was super effective on my skin and hair type, so that was also a relief knowing I will need less sessions. The end results were truly astonishing, no hair growth and just smooth, soft skin.
I had six sessions total and this did the trick, no more razor rash for me or worrying about have I shaved my legs etc before getting into that pool or mini-skirt. Time saving miracle and now I am always boyfriend ready…
The end results were truly astonishing, no hair growth and just smooth, soft skin
This is truly a breather of a treatment that gives life long results and ease of the daily body hair control duties. I recommend this for anyone who wants to save time and have that silky smooth feeling, and of course for any person that is struggling with body hair and  wants smooth clear skin without that prickly feeling.
Prep and After Care?
You must shave the treatment area the night before, but no waxing.
Avoid direct sunlight for minimum 2-4 weeks prior to your treatment and always protect the skin with sunscreen.
For 24 hours post-treatment, avoid shaving, waxing, exfoliation,and tight restrictive clothing.
Avoid excessive sweating, swimming or saunas, very hot  showers for approx 3-5 days.
Avoid exposing the area to direct sunlight for a minimum 2 – 4 weeks before and after your treatment.
If you have done your underarms – no deodorant for 3 days
Recommend treatments 8 to 12 with 4 to 6 weeks downtime in between dependent on the person and their hair type. Full body laser hair removal per session: £339 
Like this article? Sign up to our newsletter to get more articles like this delivered straight to your inbox.