8 million tons of plastic end up in our oceans every day, with kitchen products being a top offender. Healthista writer Taya finds 6 environmentally friendly kitchen swaps the environment will thank you for
Currently, 5.25 trillion pieces of plastic are estimated to be polluting our oceans – that's 46,000 pieces of plastic for every square mile.
That amount of plastic would fill up almost 500 football fields.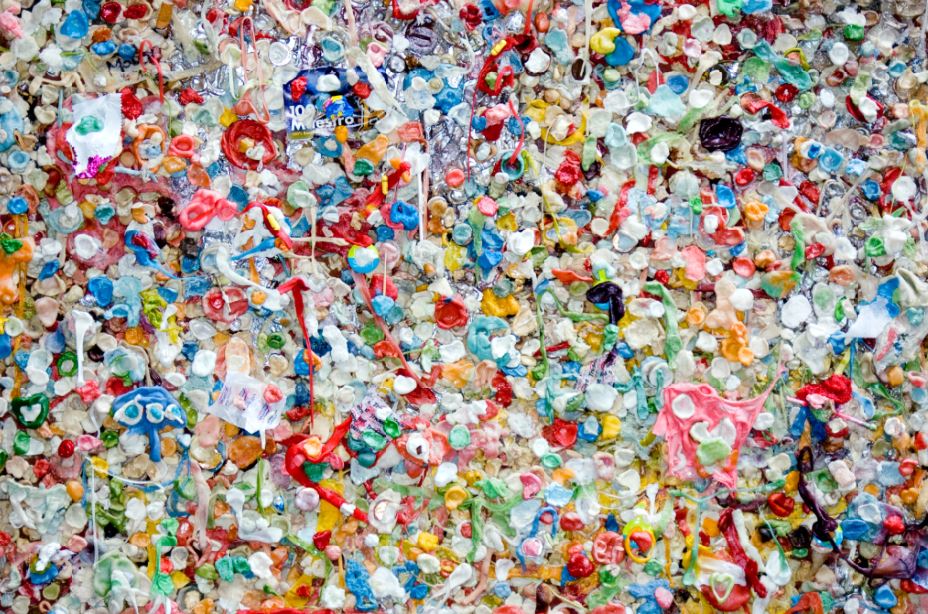 Yesterday (8th June) was World Ocean's Day – celebrated as a reminder of how paramount our seas are to life on Earth and to increase public interest in the protection of our oceans.
oceans cover more than 70 per cent of the planet
In fact, oceans cover more than 70 per cent of the planet, produce at least 50 per cent of the world's oxygen and absorb around 30 per cent of carbon dioxide produced by humans.
Not only that, World Ocean's Day serves to remind us of the detrimental impact and danger single-use plastics place upon our oceans.
To mark the importance of World Ocean's day, SEA LIFE centres across the UK and Ireland filled empty habitats with plastic waste to demonstrate the reality of what lies within our waters.
With more than eight million metric tons of plastic dumped into our oceans each year, a report from the Ellen MacArthur Foundation predicts that by 2050, plastic in the oceans will outweigh fish.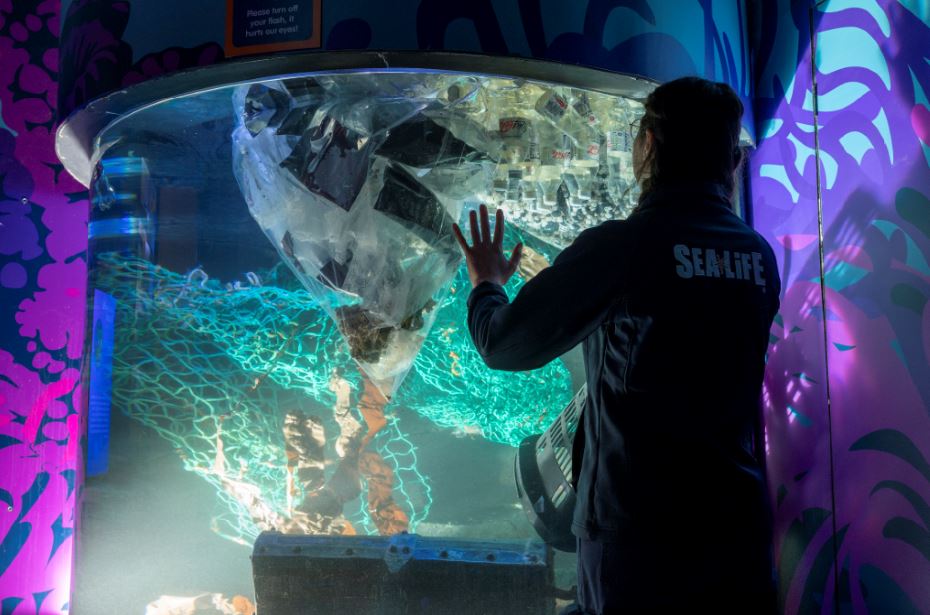 So, how can we help and do our part for the environment? What environmentally friendly plastic swaps can we make to protect our oceans?
It's easy to leave plastic waste issues to big companies and the government, but individually we can help protect our oceans from plastics.
There are many sustainable swaps you can introduce at home in order to help reduce plastic waste.
That's why Healthista has found seven environmentally friendly swaps for your kitchen you may not have thought of…
Swap #1 Surface Spray Bottles
Did you know that in the UK alone we throw away a whopping 468 million spray bottles each year?
Smol products offer easy zero-waste solutions with no extra effort required with Smol's surface sprays in particular helping to get rid of single-use plastics.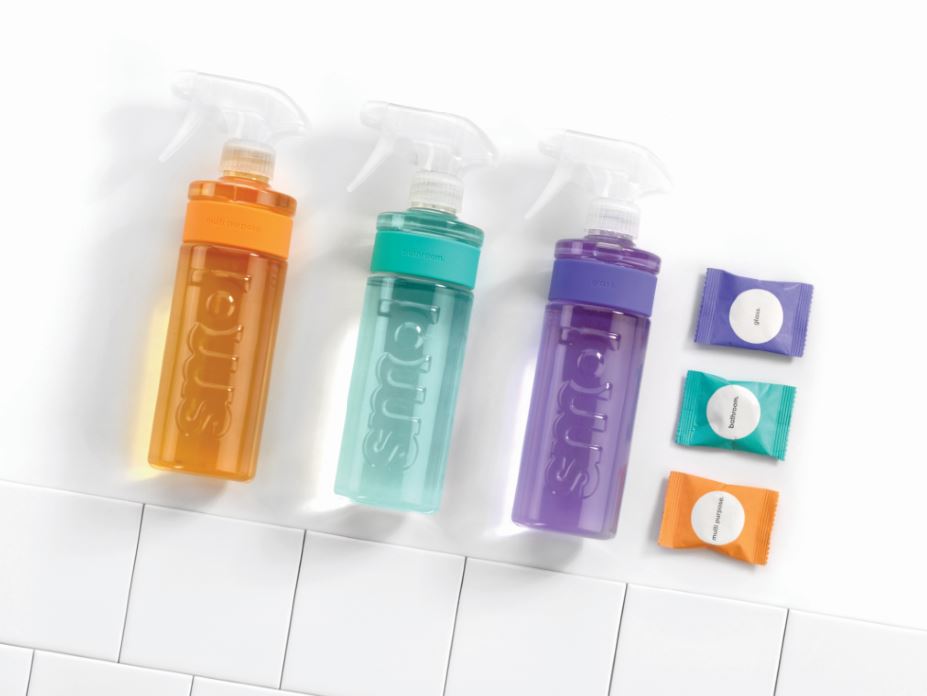 In fact, you can save 25 plastic spray bottles from going into landfill every year by taking this easy hassle-free step.
When you buy the starter pack you are provided with three bottles for life and three tablets. The tablets are uniquely formulated tablets that dissolve in warm water to fill up the reusable sprays in order to stop single-use plastics.
In the UK alone we throw away 468 million spray bottles each year
So instead of throwing away your plastic spray bottles and collating more and more plastic for landfill, you can start saving the planet by investing in these reusable Smol bottles. They are toxic-free and still deliver superb results for spotless surfaces in your kitchen.
All you have to do is buy the refills and keep reusing and refilling your spray bottles.
Swap #2 Dishwasher Tablets
You may think your dishwasher tablets aren't affecting the environment, yet even this simple task of washing your dishes is having an impact on our planet.
Dishwasher tablets contain a toxic monomer (vinyl acetate) that is extremely harmful to aquatic life.
It may seem hard to get excited about dishwasher tablets, but Smol has designed tablets that are 100 per cent plastic-free, vegan and cruelty-free – wowzers.
All their packaging is recyclable, eco-friendly and made from Forest Stewardship Council approved sustainable materials.
So instead of the usual big plastic washing tablet boxes (that take up all that room in your kitchen cupboard), they are housed in slim recyclable cardboard boxes.
Dishwasher tablets contain a toxic monomer (vinyl acetate) that is extremely harmful to aquatic life
Not only that, Smol dishwasher tablets are 50 per cent cheaper than leading brands and deliver directly to your home via your letterbox.
Aside from being environmentally friendly they also work to deliver oh-so-clean dishes, with each tablet containing rinse-aid, salt and even glass protector as an all-in-one package.
Their great performance led the brand to be voted Best All-Round Dishwasher Tablet 2020 from BBC Good Food.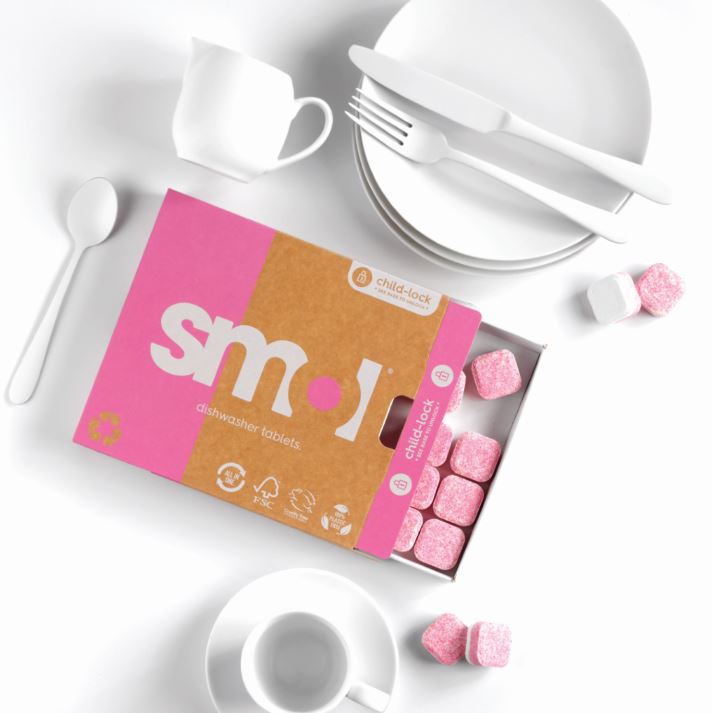 Swap #3 Dish Brushes
Plastic dish brushes are often made of a type of plastic which is difficult to recycle, with the majority of places not accepting them for recycling.
Do you have a dish brush? The majority of households do use a dish brush to wash their dishes, yet how many of us recognise the impact of these small kitchen objects?
An easy swap to make, Earthbits's wooden dish brushes are made from wood and plant fibres. So far, they have saved 6,079 dish-washing brushes from ending up in landfill.
The wooden brushes are 100 per cent natural, organic, biodegradable and recyclable. While also being plastic-free, vegan friendly and cruelty-free.
they have saved 6,079 dish-washing brushes from ending up in landfill
Their packaging too is environmentally friendly, 100 per cent plastic-free and recyclable, using recycled or reused cardboard boxes and recycled or recyclable paper and tape.
They also do their job with unique brush heads to allow you to get into all crevasses of your dishes!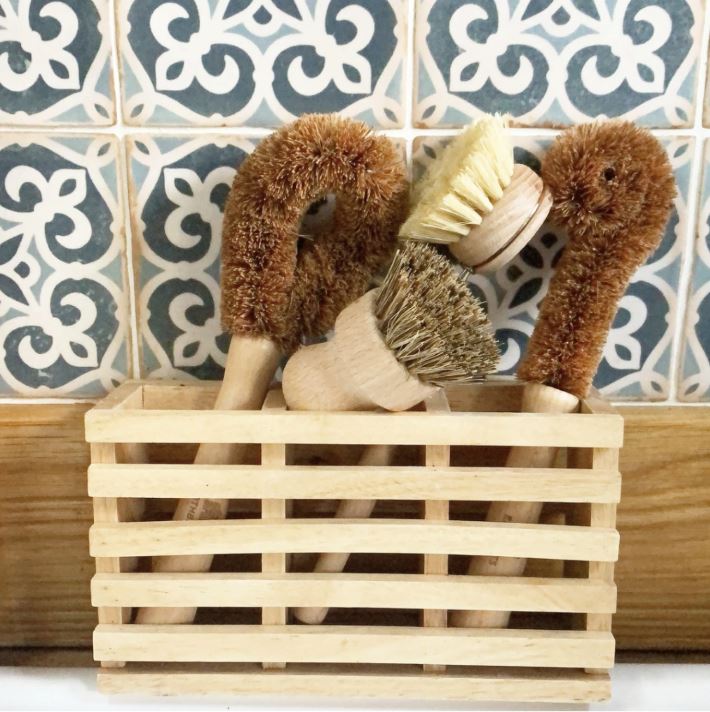 Swap #4 Polybags (aka resealable plastic bags)
Used to help organise your fridge and freezer and to pack up your meals, Polybags aka resealable food bags, are a staple around most homes.
It takes many years for these to decompose while releasing toxic substances into soil when the plastic bags perish under sunlight. Plus, when they are burnt they release a toxic substance into the air, adding to pollution.
Each year more than 8 million tons of plastic bottles end up in our sea each year
That's why Stasher came up with a solution – reusable silicone bags.
These extremely functional Stasher bags are microwave safe, dishwasher safe, freezer friendly and oven strong, being able to withstand heat up to 400°F.
They actually work better and look better than plastic polybags and have changed the way people cook, save and store.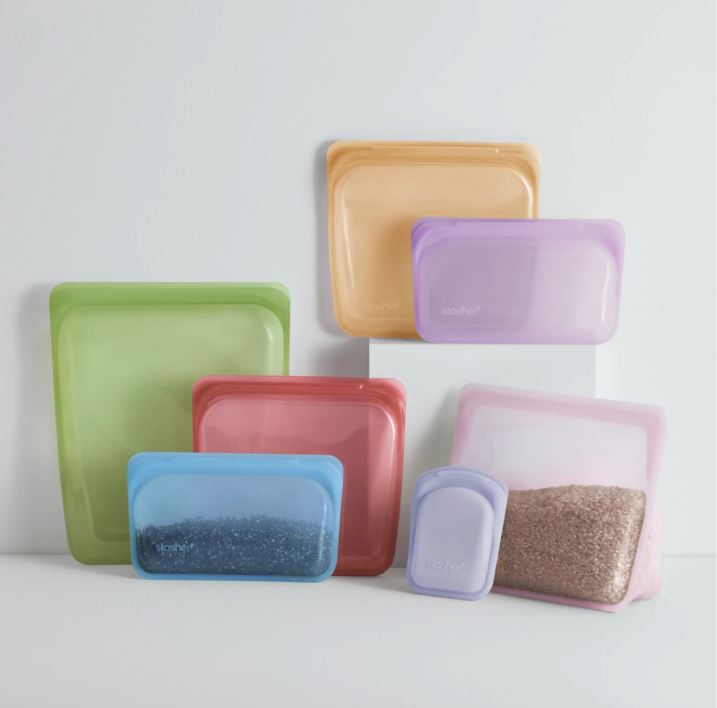 You may be thinking that recycling facilities don't accept silicone – but Stasher bags don't go to landfill.
They have teamed up with TerraCycle so your bags can be recycled into entirely new products such as a playground.
In the UK so far, Stasher has sold enough bags to remove around 50 million single-use bags from entering the waste stream.
Swap #5 Kitchen Sponges
Did you know that kitchen sponges are one of the biggest culprits for plastic pollution?
With their sponges being made from organic fabrics that are fully compostable, EarthsBits has already saved 2,208 plastic sponges from ending up in landfill.
One side is made of a hessian fabric, perfect for scrubbing away dirt, while the other is organic cotton, suitable for delicate surfaces.
Also, the internal lining is bamboo, renowned for its antibacterial properties. So not only are they eco-friendly but radically functional too.
They come in fun colourful distinctive designs to make becoming plastic-free fun and stylish.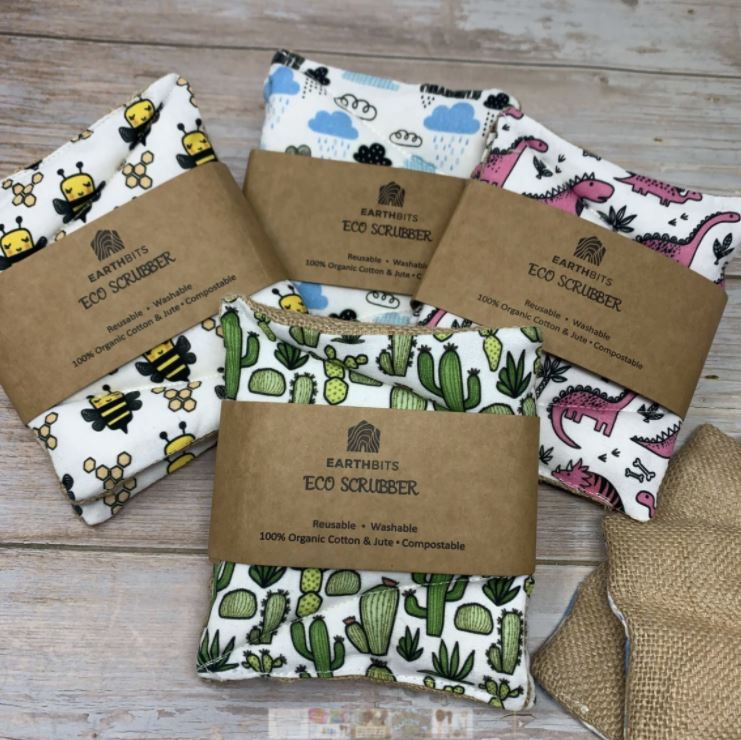 Swap #6 Water Filter Jugs
Each year more than 8 million tons of plastic bottles end up in our sea.
Plastic bottles feature in the majority of shops and homes, despite being one of the most well-known causes of plastic pollution.
Each year more than 8 million tons of plastic bottles end up in our sea each year
That's why Aqua Optima produces a high-quality range of water filter jugs, chillers and filters. With all the water filters being 100 per cent recyclable in order to tackle single-use plastics.
The Aqua Optima water filter jugs reduce impurities from tap water while retaining beneficial minerals and trace elements. The Evolve+ water filter has a unique 5-step fast flow filtration system to deliver purer water.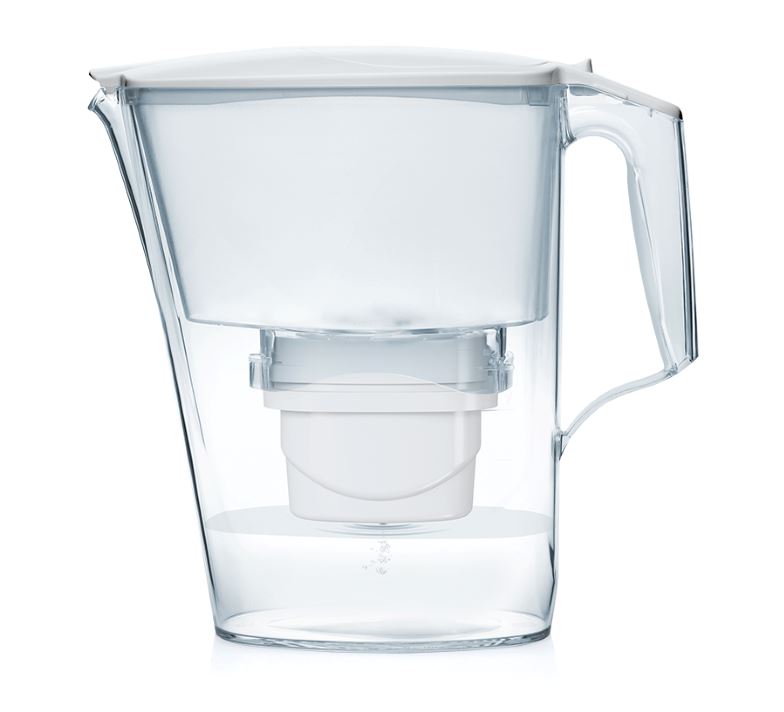 Swap #7 Cling Film
More than 1.2 billion meters, equating to 745,000 miles, of cling film, is used by households across Britain every year – that's enough to go around the circumference of the world 30 times over!
Devastatingly, like plastic bags, cling film that ends up in the sea is easily confused for jellyfish by marine animals and chokes turtles and other creatures that feed on them.
Cling film is a staple in many homes, helping to keep your food fresh. However, the environmental impact is horrifying.
That's why Ecovibe has come up with a solution. Elasticated cotton bowel covers. The covers come in a set of three, including sizes – small, medium and large.
These reusable bowel covers are 100% biodegradable and have a low carbon footprint.
Not only would your switch to these covers be environmentally friendly but they look nice too, coming in pretty patterns.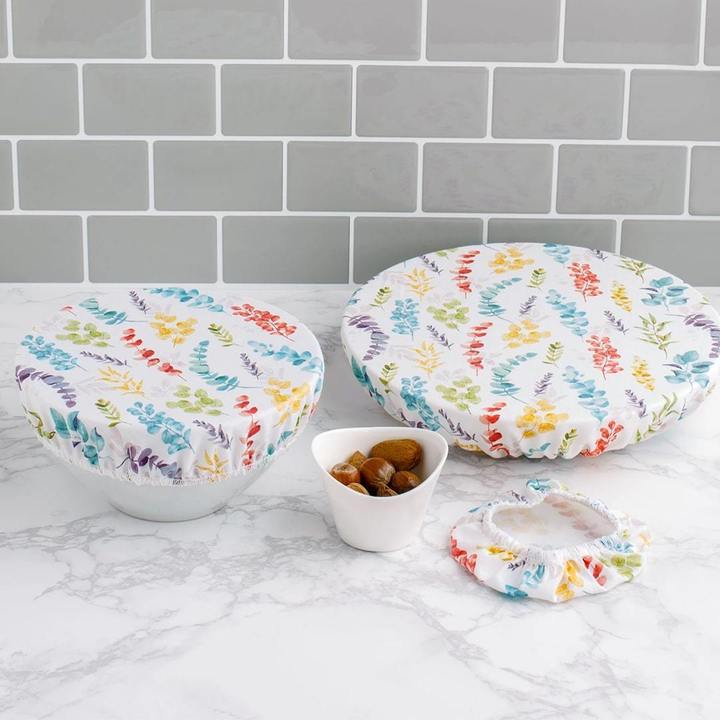 More Healthista Content:
Tired? Bloated? Itchy, dry skin? You might have fatty liver disease
Vikings actress Maude Hirst reveals how mindfulness changed her life – plus her top tips for beginners
F45 Nutritionist reveals how you can snack smarter and cut those cravings
WIN NaturalWorks CBD Oil worth £40
Like this article? Sign up to our newsletter to get more articles like this delivered straight to your inbox.