Journalling –  everyone seems to be doing it, but why? What are the benefits? Psychotherapist Alyss Thomas reveals the pros of journalling from her new book The Journal Writer's Companion
Time spent journal writing is time spent investing in yourself.
Your journal is where you can be the best version of you that is still in the process of being discovered. A private space where you believe in your ideas and your unformed, unknown thoughts.
As a life-long journal writer and psychotherapist, I have long understood the benefits of keeping journals.
Journalling is a timeless resource, perfect for difficult times
People who journal regularly report feeling more positive, achieve their goals more effectively and discover their own authentic personal voice.
Journalling is a timeless resource that is perfect for difficult times. Modern journalling includes tools and methods that are free, accessible and adaptable to any person and situation.
I have discovered that psychotherapy clients who journal regularly, travel through their therapy so much faster and easily.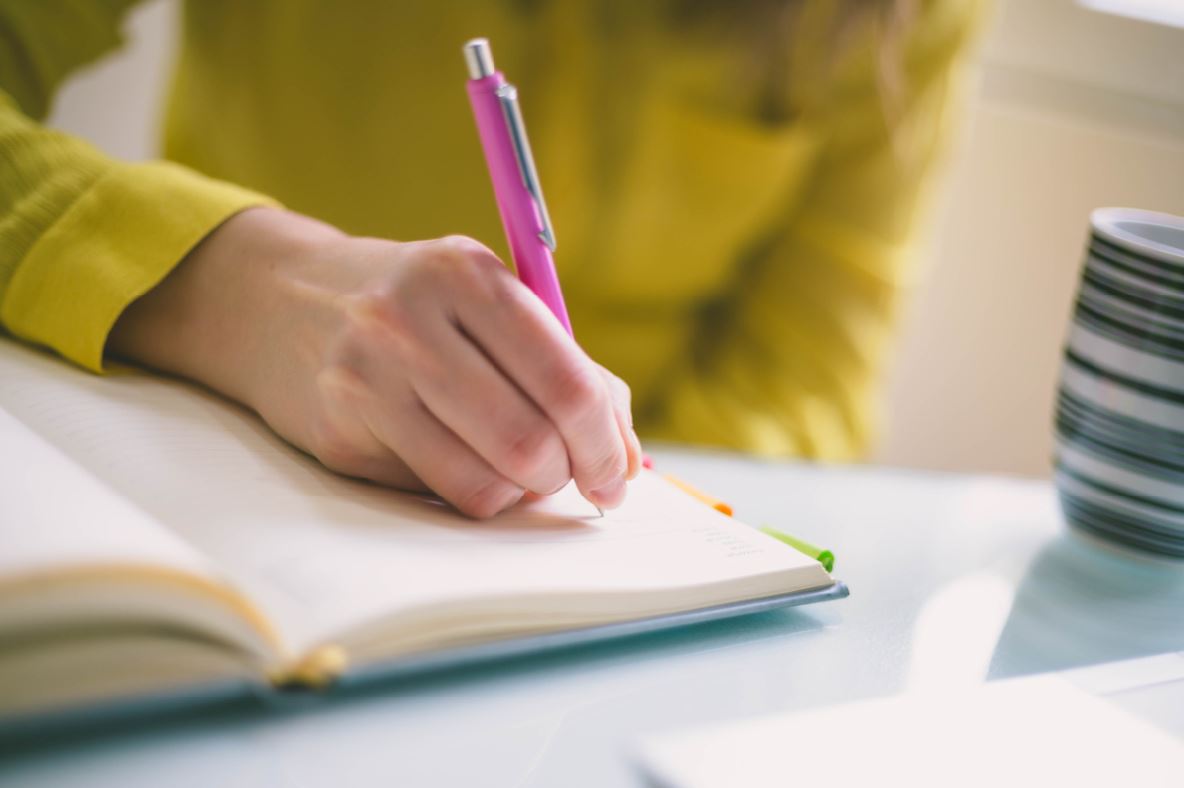 What else can journalling be used for?
Whatever you are aiming for, you can aim higher and achieve more results with journalling.
If you need more structure, or you need to decompress from a life full of too much structure, journalling can provide both of these.
If you are looking to drop old habits and adopt new ones, use a journal space to help you get organised, track your progress and build in friendly accountability.
Plus, journalling can also help you to capture the thoughts and ideas that get away.
How to set up your wellbeing journal…
Step one:
Set clear intentions for what you want your journal to help you achieve or attain for you. Here are a couple of hypothetical examples:
'The purpose of this journal is to help me be feel more positive. I want to deal with my anxiety, so I do not affect my family with my worries'.
Or, 'this journal is a place for me to have a positive relationship with me. I'm going to use it as a hub to give myself the care and attention I need to make positive changes and keep moving forwards'.
Step two:
Identify one behaviour pattern that you know you would like to improve on, for example if you would like to resolve feelings of anxiety. Enquire into these feelings: what specifically are you anxious about and why?
Identify one behaviour pattern that you know you would like to improve on
You don't need to take feelings of anxiety at face value and allow them to control your life, but instead begin to track and observe them.
Step three:
Make your journal writing a special focused ritual. Set up a pleasant writing space, ensure your physical comfort, a hot drink and create a nurturing, positive atmosphere.
Choose a journal that you like, that has paper that is nice to write on. The more attention and focus you give your journalling time, the more you are investing in feeling better.
Step four:
Focus your attention on your journal writing each day on feeling a little better. Even if this is just a tiny, tiny amount there is always something you can do to feel slightly better.
there is always something you can do to feel slightly better
When you don't feel good, even a five percent improvement makes a big difference. You can be creative in inventing small ways to feel better today, such as making small modifications in your environment or routines.
Record the changes that you make and then go back and record the results.
Step five:
Create and build momentum by writing about feelings of wellbeing, of life going well, of flow, peace, enjoyment and love for yourself – where you focus on all you can do to enhance your wellbeing.
Remember this is about giving yourself clear instructions about how you want to feel. Use gratitude and celebration to help you get going, by starting each writing session with appreciations of three or four good things in your life.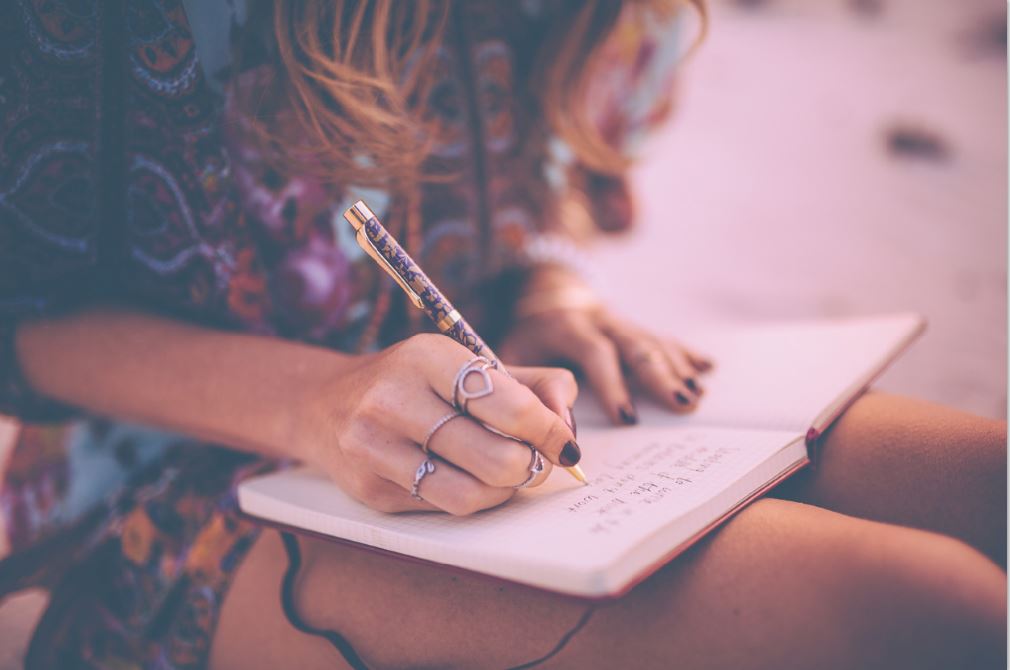 5 benefits of journalling
Benefit #1 Journalling can solve everyday problems
I'm sure you are fully aware you have both the desire and the capacity to achieve or attain great results in life, but greater success eludes you because you don't have a clear method and strategy for making this happen.
We need a super effective method for taking control, and although this is not taught in school, it is easily within your grasp if you develop a journalling habit.
It is an elegant analogue solution to problems that affect us every day
Journal writing is a new-old method to solve many problems and help you achieve excellence, success and become more self-realised and fulfilled.
It is an elegant analogue solution to problems that affect us every day, such as:
A busy and preoccupied mind, focusing on too many things at once
Juggling complex demands
Distracted from underlying sense of purpose
Overwhelmed with information and demands
Mental and emotional stress or overwhelm
Being online almost constantly
Making mistakes, procrastinating or feeling stuck.
Benefit #2 Journalling can help with depression, low mood and anxiety
If you suffer from anxiety, low mood or depression, journalling can help you vent your feelings for a limited time each day. Write it down and let it go as a technique for nudging yourself towards a more positive attitude.
Writing about your negative emotions can improve your mental wellbeing by providing a safe and accepting space where you can 'hear your own voice'.
Instead of ruminating about your worries, write them down, and then try to let them go. Holding on to something by repeatedly thinking about it means you are set in a recurring cycle.
Self-expression and having a way to release how you feel is important. This means you no longer have to ask your family and friends to listen to you, as this can sometimes have a negative effect on your relationships.
express and release difficult feelings for up to 20 minutes, then focus on how you would like to feel
Indeed, a 2013 study found that subjects who wrote about 'their deepest thoughts and feelings', compared with a control group who wrote factually about daily events, experienced a reduction in symptoms of depression, that were significant enough for them to recommend journal writing as an adjunct to the established treatments for depression.
It's important to journal when you are stressed, anxious or in a low mood, but you need to follow some structure. Express and release difficult feelings for up to 20 minutes, then focus on how you would like to feel.
Remind yourself that the anxious thoughts are not actually true, instead write down thoughts and ideas that make you feel good.
For example, if your thought is 'I feel worried about the day ahead because I doubt my ability to cope', you could write 'I feel curious about what today will bring, and I know I will be able to meet whatever comes'.
You remind yourself that you are the one who is in control of what thoughts you choose to listen to and act on.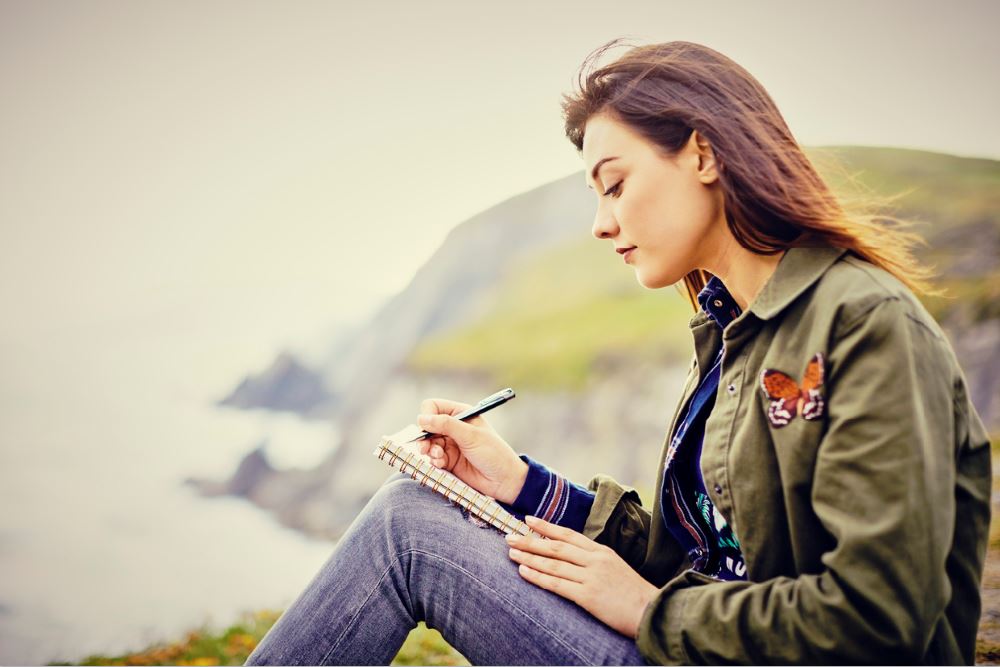 Benefit #3 Journalling can enhance the so-called 'placebo effect'
The placebo effect has been identified in medical science as the perception or experience of improvement, or a recognisable reduction in symptoms, that is independent of the effect of the medical treatment.
It cannot be explained in normal medical terms. So 'mind over matter' exists even though science may not as yet have tools to analyse it.
making small improvements to your thinking each day
The placebo effect is about creating a stronger link between mind and body, between thought and action. This is exactly what you are doing when you journal, making small improvements to your thinking each day.
You won't experience the benefits until you have established consistency in your journal-writing practice. In doing so you will gradually discover how a daily writing practice helps develop yourself and your projects.
Benefit #4 Journalling helps you achieve a clear sense of direction and purpose
Try not to think of journalling as splurging your negative feelings or writing your deepest darkest fears in a diary, but instead that your journal is the place where you align your mind with your desired positive outcomes.
It's mindfulness with a pen in hand, and helps you to become less scattered or overwhelmed and more in charge of your day.
Effective and directed journal writing can help you take control of your own thinking and is a friendly method to record and keep track of information, ideas, goals, projects and anything that is important to you.
your journal is the place where you align your mind with your desired positive outcomes
Journal techniques such as brain dump journalling are a way to de-clutter the mind and get your thoughts straightened out.
Brain dumping is writing down everything that is on your mind and what you are feeling for around 15 to 30 minutes.
By doing this you can get a handle on the thoughts in your mind so that yo can follow up on the important ones and let go of the ones you don't need.
This will help you to improve your short term working memory capacity, helping you to become more crisp and focused when you need to be.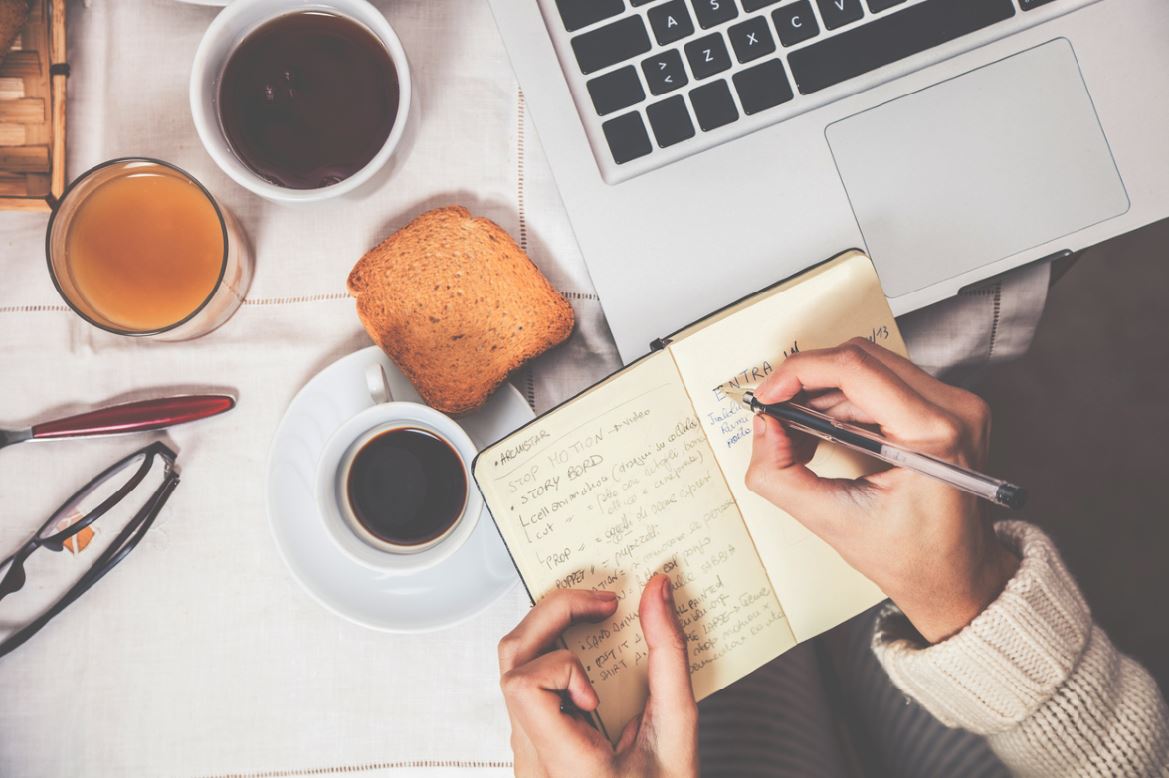 Benefit #5 Journalling can make you happier and more productive
Whatever you want in life, journalling offers you the tools to attain it. It's a skill for life, and if you are willing to give it regular time and attention, you will be astonished at the results you can achieve for yourself.
There is a growing community of people who love journalling for the positive changes it enables them to achieve, such as staying on track with your goals, increasing wellbeing, helping you feel more organised and helping you to develop ideas – all of which helps with your productivity.
Journalling is the quickest, most efficient way of giving yourself a boost and refocusing your mind
Researchers at Northumbria University found that a sample of normal subjects who were asked to write about positive experiences in their life for 20 minutes a day significantly reduced stress and anxiety compared to those who were asked to write about a neutral topic, such as their plans for the day.
These benefits persisted some weeks after the end of the writing exercise, suggesting that this simple approach brought a fundamental change to the way the subjects felt and thought about themselves, having a direct impact on their everyday happiness and quality of life.
All this is a reminder that journalling is not just a pleasant activity to engage in on days when everything is going well, but you can use it to work on the things that really matter. It's the quickest, most efficient way of giving yourself a boost and refocusing your mind on what is really important.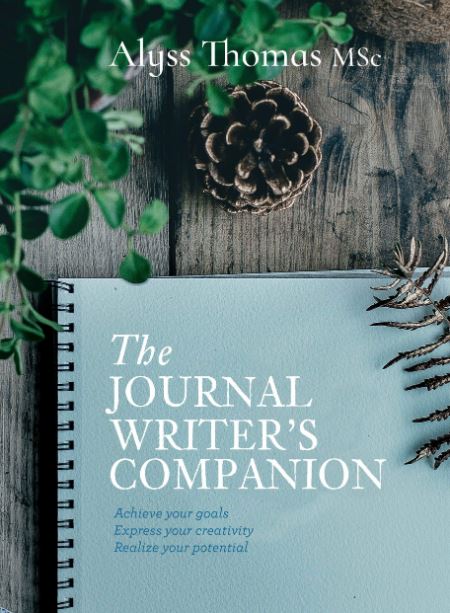 Alyss' book The Journal Writer's Companion is available to buy on Amazon in the US and in the UK.
If you'd like further guidance and support, there are free blog articles at Journalwritingforsuccess.com or at Journal Writers for Success on Facebook.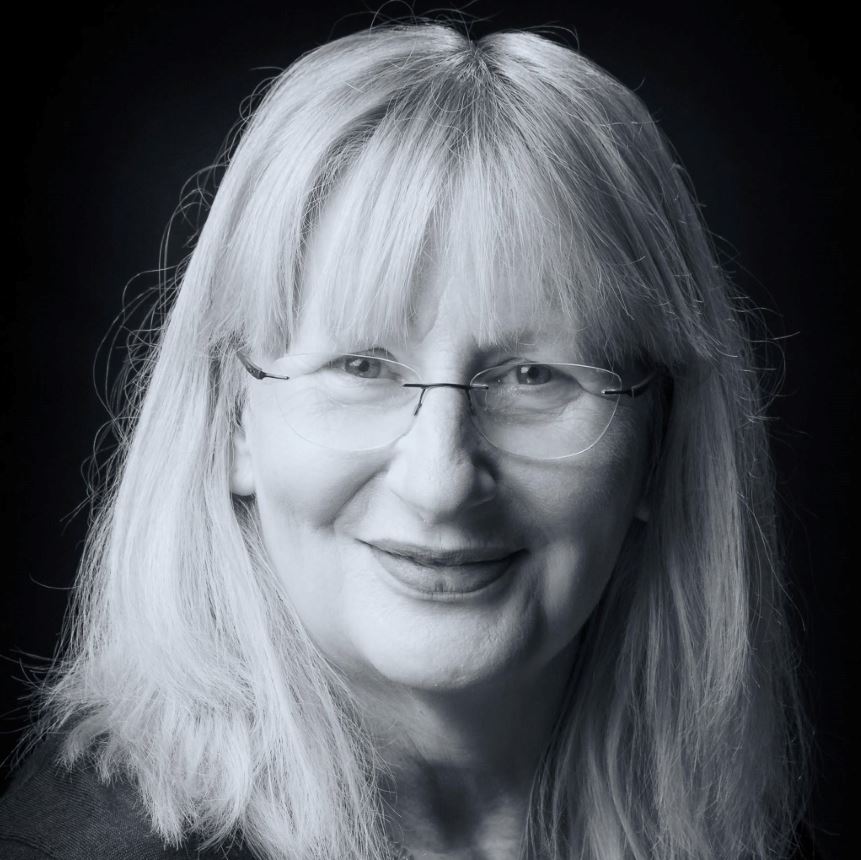 Alyss Thomas is an experienced writer and therapist who has worked as a writing coach for over 20 years.
She is author of The 1000 Most Important Questions You Will Ever Ask Yourself, and her articles and poetry have appeared in numerous anthologies.
A lifelong journal writer, Alyss runs a popular journalling group our of her home in Devon, and was encouraged to write this book by her students and clients.
Relevant Healthista Content:
Mindfulness and running – the therapy that could change your life
How to be happier: 5 tips this happiness guru wants you to know about
Healthista Content you may also like:
5 self care tips you can do tonight to reduce stress
Exhausted again? 10 daily hacks to help you bounce back from burnout
The gratitude fix – 5 steps to being more grateful to make you happier every day
7 ways positive thinking is STOPPING you achieving your goals
Like this article? Sign up to our newsletter to get more articles like this delivered straight to your inbox.