It's Day 20 of our Tweak Diet and today, we're talking about having a repertoire of fast, healthy meals that can be made from basics in your fridge and larder with little time and almost no fuss. It's a busy, stressed woman's best friend
My biggest diet sabotage moments are when I am tired. If I have had a busy, crappy day,  worked late and no one's cooked for me suddenly Chinese take-away or large bag of crisps for dinner seem like something a thinking, health-conscious woman would do.   I have learned that the best antidote to this is to have lots of healthy meal options available to me that are ready in the time it takes to actually order the take-away or go to the shop and pay for the crisps.
My absolute saviours are my healthy almost-Ready Meals. I also call them my Saintly TV Dinners as I love nothing more than making them in ten minutes or less then shoving them into a bowl and shovelling them into my gob over some junk telly. Is that bad?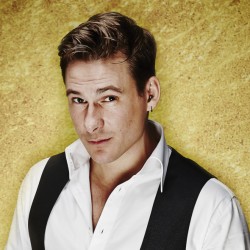 You will discover your own almost-Ready Meals and you can identify them as anything that takes ten minutes or less to make and can be thrown together with the basic stuff most of us keep in the fridge or larder. Here are my favourites
DONE IN 3 MINUTES: Steamed vegetable medaly with tuna ('medaly' is a bit of an overstatement here)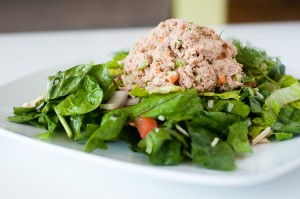 I choose fast-steaming vegetables like kale, mange tout and chopped green beans which make a great combination and steam in about two minutes. Once they're done I add a pat of organic butter, some canned, drained tuna, tonnes of lemon, Tamari soy sauce (that's gluten-free soy sauce), sea salt and cracked paper. Dee-vine and ready in what, three minutes.
DONE IN TEN MINUTES: Poached salmon with stir-fried vegetables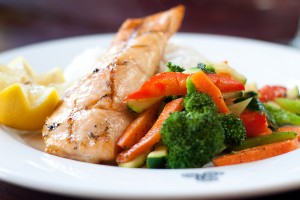 Take a fillet of salmon and poach it in a little water to which you have added some fresh dill, parsley or any other herb you have handy. Put it to poach for about 2-3 minutes, it won't need long. Then sauté some crushed garlic and grated ginger in a little sesame or coconut oil for about two minutes on a medium heat and add half a teaspoon of chilli powder (if you like it spicy) and stir for about a minute. Add stir-fry vegetables – peppers, carrots and celery work well, especially cut in strips to get the flavour in and stir vigorously on a medium heat then add quick cooking greens such as any shredded cabbage, Chinese greens, broccoli, kale or spinach – whatever you have. Continue to stir for about 1-2 minutes then add a splash of soy sauce, the juice of a whole lime and sprinkle – if you fancy it – with some chopped nuts, or seeds. Serve beside your salmon. Hello, ten minute dinner.
DONE IN 15 MINUTES: Chick pea satay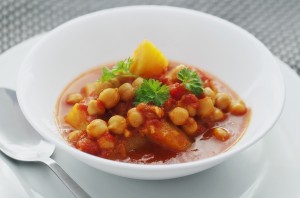 This is great for those nights when you want something warming and comforting but can't be bothered slow-cooking meat (or forgot to defrost which I always do). Start by sautéing two onions sliced coarsely in a little bit of vegetable stock made with boiling water – about half a cup – until the onion is soft. Add a teaspoon of cumin, turmeric and a quarter of a teaspoon chilli powder plus a teaspoon of grated ginger. Cook a little more for a couple of minutes. Then add chopped peppers and something green – anything. I like broccoli with this but cauliflower, green beans and sugar snap peas work well too.  Stir while the heat is hot for about five minutes. Add two tins of chick peas and one tin of peeled, chopped tomatoes along with the juice of one lime. Bring to the boil then simmer for about seven minutes stirring regularly. At the end, add a tablespoon organic peanut butter (I love Whole Earth) and stir to thicken. Garnish with fresh coriander, parsley or fresh chopped tomato. Makes enough for two large portions or four medium ones. Demolish.
JUST JOINED THE HEALTHISTA JANUARY TWEAK DIET? here are some guidelines to get you started
What is the Tweak diet? Designed for anyone who doesn't want to go on a big starv-y diet during January, we deliver you one new small change to make to your diet or lifestyle on each day in January. You continue each change throughout the month and come February, be on your way to weight loss and new healthy habits you can keep all year. You in?
1. Start anytime. Some of you will be starting on January 1st, but that's not compulsory. If you're joining us after January 1st, simply go back to Day 1 and start from there.
Like this article? Sign up to our newsletter to get more articles like this delivered straight to your inbox.