Not many people know how to actually cut a mango. With the stone being almost the same size as the fruit it's challenging to get enough of the flesh off. Nutritionist Alli Godbold hows us how to cut a mango in 30 seconds
Locate the stone that runs through the middle of the mango and cut the two cheeks off either side of it. Cut criss cross's through the flesh of each cheek as to resemble a chess board, and then turn the flesh inside out. Use a sharp knife to cut away at the little cubes of mango that have appeared. It's as simple as that.
More tips and recipes from Alli Godbold
Spiral pasta with luscious pesto sauce
Cauliflower pizza recipe with sun-dried tomatoes and rocket
Feta and chickpea salad recipe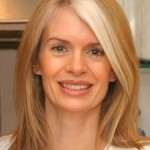 Alli Godbold is a leading nutritionist and former model who has worked alongside chefs Charles Amos and Alan Wichart at Divertimenti Cookery Schools in Knightsbridge and Marylebone. She is author of cookbook Feed Your Health (£13.99 feedyourhealth.co.uk)
Like this article? Sign up to our newsletter to get more articles like this delivered straight to your inbox.