De-seeding a chilli can be tricky business, especially keeping its flesh and juices out of your eyes and nail beds.  Nutritionist Alli Godbold saves us a lot of grief with her fast Healthista Kitchen tip 
Rule number one when de-seeding a chilli, hold it down with your thumb, not your nail.  Rule number two, peel the gut of seeds away from you.  Just like with peeling ginger, everything is made much easier by using a teaspoon.  Face the spoon away from you so it will scoop the seeds away from you.
More tips and recipes from a Alli Godbold:
Spiral pasta with luscious pesto sauce
Cauliflower pizza recipe with sun-dried tomatoes and rocket
Feta and chickpea salad recipe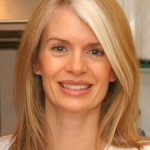 Alli Godbold is a leading nutritionist and former model who has worked alongside chefs Charles Amos and Alan Wichart at Divertimenti Cookery Schools in Knightsbridge and Marylebone. She is author of cookbook Feed Your Health (£13.99 feedyourhealth.co.uk)
Like this article? Sign up to our newsletter to get more articles like this delivered straight to your inbox.