Nutritionist Alli Godbold shares us with her tip on how to peel garlic and an added bonus on how to chop it.
More healthy cooking video tips and recipes from Alli Godbold:
TIP – How to peel ginger quickly 
RECIPE – Luscious caulflower pizza with sun-dried tomatoes 
RECIPE – Thai prawn and mango salad
RECIPE – Feta and chickpea salad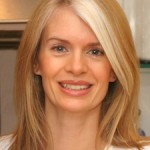 Alli Godbold is a leading nutritionist and former model who has worked alongside chefs Charles Amos and Alan Wichart at Divertimenti Cookery Schools in Knightsbridge and Marylebone. She is author of cookbook Feed Your Health (£13.99 feedyourhealth.co.uk)
Like this article? Sign up to our newsletter to get more articles like this delivered straight to your inbox.