This thai mango salad recipe with prawns is easy, incredibly good for you and great for summer.  Nutritionist Alli Godbold shows you how
Serves: 3
Prep time: 20 minutes
Ingredients
1 chopped chilli
1 chopped clove of garlic
Juice of a lime
2 tbsp fish sauce
2 tbsp black trap molasses
Coriander
Mint
Chopped red pepper
Chopped red onion
Cubed flesh of a mango
Broccoli
Packet of big tiger prawns
Steps
Place the chopped chilli and garlic in the food processor along with the fish sauce, molasses, and lime juice.
Blend
Assemble the salad of coriander, mint, red pepper, red onion, mango, broccoli, and prawns
Pour over the dressing
Toss the salad and enjoy!
MORE RECIPES AND TIPS FROM ALLI GODBOLD:
1-minute tip: How to peel ginger fast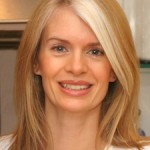 Alli Godbold is a leading nutritionist and former model who has worked alongside chefs Charles Amos and Alan Wichart at Divertimenti Cookery Schools in Knightsbridge and Marylebone. She is author of cookbook Feed Your Health (£13.99 feedyourhealth.co.uk)
Like this article? Sign up to our newsletter to get more articles like this delivered straight to your inbox.