This easy cauliflower pizza dough recipe from model turned nutritionist Alli Godbold will leave you full but not bloated – perfect
Serves 2  Prep and cooking time: 30 minutes
INGREDIENTS
For the base
1 head of Cauliflower
2 eggs
3 tbsp flour
1 tbsp oregano
2 tbsp of coconut oil
Rocket
1 jar of sun-dried tomatoes
For the sauce
1 onion
400g tomato carton
1 tsp of rosemary
1 pinch of salt
METHOD
1. Cut the leaves off the cauliflower head then cut the cauliflower into eighths. Run four of the pieces through the food processor, then add the last four. Transfer the cauliflower into a bowl to mix. Add the eggs, flour, and oregano and mix.  Place the mix on a sheet of wax paper and pat the mix into a 20 centimetre round
2. Heat 2 tbsp of coconut oil and brush the hot coconut oil over the pizza base and place it in a 180 degree oven.  Let it cook for 20 minutes.
3. As the pizza base cooks prepare the sauce to go on top. Warm 2 tbsp of coconut oil to grease the pan. When it has completely melted, throw the chopped onion. Once the onion is sizzling (in less than 5 minutes), add the carton of tomato, rosemary and pinch of sea salt. Stir the sauce, then let it sit for about five minuts or until it reaches your desired thickness, then take it off the heat.
4. Take the pizza base out of the oven and spread the sauce on top. Let it cool for a few minute, then top  with rocket and sun-dried tomatoes
Enjoy!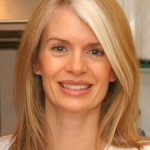 Alli Godbold is a leading nutritionist and former model who has worked alongside chefs Charles Amos and Alan Wichart at Divertimenti Cookery Schools in Knightsbridge and Marylebone. She is author of cookbook Feed Your Health (£13.99 feedyourhealth.co.uk)
Like this article? Sign up to our newsletter to get more articles like this delivered straight to your inbox.