Our best gym gear round up is for any Healthista readers that want to spend £100 on more expensive pieces but just don't have the dough – we tested everything to pick the ones that perform like their pricier counterparts
I've been a gym junkie for around six years now. One thing I've learnt on my continuous fitness journey, is that when you feel good in what you're wearing, you have more confidence to do good.
In other words, feeling cute in great activewear puts you in a great mindset to take on a challenging workout.
Another thing I've learnt is that good quality activewear can be bloody expensive.
Sometimes the price tag is justified, sometimes it's not.
Why is it always a choice between affordability and quality?
Sure, there are a few well-known affordable activewear brands. In fact, I can admit that I have been tempted in the past to buy exactly what I've seen famous fitness figures sporting because the outfits looked sleek and durable (I'm talking to you Gymshark).
But I'm no longer interested in the brands that Instagram influencers gush about through gritted teeth.
I'm so over these brands that keeping churning out leggings that shamefully create camel toes that look like a double chin down below.
The brands that make ridiculously thin sports bras that embarrassingly announce to the whole world when you're feeling a bit nippy.
I want the real deal: activewear that is fit for purpose and not just for cute aesthetic Instagram posts.
And that is how I made it my mission to hunt out affordable quality activewear.  We chose £50 as our cut off, realising that for some us, that's still too expensive, but for that reason there's plenty here well below that price tag.
Criteria
But before that, I discussed  with fellow active Healthistas in the office what we thought should be the criteria for these reviews and here's what we all deem to be essential quality points for leggings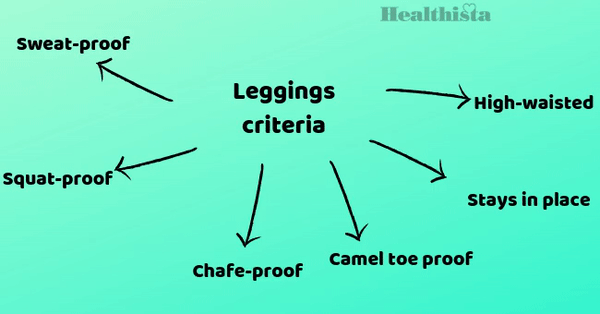 For vests and sports bras, this was the finalised criteria: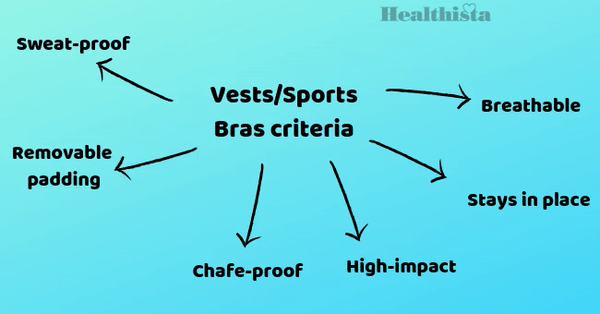 We're not a nit-picky bunch at Healthista (well, not much) but we definitely know what we're looking for in our activewear.
So without further ado, here are Healthista's top picks for leggings, vests and sports bras.
Best leggings under £50
#1 – Best for flattering – Love Leggings Focus Legging, £28.00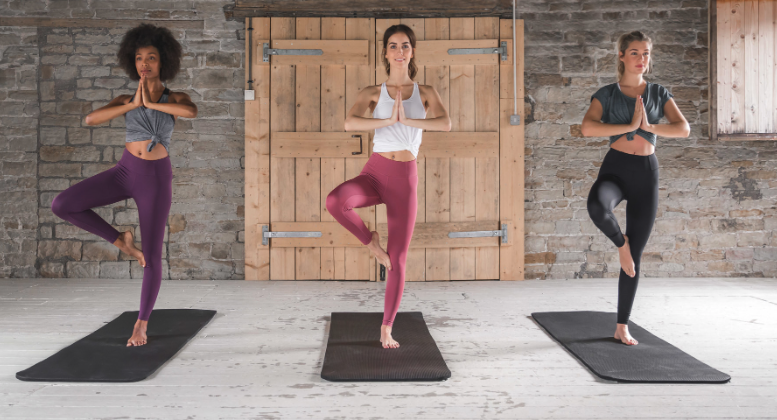 On a scale of 1 to 10 with 1 being pancake flat and 10 being Jennifer Lopez perky, I would say that on a good day, I'm pushing a solid 2.5 in the booty department.
So, whenever leggings claim to be flattering on the bum, I always take that in with a wary pinch of salt.
I was caught completely off guard when I looked in the mirror and saw how flattering the Focus Legging was on my non-existent buns.
I can only imagine how delicious they would look on someone like Beyoncé; I'm sure she's interested in affordable activewear too.
These leggings are also made from sweat-wicking and shape retention technology. In other words, the leggings are meant to keep you dry and comfortable throughout your workout whilst looking new even after loads of uses. After trying these out during a yoga session, I definitely found this to be true.
When pesky leg hairs start sprouting in all their dark and thick glory a week after a waxing appointment, cropped leggings are rarely ever a friend to me.
Thankfully the 7/8 length of the Focus leggings reached my ankles. The high waistband sat nicely in place too, without being corset-like restrictive, but not too loose either.
Love Leggings also do varying lengths, so whether you like full length, cropped or somewhere in between (7/8's), they've got you covered.
The Focus Legging material is slap bang in the middle of being thick and thin, which makes it breathable but not at the expense of being sheer. The leggings successfully passed the squat-proof test too.
Hallelujah, no camel toe either.
These leggings go up to a size 2XL (UK size 18-20), and with so many activewear brands failing to create ranges that cater to plus sizes, this is a step in the right direction for inclusivity.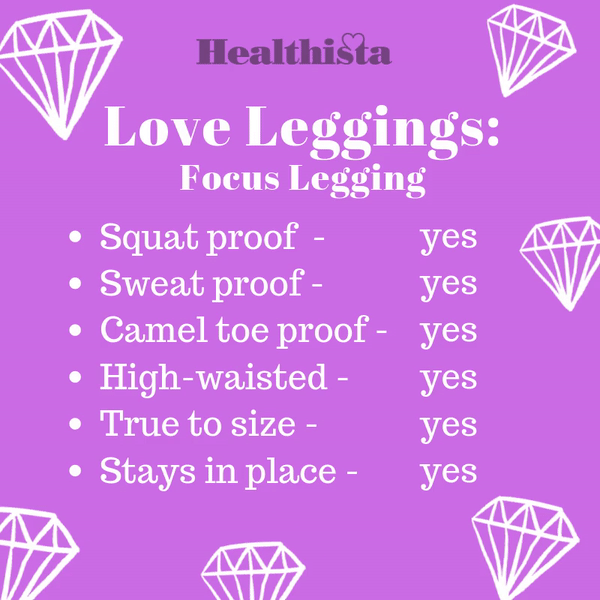 #2 – Best for athleisure – Boody Active Full Leggings, £49.95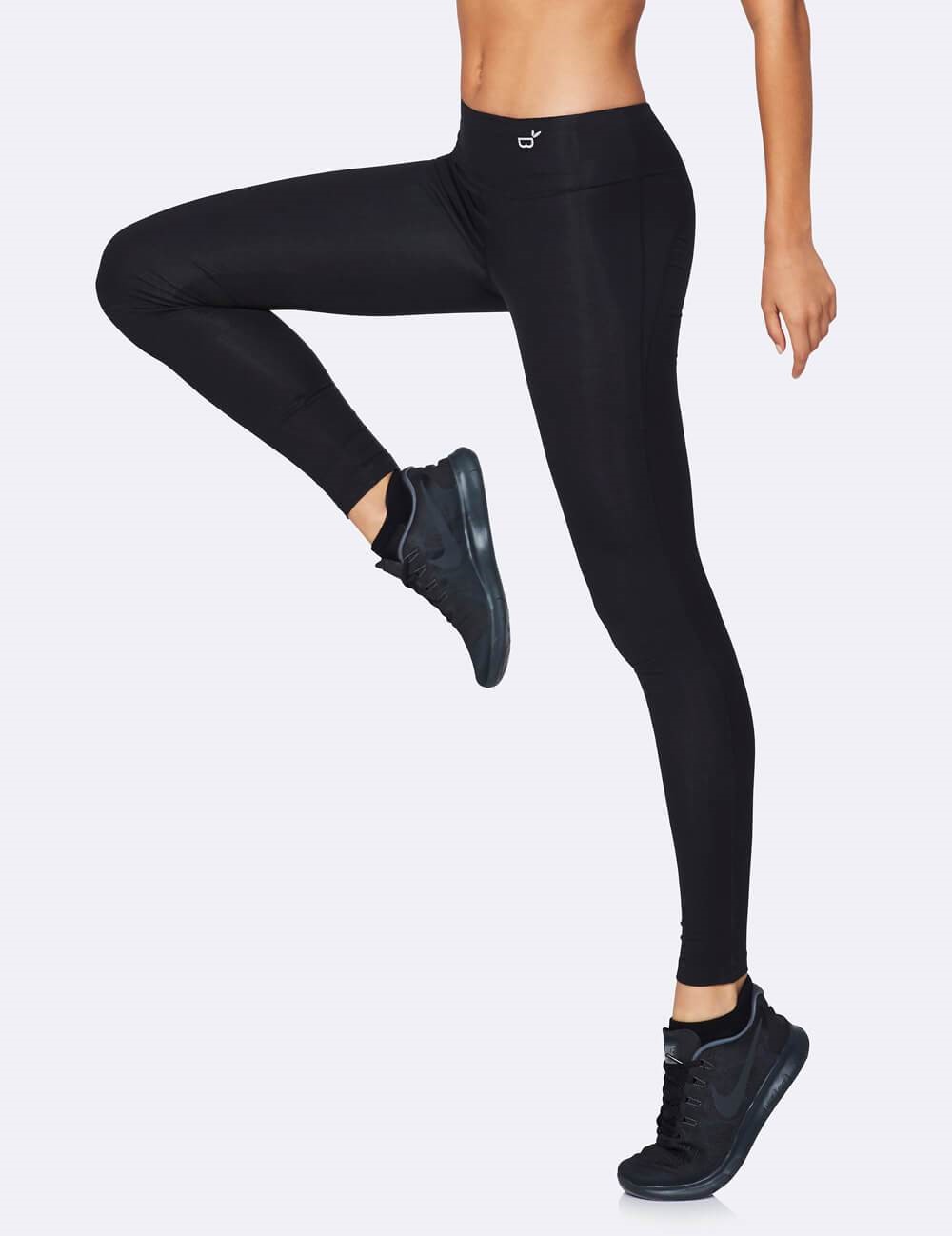 Sometimes life comes at you fast.
As gross as it is, there are days when you're in a hurry and need to get ready at the gym after a sweaty sesh…Only to realise you've forgotten your change of clothes at home. Rocking up to the office in leopard print activewear may not be for everyone.
Thankfully, black is the new black again, so these leggings will always be a classic.
If you have a a spin class in the morning and a meetup with some girlfriends in the evening, these Boody leggings are a must have staple in your wardrobe.
The Active Full Leggings are lightweight and breathable, it almost makes you forget you're wearing anything at all.
Whilst they are soft to touch, the leggings are thin. This means they are a tiny bit see-through. They just about pass the squat test when black undies are worn, so these may not be the best for deadlifts.
These leggings have more of a matte finish, so if you're not into shiny activewear these are a strong contender.
The Active Full Leggings could easily be used for a dance class in the morning but then paired up with a dress shirt in the evening. They're pretty versatile.
After several uses, I found these leggings to loosen up over time, so this is something to consider when choosing the right size for you.
They aren't high waisted but reach just below the belly button.
Nonetheless, out of all the brands Healthista tested, this was definitely the most comfortable activewear overall.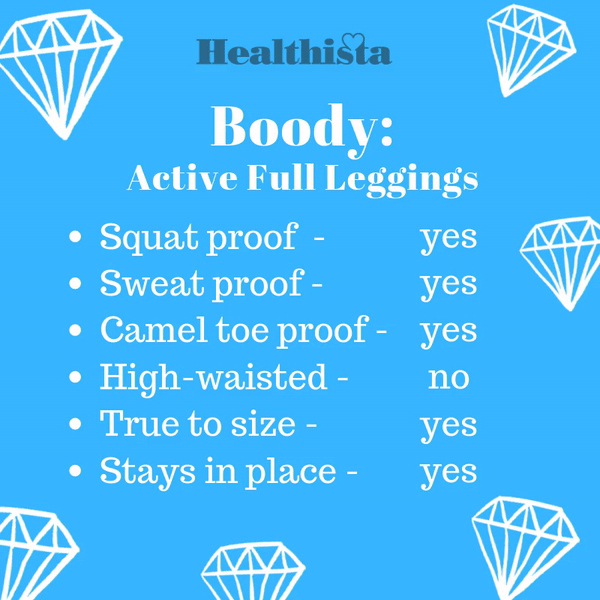 #3 – Best for compression – Sundried Ruinette Capris, £40.00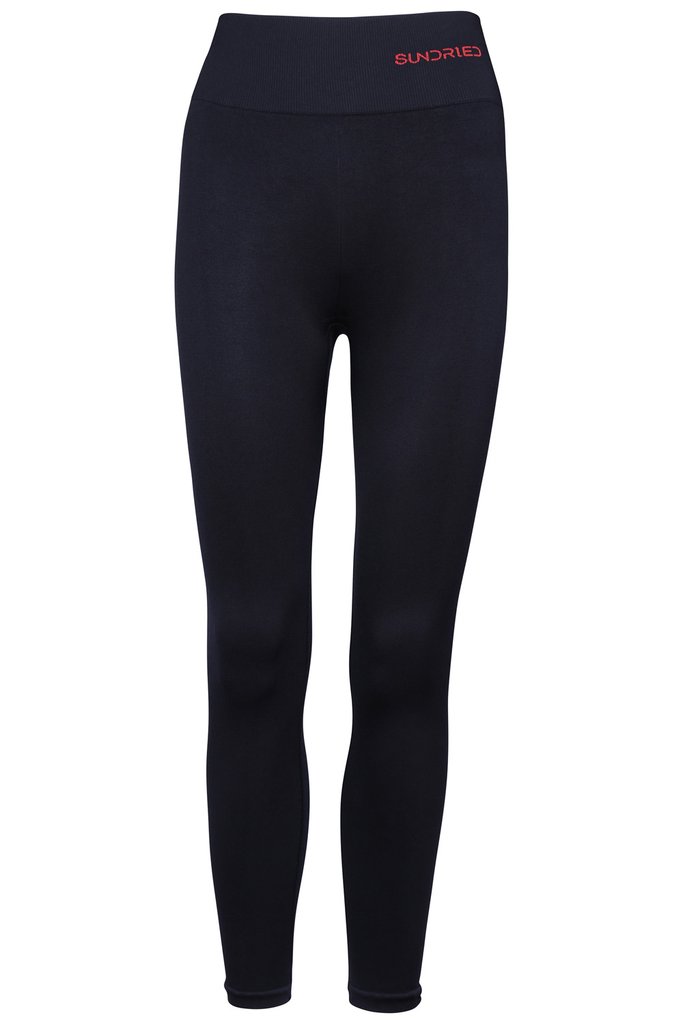 The quality of the Ruinette Capris is insane, not only are they thick and warm, but they have a luxurious feel to them.
If I was a get-up-at-5am-person, these would be perfect for a brisk walk or jog on a crisp Autumn morning.
Whilst there was no worry of these leggings being squat-proof, the thickness does mean that I found these leggings to be a tiny bit snug around the thighs and crotch area. Sadly this did mean I did catch sight of camel toe, so this is best paired up wit a longer t-shirt or vest.
If you are on the toned side, or just prefer a more relaxed fit, sizing up would be a good idea.
Despite the tightness, out of all the leggings Healthista tested, this one definitely had the most secure, compressing waistband.
When it's that time of the month or I've eaten myself into a food coma and look three months pregnant, I want leggings that are going to suck everything in.
And I mean everything.
Thankfully these leggings do exactly that.
The leggings stay in place, so there's no there's worry about having a crack attack and needing to pull them up halfway through a jog either.
The pros definitely outweigh the cons for these Ruinette Capris.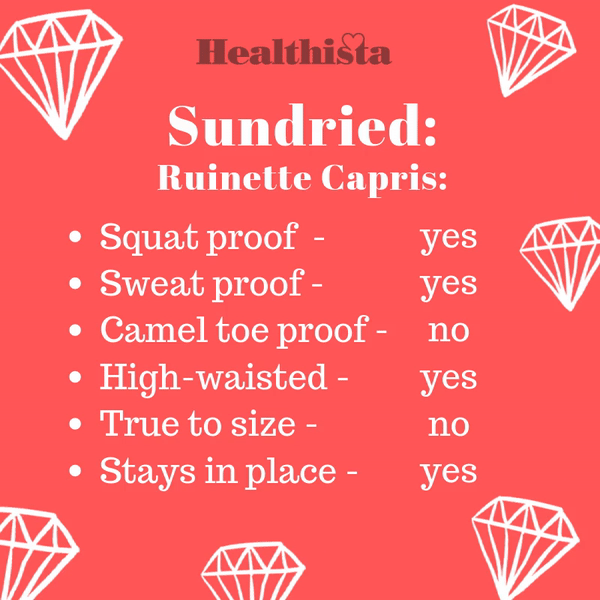 Best sport vests under £50
#1 – Best for eco-warriors – Sundried Tour Noir Women's Vest, £20.00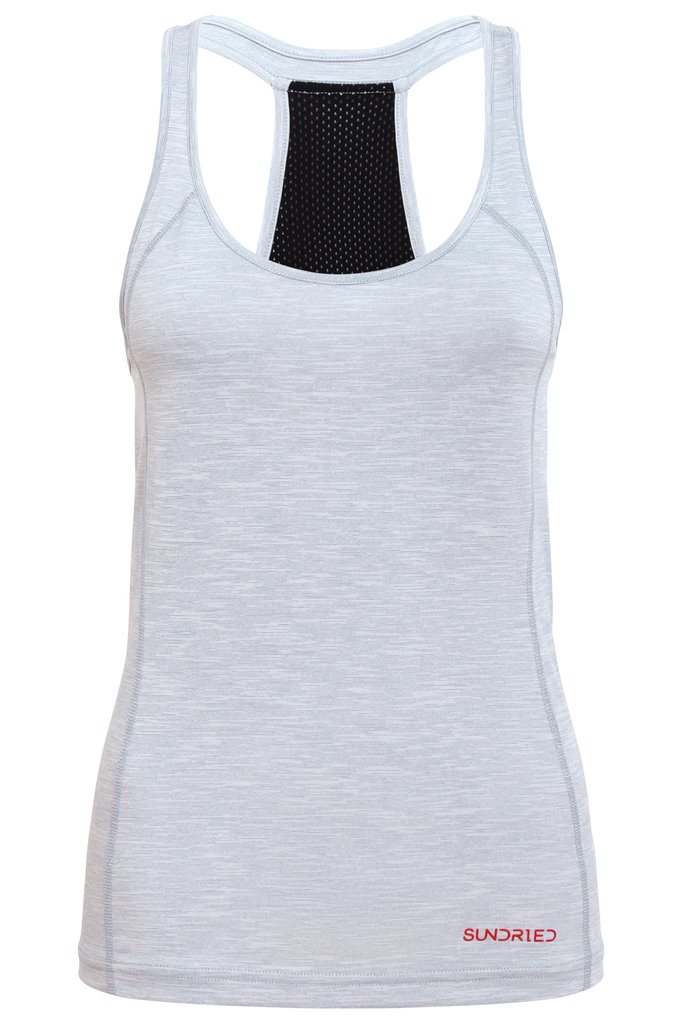 If you're worried about how to do your bit to save our planet, sustainable fashion is a good and easy place to start.
Specfically, the Sundried Tour Noir Women's Vest.
So what material is used to make this particular vest so sustainable?
Recycled coffee grounds.
Yes, you read that right.
Did you know that coffee has a special property that means it can block odours?
This couldn't be more of a game-changer.
I really wasn't sure recycled coffee would be enough to mask the stink from an extreme workout.
To my pleasant surprise, there was no odour. I even triple sniffed the vest like a nutjob to check.
Not only am I saving the planet, but also saving everyone at the gym who is in a 5 mile radius of my armpits after I do my 25th burpee.
The Sundried Tour Noir Women's Vest is also kitted out with the latest technology that makes it means it has anti-odour, UV protection and temperature control.
This vest isn't too clingy, making it breathable and great for sports with lots of stretching and movements.
Who knew recycled coffee grounds could feel so good? This vest is beautiful to touch, and doesn't cause friction against the skin either.
I'm a mesh type of gal, so the back design of the vest having mesh is an absolute dream. If I have a beautiful sports bra, I want to show it off.  Mesh isn't for everyone, so if you prefer a less open back design, this may not be for you.
Be warned though, the vest does stop above the crotch area, so if you are hunting for activewear that are CTF (camel-toe friendly) this could be a no-no.
The colour scheme of their ranges may not be for everyone, but there are some neutral tone pieces that make for safer picks.
The vest would work great for stylish relaxed looks though, so that's definitely worth some extra brownie points.
For the Healthista eco-warriors like myself, this vest makes will make you feel good for doing a small part in saving planet.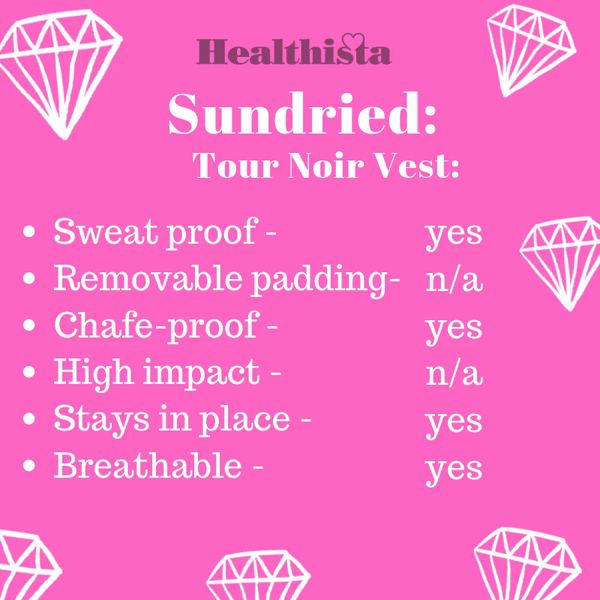 #2 – Best sporty vest – Ellesse Lylah Vest, £28.00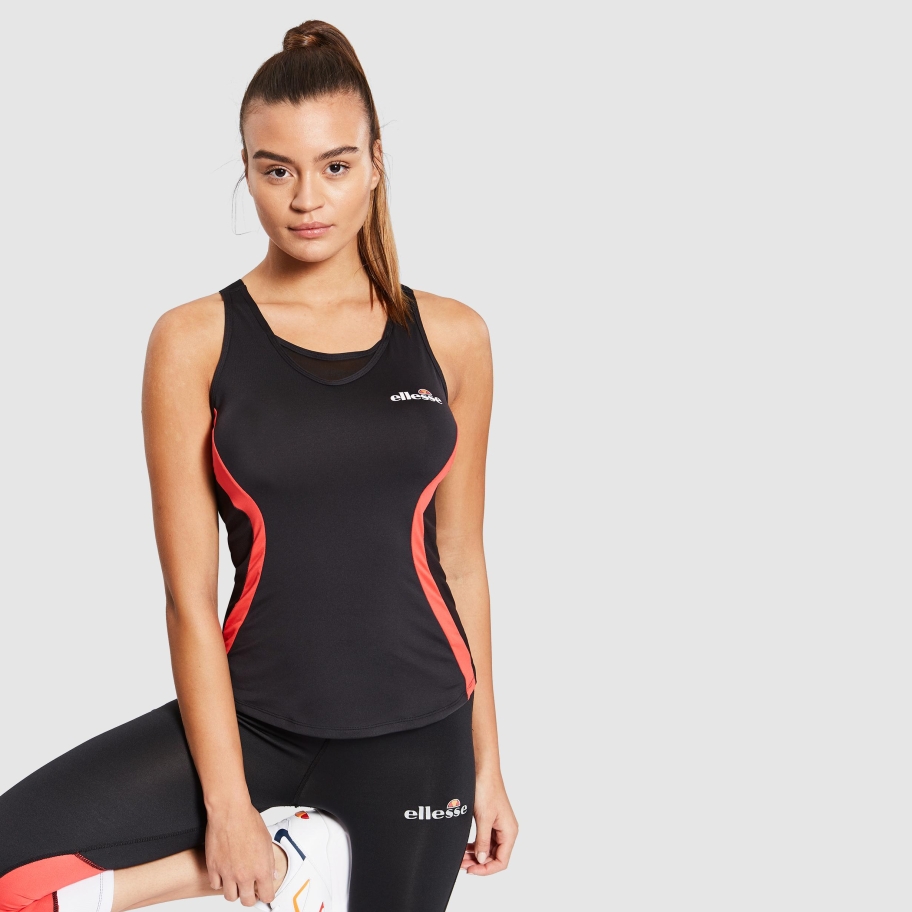 We all have that friend that gets aggressively competitive about winning that friendly squash match.
If you don't have a friend like that, I'm sorry to announce that you probably are that friend.
If you have that competitive spirit, it's only natural that you want to have that edge that will guarantee your victory, which is why having the right activewear can play a crucial role.
As soon as I tried this vest on, I couldn't help but feel like I was really channeling my inner Sporty Spice in it.
There's something quite athletic about the black and red colour scheme which I like.
But don't worry, you won't get mistaken for a mature student that plays for their university netball team.
There are closed mesh side panels as well as a heavyweight sheer mesh back too.
Personally, I think this mesh is what spins the sporty aesthetic into something a little more stylish.
Unlike the the usual scoop neck line, the Ellesse Lylah Vest has a v-shaped neck line.
It's not too low cut and revealing either. There's a mesh underlayer near the neck line which means that it's saucy, but not too saucy.
This vest is on the short side in term of length, so the vest isn't the most CTF, but paired the right pair of leggings, it's still a winner.
From a friendly game of tennis or football, this is the perfect vest to annihilate your friends in style.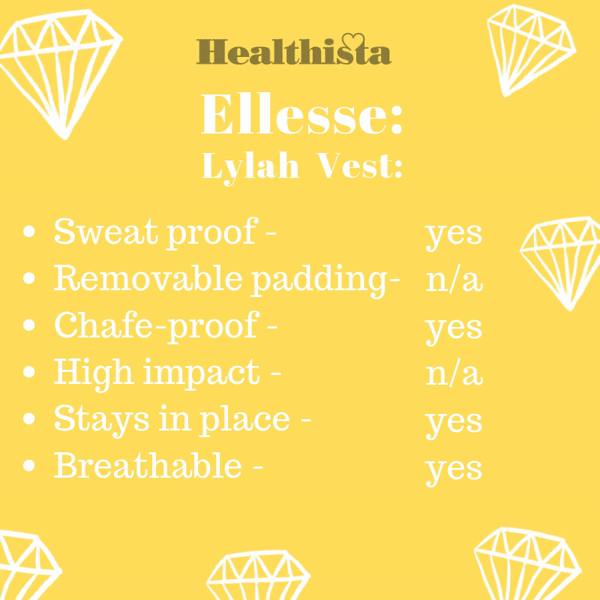 #3 – Best for comfort – H&M Sports Vest Top, £12.99
Not everyone likes sport vests that cling to the body.
For exercises that require fluid movement like pilates, this is definitely a winner.
This vest is not restrictive in the slightest.
Personally, on those days where I'm low on self-esteem, a baggy vest is just the ticket.
This H&M Sports Vest Top is great at drawing attention away from the bum and tum.
I can crack on with a good workout and not feel too self-conscious about my body.
The best part about this vest being longer as well as baggy? It's CTF!
If you're a bit on the shorter side, this vest may end up just near your mid-thigh. It really is a matter of preference whether you like this or not. If you don't, sizing down might be a good option.
Although this does provide some coverage, the back design is pretty open and low, so be warned that the back and sides of your sports bra will be on full display.
On the plus side, this vest comes in a great range of cute colours, and at such a low price, you could treat yourself and get two or three without feeling (too) bad.
Plus, material is thin and light, which keeps you cool  during workouts.
It's quick-dry properties that mean you can get a good sweat sesh going and not have to worry about your being drenched by the end of it.
All in all, for £12.99, you can't go wrong with this vest for comfort and practicality.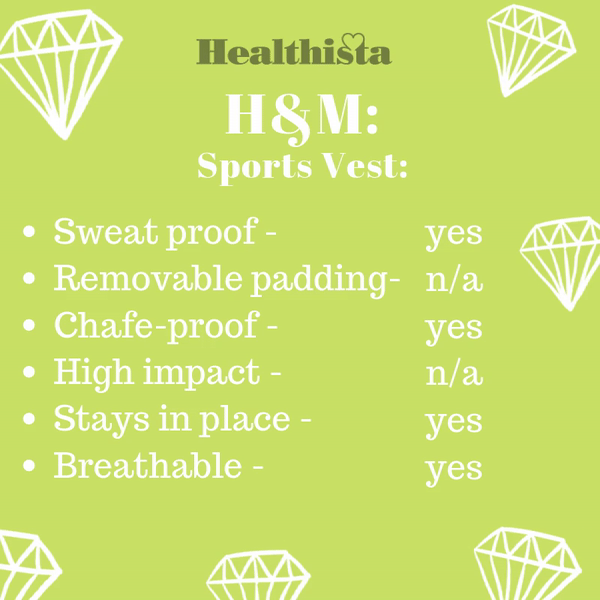 Sports Bras
#1 – Best for no fuss  – Myzone Sports Bra (Low Impact) for the MZ-3, £29.99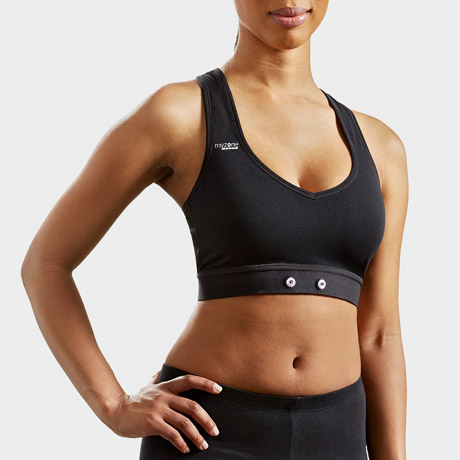 For those of you who aren't familiar with MyZone, they have created a monitor that gives you feedback on your workout.
It tracks your personal, resting and peak heart rate, and cleverly tells you how much effort you're putting into each exercise.
Pretty cool right?
If you're someone like me who has a heart monitor already, you'll know of the slight hassle that comes needing to remember your monitor strap every time you go to the gym.
Their sports bra is made with the intention of becoming an alternative to using the strap that comes with the monitor.
Before testing this as an alternative to the heart monitor strap, I wanted to see how this fared as a standalone bra.
On its own, this is a classic, no-fuss sports bra.
For activities such as walking or strength training, this is perfect low impact sports bra.
Anything from moderate to heavy activities are a no-no.
The thin foam inserts make the bra feel light, however the padding provides very minimal support.
This is a pull-over-you-head type sports bra, so whether you like this will be a matter of preference. Personally, I was not bothered by this.
The shoulder straps were a nice width, and didn't chafe against the skin.
This is always a bonus on those LISS days where you're trying not to slip on your stream of tears whilst on the stairmaster.
The bra is made  from 92% polyamide and 8% elastane, which helps to draw any moisture away from the body and dries super fast. Say goodbye to those gross sweat patches.
This also helps to regulate temperature and minimise any fluctuations that could occur. By removing the humidity and keeping your body dry, the bra prevents any discomfort.
Using the MZ-3 monitor alongside the bra, there are a few things that I picked up on.
For one, it was much easier to clip the monitor onto the bra and then put it on, rather than vice versa. It just felt a bit trickier the other way around.
At first I was skeptical about the heart monitor working poorly with the sports bra because with a strap, the monitor is always pressed against the chest for optimum accuracy.
I was pleasantly surprised to see that the sports bra was just as accurate as the strap.
If you're looking for a bra that gives you more bang for your buck, this is definitely one to check out.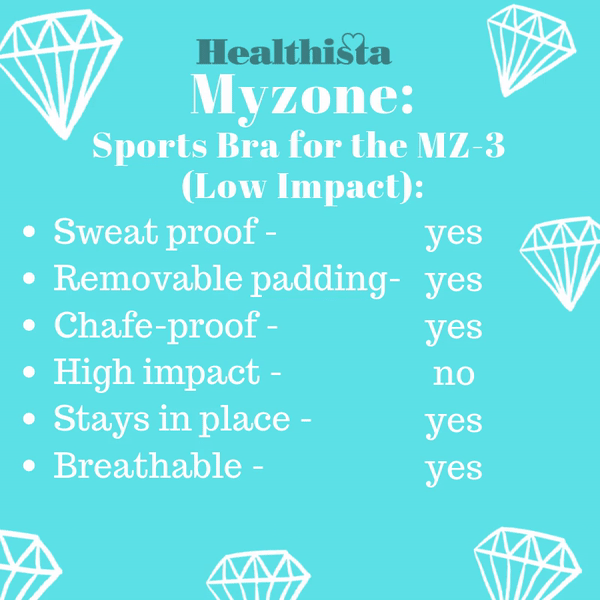 #2 – Best for HIIT –  Freya Active – Epic Moulded Crop Top Sports Bra, £42.00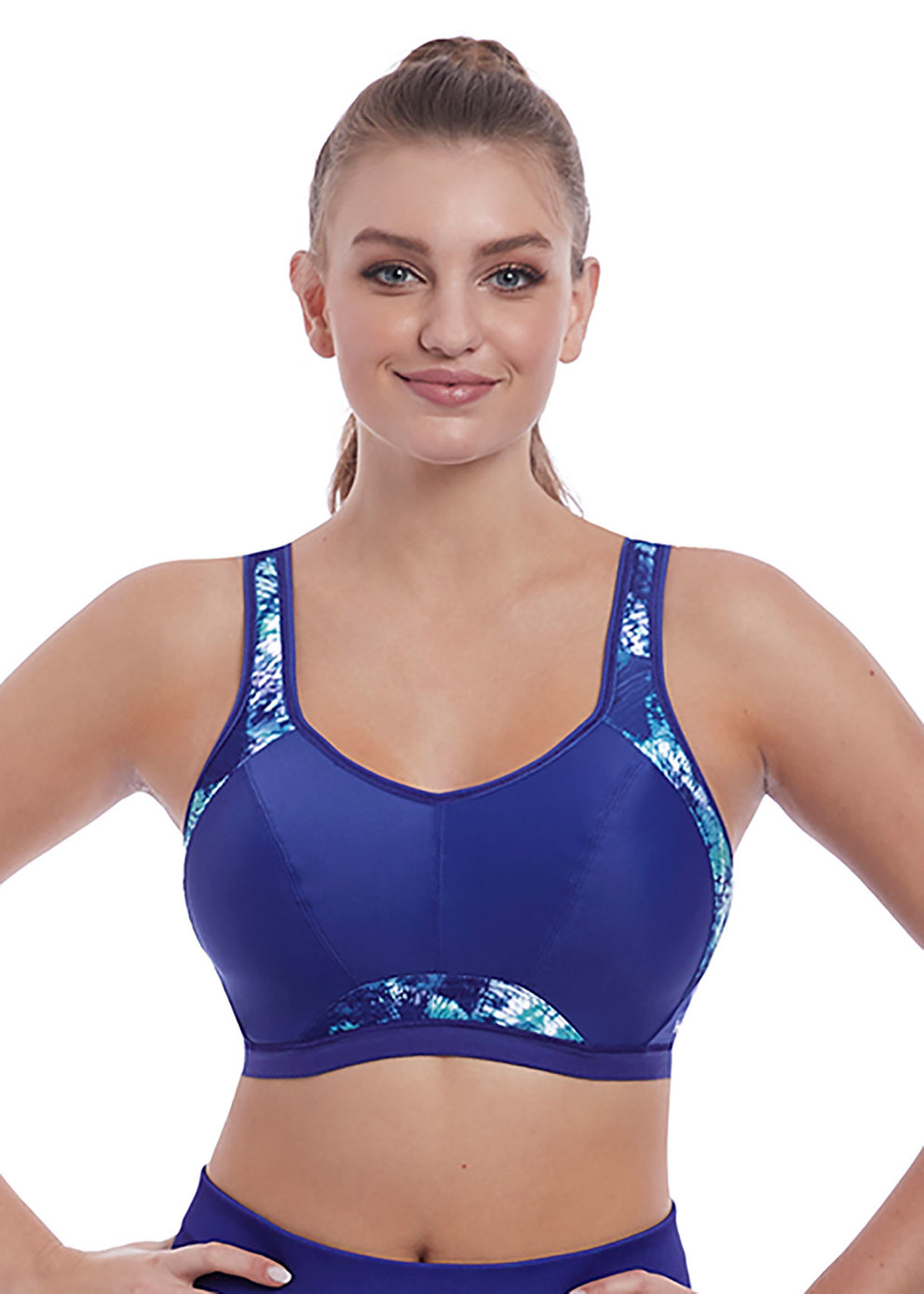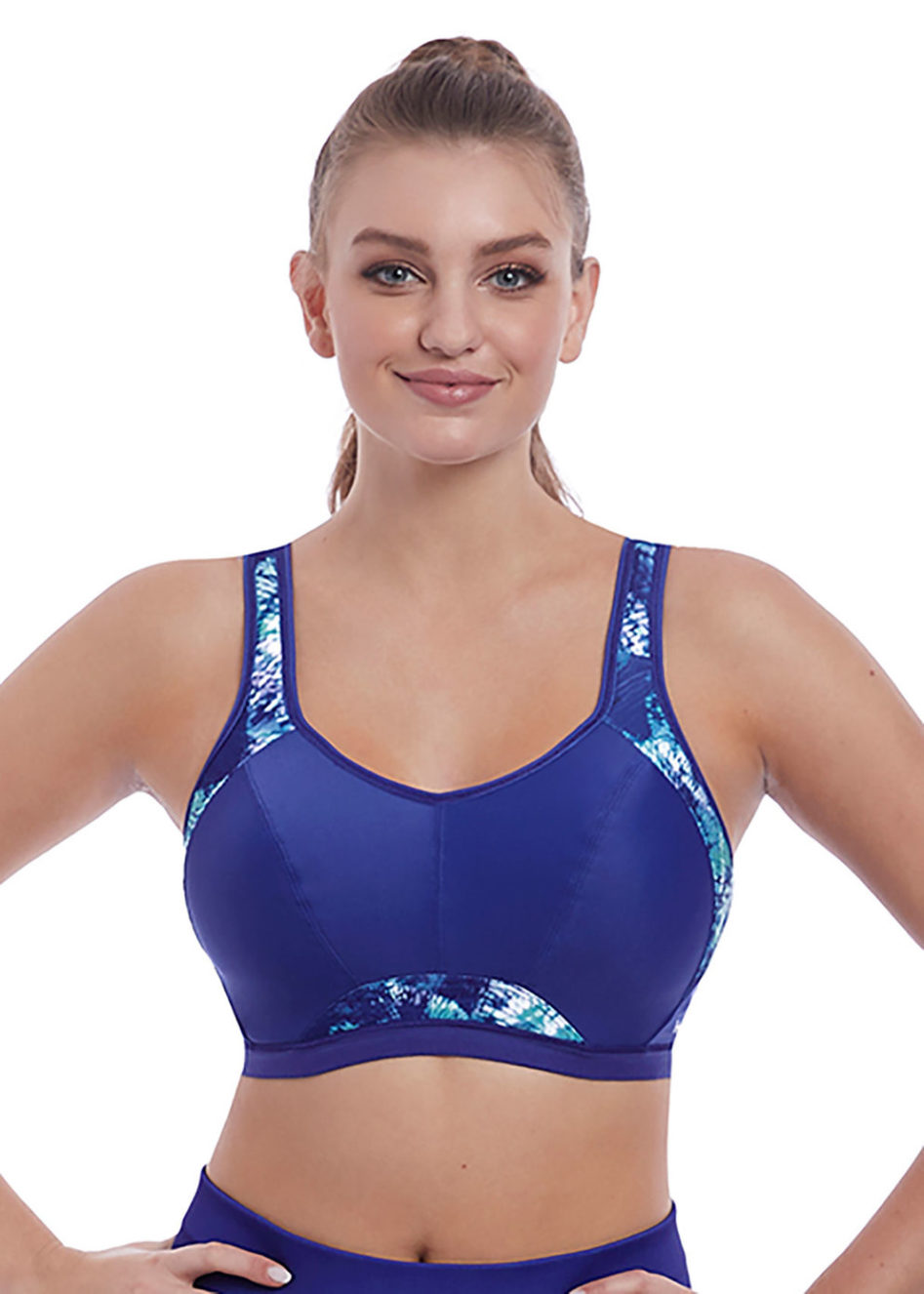 Out is that out of all the activewear tested, Freya Active is the most interesting in terms of designs.
Typically, I tend to stay away from bright patterns.
But actually, I quite liked the Ocean Fever design that the sports bra has. It wasn't overstated or an eyesore, but fell on the right side of bold.
If you're not into the Ocean Fever bold print, there are some more subtle patterns available.
The sports bra has a shiny effect, so if you're sick of matte this could be right up your street.
Freya Active have definitely made this bra with everyone in mind, the sizes going up to a H cup.
Some may find the underwire of the bra slightly off-putting, but for those who really want the extra support, it might be a major plus.
As the name suggests, this is a crop top sports bra, which makes this great as a standalone piece. If you're not into showing too much skin, this works perfectly fine underneath a vest top too.
Similarly, the bra aims to give maximum comfort by using foam cups for smooth breathable shaping and mesh paneling.
The bra is versatile, with a J-hook fastening you can change it up if you want a racer back option too.
Seriously, this sports bra could keep even the bounciest of boobies stay firmly in place during a slow-motion Baywatch scene.
Whether you want to run, crunch or squat, there is literally nothing this bra cannot withstand. Your girls will have all the support they need and deserve.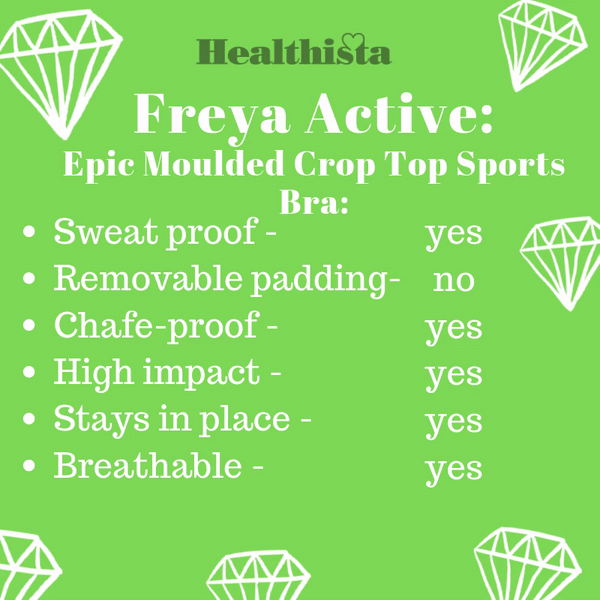 #3 – Best for everyday – USA Pro Medium Sports Bra, £13.00, or 2 for £20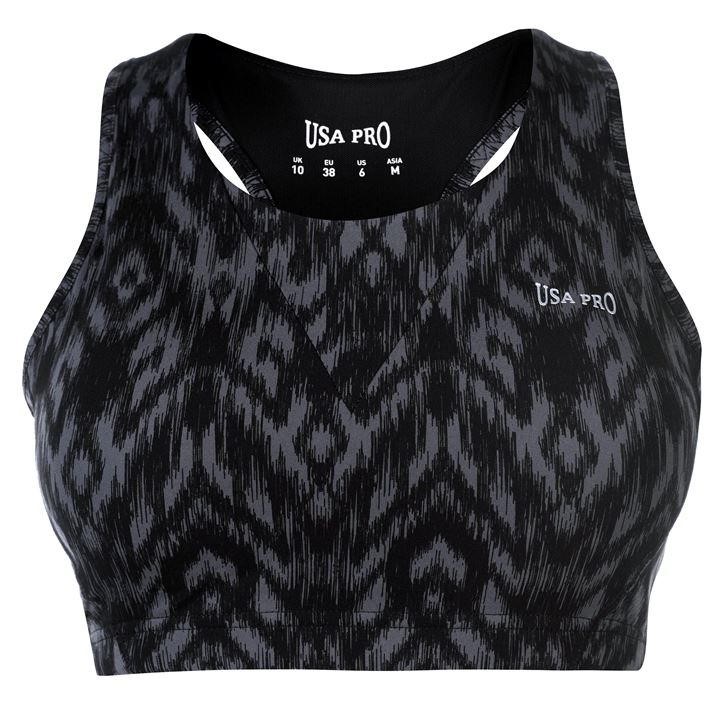 If you're a regular reader on the Healthista website, you won't be surprised to see that USA Pro has made its way onto yet one of our activewear roundups. Healthista writer Olivia swears by the activewear.
There's a very good reason why we're so crazy about the brand.
Not only are they affordable, but USA Pro Medium Sports Bra is fit for purpose.
There was a high expectation to be met, but this sports bra did not let us down.
Despite being a medium impact bra, this can definitely withstand a HIIT workout.
This bra does not have insertable padding, but instead has moulded padded cups. I think this is why this bra is so great at holding you in while you're going all out on those mountain climbers.
If you size down for a tighter and more secure fit, be warned that it may chafe around your ribs and dig in slightly.
The shoulder straps are a thick width and stay firmly in place.
Perhaps down to the elasticated  chest band, but this bra fits nicely on the frame, without making you appear bulky or top heavy.
This is definitely an affordable choice for those with bigger busts who want secure support.
These bras are available in a range of colours and patterns too, so you're bound to find a bra that fits the rest of your activewear look.
For 2 bras for £20, this is a no brainer purchase.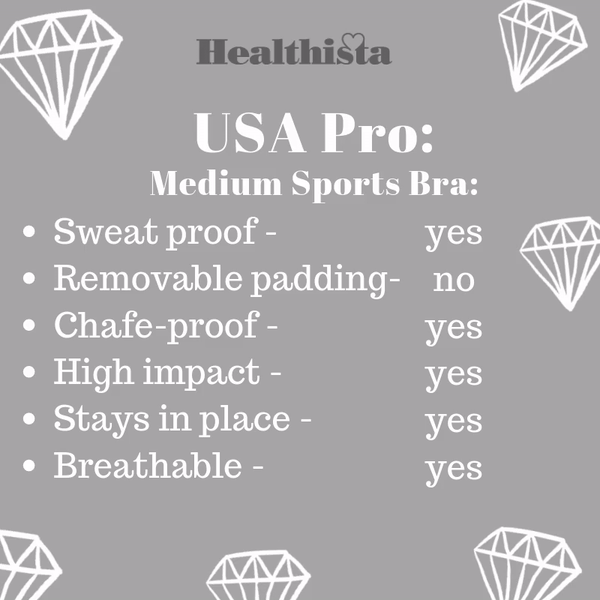 Relevant Healthista Content
18 best plus size workout clothes
KITSPIRATION: ILU Fitwear reviewed
WE LOVE: Reebok's new kit and Train Fusion shoe PLUS all pieces are UNDER £50
Myprotein Seamless Range – gorgeous, functional and striking new gym kit
Other Healthista Content You May Like
If you only eat one thing make it this
5 steps to starting a weight loss transformation – your new body starts here
7 best raw vegan chocolate brands we can't get enough of
Like this article? Sign up to our newsletter to get more articles like this delivered straight to your inbox.