Soberistas, these mocktails will make you cheers your good health – they're from Catherine Salway and Andrea Waters from vegan alcohol-free bar Redemption 
As much as a strawberry daiquiri, or better yet, blueberry martini can slide down for some evening pleasure, the sugar, calories and hangover just aren't worth it. Especially with the capital's growing mocktail menus. Glamourous and still fabulously tasty, mocktails are the new go-to, even if you're a sucker for a fruity vodka mixer or super-sized G&T.
Rescuing you from the next-day blues and ever-so-lovely bloating, the health-inspired Redemption Bar has curated a delicious selection of detoxifying, tangy and utterly creative alcohol-free cocktails from its new recipe book, Redemption Bar: Alcohol-free Cocktails with Benefits (£8.09 from Amazon).
You can sip on a refreshing spritzer, frozen wonder or my favourite, a chic Cosmopolitan, and since they're healthy and alcohol-free, treat yourself to another.
Who's counting? We sure aren't…
Healthy Mocktail Recipe #1: Black Magic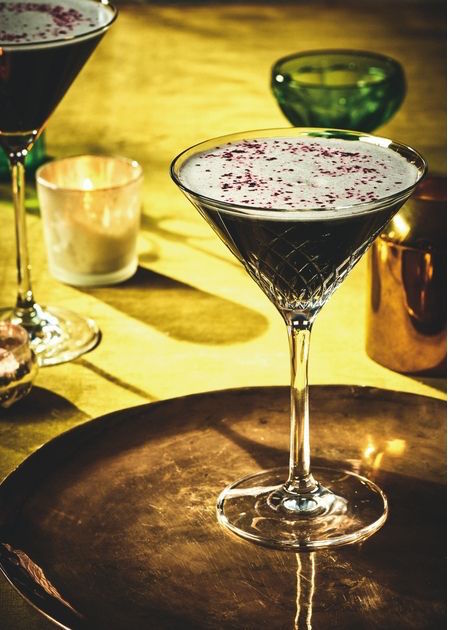 Serves 2 
Prep: 5 mins 
What black magic is this… a detox cocktail? That's an oxymoron, surely? This impressive concoction is made with fresh lemons for a vitamin C and potassium kick, activated charcoal for its detoxifying properties, and cayenne pepper, which adds a stimulatory heating effect. All three ingredients aid the metabolism, and the body's cleansing and elimination process.
It's important to select activated charcoal made from coconut shells or other natural sources, not just a lump from your barbecue. Activated charcoal is popular medically for a safe and effective treatment of poisoning and drug overdoses. It's used to reduce bloating and gas and even prevent hangovers, so a glass of Black Magic is perfect for any of your guests who arrive 'hanging like a loose tooth' from the night before.
Ingredients: 
300ml (1/2 pints) sparkling mineral water juice of 2 lemons (you need 120ml/4fl oz)
¼ teaspoon activated black charcoal (available in health stores and online)
2 tablespoons maple syrup
pinch of cayenne pepper
1 frozen cube of aquafaba (see below)
To garnish:
Hibiscus Flower Dust, optional, to serve
Indulgence time: 
Simply blitz all the ingredients in a blender until frothy, and pour into two chilled martini glasses.
There should be a lovely creamy foam sitting on top of the dark magic below.
Healthy Mocktail Recipe #2: Rhubarb and Ginger Spritzer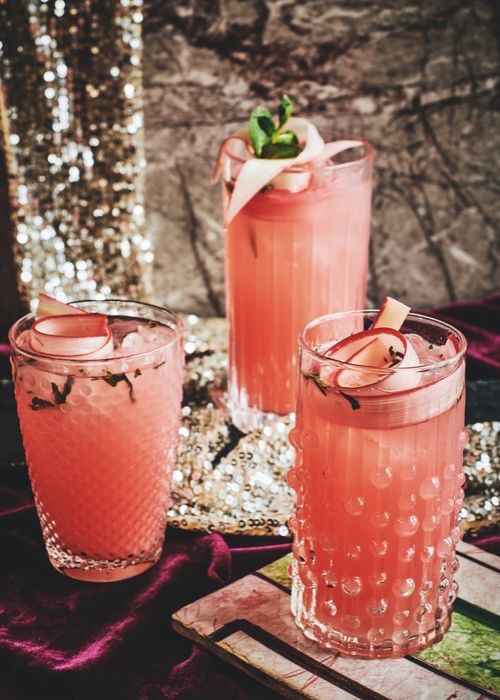 Serves 2
Prep: 5 mins
Sundays were the busiest day at the vicarage where I grew up, with church in the morning and the evening. Mum somehow managed to find the time to rustle up a rhubarb and ginger crumble which used to magically appear after she'd served lunch for the family, plus guests from the congregation. She never showed us how she did it. She must have sneaked out at midnight on Saturday to pick the prolific rhubarb from the garden. This spritzer is a lovely, healthy homage to my mum, Pauline – and to all mums who work miracles.
Ingredients: 
10 fresh mint leaves
150ml (1/4 pint) Rhubarb Cordial (see below)
50ml (2fl oz) freshly squeezed lemon juice
50ml (2fl oz) Maple and Ginger Switchel (see below)
200ml (7fl oz) sparkling mineral water
crushed ice
To garnish:
Transparently thin ribbons of rhubarb, peeled with a swivel-head vegetable peeler
Indulgence time: 
Blitz the mint leaves, rhubarb cordial, lemon juice and switchel in a blender
Half-fill two chilled highball glasses with crushed ice and ribbons of rhubarb
Pour the rhubarb, ginger and mint mixture over the ice, top with chilled sparkling water and serve
Healthy Mocktail Recipe #3: Shoreditch Sunrise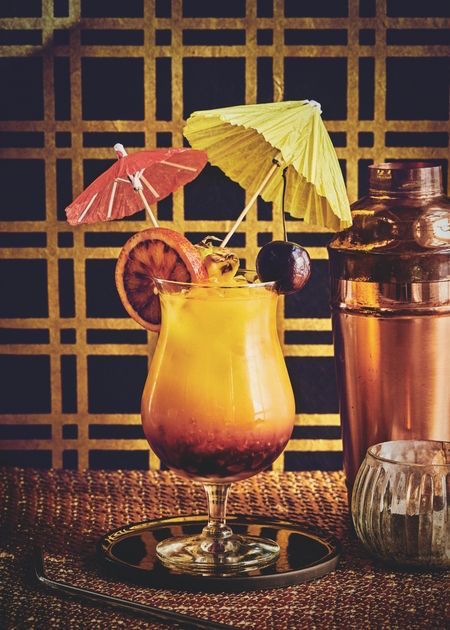 Serves 1 
Prep: 5 mins 
The sun rises in the East, casting its iridescent hues of bright oranges and pinks over London's most exciting neighbourhood. The sins of the night before are (almost) forgotten as techies rise and shine to create the new economy. New artworks, neon signs, graffiti, tattoos and piercings appear magically overnight. People #needRedemption and get photographed in front of our angel wings to show they've been. We love our little corner of Shoreditch and the community we share it with. Here is our homage to our spiritual home.
Ingredients: 
Crushed ice
½ teaspoon orange blossom water
60ml (2fl oz) fresh blood orange juice
80ml (2½fl oz) fresh pineapple juice
4 teaspoons Maple and Ginger Switchel
30ml (1fl oz) Grenadine
To garnish: (choose one or some of the following)
Pineapple wedge
Cherries (if in season)
Hibiscus flower
Blood orange slice
Cocktail umbrella (optional, but why not?!)
Indulgence time: 
Fill a hurricane glass with crushed ice.
Pour over the orange blossom water, blood orange juice, pineapple juice and the switchel and swizzle.
Add the grenadine (which hopefully will sink to the bottom, then rise like a phoenix to the top).
Choose your garnish and serve immediately.
Healthy Mocktail Recipe Recipe #4: Cosmopolitan (AKA Crantini)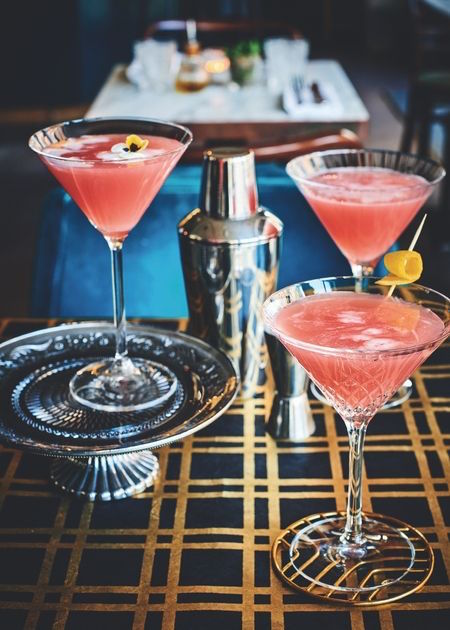 Serves 1 
Prep: 5 mins 
Miranda asked Carrie, 'Why did we stop drinking cosmos?' and Carrie replied, 'Because everyone else started.' The cosmo peaked as the most sophisticated New York accessory during the height of Sex and The City fame, we all drank millions of them, then they fell out of favour – probably after seeing the wrong end of one too many hen nights. Here we share a very quick and easy cosmopolitan in our typical Redemption style: all the fuss and pizzazz; none of the bad stuff.
Ingredients: 
50ml (2fl oz) cranberry juice
4 teaspoons freshly
squeezed orange juice
4 teaspoons freshly
squeezed lemon juice
4 teaspoons Birch Syrup (see below)
100ml (3½fl oz) coconut water
Ice
To garnish: 
Edible flowers
Indulgence time: 
Pour all the ingredients into a cocktail shaker half filled with ice cubes. Shake vigorously and strain into a chilled martini glass.
Garnish with edible flowers because life is too short to be burning orange rind.
Drink wearing heels without fear of falling over.
Healthy Mocktail Recipe #5: Flu Fighters Martini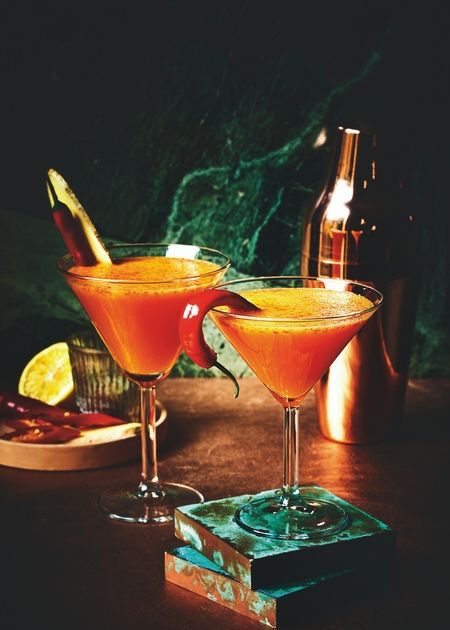 Serves 1
Prep: 10 mins 
My stepdaughter, the lovely Alice, worked with us in the early days of Redemption and this is her invention. An ailing customer asked her to make a cocktail that had every flu-busting ingredient she could find in the bar. Of course she obliged, and the result happened to be delicious! It has been modified a little over the years, but at its heart it is a hot, feisty little number, which is why we named it in homage to the rock band.
Ingredients: 
80ml (3½fl oz) coconut water
50ml (2fl oz) freshly
Squeezed orange juice
1 tablespoon freshly
squeezed lemon juice
1 tablespoon freshly
squeezed lime juice
4 teaspoons Rhubarb
Cordial or elderflower cordial, shop-bought if you prefer
4 teaspoons pure aloe
Vera juice
1cm (½ in) piece fresh ginger, peeled
1cm (½ in) slice red chilli
A couple of ice cubes
To garnish:
Slices of ginger and a chilli
Indulgence time:
Put all the ingredients, except the ice cubes, in a blender and blitz well.
If you wish, you can pass the blended liquid through a fine-mesh sieve for an elegantly smooth drink. It is equally delicious and slightly spicier not passed, with the chilli flecks remaining, so it's entirely up to you whether you follow this step or not.
Put the ice cubes in a cocktail shaker and pour over the elixir.
Shake well to chill and pour into a large chilled martini glass.
Why is it good for you?
Chilli: contains up to seven times the vitamin C levels of an orange and has properties for fighting sinus congestion.
Ginger Root: has long been used in traditional alternative medicine. It is a great aid to digestion, reduces nausea and helps the body to fight off the flu virus and common colds.
Aloe Vera Juice: is packed with vitamins, including B, C and E, as well as folic acid, all of which fortify the body's immune system.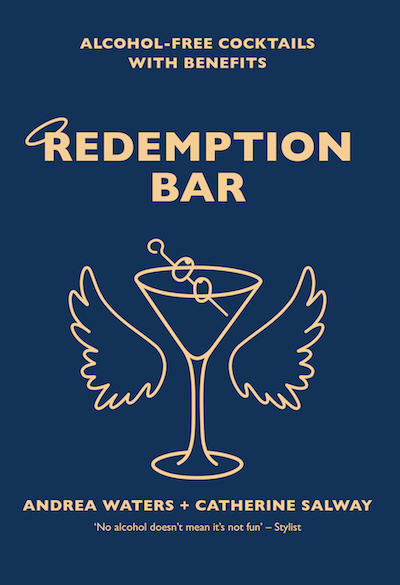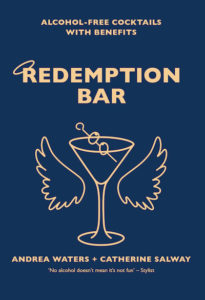 Redemption Bar Alcohol-Free Cocktails With Benefits by Catherine Salway and Andrea Waters is published by Kyle Books.
Photography Catherine Gratwicke.
Relevant Healthista content:
4 healthy recipes from the new Wagamama cookbook
6 healthy salad recipes that will actually fill you up
Best mocktails and non-alcoholic drinks with the glam factor
11 healthy recipes these peanut butter obsessed influencers love
Other Healthista content you might like:
The dark circles treatment that transformed my tired eyes
The bloating fix that tastes like chocolate milkshake and it's dairy free
As RuPaul's Drag Race premieres, get ready for FEMALE drag queens
7 celebrities you didn't know had eczema
Like this article? Sign up to our newsletter to get more articles like this delivered straight to your inbox.