As if we couldn't love the healthy recipes Wagamama dishes out any more, the popular Asian eatery has just released its third contemporary recipe book filled with simplistic, savoury delights – here's a taste
Natural ingredients, bold flavours and seasoned mixtures, Wagamama knows how to deliver tasty, Japanese-styled dishes. Believing in the philosophy, 'kaizen,' known as 'good change,' the fashionable restaurant fits the Healthista mantra of nourishing your psyche and body.
With the release of its latest cookbook, 'wagamama: Feed your Soul' (£20 from Amazon), you can now replicate some of your favourite, classic bites in the comfort of your own kitchen.
From vegan plates of tofu and veg to protein-packed bowls of prawn and chicken, there's no wrong choice with these four signature recipes we've extracted.
Take one on the go or whip some up for the family, however you indulge, just dig in and enjoy.  We're hooked.
Wagamama recipe #1: Mystery Mushroom Ramen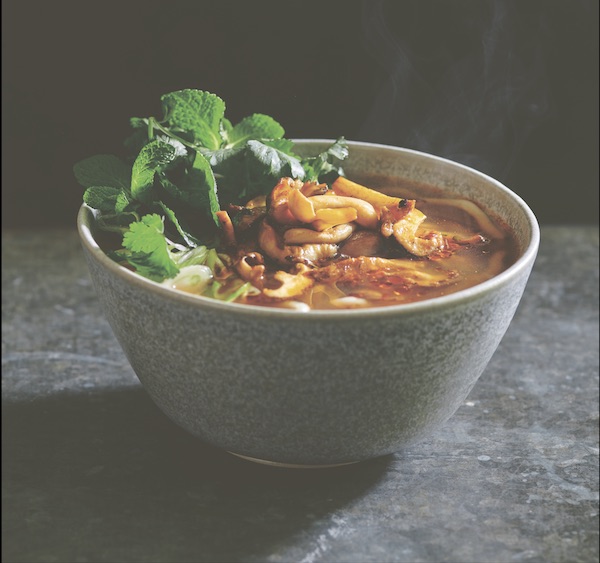 A light take on a Vietnamese pho packed with earthy, smoky mushrooms and fresh fragrant herbs. For more protein, this dish works well with the addition of tofu.
Ingredients: 
1 tablespoon vegetable oil
100g shiitake mushrooms, roughly chopped
100g button mushrooms, roughly chopped
1 tablespoon light soy sauce
1 tablespoon vegetarian oyster sauce or dark soy sauce
200g udon noodles
500ml Vegetable Stock (see page 163)
Stock base
2 teaspoons sriracha
2 teaspoons Amai Sauce (see page 151)
1 teaspoon light soy sauce
1 teaspoon malt vinegar
pinch of sugar
pinch of salt
Garnish
2 small handfuls of pea shoots
1 small handful of fresh mint
1 small handful of fresh coriander leaves
1 red chilli, deseeded and finely sliced
Ready to cook: 
Heat the oil in a frying pan or wok, add the chopped mushroom mix and stir-fry for a minute. Add the light soy and vegetarian oyster sauces and continue to stir-fry for a further 2 minutes until cooked through.
Meanwhile, bring a saucepan of water to the boil and cook the noodles according to the packet instructions.
Place the stock base ingredients in a small saucepan over a low heat and bring to a simmer. Stir until the sugar and salt have dissolved. Once the liquid starts to reduce, add the vegetable stock and mix well.
Divide the drained noodles between 2 serving bowls and pour over the stock. Top with the cooked mushrooms and finish with a scattering of fresh pea shoots, mint, coriander and chilli.
Wagamama recipe #2: Nuoc Cham Tuna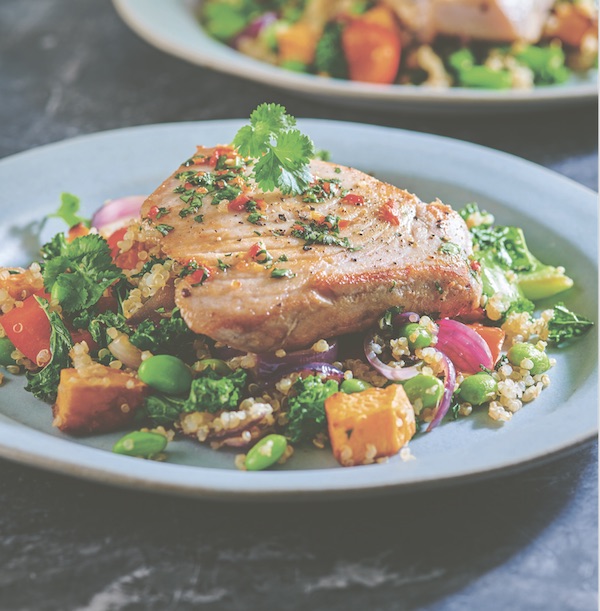 Nuoc cham is a Vietnamese-style dressing and has a sweet, sour and spicy flavour. We've used protein-rich tuna in this recipe, which is popular in Japan, and served it on a vibrant base of quinoa and vegetables.
Ingredients:
2 tuna steaks
1 large sweet potato, peeled and cut into chunks
3 tablespoons vegetable oil
100g quinoa
1 red onion, cut into chunks
1 green pepper, cut into chunks
1 red pepper, cut into chunks
2 heaped tablespoons podded edamame beans
80g kale, roughly chopped
2 coriander sprigs, leaves picked, to garnish
Marinade
1 tablespoon shichimi
2 tablespoons Gyoza Sauce (see page 150)
Nuoc Cham Dressing
2 tablespoons shichimi
2 tablespoons Spicy Vinegar (see page 150)
Ready to cook: 
Preheat the oven to 190°C, Gas Mark 5.
Place the tuna in a shallow bowl and cover with the marinade. Cover and set aside in the fridge for at least 30 minutes.
Meanwhile, line a baking tray with foil and arrange the sweet potato chunks on top. Drizzle with 1 tablespoon of the oil and bake for 25–30 minutes until caramelised and soft to cut. Set aside
Cook the quinoa according to the packet instructions and set aside. Combine the ingredients for the nuoc cham dressing and set aside.
Heat 1 tablespoon of the oil in a wok and sear the marinated tuna for 1–2 minutes on each side until slightly browned. Set aside on a plate.
Add the remaining oil to the same wok and stir-fry the red onion, peppers and edamame beans over a high heat until nicely caramelised.
Add the roasted sweet potato, chunks kale and quinoa and stir-fry until the kale starts to wilt, then stir through 2 tablespoons of the nuoc cham dressing.
Divide the quinoa mixture between 2 plates, place a tuna steak on top and drizzle over the remaining dressing. Finish with a scattering of coriander leaves.
Wagamama recipe #3: Warm Chilli Tofu Salad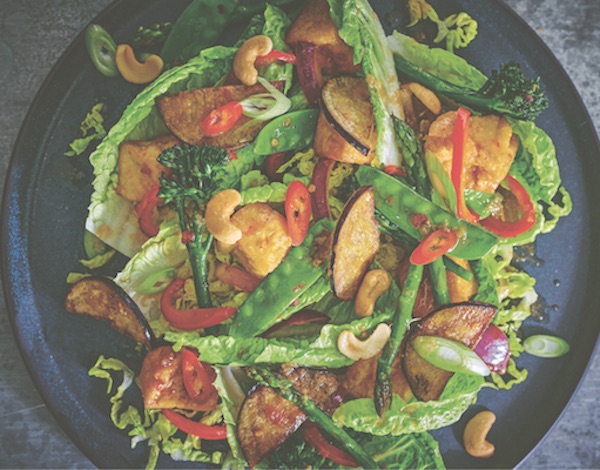 This sweet and smoky salad takes inspiration from Thai flavours, with a delicious crunch of cashew nuts. Use the fresh lettuce leaves to scoop up the tofu and vegetables.
Ingredients: 
2–3 tablespoons vegetable oil
1 aubergine, halved lengthways and finely sliced
100g tofu or firm tofu, drained and cubed
20g cornflour
125g asparagus, finely sliced
1 red pepper, finely sliced
100g tenderstem broccoli, sliced
100g mangetout
1 red onion, finely sliced
1 tablespoon sweet chilli sauce
2 tablespoons Korean barbecue sauce
2 Baby Gem lettuces, leaves removed, hearts reserved and finely sliced
1 tablespoon wagamama Dressing (see below)
Garnish:
1 red chilli, deseeded and finely sliced
2 spring onions, finely sliced
20g unsalted cashew nuts
wagamama Dressing:
Makes 125ml
2 teaspoons finely chopped shallots
2.5cm piece of ginger, peeled and grated
1 garlic clove, crushed
1½ tablespoons rice wine vinegar
1 tablespoon tomato ketchup
1 tablespoon water
100ml vegetable oil
3 tablespoons light soy sauce
Ready to cook: 
Heat 1 tablespoon of the vegetable oil in a frying pan or wok set over a medium-high heat and fry the aubergine until golden brown on each side. Transfer to a plate and set aside
Prepare the tofu as per the instructions for Perfectly Pressed Tofu on page 180, then place in a shallow bowl and generously coat each piece with cornflour
Heat another tablespoon of oil in the frying pan or wok and fry the tofu on all sides until crispy and golden. Transfer to a plate and set aside
Add the asparagus, red pepper, broccoli, mangetout and red onion to the wok and stir-fry over a medium heat for 6–7 minutes, tossing occasionally and adding a further splash of oil if necessary
Take the pan off the heat, add the aubergine and tofu and stir through the sweet chilli and barbecue sauces
Divide the lettuce leaves and hearts between 2 serving plates and drizzle over the salad dressing.
Arrange the tofu and stir-fried vegetables on top and garnish with the chilli, spring onions and cashew nuts
Place all the ingredients in a bowl or large jar and whisk together until smooth
Store in an airtight container in the fridge for up to 3 days.
Wagamama recipe #4: Yaki Soba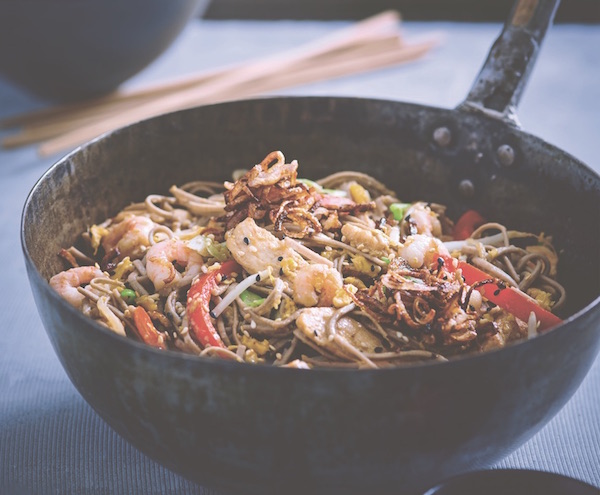 This dish, inspired by Japanese street food, has been on the wagamama menu since the day we opened. It's everyone's favourite noodle stir-fry.
Ingredients: 
1 skinless chicken breast
1 tablespoon vegetable oil
2.5cm piece of ginger, peeled and grated
1 red pepper, finely sliced
1 onion, finely sliced
4 spring onions, finely sliced
75g bean sprouts
150g cooked peeled prawns
300g soba noodles
2 eggs, lightly beaten
1 tablespoon Worcestershire sauce
1 tablespoon light soy sauce, sea salt and white pepper, to taste
Garnish:
1 tablespoon toasted mixed sesame seeds
1 heaped tablespoon crispy fried onions
1 tablespoon pickled ginger
Ready to cook:
Season the chicken with salt and white pepper. Heat the oil over a medium-high heat in a large frying pan or wok and fry the ginger and chicken, until browned all over.
Add the pepper, onion, spring onions, bean sprouts and prawns and cook for 2–3 minutes until the vegetables start to brown.
Cook the soba noodles as per the packet instructions.
Place the cooked noodles with the eggs in a large bowl and mix well to ensure the noodles are thoroughly coated.
Add the noodles to the pan, tossing quickly to ensure the egg and oil coat the chicken and vegetables thoroughly, then continue to cook for 3–4 minutes, stirring often.
Add the Worcestershire sauce and light soy sauce and toss again, making sure the sauce does not stick to the pan. Add a little more sauce to taste, if necessary.
Divide the mixture between 2 plates and top with the toasted sesame seeds, crispy fried onions and pickled ginger.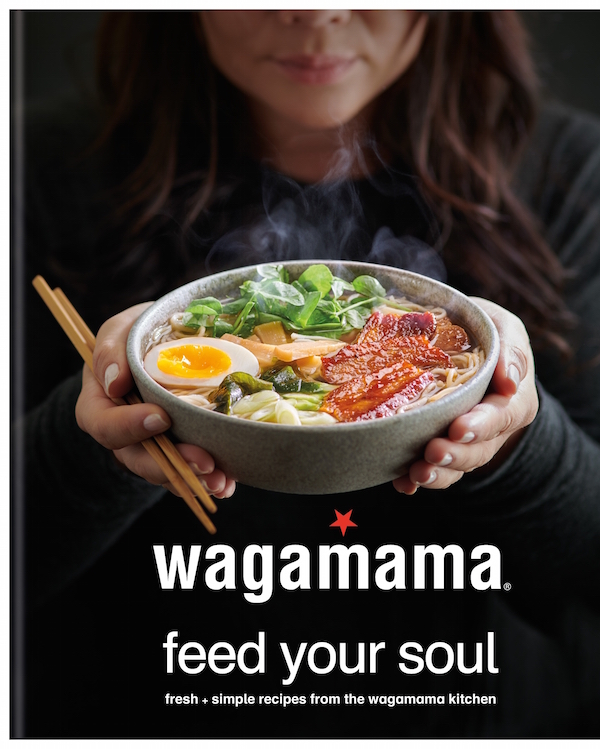 Relevant Healthista content:
6 healthy salad recipes that will actually fill you up
21 gluten-free eating hacks this food-loving coeliac swears by
8 best tasting kombucha drinks
9 healthy diet myths making you fat
Healthista content you might like:
Beauty secrets this gorgeous Swedish opera star swears by
Lip fillers fixed my smoker's lines without giving me the dreaded trout pout
Collagen, kombucha and kimchi – what this Korean beauty eats for great skin
5 fat loss supplements proven by science
Like this article? Sign up to our newsletter to get more articles like this delivered straight to your inbox.