If you think all kombucha tastes like off cider, think again.  The latest versions of the super-trendy drink taste unbelievable, are low in calories and sugar and contain billions of live healthy bacteria – these are our favourites  
If you've ever sampled kombucha before, chances are you either jumped right on the stylish bandwagon or ran away as fast as you could.
As someone who normally strays away from unique elixirs, I'll admit I never thought I'd become a kombucha fan-girl.
I'd heard the horror stories about its vinegar-y sting, and was even more petrified by my vegan flatmate's attempt to brew her own homemade batch, and the furry-fungus result. One whiff and I'd sworn off the stuff.
But living with a dedicated vegan can change your preferences, and I finally succumbed. Whether it was the chic glass bottles lining our fridge or my attempt to be trendy, I was instantly hooked on my first sip of some of the less homemade options I tried – both sharp and sweet, but not too overbearing. Plus, it made me feel not only refreshed, but weirdly energized, too.
With a frenzy of kombucha brands popping up across the UK, I set out to find the best tasting ones.
From pineapple to ginger to coconut and raspberry, I've rounded up eight teas that all passed the taste test at Healthista HQ.
You can dive in for that morning fix, post-workout quench, mid-day slump or evening indulgence—either way you'll be happy you did.
But before you do… what even is kombucha?
Born out of Asia, kombucha is a fermented tea defined by its dense probiotic makeup, which is what attracts most Healthistas; the live healthy bacteria kombucha contains.
And while it might not sound entirely appetizing, its symbiotic culture of bacteria and yeast, otherwise known as SCOBY, offers a variety of wellness benefits for your immune system and digestive health.
Its nutrient base contains a range of gut-friendly elements, such as Vitamin B, organic acids, antioxidants and enzymes, which help fight off bacterial growth, and in return, give you a detoxifying feeling.
So now that you know the appeal of kombucha, let's find the right one for you…
1. Jarr Kombucha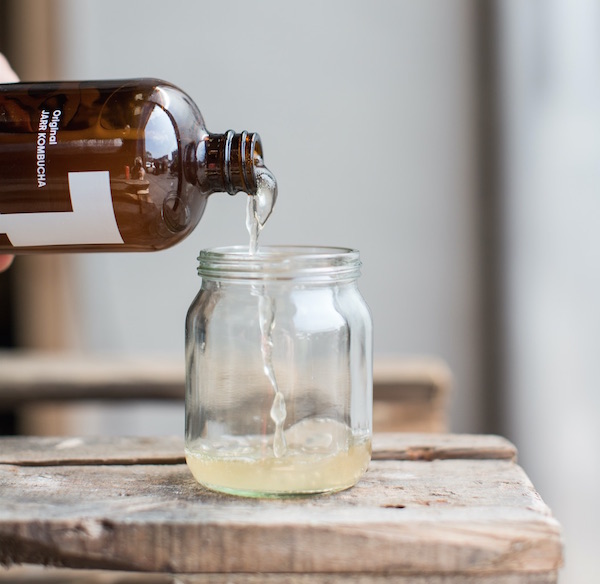 Straight out of Hackney, Jarr Kombucha's craft brewed taste prides itself on using five key ingredients: filtered water, organic cane sugar, organic green tea, organic oolong tea and natural flavourings.
Defined as a 'delicious dose of goodness for your gut,' Jarr succeeds in being a low- sugar sip without compromising any sweetness.
Light and not-too fizzy, this London-based kombucha can be enjoyed throughout the day. And although some teas can leave a bitter aftertaste, a bottle of Jarr won't, making it one of my new go-to picks.
Sporting four signature flavours of passionfruit, raspberry, ginger and original – sweet tooths, stick to the passionfruit or raspberry, but they're all honestly so tasty.
Our favourite? Original, 80 kcal per 473 ml 
2. Captain Kombucha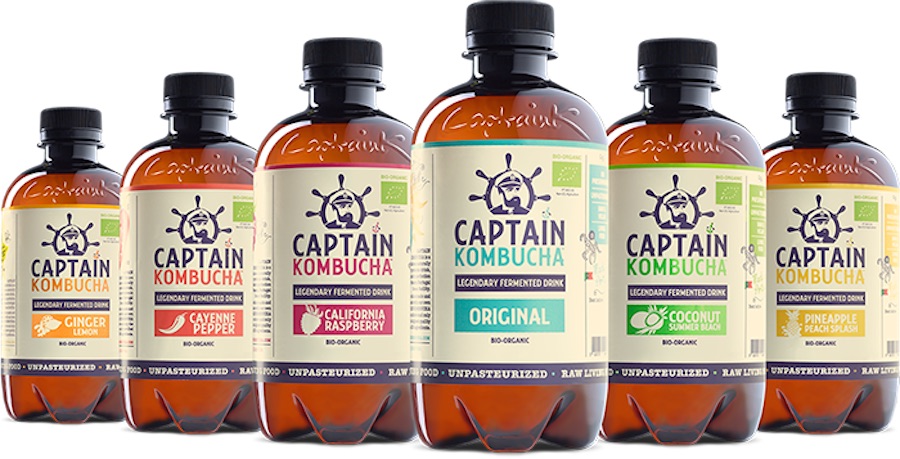 Gluten-free and vegan with no artificial additives, Captain Kombucha is hard to beat. Brewed in its Western Portugal facility, this seaside brand has mastered the creation of diverse blends.
Between the summery tastes of coconut and pineapple peach to invigorating mixtures of ginger lemon and cayenne pepper, Captain Kombucha is no stranger to experimentation. Each flavour presents its own realm of freshness, so you really can't go wrong with any choice.
But if you're prone to snacking in-between meals, especially during that 3pm slump, I suggest grabbing a bottle of the cayenne pepper. It's zingy and cleansing, making your palate ready for any dinnertime feasting. Just don't forget to sample the fruity pineapple peach before the autumn chill creeps in…
Our favourite? California raspberry, 78 kcal per 400 ml 
3. Real Kombucha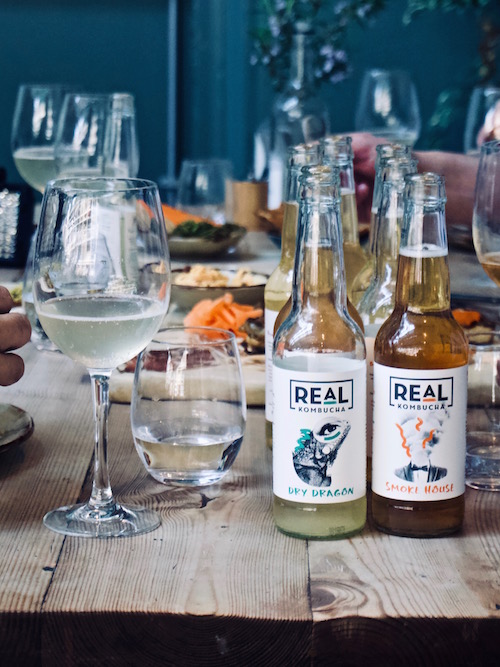 After giving up alcohol altogether in 2016, founder David Begg realised there was a dearth of sophisticated drinks on the market for non-drinkers.
In an attempt to bring consumers greater sober options so they could 'rejoin the party,' Begg founded Real Kombucha, and it's safe to say he's achieved his goal.
This earthy brand has flourished in the past three years with over 50 Michelin-starred eateries now serving it.
Its zesty flavours of royal flush, a rhubarb and white peach taste, Smoke House, a rustic apple and caramel twist and Dry Dragon, a citrus and green tea infusion, are chic alternatives when perusing the city's abundant cocktail menus.
Not to mention, Real Kombuchas are less than 50 calories—a healthy substitute to the 230 calories in your evening glass of wine.
Our Favourite? Royal flush, 44 kcal per 275 ml 
4. KeVita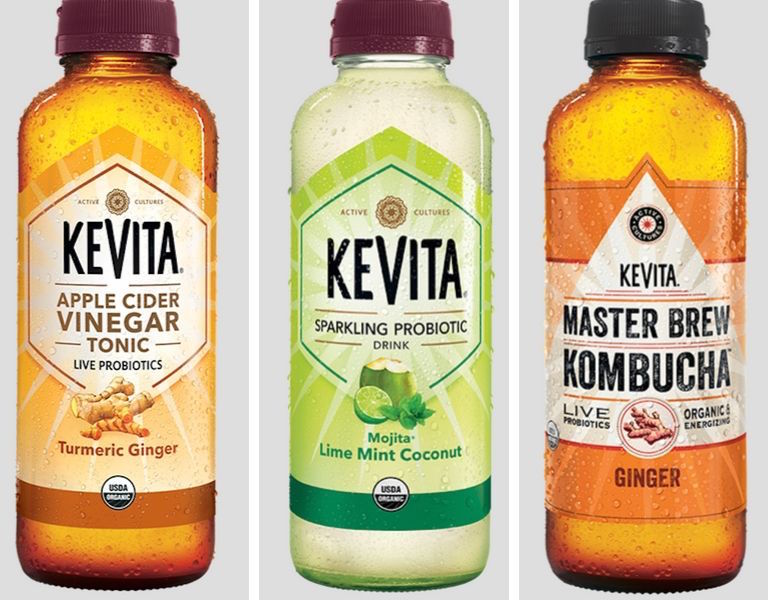 Crossing the pond from sunny California, this west coast brand boasts a lively shelf of non-GMO, non-dairy and completely kosher kombuchas.
Each organic bottle is diversely texturized and presents its own tangy twist, making it a treat during all four seasons.
As an expat, KeVita was my favourite kombucha back in the states, so I was beyond ecstatic to find it here when perusing Sainsbury's. I've always adored the distinctiveness of its flavours, and was especially thrilled to encounter its Apple Cider Vinegar beverages, since drinking that on its own is far from easy.
Now, as opposed to downing the vinegar with hot water—while holding your nose, of course—try KeVita's clever mixture of the two (apple cider vinegar and kombucha). There's ginseng mandarin and elderberry infusions, and believe me when I say it's better than the latter.
Our favourite? Apple cider vinegar ginseng mandarin, 36 kcal per 450 ml 
5. Genie Living Drinks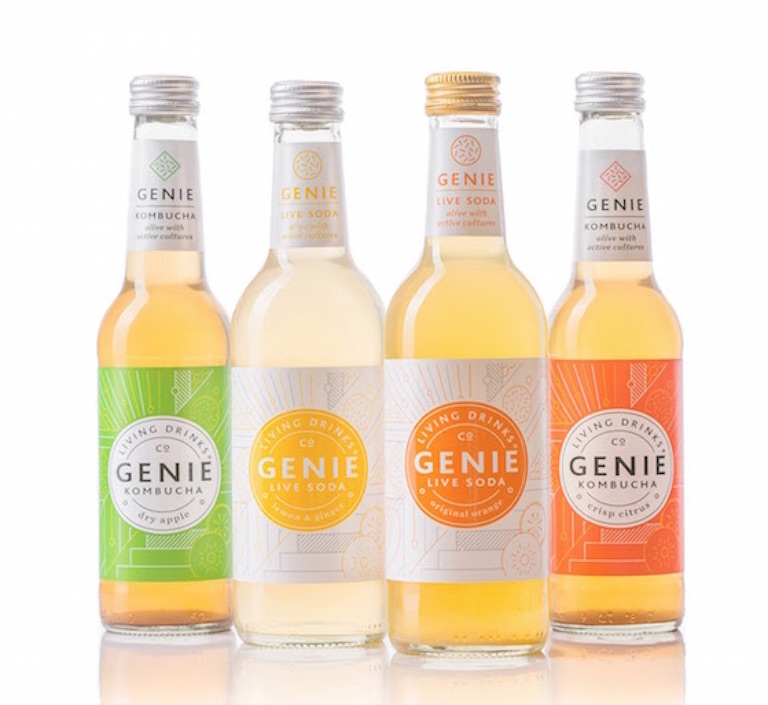 The brainchild of two long-time friends, Genie Living Drinks stems from a pub conversation over two tap waters.
Creators Alex and Bill weren't in the mood for a sugary soda or alcoholic buzz, and voilá, came the idea for their award-winning brand.
Although some kombuchas can feel overwhelming, Genie's invigorating tastes aren't.
The vegan brand aims to create complex flavours, and if you ask me, they've succeeded. Each bottle is uniquely different and leaves you equally satisifed. You can swap a fruit cider for its dry apple; get a mimosa feel with an original orange; refresh yourself with the lemon ginger; or better yet, cool down post-workout with crisp citrus.
Trust me—you'll love them all.
Our favourite? Dry apple: 50 kcal per 275 ml
6. Humm Kombucha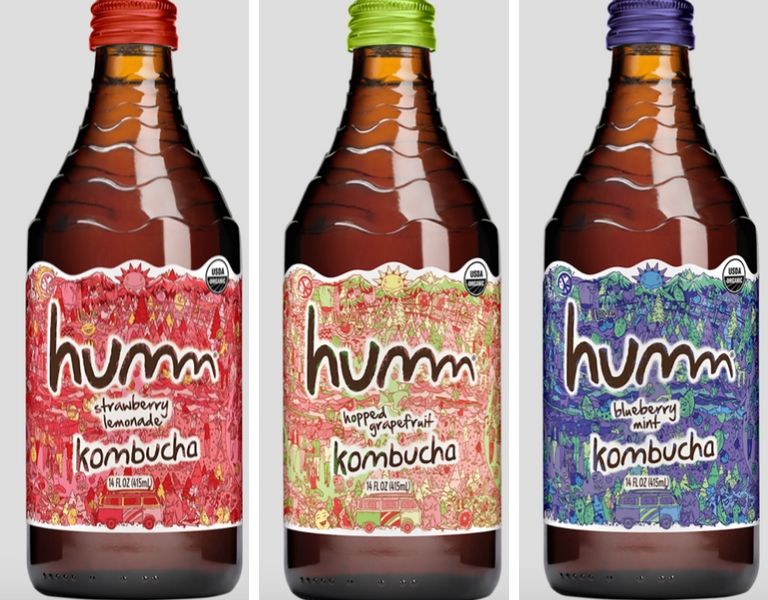 An Oregonian masterpiece, Humm Kombucha as a company believe in quality ingredients, and create its fermented wonder out of organic black and green tea, organic cane sugar, organic fruit juices and spices.
Each effervescent serving contains 10 grams of sugar or less, and is beautifully packaged in energetic bottles to represent Humm's honest mission.
There's no shortage of tastes with cucumber lime mint, blueberry mint, hopped grapefruit, ginger juniper, strawberry lemonade and more.
And with a realm of flavours, Humm Kombucha is perfect for experienced adventurers and weary first-timers. Because no matter what you sip, you'll be charmed – this stuff tastes good.
Our favourite? Cucumber lime mint, 76 kcal per 237 ml 
7. Lo Bros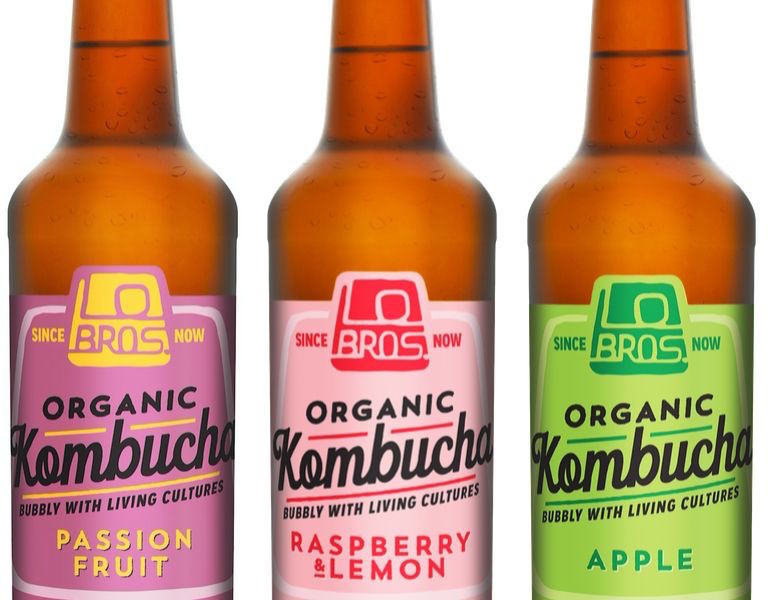 For the city goers out there 'living on the edge' or 'living their best life,' Lo Bros is definitely for you.
A London Town must-have, Lo Bros' kombuchas are snappy and delicious with their splashes of fruits and savuory spices.
I was first attracted to Lo Bros when browsing Whole Foods because of the loud and decorative packaging. I'm a sucker for anything neon, pink or purple, and with one sip of its organic passionfruit batch, this swanky brand had passed the test.
If you're craving a morning kombucha to replace that coffee craving, I advise you snag a taste of Lo Bros' signature raspberry & lemon, watermelon or apple. However, you won't want to miss out on its traditional lemonade, cola and lemon, lime & bitters living drinks. They're the perfect replacement for any diet soda or washing down a mid-day brunch.
Our favourite? Watermelon, 73 kcal per 330 ml
8. Equinox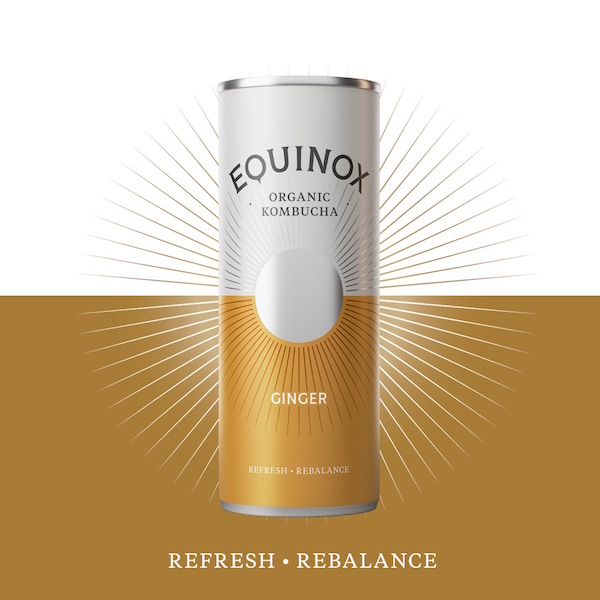 Categorized as 'the grown-up soft drink that's hard to resist,' these kombuchas not only contain significantly less sugar—around 8 grams—  but also come in a plethora of unique organic flavours that'll keep you active during the heavy work grind.  They're also great for replacing alcohol as they kind of resemble Prosecco a little, but without the alcohol.
In fact, as an alternative to wine and Champagne, I recommend a can of Equinox's bubbly ginger – sparkling like a fine bottle of Veuve, but will save you the calories and hangover.
But if you're looking for a juicy kick, the peach & turmeric or raspberry & elderflower could substitute a Saturday-night spirits craving, with a little imagination.
Our favourite? Ginger, 33 kcal per 250 ml 
Relevant Healthista content:
Where to eat plant-based in London from this top vegan blogger
Collagen, kombucha and kimchi – what this Korean beauty eats for great skin
The dairy-free probiotic drink that fixed my bloating
6 healthy salad recipes that will actually fill you up
Other Healthista content you might like:
3 breathing techniques this Instagram super yogi swears by
5 best anti-ageing face massages for glowing skin
How to do a hip thrust – the trainer's guide
4 ways stress is showing on your skin and exactly how to cope