Switching to a plant-based diet can help fight climate change, say UN experts. To help fight global warming, Vegan food and lifestyle blogger Serena Lee shares her favourites from her new book Vegan London
A major new report on land use and climate change has revealed that the West's high consumption of meat and dairy produce is encouraging global warming.
Climate change poses a threat to our food supply. For example, rising temperatures, increased rain and extreme weather events will all have an impact on crops and livestock. But food production and supply is also part of the problem in contributing to global warming.
Agriculture (and forestry) accounts for around a quarter of greenhouse gas emissions. Livestock rearing also contributes to global warming through the methane gas the animals produce, but also due to deforestation to expand pastures and land for animals.
food production and supply is also part of the problem in contributing to global warming
The report document, prepared by 107 scientists for the UN's Intergovernmental Panel on Climate Change (IPCC), says that if land is used more effectively, it can store more of the carbon emitted by humans.
So, if more people could be fed using less land aka if individuals cut down on eating meat, there would be less animals needed and therefore less land needed to supply the over-consumption of meat.
Despite this, scientists have said that they are not suggesting everyone give up meat altogether and become vegan or vegetarian, they just recommend that we aim to start eating less meat.
So with fighting climate change in mind, here are 10 of the best vegan food places that could help you make a switch to a plant-based diet at least some of the time.
Serena Lee makes it easy with her new book, Vegan London. She details the best places for everything from quick bites to date night.
Serena is the founder of the popular blog, Vegans of LDN, which shares current recommendations for London's vegan community.
Here are ten of her top picks for vegan food around the city.
OSU Coconuts – 100% Vegan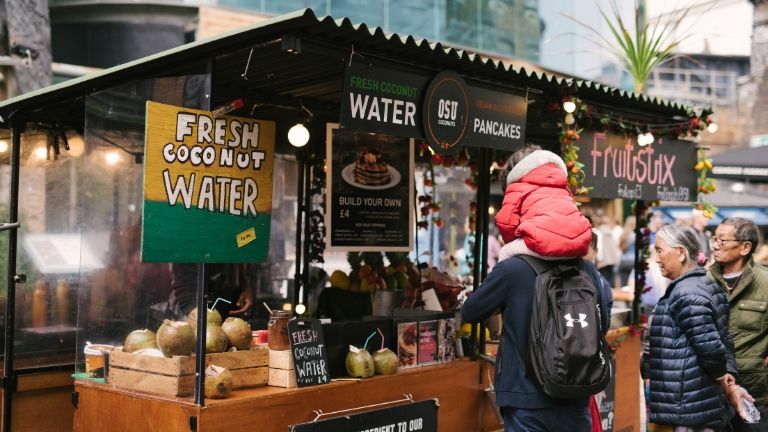 Head to Brick Lane Market on a Sunday and you'll find Benny slicing open coconuts with a machete. Londoners can enjoy hot coconut 'tea' or fresh cold coconut water straight from the source, along with Benny's famous pancakes.
This is creative plant-based food at its best, priced affordably and made with passion. OSU also run OSU Lifestyle, a charitable clothing line funded by OSU Coconuts, with 100 percent of profits going to children or adults suffering from illness. Supporting this small business feels good and does good.
Market trader (check website for current location)
osucoconuts.com
The Fields Beneath – 100% Vegan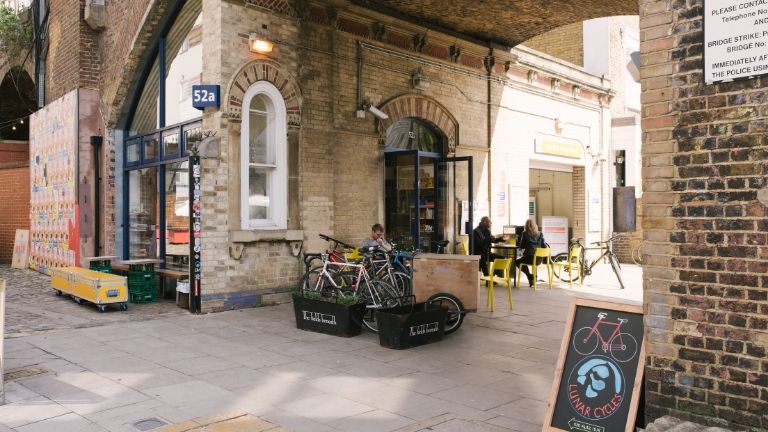 The Fields Beneath has been a popular café since 2012, serving coffee and mum's cakes to the people of Kentish Town. Their story is particularly special, with one team member becoming vegan and helping the whole business make the switch.
Visit The Fields Beneath for stuffed croissants, sausage rolls, cake and delicious Oatly-brewed coffee – and get ready to visit time and time again.
52A Prince of Wales Road, Kentish Town, NW5 3LN.
020 7424 8838
thefieldsbeneath.com
Kentish Town Overground.
CookDaily – 100% Vegan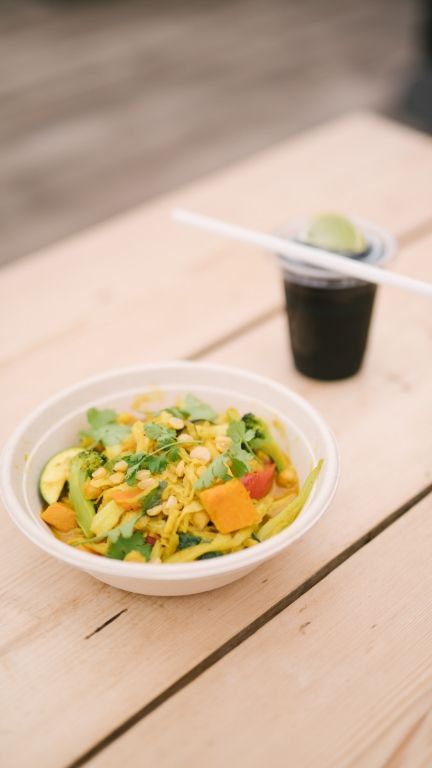 Smashing the stereotype that veganism is only for health bloggers and hippies, CookDaily draws in diverse crowds with its unapologetic approach to vegan food.
Chef and founder King's mission in life is to make more people vegan and, since opening up his first CookDaily branch in 2015, he's served up plant-based bowls to thousands – even encouraging unsuspecting teens to try vegan food, drawn in by the frequent presence of their favourite celebrities at the restaurant.
You'll have sixteen dishes to choose from, representing different cuisines from around the world with a heavy Southeast Asian in influence, as King's heritage is from Laos. Favourites include the House Pad Thai with eggstyle tofu, the Jerk and the High Grade, a sweet-and-sour smoky barbecue stir- fry with hemp-seed crumbles.
48, Boxpark, 2–4 Bethnal Green Road, E1 6GY.
07498 563 168
cookdaily.co.uk
Shoreditch High Street Overground
Vida Bakery – 100% Vegan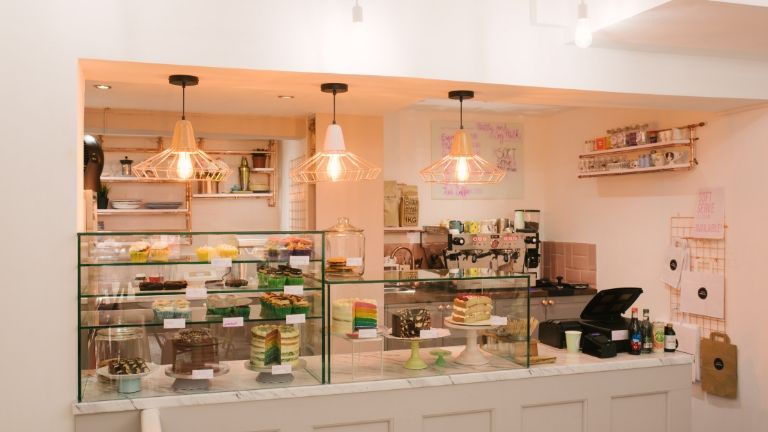 The word vida means 'life' in Spanish, so Vida Bakery's name was chosen to reflect the brand and their ethos: a company full of life and a company that celebrates life.
This, to founders Dani and Vane, means steering clear of animal-derived ingredients in their food to provide cruelty-free treats that suit all occasions. Known within the vegan community for their mini cupcakes and their extravagant customised cakes, you'll will also find pastries, cinnamon buns and doughnuts.
The Vida team is also able to cater for gluten-free diets. Try the peanut-butter jelly and pretzel cupcake avours, and don't leave Brick Lane without enjoying a slice of their notorious rainbow layer cake.
139 Brick Lane, E1 6SB.
07879 860 108
vidabakery.co.uk
Shoreditch High Street Overground
Black Cat – 100% Vegan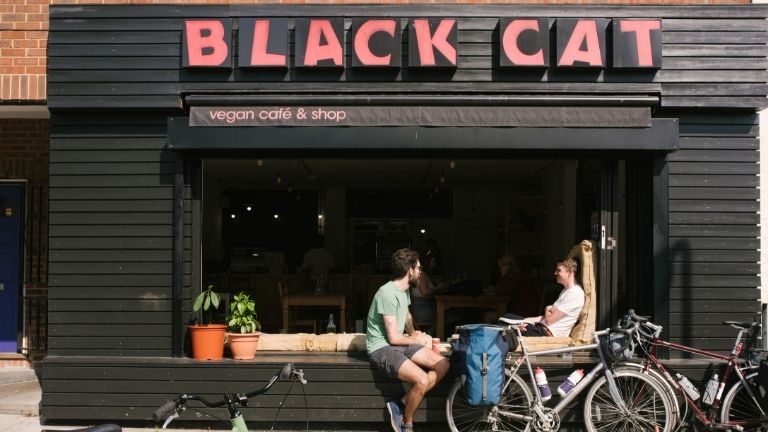 For some of the best value-for-money food in London, look no further than Black Cat in Hackney. The portions are generous and the prices are happily affordable.
A busy hotspot for East London locals, you'll find vegans browsing the offerings of reusable coffee cups and an array of chocolate bars from Black Cat's shelves while waiting for their food to be served. Many of these items are sourced locally, complementing the locally roasted coffee and supporting small businesses.
76A Clarence Road, E5 8HB.
020 8985 7091
blackcatcafe.co.uk
Hackney Central Overground
Mother – 100% Vegan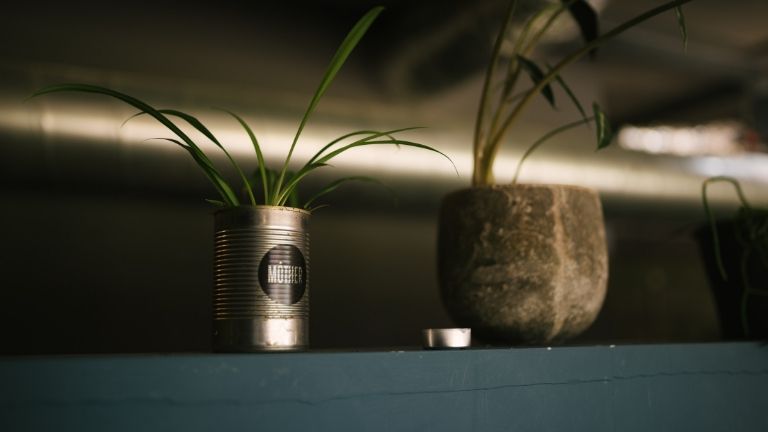 Family-owned juice bar MOTHER sits just off Regent's Canal and is the perfect pit-stop after a morning jog by the water. It's a green haven contrasting with the industrial backdrop of Hackney Wick, and a real breath of fresh air for East London.
Open for breakfast, lunch and dinner, their food spans everything from loaded acai bowls to sausage rolls and pulled jackfruit and bean chilli.
Their focus is on local and organic produce, with juices made onsite daily and a frequently changing menu. All juices are raw, cold-pressed and have a high vegetable content, making them some of the highest-quality juices you'll find in London.
1, Canalside, Here East Estate, E20 3BS.
07388 554 060
mother.works
Hackney Wick Overground
Ethiopiques – 100% Vegan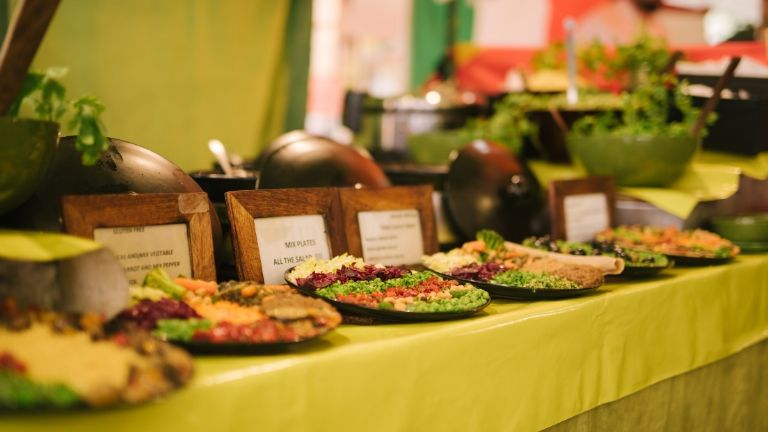 Long before veganism became a trend, there was Ethiopiques. Founder Elizabeth has been offering her healthy, plantbased food to market- goers of Brick Lane since 2006.
With Ethiopian cuisine being naturally very accommodating to a vegan diet, Ethiopiques' dishes are based around pulses, grains and injera – the spongey, fermented atbread used to scoop or mop up stews, curries and sauces. Try the set plate – mixing a little of everything – to try all the flavours in one sitting.
Elizabeth's food has gone from strength to strength, with a weekend stall at Southbank as well as Shoreditch – but her food is still as authentic and true to its roots as ever.
Market trader (check website for current
locations)
instagram.com/ethiopiques
Juicebaby – 100% Vegan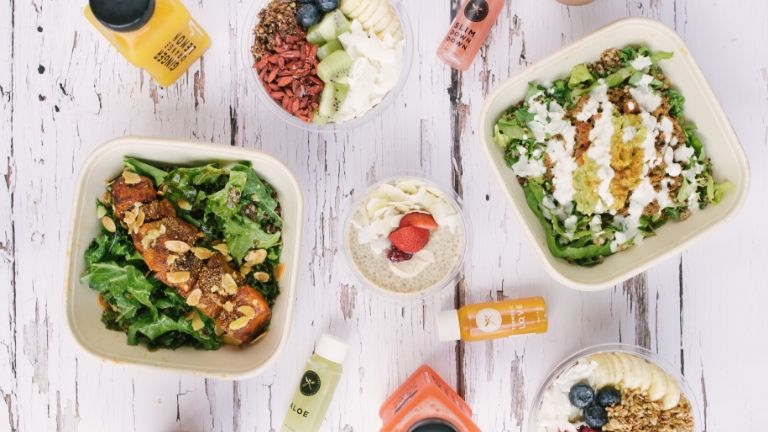 Taking the juice bar concept to Kensington levels, Juicebaby use only the best ingredients to provide nutrientpowerhouse salads with mix and match dressings in a beautifully clean, contemporary setting.
In Juicebaby's fridges, you'll find big bottles of nut milks produced in small batches and blended with flavours like vanilla and coffee, to be enjoyed with their caramel bars made from coconut, cashews, macadamia nuts, maple syrup and raw chocolate.
With a philosophy of switching unhealthier foods for more wholesome ones little by little, Juicebaby are helping turn West London vegan one açai bowl at a time.
398 Kings Road, SW10 0LJ.
020 7351 2230
juicebaby.co.uk
South Kensington or Fulham Broadway Tube.
Branches: Notting Hill W11 2SB.
Cafe Van Gogh – 100% Vegan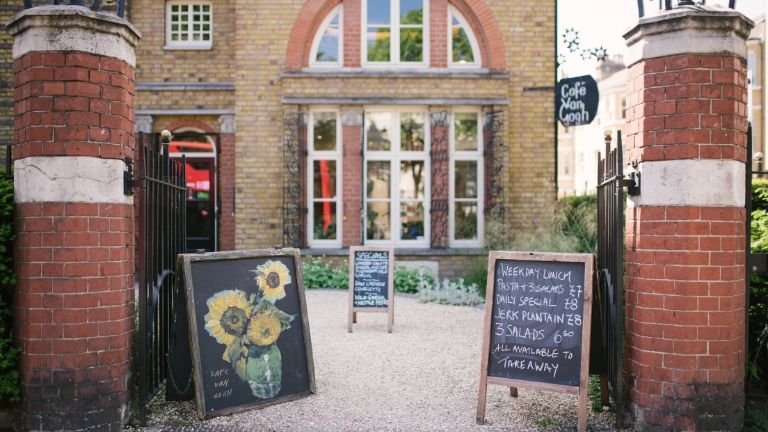 Brixton has Cafe Van Gogh founder Steve Clarke to thank for creating one of the most charismatic eateries in London, and making it one of the most ethical at that.
Entering the lower floor, a winding staircase laced with colourful lights leads you up to a cosy, exposed-brick setting. Paying homage to Van Gogh's Starry Night, the raised ceiling is painted midnight blue and dotted with white and yellow.
The menu includes vegan improvements on nostalgic comfort food, or choose from the team's travel-inspired options, such as the popular jerk plantain with butternut chilli and caramelised pineapple.
And the best bit of all? Cafe Van Gogh is a non-profit restaurant. Profits are reinvested into dedicated programmes within the local community that provide on-the-job training and food nutrition workshops.
88 Brixton Road, SW9 6BE.
07546 966 554
cafevangogh.co.uk
Oval Tube.
Tell Your Friends – 100% Vegan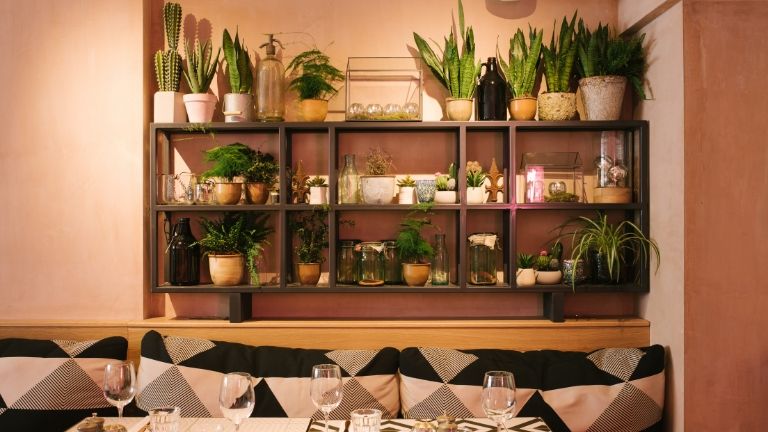 Have you ever eaten breaded banana blossom in a restaurant? Probably not.
Paired with a cashew tartare sauce, Tell Your Friends' take on a vegan fish and chips dish is welcomingly creative in a city filling fast with samey vegan options as the movement continues to grow.
On TYF's menu, comfort food favourites like this are nestled among refreshing options such as the Japanese Raw Bowl with cauliflower rice and daikon, and the Buddha Bowl with sticky tofu, pak choi and a sweet sesame sauce.
The interior at Tell Your Friends is as fresh and beautiful as the food itself, with pretty glassware and indoor plants bringing the atmosphere alive.
175 New King's Road, SW6 4SW.
020 7731 6404
.tellyourfriendsldn.com
Parsons Green Tube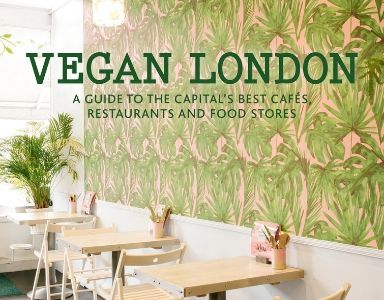 Vegan London by Serena Lee, £9.99 (White Lion Publishing). The book is also available on Amazon
.
You can see more of Serena Lee's vegan food and lifestyle recommendations on her blog serenalee.co.uk. Follow her on social media @imserenalee.
More Healthista Content:
3 easy healthy recipes from Gabby Allen's new cookbook
18 ways this celebrity trainer keeps Nicole Scherzinger and Amanda Holden in shape
6 ways to tell if your manuka honey is real or a fake