Love Island is back, so what better time to bring you former Love Island star Gabby Allen's favourite recipes from her new book?
In her new book, Shape Up, Love Island star Gabby Allen sends her readers on a four-week transformation to feel physically transformed, stronger, motivated, empowered and confident in their own skin.
Not only does Shape Up offer healthy recipes, it also includes weekly workouts taught by Gabby.  Readers are offered five workouts a week alongside these easy meals to ultimately transform their body in a one month.
Here are three of our favourite healthy recipes from Gabby's new book. 
Best Tuna Nicoise
'Why is it the best? Because it's made with leftover seared tuna steak – my favourite,' says Gabby. 'You can use canned tuna, if you prefer; you're making this salad for you! It's the extras like black olives, sticky hard-boiled eggs and green beans that make this salad a showstopper.
'Customise this recipe however you like: add anchovies for a classic niçoise, or if you have leftover sweet potato wedges they'd taste great too.
Serves 1, plus leftovers
Ready in 15 minutes
Ingredients:
2 medium eggs
60g green beans
1/4 red onion
6 cherry tomatoes
1/2 salad bag of spinach, watercress and rocket leaves
6 pitted olives
150g tuna, either leftover cooked tuna steak or canned
For the dressing:
1/2 tsp mustard
juice of 1/4 lemon
1 tsp olive oil
salt and pepper
Method:
1. Boil the kettle. Put the water in a pan over a medium heat.
2. Add the eggs to the pan and boil for 7 minutes, so they're firm but the yolks are still sticky.
3. After the first 2 minutes of cooking, top and tail your green beans and add them to the egg pan. Boil for 4-5 minutes.
4. Drain the eggs and beans; put the boiled eggs in a bowl of cold water to stop them going too hard.
5. Finely slice the red onion and halve the tomatoes. Lay out your bed of salad leaves and add your cooked and raw veggies, olives and sliced cooked tuna (or flaked canned tuna).
6. Peel and halve the eggs and arrange on top.
7. Make the dressing: stir the mustard, lemon juice, olive oil, and seasoning together. Drizzle over the salad.
Variations
This salad works warm or cold, so you box it up or eat right now. If you do take it to work, carry your dressing in a little pot so your salad leaves stay fresh.
Peanut Prawn Noodles
'These noodles re-energise me after a workout and the peanut butter makes the dish taste properly decadent. If you've got leftover roast veg to use up, your noodles will be ready even quicker'.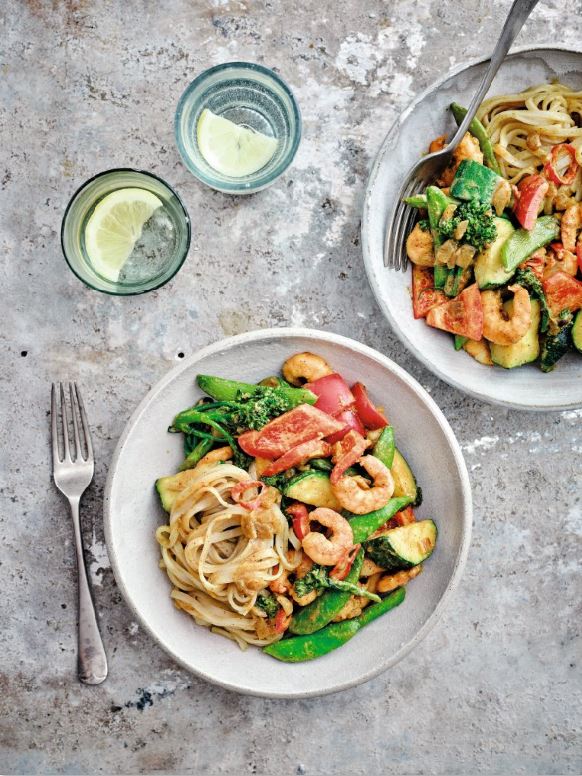 Serves 2
Read in 15 minutes
Ingredients:
1 splash sesame or olive oil
1 onion
1 red chilli
4 garlic cloves
4cm-piece fresh ginger
2 tbsp soy sauce (any kind)
1 tsp ground turmeric
1 red pepper, deseeded
80g tenderstem broccoli
1 courgette
80g sugarsnap peas
300g raw peeled king prawns
100g fresh rice noodles (if using dried/instant, follow the pack instructions on portion size and noodle prep as you won't need as many and you might need to soak them!)
2 tbsp unsweetened peanut butter
Method:
1. Heat the oil in a pan over a low heat. Then chop the onion and cook for 5 minutes. Chop and deseed the chills, then peel and grate the garlic and ginger. Throw into the pan and soften for 2 minutes.
2. Add the soy sauce and turmeric, and stir.
3. Chop the veg into bite-sized chunks and chuck them all in. I love eating loads of colour.
4. Add your king prawns and cook for 2 minutes before stirring in the rice noodles too. Give them 2 more minutes, then stir in the peanut butter (it melts over the hot ingredients and coats everything, yum).
I could eat PB every day of the week; thank heck it's healthy!
Variations:
For the vegan version – swap prawns for Quorn 'chicken' pieces.
Raw Banoffee Pie
'This banoffee pie is full of healthy fats and natural sweetness, in just the right amounts to tell those cravings where to go,' says Gabby. 'And it looks and tastes good enough to wow your mates with when they come over for dinner.' We're drooling.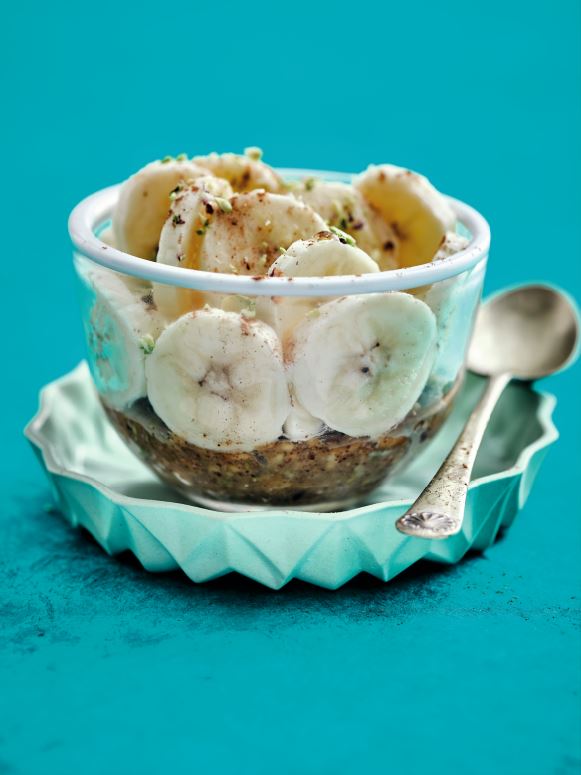 Serves 1
Read in 10 minutes
Ingredients:
20g unsalted pistachios, almonds or a mixture
20g unsweetened peanut butter
2 tsp honey
1 small banana, or 1/2 large banana, peeled
2 heaped tsp full-fat cream cheese
1/2 tsp ground cinnamon
Method:
1. Roughly chop the nuts. Save a pinch for the top of your pie, then stir the remaining nuts together with the peanut butter and 1 teaspoon of your honey to make a sticky, crunchy base. Press into a ramekin dish with the back of a teaspoon.
2. Slice some of the banana to line the sides of the ramekin.
3. Fill the space in the middle with cream cheese, then slice the remaining banana on top.
4. Dust the top of the banana slices with the cinnamon, drizzle over the rest of the honey and scatter with the reserved chopped pistachios and/or almonds. Yum.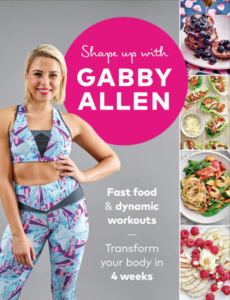 Shape Up with Gabby Allen is available to buy on Amazon.
More Healthista Content:
Exactly what to eat to lose weight – Body Transformation Week 5
15 things this TV medic wants you know about weight loss including his favourite breakfast recipe
Running for beginners – 7 steps to getting started
3 symptoms of ovarian cysts and what can be done
Want to learn to box? This video series shot at Anthony Joshua's gym will help
If you've always wanted to make money from your healthy passion, Healthista's upcoming Health To Wealth event is your chance to learn how to grow – or even just start – your side hustle into a business.
Healthista have teamed up with luxury hotel brand Pullman Hotels & Resorts to launch a new wellness entrepreneurship-focused initiative and event – Health To Wealth – to help budding start-ups bring their businesses to life.
The live event will see Healthista readers, consumers, influencers, media and businesspeople alike, come together to share and learn.
During the event, selected early-stage health businesses and ideas will be put to the test Dragon's  Den-style before a panel of industry experts including BBC Dragon – and Healthista investor – Touker Suleyman.
When: June 13th, 2019
Where: The Shaw Theatre, Pullman London St Pancras, 100-110 Euston Road, King's Cross, London, NW1 2AJ
Time: 6.00pm-9.30pm
Tickets: £15 from this link. Entry price includes a wellbeing goodie bag worth over £50.
On the night
Successful entrepreneurs from all areas of wellness including nutrition, fitness, and fashion will take part in a panel discussion focused on sharing their experience, tips and tricks for starting and growing a business in the wellness space.
This will be followed by a Dragon's Den-style format, inviting up-and-coming wellness entrepreneurs to pitch for support to further the success of their own businesses.
The Health To Wealth entrepreneur's panel includes: 
Touker Suleyman, BBC Dragon, multi-millionaire behind brands including Finery, Ghost and Hawes & Curtis and Healthista investor.
Emlyn Brown, Vice-President Well-Being, Luxury and Premium Brands at Accor Hotels.
Ashley Verma, founder of London's barre fitness studio DEFINE London.
Anna Magee, Healthista Editor and CEO and multi-award winning health journalist.
Charing the panel will be Anni Hood, co-founder and chief executive at Well Intelligence – a research, insights and market evidence platform aimed at helping wellbeing businesses grow.
Tickets to join the audience to learn from the successes and hurdles overcome by the panel of speakers are £15 per person and available to purchase from here.
Use code HEALTHISTA5 at checkout to get £5 off