These healthy vegan recipes use super-spices such as turmeric, ginger and cinnamon to help specific problems, says Tanita de Ruijt, founder of Jamu Kitchen
In the West, we often choose to eat certain foods based on how much fat, calories and sugar they contain. But according to chef Tanita de Ruijt, this is not true of Eastern cultures.
She says that Asian cultures are well-known for making food choices based on the healing properties of the ingredients and their power to boost wellbeing.
De Ruijt says some of the simple spices many of us have in our kitchens are in reality 'super herbs' with the potential to aid our health.  For example, black pepper, cinnamon, garlic and chilli, all of which she incorporates into her healthy vegan recipes, inspired by Asian cuisines.
Her new cookbook, Super Roots: Cooking with Herbs, Roots & Spices to Boost Your Mood
is divided into sections for the specific ailment you may be experiencing  – tiredness, illness, bloating and even hangovers.
We chose five recipes from her book that include these healing spices, that de Rujit claims could help boost your overall health and mood.
Healthy vegan recipe #1: Sweet potato chaat
Remedy for: Tiredness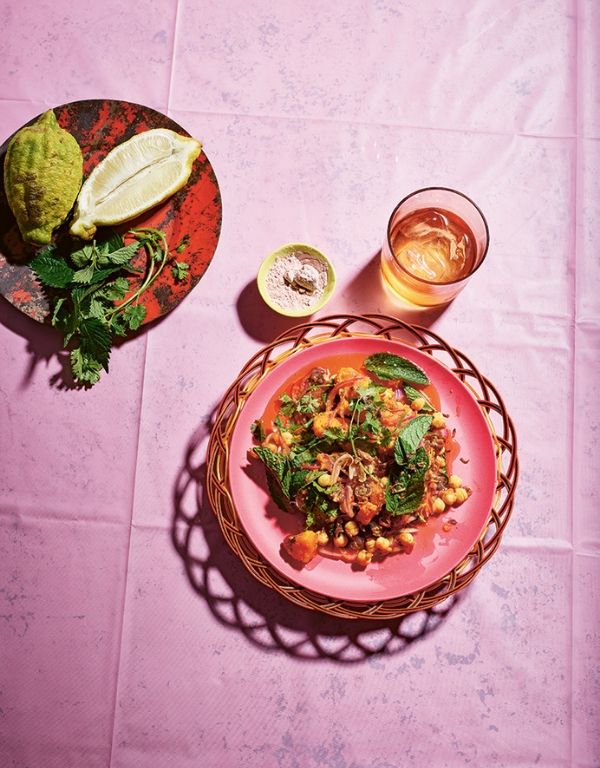 Chaat is a street food snack from Delhi, India, and chaat masala is a very popular spice blend from northern India that you can find in most Asian supermarkets. It's a wonderfully spicy, sour and salty blend that complements the sweetness of the energising potatoes, chickpeas and quick-pickled onion deliciously. Instead of the usual potato, I've used comforting sweet potatoes.Yams work just as well.
Serves 4
Vegetarian
To make this vegan, substitute the honey with maple syrup
Ingredients:
3 large sweet potatoes or yams, peeled
2 tbsp tamarind water or 1 tbsp tamarind concentrate
Juice of 2 limes
1 tbsp honey or maple syrup
1 tsp dried chilli (hot pepper) flakes
1 tsp cumin seeds, toasted
1 tsp chaat masala
1 red onion, thinly sliced
400 g (14 oz) tin of chickpeas (garbanzos), rinsed
1 tomato, chopped
Handful of coriander (cilantro), roughly chopped
Handful of mint leaves
Olive oil, for drizzling
Black salt or sea salt, to taste
Method:
1. Cook the sweet potatoes or yams in a saucepan of boiling salted water until tender, then drain. Combine the tamarind water, lime juice, honey or maple syrup, chilli flakes, cumin seeds and chaat masala in a large salad bowl. Mix well and stir in the sliced onion. Leave it to pickle.
2. Once your sweet potatoes or yams have cooled slightly, chop them into bite-sized chunks and add them to the onion and zingy dressing.
3. Peel off the outer skin of each chickpea by rolling each of them between the fingers – it should come off really easily. This is vital for helping the digestion of these legumes as the skins are hard to digest and are what cause bloating. Add the chickpeas to the salad bowl along with the chopped tomato and fresh coriander, mint and salt to taste. Drizzle with a fair glug of olive oil (don't be shy!).
Healthy vegan recipe #2: Herb & turmeric pancakes
Remedy for: Bloating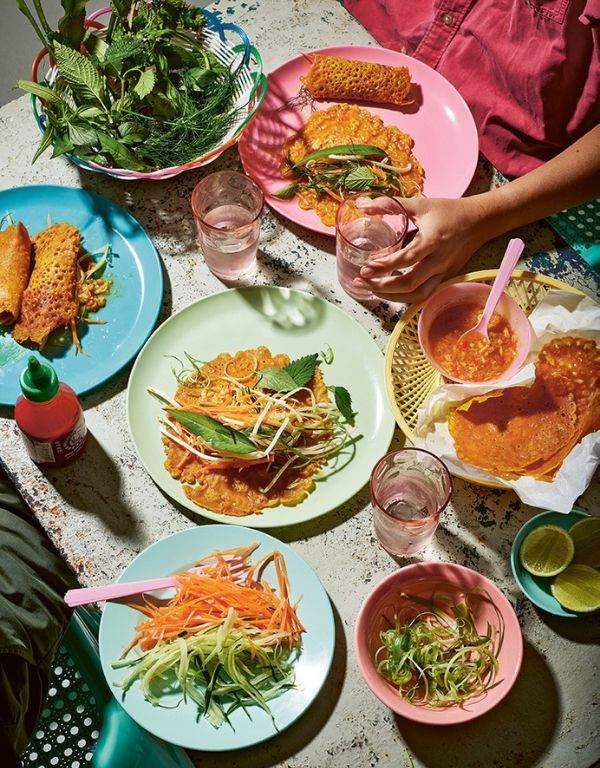 I discovered these sizzling anti-inflammatory turmeric pancakes – also called banh xeo – from Vietnam, packed with the freshest aromatic herbs  and a zingy dipping sauce, at Kylie Kwong's stall at Carriageworks Farmers Market in Sydney, Australia, and never looked back.
Serves 5
Vegetarian
Vegan
Ingredients:
Pancake Batter (makes 15)
200 g (7 oz/generous 1 cup) rice flour
240 ml (8½ fl oz/1 cup) full-fat coconut milk
240 ml (8½ fl oz/1 cup) cold water
Pinch of unrefined sugar
½ tsp sea salt
2 tsp ground turmeric
2 tbsp coconut oil, for frying
Filling:
2 carrots, julienned
1 cucumber, julienned
2 spring onions (scallions), trimmed and thinly sliced
Small bunch each of mint, coriander (cilantro) and Thai basil
Sauce:
Juice of 2 limes
1 tsp sesame oil
1 tbsp coconut sugar
2 tsp grated fresh ginger root
1 red chilli, finely chopped
1 garlic clove, crushed
½ tsp sea salt
To Serve:
Lime wedges
Probiotic Sriracha (page 65) or store-bought (optional)
Method:
1. Start by making the pancake batter: mix all the batter ingredients together, except for the oil, in a large bowl. The batter should be runny like crêpe batter. Heat a non-stick frying pan (skillet) over a medium heat, lightly grease with some of the coconut oil, then pour in a ladle of batter and swirl to coat the base of the pan (the pancakes should be very thin).
2. Cook the pancake until tiny holes start to appear on the surface and it colours lightly on the underside, then flip and cook on the other side until coloured on both sides. Repeat with the rest of the batter, and extra coconut oil as necessary. Once you've cooked them all, let them cool and keep to one side.
3. Combine the filling ingredients in a bowl. Then, in a separate bowl, whisk the sauce ingredients together. Add the sauce to the filling and toss to combine.
4. To serve, fill the cooled pancakes with the dressed filling, roll up and serve alongside wedges of lime and maybe some sriracha too.
Healthy vegan recipe #3: Rujak
Remedy for: Hangovers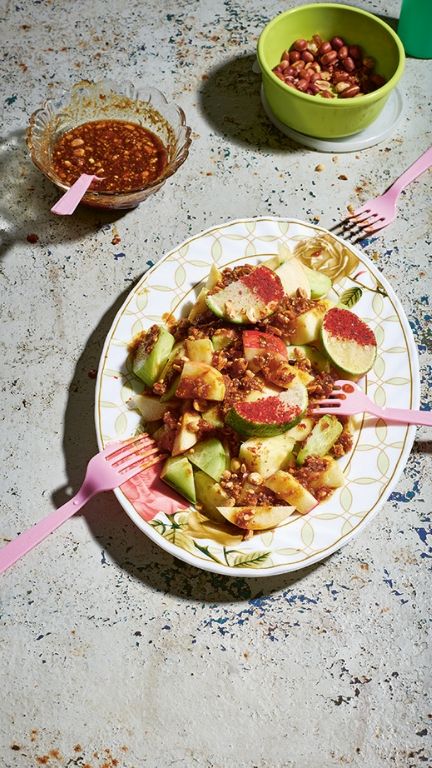 This traditional Indonesian fruit salad is a scrumptious mix of spicy, sweet, salty, tangy and crunchy flavours and textures that aim to pick you up and cool you down.
Serves 2
Vegetarian
Vegan
Ingredients:
½ pineapple, peeled and cut into chunks
2 cucumbers, peeled and cut into chunks
1 eating (dessert) apple, cored and sliced (I prefer to leave the skin on)
2 'cheeks' of lime, dipped in salt and dried chilli (hot pepper) flakes
Spicy Peanut Dressing:
20 g (¾ oz) tamarind pulp, soaked in warm water and strained (see Cook's Note on page 36)
100 ml (3½ fl oz/scant ½ cup) warm water
100 g (3½ oz) coconut palm sugar
1 red chilli
1 tsp grated fresh ginger root
1 tsp sea salt
Juice of ½ lime
2 tbsp coconut sugar
100 g (3½ oz/scant 2/3 cup) roasted peanuts
Method:
1. Start by making the spicy peanut dressing: put the tamarind liquid in a pestle and mortar with the rest of the dressing ingredients (using just half the peanuts) and pound until you have a smooth sauce.
2. Crush the remaining peanuts lightly for sprinkling over the finished dish.
3. Put the fruit in two bowls or a large serving platter and pour over the dressing. Sprinkle with the crushed peanuts and serve with lime 'cheeks'.
Healthy vegan recipe #4: Tom Yum fried rice
Remedy for: Tiredness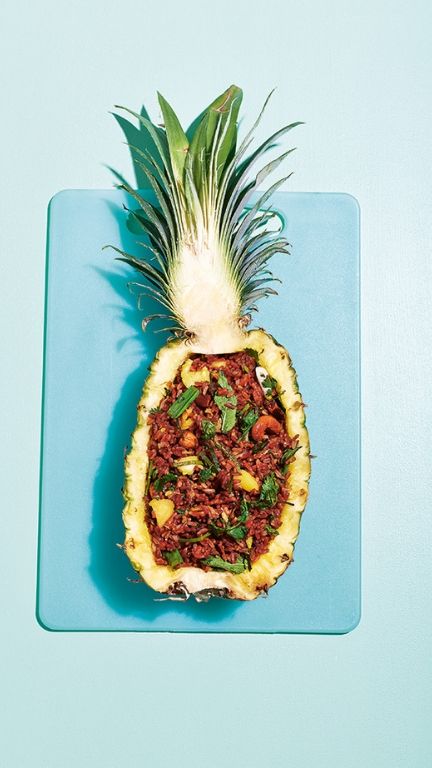 Spicy, savoury and a little sour, this tangy fried rice is packed with the energising and invigorating flavours of Thai Tom Yum. I like to use nutty red rice for this recipe, but any leftover rice will work just fine.
Serves 2
To make this vegetarian or vegan, omit the fish sauce, adding extra salt if needed
Ingredients:
1 tbsp coconut oil
1 lemongrass stalk, white part only, thinly sliced
2 cm (¾ in) piece of fresh ginger root, peeled and grated
1 shallot, thinly sliced
2 garlic cloves, finely chopped
2 small red Thai chillies, thinly sliced
100 g (3½ oz) pineapple, finely chopped
300 g (10½ oz) cooked rice of your choice or 180 g (6 oz) uncooked rice
1 tbsp fish sauce
2 tbsp kecap manis (Indonesian sweet soy sauce)
100 g (3½ oz/2⁄3 cup) roasted cashews
1 kaffir lime leaf, thinly sliced (optional)
1 lime, halved
Method:
1. Heat a wok or large frying pan (skillet) over a high heat, add the coconut oil, then add the lemongrass, ginger, shallot, garlic and chillies. Sauté for about 6 minutes, stirring constantly to prevent the ingredients from colouring.
2. Add the pineapple and the cooked rice to the sizzling wok and mix everything together. Reduce the heat to medium, add the fish sauce, kecap manis, cashews and kaffir lime leaf (if liked). Stir and fry for 2–3 minutes until the rice is hot and steamy.
3. Turn off the heat and finish with a squeeze of lime juice.
Healthy vegan recipe #5: Spicy pickled watermelon salad
Remedy for: Bloating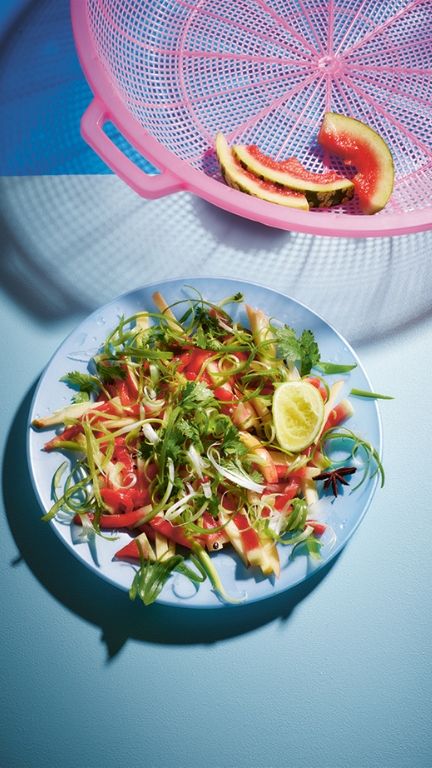 This dish contains a perfect balance of cooling and warming ingredients. Packed with pickled, tangy, fruity and spicy flavours, it's perfect in the summer.
Start making the brine the day before you plan to tuck in.
Serves 2
Vegetarian
Vegan
Ingredients:
1.5 kg (3 lb 5 oz) rindless watermelon, sliced
1 green apple, cut into thin slices
1 fresh jalapeño, thinly sliced (optional)
1 spring onion (scallion), trimmed and thinly sliced
Bunch of coriander (cilantro), chopped
Juice of 1 lime
Brine:
200 g (7 oz/generous 1 cup) unrefined cane sugar
200 ml (7 fl oz/scant 1 cup) apple cider vinegar
1 long red or green chilli, finely chopped
25 g (¾ oz) fresh ginger root, sliced
2 whole star anise
1 tbsp sea salt
1 tsp black peppercorns
1 tsp fennel seeds
1 bay leaf
1 lime, quartered
200 ml (7 fl oz/scant 1 cup) water
Method:
1. Start by making the brine: put all the ingredients in a medium saucepan. Bring to the boil over a medium heat, stirring until the sugar dissolves.
2. As soon as it reaches boiling point, turn off the heat. Allow the brine to cool.
3. Put the watermelon into a clean 1 litre (34 fl oz/ 4 cup) container or jar and fill it with the cooled brine. The brine needs to cover the watermelon, so take some pieces out if necessary. Seal and leave the watermelon to pickle in the fridge overnight.
4. The next day, remove all the watermelon from the brine and slice into bite-sized chunks. Gently toss the watermelon, apple, jalapeño (if using), spring onion, coriander and lime juice in a large bowl and serve.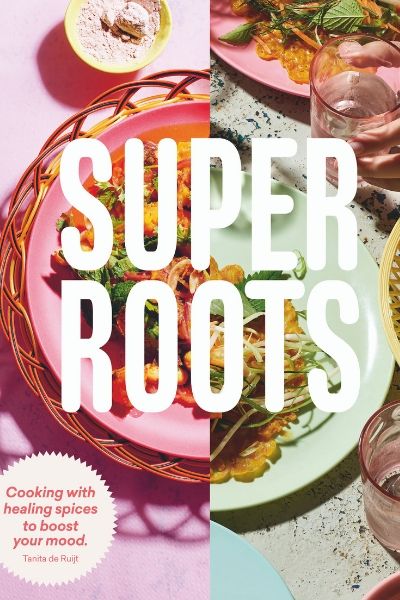 All recipes have been extracted from Super Roots by Tanita de Ruijt (2019, Hardie Grant, £16.99). The book is available to buy on Amazon
.
Vaguely relevant Healthista content:
6 healthy vegan recipes from the best new plant-based cookbooks
Doing the Atkins diet to lose weight? These 11 diet swaps make it easier
Healthista content you might also like:
11 healthy recipes these peanut butter obsessed influencers love
3 healthy recipes using CBD oil – yes CBD oil
5 healthy recipes to help balance your hormones
Like this article? Sign up to our newsletter to get more articles like this delivered straight to your inbox.