Wellness expert Leah Vanderveldt's The CBD Kitchen will teach you how to incorporate the pain and anxiety-reducing oil into your diet. We chose three savoury, plant-based recipes from her book to help you get started
CBD (cannabidiol) is trending as an innovative, natural remedy for everything from anxiety to pain relief. It's common practice to add CBD oil to beverages, but did you know CBD can also be incorporated into your savoury dishes?
Wellness expert Leah Vanderveldt's new cookbook, The CBD Kitchen (2019, Ryland Peters & Small, £12.99), uses the oil in everyday plant-based recipes that include breakfasts, desserts, small meals – and even homemade skincare products.
MORE: CBD oil – 3 A-listers that love it and EXACTLY what is is and what it does
For those who are new to CBD oil, it comes from the cannabis plant but only contains trace amounts of THC – the stuff that gets you high.
Leah, and many other CBD oil users, have experienced a reduction in anxiety and pain as a result of using the oil regularly over an extended period of time.
Here are three creative savoury recipes we love for their simplicity, chosen from Vanderveldt's book. If you're looking for a CBD oil, we recommend Healthspan's High Strength CBD Oil £15.95 because they're a regulated, long-standing company so you can be sure you're getting only the real thing and not the stuff that makes you high.
CBD Recipe #1: Green Chickpea CBD Pancakes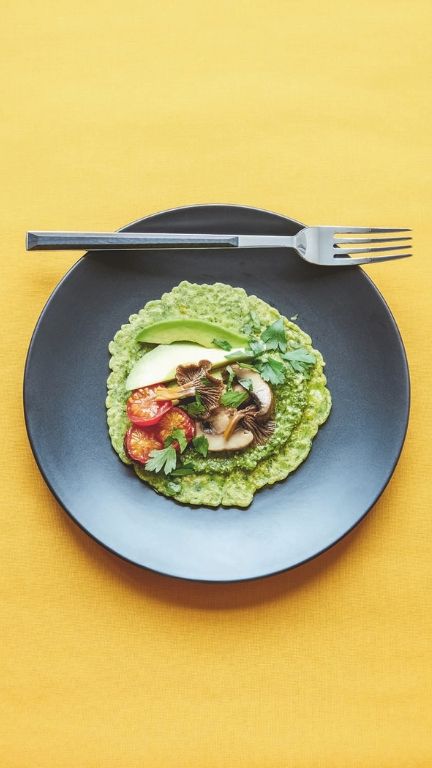 'These chickpea/gram flour pancakes are on the slightly thicker, sturdier side of the savoury crepe,' says Vanderveldt.  'If you want to top these hearty, gluten-free pancakes with a sweet filling, simply leave out the herbs. You won't get the cool green colour, but you'll have nice golden pancakes for whatever tasty flavour combo you can think up'.
Makes about 4 pancakes
Serves 2
Ingredients:
125 g/1 cup chickpea/gram flour
295 ml/ 1 1/4 cups water
2 handfuls of fresh herbs such as parsley, basil and/or coriander/cilantro
1/2 teaspoon salt, or more to taste
1/4 – 1/2 teaspoon CBD oil
Olive oil, for frying
Savoury topping ideas:
Sautéed mushrooms
Roasted tomatoes
Avocado
Pesto
Method:
1. In a blender, combine the chickpea/gram flour with the water, herbs, salt and CBD oil and process until you get a smooth batter. Let the batter stand at room temperature for 10 minutes.
2. Heat the olive oil in a small non-stick frying pan/skillet over a medium heat. Add approximately 60–90 ml/1/4–⅓ cup of the batter to the warm pan and swirl it around so that it covers the base of the pan. Cook for about 2–3 minutes, until the batter begins to form bubbles. Flip over with a spatula and cook for another 1–2 minutes on the other side until golden and cooked through. Remove to a plate and keep warm until ready to serve.
3. Repeat with the remaining batter – you may need to add a little more oil to the pan as you go. Serve the pancakes with your desired toppings.
CBD Recipe #2: Soba Noodles, Kale & Kashews with CBD Garlic & Chilli Oil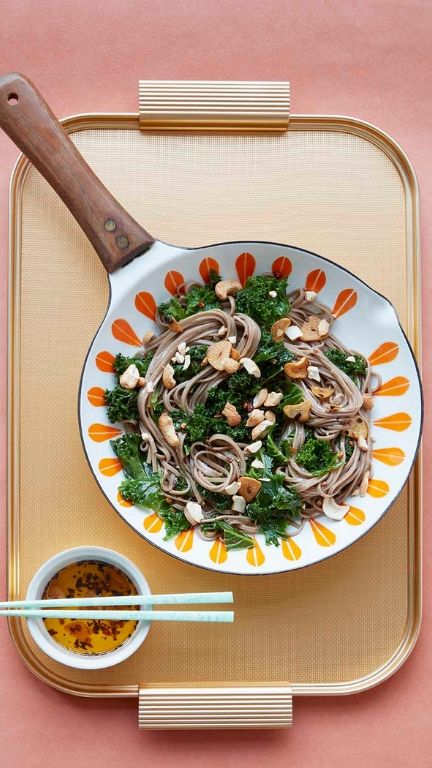 'I love this simple noodle dish served warm for an easy dinner or at room temperature the next day for lunch – I actually think the leftovers taste even better because the flavours have had more time to meld'.
Serves 2-3
Ingredients:
2 garlic cloves, peeled and finely chopped
1 teaspoon chilli flakes/hot red pepper flakes
60 ml/ 1/4 cup avocado or olive oil
1/2 teaspoon CBD oil
60 g/ 1/2 cup raw cashews
225-g/8-oz. pack of buckwheat soba noodles
200 g/3 packed cups roughly chopped kale
Salt
Method:
1. Preheat the oven to 180C (350F) Gas 4.
2. In a medium frying pan/skillet, combine the garlic, chilli flakes/hot red pepper flakes and oil over a low heat. Heat through for about 4–5 minutes, giving a couple of stirs, until the garlic begins to sizzle and become fragrant, then remove from heat. Stir in the CBD oil and set aside until you're ready to use.
3. Spread the cashews out on a baking sheet and roast in the preheated oven for 8–10 minutes until golden.
4. Meanwhile, cook the noodles in salted boiling water for 1–2 minutes less than the package instructions state, adding the kale in the last 30 seconds of cooking. Drain the noodles and kale well and transfer to the pan with the garlic and chilli oil. Toss to combine the ingredients and serve in portions scattered with the roasted cashews.
5. Refrigerate and store any leftovers in an airtight container for up to 5 days. Bring to room temperature or reheat until hot all the way through before serving.
CBD Recipe #3: Lentil & Sweet Potato Bowl with CBD Chimichurri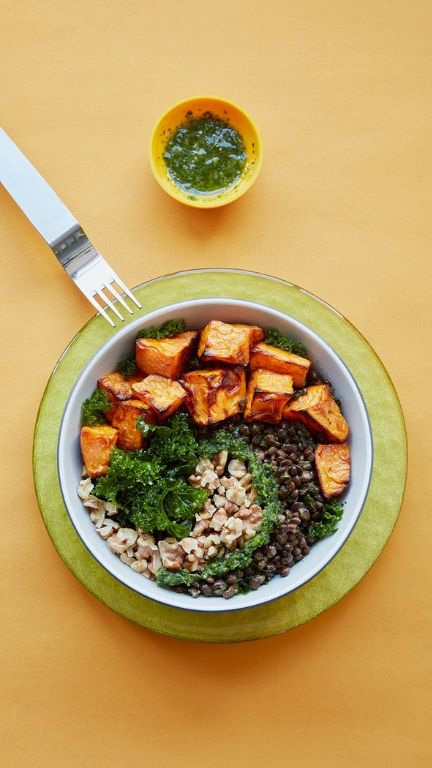 'I love making this for lunches for the week ahead. But it's equally nice for a shared dinner. The chimichurri is great for livening up a bunch of other things like roasted vegetables and soups'.
Serves 3-4
Ingredients:
190 g/1 cup dry Puy lentils/French lentils
1 large sweet potato (or 2 small), peeled and cut into, 2.5-cm/ 1-inch cubes
2 tablespoons olive oil
1 bunch of kale, stems removed, roughly chopped
140 g/1 cup toasted walnuts, roughly chopped, to serve
Salt and freshly ground black pepper
For the chimichurri:
15 g/1/4 packed cup fresh parsley
15 g/1/4 packed cup fresh coriander/cilantro
2 tablespoons finely chopped shallot
75 ml/⅓ cup olive oil
Freshly squeezed juice of lemon
1 teaspoon unflavoured CBD oil
Sea salt
Method:
1. In a saucepan, combine the lentils with 950 ml/4 cups water and a generous pinch of salt. Bring to the boil over a medium-high heat. Once boiling, turn the heat down and simmer, covered, for 25–30 minutes until the lentils are just tender. Drain and set aside.
2. Meanwhile, toss the sweet potato cubes with 1 tablespoon of the olive oil and a large pinch of salt in a bowl. Spread on a baking sheet and roast in the preheated oven for about 30 minutes, until golden and tender.
3. In another large bowl, combine the kale, the second tablespoon of olive oil and some salt and pepper. Use your hands to rub the olive oil into the kale, making sure the kale is well covered. Massage the kale for 20–30 seconds. This helps to break the leaves down, making them more tender. Set side.
4. Make the chimichurri by combining all the ingredients in a food processor or blender and processing until the herbs are finely chopped and the ingredients are evenly combined.
5. Toss a spoonful or two of the dressing into the cooked lentils and let sit until you're ready to serve.
6. Divide the kale between bowls and top each with lentils and sweet potato. Spoon over some chimichurri and top each bowl with toasted walnuts.
7. Store the elements separately in the refrigerator in airtight containers for up to 5 days. Bring to room temperature and/or reheat the lentils and sweet potato until hot all the way through before eating.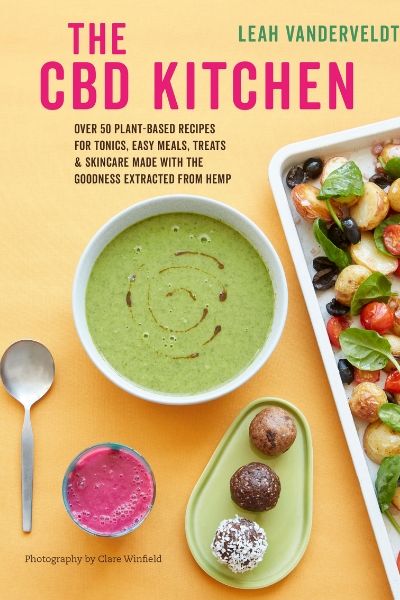 All recipes have been extracted from The CBD Kitchen by Leah Vanderveldt (2019, Ryland Peters & Small, £12.99). Photography is by Clare Winfield. The book can be purchased here. 
More Healthista Content:
5 natural fixes for joint pain proven by science
How to lose weight for good – ONE thing this world-leading expert says to do
3 easy vegetarian dinners to impress your friends this weekend
10 best vegan restaurants in London from this top plant-based blogger
Like this article? Sign up to our newsletter to get more articles like this delivered straight to your inbox.