Looking for easy vegetarian recipes that are super-quick but high on the impressive stakes? These beauties from renowned food writer Elly Pear's new book, Green will deliver 
The best-selling cookery author, Elly Pear, shares creative and easy veggie recipes for special occasions, relaxed weeknights and everything in-between. We chose three of our favourite recipes from her new book to try this weekend.
Elly was recently named one of Britain's top 20 Veggie Heroes by Eat Veggie Magazine. She focuses on easy to find ingredients such as vegetables, pulses, and grains and we love her because her recipes are easy but impressive.
Green is perfect for those who are already vegan or vegetarian, and 'flexitarians' who are interested in learning how to prepare easy, plant-based meals.
The book is divided into sections for weekday and weekend recipes, making it easy to choose the perfect dish for any day or occasion.
Vegetarian Recipe #1: Summer Vegetable Udon Stir Fry
In Bristol, my favourite place to order a food delivery from is China Capital near Ashton Gate Stadium. Their udon noodles are the inspiration for this recipe. Fat, chewy noodles, loads of crunchy vegetable and a delicious saucy glaze – it's the sort of dish I should've been making as a student, if I hadn't been so busy living off hummous and toasted pitta bread.
Serves 2
Ingredients:
Vegetable/olive oil, for stir-frying

1 courgette, halved and sliced

½ small onion, cut into fine wedges

3 spring onions, white and green parts divided and sliced

½ red pepper, sliced

1 handful of finely sliced red cabbage

1 x 200 g tin of sweetcorn

1 large handful of baby leaf spinach

1 garlic clove, peeled and thinly sliced

2 cm piece fresh root ginger, peeled and grated

400 g pre-cooked udon noodles

2 tbsp dark soy sauce

50 ml boiling water plus ½ tsp cornflour, stirred until smooth

2 tbsp rice wine vinegar

2 tsp sriracha hot sauce
Method:
1. Heat 1 tablespoon of oil in a wok over medium heat.
2. Add the courgette slices and onion and cook for 3 minutes. Next, add the white parts of the spring onions and the red pepper and cook for a further 2 minutes. Add the red cabbage and cook for another 2 minutes or until slightly wilted. Stir in the sweetcorn and spinach then push everything to the edges of the wok.
3. Add the garlic and ginger to the middle of the pan. Drizzle over another 1 teaspoon of oil and cook or a further 1 minute, stirring continually.
4. Meanwhile, boil the kettle. Place the noodles in a colander and pour over boiling water to separate them.
5. Add the soy sauce, cornflour mixture, rice wine vinegar and sriracha to the pan. Toss everything together and cook for another 1–2 minutes. Add the noodles and stir to combine. Serve topped with the spring onion greens.
Vegetarian Recipe #2: Spiced Paneer, Spinach and Pea Grain Bowl with Mint Yoghurt Sauce
The spicy cubes of fried paneer cheese are strong competition, but I reckon it's actually the sauce that is the star of this show. Inspired by Indian restaurant yoghurt sauce (perfect for dipping shards of poppadum into while you neck a cold beer and deliberate over what to order), it was one of the most popular things I'd made in ages when I first served it up. Everyone loved it. I was then tempted to put it on everything, of course.
Serves 4
Ingredients:
2 tbsp coconut oil (coconut is best for flavour, but any oil is fine)
2 x 225 g packs of paneer, cut into 2 cm cubes
1 garlic clove, peeled and grated or crushed
2 cm piece fresh root ginger, peeled and grated or crushed
1 tsp cumin seeds
2–4 tbsp tandoori curry paste (according to taste)
250 g frozen peas, defrosted
4 tbsp boiling water
2 x 220 g pouches of mixed rice and grains (I use brown rice and mixed grains)
130 g baby leaf spinach
Lemon wedges, to serve
Red chilli slices, to serve
Naan bread, to serve
For the yoghurt sauce:
250 g Greek-style yoghurt or plain coconut yoghurt
1 tsp ground turmeric
2 tsp lemon juice
3 tsp mint sauce
1 tsp caster sugar (or to taste)
2 heaped tbsp finely chopped
fresh coriander
½ tsp flaked sea salt
Method:
1. Heat the coconut oil in a large frying pan over a medium–high heat. Add the paneer cubes to the pan and fry until golden, in batches if necessary. Allow the paneer to form a crust on each side of the cubes before turning them over. This takes about 10 minutes, but it stops the paneer from breaking up and also adds a lot of important flavour and texture. Remove from the pan and set aside.
2. Lower the heat to medium–low then gently fry the garlic, ginger and cumin seeds for 1 minute. Return the paneer to the pan, add the curry paste, stir and fry for 1 minute over a medium heat. Add the peas along with 4 tablespoons of boiling water and stir everything together.
3. If you have a microwave, you can speed things up a little by warming the pouches of rice and mixed grains according to the packet instructions. If you don't have a microwave, don't fear. (Neither do I!) Simply add the rice and grains to the pan, separating them with your fingers to break up any clumps as they tumble in.
4. Add the spinach to the pan, toss it all together, then cover with a lid and cook for 2–3 minutes until the spinach has wilted and everything is piping hot.
5. Meanwhile, make the mint yoghurt sauce. Place the yoghurt in a small bowl and stir in all the other ingredients.
6. Divide the rice and grains mixture between 4 bowls. Serve with lemon wedges, red chilli slices and naan bread, alongside the bowl of mint yoghurt sauce.
Vegetarian Recipe #3: Aubergine, Tomato and Chickpea Traybake
This super easy, quick traybake is equally good eaten cold as it is hot, so it is fab in lunchboxes. It's also an excellent make-ahead dish as it both freezes and reheats well. If you can't find rose harissa, regular harissa will do just fine. Swap the mint for roughly chopped flat-leaf parsley, if you like.
Serves 4
Ingredients:
3 tbsp olive oil

2 medium aubergines, cut into 2 cm cubes

3 tbsp rose harissa (look for the Belazu brand), diluted with 1 tbsp water

300 g cherry tomatoes

1 x 400 g tin of chickpeas, drained and rinsed

Zest of 1 lemon, finely grated

3 tbsp tahini, thinned with warm water to make a dressing the consistency of single cream

1 small handful of fresh mint leaves

Flaked sea salt and freshly ground black pepper

Flatbreads or pitta breads, to serve
Method:
1. Preheat the oven to 200°C fan/220°C/425°F/Gas mark 7.
2. Pour the olive oil into a large ovenproof dish or roasting tray and heat in the oven for 5–10 minutes. Carefully add the aubergine cubes to the hot oil. Season well with salt and pepper, add the diluted rose harissa and toss everything together. Place the dish or tray in the hot oven, setting the timer for 15 minutes. When the timer sounds and 15 minutes has passed, stir to make sure all sides of the aubergine cubes are roasting. Set the timer again for another 15 minutes.
3. After a further 15 minutes, remove the tray from the oven and add the cherry tomatoes. Return the tray to the hot oven, this time setting the timer for 20 minutes. When the 20 minute timer sounds, add the drained chickpeas and stir well. Return the tray to the oven and roast for a final 10 minutes.
4. Remove the tray from the oven, stir in the grated lemon zest and leave to cool for 15 minutes. Check the seasoning and adjust as necessary.
5. Drizzle with a generous amount of the tahini dressing and scatter over the mint leaves. Toast the flatbreads or pitta breads in a dry frying pan and serve immediately.
6.  Leftovers will keep when covered and stored in the fridge for up to 3 days. To reheat, cover the tray with foil and warm in a 180°C fan/200°C/400°F/Gas mark 6 oven until piping hot.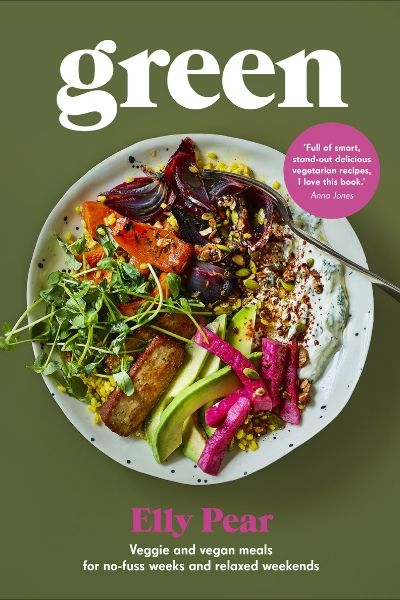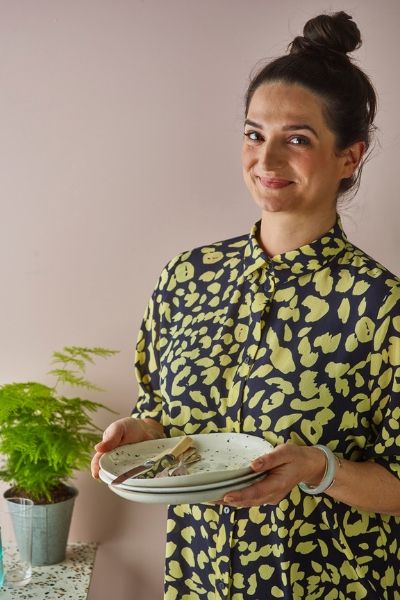 All recipes have been extracted from Green by Elly Curshen (Ebury Press, £22.00). The book is also available to buy on Amazon
. 
More Healthista Content:
8 best foods for glowing skin proven by science
12 easy ways to cut back on plastic
6 ways to tell if your manuka honey is real or a fake
What these health experts eat for breakfast