What are the best foods for glowing skin? If you want to eat yourself prettier, Nutritional Director Rick Hay has the store cupboard essentials proven to help
Skin. It's the body's largest organ. And it has quite an important job, so it's in our best interest to keep it as healthy as possible.
It's not only the first line of defence against the environment, it's also often busy supporting electrolyte balance, regulating temperature, absorbing substances and excreting waste – only a few jobs to do then.
Our skin is under continual environmental and metabolic challenge and is susceptible to structural weakness over time.
Getting old or should I say 'the ageing process' is a result of both intrinsic factors, your internal organs and the genes you were born with and extrinsic factors from the environment like, ultraviolet (UV) irradiation, stress, poor nutrition, over-eating, alcohol intake, smoking and pollution.
there is a direct link between what we eat with the look and feel of our skin
Some good news though, skin specialists are now convinced that there is a direct link between what we eat with the look and feel of our skin.
In fact, large scientific studies are now showing exactly which foods do what to our skin. From reducing acne to wrinkles, to sagging and the skin's own sun-protection.
So can we eat or supplement ourselves young? What exactly is it we should be eating or taking for better skin?  Healthista's nutritional director Rick Hay tells us what we need to know.
Eat more: fish and broccoli
Skin is formed from 70 per cent elastin and collagen. For those of you who are unsure exactly what collagen is, it is a natural protein that our body produces and is a major structural component of the human body, making up our skin, bones, muscles, and joints.
'We depend on collagen to keep our skin looking plump, our hair strong, bones healthy, joints lubricated and it also helps our digestive system to work smoothly,' explains Hay.
When we are young are body is able to produce ample amounts of collagen, but unfortunately as we age our bodily production of collagen and the quality begins to decline at a rate of 1.5 percent per year (sometime after the age of 25).
Indeed, by the time you reach your mid-40s, collagen levels may have fallen by as much as 30 percent.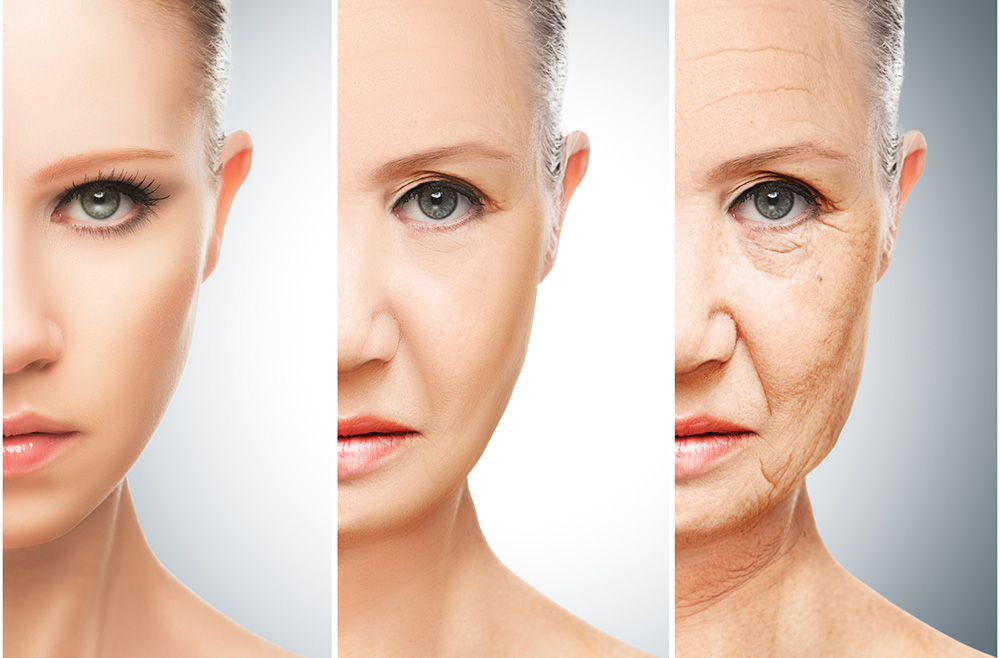 'Without collagen, our cells lose structure and become weaker and thinner,' says Hay. Essentially, this decline is the cause of many of our skin woes – wrinkles, fine lines, dark circles, dry skin, and cellulite.
But don't worry there is some good news; you may be able to make up for the collagen you lose by actually consuming collagen.  Some studies have shown that daily consumption of collagen could improve skin, hair, and much more.
In 2015, researchers found that in their two placebo-controlled clinical trials of daily collagen supplementation for eight weeks, skin hydration improved significantly after eight weeks, while the dermal layer of skin increased significantly after only four weeks.  Both of these effects from the collagen supplement lasted more than 12 weeks.
So what can you eat to top up those collagen levels? 'If ageing is your main worry, marine collagen in particular may help to reduce the appearance of fine lines and wrinkles,' says Hay.
Daily consumption of collagen has been proven to improve your skin
Collagen is sourced from fish, chicken, pigs, and cows. However, it doesn't come from the fillet of a salmon, a chicken breast, or a pork chop – collagen is found in the animals' skin, joints, bones, cartilage and muscle tissue.
Typically we do not generally eat these parts of animals. The closest we get to consuming these parts of the animals is by eating bone broth, which is essentially cooked collagen.
Read more: 3 bone broth recipes anyone can make
Koreans predominantly ingest marine collagen often, as it's common for a meal to include whole-roasted fish with its collagen-rich skin on, and lots of bone broth. But not everyone has the time to make bone broth or likes the idea of eating fish skin, supplements that helps to increase collagen are available to fill that gap.
Try BioCare's Collagen Complex, £24.46, a high potency marine collagen supplement with marine collagen and hyaluronic acid, plus other key antioxidants to support skin health. The product uses marine collagen that is identical to the collagen in the human body, and therefore is rapidly absorbed.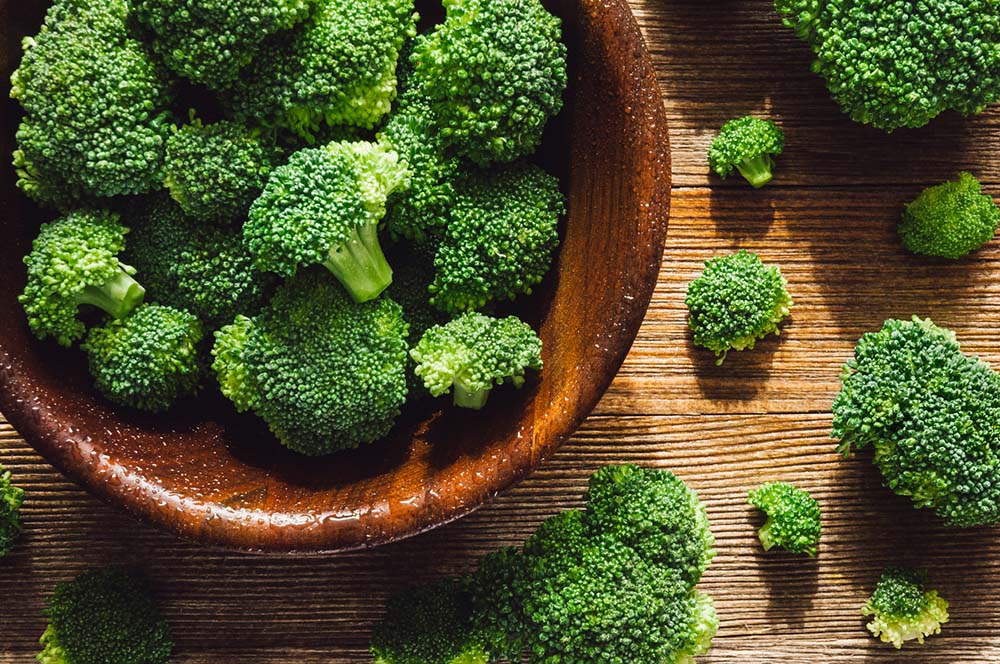 Another way to boost collagen, is to increase your intake of vitamin C. This can be done by eating vitamin C rich foods, such as broccoli, Brussels sprouts, cauliflower, lemon, other citrus fruits, sweet and white potatoes.
Healthy skin contains high concentrations of vitamin C, but it isn't just great news for your skin, 'vitamin C is important for collagen formation and also supports the structure and function of bones, joints, cartilage, teeth, gums, blood vessels and skin,' says Hay.
According to a review by dermatologists at Oregon State University, oral supplementation with vitamin C may also help prevent UV-induced skin damage, skin wrinkling and may also benefit dry skin and wound healing.
Eat more: tomatoes
Avoiding the sun isn't always possible, because well, we all love a bit of sunshine. Plus, when it's boiling hot outside you can't exactly cover your skin from top to toe – sweaty mess alert.
Unfortunately though, as we know and are told often nowadays, the sun can be bad news for our skin, from accelerating ageing to causing more serious problems such as skin cancer. 'Exposure to the sun and excess sugar are two of the strongest premature ageing agents,' agrees Hay.
If you can't pull yourself away from the sun's rays, try eating more tomatoes, suggests Hay. In fact, scientists at Manchester University found that when tomatoes and the foods made from them such as salsa and ketchup are consumed regularly, patients' skin can over time become less susceptible to sun burn, thanks to the lycopene content in tomatoes which appears to have the skin-protective benefits.
'Tomatoes contain lycopene, a natural carotenoid and phytonutrient that fights cellular damage and skin inflammation – it helps our body recover from UV rays. In fact, lycopene reduces sunburn by up to 40 per cent,' says Hay.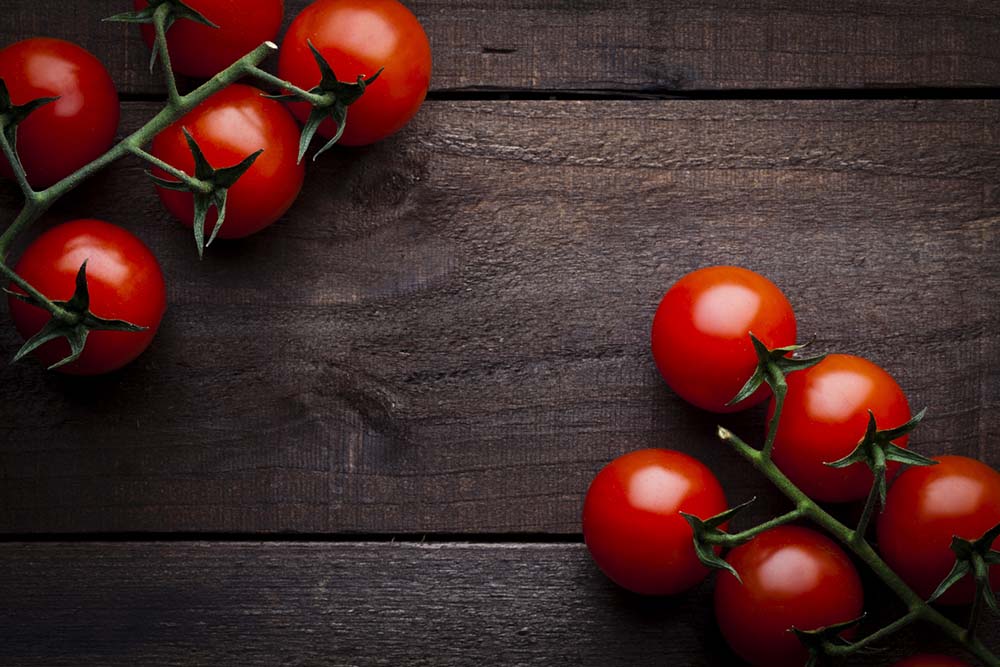 Eat less: refined sugar
As well as the sun, eating excess sugar isn't great for your skin either. 'Excess sugar in the diet can cause an accelerated ageing process in the skin,' says Hay.
Read more: Here's what sugar is doing to your face
When we eat too much sugar, protein molecules in the skin cross-link with sugar molecules in a process called glycation and glycation leads to the breakdown of collagen, increasing signs of ageing.
The body does not recognise these molecules as being normal, and so produces antibodies that can cause inflammation in the skin and compromise the skin's collagen. This may result in wrinkling, loss of elasticity, accelerated ageing and compromised skin barrier function.
This glycation process was first observed in 2005 in people with diabetes, whose bodies couldn't process sugar correctly.
Since then, other studies have confirmed that diets high in sugar as well as those that include foods high on the Glycaemic Load (GL), such as refined carbs, crisps, sweets, white pasta and bread – could also have a detrimental effect on skin.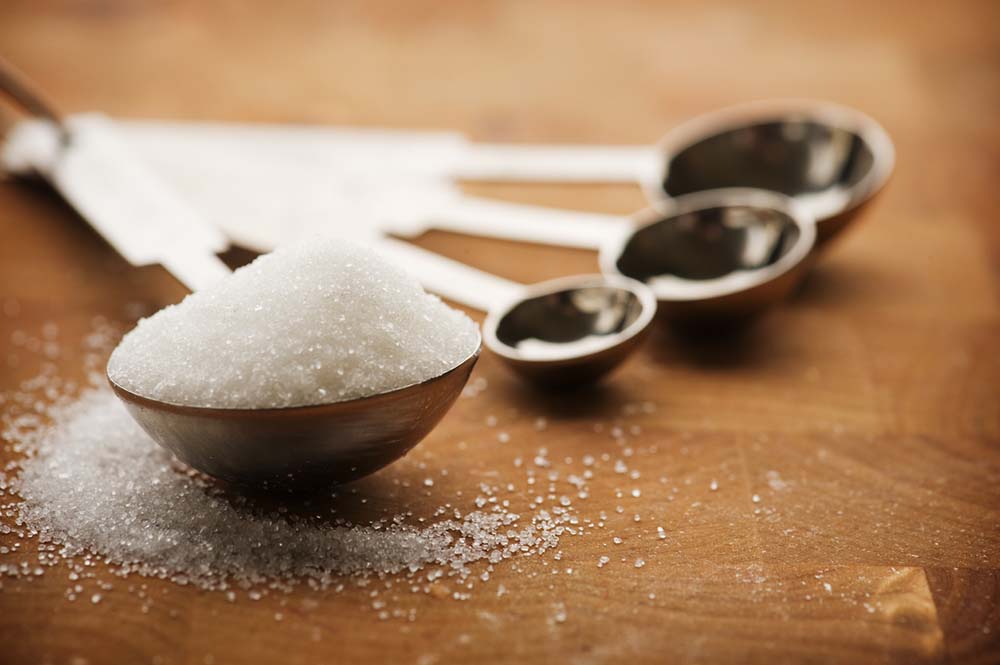 Eat more: mackerel, salmon and other omega rich fish at least twice a week
Dry, flaky skin is quite a common issue, and can occur at any age and for many reasons. Other than moisturizer and staying hydrated, Hay suggests that dry skin can also be helped by upping your intake of healthy omegas.
'Good fats such as omega-3 and -6, are required to maintain the structure of our cell membranes which are vital to skin structure,' says Hay.
We generally get enough omega-6 fatty acids, but our diets are usually quite low in omega-3s. These can be found in oily fish, including salmon, mackerel, sardines as well as nuts and seeds such as flax, hemp and chia. Good fats can also be found in coconut oil and avocados.
'These fats contain essential lipids that create a protective surface around our skin cells and prevent essential water from within our skin escaping,' says Hay.
Omega-3 and -6 fatty acids also support our body's anti-inflammatory response, which contributes to inflammatory skin conditions such as acne and eczema.
In fact, supplementation for eight to 12 weeks with 1000mg of omega-3 fatty acids from fish oil has been found to significantly improve eczema symptoms in one study.
Essential fats such as omega 7 and omega 3 are also essential to the production of collagen, 'sea buckthorn in particular, when applied to the skin or taken orally, can help skin hydration,' adds Hay.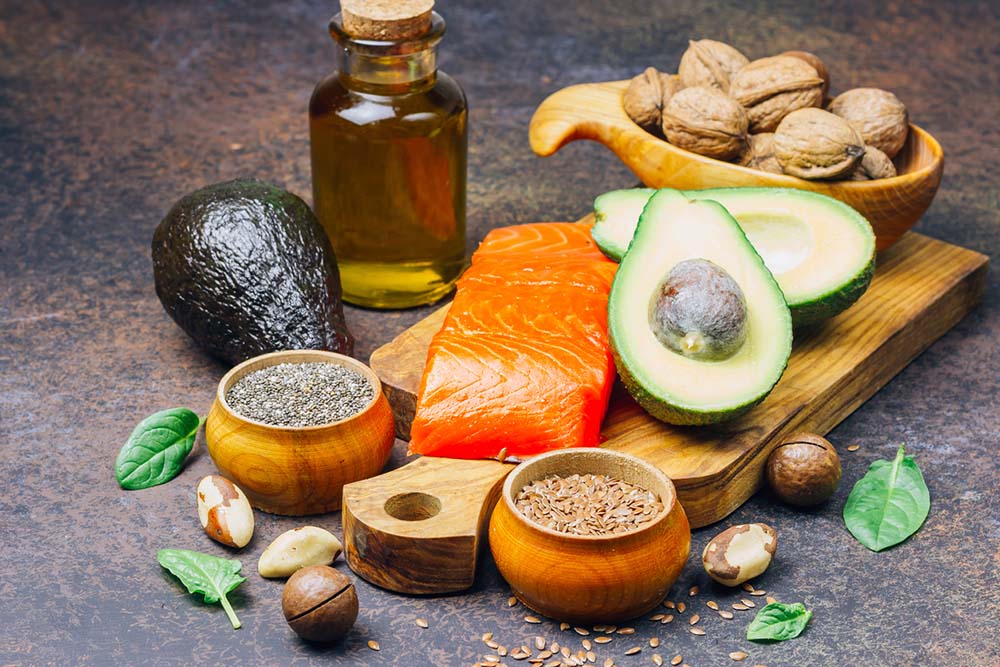 Eat & drink more: turmeric
Turmeric is an ancient root packed with curcumin, a substance with powerful anti-inflammatory and antioxidant properties.
In fact, studies suggest that natural constituents of turmeric, especially curcumin, may possess particularly strong antioxidant activity and may directly reduce skin ageing – including preventing moisture loss and protecting against wrinkles.
Curcumin is also known to boost our immune system's defense mechanisms, enhance metabolism, increase our white blood cell count, aiding against bacteria and viruses, and support our liver function.
If your liver is constantly struggling to eliminate toxins such as alcohol, sugars and other chemicals such as medicine out of your body, it will become worn out, and take longer and have to work harder in order to push these toxins out.
This prevents your liver from doing its job as well, causing your body to store toxins for longer than it should. This build up can cause your skin to break out more, or become easily inflamed or red.
Studies have shown the protective anti-oxidant effects of turmeric on liver cells, acting as a natural support to the body's cleansing and detoxification processes.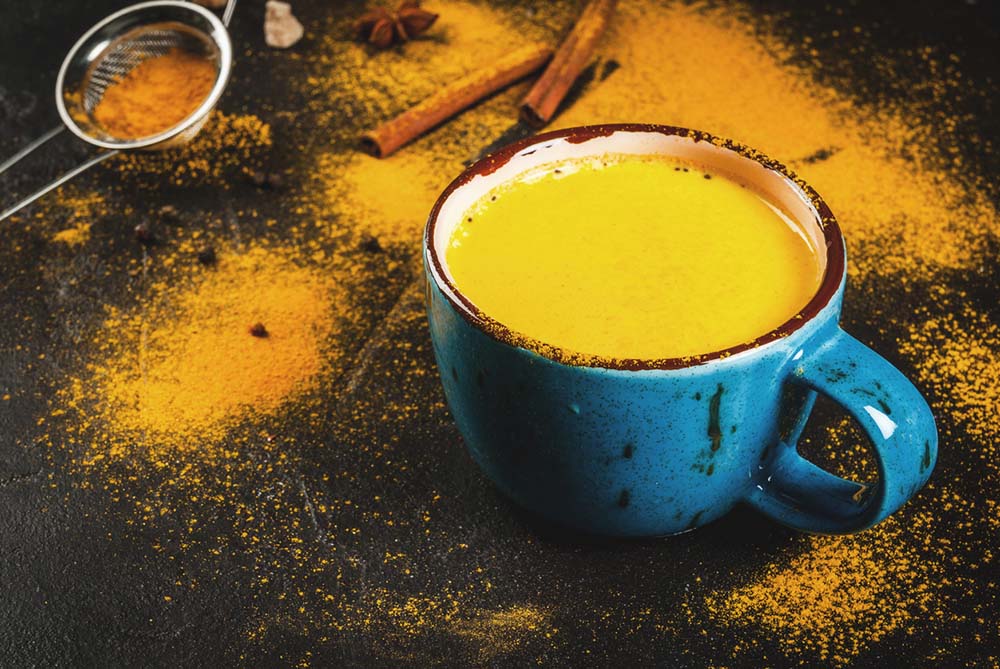 This is a spice that can help screen us from the damaging free radicals we are exposed to in a heavily polluted modern world.
Curcumin is also reported to increase our body's collagen synthesis, in addition to helping aid cell regeneration (which allows for faster wound healing in skin).
'Try heating up a cup of almond milk or coconut milk and adding turmeric with a pinch of cinnamon and ginger powder,' suggests Hay. Aim for two grams of turmeric per day.
Drink more: green tea
As well as tomatoes, green tea can also can mildly protect the skin from UV rays. Polyphenols which are antioxidant chemicals found in green tea have been shown to counteract inflammation in the skin that has been induced by exposure to UV light.
One 2012 study listed the potential effects of green tea on skin as anti-inflammatory, antioxidant, UV protective and even anti-cancer.
Plus, with an abundance of other health benefits, drinking green tea could also be beneficial for our skin, including preventing skin ageing and improving skin condition.
Read more: 5 ways matcha tea improves your health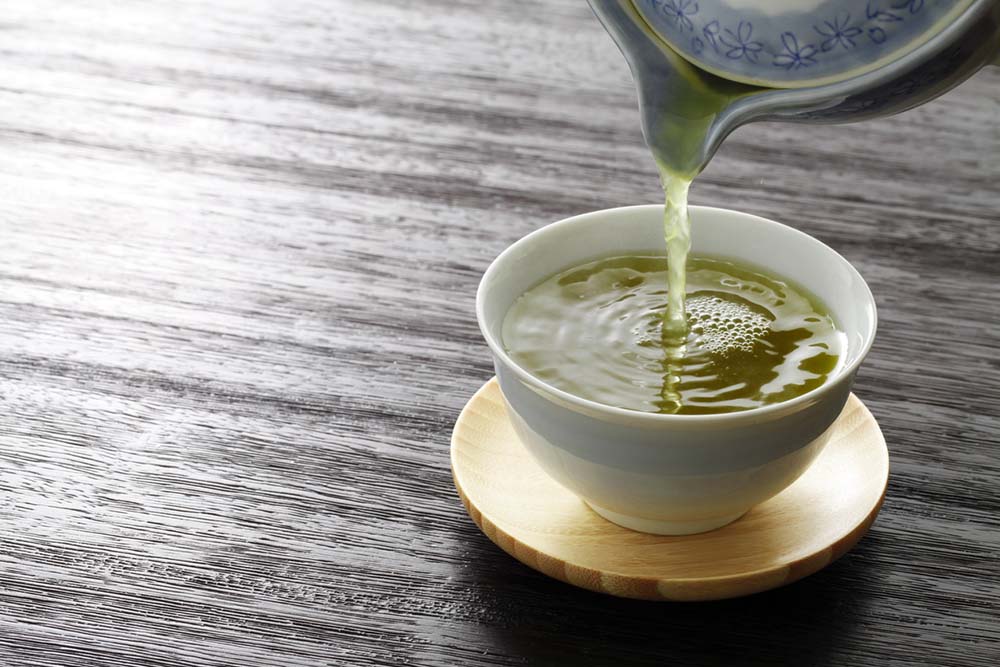 In a study of 60 women aged 40 to 65, half the women were given a green tea drink, and the other half a placebo drink every day for 12 weeks.
Results found that of the women who drank the green tea, their skin showed 25 per cent less redness in reaction to a dose of UV radiation (that is, simulating sunlight) after 12 weeks in comparison to the non-green tea group.
This research suggests that active substances found in green tea are able to reach the skin and provide protection against the damaging effects of sunlight. What's more, the women who drank the green tea also had improvements in their skin elasticity, and reduction in roughness and scaling. 
Green tea has also been said to reduce acne. Is there anything green tea can't do? Catechins, which are compounds found in green tea, have been shown to inhibit sebum production by helping modulate the production of testosterone, which may as a result help reduce the likelihood of developing acne, Chinese research has found.
If you've always wanted to make money from your healthy passion, Healthista's upcoming Health To Wealth event is your chance to learn how to grow – or even just start – your side hustle into a business.
Healthista have teamed up with luxury hotel brand Pullman Hotels & Resorts to launch a new wellness entrepreneurship-focused initiative and event – Health To Wealth – to help budding start-ups bring their businesses to life.
The live event will see Healthista readers, consumers, influencers, media and businesspeople alike, come together to share and learn.
During the event, selected early-stage health businesses and ideas will be put to the test Dragon's  Den-style before a panel of industry experts including BBC Dragon – and Healthista investor – Touker Suleyman.
When: June 13th, 2019
Where: The Shaw Theatre, Pullman London St Pancras, 100-110 Euston Road, King's Cross, London, NW1 2AJ
Time: 6.00pm-9.30pm
Tickets: £15 from this link. Entry price includes a wellbeing goodie bag worth over £50.
On the night
Successful entrepreneurs from all areas of wellness including nutrition, fitness, and fashion will take part in a panel discussion focused on sharing their experience, tips and tricks for starting and growing a business in the wellness space.
This will be followed by a Dragon's Den-style format, inviting up-and-coming wellness entrepreneurs to pitch for support to further the success of their own businesses.
The Health To Wealth entrepreneur's panel includes: 
Touker Suleyman, BBC Dragon, multi-millionaire behind brands including Finery, Ghost and Hawes & Curtis and Healthista investor.
Emlyn Brown, Vice-President Well-Being, Luxury and Premium Brands at Accor Hotels.
Ashley Verma, founder of London's barre fitness studio DEFINE London.
Anna Magee, Healthista Editor and CEO and multi-award winning health journalist.
Charing the panel will be Anni Hood, co-founder and chief executive at Well Intelligence – a research, insights and market evidence platform aimed at helping wellbeing businesses grow.
Tickets to join the audience to learn from the successes and hurdles overcome by the panel of speakers are £15 per person and available to purchase from here.
More Healthista Content:
3 ways yoga will change your body
The Botox and fillers rule book – 10 must-dos this beauty editor swears by
Stressed or anxious? This ten-minute meditation will help