What can you do with peanut butter – other than eat it on toast or straight from the jar? SO much, say these Instagram stars
It's official, Brits have a national obsession with peanut butter.  In fact, recent research, conducted by Healthista found that 70 percent of us rate peanut butter as our favourite ever spread.
The survey, conducted in association with Pip & Nut on 1500 readers also found that while our favourite way to eat it is still on toast, two thirds of us (67%) now have used peanut butter in baking and nearly half (49%) use it to create delicious savoury meals.
Our nut butter obsession is extra-prominent on social media platforms, especially Instagram where around five million posts on the hashtag #peanutbutter come up daily. These reveal mouth-watering creations such as peanut butter-based pancakes, smoothie bowls, doughnuts, cookies and even savoury sauces and soups.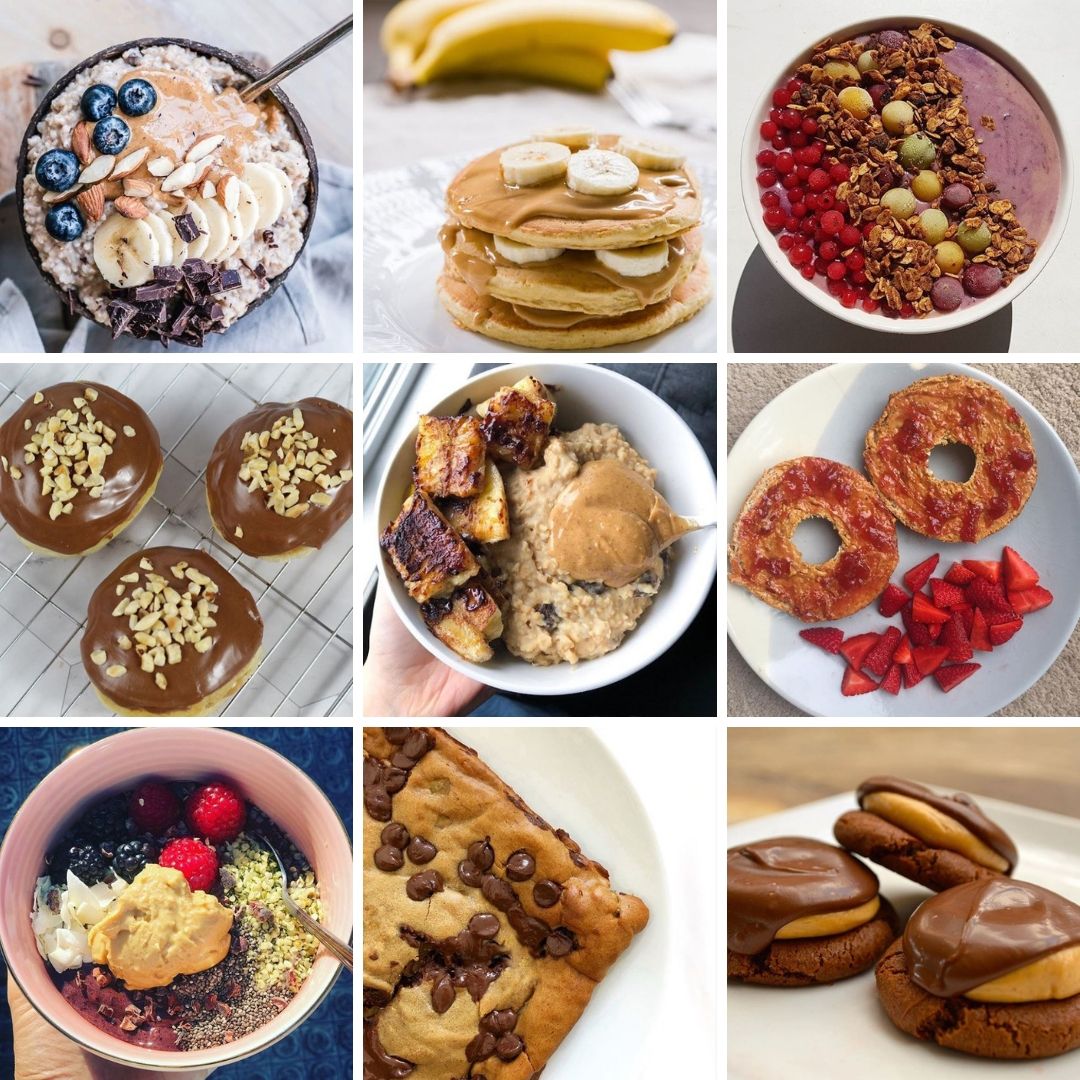 So, what exactly are the most creative health foodies of Instagram doing with their peanut butter?  We asked eleven of them for their favourite recipes.
Followers: 30.7k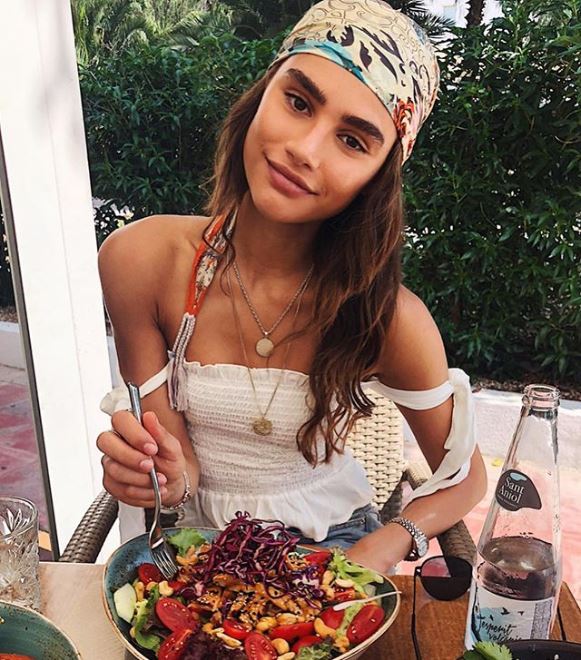 Georgia May Salamat is a model with a passion for food, making her an aspiring chef also.
Peanut Butter Brownies – healthy, dairy and gluten free
'This recipe is super simple, super easy and tastes INSANE. For those nut butter lovers out there this recipe is one for you. It's a healthy version of a traditional brownie, free from refined sugars and is also dairy and gluten free.
'I played around with ingredients to ensure this was the best this recipe could be, but also the healthiest it could be. It uses a base of kidney beans which not only gives the brownies an amazing gooey texture but also provides a great source of protein and fibre.
'These brownies are the perfect combination of crispy on the outside and gooey in the centre'.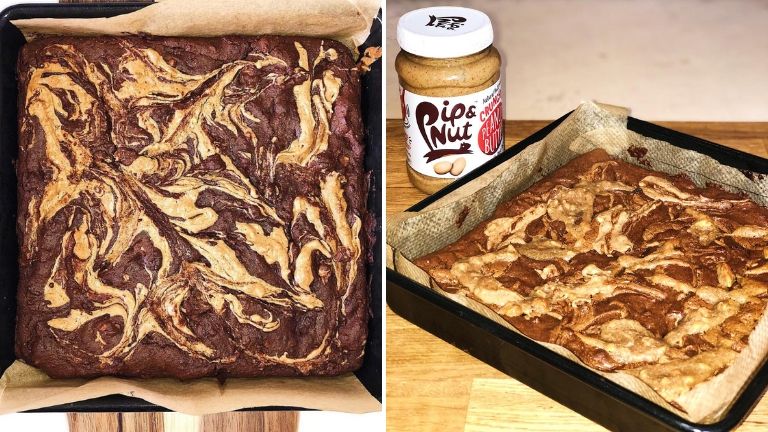 Prep time: 5 mins
Cooking time: 25mins
Ingredients:
2 medium eggs
2/3 cups almond flour
3 tbsp coconut oil
2 tbsp non-dairy milk
1/3 cup kidneys beans
3 tbsp raw cacao powder
½ tsp baking powder
2 tbsp peanut butter
Pinch of salt
½ cup toasted chopped walnuts
½ cup dairy free choc chips
Extra peanut butter for topping
Method:
1. Preheat oven to fan 160 degrees C.
2. Put all ingredients into a food processor and blend until smooth.
3. Stir in the chopped walnuts and chocolate chips.
4. Add to lined baking tray, spoon dollops of peanut butter on top and swirl into brownie mix.
5. Bake for 25 mins
6. Leave to cool for 10 mins.
7. ENJOYYYYY
Followers: 37.4k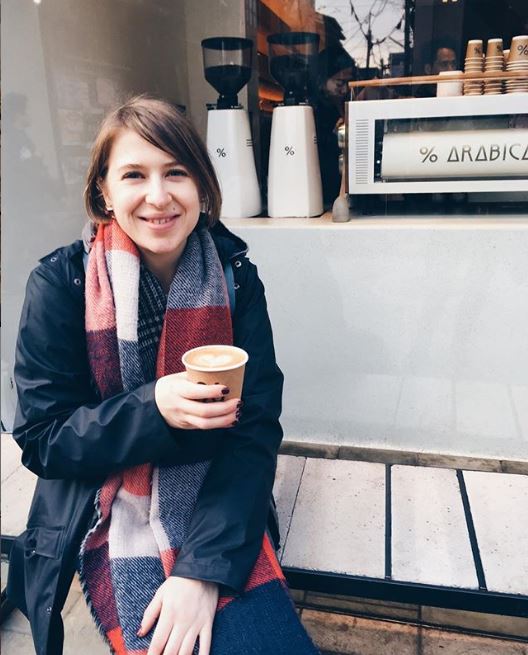 Jane Findlay is an early bird runner, living in London with a love of breakfast. She always looks forward to a tasty start to the day after her morning run and is a fan of bold flavours and colours.
All her breakfasts are vegan and she aims for a balance of nutrition and deliciousness. Nothing too serious though. Food should be fun.
Spiced mango and PB smoothie
'Mango is one of my absolute favourite fruits and I particularly love it in smoothie form. It works really nicely with gentle spices.
'I often pair it with tahini but was out and tried peanut butter and discovered I like it even better! Hope you enjoy this summer recipe. Ideal for a refuel after a run or any time you like'.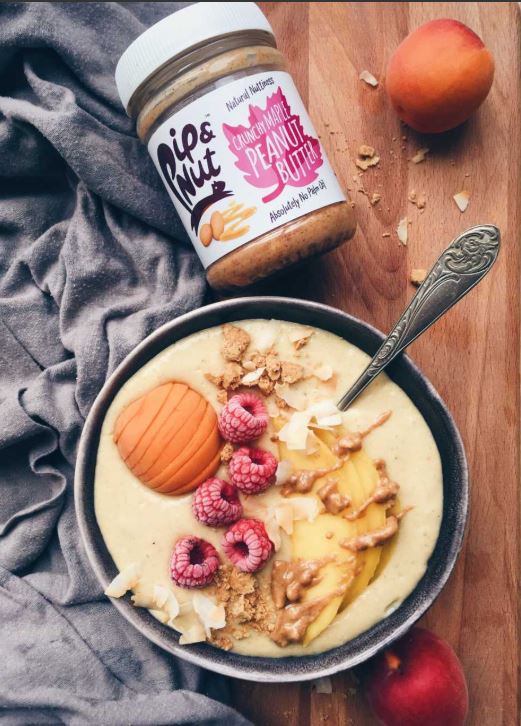 Prep time: 20 minutes
Cooking time: 5 minutes
Ingredients:
1/4 cup rolled oats (about 30g)
1/2 cup plant milk (I used soya)
1 frozen banana
1 handful of frozen mango
1 heaped tsp peanut butter
1/2 tsp cinnamon and ginger
A pinch of ground cardamom
Topping: plain soya yoghurt, mango slices, frozen raspberries, more peanut butter
Method:
1. Soak the oats with boiling water for about 10-15 minutes.
2. Add the soaked oats to a high speed blender along with the frozen banana, frozen mango, plant based milk of your choice, peanut butter, and a pinch of cardamom, cinnamon and ginger and blend to smooth.
3. Add granola to the bottom of a glass, pour on the smoothie and top with soya yogurt, mango slices, raspberries and some PB! Enjoy!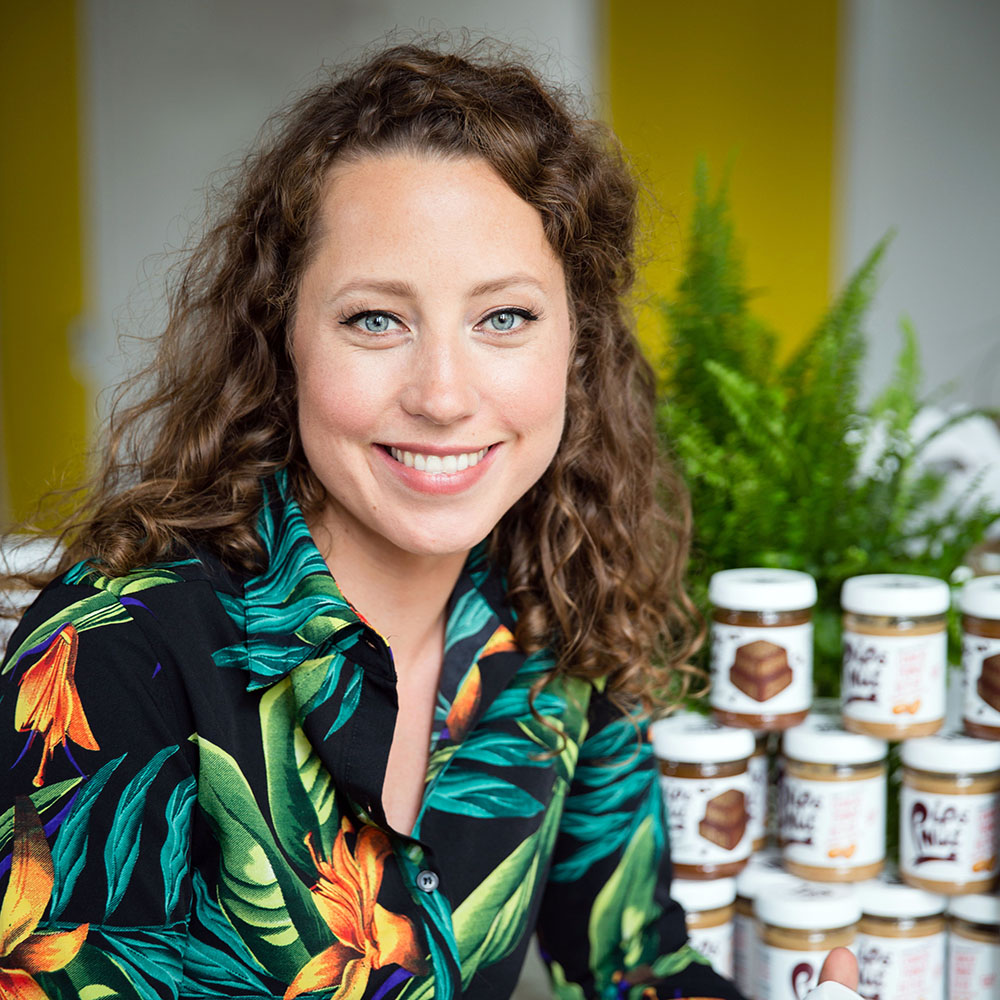 Pip Murray is the Founder of the nut butter brand Pip & Nut, which offers a range of eight naturally nutritious nut butters. She's a fierce foodie and even has her own nut butter cookbook.
'I'm a big believer that food, and in particular healthy food, should never, ever be boring. It should be a joy to make and then eat. One of the things I love so much about peanut butter is that it's a really versatile ingredient and one you can have a lot of fun experimenting with.
'There's so much more to it than just spreading some on a slice of plain white toast for breakfast; you can use it to pep up your morning smoothie before work, add it to your weekend baking or use it to give your evening meal a boost.
Fruit and Nut Frozen Yoghurt Ice Lollies
With summer in full swing, these fruit and nut yoghurt ice lollies are a super fun, simple and delicious treat. Perfect for sharing with friends at BBQs or enjoying with your whole family'.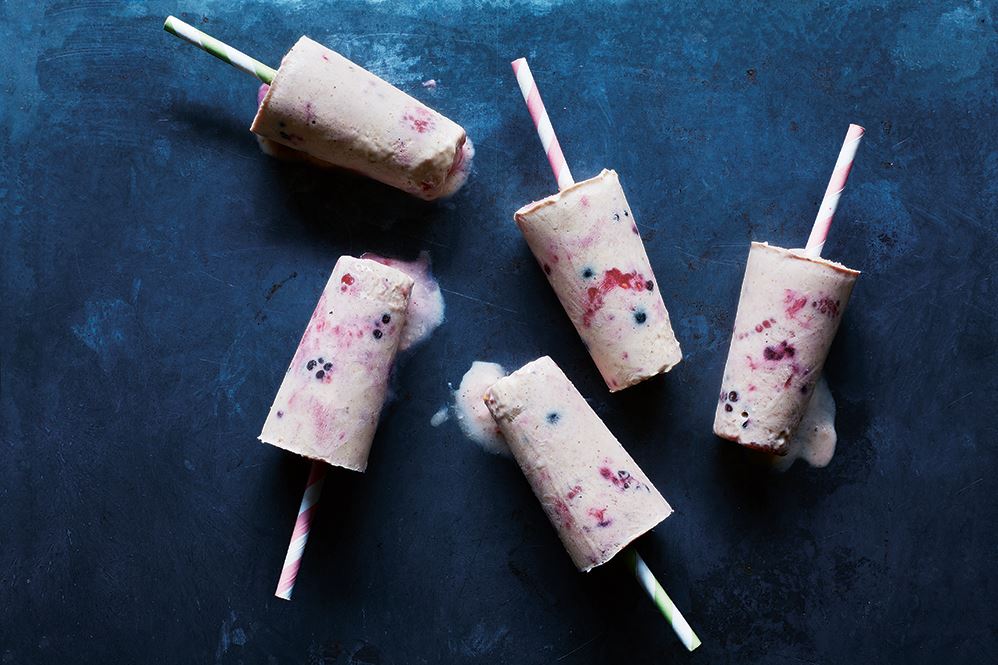 Prep time: 20 minutes
Makes 12
Ingredients:
1 medium, ripe banana
240ml/1 cup Greek yoghurt
1 tsp lemon juice
3 tbsp honey
3 tbsp Pip & Nut smooth peanut butter
fresh summer berries
Method:
1. Purée the banana, yoghurt, lemon juice, honey and peanut butter together in a food processor, until smooth.
2. In a bowl, gently mash the summer berries to release some of their juices, but leaving the berries partially formed.
3. Roughly fold the berries into the puréed mixture, making a ripple effect.
4. Divide the mixture between ice lolly moulds, stopping about 2.5cm/1 inch from the top. If you don't have ice lolly moulds, use small paper cups.
5. Place a sheet of cling film over the top of each, cut a slit in the centre and add a wooden ice lolly stick.
6. Freeze until firm, about 6 hours.
7. To release the ice lollies, dip the moulds briefly in hot water.
Followers: 5k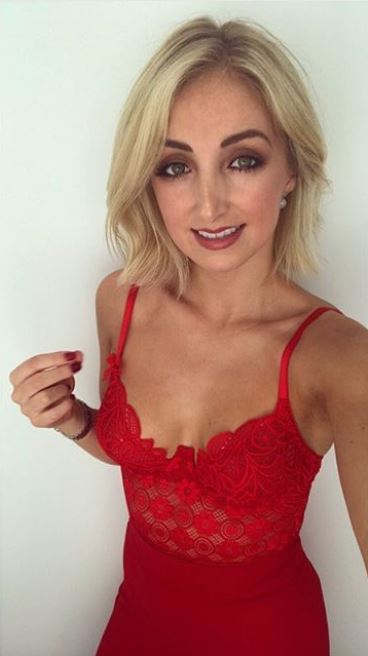 Luce Hosier is a plant-based recipe developer from the UK. Since moving out of her family home, she has found a passion for baking and cooking that she never thought she would find.
Luce has followed a vegan diet for nearly two years, and the transition enthused her to become more experimental in the kitchen. Her blog and recipes have attracted an audience, of a variety of ages, from all over the world.
Her passion is to inspire others with her food, and show people that vegetables are not boring. As her journey has developed, she has also fallen in love with food styling and photography.
Peanut Butter Squash Curry
'Being completely and utterly obsessed with peanut butter, I try to utilise it in so many of my recipes, especially ones of the savoury variety. Utilising it in a vegan curry gives the most delicious creamy flavour.
'And this curry is enjoyed by both the meat and non-meat eaters, and I'll let you in on a secret. It tastes even better on the second day, once the squash has absorbed all of that peanut saucy goodness. It's perfect to cook a big batch of and reheat throughout the week when you're in a rush'.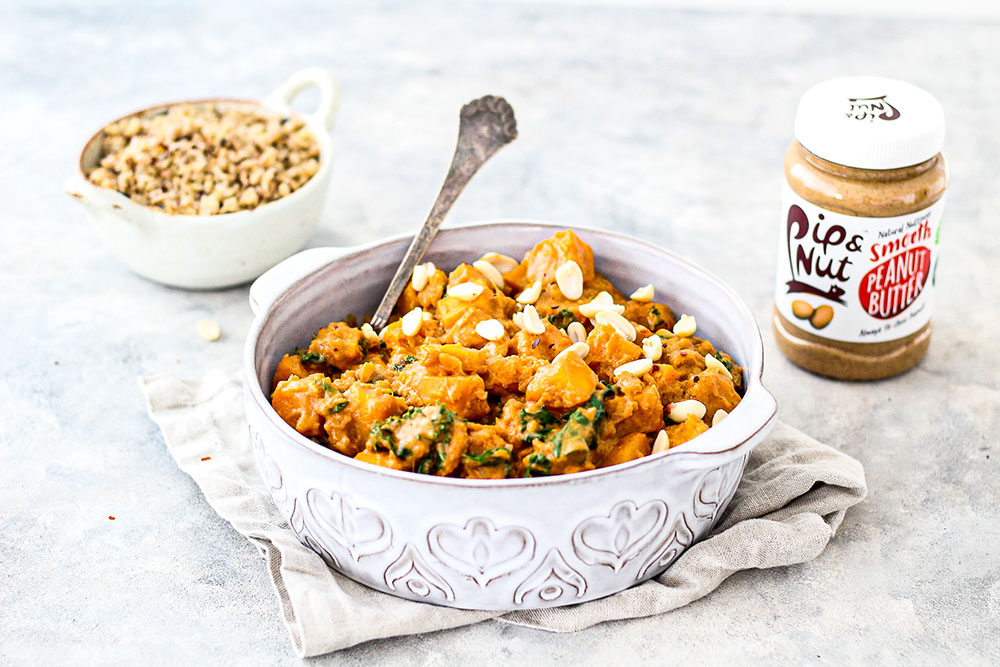 Serves 4
Prep and cook time approx. 45 minutes.
Ingredients:
1 white onion (diced)
3 garlic cloves (crushed)
1 tbsp of ginger
2 tsp of cumin
1/4 tsp of cayenne pepper
2 tbsp of tomato puree
500g of butternut squash (cubed)
115g Pip & Nut smooth peanut butter
550ml vegetable stock (using 1 cube)
2 handfuls of kale
Salt to taste
Rice
Peanuts
Method:
1. On a medium heat add your onions and cook until slightly browned.
2. Then add your garlic, ginger, cumin and cayenne pepper.
3. Combine thoroughly, not letting the spices burn.
4. Add your tomato puree, peanut butter, butternut squash chunks and vegetable broth.
5. Bring to a boil then reduce and cover for 30 minutes, stirring occasionally.
6. Add salt to taste.
7. Then add your kale, cover and cook for another five minutes until your butternut squash is tender and kale wilted.
8. Serve with rice and sprinkle with peanuts.
Followers: 16.5k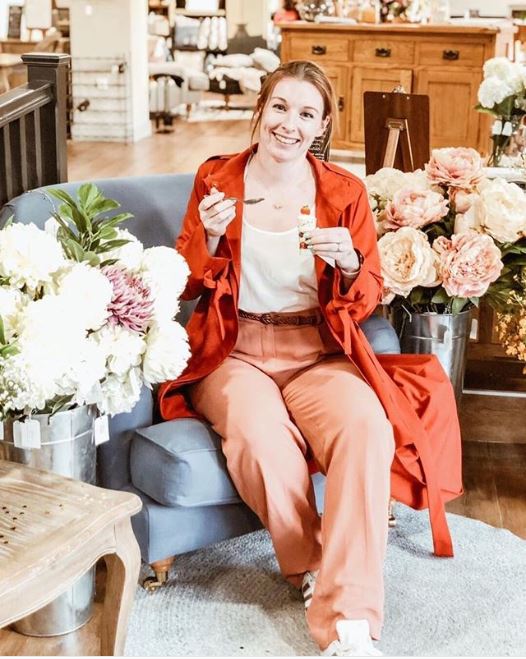 Amie is a freelance personal trainer, blogger and healthy recipe developer based in North Yorkshire. Amie has a huge passion for leading a healthy lifestyle without restriction and she loves to share simple, healthy recipes with everyone who follows her blog and social channels.
Date & Peanut Butter Crispie Bars
'This quick, easy and super simple recipe is packed full of wholesome ingredients. A great recipe to make ahead for snacks during the week.
'The addition of puffed rice gives these bars a great crunch. I am a lover of quick and easy recipes that are healthy and good for you. This recipe was one of those 'let's just throw some ingredients together and see what the outcome is' kind of recipes.
'With a few tweaks here and there, these nutty bars were born. I love anything with a crunch, so the ingredients added had to work well with the puffed rice'.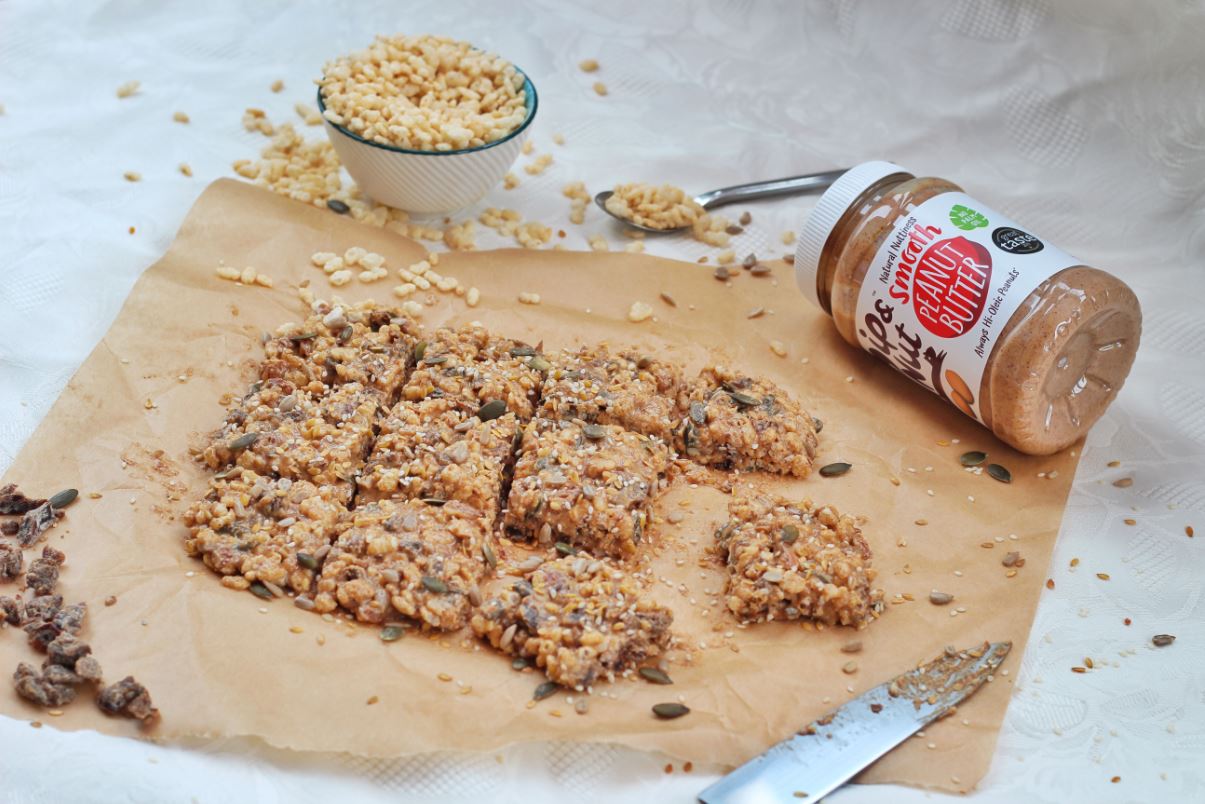 Prep time: 5 minutes
Chill time: 2 hours
Ingredients:
¾ 's cup chopped dates
1 cup smooth peanut butter
1 cup puffed rice/rice crispies
¼ cup chopped almonds
¼ cup mixed seeds
½ tsp vanilla
½ tsp cinnamon
Method:
1. Line a small baking dish with non-stick paper; leave to one side.
2. Pop all dry ingredients in a bowl and mix.
3. Add wet ingredients and mix well, until all dry ingredients are coated with peanut butter.
4. Pour into your baking tray and spread out firmly and evenly.
5. Pop in the fridge to set for a minimum of two hours.
6. Remove and cut into bars.
7. Store in an airtight container in the fridge for up to four days (if they last that long)
Followers: 17.9k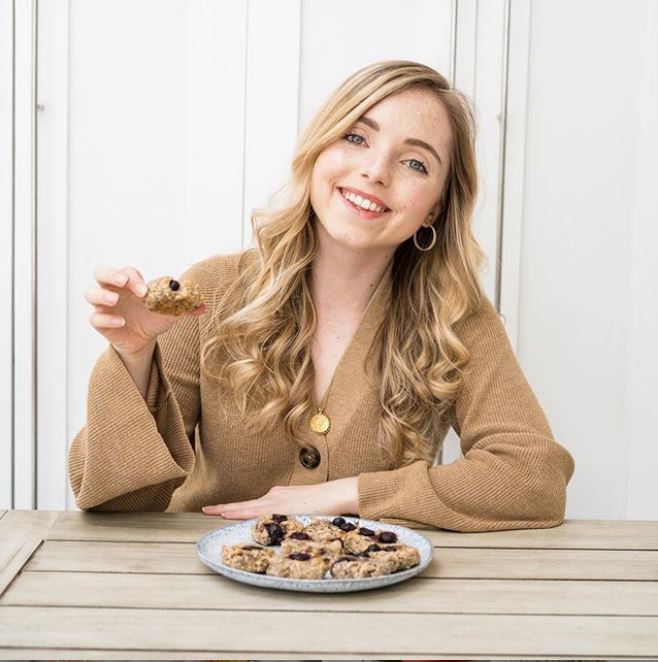 Emma is a Registered Associate Nutritionist and food blogger who loves to share healthy recipes that are delicious, nutritious and easy to make.
She works 1:1 with clients to improve their relationship with food and to help them lead a healthy lifestyle, but also loves to share recipes with her followers that inspire them to cook delicious, healthy food and feel their best.
Peanut Stir Fry
'This stir fry is a quick, one pan vegetarian dish that is ready in 15 minutes. It was inspired by a chicken satay dish from a hawker market in Singapore that was so simple but tasted amazing.
'With a creamy peanut butter satay sauce, lots of veggies and filling noodles, it is a healthy dish that also delivers on flavour. It makes the perfect weeknight meal and tastes just as good reheated, so it works brilliantly for meal prepping.
'Although it is vegetarian, meat eaters definitely will not find it lacking and with one easy swap it can suit vegans too'.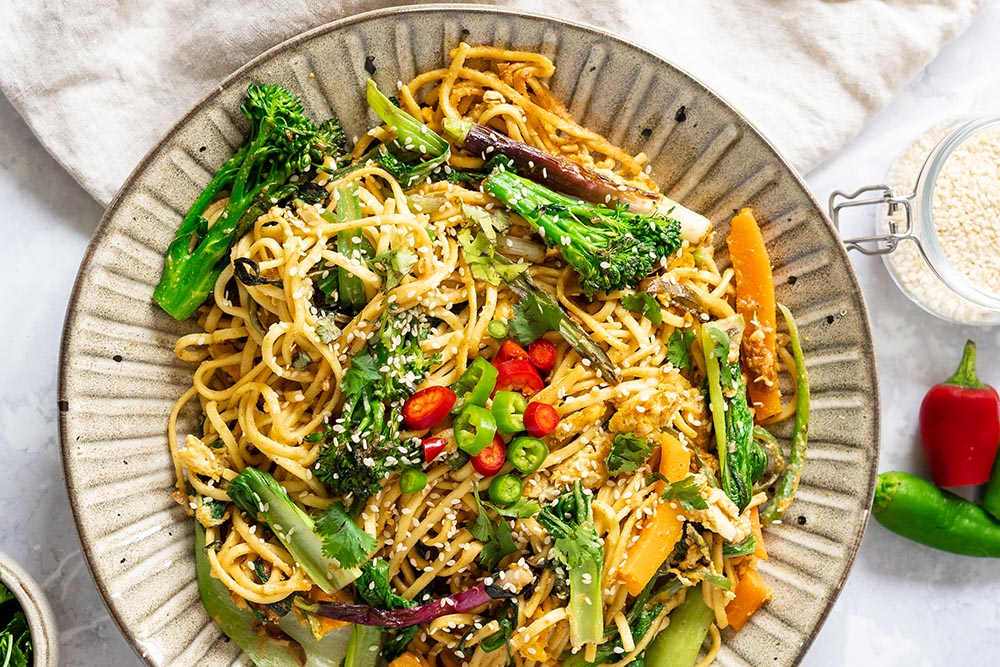 Prep time: 5 minutes
Cooking time: 10 minutes
Serves 2
Ingredients:
1 tbsp sesame oil
300g wok ready noodles
300g mixed vegetables (try pak choi, tenderstem broccoli and carrot ribbons)
2 cm piece ginger, diced
½ red chilli, diced
2 green onions, sliced
Handful of chopped coriander
2 eggs (or 200g firm tofu, crumbled)
To garnish:
1 tbsp sesame seeds
2 tbsp chopped coriander
For the sauce:
2 tbsp soy sauce
2 tbsp Pip & Nut smooth peanut butter
1 tbsp rice vinegar or white wine vinegar
1 tsp mild curry powder
1 clove garlic, diced or crushed
2 tsp brown sugar
2 tbsp water
Method:
1. Heat the sesame oil in a wok over high heat. Once hot, add the vegetables, ginger, chilli, coriander and green onions. Cook for five minutes.
2. Meanwhile, mix together the soy sauce, rice vinegar, peanut butter, sugar, curry powder and garlic in a small bowl. Then add the water and mix until mostly smooth, it is okay if it is a bit lumpy.
3. Once the five minutes are up, make a space in the center of the veggies and crack in the eggs or add the crumbled tofu. Scramble and cook for three minutes, or until cooked through.
4. Finally, add the noodles and sauce, mix well and cook for two minutes until heated through and combined.
5.Serve in two bowls with a sprinkle of sesame seeds and coriander.
Followers: 29.6k
Bari Stricoff is a registered dietitian from NYC living in London and preaching an all foods fit mentality. Encouraging everyone to get creative in the kitchen and establish a healthy relationship with food.
Sautéed Banana Peanut Butter Toast
'Warm and gooey sautéed bananas in ghee and cinnamon, topped on a slice of sourdough lathered with Pip & Nut nut butter (personal favorite is peanut butter).
'There is nothing more comforting that an ooey-gooey breakfast that happens to rake in plenty of nutrients. Inspired by my love for banana and peanut butter stuffed French toast (drool), this recipe is a healthier and drool-worthy substitute'.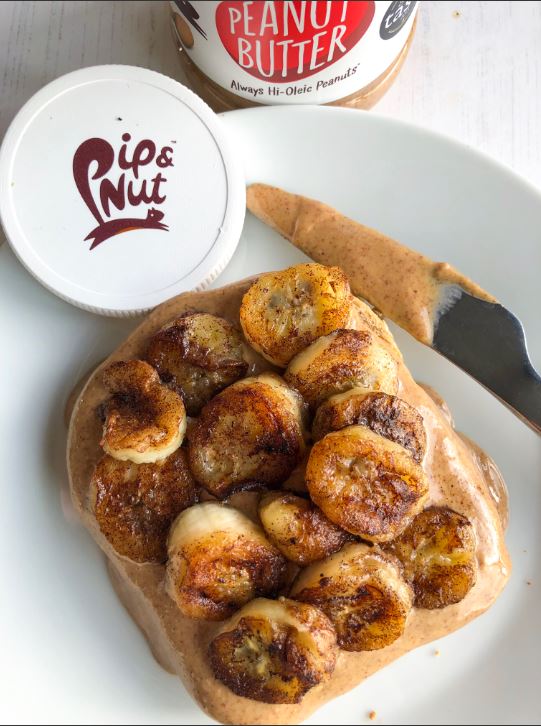 Prep time: 2 minutes
Cooking time: 5 minutes
Ingredients:
1 slice sourdough toast
1.5 tbsp Pip & Nut peanut butter
1 banana
1 tsp cinnamon
2 tsp ghee or butter
Method:
1. Slice the banana into thick rounds
2. Heat the ghee in a non-stick skillet on medium heat. Once the ghee is melted, add the cinnamon and stir
3. Add the bananas and let them cook on each side for two minutes until the brown.
4. Toast a slice of sourdough and top with Pip & Nut peanut butter
5. Add the sautéed bananas. Enjoy!
Followers: 16.7k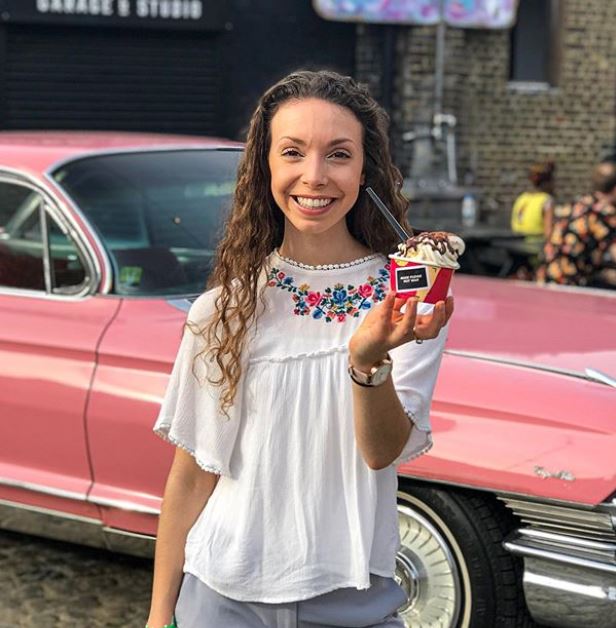 Amy Lanza is a UK plant-based food blogger and recipe developer, whose Instagram provides daily nourishing inspiration. As well as, messages of wellness, mindfulness and positivity.
Peanut Butter and Jelly Baked Proats
'I love breakfast food and I love anything with peanut butter, so what better way to re-create the classic PB&J combo than at breakfast time, I thought. I've been really into baked oats recently; they have all the comfort of a bowl of oats with the added bonus of a cake-like and fluffy texture – plus they're even easier and make your kitchen smell amazing.
'These Peanut Butter and Jelly Baked Oats make a perfect and filling breakfast or weekend brunch and taste indulgent enough to enjoy for dessert. They're naturally vegan, super healthy, packed with fibre, plant-based protein and peanut buttery goodness'.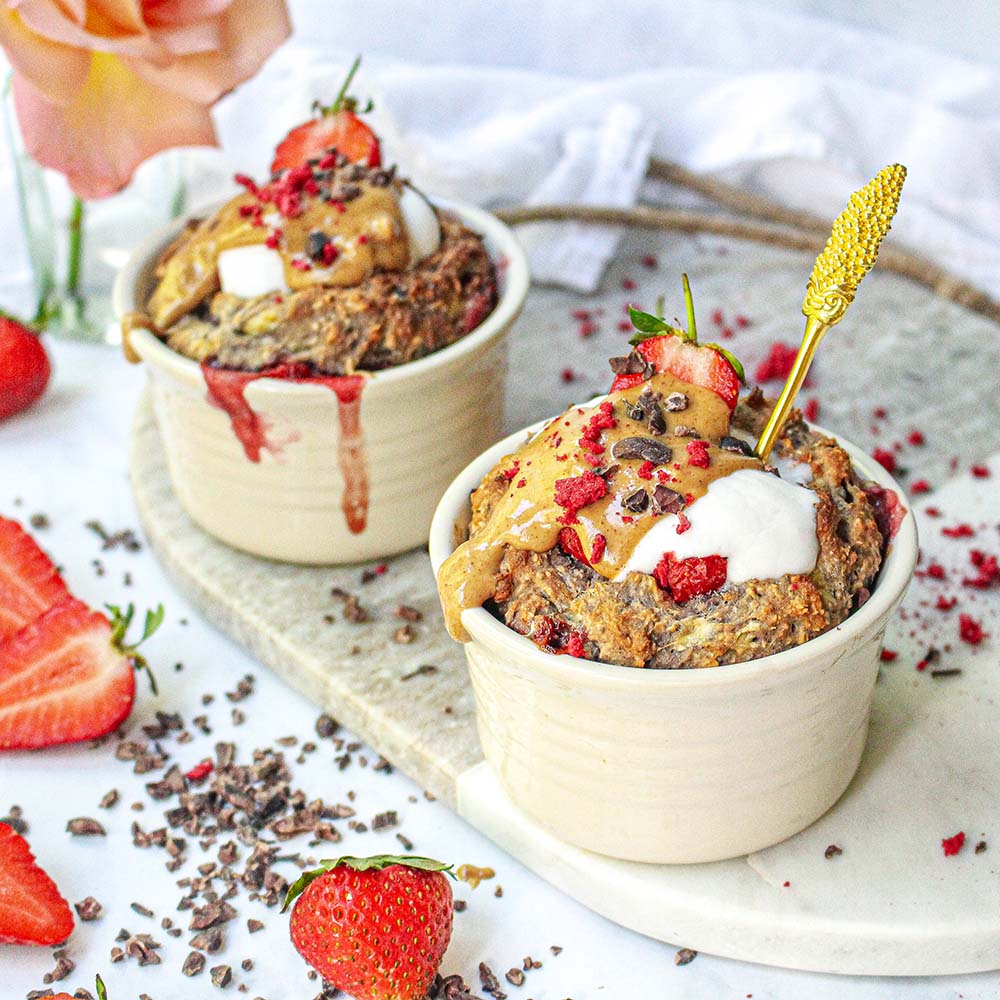 Serves 1-2
Ingredients:
1 mashed banana
50g oats
1/2 tsp baking powder
Pinch salt
1 tsp psyllium husk
2 tsp chia seeds
2 tbsp peanut butter
1 scoop vanilla protein powder, optional
120ml almond milk
100g chopped strawberries
To serve:
Strawberries, peanut butter and coconut yoghurt
Method:
1. Stir together all the ingredients and divide into two small ramekins.
2. Bake at 170Fan/190*C for 25 mins until they have risen and are golden brown on top.
3. Serve warm or allow to cool and enjoy with more strawberries, peanut butter and coconut yoghurt.
Followers: 19.5k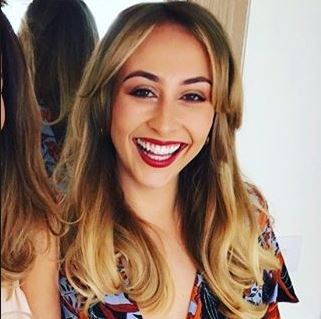 Emily is a registered nurse completing a MSc in clinical nutrition and public health and soon to be nutritionist, oh and she's a massive foodie.
Breakfast bowl – Greek yoghurt served with British strawberries, toasted seeds and nuts with Pip & Nut peanut butter
'Toasted nuts is one of my favourite smells and tastes. The whole house smells delicious when you make this for breakfast. This is a healthy balanced breakfast of fats, carbohydrates and protein'.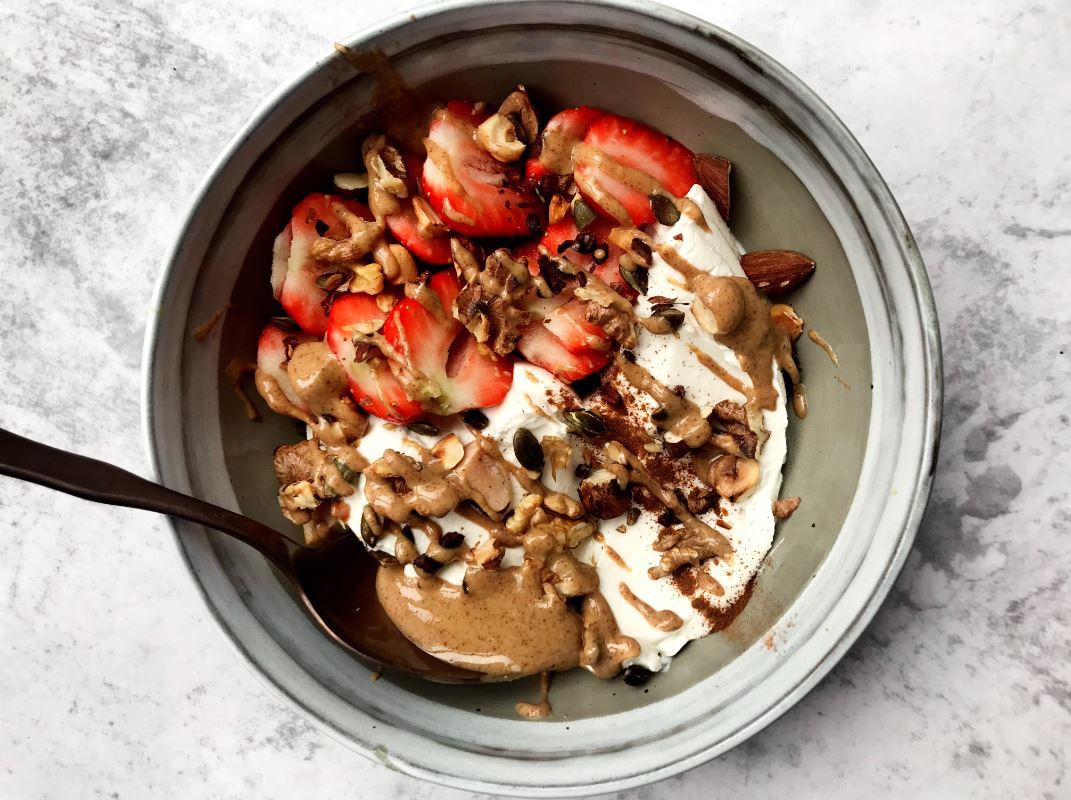 Prep time: 3 mins
Cooking time: : 2 mins
Ingredients: (I don't write exact measurements as it's up to you how hungry you are)
Pip & Nut smooth peanut butter
Cinnamon
Handful of chopped nuts and seeds
Greek yoghurt
Chopped strawberries.
Method:
1. Chop the nuts and strawberries.
2. Toast the nuts in a dry frying pan until they turn golden and take them straight off of the heat as they will continue to toast.
3. Spoon Greek yoghurt into a bowl and add toppings, sprinkle on cinnamon and drizzle on peanut butter.
Followers: 13.4k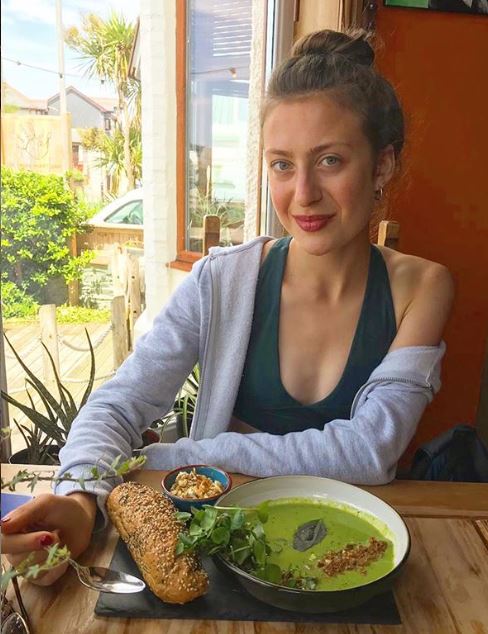 Anna Winstone is a psychology student with a passion for baking and a lover of all things fitness, chocolate and peanut butter.
Peanut Butter & Chocolate Cookies
'As a self-confessed chocoholic, any chocolate based recipe has my name written all over it. When you pair that with peanut butter, it's a match made it heaven. Any chance I have to get this flavour combination in a recipe, you bet I'll try to make it happen.
'As someone who is on the go most days and leads a very active life, I find myself gravitating towards a lot of snacks. However, snacking can get expensive so I thought what better way to satisfy my snacking needs then to create a delicious recipe which is cost effective and full of nutritious, delicious ingredients.
'Each cookie is protein rich and full of healthy fats to keep you satisfied as well as providing an indulgent and sweet snack when you're in the mood for a healthy treat. I decided to make a 'no-bake' recipe as it means that they can be stored in the fridge for up to three weeks or up to 1.5 months in the freezer. This way you can make a larger batch and have enough to keep you going all week long'.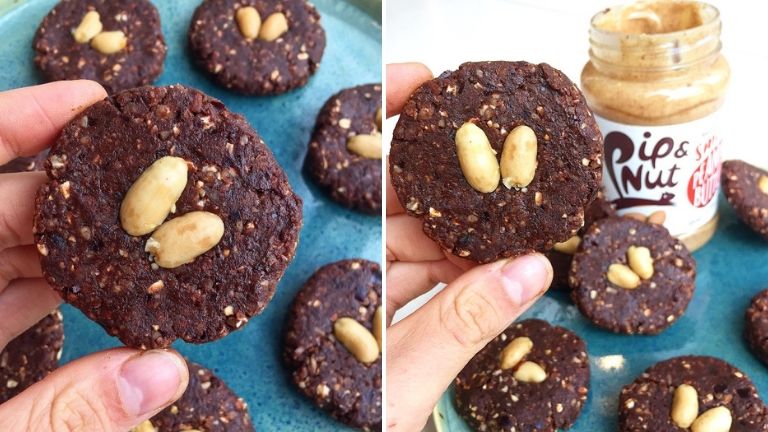 Prep time: 5 minutes
Setting time: 1 hour
Makes 8 cookies
Ingredients:
35g oats
80g salted roasted peanuts
120g soft dates
20g cacao powder
30g peanut butter powder*
60g Pip & Nut smooth peanut butter
*this can be substituted for a protein powder of your choice
Method:
1. Blitz up the oats and peanuts in a food processor or blender until roughly blended.
2. Add the dates, cacao powder, peanut butter powder (or protein powder) and blend again until a crumbly texture is formed.
3. Blend in the peanut butter until the mixture combines to a stickier texture and can be pressed together. If it is still a little dry, either add some more peanut butter or a little bit of water and blend again.
4. Mould into cookie shapes and set in the fridge for ideally for one hour. Keep them stored in an airtight container in the fridge where they will last for up to three weeks if you don't eat them all before then!
Followers: 13.9k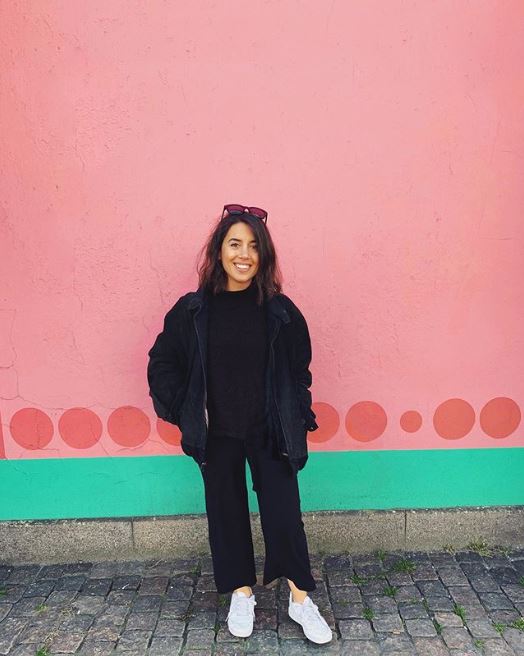 Lina is a blogger, focusing on recipe development in health and wellness.
Dates & Peanut Butter
Sticky sweet dates filled with coyo, crunchy toasted pistachios and drizzled with delicious, creamy peanut butter. Growing up we've always had dates in the house, my grandma would sometimes stuff them with nuts and coat them in melted dark chocolate, so it's very much embedded in my household to have dates as a sweet treat with tea or as a nice little dessert.
What I love about these is that they're so quick and easy for when you want a sweet treat and it really hits the spot. It has the sweet caramel notes from the dates, creaminess of the peanut butter and crunchy saltiness from the nuts to balance it out. They also make a great energy-boosting snack for when you're on the go or a pre workout.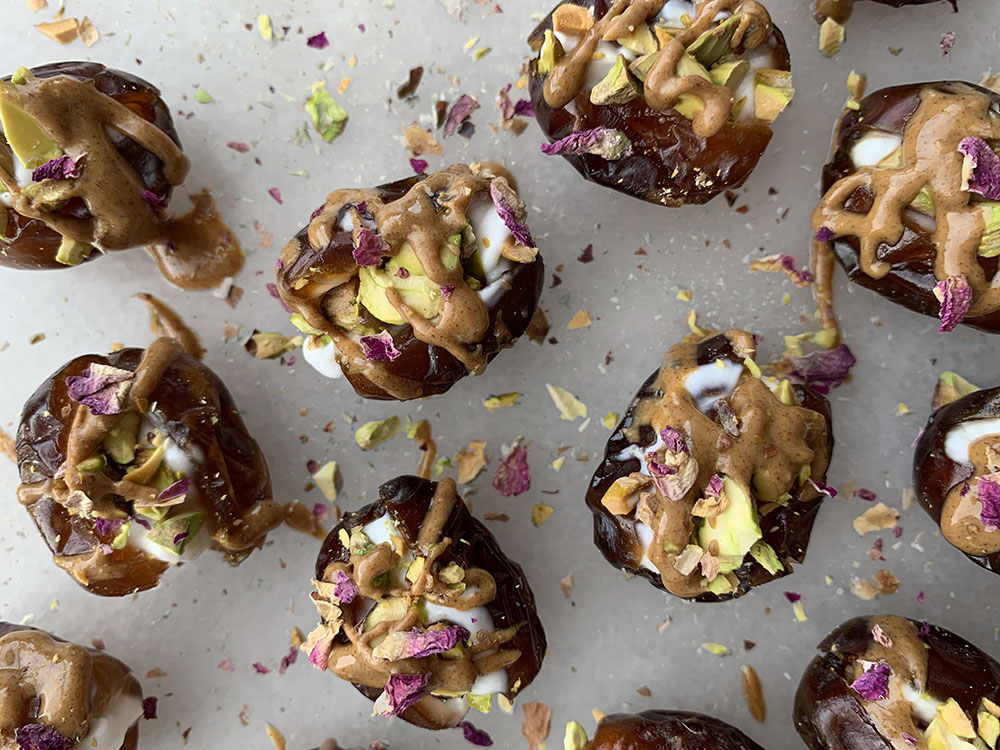 Prep time: 5-10 minutes
Cooking time: Zero
Ingredients:
14 Zamli, Mazafati (Persian) or Medjool dates – you can use any other dates you like but these are my favourites.
14 tsp coconut yogurt
1/4 cup of roasted and salted pistachios
7 tsp Pip & Nut peanut butter
Method:
1. Slice the dates lengthwise down the middle and take out the stone.
2. Roughly chop the pistachios.
3. Take a teaspoon and fill the dates with about a teaspoon of coconut yogurt.
4. Sprinkle some pistachios on top and press down slightly, then finally drizzle Pip and Nut's peanut butter to finish them off. (Option to add rose petals to make them extra pretty.)
5. Enjoy immediately or store in an airtight container in the fridge.
More Healthista Content:
21 solo travel secrets from globetrotting women
How to lose weight – a top nutritionist's guide
10 best sunscreens for under make-up, during exercise and on a budget