It's National Chocolate Week so it would have been rude not to round up our favourite chocolate bars wouldn't it? Here are the seven best raw vegan chocolate brands that get our deliciously honest votes 
We are so lucky here at Healthista HQ. Why? Because we often get sent delicious chocolate to try (we may just have the best jobs ever).
As it's National Chocolate Week, we have chosen to round up our top recommendations and we have come to realise that raw, vegan chocolate in particular may just be the way forward for the perfect pick-me-up.
The dark chocolate raw, vegan bars we have chosen have a lower sugar content than typical mass-market brands (you know the ones we mean).
Plus, most tend to use organic produce, sustainable manufacturing, and sometimes Fairtrade ingredients. Coincidence? We aren't sure, but we do know we feel good eating vegan chocolate for these reasons as well as their health benefits.
What is raw chocolate?
So, what's the difference between raw chocolate and normal chocolate, we hear you ask? Making chocolate is actually rather complicated. The cacao beans have to be picked, fermented, roasted, ground down, pressed, mixed with fat and sugar before they are turned into bars and other sweets.
Companies who make raw chocolate however, have altered one of the processes and no longer roast the beans. Instead, they leave them outdoors to dry naturally. The resulting product is called 'raw' chocolate.
Instead, they leave them outdoors to dry naturally. The resulting product is called 'raw' chocolate.
Raw-chocolate manufacturers claim that by avoiding exposure (the chocolate) to oven temperatures, this allows the preservation of nutrients that are found in the cacoa beans, such as iron, zinc, magnesium, copper and vitamin C. Uncooked cacao is therefore said to contain higher levels of antioxidants than the roasted or 'cooked' variety that is used in most chocolate.
Raw-chocolate makers say that their beans never reach temperatures of more than 42 degrees Celsius. The friction level of the machine that is used to grind the cacao beans is set to ensure that it doesn't allow them to get too hot.
These seven brands have passed the stringent taste testers at Healthista HQ (the toughest critics), and will make you say 'wow, is that really vegan?'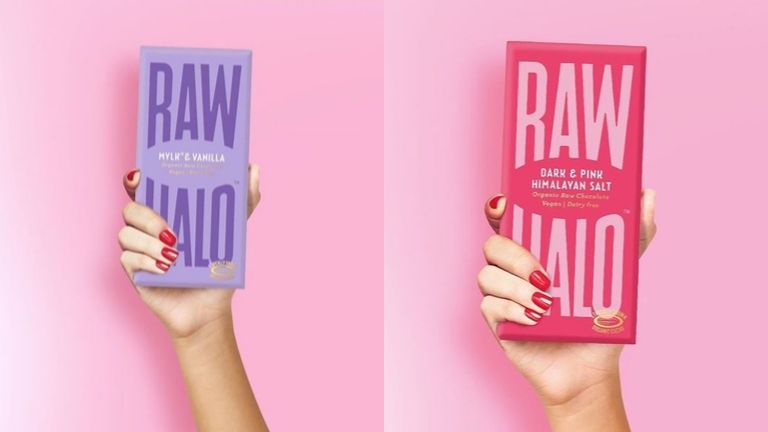 Meet Raw Halo, the bar with such pure ingredients you'll wonder how it got in the sweets aisle. For a chocolate that has considered everyone's healthy eating niggles, Raw Halo is a top choice.
The founder, Meg Haggar, set out to create the best vegan chocolate that was naturally sweet without any nasties. Launching in 2015, Meg had created bars using coconut sugar, an obvious choice for its naturally low GI and low fructose level in comparison to agave, for example.
Every bar is either Pure Dark or Pure Mylk – mylk is a commonly used word that normally describes plant based milk. Despite having the creamy, indulgent texture of a milk chocolate bar, the Raw Halo Mylk bars use cashew butter and remain vegan.
There are a huge amount of healthy alternative chocolate bars out there using natural sweeteners, but Raw Halo claim that by weight, their Pure Mylk bar has almost half the amount of total sugars compared to other leading raw chocolate companies.
Being refined sugar free, articifical sweetener free, gluten, wheat and lactose free, (phew), there is little to feel bad about when tucking into an angelic Raw Halo bar.
The Pink Himalayan Salt Pure Dark Bar was our top choice, closely followed by Mylk and Vanilla Bar, both proving to give you a creamy taste that is not the work of refined sugars and artificial flavours.
Velvety, luxurious but surprisingly pure – there is little to feel bad about when tucking into Raw Halo Chocolate.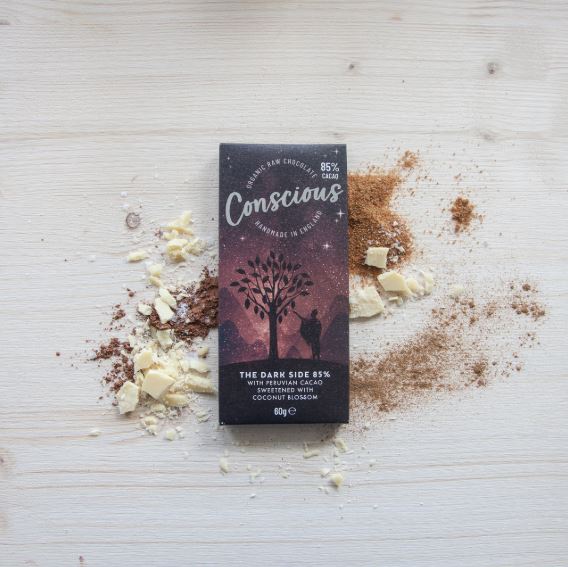 Conscious is yet another brand of delicious raw chocolate that we ate so quickly we we're annoyed we didn't savour the taste more.
Their hand-made and hand-wrapped vegan chocolate bars are created from premium quality, organic, raw and primarily wild ingredients. Conscious Chocolates, have been enjoyed throughout the world since 2004.
From humble beginnings Conscious Chocolates have expanded rapidly and are now leading the market in the UK and Ireland, continental Europe and the Middle East.
The whole of the Conscious Chocolate range is vegan, vegetarian and organically certified. For the Conscious team, it has always been important to them that everyone can enjoy their chocolate, regardless of their dietary requirements.
Their bars are free from gluten, dairy, soya and refined sugars, and are suitable for diabetics, vegans,  raw foodists, vegetarians and coeliacs.
Our top pick flavour was the Conscious Dark Side 85 per cent bar, but then again we love the bitter taste of dark chocolate here at Healthista. If you prefer a less bitter taste they also sell a Conscious Dark Side 75 per cent option.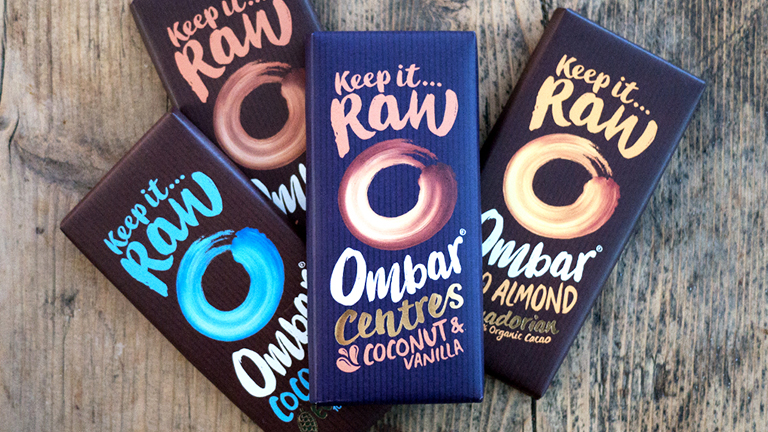 Hmmm, chocolate, we adore you. Raw chocolate however, is the best sweet treat ever, perfect for vegans, those who are lactose intolerant or avoiding dairy as it contains no milk. The ingredients used to make Ombar's raw chocolate are organic and cater for a wide variety of palates and dietary requirements
They use coconut sugar rather than refined sugar, as well as whole fruits, which are dried and powdered.
The only way I can describe Ombar chocolate is that it just melts in your mouth – seriously. There is no bitter taste what-so-ever, it just tastes like proper high quality delicious chocolate. Our absolute FAVE was the Coconut and Vanilla flavour – unputdownable.
One 70g bar does still contain 408 calories though, so it is still a treat, don't go too choco-crazy. Available to buy from most UK supermarkets.
70g bars available in Waitrose, and smaller 35g portion sized bars available on Ocado.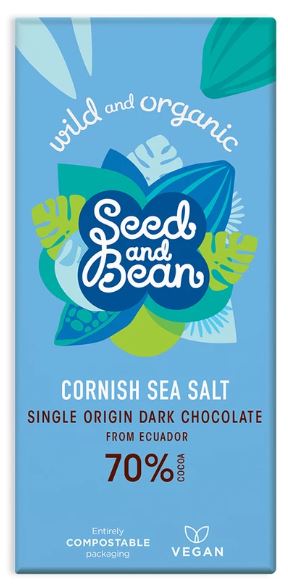 You'll be spoilt for choice with Seed and Bean's bars, a favourite at Healthista HQ.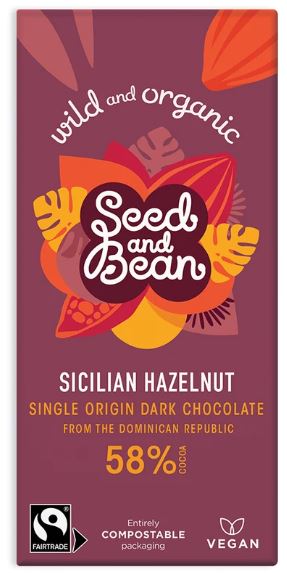 They have 22 flavoured bars, all vegetarian, and 14 of the dark chocolate bars are suitable for vegans.
It's no surprise the bars have nine Great Taste Awards, with an array or dreamy combinations that only use natural real fruit flavours.
As for the vegan selection, the Fairtrade 100 per cent dark chocolate from Ecuador was added to the range in 2016.
It is made from premium organic cacao beans grown and cultivated by 396 farmer families in the tropical lowlands of Ecuador, the most bio-diverse country on Earth.
The families are paid their deserved share, a trading principle incredibly important to the brand. Even their packaging is recyclable.
You have to like the bitterness of dark chocolate to enjoy most of these bars, but as far as picking a favourite was concerned? Well we liked them all.
Plus the packaging is very Instagrammmable wouldn't you agree?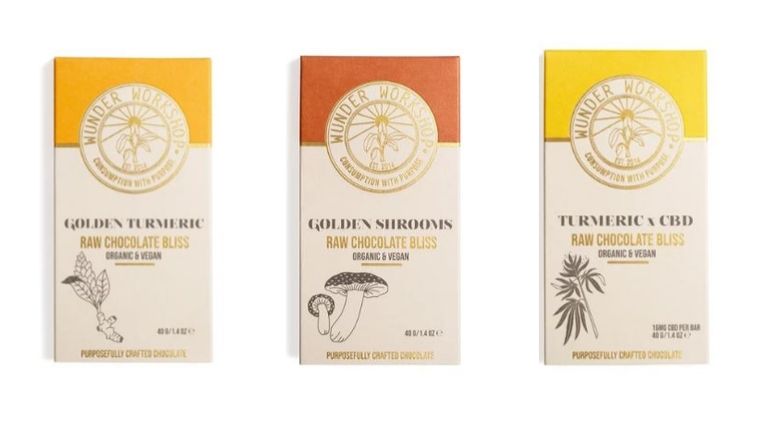 Turmeric is the magic ingredient that people have been raving about, but some people aren't always too keen on the taste. Well now you can buy turmeric chocolate.. and who doesn't like chocolate, let alone healthy chocolate?
Wunder Workshop is a London based functional food brand making organic and ethically sourced turmeric based products.
Set up by Tom & Zoe in 2014, Wunder Workshop is inspired by Ayurveda – the 'Science of Life', whose principles are based upon a preventive and holistic approach to health.
These unique, raw chocolate bars are handcrafted and stoneground using wild sources and single origin Criollo cacao from Peru where it is harvested and fermented by Asháninka tribespeople.
The packaging is 100% recyclable and printed with vegetable inks, the inner foil is also home-compostable.
Our favourite bar was the Golden Turmeric flavour, you can still taste the turmeric but as it blends so well with the chocolate, you will hardly notice that you are eating such healthy chocolate.

Booja Booja is the holy grail of healthy indulgent chocolates. Once you try these majestic truffles, they shall be whispering your name forever. Fudgy in the centre with a hardness on the outside, the truffles don't stop giving the full three minutes you are savouring pure indulgence.
The brand has been around for a staggering 17 years, in which time it has won 86 awards, a lot longer than the many brands we see popping up.
In this time, the Switzerland born company has perfected their recipe. They are now handmade by a small team in Norfolk, whereby only 34 ingredients are used in total for their wide collection, which includes phenomenal dairy-free ice cream.
The Hazelnut Crunch Chocolate Truffles, for example, uses only chocolate (cocoa solids, cane sugar, vanilla), coconut oil, hazelnuts and cocoa powder, all organically sourced.
Whether you're of a mind for friendly sharing or a little moment of chocolate deliciousness just for yourself, new Six Truffle Treat Packs come in eight amazing flavours including new Honeycomb Caramel and Toffee Strudel.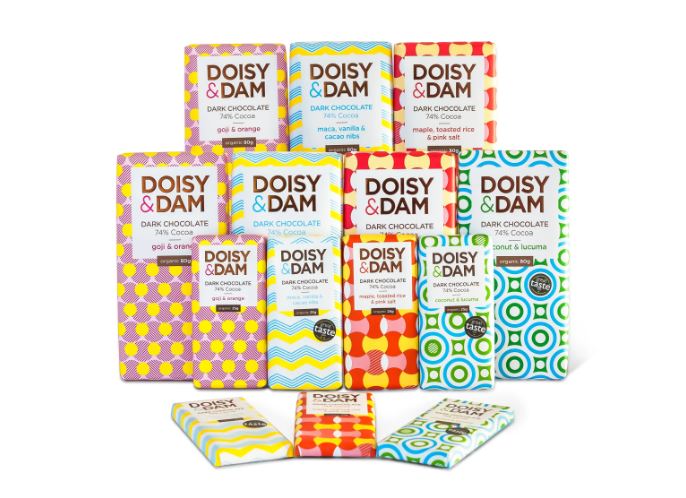 Doisy and Dam's chocolate looks like it was designed to be placed delicately in every chocolate lovers Instagram shots, and the bright pastel colours make it an easy gift for an oh-so-difficult vegan friend.
Richard and Ed are the two guys behind the bars at D&D, which never contain more than eight ingredients, a minimum of eight per cent superfoods, and a high cocoa content. They are on to a win with the healthy indulgence crew.
The Full Whammy, £25 includes one of every god damn delish chocolate bar Doisy & Dam make. Your chocolate cupboard is sorted.
Healthista's FAVE flavour was Coconut & Lucuma organic 74% – but don't take our word for it, you must try every flavour and make your own decision.
Relevant Healthista Content:
The bloating fix that tastes like chocolate milkshake and it's dairy free
3 healthy chocolate recipes that could help your SKIN
Healthista Content You May Also Like:
10 best vegan alternatives to your favourite treats including cheese
9 nut butter obsessed Instagram stars share their snack hacks
10 healthy snacks for every diet need