Healthista has tried healthy snack upon healthy snack with our readers in mind. See which made the cut, and how you can get your hands on them
Best for: Energy On the Go
Snacks to help your hunger, your schedule, and give you a little spring in your step.
1. Bounce Energy Balls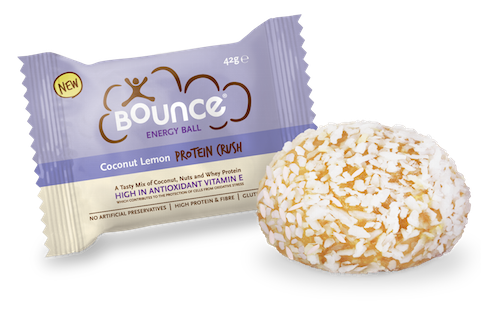 Who they are: Australian Husband and wife duo Andy and Paula Hannagan started Bounce Foods ten years ago with the intention to create genuinely healthy and delicious snacks under the simple philosophy: eat good, feel good, do good. They've created the snack, time for us to do the rest.
Star snack: These are plainly delicious. Clean, compact balls that are soft and chewy on the inside with a slight crunch on the outside. A range of tasty ingredients packed into each ball makes each flavor energy ball completely unique from the others.  If you're the greener type, the spirulina and ginseng flavor is the sort of healthy taste that you might be interested in. For the less healthily advanced, go for the coconut & macadamia (my favorite), apple & cinnamon, or cacao mint. A new Coconut Lemon flavor will also be arriving just in time for summer. These energy balls are easy to eat, easy to transport, and easy to not feel guilty about.
Complete list of flavors: Peanut Protein Blast, Almond Protein Hit, Coconut & Macadamia Protein Bliss, Spirulina & Ginseng Bomb, Apple & Cinnamon Protein Punch, Cashew & Pecan Vitality Lift, Cacao Orange Protein Burst, Cacao Mint Protein Bomb, Coconut Lemon Protein Crush (NEW)
Why it's healthy: Gluten-free, made from non-GM ingredients. Source of protein and fibre. Vegetarian friendly.
Where to buy: Tesco, Holland & Barrett, Waitrose, Boots, Sainsbury's, NutriCentre, Ocado, Amazon
2. Liberation Nuts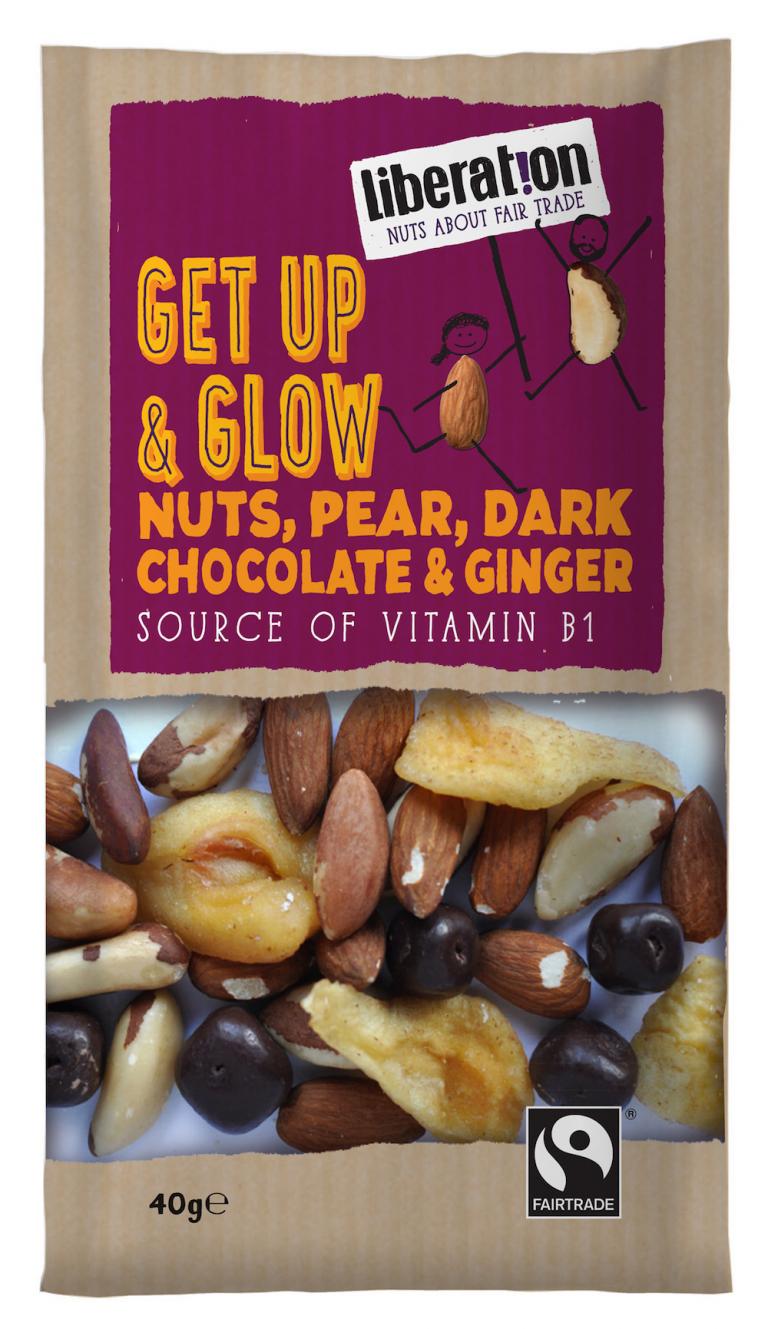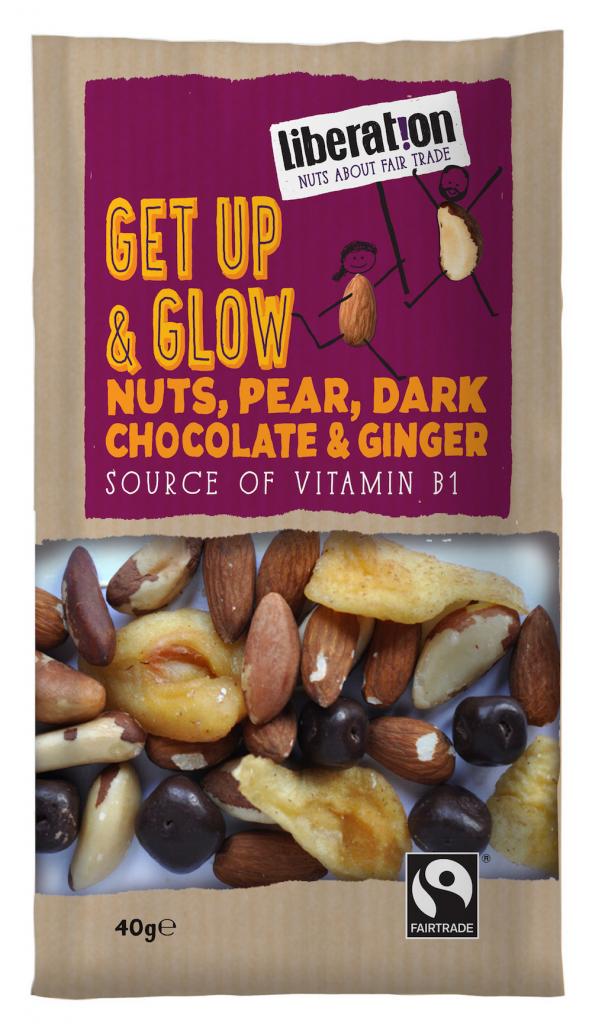 Who they are: The Liberation mission is pretty awesome. As the UK's only fair-trade, farmer owned nut company, Liberation buys their nuts from the co-operatives of small-scale growers and farmers who own a 44 % share of the company. It is their hope that small-holder nut producers will earn a decent, secure income and can plan for the future of their families and communities. See exactly where these nut producers are in the world.
Star snack: Get Up & Glow – Nuts, Pear, Dark Chocolate & Ginger: a lovely combination of natural flavors with varying textures – hard, soft, chewy, crunchy. The bits of pear are wonderfully sweet and chewy, along with a more subtle sweetness coming from the dark chocolate balls with ginger filling. A creative, unique mix that stands out among your average snack mix. Thumbs up to you, Liberation.
Other Mixes: Up & At 'Em – Nuts, Seeds & Goji Berries, Give Me Strength – A Cocktail of Nuts
Why it's healthy: Various packs are sources of iron, Vitamin A, protein, magnesium, Vitamin B1, manganese, all which contribute to various functions in the body.
Where to buy: chooseliberation.com, Traidcraft.co.uk
3. Urban Fruit Magnificent Mango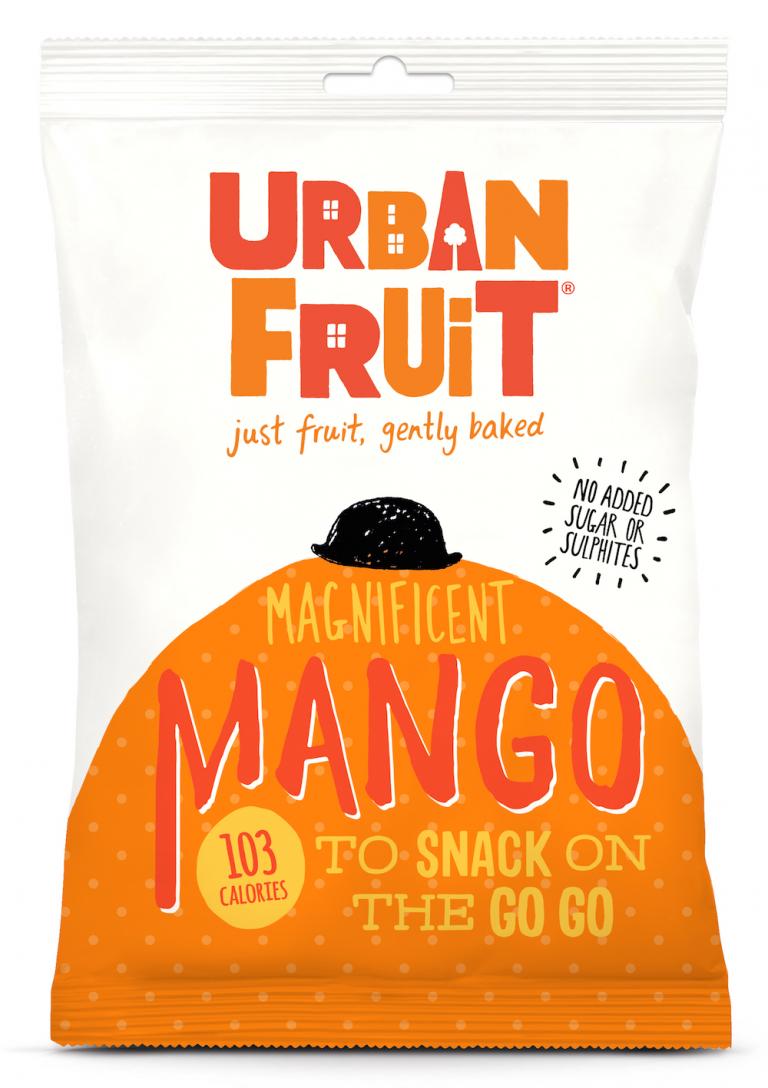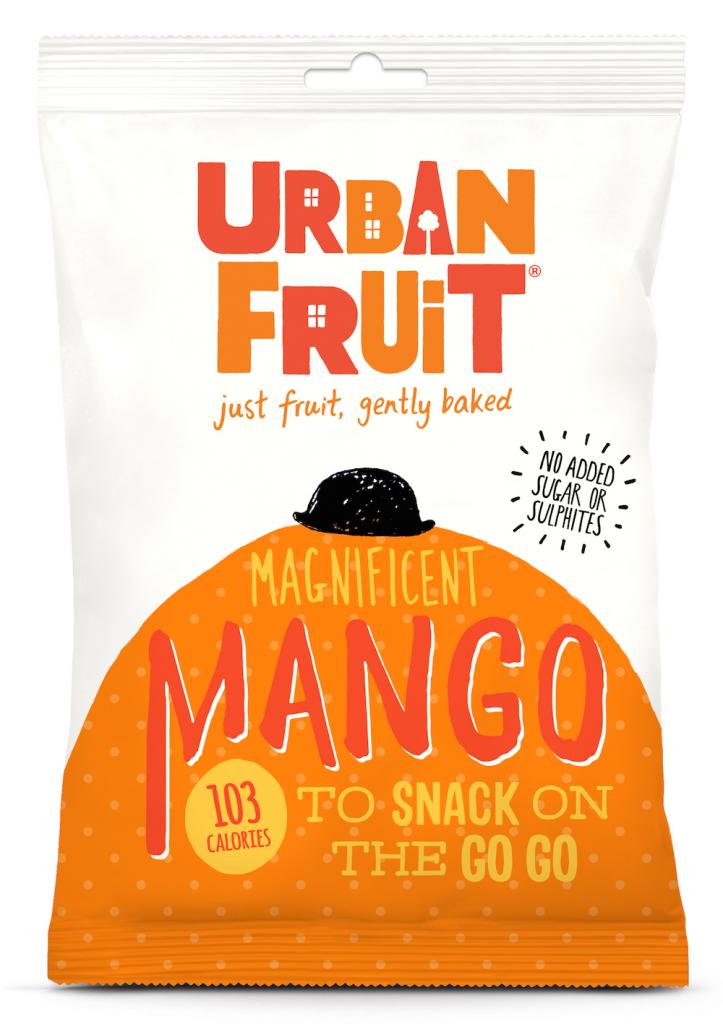 Who they are: A London-based company that's simply bananas about fruit, as they put it. They pick it pure and bake it fresh in season, for the healthiest and tastiest snack possible.
Star snack: Little bites of gently baked mango…can't imagine what that tastes like? Picture orangey/brown pieces of a chewy, deliciously sweet and fruity substance that happens to be mangoes. Just mangoes. Also, no sticky, drippy mess that requires a cutting board and a shower afterwards. Just fruit in a non-messy and ready to take with you form. Thanks Urban Fruit.
Other baked options: Smashing Strawberry, Perfect Pineapple, Cheeky Cherry, Superberry Blueberry & Blackcurrant, Awesome Apple & Pear, Tremendously Tropical (mango, pineapple, banana, baked coconut)
Why it's healthy: No added sugar, no oils, no sulphites, no concentrates. Just fruit. Each pack contains just 100-103 calories. Gluten-free, low in fat, high in fibre.
Where to buy: Tesco, Waitrose, Sainsbury's, Ocado, Amazon
Best for: Office Grazing
For those of you who enjoy some office snacking from time to time (everyone), here are a few snacks to help you do it in a healthy way.
4. Superfoodies Granola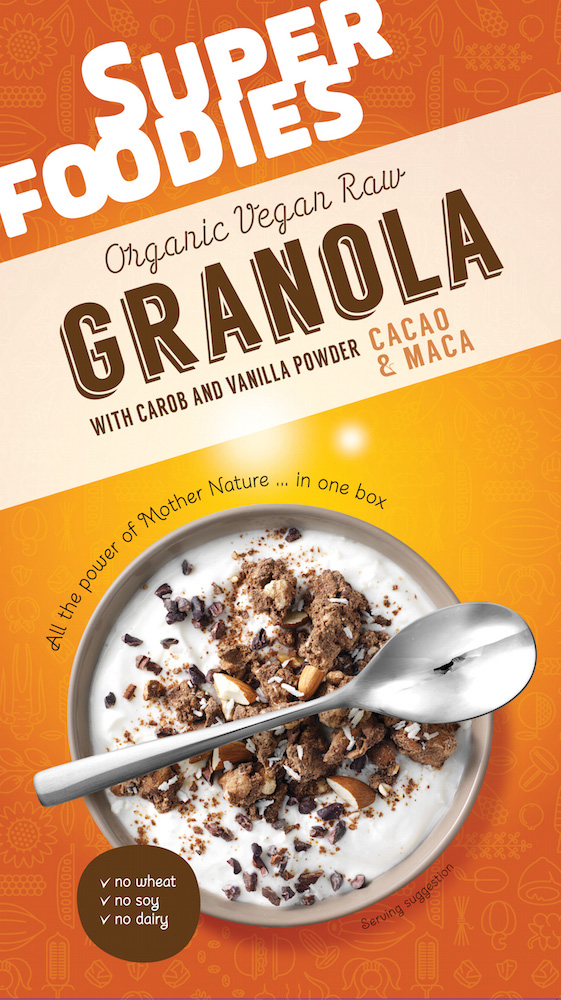 Who they are: Superfoodies began with founder Jesse van der Velde's desire for healthfood products that he would not only want to eat himself, but that he would want to give to his son. So, he started Superfoodies with the goal to make best, tastiest nutritional food products in the world.
Star snack: Cacao & Maca Brown Granola: an intriguingly airy, crunchy granola that doesn't really feel like granola (I wasn't picking flakes out of my teeth for the next hour). This flavor has just the hint of chocolaty sweetness (props to you, cacao) that has kept me reaching into the box for the last twenty minutes and my office grazing at an all time high. I imagine you could pair this with milk or yogurt (the picture on the front of the box indicates so) but I haven't done that because I've been too satisfied with sitting in my chair and eating it raw, like any true grazer would.
Other flavors: Green Granola – Coconut & Spirulina, Red Granola – Goji & Acai
Why it's healthy: Raw, vegan, and organic. High source of fibre.
Where to buy: Holland & Barrett,  Amazon
5. Co Yo Coconut Milk Yogurt


Who they are: CO YO is a family business launched in 2012 and run by Bethany and Paul from their boutique coconut only factory in the Kent countryside.
Star snack: This stuff is cool – and yummy. Picture creamy yogurt without the heaviness of creamy yogurt. Then picture lighter yogurt without being that weird mass of non-moving whipped yogurt. That's Co Yo Yogurt. A sweet, tangy, smooth substance that is a surprisingly satisfying sweet tooth fix. A different taste than you're used to with a host of flavors to suit all preferences. The new Salted Caramel flavor is our personal favorite because it is delicious and it is a salted-caramel creation you don't have to feel bad about. What a beautiful thing.
Other flavors: Vanilla, Raw Chocolate, Matcha, Fruit Compote Varieties (mixed berries, morello cherry, mango, pineapple)
Why it's healthy: Made with natural ingredients and free from dairy, gluten, lactose, soya, and added sugars. Contain probiotics, medium chain fatty acids (used by liver as energy source, not stored as fat) that support immune system and contain antibacterial properties.
Where to buy: Tesco, Waitrose, Ocado, Amazon
6. The Living Food Kitchen Raw Hummus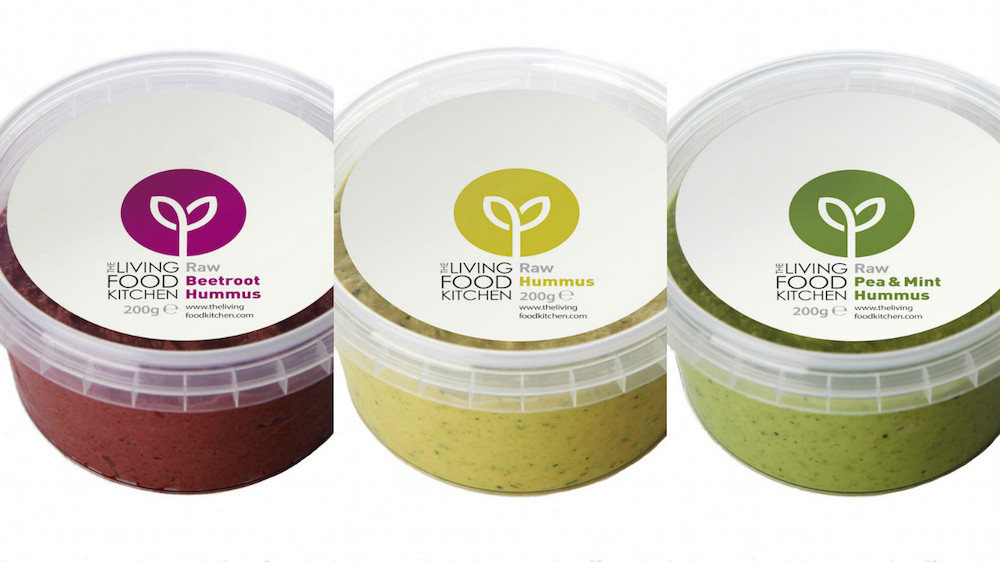 Who they are: One of the UK's leading manufacturers of plant-based, vegan products, The Living Food Kitchen is committed to never using animal products and producing foods that are free of lactose, gluten and soya – so even those with intolerances can enjoy good food with confidence.
Star snack: BEST HUMMUS EVER. Not kidding – this hummus is amazing. The Living Food Kitchen has graced us with three delicious flavors: original for our traditional hummus-lovers, pea & mint for a crisper, fresher taste, and beetroot (my favorite) for a sweeter flavor. Whichever flavor you choose, you will not be disappointed. Each dip has a light texture and SUCH pretty colors. Dip vegetables, Leksand crispbreads, even your fingers if you have to – whatever you do, eat this hummus.
Why it's healthy: Made with all natural ingredients. Gluten free, dairy free, soya free.
Where to buy: The Living Food Kitchen, Planet Organic
Best for: Crisp Lovers
Nothing will ever replace crisps, but these alternatives come dangerously close. Still crispy, way more healthy.
7. Sanchi Tamari Rice Crackers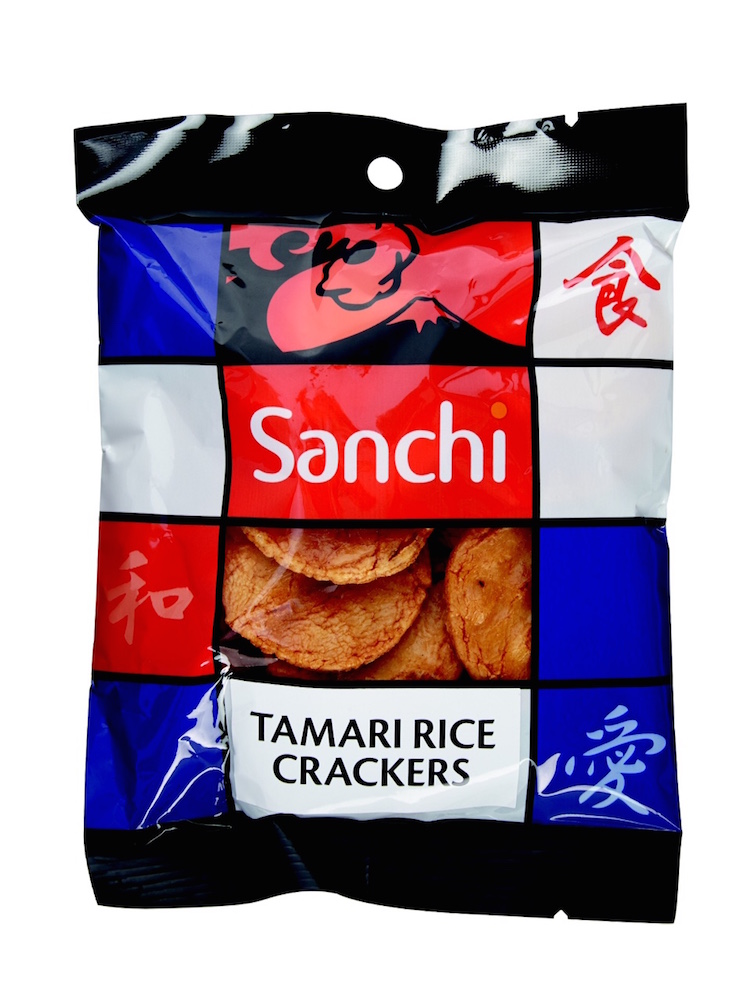 Who they are: The Sanchi brand was founded in 1994 with aims to preserve Japanese tradition and quality. By maintaining relationships with growers who supply natural wholesome ingredients, Sanchi has done just that. And they've made tasty crackers.
Star snack: Perfect for a salt fix, these rice crackers aren't the typical air puffs you're used to. They're actually really crunchy– made for loud chewing in a very quiet office– but chewing volume aside, they taste like a combination of soy sauce and crunch. And I love soy sauce (don't we all). And I love crunch. Though I might add, 'tamari' is one of the oldest Japanese seasonings and has a darker colour and richer flavour than the common Chinese soy sauce. The pack itself comes with a good amount of crackers, too, so I wasn't disappointed upon opening the bag, as I often am with other bags of crisps.
Why it's healthy: Gluten-free, no preservatives, caramel, or artificial enzymes. Perfect for coeliacs, vegans, and vegetarians. Comes in an organic and reduced salt version.
Where to buy: Sanchi.co.uk, Amazon
8. Yushoi Snapea Rice Sticks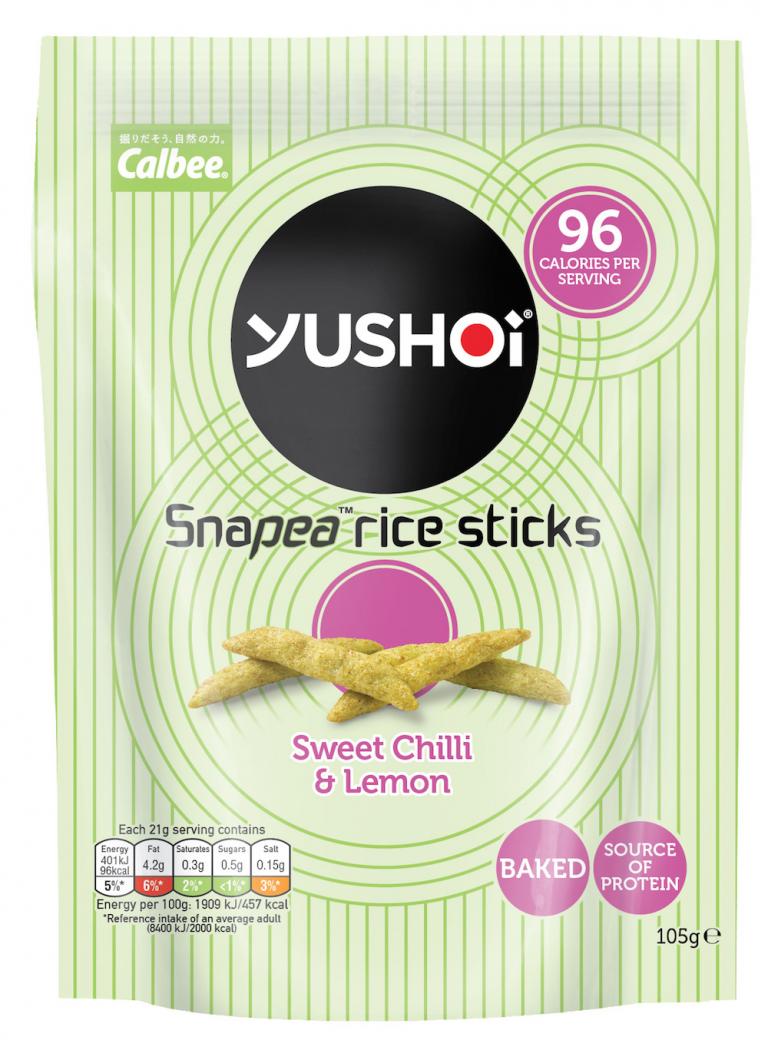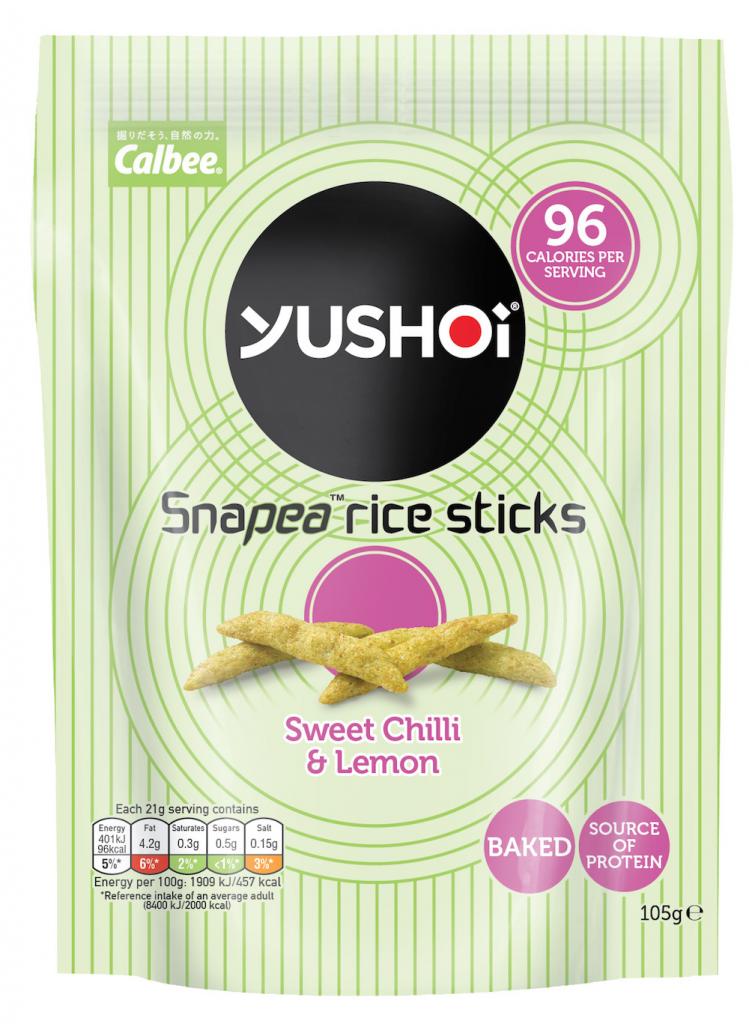 Who they are: Beginning with a green pea and a vision, Yushoi has honored the Japanese presence of mind and concentration needed to create a baked snack that can rival any bag of crisps.
Star snack: A light snack that doesn't have the same emptiness as something like rice cakes often do. These snapea sticks have an airy crunch that still feels substantial when you bite into it. The stick itself has a sort of dissolving factor, so while the snap pea itself melts away, the flavor hangs around longer. And it tastes really good. The office favorite: sweet chili & lemon.
Other flavors: Smoked Salt & Szechuan Pepper, Soy & Balsamic Vinegar, Lightly Salted
Why it's healthy: Less than 99 calories per 21g serving, high in fibre, source of protein, nut and dairy free, no artificial colours, flavours, or MSG. Suitable for vegans and vegetarians.
Where to buy: Tesco, Morrisons, Amazon
9. Kettle Bites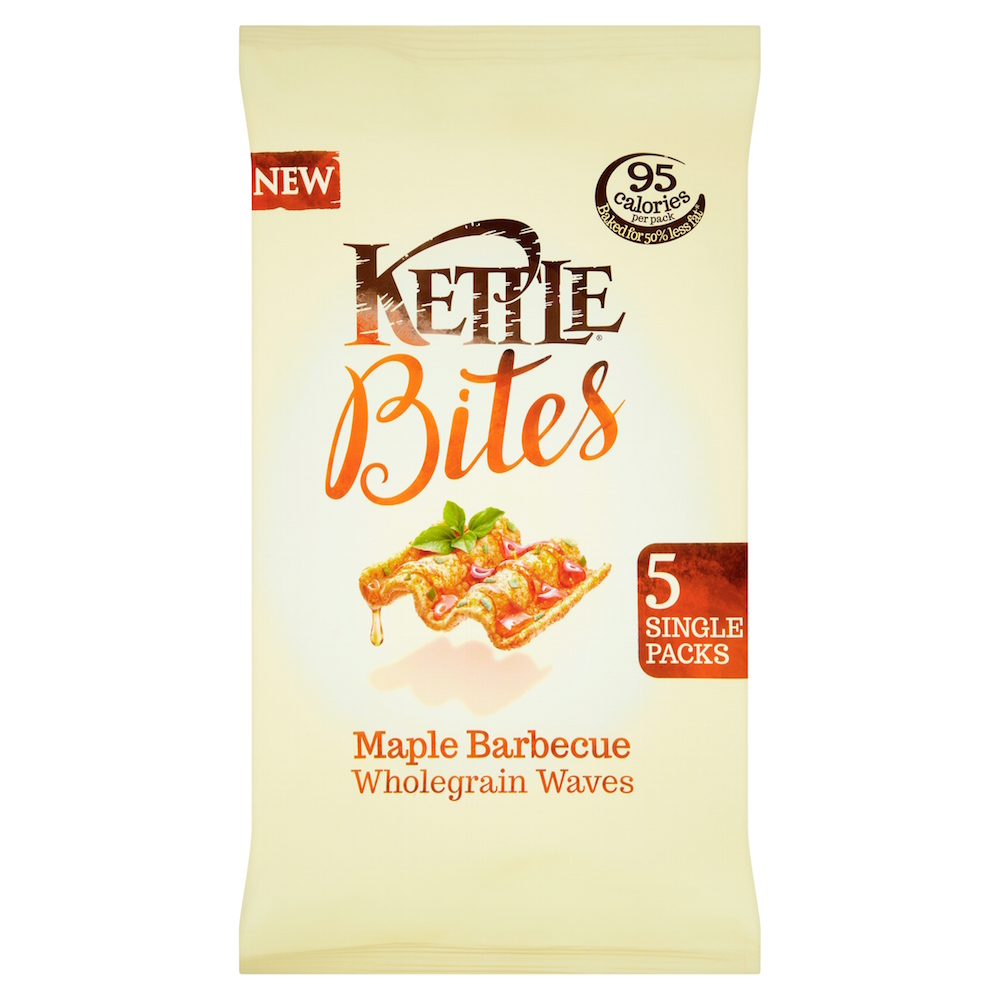 Who they are: Year: 1982. Location: old, beat up van. This made for the birth of the very first Kettle® Foods delivery truck. Though Kettle® has graduated from the van, they still operate under the original philosophy: use only the freshest, all-natural ingredients to create intensely flavored, wonderfully craveable crisps you can feel good about eating.
Star snack: Maple Barbecue Wholegrain Wave: YUMMY. Wow. These waves are a wonderful, tangy combination of salty and sweet. Each crisp is covered in flavor and has a perfectly clean, crunchy texture, free from the greasy feel of traditional crisps. These sweet things are addicting – but they're also only 95 calories per pack – so it's okay.
Other flavors: Coconut, Lime & Chilli, Sweet Chilli, Mozzarella & Pesto
Why it's healthy: Baked with real food ingredients (no artificial flavors, colors, or MSG). Each 22 g pack contains less than 100 calories.
Where to buy: Tesco, Sainsbury's, Ocado
10. Leksands Swedish Crispbread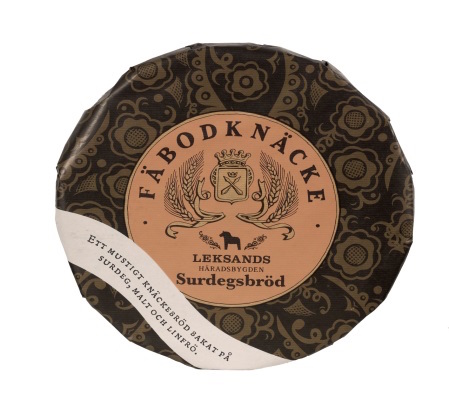 Who they are: The Leksands story begins in the 1920's with founders Joon Olof and Anna Olsson, the bakers in their Swedish village responsible for providing all of the village's families with bread. That task became a family business that has been carried on through time, and though the equipment has been updated, the ingredients haven't: rye, fresh spring water, yeast, and a pinch of salt.
Star snack: This crispbread is a lovely balance of what any crisp alternative should be. Not too salty, but flavorful. Crisp texture, but full in substance. Not greasy, but also doesn't dry your mouth out. These crackers are true renaissance crackers. Eat them by themselves, use them for sandwiches, or dip them in The Living Food Kitchen hummus we can't stop freaking out about. Leksands crispbreads can do it all.
Why it's healthy: All-natural ingredients – only rye, pure water from Leksands very own spring, yeast, and a pinch of salt are used to make these bread alternatives.
Where to buy: Cost Plus World Market, Amazon
Like this article? Sign up to our newsletter to get more articles like this delivered straight to your inbox.