Sweet treats and desserts aren't normally associated with glowing skin. But these three healthy chocolate recipes from Caroline Artiss' Beauty Foods recipe book could help 
The skin needs nutrients found in natural foods to keep it healthy, says YouTube beauty Caroline Artiss. The trained chef has designed a wealth of recipes in her cookbook with essential ingredients to make you feel and look good, and what makes you feel better than eating chocolate without guilt, right?
If you're looking to improve your complexion, Caroline reveals the key nutrients to add to your plate:
Healthy fats: Essential fatty acids like omega-3 and omega-6 help build cell membranes that keep the skin's natural oil barrier in tact and prevents drying. Foods with good fat content are coconut, olive and algae oil, oily fish, avocados, seaweed, chia seeds, flaxseeds/linseeds and nuts.
Antioxidants: They have a great anti-inflamattory effect and reducing inflammation promotes a more even skin tone, keeping acne and wrinkles at bay. Good sources of antioxidants are black beans, black rice, green tea, dark chocolate, red grapes, boabab fruit powder, spinach, kale, artichokes and berries. 
Vitamin A: Vitamin A is transformed into retinol in the body, which helps to keep skin firm by producing collagen. You can get this from orange-coloured vegetables such as butternut squash, carrots and sweet potatoes.
Vitamin C: This essential in the production of scar tissue, blood vessels and cartilage. Stock up on apples, apricots, mango, orange or red (bell peppers), dark green leafy vegetables and Brussels sprouts.
Vitamin E: An antioxidant that helps protect the skin from sun damange, this cannot be made by the body alone. We need to eat it to replenish stores, with foods such as tofu, almonds, sunflower, pumpkin and sesame seeds, avocados, prawns, grapeseed oil and tons more!
For a little indulgence with all the beauty benefits, try these three recipes:
Super Fruit and Nut Chocolate Brittle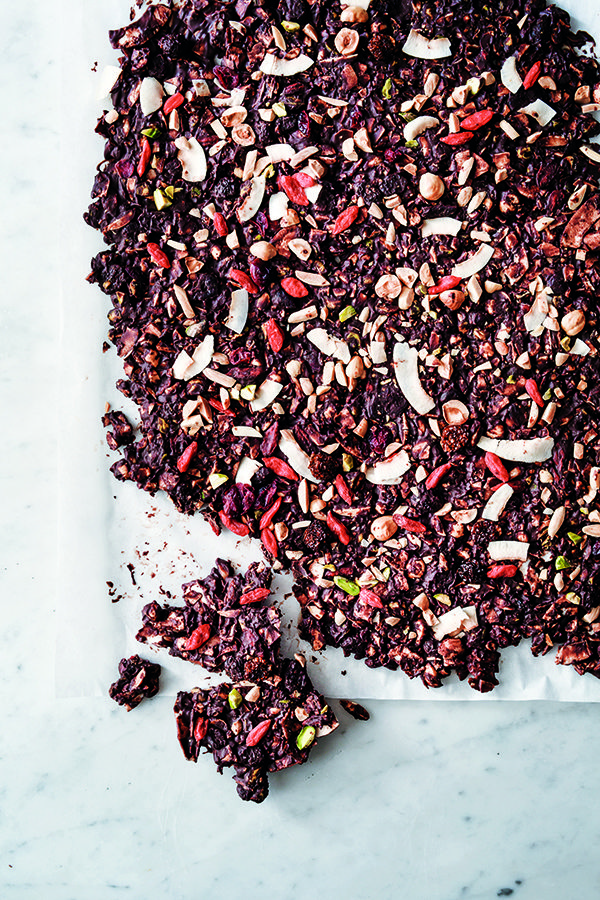 Forget what you may have heard about chocolate ruining your skin. Dark chocolate with a high cocoa solids content of at least 70 per cent contains flavonoids that protect the skin from harmful UV rays. Add coconut to the mix with this brittle and you'll have the added bonus of introducing cytokinins to your body, which are said to be anti-aging. This crunchy and hard brittle is a delicious and healthy sweet treat.
Ingredients
200 g mixed nuts, chopped (I like brazil nuts, pistachios, almonds and hazelnuts)
75 g dessicated coconut
200 g dark chocolate (70 per cent cocoa solids)
3 tablespoons agave syrup or honey
75 g mixed dried super berries (I like goji, inca, cranberries, blueberries, tart cherries)
a baking sheet lined with baking parchment
SERVES 6–8
Method
Preheat the oven to 180°C (350°F) Gas 4.
Spread the nuts onto an unlined baking sheet along with the coconut. Pop into the preheated oven to toast for 5 minutes, until you can see the coconut turning golden – it will smell amazing! Remove from the oven and set aside to cool.
Break the chocolate into small pieces and pop into a heatproof bowl with the agave syrup. Set the bowl over a pan of barely simmering water and stir to melt.
Transfer the cooled nuts to a large mixing bowl, add the super berries and pour in the melted chocolate. Mix together well, then spread the mixture onto the prepared baking sheet. Spread the mixture quite thinly as you want the consistency to be like chocolate brittle rather than a chocolate bar.
Put the baking sheet in the fridge to harden the chocolate for 1 hour. After this time, you can take it out and break it up or cut it into bite-size pieces.
Store in an airtight container in the fridge for up to 2 weeks.
MORE: 10 best natural beauty products you need this winter
Vegan Chocolate and Avocado Truffles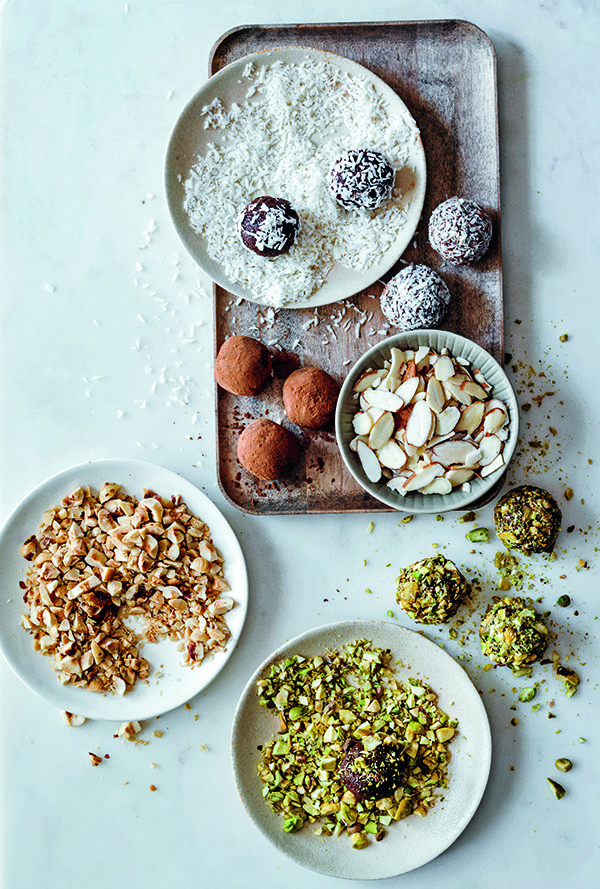 Firstly, you wouldn't even know these creamy, decadent chocolate truffles were vegan! Secondly, they are full of nutrients to keep your skin glowing from the inside out. The antioxidants found in good-quality dark chocolate can protect the skin from free radicals. Whenever I write about free radicals and skin damage, I have an image in my head of a potential war going on inside my body – the free radicals are terrorizing my healthy cells and need to be stopped by the antioxidant army, the hero of youth and vitality. Combined with the high levels of vitamin E and oleic acid in avocado, these truffles give the skin a beauty boost. Oleic acid is a monounsaturated fatty acid which helps keep the epidermal layer of the skin moist, soft and hydrated.
Ingredients
280 g vegan dark chocolate (70 per cent cocoa solids)
1 ripe avocado
a pinch of sea salt
½ teaspoon vanilla extract
1 tablespoon agave syrup or caster sugar
COATINGS (CHOOSE ONE OF THE BELOW OR A MIXTURE OF ALL)
Desiccated coconut
chopped pistachios
chopped flaked almonds
chopped hazelnuts
cocoa powder
MAKES 20
Method
Break the chocolate into small pieces and pop into a heatproof bowl. Set the bowl over a pan of barely simmering water and stir to melt.
Once melted, stir in the agave syrup or sugar. Set aside to cool slightly.
Scoop the avocado flesh into a large mixing bowl, discarding the pip, add the salt and mash it to a very fine pulp.
Add the avocado to the cooled melted chocolate with the vanilla and gently fold together. Pop the mixture in the fridge to set for 30 minutes, or until much more firm. Meanwhile, put the coatings in shallow bowls.
Next, roll the chocolate mixture into balls. Scoop a small tablespoon into the palms of your hands and quickly roll it into a ball, then immediately roll in whichever coating you want.
Continue until you have used up all the chocolate mixture. Put the truffles in an airtight container and chill for at least 30 minutes before serving. Store in the fridge and eat within 2 days.
Black Rice Coconut Pudding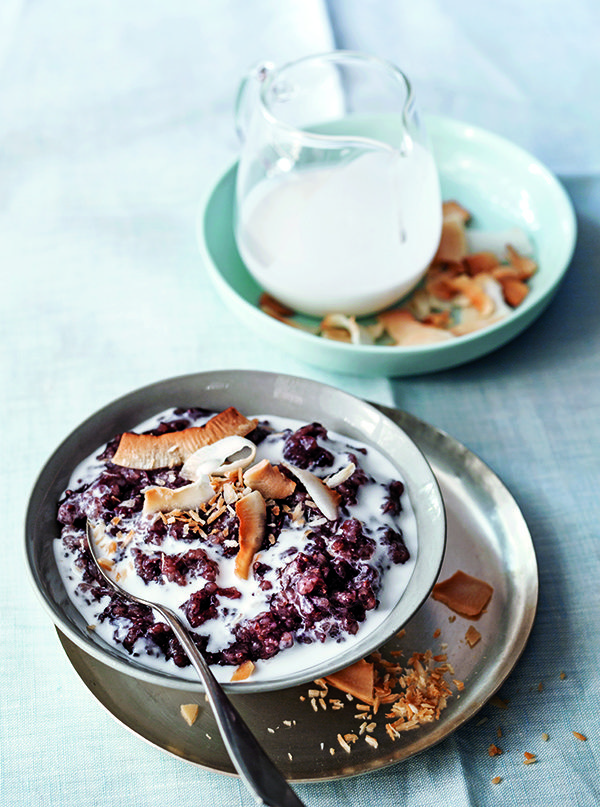 This is a Malaysian dish, made with a sticky black rice grain, called 'bubur
pulut hitam'. I grew up on desserts like this, consisting of rice, coconut and
palm sugar. The pandan leaf is a long, green leaf commonly used to flavour
desserts and sweet treats in Asia. I call it 'the Asian vanilla'. The dark colour
of the rice indicates that it is full of anthocyanins, which are powerful, natural
antioxidants, and they produce the dark purple 'black' flavonoid colour in
foods such as grapes, rice and berries. The rice is also a great source of fibre,
which helps keep your digestive tract healthy by binding to toxins and waste
and clearing them out.
Ingredients
140 g black glutinous rice, soaked in water for 30 minutes or overnight
2 pandan leaves or 1 teaspoon vanilla extract
90 g palm sugar or raw brown sugar
125 ml coconut milk
toasted dessicated and flaked coconut, to serve
SERVES 4
Method
Drain the soaked rice and transfer to a saucepan. Pour over 1.25 litres of water and bring to the boil. Tie the pandan leaves in a knot and add into the rice (or add the vanilla extract). Cover with a lid, turn down the heat and simmer for about 40 minutes, giving it a stir every now and then to make sure nothing is sticking.
Once the rice has cooked down, is soft and nearly all the water has evaporated, it is done! You can add more water if you prefer it runnier.
Stir in the sugar and serve with the coconut milk and toasted coco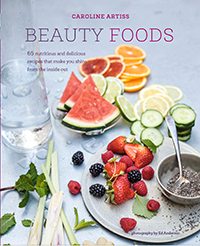 Buy Beauty Foods: 65 nutritious and delicious recipes that make you shine from the inside out
, for £11.99
MORE: 10 coconut oil recipes ready in less than 30 minutes
MORE: 60 second smoothies – best smoothie for hair, skin and nails – Day 22 Tropical splash
Like this article? Sign up to our newsletter to get more articles like this delivered straight to your inbox.