Got sensitive skin, need products to combat the cold weather or do you simply love anything natural? We've compiled a list of some of the best natural beauty products you should try this winter
It seems that naturally sourced, botanical beauty is becoming much more popular, especially as we are becoming more aware of the types of products we are using to pamper ourselves with.
Throughout winter our skin and hair naturally become dryer, and I don't know about you, but I definitely find myself searching the shelves for the moisturisers and face scrubs that won't cause more harm than good.
Finding all-natural, botanical-based  beauty products can be quite a task, especially if you're not sure what you're looking for, but that's why we've put together a list of the best botanical beauty products that we know and love and definitely can't survive winter without.
THE SHAMPOO
Odylique Gentle Herb Shampoo, £12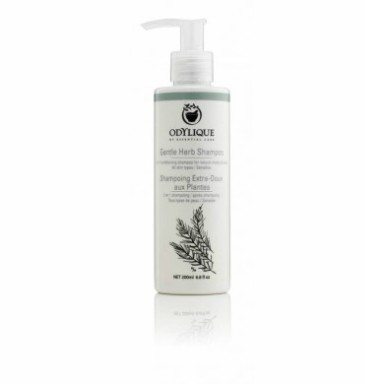 Meet the multi-award winning, natural and organic shampoo for those of us who have sensitive scalps.
This gentle herb shampoo by Odylique is bursting with organic, herbal ingredients and coconut oil to help nourish the scalp and bring back shine, AND it is totally free from all sulfates, fragrances, artificial preserves and salt.
The goodness in the natural herbs and oils and the fact that is doesn't contain harsh detergents means that after a week of regular use, you may find that you don't need to use a separate conditioner.
It works for all hair types, including dyed hair and it is even ideal for scalps that are prone to psoriasis, dermatitis or eczema.
Our tester says:
This shampoo was great to use, knowing that it is made from natural herbs made me feel as though I was really looking after my hair and not damaging it with products. I didn't need to use that much and it still lathered up well. I still used conditioner, but after washing, my hair felt smooth and healthy, I can't wait to see if I really don't need a conditioner after a few weeks.
THE CONDITIONER
Faith in Nature, Brave Botanicals Conditioner, £5.99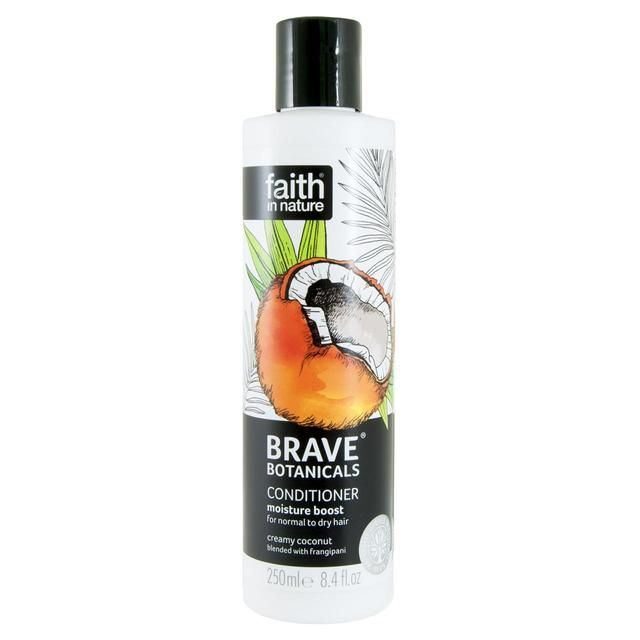 Don't worry, if you still want to use a conditioner, we've found one that fits the botanical bill. Faith in Nature have boasted their natural and ethical products since the 1970's and now they bring us a brand new range, Brave Botanicals.
Brave Botanicals moisture boost conditioner can help your hair to feel soft and look revitalised as it contains organic coconut oil infused with exotic frangipani which hydrates hair.
A lot of high street conditioners claim to make your hair healthy, but in fact, they merely mask the appearance of unhealthy hair by coating it in special conditioning chemicals – that's why organic and natural conditioners can be a better option – especially for dry, damaged hair.
Our tester says: I find that a lot of conditioners can either be too thin or too thick in consistency, making it really hard to get nice, smooth hair. I tried out this conditioner and while it seemed to be quite thin, it looked as though it had a really oily base, which meant that it spread through my hair really easily. I left my hair to dry naturally and it felt so smooth the next day and was a lot less frizzy – plus it smelt absolutely amazing.
I left my hair to dry naturally and it felt so smooth the next day and was a lot less frizzy – plus it smelt absolutely amazing
THE LIP BALM
Albus & Flora Tinted Lip Balm, £12.00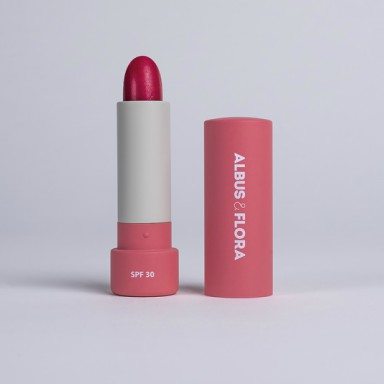 Albus & Flora has created a gorgeous tinted lip balm that is deeply nourishing, high in anti-oxidants, vitamins and omega and perfect for the cold weather.
Formulated with alpine rose extract from the Swiss Alps and cranberry and raspberry seed oil from the Arctic, it is great to use as protection against sun damage and loss of lip fullness.
The balm is made with a powerful blend of seaberry, avocado and blackcurrant seed oils to nourish lips and stimulate cell renewal, and it is enriched with jojoba, grape and sunflower oil to hydrate and reduce moisture loss.
Our tester says: I tried out the Snowberry red shade, which is a beautiful shade of subtle red that leaves a sheer finish and tinted lips – other shades are available, but I really love this one, it even smells amazing. I have kept this by my desk at work so that I can use it throughout the day and my lips have never felt more smooth.
My lips have never felt more smooth
THE BEAUTY BALM
Neal's Yard Wild Rose Beauty Balm, £38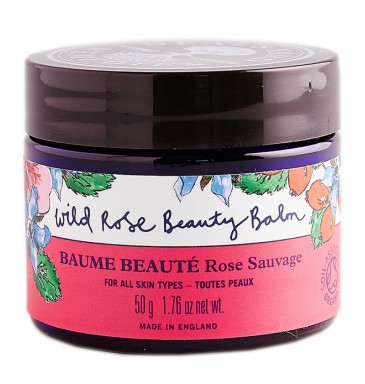 The Neal's Yard Wild Rose Beauty Balm is completely magical, right down from the smell to the pretty pot to the actual balm itself.
Made from organic rosehip seed oil – one of the richest natural sources of vitamins, fatty acids and antioxidants, this multi-purpose one pot wonder is great as a cleanser, refiner or deep nourishing moisturiser and even a lip balm.
Use sparingly with the muslin cloth provided and simply apply to the areas you wish.
Our tester says: First of all I love the look of this product, it's so pretty, and I like the fact that is multi functional, making it well worth the money.
I tried it out on some dry patches of skin to see if it could help to moisturise them. The balm is actually quite oily once it is applied to the skin which I thought was great as you can tell that it is really going to help. I rubbed a small amount on and it dried quite quickly and soaked in to my skin. Pretty much instantly my dry patches felt as though they were smoothing over.
THE DEODORANT
Aurelia, Botanical Cream Deodorant, £18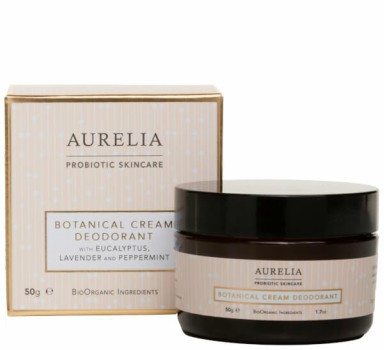 A revelation for deodorants – forget the sprays and the roll-ons loaded with artificial ingredients and try this natural cream deodorant – a new type of texture on the market.
Aurelia probiotic skincare has a botanical cream deodorant that is completely natural and aluminium free – so you don't have to worry about your pores being blocked.
The cream-to-powder consistency means that it is super easy to apply with your fingertips and the superfine powdered plant based ingredients – arrowroot and pure kaolin, sit invisibly on the skin ready to absorb natural perspiration.
Other ingredients include shea butter to hydrate, tea tree, eucalyptus and peppermint, for their antiseptic and antibacterial properties, and lavender and bergamot to lightly fragrance and make you smell good.
I was pleasantly surprised.
Our tester says: I was a bit skeptical about a cream deodorant, the thought of rubbing cream in my armpits felt really weird but I was pleasantly surprised. Although this particular deodorant smelt very minty, it went on really smoothly, dried so quickly, didn't leave any white marks and didn't turn crummy like I thought it might. And it worked!
THE FOUNDATION
Inika Organic Liquid Foundation, £29.50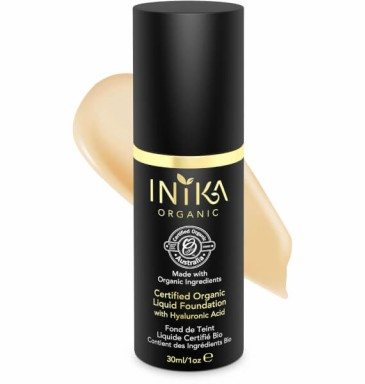 Inika has created the perfect naturally sourced foundation that provides a flawless and radiant look that lasts all day.
Its key ingredients are green tea, lavender and argan oil, meaning the liquid foundation is packed with organic antioxidants, vitamins and minerals and hyalunoric acid – what's hyalunoric acid you ask? Hyalunoric acid can provide a youthful glow as it diminishes the appearance of fine lines and wrinkles by plumping the skin, increases skin elasticity and gives extra hydration.
You don't have to worry about your pores clogging either as ingredients are so gentle and non-artificial your skin can breathe naturally with no oily residue either.
Tester says: I tried this foundation over a weekend and think that it would work well if you're looking for a light coverage. It goes on the face really finely and spreads evenly, but I found that if I used too much it became quite sticky to touch. It smells really good too.
THE FACE SERUM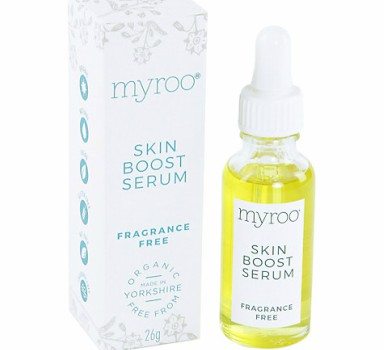 Made in small batches from one hundred percent plant based ingredients such as rosehip and raspberry seed oil comes this concentrated facial oil that helps to boost skin.
It's completely packed with omega oils, antioxidants and minerals which helps to supply maximum nutrition to undernourished skin. It also helps to repair the skin's natural barrier and maintain natural moisture.
This serum is great for those that suffer with eczema, sensitive skin, psoriasis or rosacea, just simply, apply a few drops daily either before bedtime or under your daily skin routine.
Our tester says: I applied this oil to my face before bed. One thing I loved was that it dried really quickly, some oils can stay on the surface of your skin for too long, making your face look greasy, so it was good to find one that absorbed. After a few hours I could feel that my face was already starting to smooth out and when I woke up the next morning, my face was really soft, so I can't wait to see the results after using it for a couple of weeks.
THE SHOWER GEL
Urtekram Rose Shower Gel, £7.35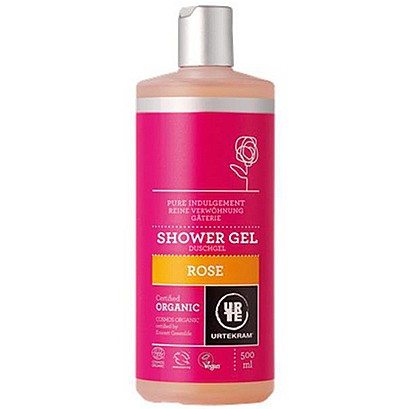 Leave the shower (or bath) smelling like roses with this Urtekram natural shower gel.
Made from aloe vera and glycerine, your skin will be left feeling refreshed and soft.
Glycerine is an important component of our skins natural moisturing factor as it helps to keep the oils in our skin balanced, protected and hydrated while aloe vera has antibacterial and antioxidant properties, helping to improve skin and wrinkles.
Made from aloe vera and glycerine, your skin will be left feeling refreshed and soft.
Our tester says:
Normally I use a shower creme as I find that it helps me to moisturise too, but I quite liked this shower gel. It was really light on my skin but not too thin so it was still effective and it smelt so good, I came out the shower smelling amazing.
THE FACE SCRUB
Natura Siberica Exfoliating Face Scrub, £5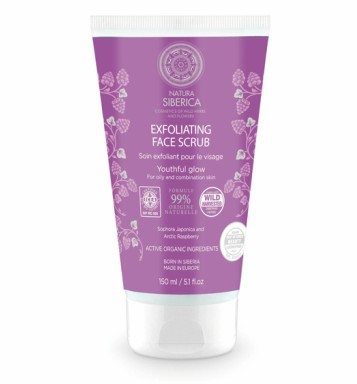 This pretty bottle of gentle face scrub by Natura Siberica contains sophora japonica and arctic raspberry which delicately exfoliates, renews and restores the skin making it smooth and firm.
Sophora japonica contains up to 30% of rutin otherwise known as vitamin P, which stimulates regeneration processes, and regulates lipid balance.
The apricot seeds gently exfoliate skin while arctic raspberry extract helps to soothe it.
Our tester says: I never really use face scrubs as I find them too harsh on my skin but I was pleasantly surprised with this one. Normally I find that the beads in face scrubs can be too large, scratchy and rough but with this scrub they were barely noticeable, which meant that it was more gentle on my face but still did the job. Also, it smelt gorgeous.
THE BODY SCRUB
Sukin, Renewing Body Scrub, £12.99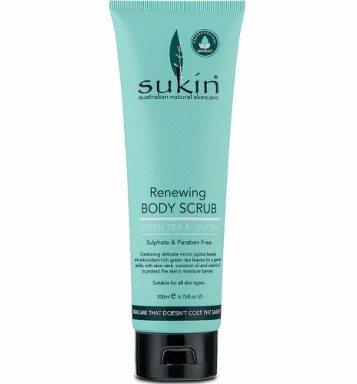 Microbeads have been a huge topic of conversation recently, and it's becoming much more known that we should avoid the products containing them if we want to help the environment. But, what body scrubs are microbead-free?
Sukin's renewing body scrub comes in, a gentle body exfoliant that contains micro jojoba beads, green tea leaves and ground walnut shells to delicately exfoliate the surface of the skin.
The jojoba oil, coconut oil and aloe vera help to maintain the skins moisture whilst exfoliating, improving elasticity and collagen for smooth and hydrated skin while the green tea extract, rose hip oil and vitamin E create a blend of antioxidants and essential fatty acids, vital for skin nourishment and maintaining a healthy, glowing complexion.
The jojoba oil, coconut oil and aloe vera help to maintain the skins moisture whilst exfoliating
Our tester says: 
This body scrub was amazing – I find body scrubs quite difficult, they can either be too harsh to the point where it hurts to scrub my skin or too soft, where it just doesn't exfoliate at all. I found that this one was really good, it was quite buttery and the beads weren't too rough on my skin but I left the shower feeling smooth and refreshed – like everything else, it smelt gorgeous.
MORE: Lucy Watson's new lipstick range gets the Healthista treatment
MORE: 10 best Christmas gifts for beauty junkies