The Christmas lights are starting to go up, the jingles have begun and the John Lewis advert has arrived which means only one thing, Christmas is on its way. Healthista has found ten of the best Christmas gifts for beauty fanatics this year
FOR THE MAKE-UP OBSESSED
Iconic Black and Rose Gold Complete Face Makeup Brush Set, £59.99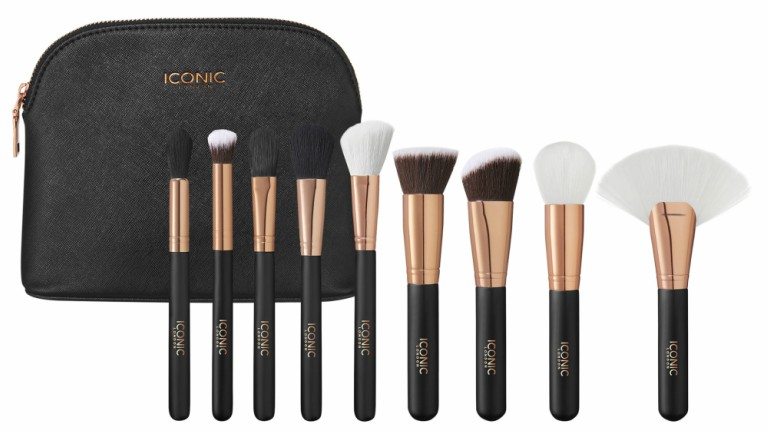 This nine brush set is every girls dream and has everything you need to achieve the perfect make up look. Iconic's make up brush set has been specifically designed so that you can have that flawless celeb style make up each and every time.
Each set comes with a buffer brush, perfect for blending foundation in to the skin, a largle angled contour brush for all your contour needs, an angled blush brush, for applying blusher on the apples of your cheeks, a powder brush, perfect for setting powder highlight, a flat foundation brush, great for applying basic foundation layer, a fluffy tapered brush, for powder applications that highlight the face, a concealer blending brush, the best for precise concealer application, a fan brush, to highlight the highpoints of your face and a powder brush, for blusher and medium powder coverage.
They really are lifechanging
Not only are the brush sets animal and cruelty free but they come in three beautiful colours, black and rose gold, white and rose gold, and a limited edition, peach metallic. Each set comes in a cute Iconic pouch, which could easily double up as a make up bag for when you're on the go.
We tried and tested these make up brushes and they really are lifechanging, our finished make up look was so much more flawless than before, the brushes dont malt on your face and they're so soft and easy to use – we'd definitely love these as a crimbo present.
FOR KYLIE JENNER LIPS
Wunder2 Wunderkiss Lip Plumper, £24.95 – Click Here to Buy Now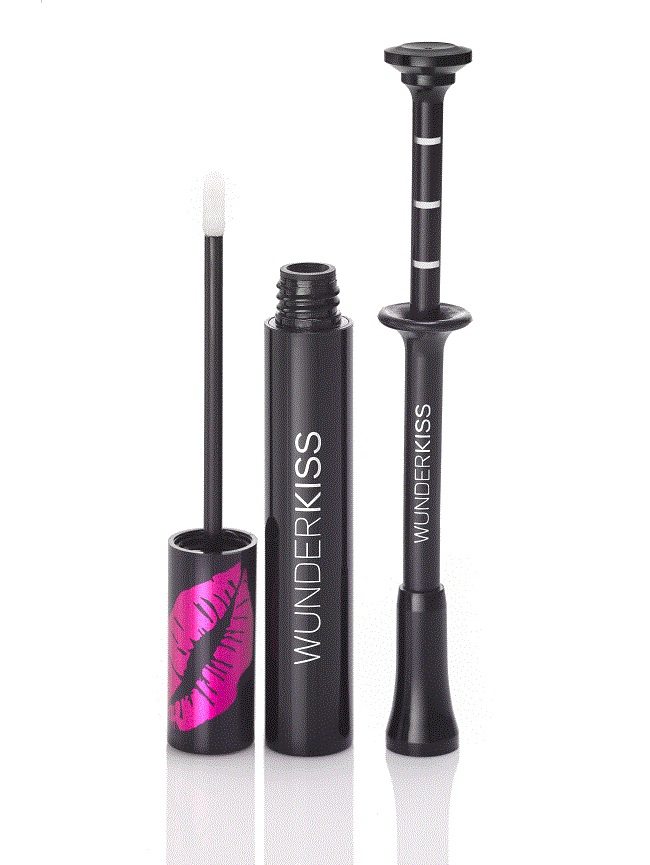 Kylie Jenner has given us all lip envy the last few years and we really can't see the vulumptuous lip trend slowing down any time soon. That's why we have decided that this Wunderkiss Lip Plumper would make the perfect beauty gift for any beauty lover.
There are a lot of placebo lip plumping glosses out there so it really is hard to find one that actually works. We tried this particular one out at the office and we really could see a difference.
The Wunderkiss lip plumper is a controlled lip plumping gloss which means that the person using it can choose how plump they want thier lips to be. You personally add the plumping serum in to your lip gloss and measure it on a scale of one to three – one being the least plump and three being super plump.
In under two minutes, you can have the perfect pout and super kissable, glossy lips that will last for hours.
FOR THE GIRL THAT LOVES SPARKLE
Beauty Boulevard Glitter Lips, £12.50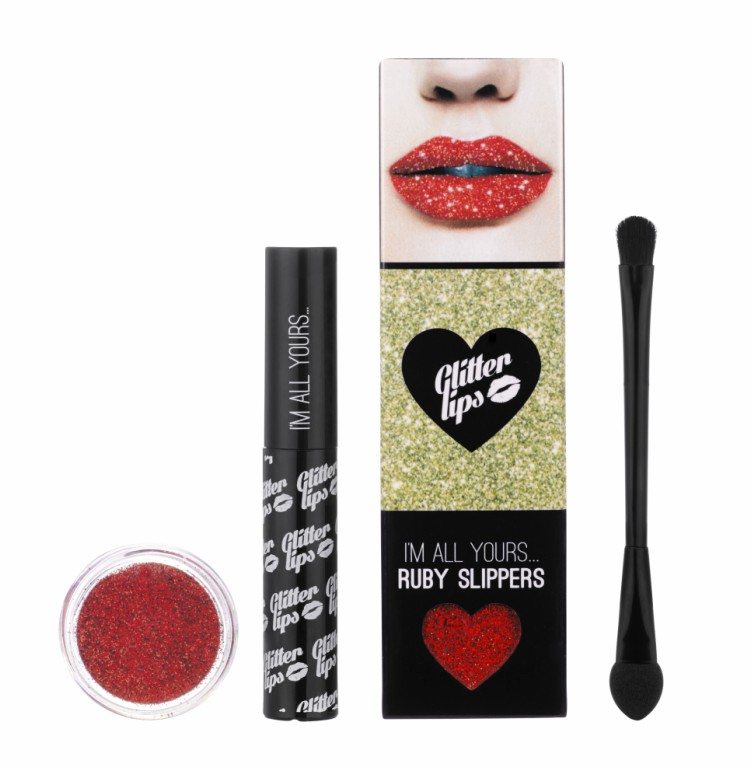 Go glitter mad this Christmas with these gorgeous glitter lip glosses. We've noticed that glitter seems to be quite the trend this season, and Christmas just wouldn't be Christmas without a little sparkle, so these would make the perfect gift for a friend, a relative, or even yourself.
Glitter Lips comes in 16 different shades that are all to die for and some of them are perfect for the festive season (we're talking about the dark reds and sparkly golds and silvers.)
You simply apply the lip gloss, wait for it to turn clear, and then dab on the glitter with the brush provided before brushing off any excess.
We tried them out and loved them, it's the perfect way to jazz up your look for a party, it's so easy to apply and surprisingly, the glitter feels really soft on your lips and lasts all night long – no joke, it really doesn't budge.
FOR THOSE THAT WANT BEAUTIFUL SKIN
Magnitone, The Full Monty Face & Body Brush, £130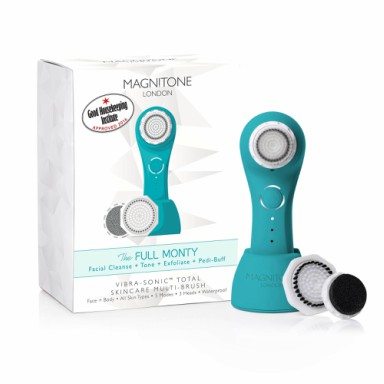 Be the bearer of beautiful skin this Christmas with this three in one VibraSonic powered skincare brush.
The Magnitone Full Monty Face and Body Brush helps to deep-cleanse, tone, exfoliate and buff the skin.
It has three brush heads – the active clean, the exfoliator and well heeled, which you can change as you please.
It also comes with five cleansing modes that have auto-stop timers so you have even action across your body.
On top of that, it's fully waterproof, suitable for all skin types and can be used daily as it stimulates blood circulation to boost natural collagen production which increases suppleness and creates a smoother appearance.
FOR THE ORGANISED BEAUTY GEEK
6. Weleda Three Drawer Gift Set, £31 – Click Here to Buy Now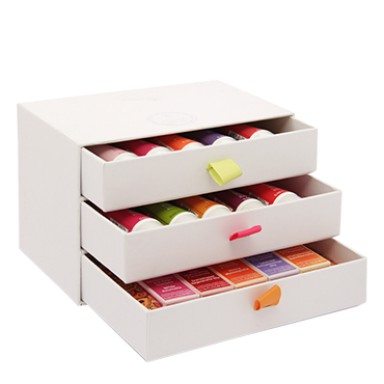 Not sure whether to buy a body wash, body oil or a body lotion? Don't worry, this Weleda gift set has it all.
We adore this cute three drawer box set that is packed with a selection of natural miniature body lotions, washes and oils.
The top drawer contains a set of creamy body washes, the middle drawer contains a set of gorgeous body oils, while the bottom drawer contains a set of lush body lotions.
From wild rose to sea buckthorn to pomegranate scents, we can tell that this would make a beautiful gift for anyone to indulge in.
FOR THOSE WHO LOVE A BATH
Kiss The Moon Love Luxury Bathroom Boxed Collection, £42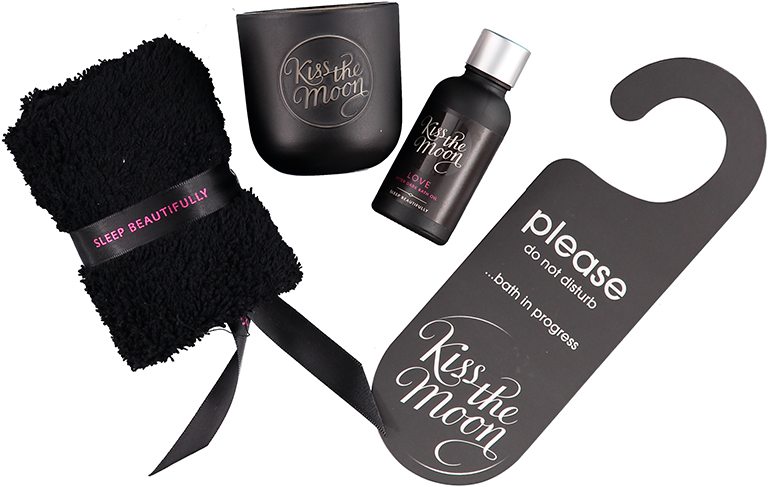 This Kiss the Moon Bath set is the perfect prezzie for a friend that loves a relaxing bath but also loves to sleep.
The gift box has everything a person would need for a peaceful night as it combines products that will help to calm, relax and restore the mind and body.
It comes with a small soy candle that is blended with Rose, Ylang-Ylang, Palmarosa and Frankincense oils, creating a relaxing fragrance that rejuvenates and rebalances, a bath oil, which when added to warm water helps to relieve tensions and a sleep mask and do not disturb sign, so there will be no chance of being interrupted.
FOR THE BEAUTY CREAM OBSESSED
PRAI, Firm & Lift Cremé Limited Edition (available at The Dorchester Spa & online), £65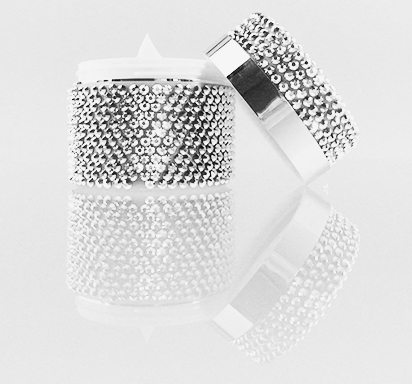 PRAI Beauty have created this beautiful limited edition cream all in the name of Christmas because what girl doesn't love to be spoiled and indulge in some glitz and glamour?
The PRAI firm and lift cremé is a luxury face cream that firms skin with platinum, one of Earth's most coveted precious metals.  The cream aids in restoring and moisturising skin which gives a more sculpted and defined appearance, making it a perfect primer for under make up and facial moisturiser.
Sold at The Dorchester Spa and on their online shop, these products have an art-deco inspired, crystal encrusted limited edition packaging, making it the perfect one-off Christmas gift.
FOR THE GIRL THAT WANTS TO LOOK TEN YEARS YOUNGER
Tria, Age-Defying Eye Wrinkle Correcting Laser, £199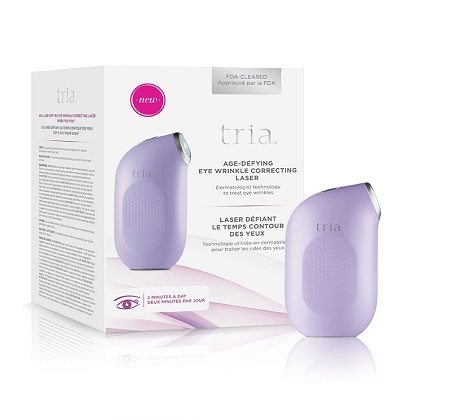 Tria Beauty brings the gift of gorgeous skin this Christmas – and it can all be done at home.
This Tria Eye Wrinkle Correcting Laser is a breakthrough anti-ageing eye laser that would put anyones crow feet concerns at ease.
Use this at home laser for two minutes a day – one minute per eye- around the eye area to reawaken and rejuvenate eyes.
It works as targeted beams work below the skin's surface to accelerate collagen and elastin poduction, which smoothes out the skin and reduces the depth of wrinkles.
After two weeks of use, the area around the eyes will begin to look smoother, fresher and younger – and don't worry, the Tria laser has been USA-FDA cleared.
FOR THE FAUX TAN FANATIC
Vita Liberata Three Piece Luxury Tan Kit, £29.95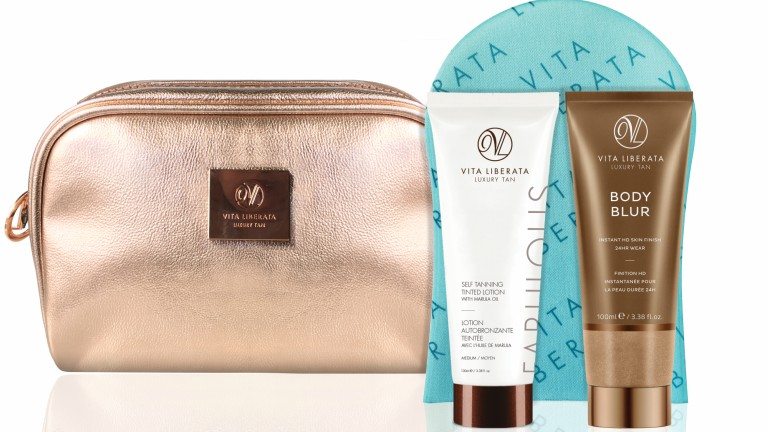 Unfortunately, most of us can't afford to take our loved ones away to catch some winter sun, so why not buy them this gorgeous self fake tan set instead?
Vita Liberata have created this fab three piece luxury fake tan kit which would make a great gift for those who love to be bronzed.
The set comes in a handy wash bag and includes a self tanning tinted lotion, a body blur lotion which gives an instant HD skin finish, and a super soft tanning mitt – to stop those accidental orange hands.
Our editor literally swears by Vita Liberata tan, so we know this one will be a winner.
BEST STOCKING FILLER
Curaprox, Black is White Toothpaste, £19.95 – Click Here to Buy Now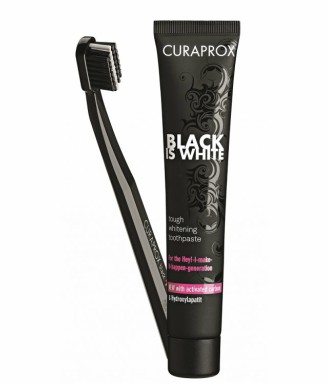 Got a friend that desperately wants teeth whiter than the Christmas snow? Curaprox have created the ultimate teeth whitening toothpaste.
Charcoal products really are the in thing right now, and this toothpaste has plenty of it.
The Black is White toothpaste is a tough whitening toothpaste made from charcoal and uses acitvated carbon to gently whiten teeth without harming them. It covers the teeth with a protective film made of hydroxyapatite, which re-mineralises the enamel and even tackles any cavities that are starting to emerge.
As grim as it might sound – brushing your teeth with black toothpaste, it really does work, and don't worry, it's lime and mint flavoured, so your breath will still be minty fresh.
MORE IN OUR 50 BEST GIFTS FOR HEALTHISTAS GUDE:
10 best gifts for fitness fanatics
10 best gifts for a hygge bedroom
10 best gifts for gadget lovers
10 best gifts for those that love to cook
WIN A TEFAL PRESSURE COOKER WORTH £140
For your chance to WIN Tefal's Clipso+ 6L pressure cooker, tweet this gift guide URL link, tag @HealthistaTV and hashtag #healthistaxmas. Entries close 19th December 2016. Winner notified within three days. Open to UK residents only.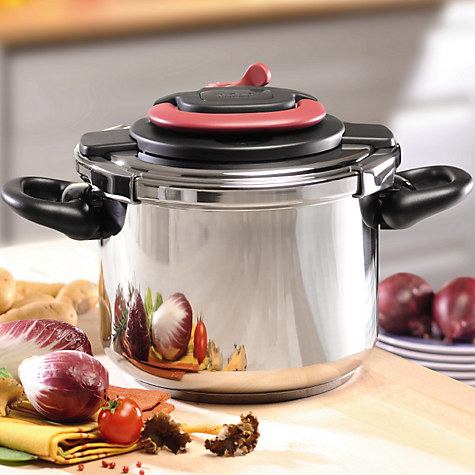 Using steam to infuse ingredients and tenderise meat, make wholesome meals for up to six people easily and affordably with the modernised pressure cooker. The system features two cooking settings, which are set dependent on your ingredients, five safety devices, foldable handles allowing it to be stored in tight spaces, and is dishwasher safe. Get exploring melt-in-the-mouth dishes with the recipe book online available when you get started.
Like this article? Sign up to our newsletter to get more articles like this delivered straight to your inbox.