Veganuary is here, and that means saying goodbye to some of your favourite treats and vegan alternatives to pizza, chocolate and even cheese aren't always winners in the taste stakes. That's why we have been testing as many as we could find to find the best 
Even if you're not a fully-fledged vegan, eating a more plant-based diet is becoming an increasingly popular trend not only for health and nutrition but also for its environmental impact. I myself, although not a vegan, am trying to make as many vegan choices as I possibly can.
Much research has shown that there is a clear link between vegan diets and reduced cholesterol and lower blood pressure. Environmentally, more people adopting a vegan diet can help reduce pollution and prevent deforestation.
In 2018, the UK launched more vegan products than any other nation.
In fact research from the The Vegetarian Society found that worldwide, farmed animals produce more greenhouse emissions than than the world's entire transportation system.
A 2016 study published in PNAS, found that if more of us adopted a vegan lifestyle, 8.1 million deaths could be avoided per year.
Plant-based eating will also increase your nutrient intake. When opting for plant based foods such as vegetables, fruit, whole grains, beans, pulses, nuts and seeds, you will be in increasing your fibre and antioxidant intake. Healthy foods like these are also richer in potassium, vitamins A, C and E and magnesium.
If more of us adopted a vegan lifestyle, 8.1 million deaths could be avoided per year.
Nowadays it isn't hard to adopt a vegan diet. In 2018, the UK launched more vegan products than any other nation. Additionally, one in three Brits have stopped or reduced their meat consumption.
Some of our favourite restaurants now serve plenty of vegan options and some of our most loved foods now have delicious vegan options.
In the past it has always been the treats that have stopped me from going vegan – cheese, sausages, chocolate, ice-cream I just can't say no. But now with all these vegan alternatives to my favourite treats that are actually yummy, what excuse do I have?
So, while we encourage you to eat as natural, whole and unprocessed as you can in your plant-based odyssey, everyone needs a treat now and then, right? Whether pizza, cheese, sausages or chocolate are your thing, we have found their tastiest vegan alternatives.
Vegan alternative #1 Violife vegan cheese
Cheese glorious cheese. Cheese is one of the foods many people say they could never give up.
If I could I would have cheese on everything. And I'm not alone, people cant help themselves when a cheese board appears and often cheese on toast isn't just a want, it's a need.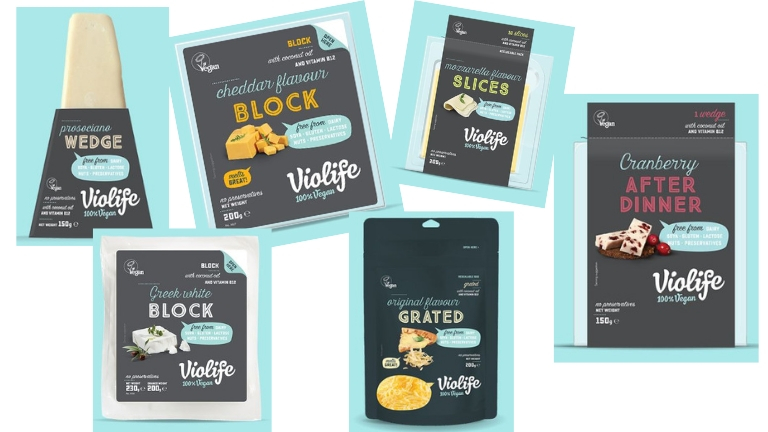 Then I tried Violife vegan cheese and I realised I could totally reduce – if not stop – my consumption of dairy made cheese, and still not feel like I am missing out. In fact I started eating a Violife smoked flavour block of cheese and couldn't stop, so I ended up eating the whole thing – oops.
If you are wanting to reduce or stop your dairy consumption but still want a great tasting cheese then you have seek out Violife. Not only are their cheeses delicious, there are plenty to choose from. Slices, blocks, wedges, grated, spreadable, smoked, pizza flavoured, after dinner cheese, you name it they have it.
The Prosociano wedge is the most delicious parmesan alternative and it even melts, and the slices are so incredibly delicious wrapped around cucumber wedges.
All of Violife's food are free from lactose, GMO, gluten, nuts, soy, preservatives and cholesterol. So you are guaranteed clean, guilt-free, allergen-free eating.
So what are the Violife cheeses made from I hear you ask? Coconut oil, actually. A typical slice of Violife cheese contains 57 calories a slice, while a regular slice of cheese typically contains 113 calories.
Available to buy from UK supermarkets.
Vegan alternative #2 Heck vegan sausages
Sausages aren't just for breakfast. Toad in the hole, bangers and mash, Italian sausage pasta, the list goes on.
So when deciding to go vegan, it can be hard to find a vegetarian or vegan sausage that is actually tasty and will live up to the expectations of a proper sausage.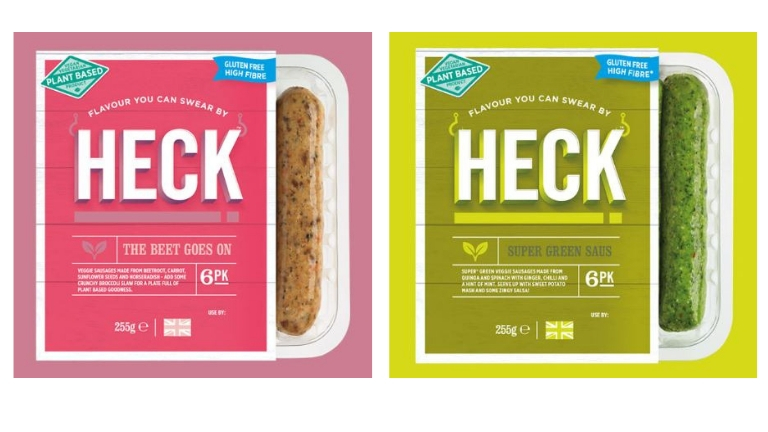 But fear not, our prayers have been answered with HECK's new vegan range of sausages. In fact the HECK team spent a total of four years developing the vegan recipes for these delicious sausages – and I think they got it just right.
Don't expect a sausage that tastes like meat aka 'fake meat' like many other brands on the market or the new Gregg's vegan sausage roll for example.
No, HECK chose from day one to develop a delicious plant-based range of sausages that also tasted deliciously plant-based. From beetroot flavoured bangers to Indian-style bangers HECK have created four different yet incredible tasting vegan sausages.
The whole Healthista team have nothing but compliments about these vegan treats. And what's more, we all agreed that the four different flavours can be enjoyed with so many different types of meals making them a very versatile range of sausages.
The ingredients list are impressive – they're mainly vegetables. One of our favourite flavours The Beet Goes On for example have just 138 calories (two sausages) compared to two regular sausages which contain around 350 calories. They're a whopping 47 per cent beetroot, 11 per cent carrot and only contain other unprocessed ingredients including pea flour and pickled beetroot.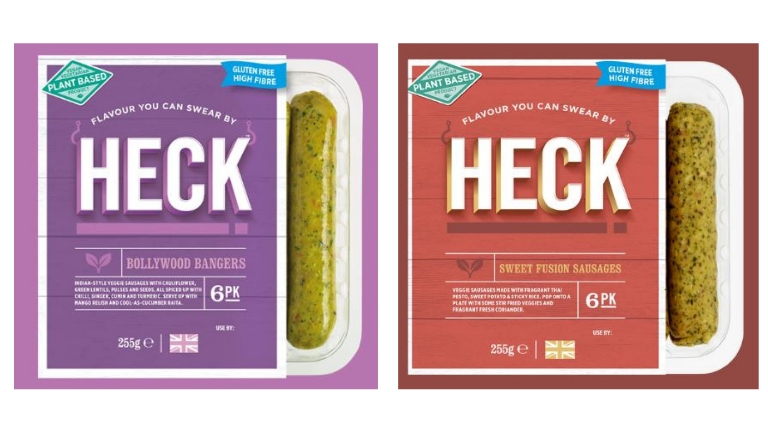 HECK's Bollywood Bangers are Indian-style veggie bangers, made from cauliflower, green lentils, pulses and seeds, spiced-up with chilli, ginger, cumin and turmeric. That is a whole lot of flavour in one vegan sausage. And trust me they really are a flavour explosion that would go deliciously with some pilau rice and raita.
Or there are HECK's Sweet Fusion Sausages, made with thai pesto, sweet potato and sticky rice. These sausages would suit a stir fry dish perfectly. The other two flavours, Super green Sausages and The Beet Goes On, will also add plenty of flavour to your meals.
So if you are craving a yummy sausage dinner give HECK's vegan sausages a try – we promise you will not be disappointed.
HECK vegan sausages aren't only vegan, they are gluten free, dairy free and low in both saturated fat and sugar. Available to buy in most UK supermarkets.
Ah pizza. Who doesn't LOVE a pizza. It really is my go-to for a real Saturday night treat, anyone else with me? But (and it is a very big but), they are so full of calories, eating just once slice is enough to make you feel guilty for a week.
The White Rabbit Pizza Co. have created not only a vegan pizza but a vegan pizza low in calories – hallelujah.
Their pizzas aren't only suitable for vegans, but for vegetarians and coeliacs too, free from gluten, meat and dairy but still super delicious.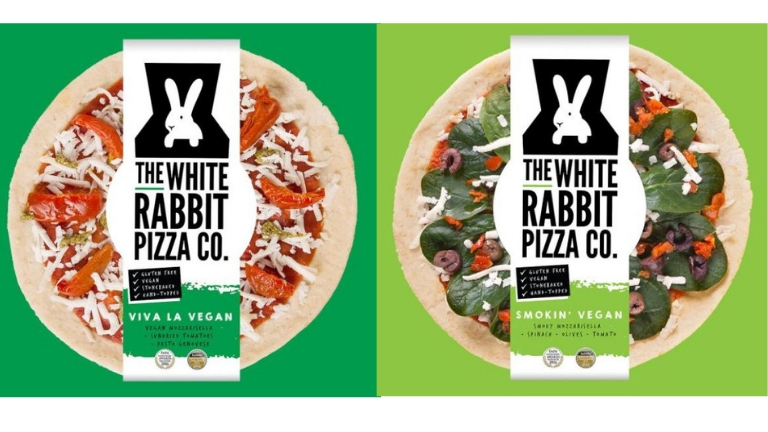 Mozzarella, goat's cheese, ricotta, pepperoni, chicken – I used to love eating all sorts of toppings on a pizza, so thinking of a vegan pizza, I simply wasn't convinced that the flavour would be up there with some of my old favourites. Boy was I wrong.
The White Rabbit Co. pizzas have a thin and crispy gluten-free base, with some of the tastiest ingredients including vegan cheese, vegan pesto, sun-dried tomatoes, baby spinach, greek olives and smokey vegan cheese.
One Saturday evening both myself and my Grandma tried the Viva La Vegan and the Smokin' Vegan, and we loved them both we couldn't pick a favourite.
So if you want to treat yourself to a pizza that is vegan friendly and lower in calories, then I couldn't recommend these pizzas more – a real Saturday night vegan treat. Available to buy at Waitrose, Sainsbury's, Wholefoods and other UK stores.
Vegan Alternative #4: La Cerisa Rosa, Pinot Grigio Rosé from Waitrose
When thinking of what is or isn't vegan, most people wouldn't imagine wine isn't vegan – it's made of grapes right?
The reason wine isn't vegan or even vegetarian-friendly has to do with how wine is clarified, a process called 'fining'. In order for our wines to be clear and bright, they need to go through this process.
'Fining agents' are used to hurry along this process of getting clear and bright wine. The most commonly used fining agents are casein (milk protein), albumin (egg whites), gelatin (animal protein) and isinglass (fish bladder protein). Therefore this process makes most wine off limits for vegans.
Nowadays however, winemakers use clay-based fining agents such as bentonite (a type of clay) and activated charcoal. Wines that use these fining agents are indeed vegan friendly. Let's see what some of those wines are.
 La Cerisa Rosa, Pinot Grigio Rosé from Waitrose
This Pinot Grigio Rose is perfect if you love a dry but fruity taste.
Rosé is often drunk more during the summer months, BBQs, festivals, it's seen as an easy-going, easy-to-drink option.
Rosé is also great drink for the ones who don't particularly like the mulled and red wines often drunk throughout  the winter months.
If you want something in-between a red and white wine then a rosé is for you, and if it's a vegan rosé you need then this is the one to reach for.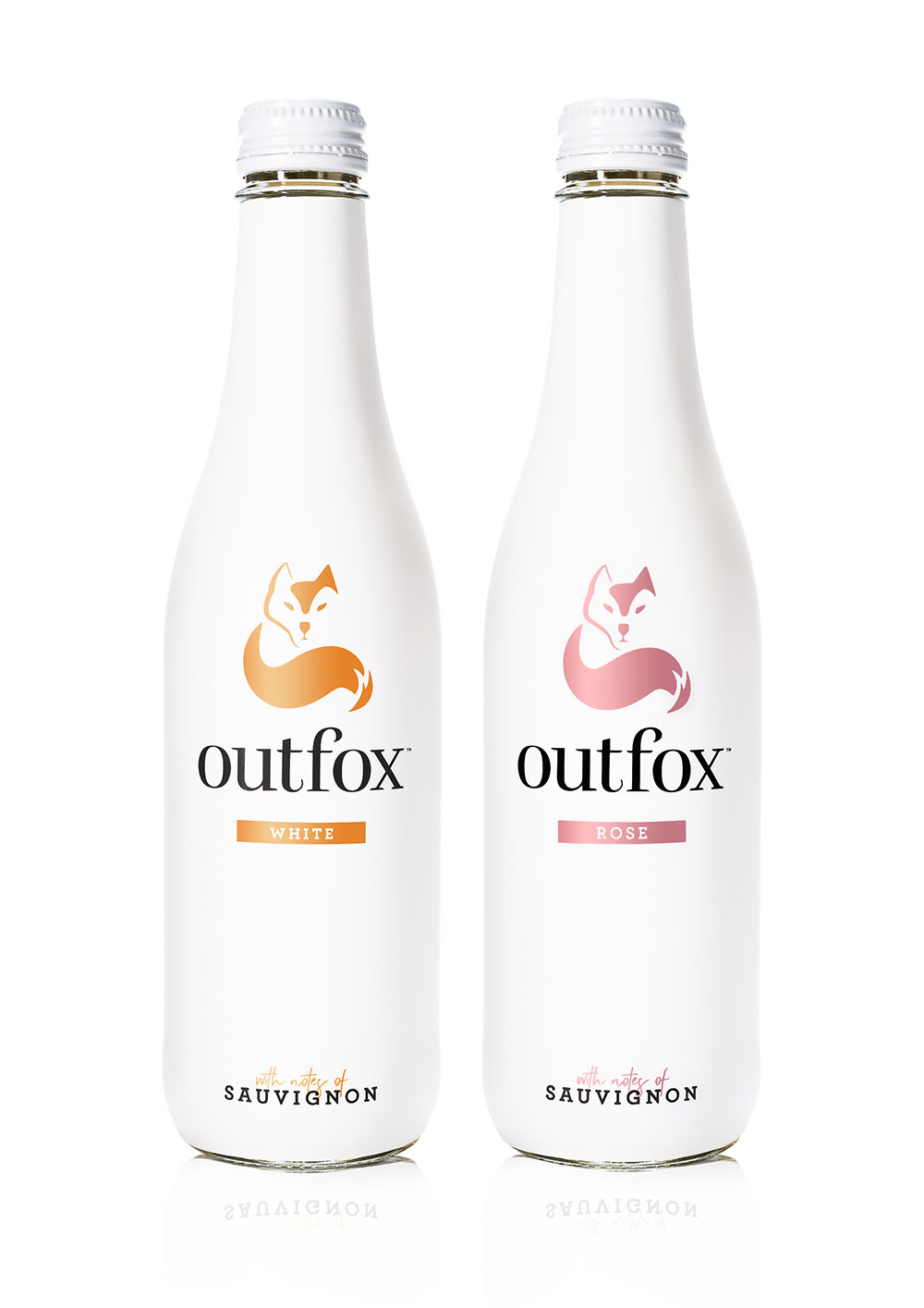 Outfox, alcohol free Rosé & Sauvignon
If you are looking for an alcohol-free wine then outfox is the one you need to try asap.
Outfox wines are made from French and Italian grapes lightly blended with spring water.
The wines are super vegan friendly, gluten free and contain no sulphites, only natural flavourings are used in these delicious wines.
Plus and this is the big bonus – there are only 17 calories per 100ml!
Vegan alternative #5: Vibrant Vegan Co. ready meals 
Sometimes you just want a ready meal. Whenever I pop a ready meal in the microwave or oven, I always give someone watching me the excuse of 'Oh well, I didn't have time to cook'.  But truthfully I just wanted a delicious and easy ready meal.
The drawback though is that ready meals aren't exactly good for you, they're full of calories, high in fat and contain lost of artificial flavourings.
Vibrant Vegan Co. ready meals are inspired with global flavours and are packed with locally sourced, whole plant-based ingredients. And while some are massively high calories such as their Super Mac and Cheese, that contains 730 calories and their Tokyo Chik'n Katsu that contains 755 calories – others, such as the West African Peanut Stew and the Keralan Jungle Curry both contain around 400 calories. Healthista's favourite Vibrant Vegan ready meal for flavour is their Piri Piri Jambalaya, 679 calories.
Their ingredients lists are also quite impressive, containing large proportions of vegetables, pulses, seeds and whole-grains.
They are not only 'ready' but also delivered, straight to your door readily frozen. Plus every time you buy one of their meals, they donate another meal to a child in need beyond out British shores.
They're available to order online at vibrantvegan.co.uk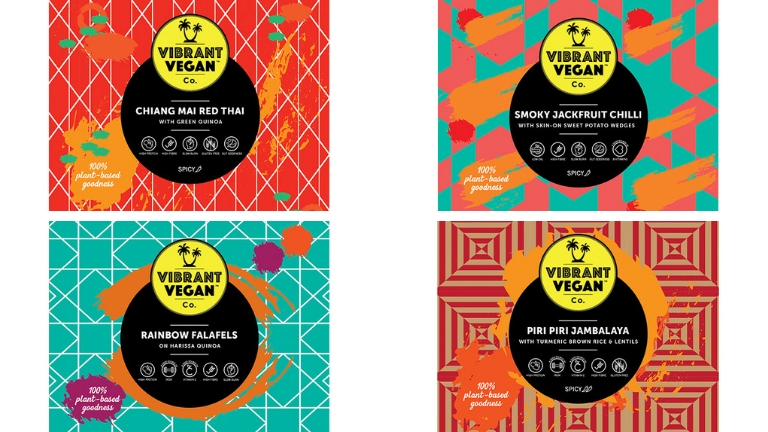 Hmmm, chocolate, we adore you. Raw chocolate however, is the best sweet treat ever, perfect for vegans, those who are lactose intolerant or avoiding dairy as it contains no milk. The ingredients used to make Ombar's raw chocolate are organic and cater for a wide variety of palates and dietary requirements
They use coconut sugar rather than refined sugar, as well as whole fruits, which are dried and powdered.
So, what's the difference between raw chocolate and normal chocolate, we hear you ask? Making chocolate is actually rather complicated. The cacao beans have to be picked, fermented, roasted, ground down, pressed, mixed with fat and sugar before they are turned into bars and other sweets.
They use coconut sugar rather than refined sugar.
Companies who make raw chocolate however, have altered one of the processes and no longer roast the beans. Instead, they leave them outdoors to dry naturally. The resulting product is called 'raw' chocolate.
Raw-chocolate manufacturers claim that by avoiding exposure (the chocolate) to oven temperatures, this allows the preservation of nutrients that are found in the cacoa beans, such as iron, zinc, magnesium, copper and vitamin C. Uncooked cacao is therefore said to contain higher levels of antioxidants than the roasted or 'cooked' variety that is used in most chocolate.
Raw-chocolate makers say that their beans never reach temperatures of more than 42 degrees Celsius. The friction level of the machine that is used to grind the cacao beans is set to ensure that it doesn't aloow them to get too hot.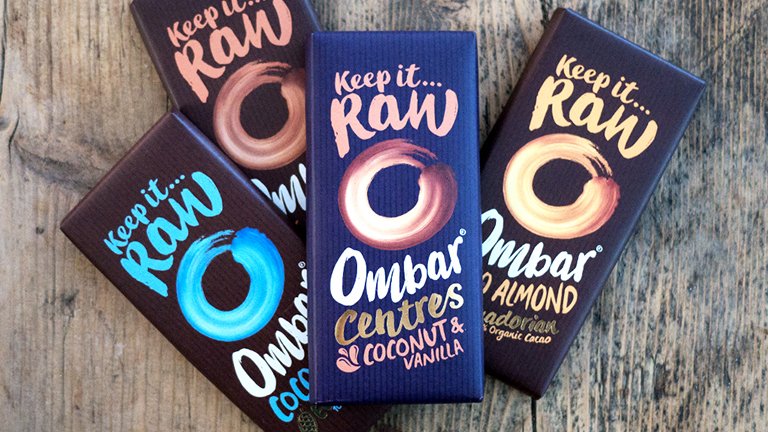 The higher cacao bean concentration could also mean higher health benefits. Cacao contains flavonoids, which are antioxidant compounds believed to protect against cell damage caused by free-radicals in the environment.
The flavonoids found in cacao are called flavonols and research has found that they are especially beneficial with regard to blood flow. They help to lower blood pressure, promote normal blood clotting function and as part of a healthy diet and exercise routine have been said to decrease the risk of heart disease.
We all know about chocolate's mood boosting abilities, it encourages the production of endorphins and hormones that make us feel happier. Raw chocolate is higher in minerals such as iron, magnesium and manganese which help to sustain energy levels and protect cells, the makers claim.
The only way I can describe Ombar chocolate is that it just melts in your mouth – seriously. There is no bitter taste what-so-ever, it just tastes like proper high quality delicious chocolate.
One 70g bar does still contain 408 calories though, so it is still a treat, don't go too choco-crazy. Available to buy from most UK supermarkets.
70g bars available in Waitrose, and smaller 35g portion sized bars available on Ocado. 
Vegan alternative #7: Lola's Cupcakes and Ms. Cupcake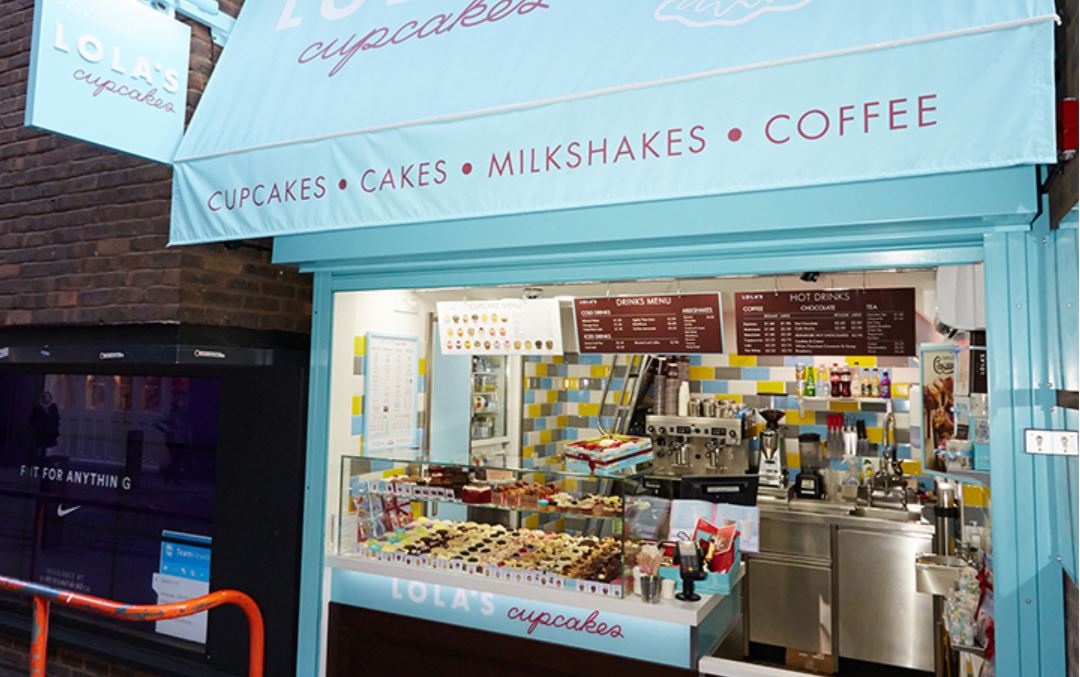 If you've been to London, you would have seen a Lola's Cupcakes stall selling the most beautiful looking cakes and cupcakes. Whenever I want to treat myself to one of these irresistible cakes you can be certain there will be a queue – that is how popular these cakes are and with good reason.
Take their vegan passion fruit cupcake as a yummy example, this cupcake is in fact award winning. It is light, sweet, scrumptious, spongy and just YUM. The vegan vanilla sponge is hand piped with vegan passion fruit and coconut buttercream, decorated with some passion fruit pulp.
Or what about their vegan and gluten free fudge cupcake that has a luxury chocolate sponge with a refined sugar-free ganache topped with a fresh raspberry – I mean what's not to like?
You can find Lola's Cupcakes at Waterloo, Kings Cross or Chancery Lane stations. Or you can find them at Bluewater shopping centre, Brent Cross shopping centre, Birmingham Selfridges or Covent Garden, the list of where to find Lola's cupcakes is endless.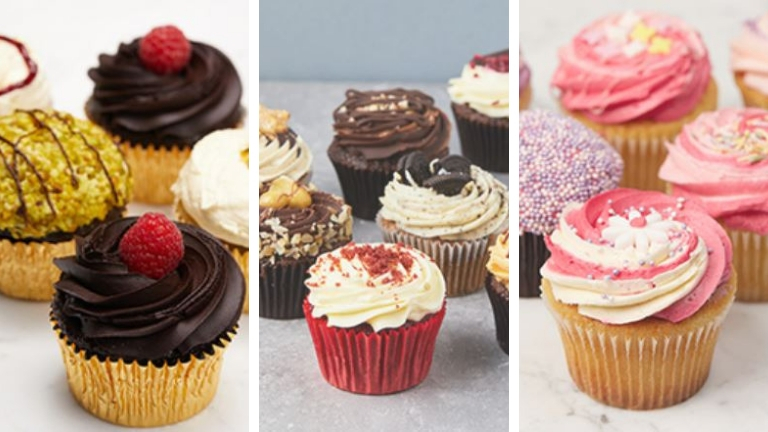 Ms. Cupcake is the UK's first entirely vegan bakery – O.M.G.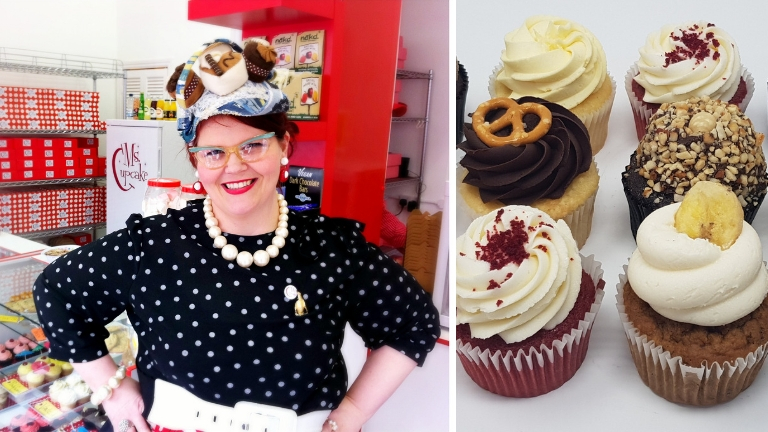 This vegan cupcake heaven can be found in Brixton, a few minutes walk from Brixton station. Ms Cupcake believes that everybody deserves great cake. That is why they have created naughty and indulgent treats regardless of what you can and cannot eat.
So if you want a 100 per cent vegan cupcake that will guarantee you a delicious treat extravaganza then head over to Ms Cupcake, you will not regret it.
Ok so, everybody stay calm, Halo Top offers dairy-free flavours of their irresistible ice creams. Toasted coconut, peanut butter cup, sea salt caramel and of course the go-to flavour – chocolate.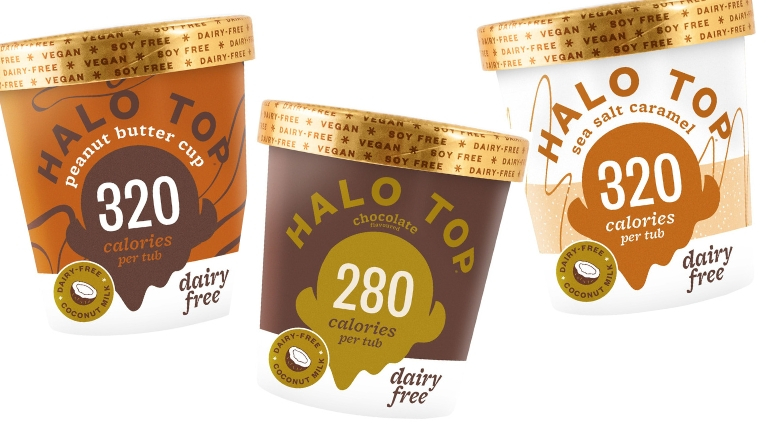 That isn't the only reason to stay calm. One WHOLE tub of Halo Top Dairy-Free Ice Cream contains only 320 calories. That's less than half the calories of a tub of Ben and Jerry's.  Would you believe me if I told you I ate a whole tub for lunch once? Or three times? My favourite flavour is the Sea Salt Caramel, though Peanut Butter Cup is also a huge hit at Healthista HQ.
So what are they actually made from? Coconut milk, coconut cream, water, toasted coconut and all-natural flavouring. Certified deliciousness. Available to buy from most UK supermarkets.
'My plans for this week: finish and deliver book; eat @crosstowndoughnuts.' That was a tweet by none other than Nigella Lawson, so if she's a fan that's saying something right?
In order to create their vegan doughnuts, Crosstown doughnuts replaced eggs and dairy with plant-based alternative ingredients that still achieve the same tastes and textures as their original doughnuts.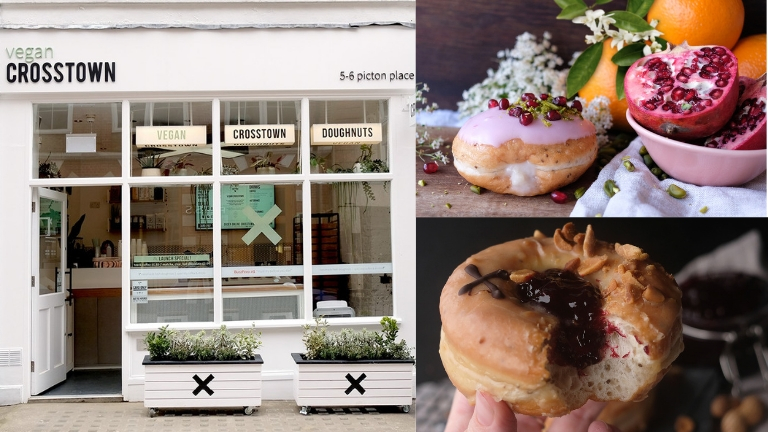 They use chia seeds and coconut butter to make their dough, plus they use oat milk, coconut butter, dairy-free chocolate and silken tofu to make their scrumptious fillings and glazes.
'Delicious, sweet but with minimal guilt,' says Healthista intern Chloe. 'They were spongy with a creamy filling – just amazing'.
There are a range of doughnuts available at all Crosstown locations, Marylebone, Brockley Market and Victoria Park Market. Oh and they make their doughnuts fresh every morning and each location carries limited numbers of flavours so be sure to get down there asap.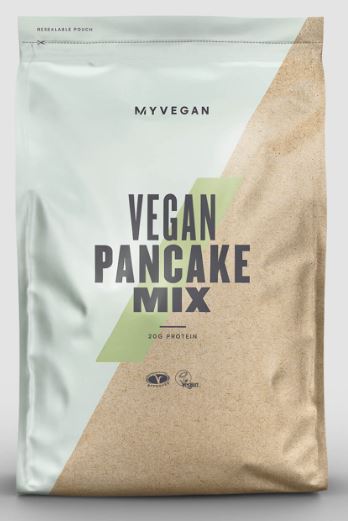 Who prefers pancake day to Valentines day? Everyone secretly does right? This year pancake day aka Shrove Tuesday is on the 5th March and MyProtein are ahead of the game with their new easy-to-make pancake mix with plant-based proteins, wheat and faba bean.
These pancakes offer a whopping 20 grams of protein, and 190 calories per serving, are also low in sugar and contain only natural flavourings.
You can have pancakes for breakfast or you can enjoy them any time you fancy – have them for a midnight snack if needs must. PS: these pancakes will go perfectly with fruit, nut butters and syrup.  From the MyProtein website.
More Healthista Content:
3 ways to lose weight without really trying
How to lose weight: 'I lost a stone on the F45 8-week Transformation'
Mindfulness and running – the therapy that could change your life
Like this article? Sign up to our newsletter to get more articles like this delivered straight to your inbox.