Healthista writer Olivia needed to lose weight after gaining three stone since leaving university. Here's how an 8-week F45 Transformation helped her lose a stone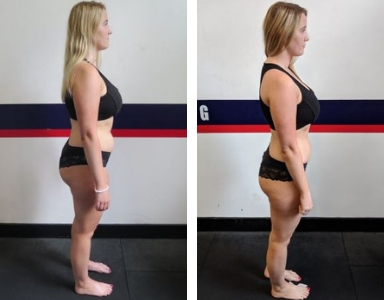 So yep that above is my transformation picture, but first things first, let me tell you a story about a girl who managed to put on over three stone in just two years.
 Let me tell you a story about a girl who put on over three stone in two years.
Once upon a time I was nine stone, and I was loving life. It was back when I was at university only a few years ago and I really had my s**t together if I do say so myself.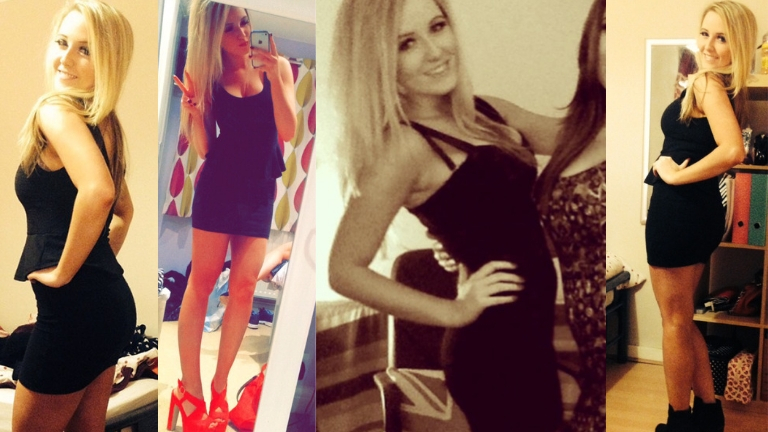 I would wake up at 7am, head to the gym before lectures, on most days I would also get a second workout in at the end of the day.
I would prepare all of my meals on a Sunday evening for the week ahead. Protein, healthy fats, healthy carbs, protein shakes, smoothies – I totally had it covered on the healthy eating and the fitness front.
But then university ended and I moved back home. I wasn't going out anymore (and if I did, I wore far more clothes than I did whilst at university – sorry mum and dad). I wasn't in charge of my own food anymore, I had other responsibilities such as walking my dogs and trying to look for jobs. I didn't really have time to go to the gym twice a day like I used to.
I braved the scales and saw that I was 12 and a half stone.
I also didn't need to 'look good' anymore because I wasn't going out, I wasn't wearing the clothes I used to wear which meant I didn't realise just how much weight I was putting on.
And boy did I put on weight. I don't even know how heavy I did get because I was so miserable and refused to weigh myself. Oh and I am only five foot four, so 12 and a half stone for someone my height is verging on obese.
But what I do know is that after making an effort to lose weight for nearly a month, I braved the scales and saw that I was indeed, 12 and a half stone. Naturally, I cried and felt even more miserable than I already was.
I've always wondered if I was maybe a bit depressed after leaving university? But who knows. I definitely did do a lot of emotional eating – I couldn't get enough bread, pasta, cheese and chocolate anything and that would make me feel better I guess.
Naturally there aren't many pictures of me at 12 stone, I'm pretty sure I wrestled anyone to the ground who took a picture of me when I was like that. (If anyone still has a photo of me – delete it now) But here are a couple of 'gems' I managed to fish out to prove it to you all.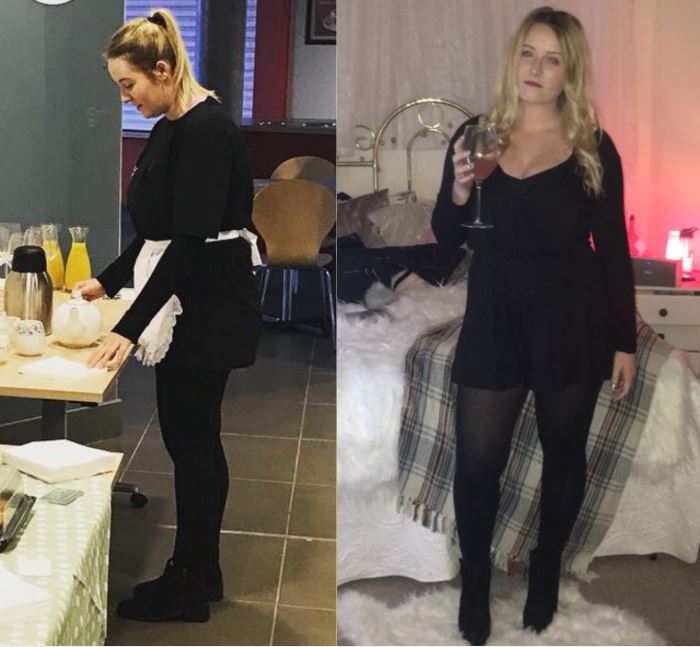 (Truth time – that picture on the left is the picture that made me realise just how unhappy I felt and looked, I cried A LOT when I first saw that picture).
At the beginning of 2018, I joined Slimming World and that was a great kick up the back side where my diet was concerned and I managed to lose a stone through just diet alone.
Read more about Slimming World: 13 ways carbs can help you lose weight
But I missed the exercise and the discipline of having a routine, and dare I say it, I even missed the dreaded DOMS (Delayed Onset of Muscle Soreness).
I then found out about F45 workout classes and their eight week transformations. I studied Instagram and came across some incredible transformations. I wanted that to me be. I wanted to transform into my nine stone self once again.
Take this example of an F45 Transformation. Isn't this amazing? I wanted this to be me.
https://www.instagram.com/p/BhEu53wn-7A/
What is F45 training?
For those of you who don't know (have you been living under a rock?) F45 training is an Australian-born workout phenomenon, which has come over to the UK and taken us all by storm. The transformations alone have caused a frenzy and F45 has spread across London like an epidemic.
F45 is in fact an acronym for 'Functional 45'. The workout uses both circuit and HIIT training to help you bust the fat and take you one step closer to rock hard abs and a lean physique. The classes are 45 minutes long, involving both strength and cardio exercises that will burn fat, tone and build muscle.
And it is far from boring, you rarely ever do the same exercise a few times before moving on to the next sweaty station. This really does make the classes fly by.
I didn't once feel intimidated by anyone, the atmosphere is way too friendly for that.
Every F45 gym is slightly different as they are a franchise, but all of the gyms follow the same core values – their motto is 'Team Training, Life Changing'.
I attended my F45 classes at F45 London Paddington. Some of the things I loved most about this particular location was the studio, it was light and spacious with big glass windows that didn't make you feel like you had been shoved into a basement like lots of these other gyms do.
https://www.instagram.com/p/BlIxIWgA9Fh/
The trainers were just. So. Friendly. I felt welcomed from the moment I stepped in through the door. Cameron and Daniella are so supportive in every way and you can feel they actually care about what you want to get out of your classes. Not one session went by where I didn't hear them tell me how well I was doing or asking how I was finding the classes.
One of the big things everyone worries about is whether they will be the one at the back who can't keep up. But I can assure you, I never felt like that once. F45 classes are for people of all ages, shapes, sizes and fitness levels.
I didn't once feel intimidated by anyone, the atmosphere is way too friendly for that.
What does an F45 8 week challenge involve?
A few times a year members can take part in F45's eight-week transformation challenge. The aim is to attend as many classes as you possibly can and follow a strict nutrition plan.
Your progress is tracked from start to finish, with a full body scan before you start classes and after the eight weeks are complete (this also involves that dreaded before and after picture). The body scan focuses more on your fat percentage and skeletal muscle mass than your total body weight.
The aim is to attend as many classes as you possibly can and follow a strict nutrition plan.
Additional to the classes, you have to follow a nutrition plan on their Challenge App. The app outlines all the meals for the week and even includes a shopping list to make things extra easy.
But be warned, you have to put in some serious dedication into this challenge if you want it to work. For example, alcohol is a complete no-no. Plus, every morning they like you to start the day with a mug of hot water and lemon.
As the weeks progress, the food and nutrition will change. The first two weeks called Spring Training, consist of an alkaline diet to help you to detox the body. Week's three to six called Regular Season, involve protein, protein and more protein. The last two weeks called World Series, involves a step up with less carbs (omg) and higher fats.
Before the challenge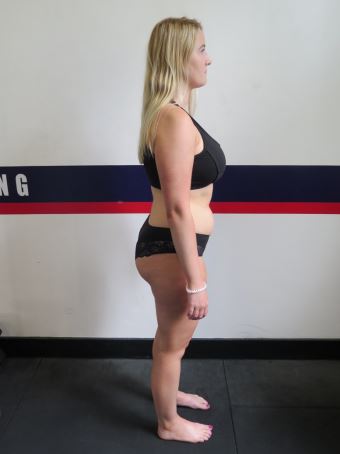 Measurements:
Body Fat Percentage: 36.6%
Body Weight: 72kg (11 stone 4 pounds)
Abdominal Circumference: 87cm
So, before the challenge: I'm 11 stone 4 pounds and pretty miserable when I look at myself in the mirror. None of my clothes fit and I constantly scroll through old pictures of the 'thinner' Olivia.
I still don't have a gym membership and I'm eating cheese toasties and bacon butties on a daily basis – what was I thinking?
When I say I was miserable I really do mean it. I had no energy, avoided going out with friends because that would involve at least two breakdowns whilst I tried on ten different outfits that didn't fit me.
This really isn't how a 23 year old should be living. Avoiding any social events because I knew people would say 'She's put on some weight', 'That dress is way too tight for her', 'Didn't she used to have a really nice figure?'
That is why I was super excited to start this 8-week transformation process, I knew I wasn't going to be back to nine stone in eight weeks, but I needed a kickstart. Here's how I got on…
Weeks 1-2: Spring Training
Classes Attended in Week one: 3 classes
Classes Attended in Week two: 4 classes
Diet Followed: 80% of the time
The first two weeks went by so quickly, but I was seriously achy and was struggling with the whole no alcohol thing. Still though, I didn't give in.
I was loving the classes, the two strength-training classes that were on Tuesday's and Thursday's became my favourites. Although I ached, I found pushing myself through the classes actually helped me overcome the sore, achy, feeling sorry for myself waddle that I found myself doing everyday – what a drama queen eh?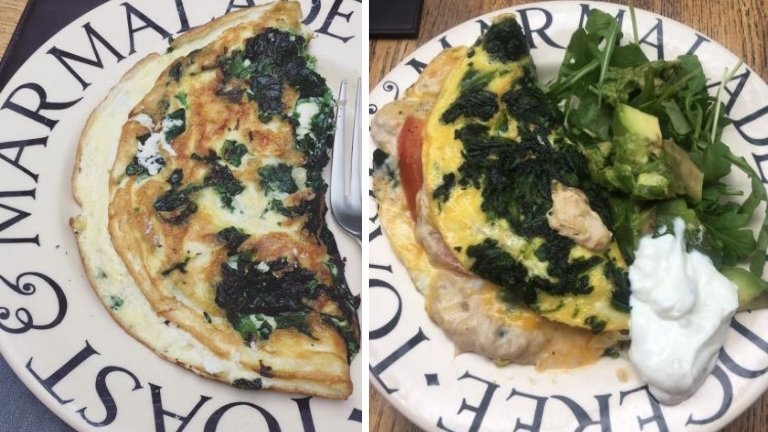 The diet was a tricky one, I was making super healthy choices food wise and making sure I had my lemon water in the morning. But I found I had literally no time to make the food. So I think I had more omelettes these first two weeks than I have in my whole life – they were seriously yummy though, and they kept me full.
Omelettes with tuna, avacado, spinach, kale, tomato, cottage cheese, goats cheese – you name it, I put it in an omelette.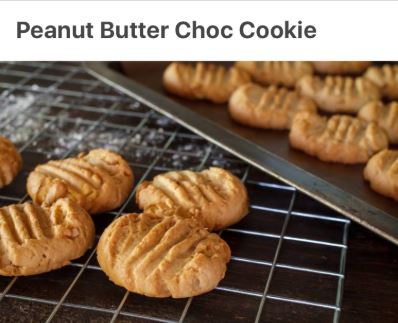 I also had a go at making peanut butter cookies that were part of the nutrition plan, but lets just say baking isn't my strong point, with my brother referring to them as hockey pucks. I won't bother you all with that disastrous picture.
Weeks 3-6: Regular Season
Classes Attended: 3 classes each week
Diet Followed: 50%
The next four weeks went by without me having a single drop of alcohol or a single nibble of a chocolate bar. I really was on a roll.
I decided that sticking to the nutrition plan exactly as they said to, was proving impossible, so I decided to stick to the ingredients that were on the plan, but just did different things with them.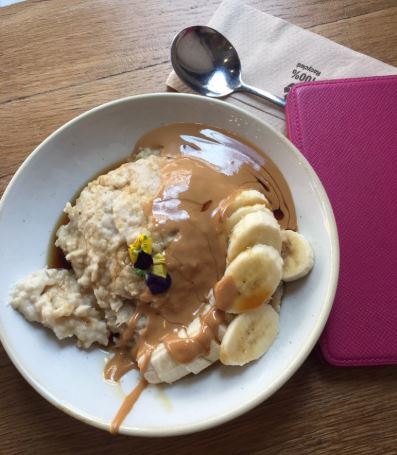 I was out one day and I had been walking up and down Oxford Street for about four hours. Stupidly, I hadn't brought any food with me. I was racking my brains to think of where I could go that was healthy. Then I remembered Deliciously Ella just off Oxford Street.
I was seriously craving peanut butter for some reason so I ordered a delicious banana and peanut butter porridge. I was so chuffed with myself that I had actually gone out and chosen something healthy rather than grabbing a sandwich or god forbid a McDonalds.
Fitness wise I was feeling fab. I had so much energy and the classes were getting easier every day. This meant I had to push myself a bit more though, which left my face looking like a huge ripe tomato.
My workout clothes were also starting to feel much looser than they were. Which gave me a serious motivational boost.
Weeks 7-8: World Series, aka the final stretch
Classes Attended: 4 classes each week (I even tried one of their Saturday sessions, that are an extra 15 minutes long – sweaty business).
Diet Followed: 80%
I was seriously missing carbs. What I would have done for some cheese on toast or some mac and cheese. But again I didn't give in to all of my cravings and I still didn't touch a single drop of alcohol.
I just kept telling myself, 'Olivia remember why you are doing this, do you want to be miserable forever?'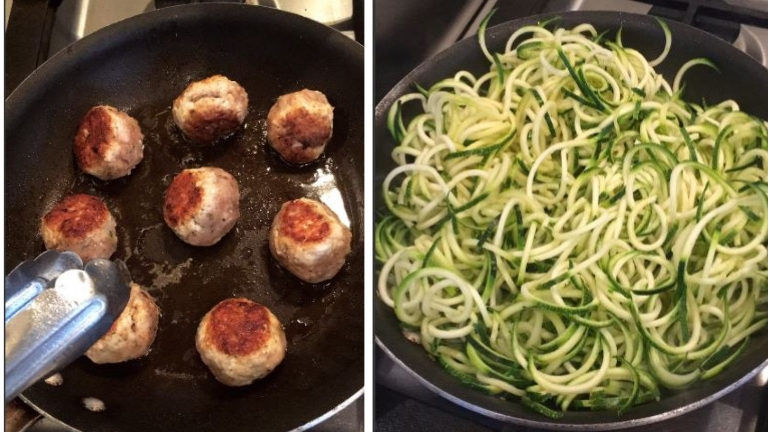 Turkey was my main source of food for these two weeks. I found, along with salmon, it was the highest in protein so it was definitely my go to in most of my meals.
I was eating cottage cheese like it was cookie dough ice cream, right out of the tub. I was desperately trying to make sure I was getting as much protein in as I possibly could to stop those persistent hunger cravings.
I found myself looking around at the other people in the classes. I was noticing just how much weight many of us had lost. Someone even said to me, 'your face looks so much thinner'. This comment literally made my day. I hadn't been told anything about me looked 'thin' for years.
Burpees and mountain climbers no longer felt horrific (I mean they weren't great but at least I could do them). Most of all though, I could see results. I could feel results. This is one of the main things that kept me going. Plus my friends and family supported me throughout the whole process. Never wafting cake or cheese in front of me to rub in that I couldn't have any.
After the challenge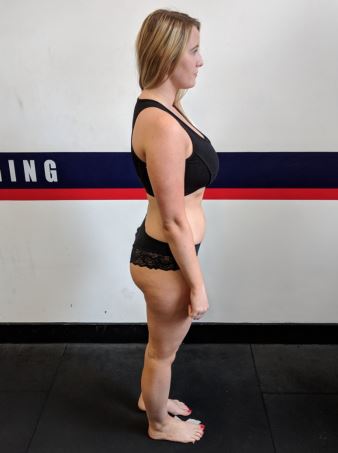 Measurements:
Body Fat Percentage: 34.8% (- 1.8%)
Body Weight: 66.7kg (10 stone 5 pounds)  (- 5.3kg)
Abdominal Circumference: 83cm (- 4cm)
So this is me almost a stone lighter. Do you see a difference?
I'll be totally honest with you all (again), after seeing other transformation pictures I was really upset and disappointed when I saw mine.
Plus I was totally annoyed that I had only lost 1.8% body fat after not drinking alcohol for eight weeks – I mean COME ON. That just didn't seem fair.
But I have always been really hard on myself and I don't think I will ever be truly happy with how I look. Plus everyone loses weight and body fat at different rates, so I guess my body fat percentage is just going to be a slow burner – a very slow burner it seems.
I showed my friends and family the transformation pictures and they were amazed, and now I kinda do see it.
I had lost nearly a whole stone in just eight weeks – that is pretty impressive.
Maybe I was so upset because the pictures proved that even after eight weeks of dedication I still had a long way to go to get back to where I was, which I totally understand. Sustainable weight loss doesn't happen overnight.
The main thing though is I had lost nearly a whole stone in just eight weeks – that is pretty impressive.
Writing this has been pretty hard for me, I think about my weight and the way I look every single day, call me vain if you will but for me image has always been a huge deal, so when I was the image of something I never wanted to be it was a tough pill to swallow.
I just hope that for anyone out there feeling the way I did, that you've reached the point of no return shall we say, just know that if I can give up alcohol and chocolate for eight weeks, lose a stone and fall in love with exercise again then you can too.
So sign up for an F45 transformation like right now. It will change your life. Why are you still reading this? Go and sign up NOW.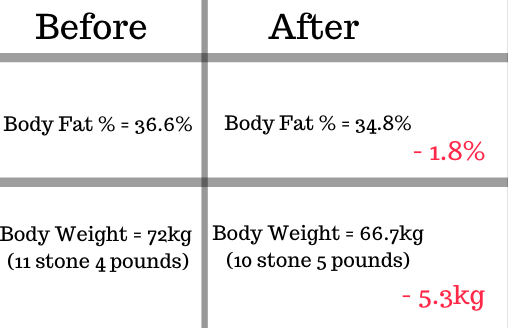 More Healthista Content:
Sleep problems? Foot reflexology could be the solution
3 healthy dinner recipes to help you sleep
Jennifer Aniston is 50 today and this is why we love her
Like this article? Sign up to our newsletter to get more articles like this delivered straight to your inbox.