Today, Jennifer Aniston turns 50. We salute the actress by recalling some her finest achievements and delving into the fitness routines that keep her so fit and youthful
On Saturday night Jennifer Aniston celebrated her 50th birthday bash in her Los Angeles home. The major event included some of the biggest A-listers in Hollywood – gal pals Gwyneth Paltrow, Reese Witherspoon and Kate Hudson.
Others included Katy Perry and boyfriend Orlando Bloom, Lisa Kudrow, Leonardo DiCaprio, Robert Downey Jr, even her ex Brad Pitt paid a visit. But, it seems the night was a hit and Jennifer Aniston still seems as happy as ever as she reaches her next milestone.
she is an activist for fitness and still looks as youthful as ever
The fans still can't get enough of Jennifer Aniston. Of, course who can blame them? We have seen her catapult to fame after appearing as Rachel Green in Friends – even spawning the 'Rachel' haircut.
From then on, she has been talked about in every tabloid magazine concerning her failed marriages and multiple baby rumours. Despite all of that she has come out strong with a successful career in acting, producing and directing.
As well as that she is an activist for fitness and still looks as amazing as ever, but most of all she is happy in herself and strives for other women to feel the same.
It just goes to show that even though 50 might be a milestone, it doesn't mean you need to stop and start getting old.  Jennifer certainly shows no signs of slowing down anytime soon.
https://www.instagram.com/p/Btthky1nZog/
Jennifer's Career
Jennifer Aniston began her acting in the early 1990s, but as we already know Jennifer is most well-known for Friends.
Since then she has a substantial acting career including films such as Marley and Me, Cake, Horrible Bosses, We're the Millers, and most recently Netflix's Dumplin'. As well as acting she can now add producer and director to her list of achievements.
According to Elle magazine Dumplin' is just the first of several productions that Jennifer will be appearing in on Netflix. Murder Mystery, featuring Adam Sandler, is about a New York couple looking to reinvigorate their marriage and travel to Europe only to be framed for the death of an elderly billionaire.
The other in development is First Ladies, a political comedy, where Aniston will portray the first female and gay president of the United States with Tig Notaro as her wife and first lady.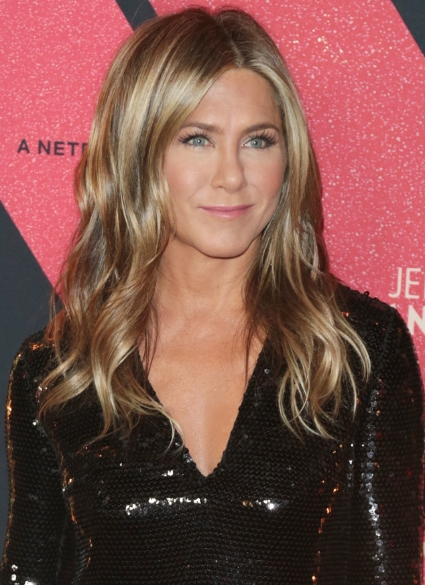 Aside from her career, Jennifer Aniston is also recognised for her famous partners and constant feature in the press. Her love life and rumoured pregnancies has been a consistent plague to Jennifer. In 2005 she divorced Brad Pitt and in 2017 she separated from her last husband, Justin Theroux.
Yet, she remains a positive and upbeat person.  'What brings me happiness? I have a great job. I have a great family. I have great friends. I have no reason to feel otherwise,' said Aniston in an interview with Elle magazine.
Jennifer and speaking out on female stereotypes
Aniston is never afraid of standing up for herself but for women as well. Speaking to Elle in 2018 about the arduous reporters she theorises that 'maybe using marriage and children as the ultimate marker of female happiness is just another way to disempower successful women.'
Aniston went on to say, 'Why do we want a happy ending? How about just a happy existence? A happy process? We're all in process constantly. 'What quantifies happiness in someone's life isn't the ideal that was created in the '50s. It's not like you hear that narrative about any men.'
A true advocate for the rights of women, she is someone that is worth looking up to. In 2016 she wrote a letter to the Huffington post on why she is targeted for gossip and why women must be moulded into the domesticated woman or should feel bad about the way they look. It is a discussion that has been going on for decades and still continues today.
'The sheer amount of resources being spent right now by press trying to simply uncover whether or not I am pregnant (for the bajillionth time… but who's counting) points to the perpetuation of this notion that women are somehow incomplete, unsuccessful, or unhappy if they're not married with children,' Aniston writes.
'We are complete with or without a mate, with or without a child. We get to decide for ourselves what is beautiful when it comes to our bodies. That decision is ours and ours alone. Let's make that decision for ourselves and for the young women in this world who look to us as examples.'
Jennifer Aniston on fitness and diet
Fitness has always been high on Aniston's agenda.  Some women may decide to kick back put on their comfy slippers and let the weight pile on in middle age (not that there is anything wrong with that), but not her. You reached a milestone, perhaps you deserve it. In this day and age 50 is the new 30 and Aniston proves that with her great physique.
Aniston is working out harder than ever, especially after recently discovering boxing. 'Last year I discovered boxing, and I love it,' she tells Instyle, 'It's the longest workout I've actually stayed with consistently other than yoga.
'There's something about the mental aspect of boxing — the drills, your brain has to work, you're not just sitting on a bike. It's amazing.' She boxes with trainer, Leyon Azubuike, founder of LA studio Gloveworx.
As well boxing it is reported by Women's health magazine that she also works out for about an hour each day, and likes to switch up her routine between spinning, yoga and boxing.
As well as keeping her body toned and her mind active, she also makes sure she eats the right food whilst indulging when she wants to. According to the Daily Mail, her physique is credited to 'a diet of lean protein with plenty of fruits and vegetables.'
So, a big happy birthday shout out to Ms Aniston, we love you.
More Healthista Content
6 Celebrities you didn't know had OCD
11 products this beauty editor actually buys
60 weight loss tips in 60 days
3 healthy dinner recipes to help you sleep
Like this article? Sign up to our newsletter to get more articles like this delivered straight to your inbox.