Finding it hard to 'switch off' in the evenings? These three easy dinner recipes contain ingredients such as tryptophan, lycopene and magnesium to promote a good night's sleep – bon apenuit!
People believe that diet and exercise are the two main areas to focus on where our health is concerned. But what about sleep? Sleep is just as important as diet and exercise if not more so.
Nowadays most of us aren't getting enough sleep, with seven to eight hours being seen as a luxury rather than a necessity.
We lead busy and stressful lives, surrounded by screens and engulfed by stress. This is also leading to a decrease in the quality of our sleep, and conditions such as insomnia are becoming increasingly common.
Sleep is just as important as diet and exercise if not more so.
Our lifestyles cause us to be sedentary, staring at a computer and eating fast food instead of nourishing food, and often we don't have a choice, so making changes can be hard.
But fear not, for we have some good news. It is possible to get more sleep and better sleep by making a few simple lifestyle changes, specifically to our diets. Indeed, new cooking resources such as HelloFresh's Recipe Matchmaker take the heavy lifting out of finding nutritious and varied meals to try. But can we eat our way to a better sleep pattern?
Sleep friendly foods that help promote sleep quality can also calm your mind and boost our hormones that will aid sleep quality. The three recipes below contain ingredients that will help you to get a more restful night's sleep. Sweet dreams.
Recipe #1 Seared teriyaki salmon with stir-fried broccoli noodles
A really easy supper for when you arrive home tired after a busy day at work and don't want to spend a long time in the kitchen.
The salmon, sesame seeds and soy are all good sources of tryptophan (an essential amino acid). Tryptophan helps to regulate our mood, calms us down and helps us to fight anxiety.
Make the teriyaki sauce: mix all the ingredients together and brush a little over the salmon fillets.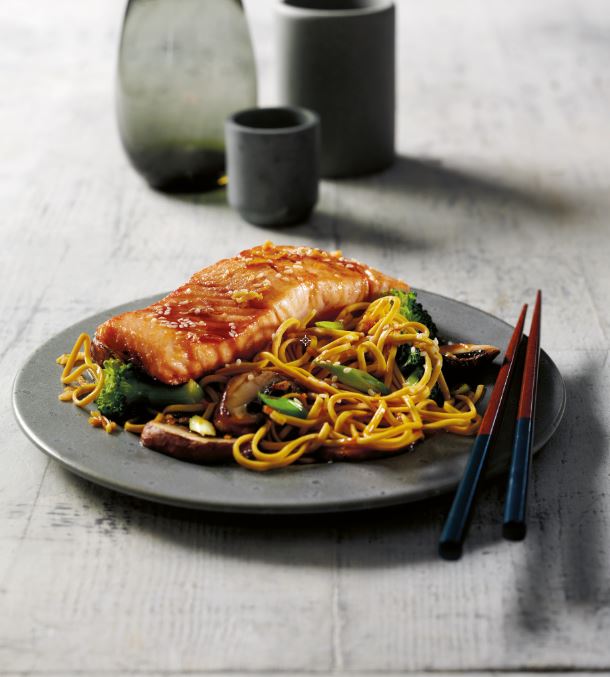 Serves 4
Preparation time: 10 minutes
Cooking time: 10-15 minutes
Ingredients:
4 salmon fillets
250 g/9 oz egg noodles (dry weight)
2 tbsp toasted sesame oil
1 bunch spring onions sliced
300 g/10 oz broccoli, cut into small florets
300 g/10 oz mushrooms, quartered or sliced
1 tbsp sesame seeds
For the teriyaki sauce:
4 tbsp soy sauce
4 tsp mirin
1 tbsp clear honey
1 tbsp diced fresh root ginger
2 garlic cloves, crushed
Method:
1. Cook the egg noodles according to the instructions on the packet. Drain well.
2. While the noodles are cooking, heat one tablespoon of the toasted sesame oil in a frying pan over a medium heat.
3. Add the salmon fillets to the hot pan and cook for about 3 minutes on each side until golden brown and cooked right through.
4. Meanwhile, heat the remaining toasted sesame oil in a wok or deep frying pan set over a high heat.
5. Add the spring onions, broccoli and mushrooms and stir-fry for 4–5 minutes until they are just tender but still retain some bite.
6. Stir in the remaining teriyaki sauce and the cooked noodles. Heat through for 2 minutes and then divide the mixture between four plates.
7. Top with the salmon fillets, sprinkle with sesame seeds and serve immediately.
Or you can try this:
Instead of egg noodles use udon or rice noodles.
Omit the noodles and serve on a bed of brown rice.
Try making this with chicken breasts or large prawns.
Recipe #2 Sweet potato and pumpkin seed cheesy bake
Tomatoes contain the phytonutrient lycopene. Research has shown that people with low levels of lycopene often have problems falling asleep.
This bake combines sleep-friendly sweet potatoes, pumpkin seeds and cheese.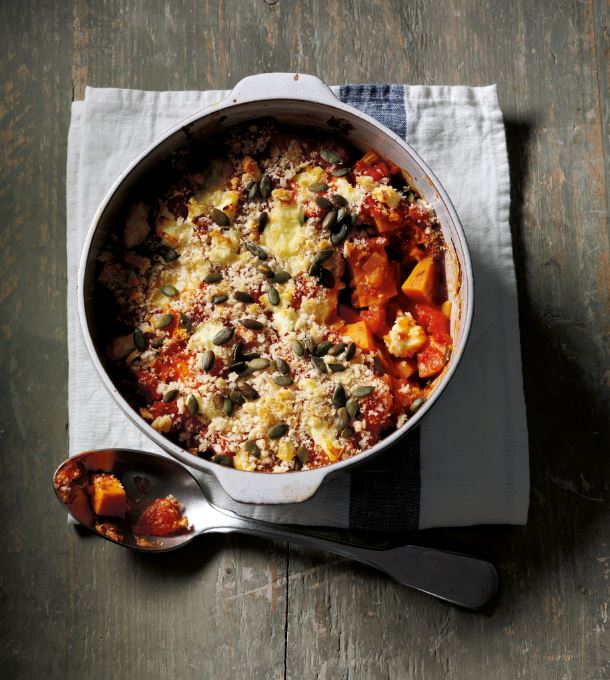 Serves 4
Preparation time: 10 minutes
Cooking time: 35-40 minutes
Ingredients:
900 g/2 lb sweet potatoes, peeled and cubed
3 fresh thyme sprigs, leaves stripped
2 tsp cumin seeds
250 ml/9 fl oz vegetable stock
100 ml/3½ fl oz half-fat crème fraîche
120 g/4 oz soft goat's cheese, e.g. chèvre
4 tbsp pumpkin seeds 4 tbsp fresh breadcrumbs
For the tomato sauce:
2 tbsp olive oil
1 large onion, finely chopped
2 garlic cloves, crushed
1 x 400 g/14 oz can chopped tomatoes
1 tbsp tomato paste
balsamic vinegar for drizzling
salt and freshly ground black pepper
Method:
1. Preheat the oven to 180°C/350°F/gas mark 4.
2. Put the sweet potatoes in a large baking dish and sprinkle with the thyme leaves and cumin seeds.
3. Add a grinding of black pepper and pour the stock over the top.
4. Bake in the preheated oven for 20–25 minutes or until just tender but not mushy.
5. Meanwhile, make the tomato sauce. Heat the oil in a large frying pan set over a low heat and cook the onion and garlic, stirring occasionally, for 8–10 minutes until softened but not coloured.
6. Add the tomatoes and tomato paste and simmer gently for 10 minutes or until the sauce reduces and thickens. Add a dash of balsamic vinegar and season to taste with salt and pepper.
7. Spoon the tomato sauce over and around the sweet potatoes. Dot the top with small spoonfuls of crème fraîche and goat's cheese. Sprinkle with pumpkin seeds and breadcrumbs.
8. Turn up the oven to 200°C/400°F/gas mark 6 and cook for 15 minutes until the topping is crisp and golden.
Or you can try this:
Use pumpkin or butternut squash instead of sweet potatoes
Add chopped fresh basil, parsley, chives or rosemary.
Instead of canned tomatoes, use 500 g/1 lb 2 oz juicy fresh ones.
Recipe #3 Swedish salmon, potato and dill soup
The quality of the salmon will affect the flavour of this 'meal in a bowl', so try to source wild salmon which is better nutritionally.
Salmon contains sleep-enhancing magnesium, vitamins B6 and D, and tryptophan (an essential amino acid). Additionally, potatoes and spinach help promote good digestion.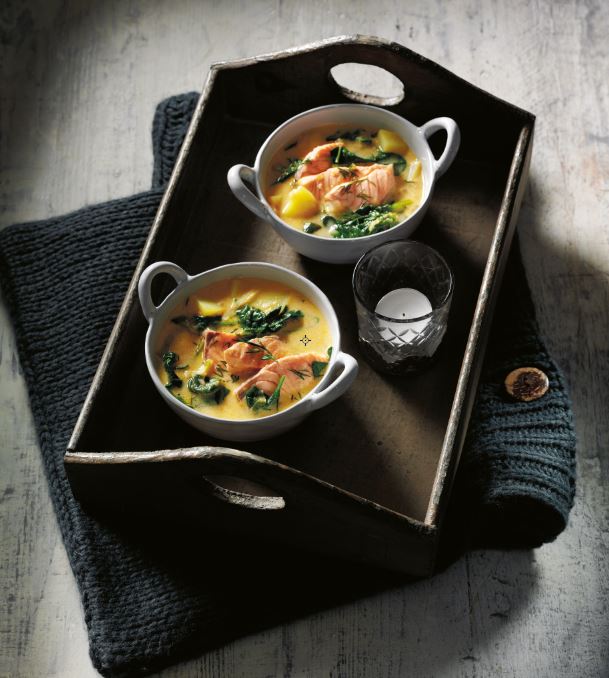 Serves 4
Preparation time: 15 minutes
Cooking time: 25 minutes
Ingredients:
30 g/1 oz butter
1 large onion, chopped
2 leeks, cleaned, trimmed and shredded
1 kg/2 lb 4 oz waxy potatoes, peeled and cubed
900 ml/1½ pints fish stock
2 bay leaves
2 ripe tomatoes, chopped
400 g/14 oz salmon fillet, skinned, boned and thickly sliced
200 g/7 oz baby spinach leaves
120 ml/4 fl oz soured cream or crème fraîche
1 small bunch fresh dill, chopped, plus a few sprigs to garnish salt and freshly ground black pepper
Method:
1. Melt the butter in a large saucepan and cook the onion and leeks over a low to medium heat, stirring occasionally, until softened but not coloured.
2. Add the potatoes and cook, stirring, for 6–8 minutes.
3. Add the fish stock and bay leaves and bring to the boil.
4. Reduce the heat and add the tomatoes. Simmer gently, partially covered, for 10 minutes until the potatoes are cooked and tender.
5. Add the salmon and spinach and continue cooking gently for 5 minutes until the salmon is cooked through but not flaking.
6. Season to taste with salt and pepper, then gently stir in the soured cream or crème fraîche and dill.
7. Ladle the soup into shallow bowls and garnish with dill sprigs. Serve immediately.
Or you can try this:
Add some sliced or diced carrots and swede.
Stir in some more chopped tomatoes or use canned.
Instead of spinach, use shredded kale or spring greens.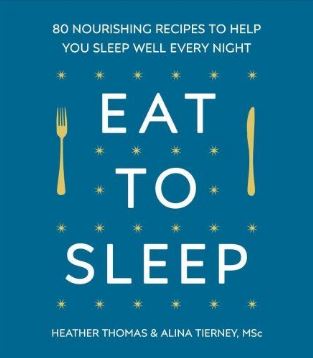 Eat to Sleep by Heather Thomas and Alina Tierney Msc. (Vermilion, £12.99) is also available to buy on Amazon.
More Healthista Content:
60 weight loss tips in 60 days
Giving up alcohol – what's the point of going teetotal for a month?
How to get healthy cholesterol levels
3 sleep tips this TV doctor wants you to try tonight
Like this article? Sign up to our newsletter to get more articles like this delivered straight to your inbox.