Last night superstars hit the red carpet for the Grammy Awards, and they did so looking hot. 'How do they do it?' you ask – let's find out all we can about this year's hottest Grammy bodies
Last night the 61st Grammy awards 2019 took place and the stars flocked to the red carpet looking H.O.T.
Music's biggest night took place at The Staples Centre in Los Angeles and was hosted by none other than 15-time Grammy winner Alicia Keys. Trophies were given out in more than 80 categories, and the hopeful nominees were dressed and ready to impress on the night.
But they always look good right? Here's exactly how.
Alicia Keys – the Grammy legend
Okay, so Alicia Keys wasn't nominated for a Grammy award but she was the host. Plus she looked amazing so she deserves a mention or three.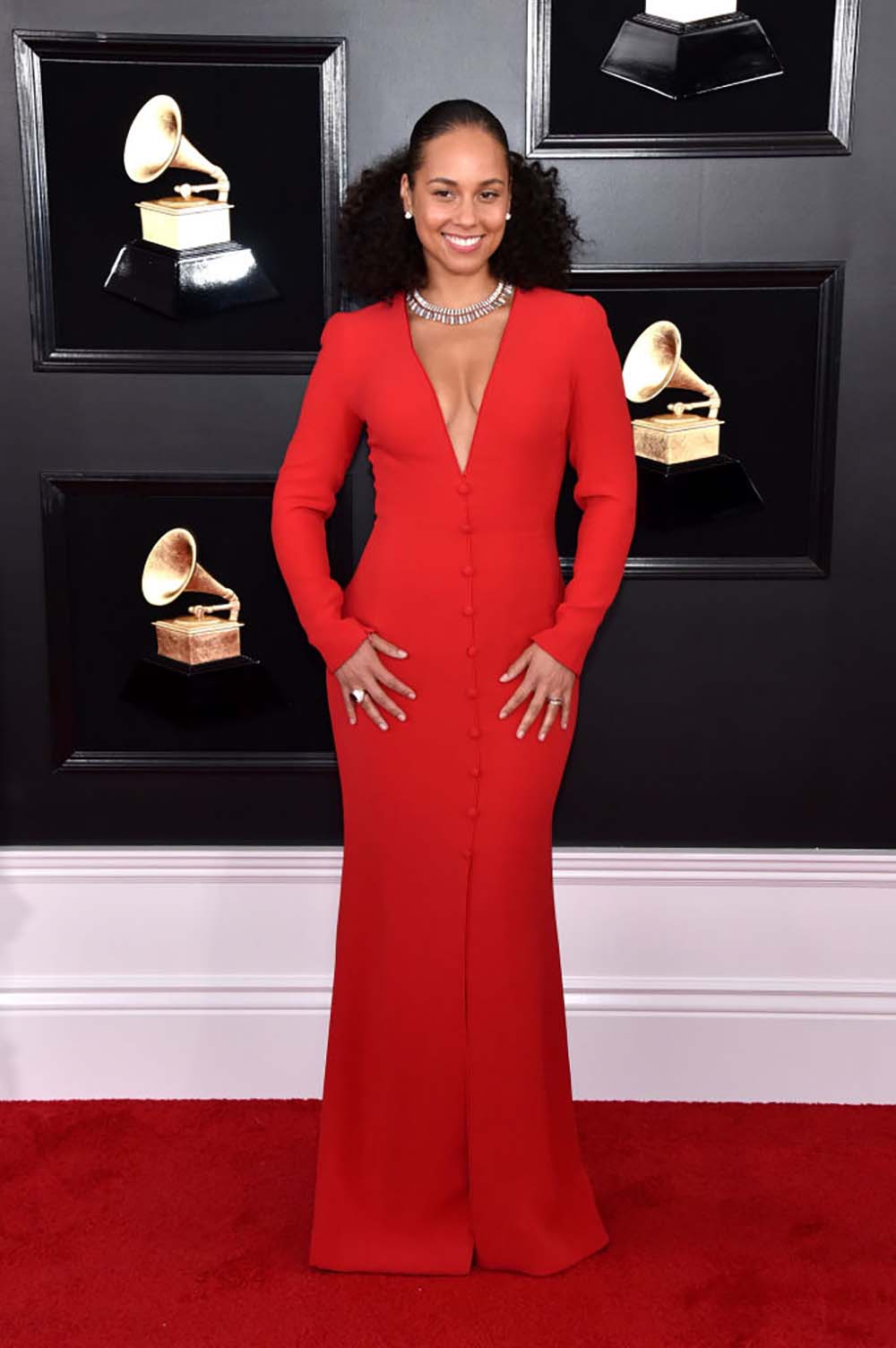 Alicia Keys has won a total of 15 Grammys, that's pretty impressive. What's also impressive is that Alicia Keys has completed multiple marathons. This has meant that running makes up a major part of not just her training but her life too.
Speaking to Refinery29, Alicia explained that she never thought she would ever be the sort of person who wakes up at 5:30am.
'I always thought I was one of those people who was lucky if I could just get up, get dressed, and get out the door on time,' said Alicia. 'But somehow, I'm into it. Getting up early to take care of myself physically and mentally sharpens my focus, my dedication, and my clarity'.
The 38-year-old mother of two also works out to tone her entire body. SELF magazine spoke to Alicia's trainer Jeanette Jenkins who revealed that one of the singer's favourite full body moves is a stationary lunge with a rotation. This move works the full body as it targets your abs, arms legs and your glutes.
Dua Lipa – the girl of the moment
Dua Lipa was nominated for Best New Artist and she only went and won – well done Dua Lipa.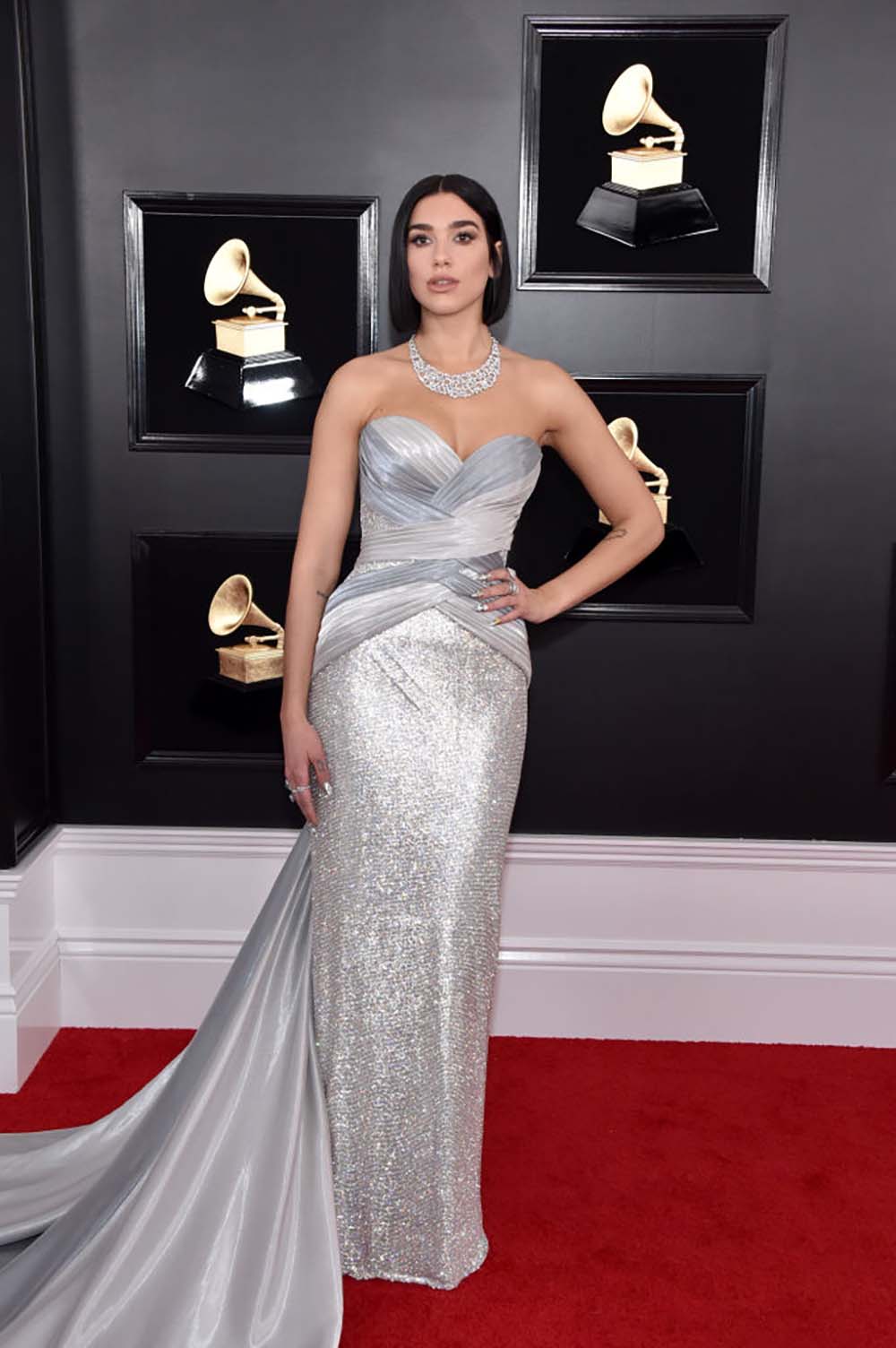 Dua Lipa is this moments 'it' girl with hit song after hit song working it's way into everyone's favourite playlist. Basically, if you have a radio you will know who Dua Lipa is.
The British singer-songwriter is probably best known for her songs New Rules, One Kiss, Hotter Than Hell and Scared To Be Lonely.
The 23 year old superstar is also a huge boxing fan.
Along with her amazing vocal talent, you can't help but notice how good Dua Lipa looks. All. The. Time. Abs, long legs, slim arms beautiful hair – we seriously need to know how you look so good Dua Lipa.
Well it may not shock you all to find out that Dua Lipa does in fact take care of how she looks. In an interview with Vogue she explained that she prefers HIIT workouts due to her busy schedule. 'It's high-intensity interval training, but it's so quick, it's over before it's even started!'
Dua Lipa also told Vogue that some of her favourite workout moves are jumping jacks, mountain climbers, and burpees.
The 23 year old superstar is also a huge boxing fan, training with professional boxer Sohail Ahmad at one of Healthista's favourites BXR.
Dua Lipa explained to fellow Adidas ambassador Hannah Bronfman why she likes boxing, 'I like that it's definitely a full body workout. Since starting boxing I've probably been in the best shape ever. It's also a great stress reliever'.
https://www.instagram.com/p/BSar9bGFNsl/?utm_source=ig_embed
Also in her interview with fellow Adidas ambassador Hannah Bronfman, Dua Lipa revealed how she stays fit and healthy whilst busy on the road.
'I try and work out as much as I can. It's such a busy lifestyle I feel like I need to try and do something for myself every day. I love doing something that's really fast and quick, like a 15-minute HIIT session which I can do before I start my day.
'If I've got a really early call time I don't want to be waking up hours before I need to, to go and do a workout. So a high-intensity workout, shower, breakfast, and I'm on my way'.
I love doing something that's really fast and quick, like a 15-minute HIIT session.
So HIIT is clearly Dua Lipa's go-to when time is short. But what about when she has more time on her talented hands? Turns out she tries just about everything – there really is nothing this girl cannot do.
'When I have a tiny bit more time on my side I love mixing up lots of different training, finding different workouts in whatever city I'm in, whether it's yoga, Pilates, boxing or spinning.
'Whatever it is, I try to change it up every day to keep things interesting. When you're on a tour bus, every day and every place is different, so you never know what you're going to find. That's always one way to keep it interesting'.
And what about those rocking abs asked Hannah Bronfman? 'I think different variations of crunches like bicycle crunches are good. Leg raises are also great unless my back hurts. Planks are good although almost certainly my least favourite'.
Lady Gaga – the one who has stolen our hearts
Lady Gaga won a Grammy for Record of the Year with her co-star Bradley Cooper and their song Shallow (you know that song that pulls on everyone's heart strings?)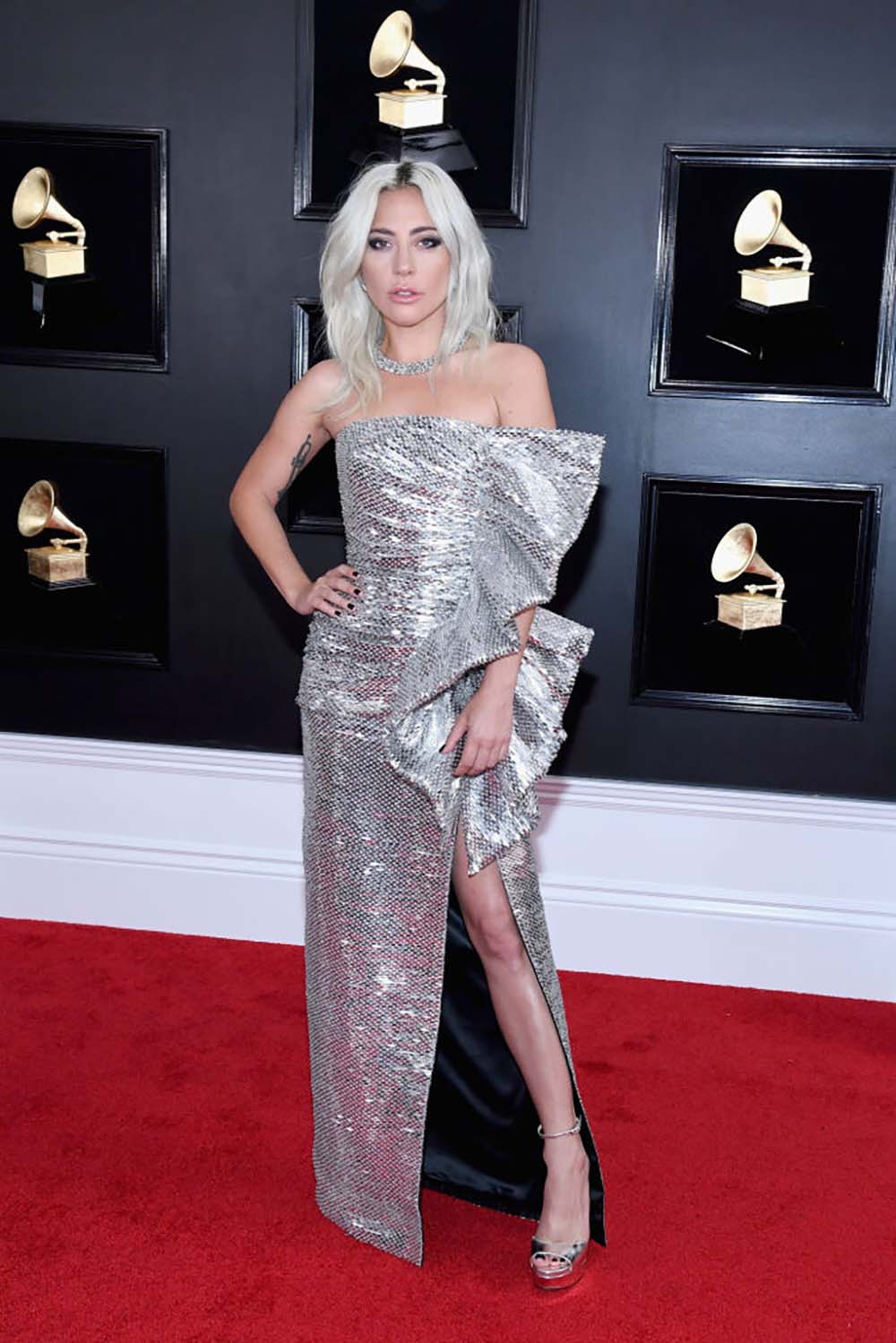 Lady Gaga and Bradley Cooper even reached number one on the official charts with their song Shallow from the movie soundtrack, making this song Gaga's fifth UK number one. Shallow both received a nomination and won a Golden Globe for Best Original Song in a motion picture.
In fact, Lady Gaga has always been keen to stay in tip top shape. It has been said that Gaga purchased two SoulCycle stationary bikes for her tour bus, so she can stay fit and healthy on the road, working out wherever and whenever she needs to. Like many other celebs, such as Katie Holmes, Nicole Kidman and Vanessa Hudgens, Gaga has been a SoulCycle fan for years.
She is also a fan of TRX workouts.
SoulCycle isn't the only fitness trend that Gaga has jumped on to keep her fit body in check. She is also a fan of TRX workouts (portable athletic extension ropes), even fitting one in right before her incredible Super Bowl performance in 2017.
This Instagram image taken by celebrity personal trainer Harley Pasternak, shows Gaga literally working out backstage in her Super Bowl costume right before she was due to perform. Now that's dedication.
If you want to know more about TRX workouts, take a look at our TRX series.
https://www.instagram.com/p/BQKEK6yD5PS/?utm_source=ig_embed
Gaga clearly likes her gym equipment because another workout she is a fan of is the VersaClimber. Now the clue is in the name, it's a machine that you climb up repeatedly – it's hard work, find out how Healthista's content editor got on when she gave VersaClimbing a go.
Gaga takes the VersaClimber one step further admitting that she even sings whilst working out on it. 'I work out while I sing', Gaga told ABC News. 'I'm singing the show while I'm doing it, because the show is full-on cardio…it's cardio while singing.'
So next time you're at the gym, head over to the TRX ropes or the VersaClimber, best not to start singing though, you'll get a fair share of odd looks.
Shawn Mendes – the one everyone has a crush on
Shawn Mendes was nominated for 'Song of the Year' with his song 'In My Blood' and again for 'Vocal Album'.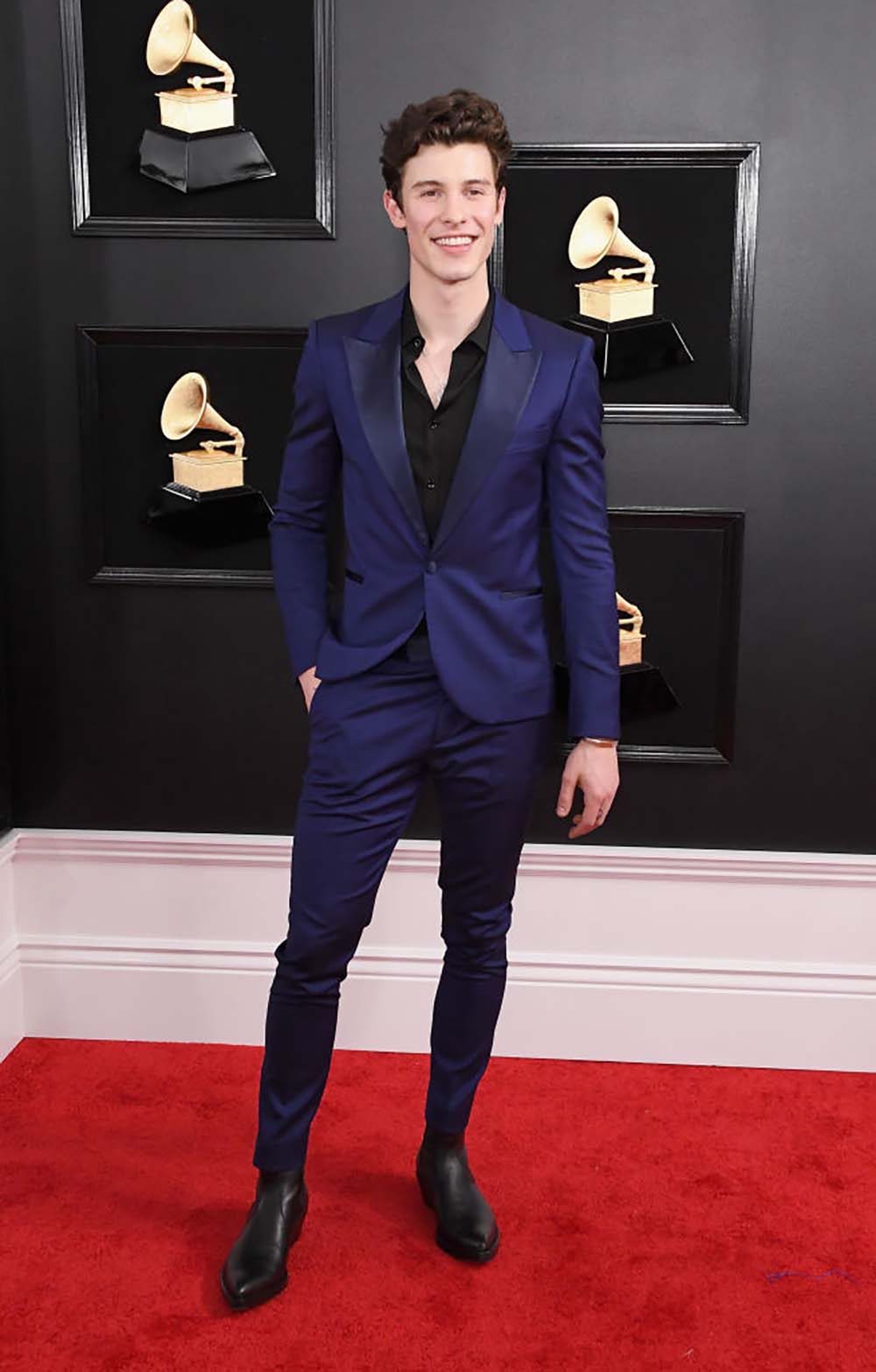 The 20 year old man of the moment has a whopping 40 million Instagram followers and has had the same sort of impact as fellow Canadian Justin Bieber. Similar to Bieber mania, even roads have had to be shut down due to screaming fans wanting to catch a glimpse of their new favourite pop star.
He may be young, but women just can't help but have a crush on Mendes no matter what their age, he may have a baby face but he also has some rocking abs, but how does he do it?
Shawn Mendes also went viral with the Shawn Mendes Workout Challenge
The star even headed straight to the gym, spending time in the weight room after finding out he was nominated for two Grammys.
Shawn Mendes also went viral with the Shawn Mendes Workout Challenge after sharing a snippet of his workout routine with his fans.
The workout move involved a jump squat that started on his knees. This seemed to baffle many, which is what led to the Shawn Mendes Workout Challenge, with fans sharing their interpretation of the workout. This resulted in some funny videos as it was clear that Mendes made it look far easier than it actually was.
Here is what the manoeuvre was supposed to look like…
https://www.instagram.com/p/BsZpCYBgpaY/?utm_source=ig_embed
In a conversation with Rolling Stone, Mendes revealed that he works out all the time, 'I just work out a lot. I go to the gym every morning, and I'm obsessed with fitness and just staying active'.
Mendes added that where his diet is concerned, he revealed he will eat anything, 'I eat tons of carbs. I'm not the best to talk about when it comes to diet. If there's fries in front of me, I'm definitely not gonna say no.'
So diet isn't his strong point but then he is only 20 – we can allow him that.
Drake – the guy who can do no wrong
Drake, nominated for several Grammys brought home a win for Best Rap Song for his song God's Plan. If you're a fan of Drake you would have noticed that the star has beefed-up quite considerably in recent years. So lets find out exactly how he managed it.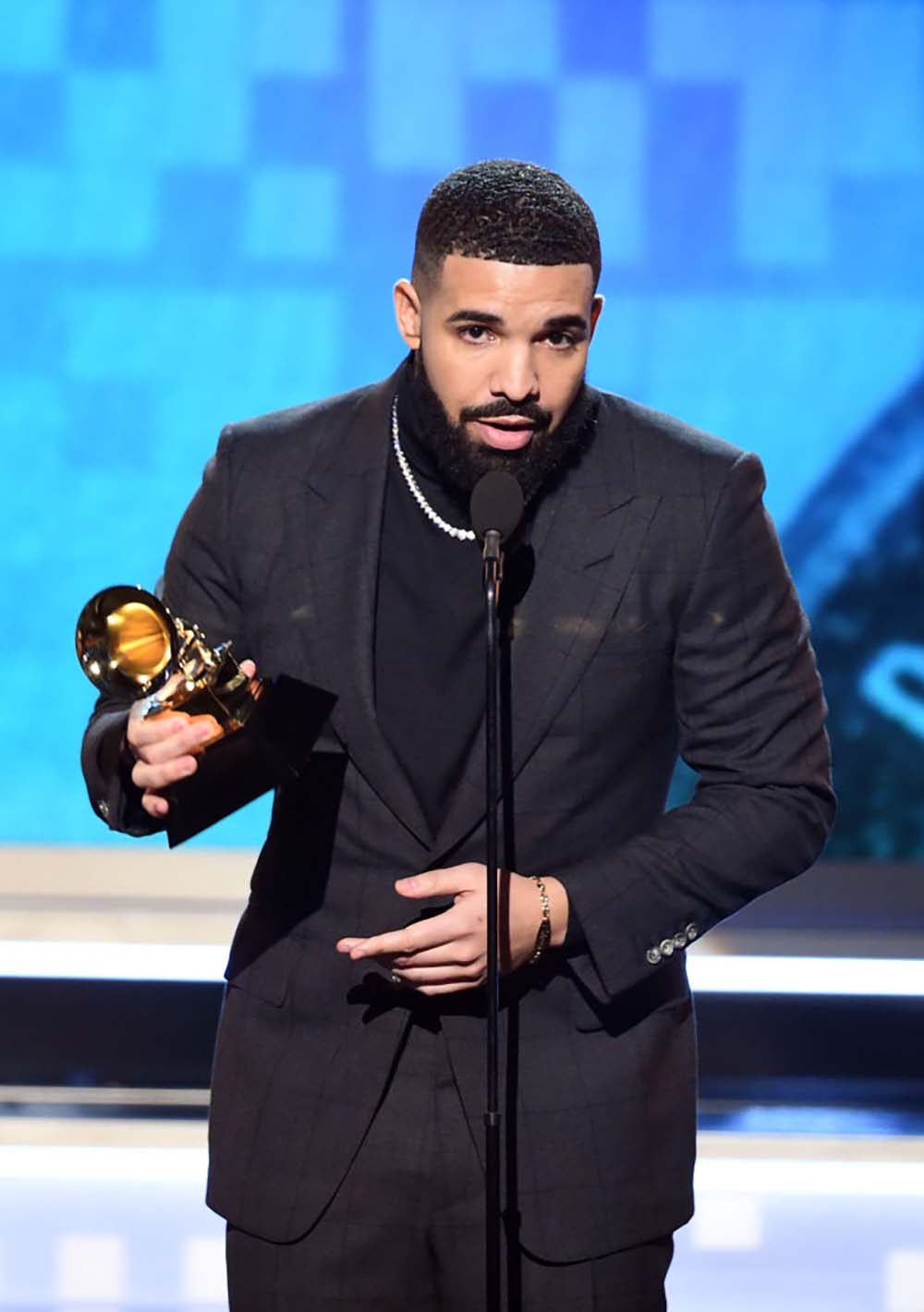 In an interview with GQ, Drake's personal trainer Jonny Roxx revealed that Drake has been putting in both time and effort to achieve his preferred physique.
Drake changes up his fitness goals depending on what's going on in his career and how he wants to look at particular events. That does prove he's committed to putting is the hours and the effort.
Trainer Jonny Roxx revealed, 'When he's going in for a movie role or tour, we have a program that we set to accomplish the goals at hand.
'Generally speaking, it's not really body-building, it's more all-around fitness. There was a point that I shredded him down 30 pounds because he wanted to look nice and thin in suits. Now we're on this new phase where he wants to look bigger, so that's what we're working on'.
Similar to other superstars it can be hard to imagine they ever have time to workout but Drake makes time before every single show. Again, he really is dedicated isn't he?
'He finds the time every single show. About an hour before he's out on stage, he's getting it in,' explained Roxx. 'Whether we're working out, whether he's doing soft tissue work, whether he's doing stretching or doing dynamic work, we always do something to get him going before he gets on stage'.
https://www.instagram.com/p/BoVwCCgnmeq/
According to Roxx, Drake's favourite thing is results, and we all know you can't get results from just exercise alone, your diet plays a massive part. So what does Drake avoid when trying to stay in shape?
Rozz revealed that Drake avoids pasta. 'Italian food is probably one of our whole team's favourites. But cutting down on that really helped with his cutting phase'.
the God's Plan singer's 'go-to' gym moves are shoulder presses, the incline bench, pull-ups and muscle-ups
'His favorite thing is results. As far as workouts go, he's on the ball. He'll just look at me and be like 'tell me what I should do', he's really willing to do anything, except burpees,' sais Roxx. We're all with you on that one Drake.
Drake's personal trainer also explained that some of the God's Plan singer's 'go-to' gym moves are shoulder presses, the incline bench, pull-ups and muscle-ups.
Michelle Obama – the former First Lady
Okay Michelle Obama wasn't nominated either, but she did make a surprise visit and she looked amazing so we had to include her in our line up.
The former first lady was welcomed with open arms, after surprising everyone at 61st Grammy Awards last night in Los Angeles.
Michelle Obama appeared on stage at the Staples Centre to help open the awards. She took to the stage along with Lady Gaga, Jennifer Lopez, host Alicia Keys and Jada Pinkett Smith to explain what music has meant to them all.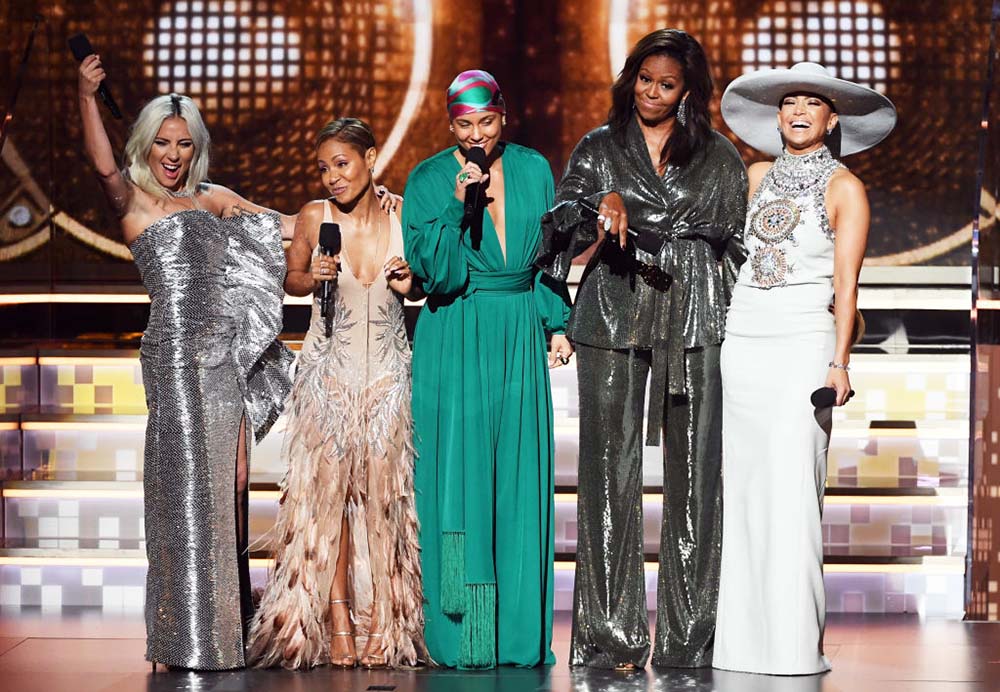 The former First Lady launched the Lets Move! public health campaign back when President Obama was in office. This stemmed from living a healthy lifestyle herself. This campaign focuses on America's Move to Raise a Healthier Generation of Kids.
Like Lady Gaga, Michelle Obama loves SoulCycle and she loves it even more when her two daughters join her.
Michelle's toned arms are in fact a trendy topic.
Michelle Obama's trainer, Cornell McClellan spoke to Hola! USA and said that no matter how busy Mrs Obama finds herself, her busy schedule wont stop her. 'She and the (former) president are those people who are the ideal clients, who come to you and are eager to participate and do everything. They design their life around it'.
Trainer Cornell first started training the Obamas in Chicago over twenty years ago. He reveals just how dedicated the couple are to their overall well-being. 'When I first started training them, and after they had children, one had to come in before the other,' he says. 'There was a time she would come in at 4:45 am'. That really is dedication – well done Michelle.
Michelle's toned arms are in fact a trendy topic, causing Cornell's workouts to go viral. 'Of course, nobody planned that,' says Cornell. 'It certainly comes from her hard work and commitment'.
Taylor Swift – the (absent) performer
Taylor Swift's album Reputation received a Grammy nomination for 'Vocal Album'. The 29 year old singer-songwriter is popular not only for her albums, shows and films but also for her flawlessly fit look.
Sadly Taylor Swift didn't turn up on the night due to a busy schedule, but we thought she was worth a mention because if she had of been there she totally would have looked insanely good.
https://www.instagram.com/p/BnMI3JwHSPf/
So apart from spending what seems to be a lifetime on tour singing and dancing her evenings away on stage, how exactly does she maintain her fit and flawless physique?
Swift told WebMD, 'Health is a big part of being happy'. Swift is often seen heading to the Body By Simone studio in Chelsea, New York. She is also known to workout with celebrity trainer Tracy Anderson.
Whilst on tour and trying to stick to some sort of healthy routine, Swift spends time running on a treadmill. 'For me, running is about blasting a whole bunch of new songs and running to the beat. It's also good because it makes me find a gym wherever I am,' Swift told WebMD.
According to Health, one of Swift's favourite workout moves is the 'froggy'. This involves lying face down while squeezing a ball between your feet and slowly raising and lowering your knees. This move will work the hamstrings, inner thighs, hips, glutes and back.
One of Swift's favourite workout moves is the 'froggy'.
Where her diet is concerned you'll be pleased to know Swift is just like us, watching what she eats during the week but letting go and enjoying herself more on the weekends.
'During the week, I try to eat healthily, so that means salads, yogurt, and sandwiches,' Swift told WebMD. Swift added that she also doesn't drink fizzy drinks during the week.
Speaking more about her diet, Swift continued, 'I try to keep it lighter, but it's nothing too regimented or crazy. I don't like to create too many rules where I don't need them. We know what's good for us, thanks to common sense.'
This is why on the weekends, the star indulges in her favourite foods so that she doesn't feel too restricted. 'I allow myself to eat what I know from common sense is bad for me,' says Swift. 'I like comfort foods. I love a burger and fries, I love ice cream so much, and I love baking cookies. Actually, I love baking anything.'
Swift also admits that she keeps her flawless skin by drinking heaps of water. 'I drink so much water my friends call me an alien,' Swift jokes to WebMD. Swift also added that she always carries a bottle with her, and keeps a case of water in her car to make sure she is never short.
More Healthista Content:
7 best Golden Globe body transformations
11 products this beauty editor actually buys
60 weight loss tips in 60 days
Giving up alcohol – what's the point of going teetotal for a month?