Sharon Walker reaches new heights in the calorie-burning inferno of a 'Climb to The Beat' climbing class at Sweat by BXR
The Climb to the Beat class is held at Sweat by BXR, one of London's cool new boutique gyms, which opened last year in Marylebone with the tagline: Train Like a Champion. So not the place for a leisurely stroll on the treadmill, followed by a relaxing chat in the sauna. If want to sweat through sheer exertion however, look no further.
45 minutes goes by in flash. I've burnt 556 calories
Fortunately,  with their pay-to-train ethos, you don't need to be a member to dip into Sweat by BXR classes and it's well worth the visit, if only to see how a top interior design company might reimagine a gym where sweat is top of the agenda (BXR is designed by the award-winning Bergman Interiors).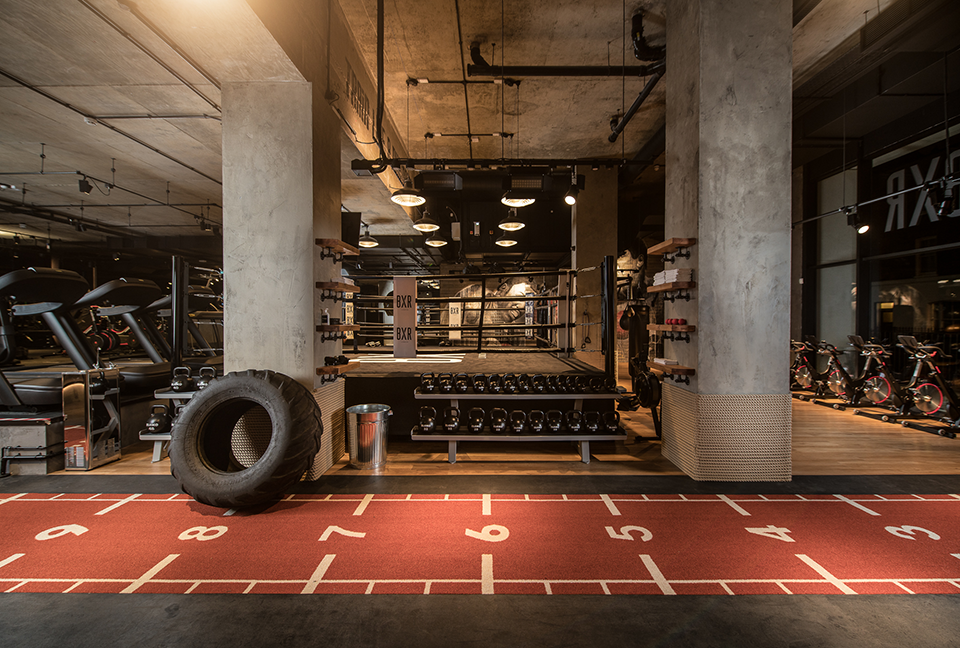 It's terribly swish: think polished concrete and artfully placed motorbike, glass cabinets of boxing gloves signed by boxing champions (boxing is a big part of the mix here), including World Champion Anthony Joshua, who is one of the gym's co-founders. If that makes it sound like a testosterone drenched boys' locker room, don't worry it's not, when I visited there were more women than men.
On the wall opposite the Climb to the Beat studio there's a large photo taken at Burning Man, the US counter-culture festival, showing a piece of art which spells out INSANITY in giant letters, this, might be a good way to sum up the Climb to the Beat Class: pure insanity.
So what the class like?
Pain factor: 3/5
Fun factor: 3/5
Intimidation Factor: 2/5 (unless you're behind a Barry's Bootcamp trainer)
Sweat Factor: 7/5
A darkened room filled with Versa Climber machines – rows of them packed close together – like a spinning class but with climbing machines instead of bikes. If you've never used a Versa Climber, it's pretty straight-forward: you step, you reach, you sweat. Step, reach, sweat. To the beat.  No fancy choreography to trip you up. No weights to worry about. And it doesn't get any more complicated than that.
But it does get hotter.  A lot hotter. Climb to the Beat is a heart pumping, sweat-inducing, disco inferno of a fitness class in a night club environment, think UV strobes and a rainbow of ever changing disco lights in a darkened room with loud music.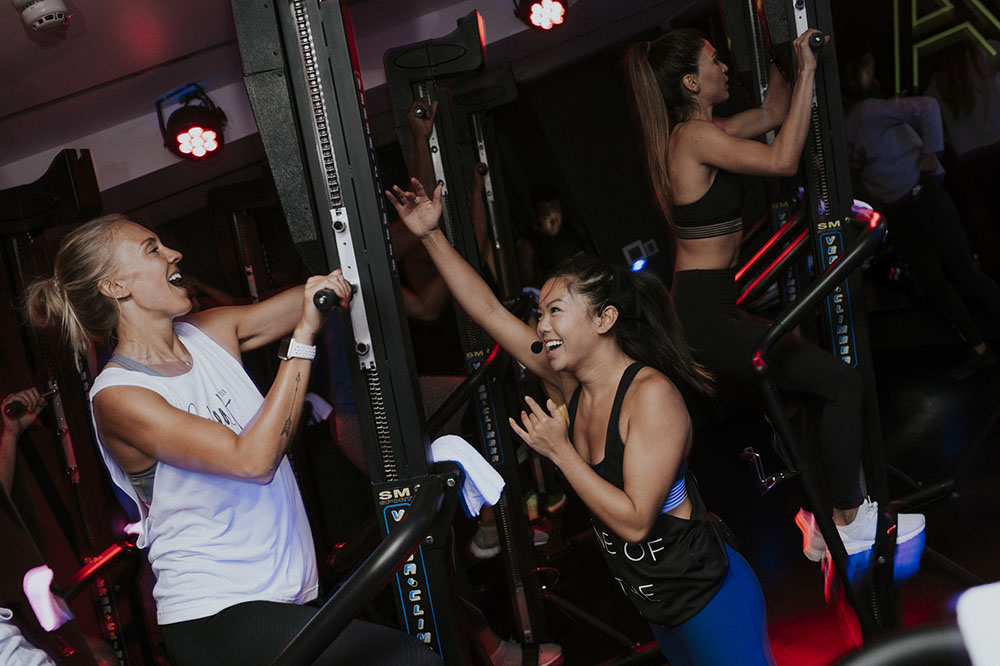 The teacher – I took Karli's class at 1pm on a Wednesday – leads you through cycles of intensity, but there's not a lot of let up. You're here to burn calories remember?
And burn them you do.  The light display in front of my nose whirls through numbers like the screen on a game show. Ten minutes in and I'm nudging 150 cals. Whoop. I'm going to hit the jackpot! BUT then I catch sight of the girl in front of me who is pretty much half my size –  her display is over OVER 200. I kick it up. I will not be beaten (competitve moi?).  Justin Timberlake is urging us to Bring Sexy Back and I reach new heights.
45 minutes goes by in flash. I've burnt 556 calories. Not bad for a beginner. The ninja in front however me is on 760. How is this possible? 'More range, burns more calories,' Karli explains when I grab her after class to ask, 'and if you're heavier you'll generally burn more. It's like running, but without the impact,' Karli continues, adding that this class is also good for flexibility.
But what about my calorie-incinerating friend, she wasn't carrying a spare ounce?  Turns out that that little ninja was stepping like a giantess – plus she's is an instructor at Barry's Bootcamp – a bona fide athlete! So, I'm not such a slacker after all.
More Healthista Content:
Run like an athlete – the new London running club showing us how
7 types of female orgasms – which ones have you had?
Why does everybody hate vegans?