Squatting not giving you the results you want? Barbi Viragh from London boutique gym Opus Fitness teaches us how to use the TRX to workout the glutes in our new weekly TRX workout series. 
TRX is a form of suspension training that aims to improve strength, flexibility, balance and stability – with the use of your body weight and gravity.
Pretty much any traditional workout move like crunches, planks and pushups can be used and your results will be more challenging and effective with TRX.
Barbi from OPUS gym shows us how you can include TRX into your workout to get your glutes popping the way you want them to.
Watch the YouTube video down below or read on to find out.

Glute lifts To begin, resting your back on the floor, place your feet on the holes of TRX bands and raise your pelvis upwards while still continuing to balance your feet. Do this fifteen times.
2. Hamstring curls Then, without stopping, move on to do fifteen hamstring curls. Without taking your feet off from the first position and your pelvis raised towards the ceiling, move your each leg backwards and forwards at the same time.
3. Single leg hamstring curls Again, your pelvis is raised and your feet should still be in the bands. Instead of moving your feet forward and backwards at the same time, you're going to do them one after the other as though you're walking. Repeat this for fifteen reps too.
4. Curtsey lunges with hops Here, you're off the floor and on your feet. Hold onto the ends of the TRX bands with your hands and do a regular lung followed by a hop each time. Watch the video above for a demonstration. Do this for twenty reps for each leg. Do three sets of this with forty-five seconds rest between each rep.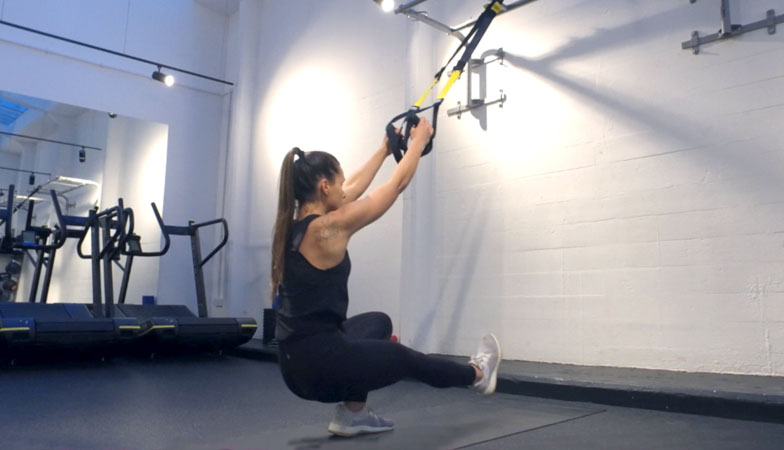 5. Straight leg dead lifts into single leg squats With a straight leg, kick out backwards whilst leaning forwards until your leg and torso are parallel. Then, bring your body straight again and go into a squat whilst standing on one leg. Do this for twenty reps on one side.
7. Split lunge pulse with hop, fifteen reps on each leg. This is when you get into kneeling position and use the bands to lift your knees off the ground but not too much. After doing this a few times you'll jump into a hop and repeat.
8. Side plank Place the foot facing the ceiling into the hole of the TRX band and balance in the position whilst bringing your free foot together with the one in the band. Do this for two sets and rest forty-five seconds in between, and repeat on the other side.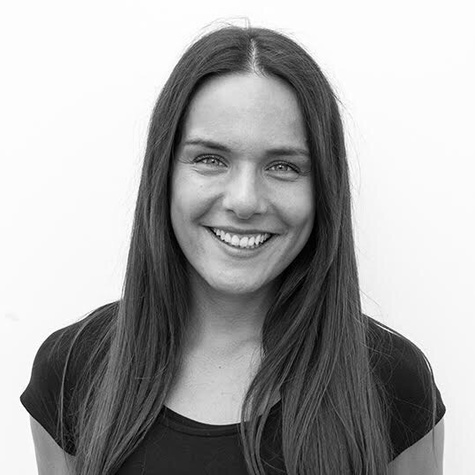 Barbi Viragh is a personal trainer and class trainer, and is also the head of group classes at OPUS gym.
She is a firm believer in the positive effects of fitness on health and wellbeing, her sessions are delivered with a focus on building strength and a positive mental attitude.
You can book a class with her at opusfitness.co.uk
More Healthista Content
How to do a TRX jackknife – 25 gym moves in 25 days
5 weightlifting terms every girl who lifts needs
Like this article? Sign up to our newsletter to get more articles like this delivered straight to your inbox.