From Renee Zellweger to Charlize Theron and the ever-gorgeous Joaquin Phoenix, we salute the body journeys of this season's hottest Hollywood properties 
The 92nd Academy Awards was definitely one to remember. From Brad Pitt turning his first Oscar speech political, to Janelle Monae's celebration of diversity in her performance calling out 'the Oscars, it's so white' and Parasite, making history, being the first ever foreign language film to win best picture. It was quite the night.
But with some of the biggest names in cinema taking to the red carpet. They have left us wondering 'how do they look so good?'
Renée Zellweger
Zellweger won best performance by an actress in a leading role. She embodied classic hollywood glamour in an Armani Prive one shoulder gown and dedicated her win to Judy Garland in her speech, 'this is certainly for you.'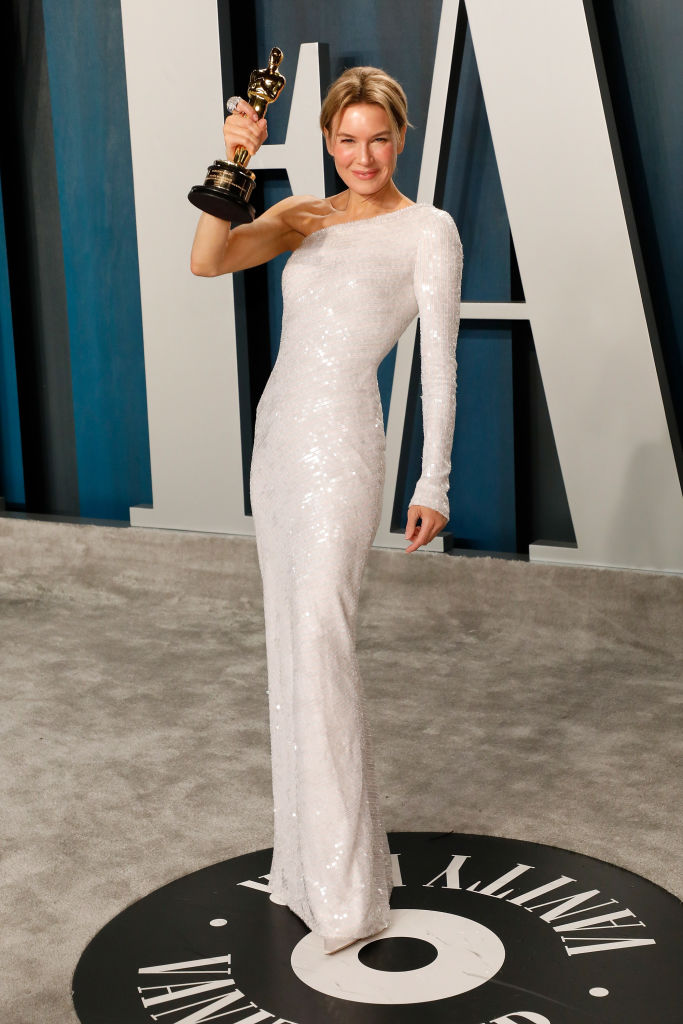 After taking a six-year break from Hollywood, the actress returns to the screen in the hit movie Judy, a biopic about the life of Judy Garland in the last few months before her death in 1947.
Zellweger prepared for the role of Judy by studying her mannerisms and biographies, working on her stance (Judy had a curvature in her spine) and even training with a vocal coach to sing Judy's songs live, adding a layer of authenticity to the movie.
Her work paid off as Zellweger has won multiple awards including the BAFTAs, Golden Globes and now an Oscar.
Renée Zellweger is no stranger when it comes to transforming herself for movie roles. The Texan born actress (with an uncanny British accent) starred in the hit movies series Bridget Jones Diary and took on a 4,000-calorie diet, twice the recommended number of calories for most women, to prepare for the role gaining more than 30 pounds.
But once filming wrapped up, she quickly shed her 4,000 calorie a day diet along with the excess weight in a matter of months. To shape up, Renee followed a strict macrobiotic diet of lean fish, rice, and vegetables.
Margot Robbie
With her films Bombshell and Once Upon A Time on Hollywood both being nominated, we definitely had to put the beautiful Robbie in our top six Oscar bods. She was nominated for best performance by an actress in a supporting role as Kayla in Bombshell.
Margot Robbie looked incredible on the red carpet in a black sleeveless vintage Chanel dress.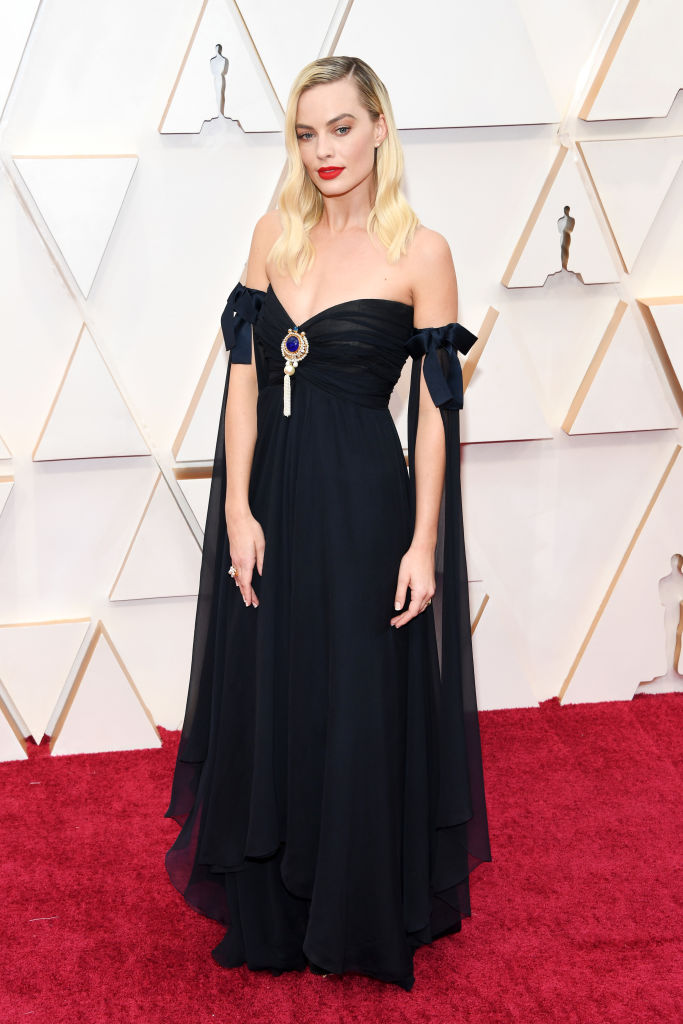 The movie is based on real life events of the sexual harassment allegations that took down Fox News boss Roger Ailes and features co-stars Nicole Kidman and Charlize Theron, who also was nominated for her role as best lead actress.
While she told the Telegraph that exercise is simply part of her lifestyle Robbie says a dynamic version of Pilates is her go-to when it comes to exercise. 'If I'm making a conscious effort to exercise, I work with a Pilates trainer on a Reformer machine, and that suits me and my body best.'
https://www.instagram.com/p/l-blq2BF3t/
Robbie has praised David Higgins, her personal trainer, and his plan, saying 'He put me in my best physical shape, he educated me on strengthening, stretching and nutrition to ensure that I stay that way! Working out is never boring when you're with Higgo'.
Margot is usually in great shape and works out four or five times a week for an hour each session, according to Hollywood personal trainer Andie Hecker. 
In an interview with Emirates Woman, Robbie admitted that she can't handle calorie-controlled diets and that cutting delicious and fatty foods makes her 'miserable.'
'I'm not good at doing moderation,' she said. 'I can't just have a salad every day and a half a glass of wine every second day. I can't do it.' Honestly, we couldn't agree more. 
Robbie has dealt with gruelling workouts to prepare for her roles in I, Tonya and her recent movie Birds of Prey.
Her trainer Andie Hecker told People when transforming her into Harley Quinn from Birds Of Prey which premiered last week: 'We did a lot of heavy-weighted, low reps of arabesque pulls hooked up to resistance pulleys, as well as arabesque lifts with heavy ankle weights in order to build and lift the butt. We also did a tonne of side-series outer thigh work, targeting outer glutes with high reps and low weights, to pull her muscles in and create a beautiful line from the waist to the upper thigh.' 
Laura Dern
At the age of 52 Laura Dern is at a pinnacle in her career and jumps from one success to another and has been won the Oscar for best actress in a supporting role for her work as mother Nora Fanshaw in Marriage Story.
Dern made history last night as the first actor to win an Oscar for a Netflix film.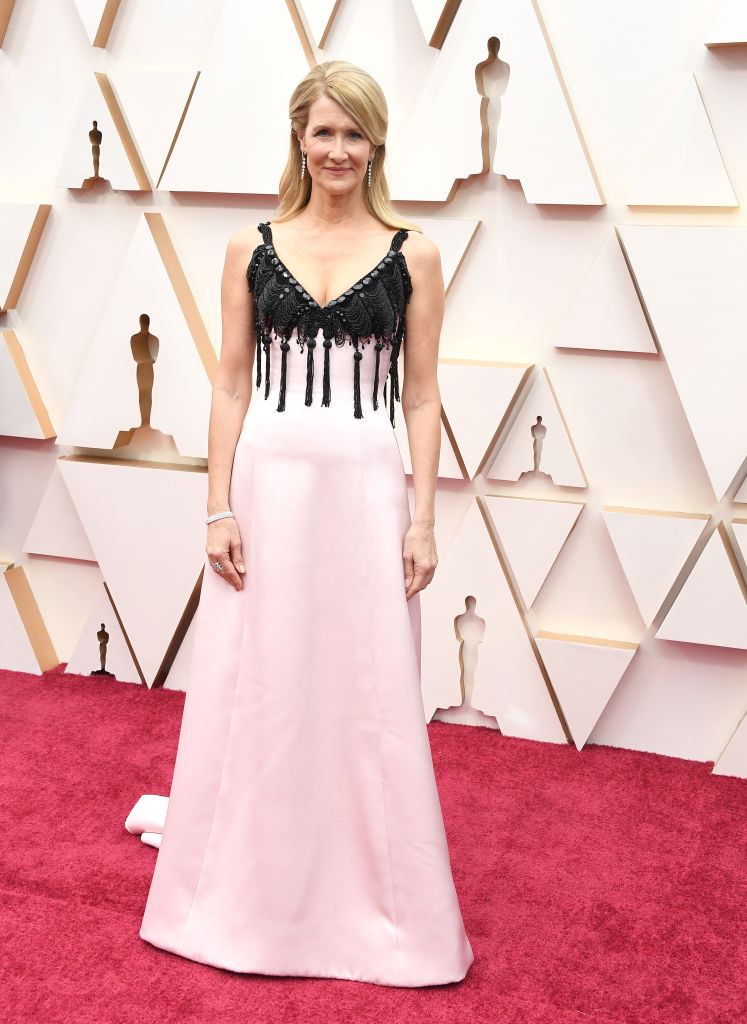 Laura Dern is definitely a wellness advocate on all things from beauty to mental health. At the age of around eight Dern's mother began teaching her about the benefits of meditation.
'For a long time, it was okay, there's health and then there's beauty. Sure, there might be lead in our lipstick and our skin care might have tons of hazardous chemicals, but we're not going to ask any questions if it does what we want to it do,' Dern told mindbodygreen. 'And I think that was fed to us: It was all about the secret formula and certain promises on the label.'
Her approach to diet and fitness does not involve any strict rules, she listens to her body and lets that dictate her actions. On the other hand, if I listen to my body, I would spend my time eating chocolate and pizza.
'The fitness part, it's literally whatever I can get whenever I can get it.  Before kids, it used to be an hour and a half of yoga in the morning. Now I try to fit in some exercise on a dog walk. As a working parent, you're just constantly trying to fit it all in.' Being as busy as she is its understandable that she doesn't go into any of the gym for five hours straight.
Cynthia Erivo
Cynthia Erivo is making massive strides in the acting scene. She was nominated in the best actress and best original song at the Oscars in Harriet, based on the true story of slave-turned-abolitionist Harriet Tubman.
Erivo made her Oscar debut wearing a white custom Atelier Versace gown with a crystal mesh bodice. She turned heads after boycotting the BAFTAs last week, following the huge controversy around the awards' lack of diversity in its nominations.
Her performance of her Oscar nominated song Stand Up and got a standing ovation as the song finished.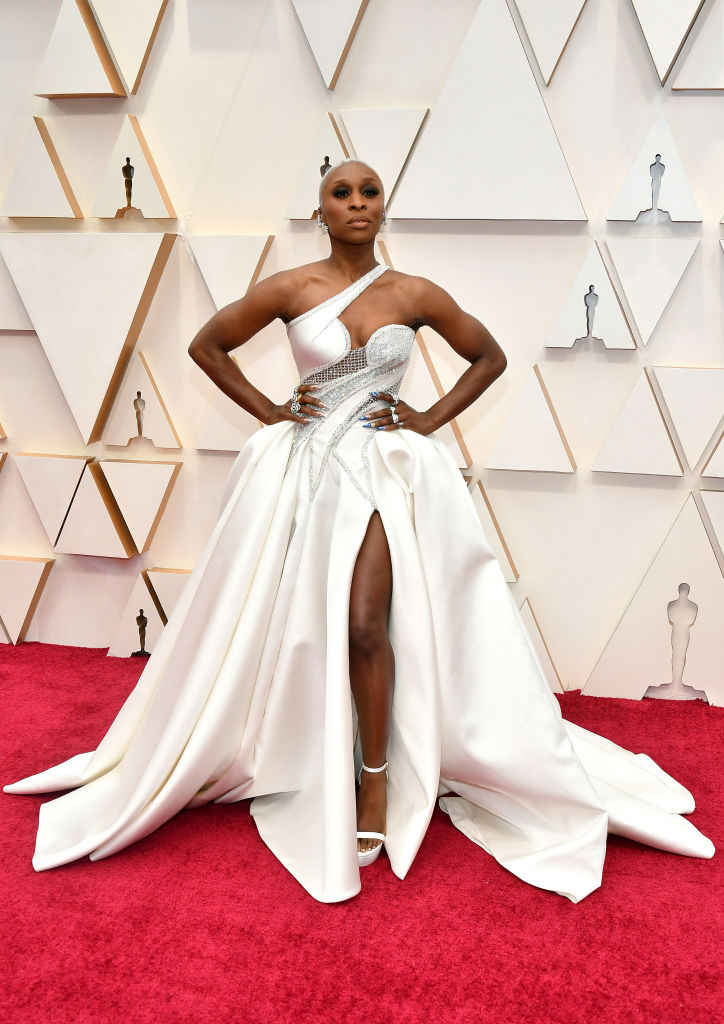 The lack of diversity in the Oscar nominations has sparked criticism. Cynthia being the only person of colour nominated at the Oscars told BBC Breakfast she wanted it to "serve as an example of how we need to judge these films".
Cynthia's Broadway debut was in 2015 for the revival of The Colour Purple and won an Emmy, a Grammy and a Tony Award for her performance.
Cynthia is a powerhouse on the stage and in the gym. When training for marathons she focuses on cardio and strength training.
Erivo told Elle 'for my abs, I'll do up-side down push-ups. 'To encourage core [strengthening]; we switch things up and make that burn. A strong core can take the weight off the legs when you're running or take any pressure off your back.'
Her background as a singer has led her to make healthy choices and living from the age of 24. Mainly focusing and eating foods that will not affect her voice and improve her immune system.
After all you are what you eat or in this case you sing what you eat. Cynthia's diet is plant based which is understandable considering dairy products produce copious amounts of phlegm and by avoiding it she can have a better chance of nailing her high notes. In an interview with healthyish, she said that 'being vegan was the most correct way for me to treat my body.' We are here for it.
If you feel as inspired as we do, she even has a YouTube channel where she records herself showing us how it truly done. While she only has a couple of videos a personal look into how she gets her stellar body is great.
Scarlett Johansson
Scarlett Johansson was up for two Academy award for best actress, for her work in Marriage Story and best supporting actress in Jojo Rabbit, but are we even surprised?
Johansson was glowing in a custom strapless silver satin dress by Oscar de la Renta with a mesh bodice with a train.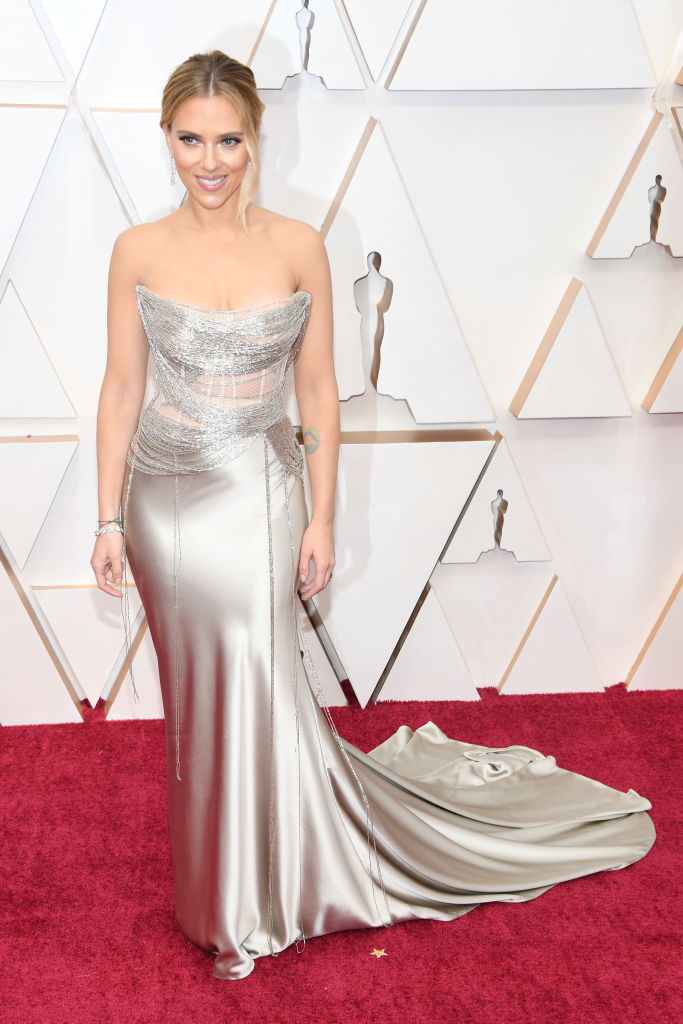 In an interview with  E! News Scarlett talks about moderation and if she wants a treat, she's eatin' it. 'When you're that disciplined, the 'cheat meal' doesn't really exist. You're sort of like, 'I earned this piece of chocolate cake—I'm going to go for it.' You don't even think about it,' she says.
For her role as Black Widow, Scarlett's personal trainer Eric Johnson told Harper's Bazaar  'we treated the process like an athlete preparing for competition. By placing more emphasis on her performance, her physique just followed.'
When it came to Johansson's diet it was just as intense. Johnson said that 'she cycled through days of high carbohydrates and low-fat consumption, versus low carbohydrates and higher fat while maintaining protein intake.'
Her immense levels of discipline are definitely superhero worthy.
Charlize Theron
Charlize Theron was nominated for an Academy Award for best actress in Bombshell for her part as Megyn Kelly who was among the women who came forward to add to the list of woman CEO Roger Ailes abused.
She took to the carpet in a stunning black gown by Dior with a high leg slip, similar to Angelina Jolie's unforgettable leg-baring stint at the 2012 Oscars.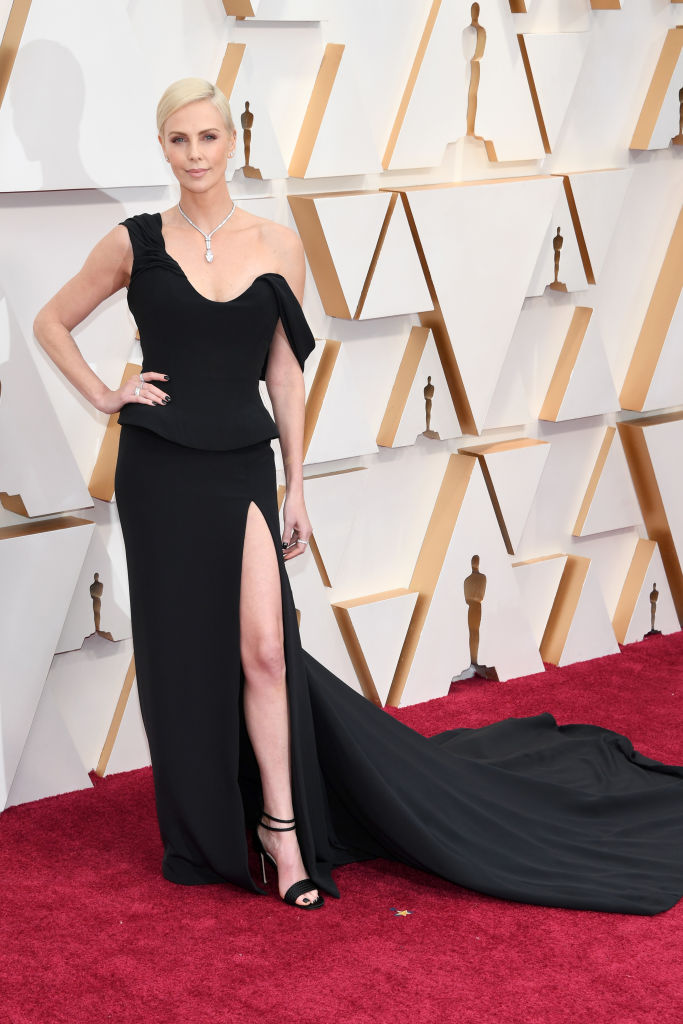 Theron was unsure of playing the role of Kelly as she told BBC news 'there are things she's said in the past that have bothered me.' Kelly has been involved in controversies which include her defence of people dressing in blackface for Halloween and comments she made about Santa Claus being white.'
But 'it wasn't a Megyn Kelly biopic, it's about a year-and-a-half at Fox, and she was a part of many other women who experienced this thing and then ultimately succeeded in doing something that was thought of as impossible.' 'So, whether I have issues with her or not, she was part of something that will I think be a historical marker for women's rights.'
As the movie is based on a real-life person Theron had prosthetics and even a hairline alteration to transform into Megyn's doppelganger, they look so similar it's a little scary.
When it comes to health, Theron told Bazaar that she's 'lucky I've never been a couch potato', but that doesn't mean she takes exercise any less seriously. She's a self-confessed Pilates junkie, saying: 'It's totally changed my body.'
In terms of her diet, the 43-year-old favours plant-based foods. She also stays away from alcohol, 'I have juices and kale and green salads every day.  When I'm eating healthily, getting enough sleep and not drinking alcohol, that's when I look my best. That's when I'm happiest, and I think it shows.' We would agree as the mum of two is clearly glowing.
Theron credits her healthy, glossy platinum locks to castor oil, 'someone told me about [castor oil]. I put it on my brows once or twice a week. It's definitely made my hair thicker.' Excuse me while I go buy a jar for my dead ends.
Joaquin Phoenix
How can one mention the Oscars without mentioning Joaquin Phoenix? So far winning nine awards for his role as Joker, Phoenix wrapped up the award show winning his first Oscar at the 92nd Academy Awards.
The red carpet was filled with eco-friendly outfits from Kaitlyn Dever and her custom-made ethical gown by Louis Vuitton, to Jane Fonda wearing Pomellato jewelry that is 'ethically harvested gold and sustainable diamonds.'
Environmentalist Joaquin Phoenix made an eco-conscious fashion statement by sticking to his black Stella McCartney tuxedo for the entire award season to reduce waste.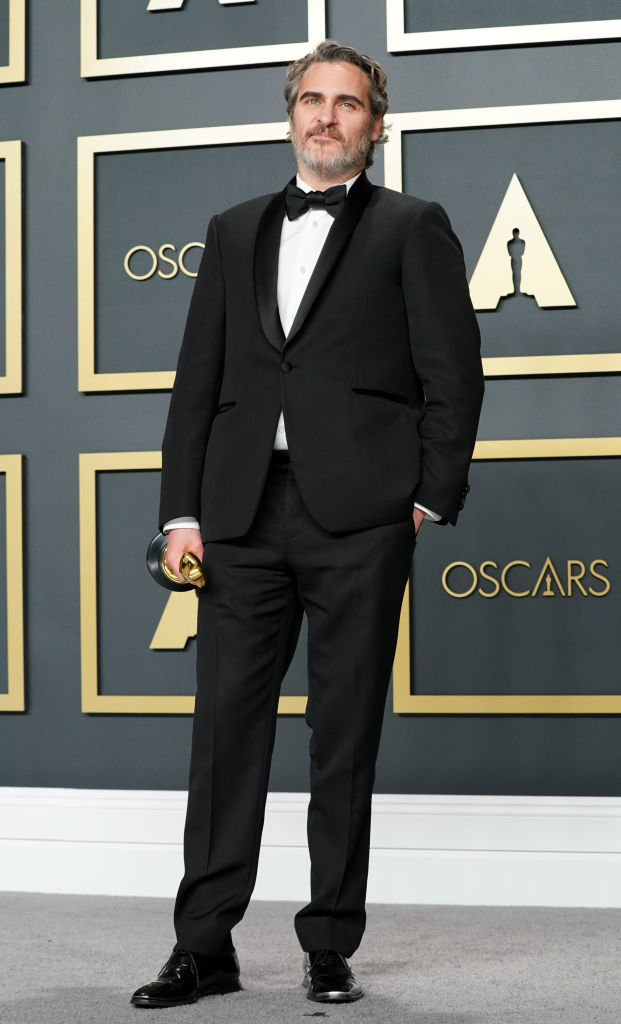 Joaquin won award after award for his role in the Joker. And if you didn't love him enough, he's used every award speech as a platform to talk about injustice in our society and film industry.
He used his Oscar acceptance speech as a platform, a 'voice for the voiceless,' to tackle issues such as inequality, race and animal rights following his BAFTA's speech last week where he called out 'systematic racism' in the film industry.
Phoenix's take on the Joker in the dark psychological thriller left a lasting effect on its audience as well as Joaquin himself. Losing three and a half stone (52lbs) to play the gaunt character, in an interview with Jimmy Kimmel, he said that the substantial weight loss almost turned into a 'disorder.'
The film portrays Arthur Fleck an aspiring comic and a man with a history of serious mental health problems. Disregarded by society the film follows Fleck's slow descent into madness as he transforms into the criminal mastermind known as the 'Joker'.
He is not the first actor to be affected by playing the villainous role, from Heath Ledger to Jared Leto, the deranged character is known to affect those that play him.
Relevant Healthista Content you may also like:
18 ways this celebrity trainer keeps Nicole Scherzinger and Amanda Holden in shape
7 best celebrity bodies from this year's awards season
Why we love Rose McGowan, winner of the Inspiration Award at GQ's Man of the Year Awards
More Healthista content:
Stressed? This 5 minute calming meditation will help
Looking for a way to reduce stress? Try this one minute breathing technique
9 weight loss hacks this celeb PT wants everyone to know
6 celebrities you didn't know have phobias
Like this article? Sign up to our newsletter to get more articles like this delivered straight to your inbox.