Award season has come to an end, but boy was it one to remember with show-stopping looks and the celebrity bodies to fit them – here's how they did it
The award season is over once again and it will probably have left a gaping gossip and red carpet sized hole in your chest. Who else spent way too much time watching E! Channel and gawping at everything the celebs had to say on the red carpet?
And we are still talking about it here at Healthista, specifically just how amazing the celebs looked on the red carpet in their amazing gowns, which is why we've rounded up the hottest female award season bodies.
From award winners, to after party attendees. Here's who rocked the red carpet looking oh so hot and exactly how they maintain their incredible bodies.
#1 Lady Gaga – We're literally, completely, absolutely obsessed
OK so I know Gaga has been mentioned in the Golden Globe best body round up and in the Grammy's best body round up, but she just HAS to be mentioned for a third time – I mean did you see her at the Oscars? Speechless.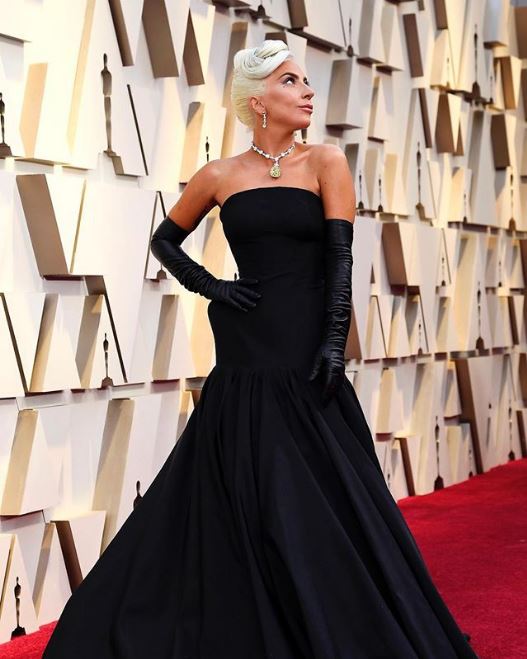 The A Star is Born nominee and winner fashioned herself on Audrey Hepburn in a breath-taking black gown by Alexander McQueen. She added to the stunning look with a 128-carat Tiffany diamond necklace with elegant elbow-length black leather gloves.
In fact, the Tiffany diamond that Gaga wore was worth $30 million dollars and was last worn by none other than Audrey Hepburn herself while promoting Breakfast At Tiffany's.
https://www.instagram.com/p/BuZZddplmw5/
Lady Gaga 32, won an Oscar for Best Original Song with Shallow – you know the song that we're all obsessed with and pulls on everyone's heart strings?
Lady Gaga and her song Shallow also won a Grammy for Record of the Year and Best Original Song at the Golden Globes – an award-winning song to say the least.
Gaga and her co-star Bradley Cooper even reached number one on the official charts with their song Shallow from the movie soundtrack, making this song Gaga's fifth UK number one.
The romance filled film A Star is Born is about a musician called Jackson Maine (Bradley Cooper) who discovers and falls in love with struggling artist Ally played (Lady Gaga). As Ally's career takes off, their relationship starts to break down and Jack fights an ongoing battle with his own internal demons.
The chemistry between Cooper and Gaga is plain to see. Their performance at the Oscars even caused a few romance rumors with Cooper's girlfriend Irina Shayk reportedly unfollowing Lady Gaga on Instagram.
They do look very cosy but they are actors after all.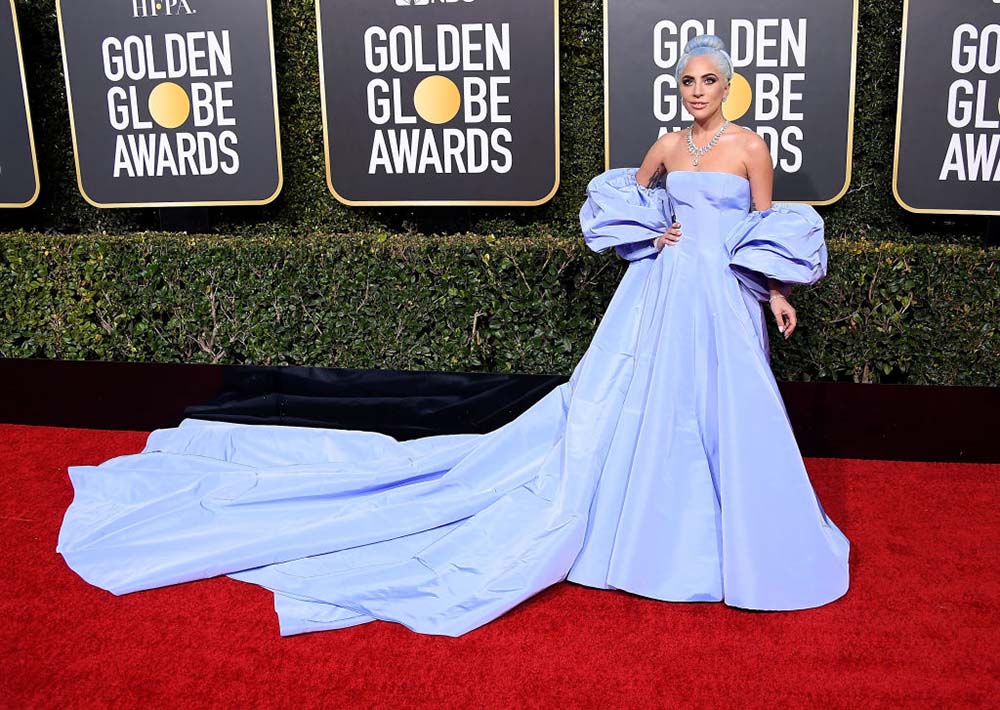 So the movie and the soundtrack has been a success that's for sure, but something else we can be sure on is Gaga always looks good.
In fact, Lady Gaga has always been keen to stay in tip top shape. It has been said that Gaga purchased two SoulCycle stationary bikes for her tour bus, so she can stay fit and healthy on the road, working out wherever and whenever she needs to. Like many other celebs, such as Katie Holmes, Nicole Kidman and Vanessa Hudgens, Gaga has been a SoulCycle fan for years.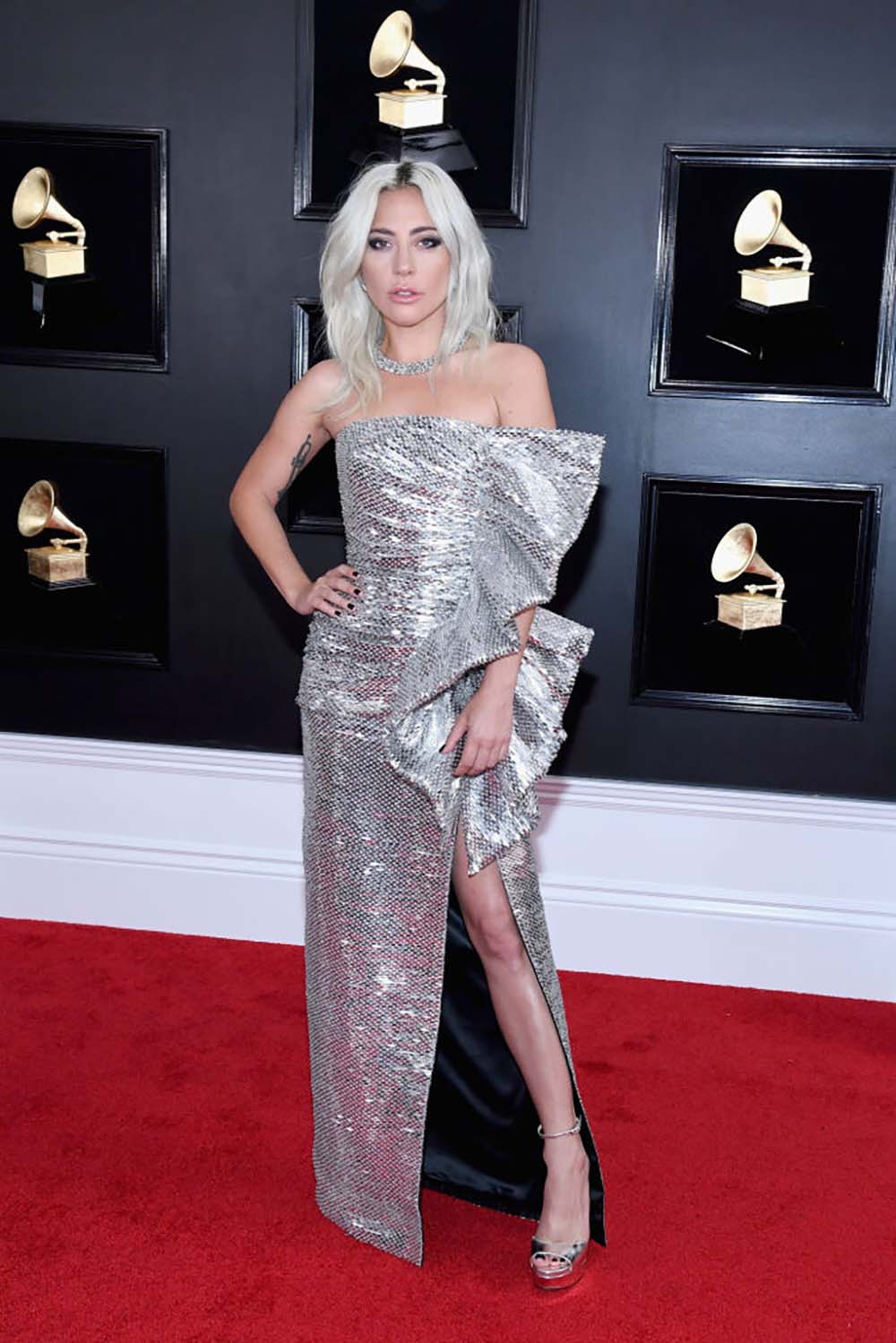 SoulCycle isn't the only fitness trend that Gaga has jumped on to keep her fit body in check. She is also a fan of TRX workouts (portable athletic extension ropes), even fitting one in right before her incredible Super Bowl performance in 2017.
If you want to know more about TRX workouts, take see our TRX series.
Gaga clearly likes her gym equipment because another workout she is a fan of is the VersaClimber. Now the clue is in the name, it's a machine that you climb up repeatedly – it's hard work, find out how Healthista's content editor got on when she gave VersaClimbing a go.
Gaga takes the VersaClimber one step further admitting that she even sings whilst working out on it. 'I work out while I sing', Gaga told ABC News. 'I'm singing the show while I'm doing it, because the show is full-on cardio…it's cardio while singing.'
So next time you're at the gym, head over to the TRX ropes or the VersaClimber, best not to start singing though, you'll get a fair share of odd looks.
#2 Emily Blunt – The new Mary Poppins
Mary Poppins Returns was one of the most anticipated films of the year, and for fans of Emily Blunt and Mary Poppins the anticipation must have been immense. Mary Poppins Returns comes a whole 55 years after the release of the original Mary Poppins film in 1964.
Emily Blunt 36, and her husband John Krasinski 39, film director and actor, attended the Golden Globes and the Screen Actors Guild Awards looking super adorable together. They also attended the Writers Guild Awards together in matchy-matchy classic black tuxedos.
Mary Poppins Returns was nominated many times including a nomination for a Golden Globe and an Oscar but unfortunately, they didn't grab a win.
There is some good news though, Blunt won a Screen Actors Guild Award for her role in A Quiet Place, which her husband Krasinski starred in, co-wrote and directed. Krasinski was himself nominated for Best Original Screenplay for A Quiet Place at the Writers Guild Awards too.
A Quiet Place stars both Krasinski and Blunt as the head of a family trying to survive in a post-apocalyptic environment. They play the parents of two young children who live in the woods, hiding from alien creatures who hunt by sound, meaning the family have to live a completely silent life.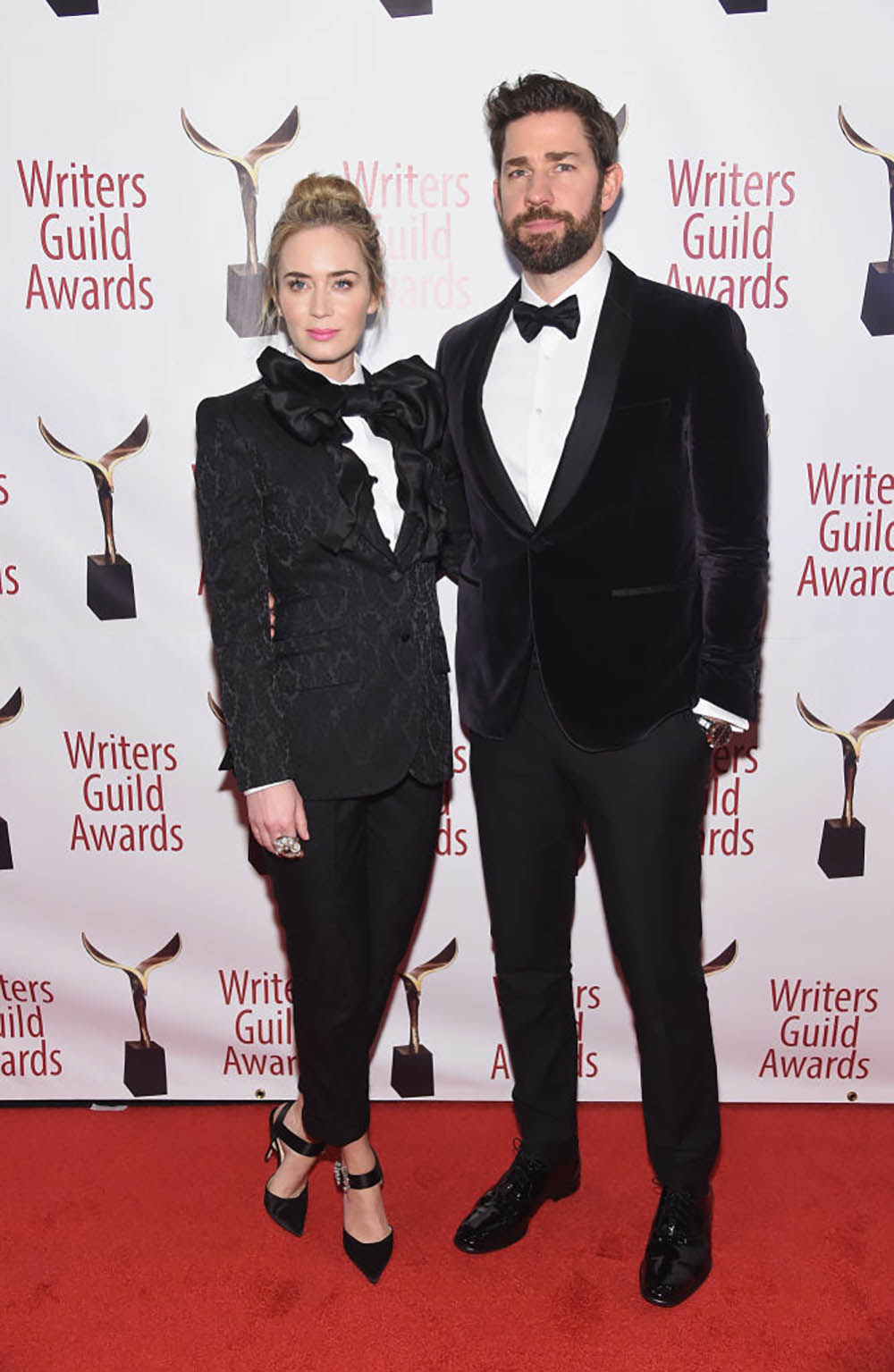 Emily Blunt always looks amazing, not just on the red carpet but in every film role – ever. Does anyone remember how bad ass she looked in the film Edge of Tomorrow alongside co-star Tom Cruise?
To prepare for that film and wear a suit that weighed a whopping 85 pounds, Blunt had to work out for two and a half hours a day, six days a week for almost three months. 'It was brutal at first and then became addictive,' Blunt told USA Today. If you were to do the maths you would find that that is A LOT of working out.
Blunt said that the training for Edge of Tomorrow helped her body 'bounce back quicker' after giving birth to her daughter. Blunt added that her husband, 'thought I was going to bench him. I don't know if I looked terribly alluring. I was all edges. It was empowering for sure'.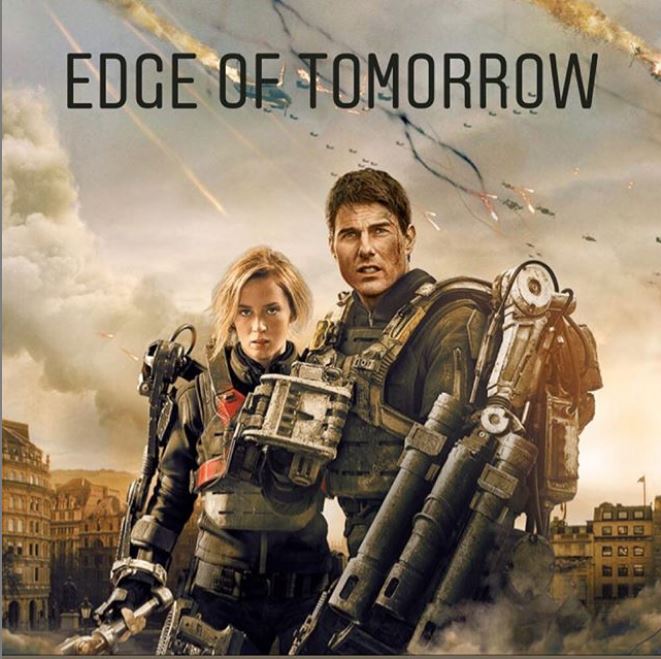 Blunt often works out with trainer Jason Walsh. Walsh told Women's Health that for Edge of Tomorrow, he started Blunt with strength training, mobility and flexibility.
'Once her body was resilient and strong enough, and she had a lot of endurance, I took her out to the UCLA track to really condition her. She did tons and tons of sprints up stairs. And then, towards the end, I started having her do all the stuff on the track with a weight vest. We worked from 10-pound weight vest to a 20-pound weight vest to a 30-pound weight vest'.
'Not only did we get her stronger, but we also talked about recovery and how important it is, whether that's sleep, hydration, nutrition, how soft tissues work,' he added.
Now obviously, Blunt didn't need to look like action woman to play Mary Poppins or a wife hiding in the woods from aliens, but she still needed to fill the shoes of original Mary Poppins star Julie Andrews who looked practically perfect as Mary Poppins – and we think she did just that.
We know that Blunt takes care of herself on the exercise front but what about her diet? Turns out she doesn't actually stick to one. 'I really don't try and diet. I'm a huge foodie. I love to eat and I love to cook.' admitted Blunt.
#3 Kendall Jenner – Legs, legs, legs
Like seriously look at those legs, they go on for miles. In a rather revealing outfit, Kendall Jenner 23, wowed at the Oscars this year (just like every other year).
And I know that Kendall hasn't been nominated for an award but she was at the after party so she's allowed in our round up.
The Keeping Up With The Kardashian's star wore a risqué black dress to the Vanity Fair after party that left nothing to the imagination on the red carpet. All eyes were on the model (and those sensational legs). The brunette beauty posed confidently for the cameras in a halterneck style dress that clung perfectly to her tall and slender frame.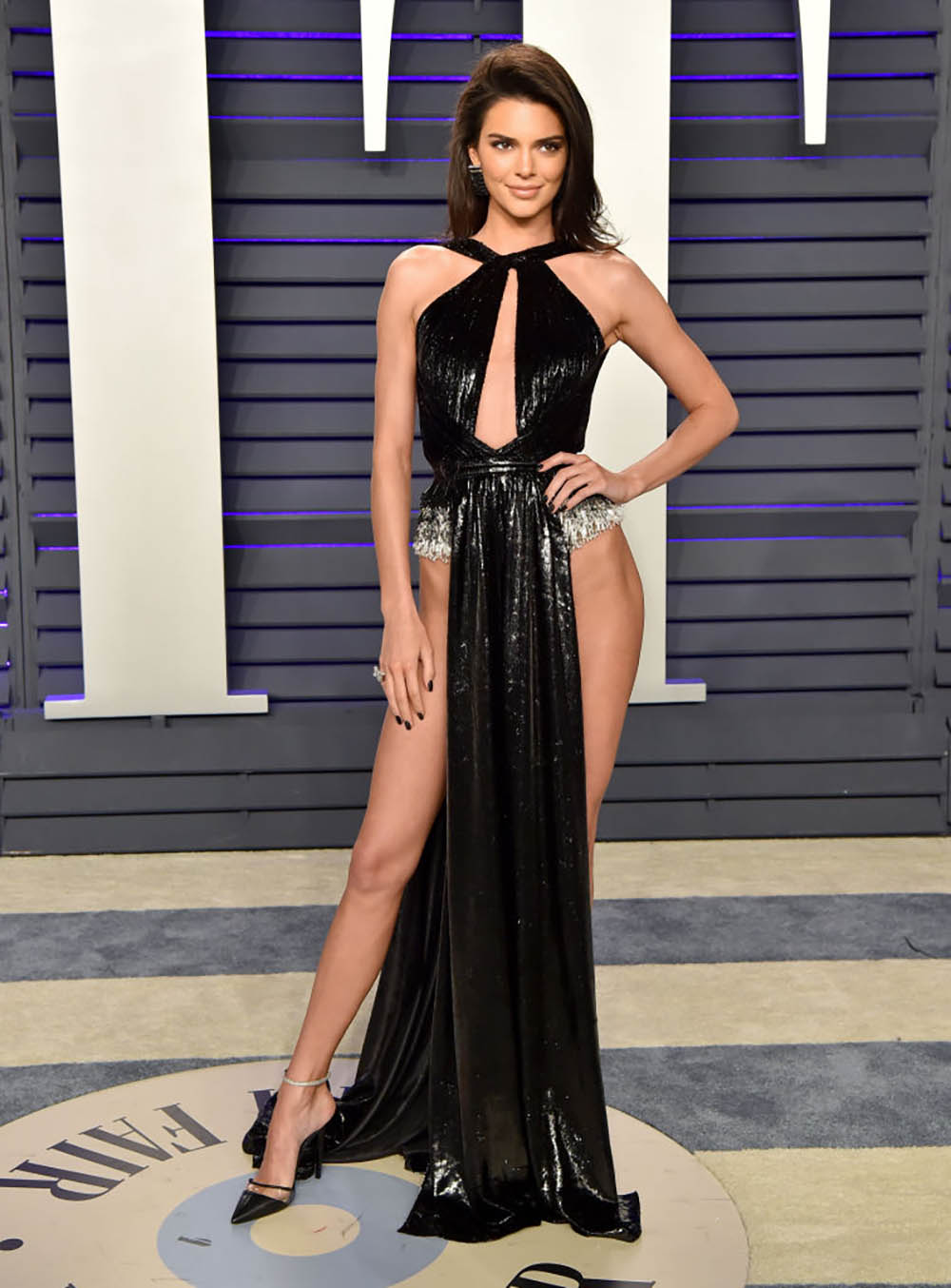 It's no secret that the Victoria's Secret supermodel is in tip-top shape and Kendall works hard for her body. Talking to People about her exercise routine in the lead-up to a Victoria's Secret fashion show, Jenner said 'I worked out so hard for that, like, literally every single day – sometimes twice. I'd go to my trainer, then I'd go for a run a couple hours later.'
Last year, Healthista spoke exclusively to Jenner's personal trainer, Gunnar Peterson.
Peterson said that Kendall works out most days a week in the run up to a fashion show. 'She's very active and she travels a lot but before The Victoria's Secret thing she was in five days a week. It's not really strength training, it's a combination of movement, strength and high-intensity intervals'.
But how 'hard' does Kendall Jenner actually work out? Peterson revealed, 'I wanted her to feel as though she's happy with the way she looks and that she's still able to move. If I see with a certain weight she's reaching a technical failure, the lift is in the eight or nine rep range, I'm going to take some weight off – we're not power lifters, we're not weight lifters.
Peterson agreed that Kendall 'works her ass off' and works hard to maintain her flawless physique.
'You can't cripple a runway model. I can't destroy her legs with some kind of crazy routine. So she could do a set of squats, a set of pull ups, drop down into a plank series a set of hypo extensions. It's all about throwing a curve ball at the body – the body has to adapt because when it adapts it changes'.
Peterson agreed that Kendall 'works her ass off' and works hard to maintain her flawless physique. 'Kendall is a natural athlete – if there's a movement we're doing against resistance whether it's a chop or if it's something that involves a sprint or a lateral move or if it co-ordinates upper body and lower body, at first it might be a little bit wonky but within three or four reps it looks like she invented the movement.
'Her learning curve on physical movements is like that of an athlete. It's a pleasure to work with her. When she comes in it's like working with one of my pro-athletes'. And we can see why, she really is perfect in every way.
Want to look like Kendall? Well unless you are very tall and can strut down a runway it may be tricky, but one things is for sure, it's not really a secret, she just works out – a lot.
#4 Kim Kardashain – The big reveal(ing dress)
Again, we know Kim Kardashain wasn't nominated for an award but she did present one, so she too is allowed in our award body round up.
Just when you thought Kim Kardashain couldn't make jaws drop any lower, the 38 year old donned one of her most revealing looks yet at this years Hollywood Beauty Awards.
Kim wore a vintage black Thierry Mugler gown from 1998 with a halter neckline and large chest and body cutouts. The bondage-inspired look revealed her enviable cleavage and even flaunted her legs with a thigh-high leg slit.
Kim attended the awards with her friend and hairdresser Chris Appleton, which is who she presented the Hair Dresser of the Year Award to.
https://www.instagram.com/p/BuUPOcJnIXx/
Like her sister Kendall, the dress left little to the imagination and showed off her best assets. Kim's curvy figure and famous behind must take some working out, but how much working out is the question on all of our lips?
After having her second child, Kim wasn't happy with the way she looked. She admitted that she spent a year of tough workouts trying to get her body back into a shape she was happy with.
In an Instagram post she shared of herself on a beach whilst on holiday, Kim announced, 'When I wasn't happy with what I saw back in the mirror I spent a whole year training so hard five or six days a week putting in a lot of work and changed the way that I eat and there's such a noticeable difference.'
Kim's nutritionist, Colette Heimowitz, told EliteDaily that Kim avoids sugar and eats lots of protein.
One of Kim's trainers, Melissa Alcantara said that Kim wakes up at 6am to fit in her workouts around her busy schedule. Alcantara told Women's Health, 'Her (Kim's) schedule is crazy, and mine is also crazy, so we work out really early in the morning at 6 am.'
Diet wise, Kim's nutritionist, Colette Heimowitz, told EliteDaily that Kim avoids sugar and eats lots of protein.
Heimowitz explained that, 'The body is only built to circulate about the equivalent of  one to two teaspoons at a time, but if you're constantly drinking sugar and eating carbs that turn to sugar in your body, you're wearing down your sugar metabolism over time, and a lot of that excess sugar converts to fat, and that's how you gain all your weight.'
Heimowitz added that Kim makes sure she gets enough protein in her diet to keep her feeling full and satisfied and not hungry. If you are going to eat carbs, Heimowitz recommends picking the highest fibre variety and including healthy fats.
So like her sister Kendall, Kim works out a lot. Are you seeing a pattern here? Exercise is the answer to a hot bod.
#5 Charlize Theron – The effortless beauty
Effortless is the word that always comes to mind when thinking of the beautiful Charlize Theron. This year, Theron, 43, was nominated for best actress in American comedy-drama film Tully.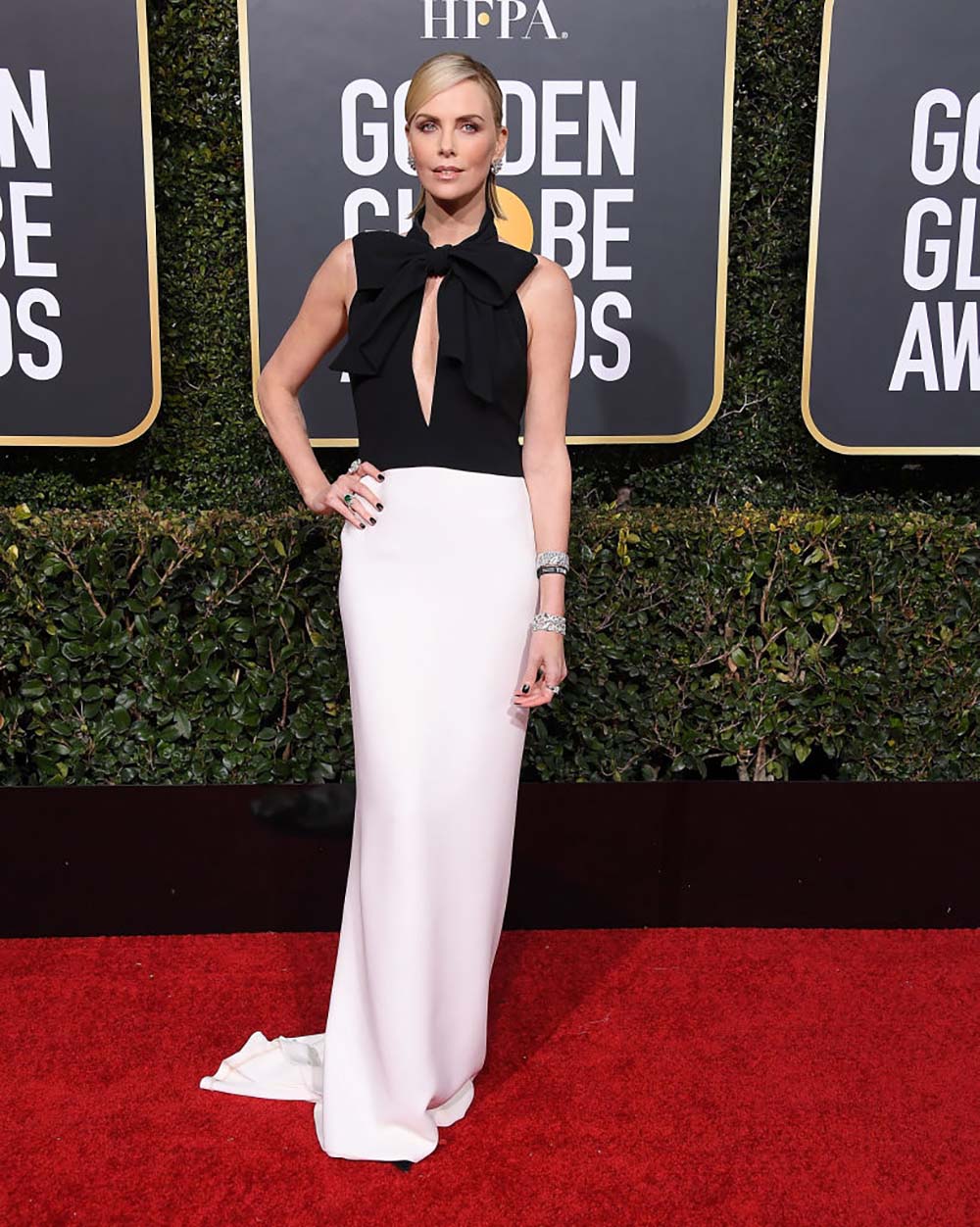 For this role, Theron had to gain a whopping 50 pounds (three stone) to play the character of Marlo, a mother of three, including a new born baby.
The film Tully is about a woman called Marlo, who is given a night nanny as a gift form her brother. Hesitant with the extravagance at first, Marlo then forms a bond with the thoughtful, surprising, and sometimes challenging young nanny named Tully.
But she certainly didn't look three stone heavier at either of the award ceremonies she attended.
To the Golden Globes, Theron wore a black and white gown that showed off her tall and slender frame perfectly.
Then, to everyone's delight, Theron turned up at the Oscars with a new hair-do.
The actress who is known for her blonde luscious locks stepped out onto the Oscar's red carper with a freshly chopped dark bob.
Theron wore a backless Dior gown, that was dusty blue and long-sleeved, that went perfectly with her new hair.
Are you a fan of her new look? We certainly are. But we still want to know, how on earth did she lose the three stone she gained for her film role in Tully?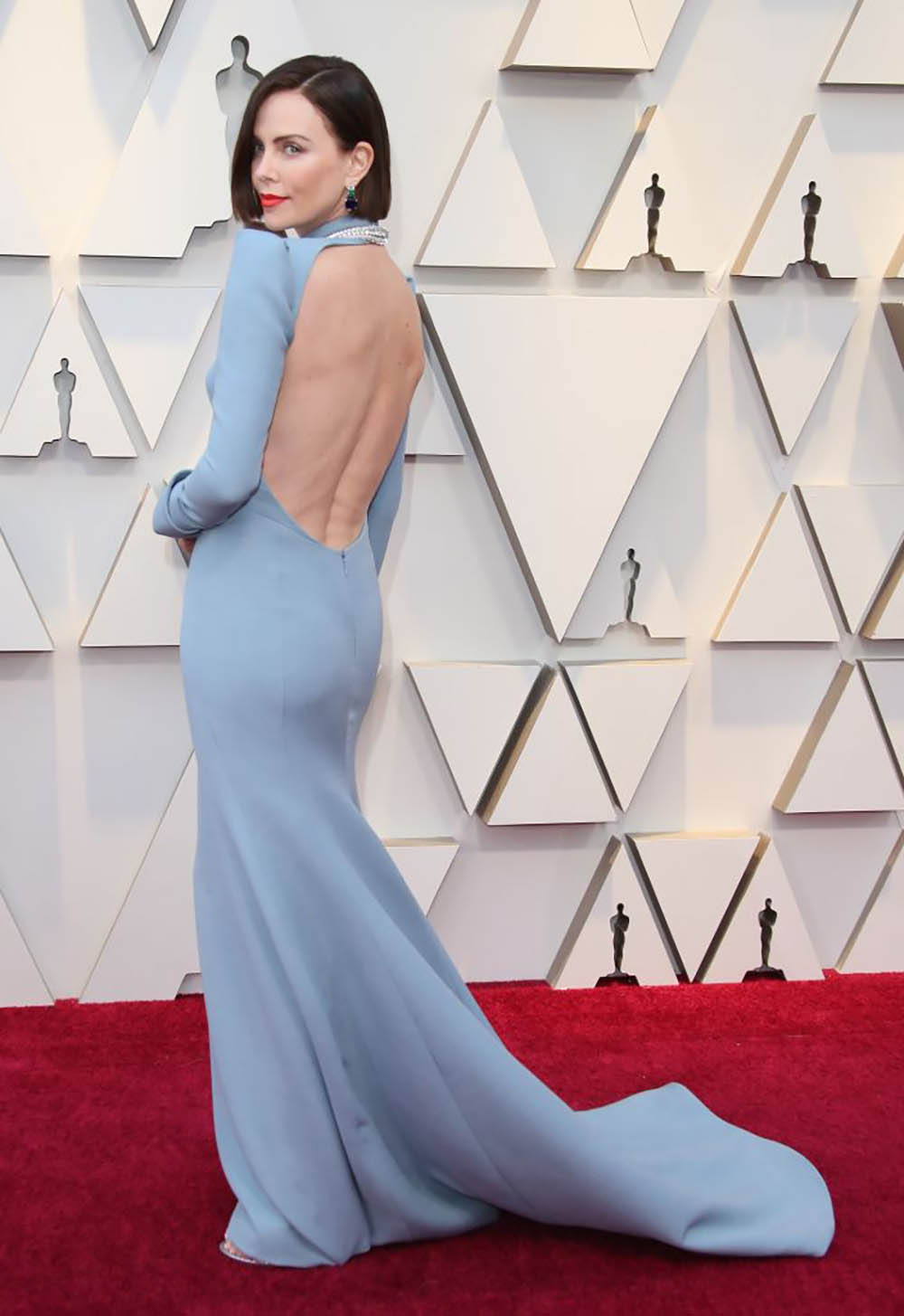 In an interview with Entertainment Tonight (ET), Theron revealed that it took her nearly a year and a half to lose the 50 pounds she had to gain for her role in hew new film Tully.
'It took about a year and a half. It was a long journey, very long journey,' Theron explained. 'It's hard because I had press junkets and movies around it and nobody knew that I had done it for this. And I think in the beginning everybody thought I was wearing prosthetics. And then I went on press junkets and it was like nobody knew.'
Theron explained that she wanted to gain the excess weight so that she could accurately depict what a real postnatal body looks like, and feel exactly how her character would have felt.
'I wanted to feel what this woman felt, and I think that was a way for me to get closer to her and get into that mindset,' she told ET.
The stunning Dior model revealed that she would eat junk and processed foods, drink sugary drinks and milkshakes in order to help her gain the weight. It all had an effect on her mental health too.
https://www.instagram.com/p/Bhz_vd5AQPx/?utm_source=ig_embed
'I got hit in the face pretty hard with depression for the first time in my life,' she explained. 'I was eating so much processed foods and I drank way too much sugar. I was not that fun to be around.'
In order to maintain her 50 pound weight gain, Theron admitted to waking up in the middle of the night to eat.
'I would literally wake up at two in the morning and I'd have a cup of cold macaroni and cheese just next to me,' Theron recalled. 'I would wake up and I would just eat it…I would just, like, shove it in my throat. It's hard to maintain that weight.'
Mac and Cheese in bed sounds perfect to me, Charlize Theron clearly doesn't agree.
Tully isn't the first film Theron has had to put on weight for. She gained 30 pounds in 2003, to play real-life serial killer Aileen Wuornos in biographical crime drama Monster. Charlize admitted that she loved gaining weight for that role, however losing it afterwards was much more difficult this time around.
'I was like, this is taking a really long time,' said Theron. 'Because on Monster, I just didn't snack for five days and I was fine.
Theron gets straight back to her clean eating lifestyle of fresh fruit, plenty of vegetables, steak, grilled chicken, eggs, high fat breakfasts, salads and fish.
'Your body at 27 is a little different than your body at 43, and my doctor made sure to make me very aware of that.'
In order to lose weight after her film roles, Theron gets straight back to her clean eating lifestyle of fresh fruit, plenty of vegetables, steak, grilled chicken, eggs, high fat breakfasts, salads and fish. As a trained ballet dancer, Theron has also always been active, completing workouts that involve ballet moves such as plies and other traditional workout moves such as, plus bicep curls, bum raises and bicycle crunches.
So it turns out celebrity metabolisms slow down just like ours, who would have thunk it? Saying that however, Charlize Theron looks pretty amazing. Time to stock up on chicken, steak, eggs….
#6 Emma Stone – the award season pro
The beautiful red-haired Emma Stone is no stranger to award ceremonies, and this year she attended both the Golden Globes and the Oscars. She was also nominated for Best Supporting Actress at this years Oscars for her new film The Favorite, alongside co-stars, Olivia Coleman and Rachel Weisz.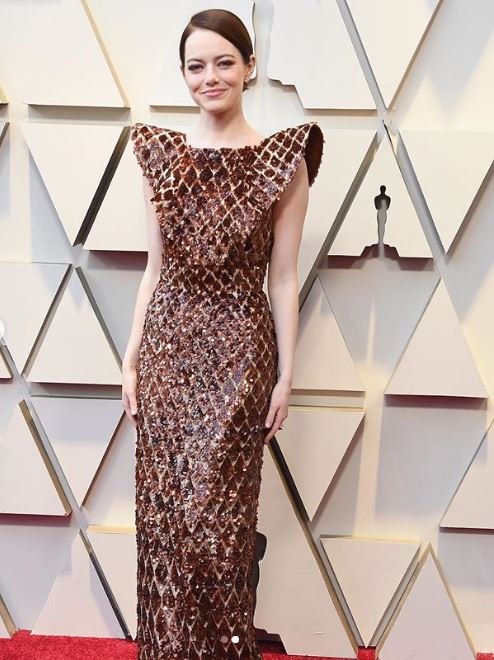 The 30 year old actress looked lovely as ever as she attended the 91st Academy Awards in a show-stopping Louis Vuitton gown.
The burgundy-coloured dress featured exaggerated shoulders and was heavily embroidered with layers of pearls, sequins and beads.
In fact, Emma Stone's impressive Oscars gown took designers 712 hours to make – but it was totally worth it because she looks stunning.
The Favourite is about a frail Queen Anne (Olivia Coleman) who occupies the throne, and her close friend, Lady Sarah (Rachel Weisz), governs the country in her stead, while tending to Anne's ill health and mercurial temper. When a new servant, Abigail (Emma Stone), arrives, her charm endears her to Sarah. Sarah takes Abigail under her wing, and Abigail sees a chance to return to her aristocratic roots.
https://www.instagram.com/p/BrWaxRTlR2T/
Emma has previously revealed she is relaxed about her fitness regime, telling S Magazine, 'I'm usually a pretty peaceful person, but for some reason when I get in the gym something bubbles up in me.  I discovered I have deep-seated rage when I'm holding heavy weights over my head'.
Her LA personal trainer Jason Walsh, who created the Rise Movement, must have had his work cut out for him then.
In an interview with Healthista, Jason said the move he swears by is the deadlift. 'It's a complex movement that incorporates every major muscle group working together. It's very important', he said, alongside a sensible diet.
'I limit all sugars, and I add UDO's Choice Oil to food daily for essential fats. That's where I get my energy from, not sugar. You could lose 10lbs immediately just from cutting out sugar, and I think that, and the abundance of carbohydrates is the root to most obesity in the US. You've never heard of essential sugars and/or carbohydrates, right?!'
Stone has always been candid and honest about her hatred for exercise.
Despite her killer figure on the red carpet, Emma does go against her personal trainer's advice now and again, staying away from restrictive diets. In an interview with Glamour Stone said, 'you are a human being, you live once and life is wonderful, so eat the damn red velvet cupcake'.
Stone has always been candid and honest about her hatred for exercise. She told US Weekly in 2012, 'I had a trainer during Spiderman and I discovered I have deep-seated rage when I'm holding heavy weights over my head. Whatever dormant anger I have in me, that's where it comes out.'
Her trainer during the filming of the movies, Armando Alarcon, told Shape magazine that they trained together for three to five days a week for an hour and a half at a time. Alarcon had Stone do moves that focused on balance and core, like modified mountain climbers, lunges and push-ups.
Since training with Alarcon, Stone has taught herself to love fitness by finding forms of exercise she really enjoys like swimming, yoga and pilates. Stone's pilates instructor Mari Winsor told Self magazine that she tries to come to the gym for a session every day when she's in Los Angeles. During their hour-long sessions, Stone like to focus on firming her thighs, glutes and core.
#7 Rosamund Pike – The dedicated actress
This year, Rosamund Pike was nominated for a Golden Globe as best actress for her role in war drama, A Private War.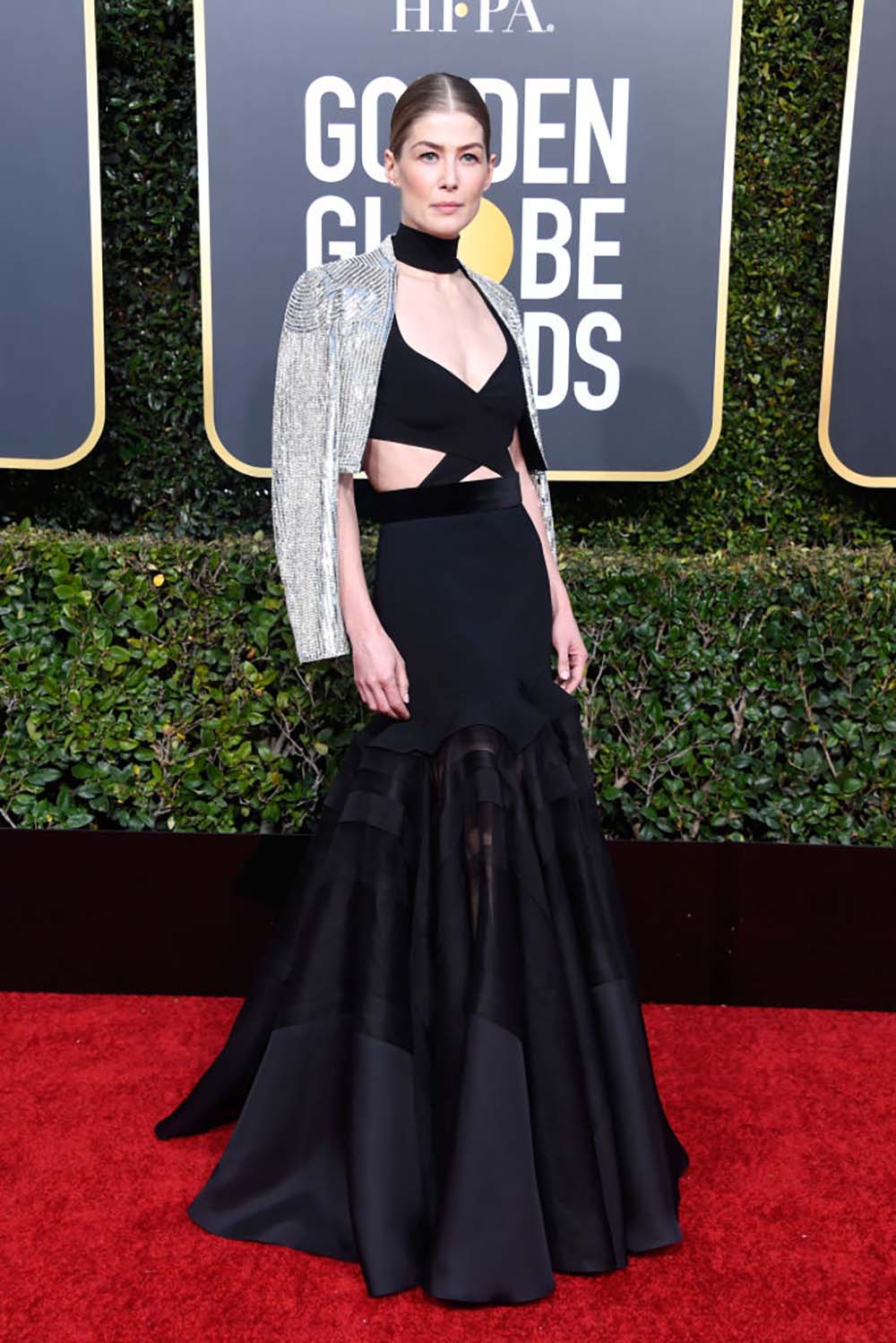 Back in 2015, Rosamund Pike stunned audiences with her amazing performance in thriller Gone Girl. The 39 year old actress had to put on and lose 14 pounds over and over again in the filming for her character of Amy Dunne. Read about our exclusive with her Gone Girl trainer here.
Pike's latest film role in A Private War is of late war correspondent Marie Colvin, one of the most celebrated war correspondents of our time. Marie Colvin was known to be an utterly fearless and rebellious spirit, driven to the frontline of conflicts across the globe to give voice to the voiceless.
For this role, Pike didn't really have to change her body per se, but she still had to change a pretty important health habit. Or should we say unhealthy habit.
During an appearance on The Graham Norton Show, the Gone Girl star said, 'I had to change everything – my hair, my teeth, my eyes, my walk and I had to learn to smoke.
Rosamund Pike revealed she smoked 'hundreds' of cigarettes to prepare for her portrayal of Marie Colvin.
Pike told Vogue, 'Marie was someone for whom everything was made better with a cigarette, so I made sure I got through at least 600 before I started filming.' Wow, now that's dedication.
This film role certainly wasn't a glamorous one, but rewarding. Pike underwent a full mental and physical transformation which included months of research, learning to walk and talk very differently, plus getting over her fear of failure.
https://www.instagram.com/p/Bp-yXDtnzs4/?utm_source=ig_embed
Well, it may have been a tough mental transformation, but it was worth it to receive a Golden Globe nomination.
For her role as missing wife Amy Dunne in Gone Girl, Pike often had to drop weight at very short notice, depending on the film's shooting schedule. Professional MMA fighters are constantly gaining and dropping weight to stay in certain weight classes, so who better to keep Pike at filming weight than Bellator (a US Mixed Martial Arts tournament) fighter Holly Lawson?
Lawson told Healthista how she used her experience of gaining and dropping weight quickly to formulate Pike's workouts and meal plans depending on whether she needed to gain or lose weight. Before slimming down, Holly made sure there was plenty of muscle there to show off. Rosamund put on eight pounds of lean muscle by lifting heavy weights. 'I had her doing squats, deadlifts, lunges, curls. Really basic stuff but at a really high weight,' Holly said. That's why her back, shoulders and arms are super defined towards he end of the film.
Then, when Rosamund had to look svelte (that shower scene), Holly changed her workout to plyometrics cycles with lots of mountain climbers, burpees and planks and had her running a couple of miles a day — by the end the film Rosamund was running up to five miles a day.
Holly's tip? Water. Drink lots and lots of water. Everyone should have three-quarters to a whole gallon every day, she said.
It's no wonder Pike was nominated for Best Performance for her chilling role as Amy Elliot in last year's hit Gone Girl.
The 35 year old worked out everyday for seven months in the run up to her leading performance, doing sparring sessions with number five welterweight female boxer in the world, Holly Lawson, stating `I have a fondness for difficulties.`
The mother of one joked that her healthy figure was the reason why she got pregnant so quickly in Vanity Fair's 2014 June interview, as she had `never been in such good shape.`
More Healthista Content:
8 proven ways exercise makes you happier
60 weight loss tips in 60 days
PMS symptoms? These 4 natural remedies will help
How to relieve stress – 3 things this TV doctor wants you to know
WIN an overnight spa stay worth £279 by taking our 5-minute survey
Do you want to experience ultimate relaxation? To be in with a chance to win an overnight spa stay for two including treatments and meals, complete our five minute survey about how your gut health affects your relationships