We've found the best plus size workout clothes from sports bars to leggings, T-shirts to tanks, flattering, fashionable but also functional
Back in June, Nike introduced plus-sized mannequins to its London NikeTown branch to advertise their plus-sized fitness range.
Safe to say this caused a divide in opinions with many people taking to social media claiming that Nike was 'promoting obesity' and pushing an unhealthy message to younger generations.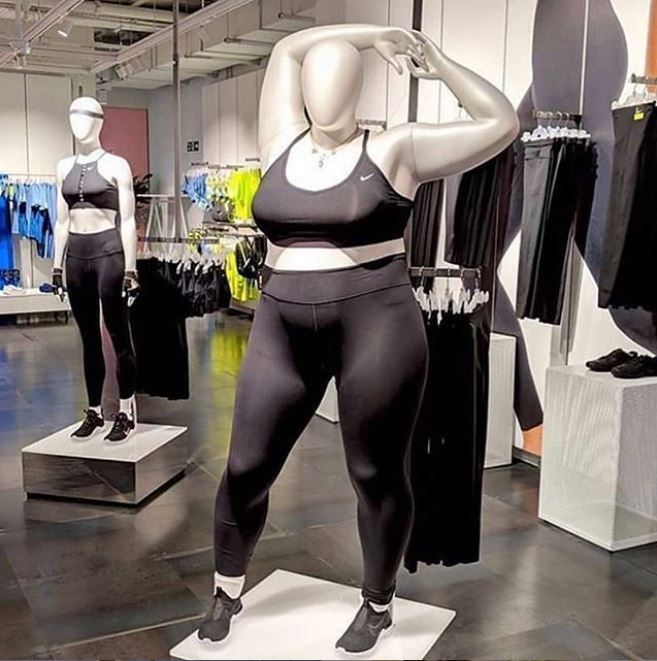 An article that appeared in The Telegraph claimed that 'obese' mannequins were 'selling women a dangerous lie'.
But this doesn't account for views from the majority. A survey conducted by Golfsupport.com revealed that 83 per cent of Brits believe more sportswear brands should follow suit and join Nike in including plus-size mannequins in their advertising.
Indeed, of the 1,424 people surveyed, 41 per cent said plus-size mannequins make them feel proactive, with a similar amount saying the mannequins make them feel inspired to workout.
Do you feel inspired by plus-sized mannequins and the promotion of plus-sized fitness? We believe that exercise is for everyone and that sports industries are right to promote inclusivity in shapes of all sizes.
Healthista spoke to Jessie Diaz-Herrera aka @curveswithmoves, founder of The Body Positive Dance Class in New York.
Jessie Diaz-Herrera has been in the dance world since she was five, but at the age of 12, her dance teacher told her she had to lose weight in order to continue with classes.
After rediscovering her passion for dance years later in college, Jessie fell in love with the way her curvy body moved.
Diaz-Herrera, who now teaches in NYC, structures her classes to suit all body types and dance levels, ensuring that the environment is judgement free, incorporating body positive talk and affirmations during the sessions to make her students feel comfortable.
https://www.instagram.com/p/B0E7j09H-Zo/
With dancing being a high-intensity cardio exercise, Healthista were interested to ask Jessie what she looks for when shopping for fitness apparel.
'When shopping for tops I look for sweat wicking material because I hate feeling sticky,' explains Jessie.
'For leggings I usually look for a thick band, that's really important for my body type (I'm an apple shape) and how I hold my weight. Honestly if your leggings don't have a strong thick band, I don't believe they are plus size friendly.
'For sports bras I want to make sure they hold my girls down while still being able to breathe and look cute. When trying on active wear for me the most important thing is that they fit right and then look at the design. Just because it looks cute doesn't mean it's just as functional'.
So with that said, we wanted to put together a round up of the best plus size fitness kit we could find for all the curvy girls out there.  From bras that hold you in place to tops that flatter your shape, we have you covered.
Supportive sports bras that actually hold you in place
First things first – sports bras, aka the most important piece of kit for all the big-boobied gals out there. I am sure you'll agree that shopping for a sports bra that actually holds you in place can often seem impossible.
Plus, not having a supportive sports bra can leave you in a tricky situation, you literally cannot workout without one and if you are wearing a not-so-great bra, workouts can be embarrassing, uncomfortable and down right miserable.
But I have good news, these sports bras are the real deal and they will not fail you.
Tip: It's usually best to go for a sports bra that's one size to small. It may be slightly trickier to get on and off but this way you are guaranteed support.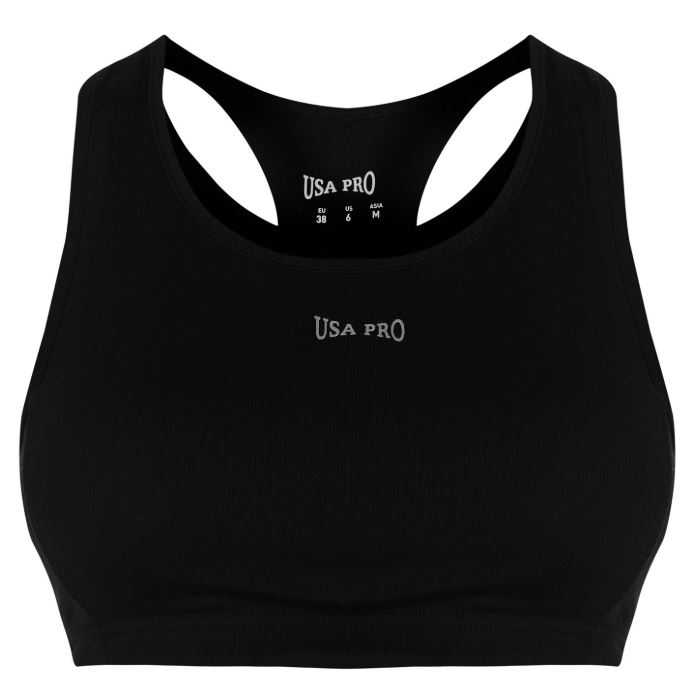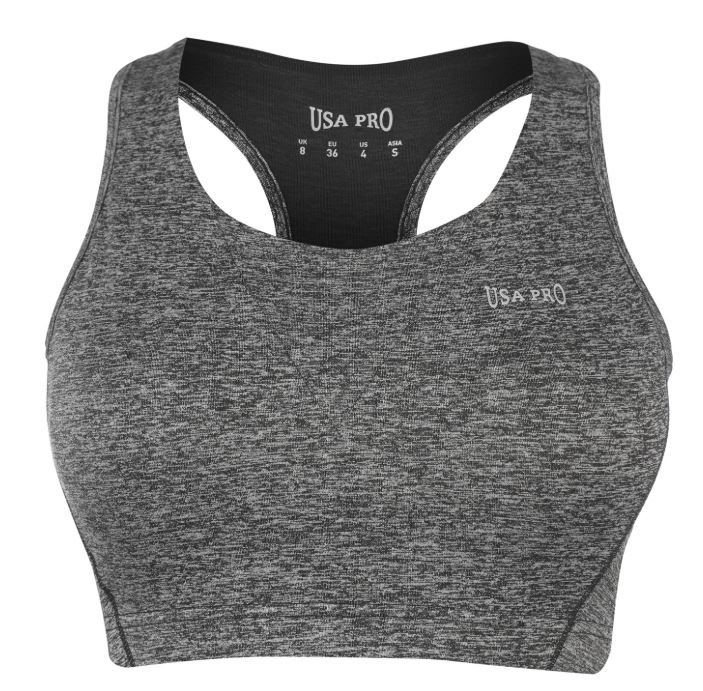 These affordable USA Pro ladies sports bras go up to a size 20, with an elasticated waist band that stretches for an easier fit, so you don't have to worrying about fiddly bra straps.
Plus the bra has padded and moulded cups – but don't freak out, the extra padding is very thin and is what provides the extra support, that makes sure you are held in place.
Available up to a size 20.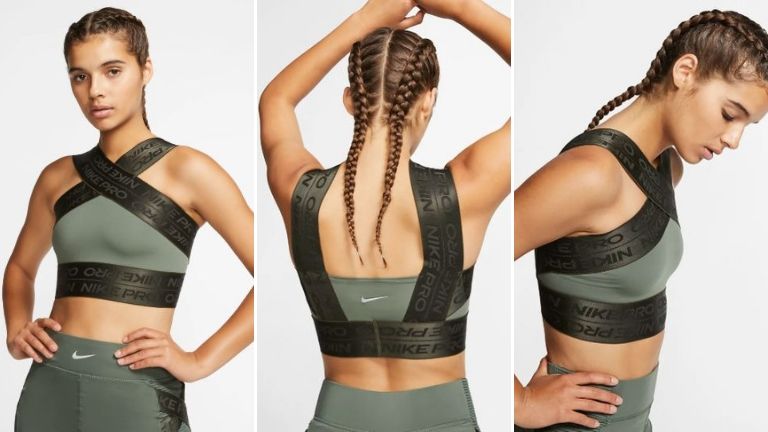 The Nike Pro Tank has bold elastic bands for guaranteed support with sweat-wicking fabric to help keep you dry and comfortable when completing a particularly sweaty workout (as we all know boobs can get pretty sweaty right?)
Plus how snazzy does this bra look? A snazzy sports bra that literally hugs your body and does the job of keeping things in place – it's the perfect choice.
Available up to a size 26.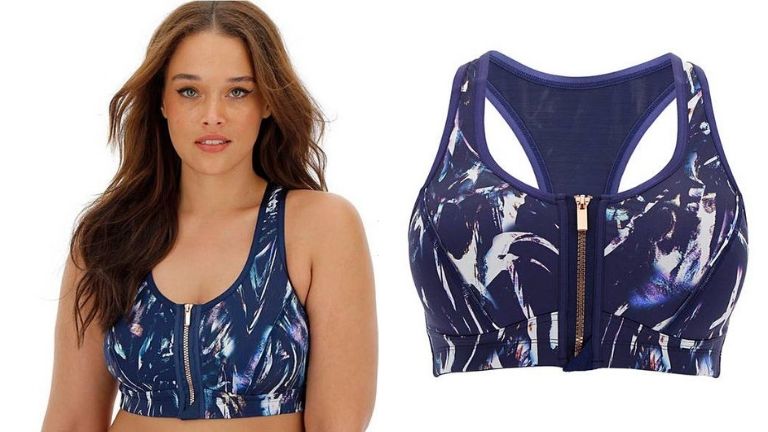 This Dorina Curves sports bar is all about ease thanks to the front zip, so there will be none of that pulling it over your head and then it getting stuck whilst in a crowded changing room – we've all been there.
Well this front zip made it to easy to quickly take on and off. This bra has a vibrant blue marble print with rose gold detailing, making it look extra expensive and trendy.
Available up to a size 20.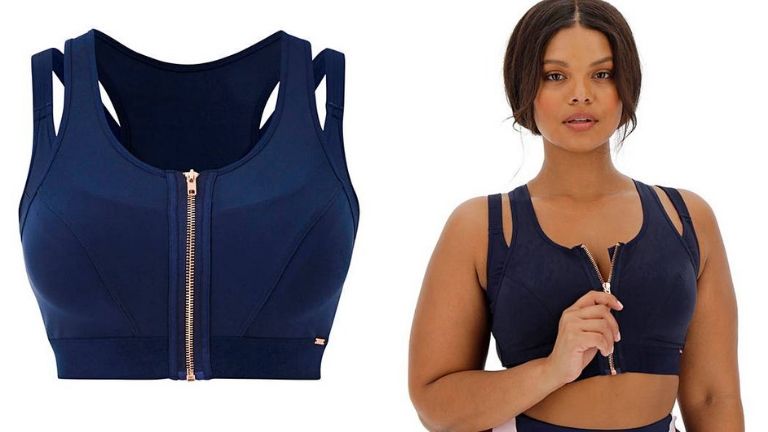 Okay I have another zip front sports bra for you, but this one has an added extra… it has two layers, I mean talk about support.
The Figleaves Curve sports bra is available in navy and black, with a rose gold front zip which looks pretty swish. It's stylish and fuctional, a perfect piece to wear with your gym gear.
Available in bra sizes 36C to 48DD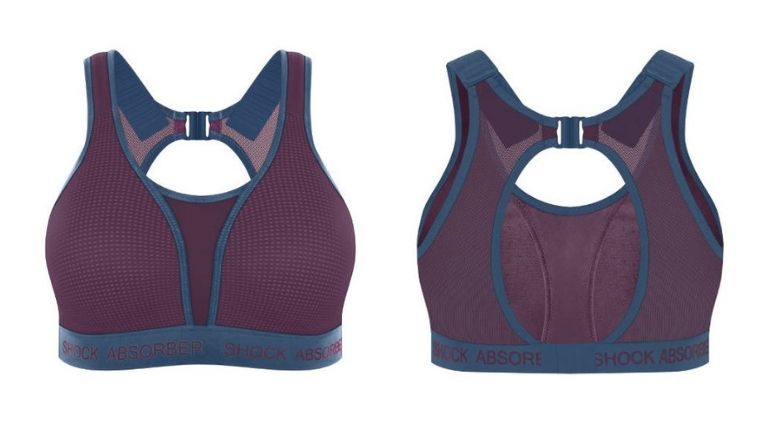 Shock Absorber has developed the award-winning Ultimate Run Bra Padded. Breast health researchers a the University of Portsmouth ensures it provides up to 78% bounce reduction.
Their extensive research also found that exercise can cause irreversible damage to breasts as they can move up to 14cm when unsupported during exercise.
The Ultimate Run Bra has moulded, padded cups that enhances shape whilst also providing you with ultimate support and comfort during your workourt.
This bra also has moisture wicking material to keep you dry and friction-free. The straps are wide, padded and adjustable with double back fastening for a perfect fit.
Available in bra sizes 30D to 38F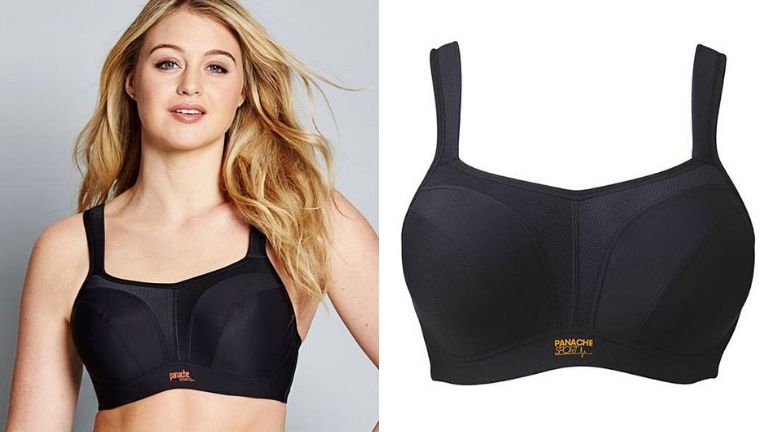 This bra is for the ladies out there who feel most comfortable with some underwire support. This underwired sports bra by Panache provides a super-smooth shape with flat seams that looks great under your sportswear.
The bra has wide padded straps unlike thin straps that tend to dig into the skin – ouch. The underwire is silicone wrapped which again adds an extra level of comfort as well as support, and is said to reduce bounce by 80 per cent.
Available in bra sizes 34D to 40GG
Leggings that won't fall down when you exercise
Next up is leggings, and finding the right pair of leggings can literally change your life. So many leggings are see-through (especially when you are doing your stretches), cut into bits they totally shouldn't cut into or just fall down constantly.
How many times have you been running on the treadmill and had to stop your awesome effort to hoist your leggings back up to where they are 'designed' to stay?
We have found leggings that will not disappoint. Get ready to squat in peace with these next recommendations…
Tip: it's a good idea to look for a thicker waistband, that way your leggings are less likely to start rolling down. Also, you really cannot beat high-waisted leggings if comfort is your main concern, they hold you in, are flattering and are less likely to fall down.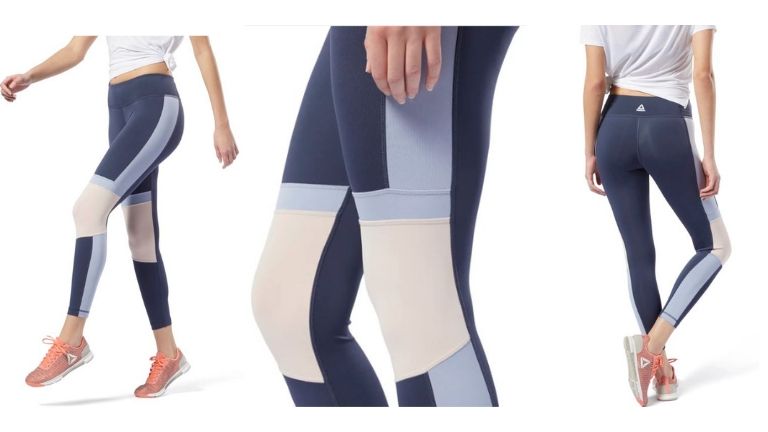 These leggings look the perfect part if your go-to exercise is pilates, yoga or barre. But they can also be used for hardcore workouts thanks to their sweat-wicking Speedwick fabric.
These leggings may not be high-waisted (they are mid-rise) but they do have a thick waist band.  Plus, they sculpt and support your bum perfectly, which encourages you do to your deepest squats and allows you to stretch until you can stretch no more.
Available up to a size 22.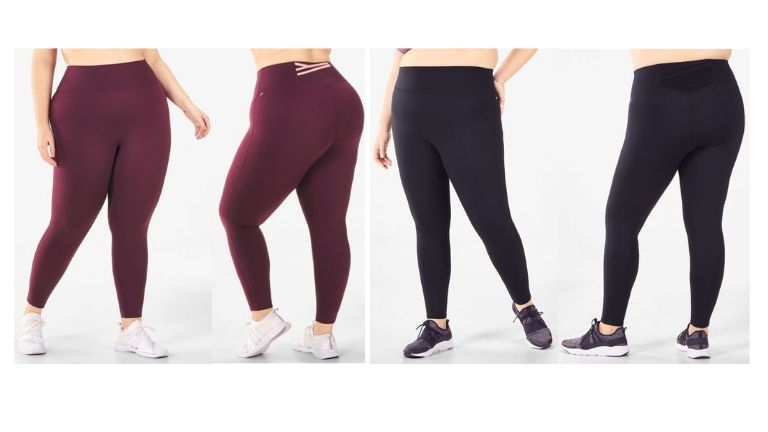 The pocket leggings from Fabletics not only have a thick waistband but are also high-waisted, double score.
These leggings are perfect for those who need pockets, these leggings have three but they are so subtle you hardly notice they are pockets, it just looks like a cool design. You can see in the picture of the burgundy leggings the light pink stripes at the back, these are the pockets.
Stretch and squat proof, pockets, mositure-wicking fabric and chafe-resistance – these leggings really do tick all of the boxes.
Available up to size 30 in both burgundy and black.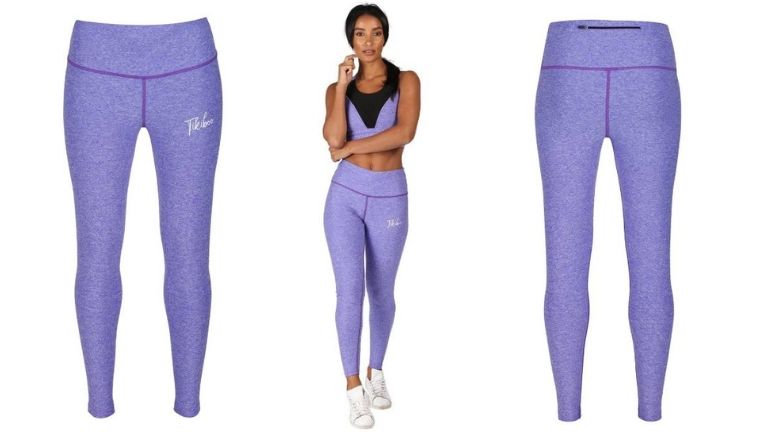 Tikiboo are known for their vibrant colours and out there designs. How nice is this purple? Tikiboo leggings offer you a pop of colour in a sea of monochrome workout attire that will help you stand out from the crowd.
The wide-waist panel is guaranteed to keep you supported, the waist-band can be adjusted as it is a drawstring, so can be adjusted for comfort. There is also a zip pocket, large enough for your phone.
These leggings also pass the squat and stretch see-through test. They are breathable and flexible and perfect for all types of workouts, especially as they are designed with flat-lock seams to limit chafing.
Available up to size 22.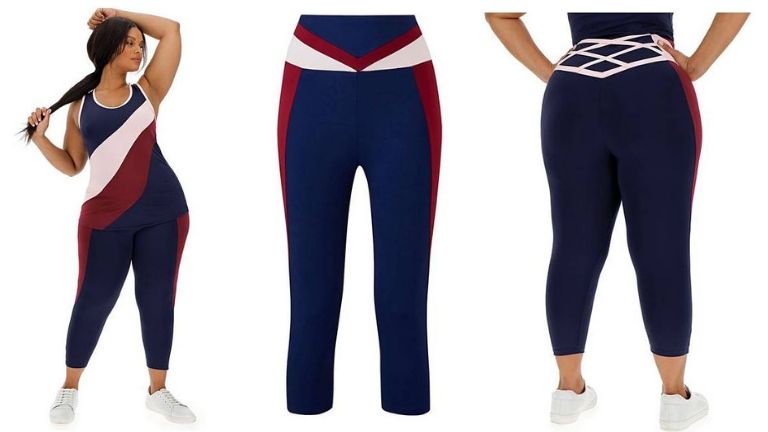 Figleaves Curve have designed these standout colour-block capri leggings with cleverly designed panels that ensure a slim fitting yet form-flattering look that will make everyone in the gym well jel.
These leggings feature colour block detail down the sides and a lattice detail on the back. The wide waist-band ensures that these leggings stay put.
Available in sizes 12 to 26.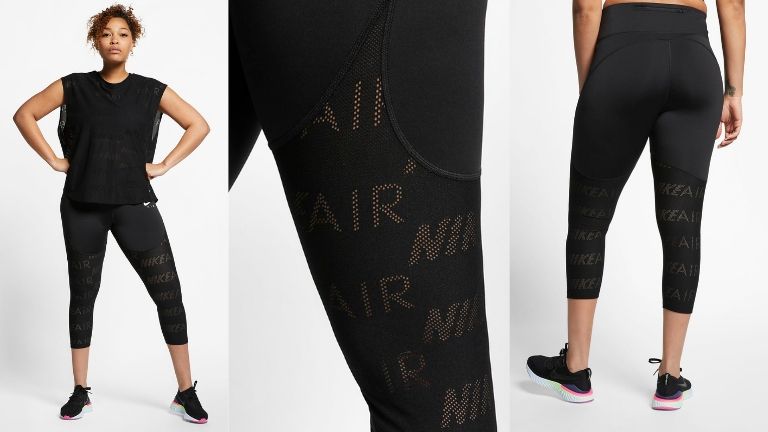 These women's running air fast crops are part of Nike's plus-sized range, they rise high on the waist while freeing those ankles, ideal for runners.
The mesh panels curve around the outer leg, giving you ventilation on the thighs and calves, but aswell as function the mesh panels make these leggings look pretty damn cool too.
They are high-waisted, with a drawstring to tighten. They will sculpt your bum like a dream, so you can ensure they will not be falling down during your morning run.
Available in sizes 22 to 32.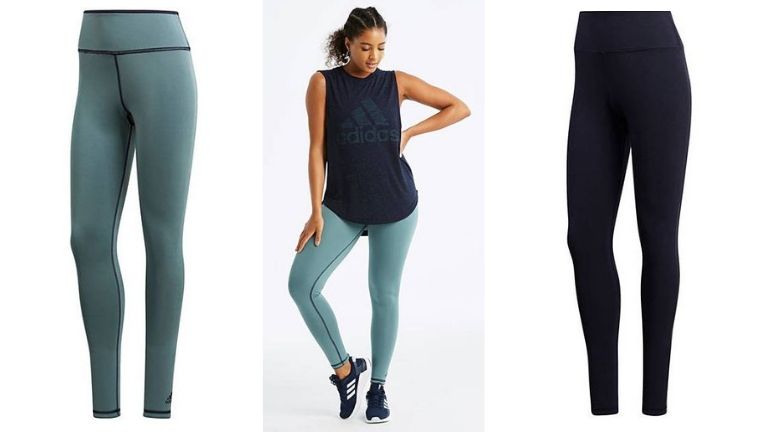 Are you someone who often wants to change things up? Does that mean your wardrobe is fulled to the brim and your drawers are overflowing with fitness gear?
Well save yourself some space (for another pair) and get yourself some of these Nike reversible leggings.
The stretchy fabric makes these leggings perfect for mobility, the fabric is also soft and smooth making these leggings perfect for Pilates or yoga.
The waist-band is once again thick and sits high on your hips offering full coverage and allowing a body-hugging fit that will mean these leggings will stay put.
Available in sizes 8 to 26.
Comfortable tops that are both flattering and functional
Baggy tops, tight tops, crop tops, tank tops – so many to choose from but which ones do the job? Often you buy a top and it looks great but then you do a workout and end up having to tuck it in the entire time, or you bend over in front of the mirror and realise you need a bigger sports bra to cover up what the top is now failing to do.
Tip: take note of the kind of exercise you do and what tops work with each. If you prefer running you will probably want a t-shirt, if you prefer HIIT clasees you may want a tighter tank top. Have a select few tops for different types of exercise rather than sticking to the same style when buying your gym tops.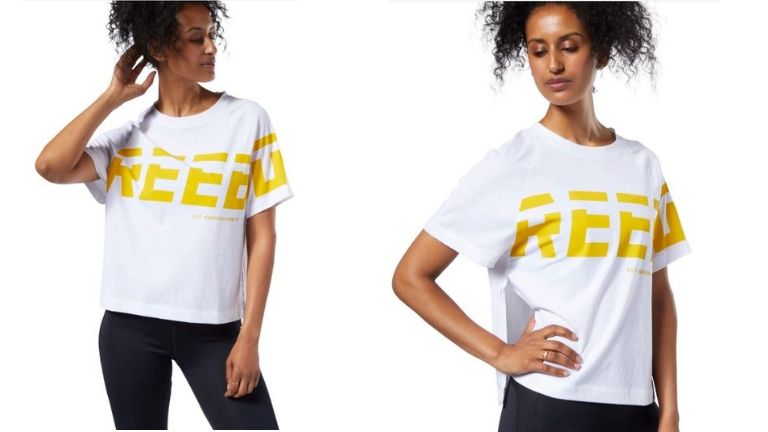 You have to have a graphic tee in your fitness gear collection, you just have to. Bold, stylish and out there this Reebok tee is soft with a loose shape that makes it oh so comfortable for all day comfort.
The tee also has slide slits, making it perfect for ease of movement and mobility, plus they provide ventilation for extra sweaty workouts. The crew-neck and relaxed fit make it a great option to wear with some high wasited-leggings, ideal for runners.
Available up to a size 26.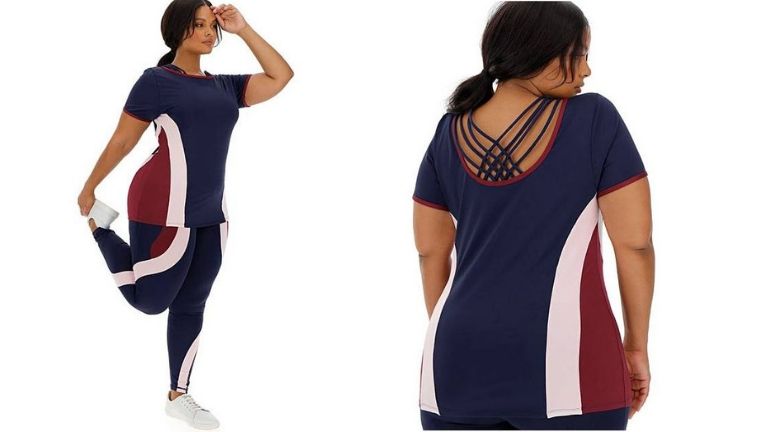 Remember the Figleaves leggings mentioned above? Well here is the top to match. This top has the same on-trend panneled design, the colour-blocking flatters your curves.
Plus, the funky strap detailing at the back gives the effect of a double layer top. Somewhere in-between baggy and tight this top is perfect for all types of exercise.
Pair this top with the Capri Leggings and you are bound to look the part.
Available in sizes 12-26.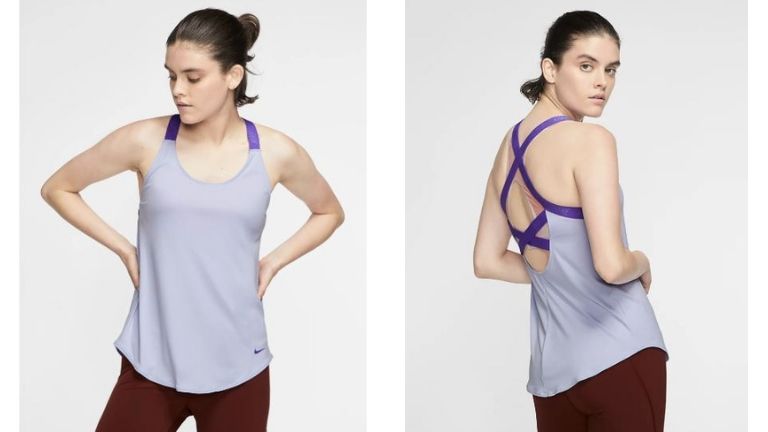 OK firstly how good would this top look with the Tikiboo leggings I mentioned before? The Nike Dri-FIT Tank is made with a super soft fabric that wicks sweat to help you stay dry and comfortable throughout your workout.
The vibrant purple straps are elastic and criss-cross at the back to let you move freely during your workout. The top is a flattering length too and a loose fit to provide ventilation.
Available in sizes 4-22.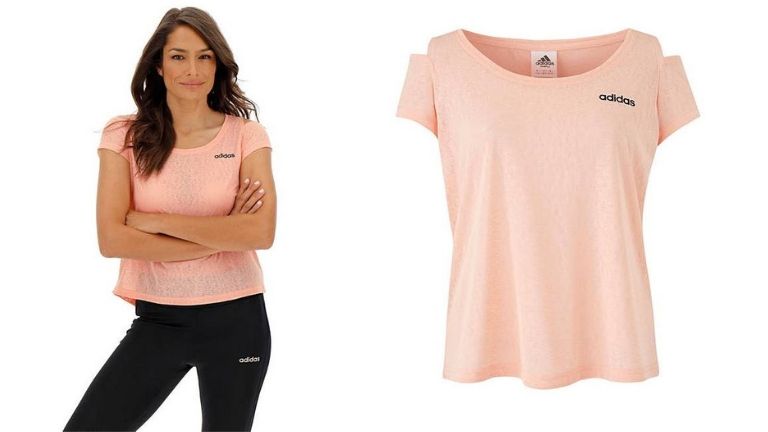 This t-shirt has cute written all over it. Whether Pilates or weight lifting is your preffered exercise choice,  this training T-shirt is designed to keep you comfortable.
In fact it's so comfortable you might not even make it to the gym and decide to watch Netflix instead – joking, don't do that.
It's made of that famous sweat-wicking fabric we keep hearing about that helps you stay dry during a sweaty workout.
Plus, the shoulder cut-outs and curved droptail hem offer a modern (and did I say cute) look with a coral colour that can mixed and matched with plently of different colours.
Available in sizes 8-26.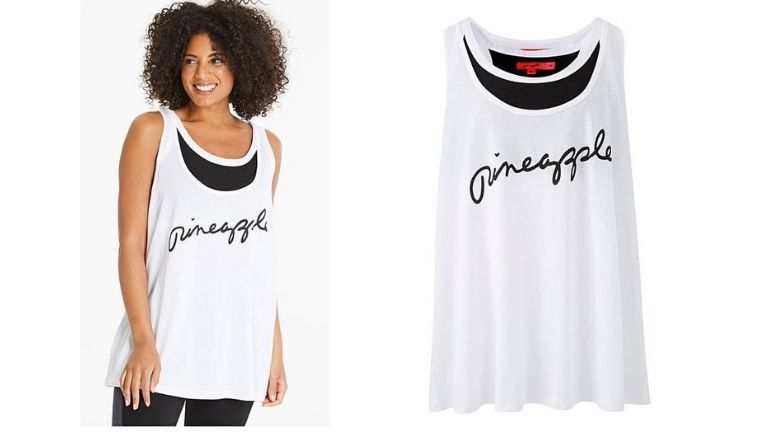 This Pineapple double layer vest is a double layer because it has an attached under bra. So this on top of a sports bra will mean your lovely lady lumps will stay firmly in place all workout.
With an extra loose fit and the brands signature logo on the chest, this piece is not one to be missed. and will probably look pretty good with a pair of jeans too.
Available in sizes 10-32.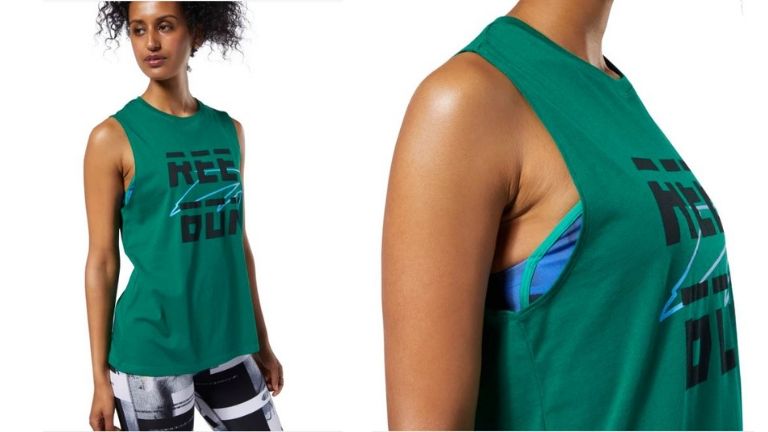 You know when something just screams cool? Well this top screams just that. The green colour, the graphic, the fit – it all just works.
The top isn't tight under the arms, giving you extra room for movement and a cooler workout. Oh and the colour is called clover green, so if you want some luck to get you through the hardest workout then this is the top you need to choose.
Available in all sizes up to 32.
Relevant Healthista Content:
20 eco-friendly fitness gear MUST HAVES
Running for fitness – 5 tips these running experts want you to know
Healthista Content you may also like:
How to run – a guide for people who hate running
Running for beginners – 7 steps to getting started
How to squat properly – the PT's guide
Periods and exercise – How to sync your workout to your menstrual cycle
Like this article? Sign up to our newsletter to get more articles like this delivered straight to your inbox.