Eco-friendly fitness gear has finally come of age this season with kit that is disarmingly beautiful and functional – as well as sustainable
Monday October 1st 2018 is a date I remember well. It was this day that the public watched in horror the BBC show Drowning in Plastic. Were you one of those shocked and disgusted people? I sure was.
The BBC documentary exposed the true extent of the crisis and it was simply frightening. Although disturbing to watch with many scenes that would make even the coldest person sob, it reinforced the serious need to raise awareness around this global issue.
right now only a teeny tiny 11 per cent of plastic is recycled
One scene saw a young seal that had died after growing up with a rope made from plastics around it's neck. As the seal had grown the rope hadn't grown and stretched with it, meaning the poor young seal died a horrific death. (WARNING: quickly scroll past the pictures if you don't want to see what happened to the poor seal).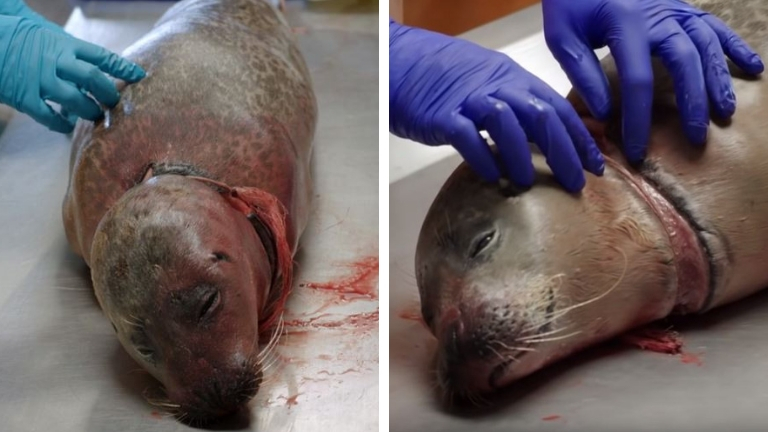 This was just one upsetting scene that the documentary highlighted. Other scenes saw birds that couldn't fly and birds that had died, because they were weighed down with too much plastic in their bellies.
Plastic has also been found at the bottom of the Mariana Trench, the deepest known place on earth. The North Pole was also found to contain plastic.
Plastic is having a negative affect on every single marine ecosystem across the globe.
Only a teeny tiny 11 per cent of plastic is recycled and for many places in the world plastic production is still their main focus. If the human race doesn't change their ways, the amount of plastic produced in 2050 will be a 500 times higher per year than it currently is.
So it's time to change folks, we need to learn to recycle the plastics we already have rather than producing new plastics.
That's why we have created a gym kit round-up, from your leggings to your water bottle that are all eco-friendly or made from recycled plastic.
Here's what we found:
La Vostra: for your leggings, sports bras and tops
La Vostra offer a wide range of luxurious, sustainable and high-performance active wear brands from the US, Scandinavia and Australia to the UK market.
One brand they offer is called Nimble Active, all the way from Bondi Beach, Australia. Nimble Active offers a range of sleek, jazzy designs with cool modern prints that use a durable and lightweight compression blend of PET (Polyethylene terephthalate) recycled from plastic bottles.
Nimble Active also uses Spandex to make their signature Compresslite Fabric that wicks away moisture making it the ideal garment to work out in.
Nimble Active will offer you flattering and supportive waistbands, fuss free seams and strategically placed mesh panels to ensure your best and most comfortable workout yet.
Lets see what they offer…
Made with Nimble Active's signature environmentally-friendly Compressionlite Fabric, that's comprised of recycled plastic bottles and spandex, these slick and best selling Lauren leggings give you the support you need for any workout at the gym, at home or completing a run, while the firm fit feels like a second skin – plus they look super sexy if we do say so ourselves.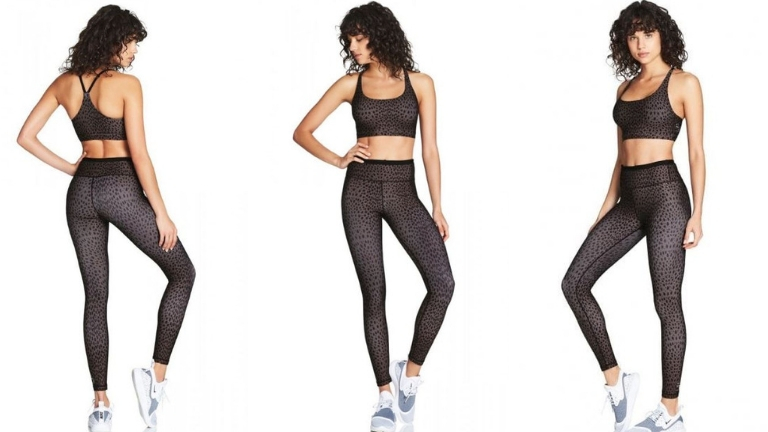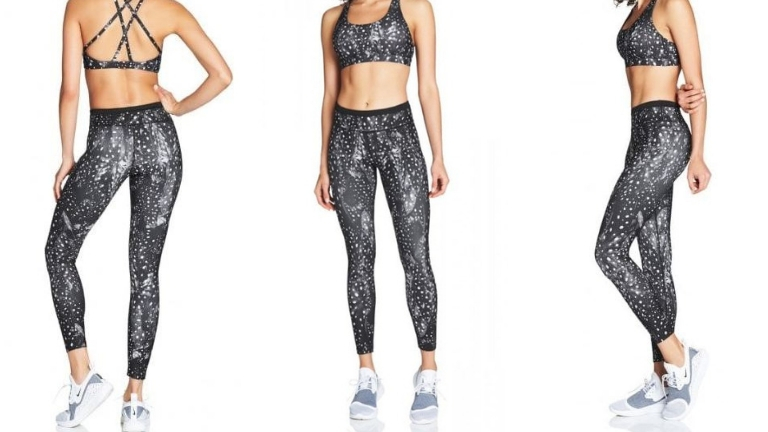 These particular leggings were tried and tested by Healthista's very own editor Anna Magee. Anna said that these leggings were so SUPER SOFT she couldn't believe they were made up of recycled plastic bottles.
Another brand La Vostra have to offer is a Swedish brand called Casall. With interesting colours and patterns these gym items are not only sustainable but stylish too.
Casall use polyamide instead of polyester. Polyamide is softer and more gentle on the skin. It's made from smooth fibres, making it difficult for bacteria to evolve. This then allows Casall to completely skip the anti-bacterial manufacturing treatment process, which can be harmful to our health and to the environment.
This flexible fitting top is made from recycled yarns. The top is light and fitted yet flexible and flattering in all right places.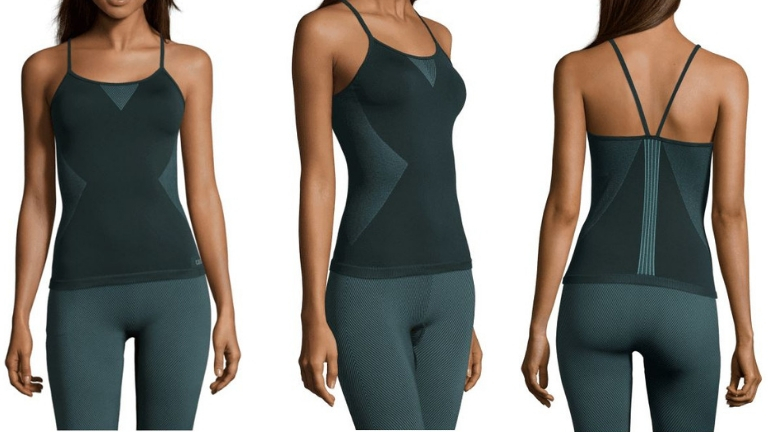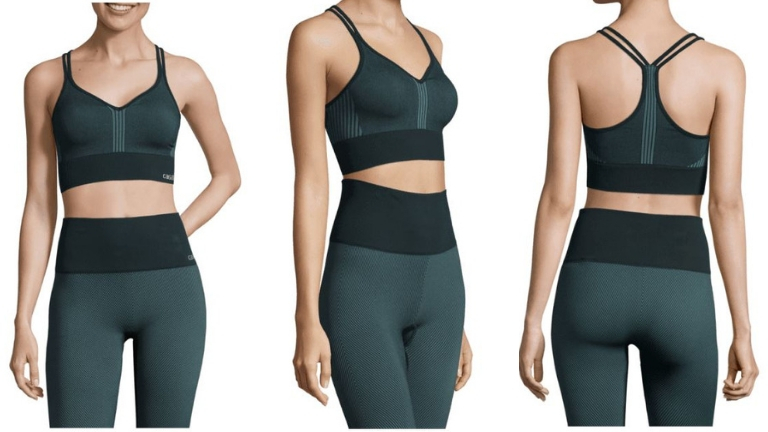 This luxuriously comfy open back sweater is made from recycled, eco-friendly fabric. This ultra-soft Wrap Sweater is perfect for just lounging around or throwing on after a workout.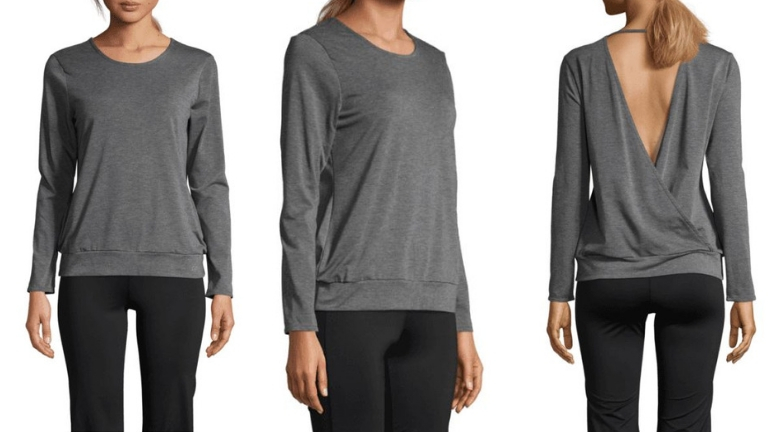 These B E A Utiful Adidas Ultraboost trainers will help you to feel the power of your best run. These shows will propel you forward with their plush boost midsole that returns the force from each foot-strike.
They are lightweight and adaptive, making them super easy to run in. This limited edition shoe has a Stretchweb outsole that provides a smooth and stable heel-to-toe transition.
Not only is this shoe stylish and functional, but Eco-friendly too. These shoes are created with yarn and features Parley Ocean Plastic, made from recycled waste that has been intercepted from beaches and coastal communities before it reaches the ocean.
Parley is the space and network where creators, thinkers, and leaders come together to raise awareness for the beauty and fragility of the oceans and collaborate on projects that can end their destruction.
By teaming up with Parley, Adidas single-handedly prevent 11 bottles from entering our oceans, with each pair of ultra-boost shoes that are created. By intercepting plastic waste on the beaches and creating long-lasting products, Adidas have been able to save the oceans from further plastic pollution.
Speedo's H2O Active Range: for a gym kit you can wear in and out of the water
Speedo's H2O Active range designed for women, is a sustainable and eco-friendly work out range. The H2O if you haven't already guessed means that the clothing is suitable to wear both in and out of the water.
The range has been designed using Powerflex Eco, which is created from 78% ECONYL® yarn, the innovative regenerated fibre turns waste from fishing nets, manufacturing by-products and even carpet into first grade nylon fabric, creating a functional fabric that's also kind to the environment.
The range contains some pretty snazzy looking pieces that the Healthista team have tried and tested for themselves, and we promise you wont be disappointed. We especially loved the H2O Active Crop Top.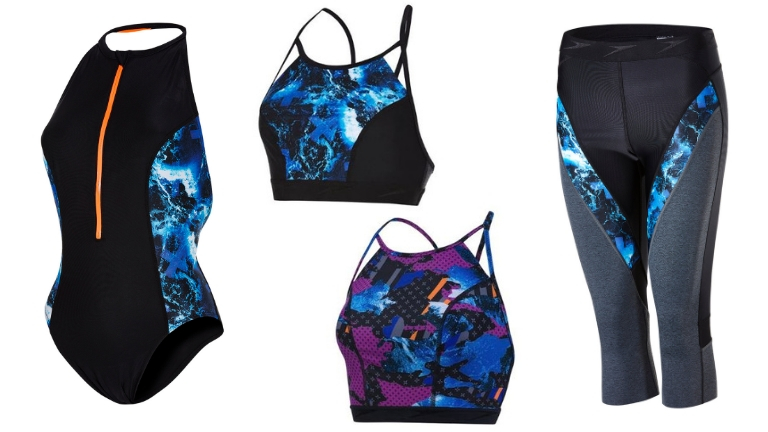 Bellum active: for your leggings and sports bras
Made with handpicked Italian fabrics constructed from Econyl® regenerated yarn, Bellum Active's high-end and high-performance fabrics offer muscle compression, UV protection, anti-piling and abrasion resistant, plus excellent coverage, whilst also being breathable – not much then.
These Bellum Active, Renew Sculpt leggings are all black with intricate gold detailing printed on. They are 65% recycled with compression fabric that is constructed from Econyl® regenerated yarn which originates from recycles materials including old carpets and discarded fishing lines.
In addition to muscular compression, eco-frindly fabric and looking oh-so-fab, these leggings also offer  UV protection, and are incredibly breathable.
I myself tested out these leggings when I tested out a running class that involved leaning to run like an athlete, running 5K. I have a lot of positives to say about these wonderful leggings. They were light, breathable, flattering and comfortable. I hate it when leggings fall down when I run, and it seems to happen all the time, but these leggings stayed where I wanted them to and did I mention how light they felt? I highly recommend.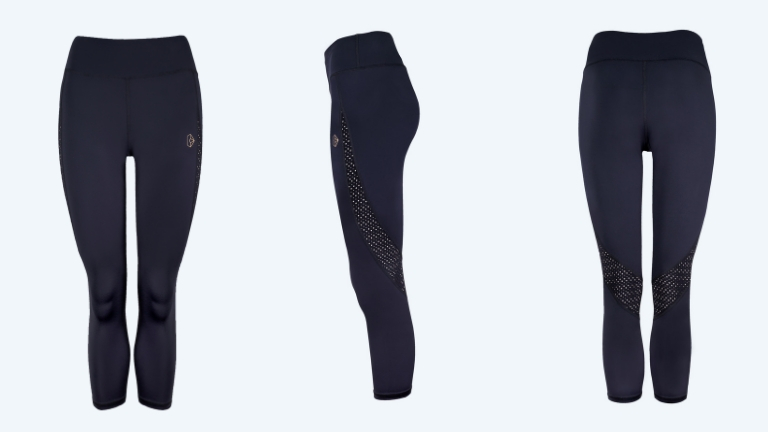 The matching sports bra is just as swanky with the gold detailing. This well-fitting bra is guaranteed to do the job whilst also being environmentally friendly and again offering UV protection.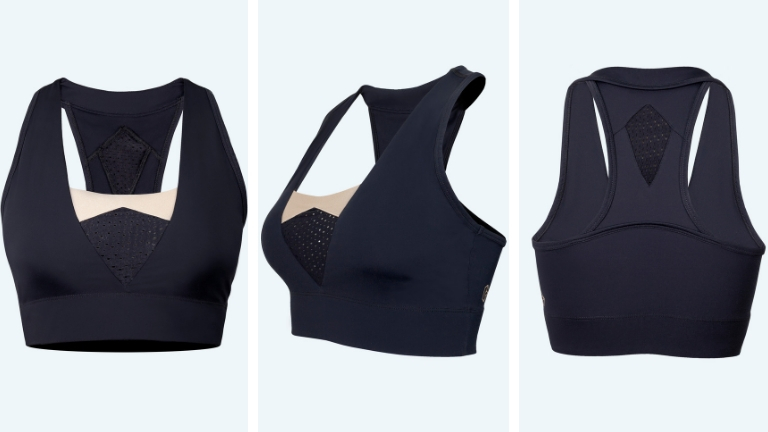 Selkie Swim Co makes its swimwear collection out of recycled post-consumer goods, such as the plastic bottles that are so often found in rivers, lakes and oceans. Their products are made from a sustainable techno fabric made with 'Econyl', this is 100% regenerated polyamide fibre.
Not only are their swimwear items made from recycled goods, their packaging is too. They couldn't be a brand promoting care for the environment and not have recycled packaging. So with that, Selkie Swim Co. use recycled cardboard boxes to send out their orders, which can again be recycled.
The women's bladeback costume is ideal for regular swim sessions in the pool or outside. Its smooth construction enhances the streamlined shape of the swimmers body. It is both fitted (with secret support in the front of the costume for added security) and flattering with the two colours navy and orange giving you a very sophisticated look.
I myself tried this costume and I was amazed at how well it fit, how comfortable it was and how flattering it was – no tightness in any unwanted places.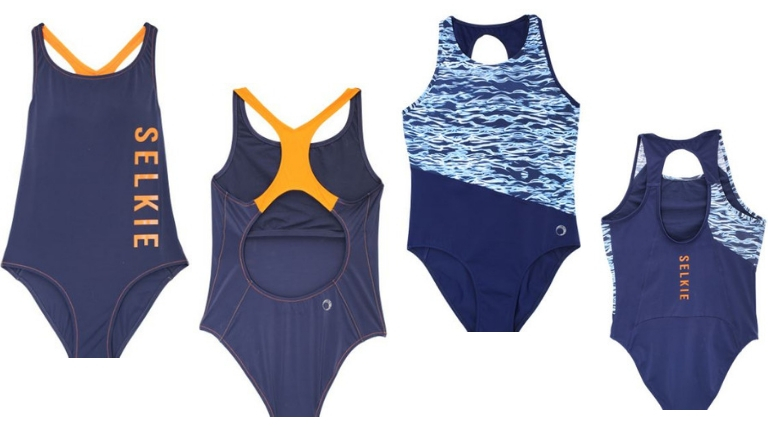 SueMe: for you workout underwear
These SueMe underwear shorties have been developed to help boost your sporting game with its soft Modal material. The Modal material is 95% Beech Tree pulp, which creates a soft, comfortable and durable fabric that means they feel like second skin. So you won't even realise they're there the next time you're working out – that could be interesting.
These underwear shorties are designed to offer optimum comfort. They are close fitting, with seams placed away from chaffing points to ensure you can focus on performing at your best.
The unique fabric technology and natural fibres also contain antimicrobial qualities to prevent the build-up of bacteria and odour.
On top of that, the fabric has been developed to be highly breathable and sweat wicking to remove water vapour from the skin leaving you cool, dry and comfortable. The shorts have been designed by the team behind an Olympic gold medal winning swimsuit, so you know tey're the real deal. If you don't believe me, maybe you should just try them for yourself.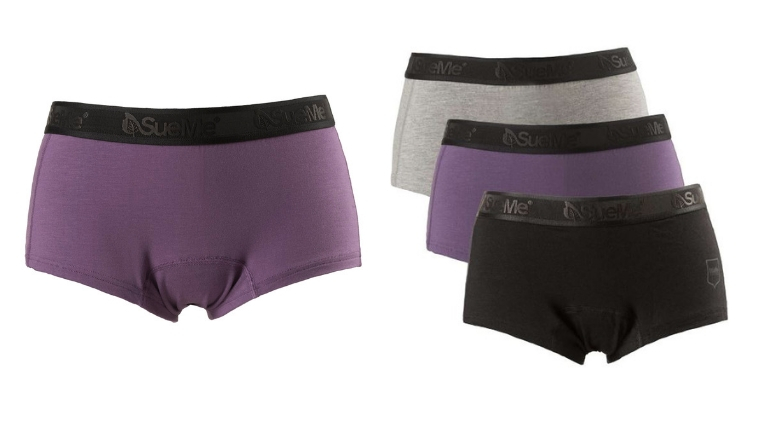 BUFF: for your must have gym accessory
BUFF are the original multi-functional head and neck-wear brand that offers a huge range suitable for any age and outdoor activity.
Have you ever been for a run during the winter and despite your sweaty and flushed face, you still seem to be cold and shivery? That's probably because your head and neck are exposed to the cold – you may feel hot but your body is cold – maybe that's why you keep getting sick. Hmm.
BUFF combines innovative 4 way Ultra Stretch fabric that is environmentally friendly as they are made from recycled polyester microfibre that's made from clear plastic bottles. In fact one original BUFF is made from two plastic bottles.
There are also a dozen ways you can wear the Original BUFF. It can be worn as a neckerchief, headband, wristband, mask, hair-band, balaclava, scarf, headband, scrunchie, saharaine, pirate cap, beanie and bandana – you name it, you can probably make it.
This video will show you how it works: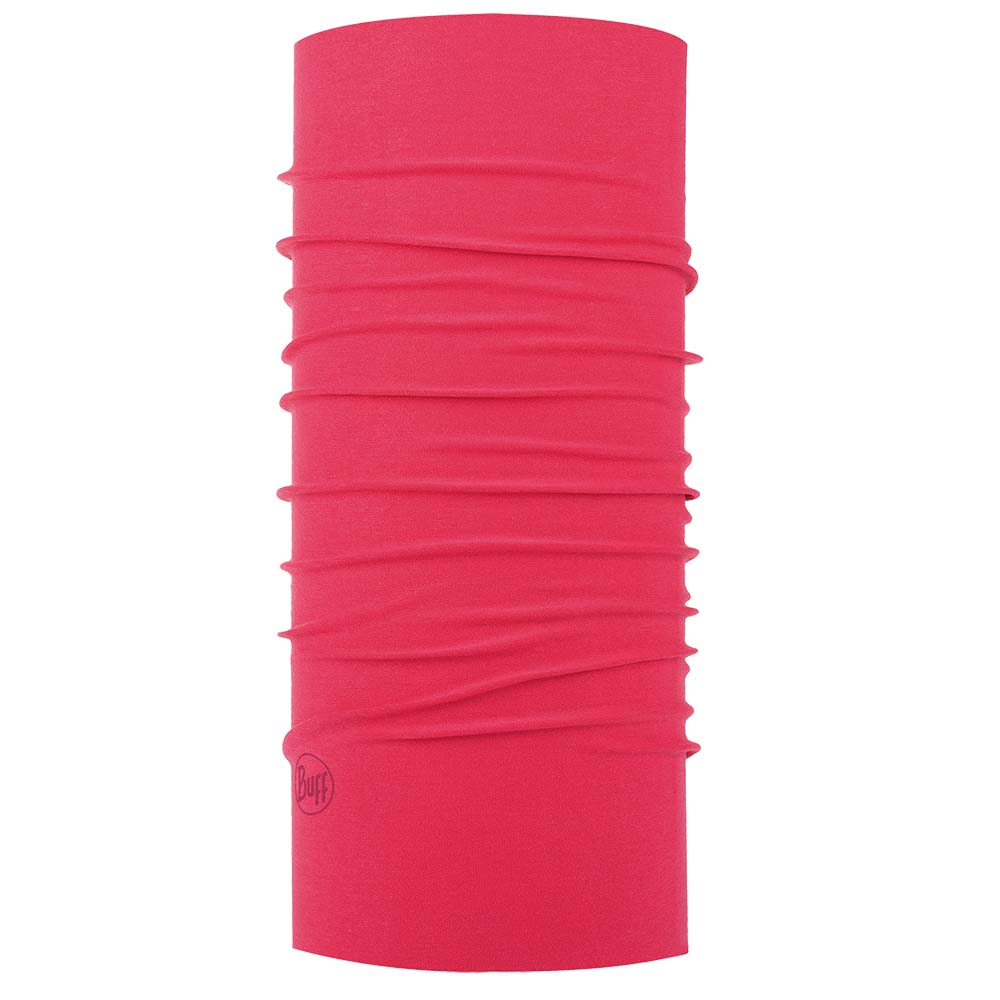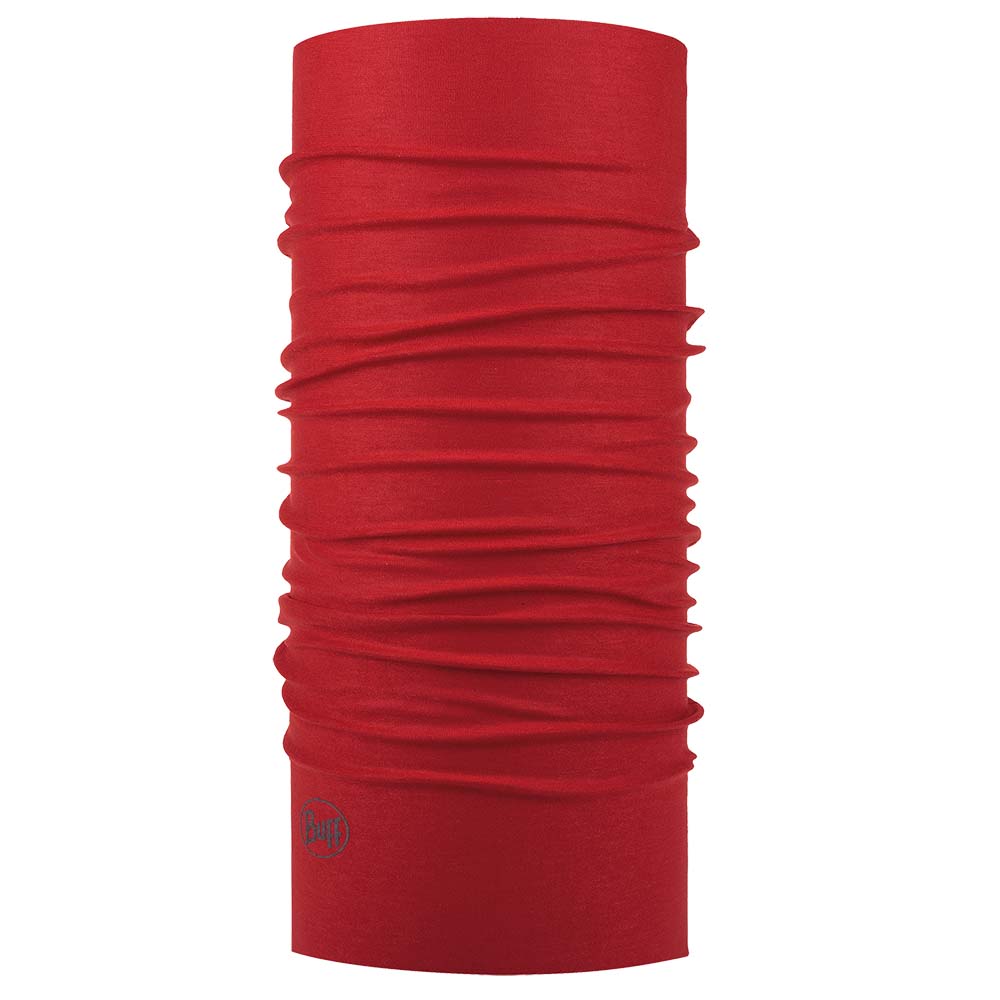 Hydro Flask: for your water bottle
The Hydro Flask and the Hydro Flask's 21 oz Sports Cap will keep your iced water chilled all day thanks to the TempShield vacuum insulation.
The bottle also has a proprietary powder coating, which gives Hydro Flasks their bright and gorgeous colour. The bottles also give you an increased grip meaning it won't slip out of your sweaty hands – bonus.
Where the part of Eco-friendly is concerned, Hydro Flask products are BPA and phthalate-free. Growing scientific evidence suggests BPA and phthalates may be associated with a variety of health issues, including hormonal and developmental problems. BPA can leach from plastic containers into foods and beverages, especially when they are heated, or used for long periods of time.
So it's pretty important that you start using bottles like Hydro Flask to protect yourself and the environment. Plus these bottles are reusable and recyclable which is as we've seen, what we need to start aiming to use.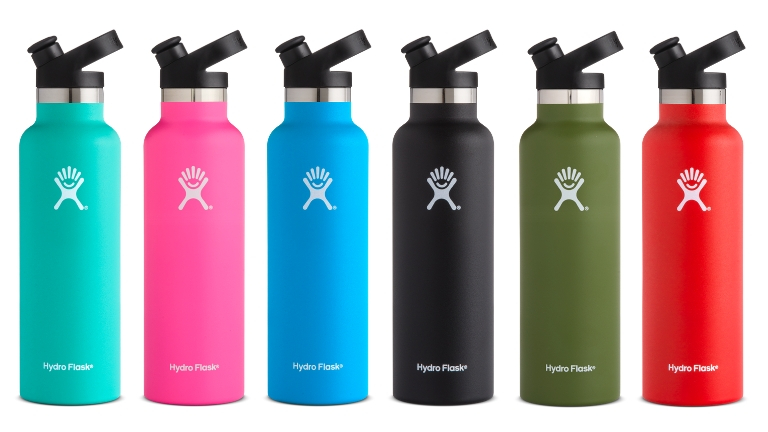 Dakine: for your gym bag
These three gym bags are made with 600D recycled polyester that's made from recycled plastic bottles.
These bags are perfect for those who like an organised but pretty full gym bag. Plus they have a lovely flowery print called 'Winter Daisy' that makes these dark and cold winter days that little bit brighter.
I don't know about you, but I take a lot to the gym. Hair products, cream, a swimming costume, lip balm, razor, exfoliating glove – you name it, it's probably in my gym bag. I tested out the Tote bag and the Travel kit. They were both the perfect size for all of my gym gear. Plus the bags are full of little pockets and spaces to keep small bits and bobs that normally get lost in big huge bags – I would highly recommend these gym bags.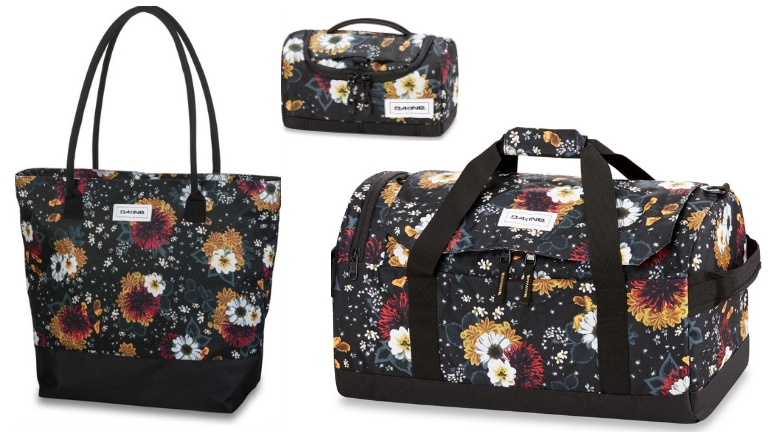 More Healthista Content:
This London boxing class will have you punching for joy
Celebrity trainer secrets: PT to I'm A Celeb's James McVey reveals how he got him jungle ready
'I was addicted to my alcoholic partner'
Walking as therapy – 5 reasons Britain's favourite nature presenter loves it
Like this article? Sign up to our newsletter to get more articles like this delivered straight to your inbox.