Olivia Hartland-Robbins fights fierce in the stress-relieving, metabolism-boosting and muscle-burning boxing class that is 'Flykick'
A signature Flykick class is a 50 minute feel-good workout that involves both boxing and a HIIT workout. So yes its exhausting but oh my, is it fantastically fun.
Flykick can be found on Euston Road just a two minute walk from Great Portland Street station. You don't need a membership to attend Flykick classes, you simply create an account and then pay for classes as and when you want to go (or if you are feeling particularly angry and need to punch something legally).
When I heard that Flykick was boxing, I thought it would be dark, sweaty, sticky and masculine. But walking into reception, I felt like I was walking into a place where all the 'cool kids' would hang out. It was white and blue, bright, shiny and clean. Not what I was expecting for a boxing gym at all, light and bright rather than dark and intimidating – I loved it.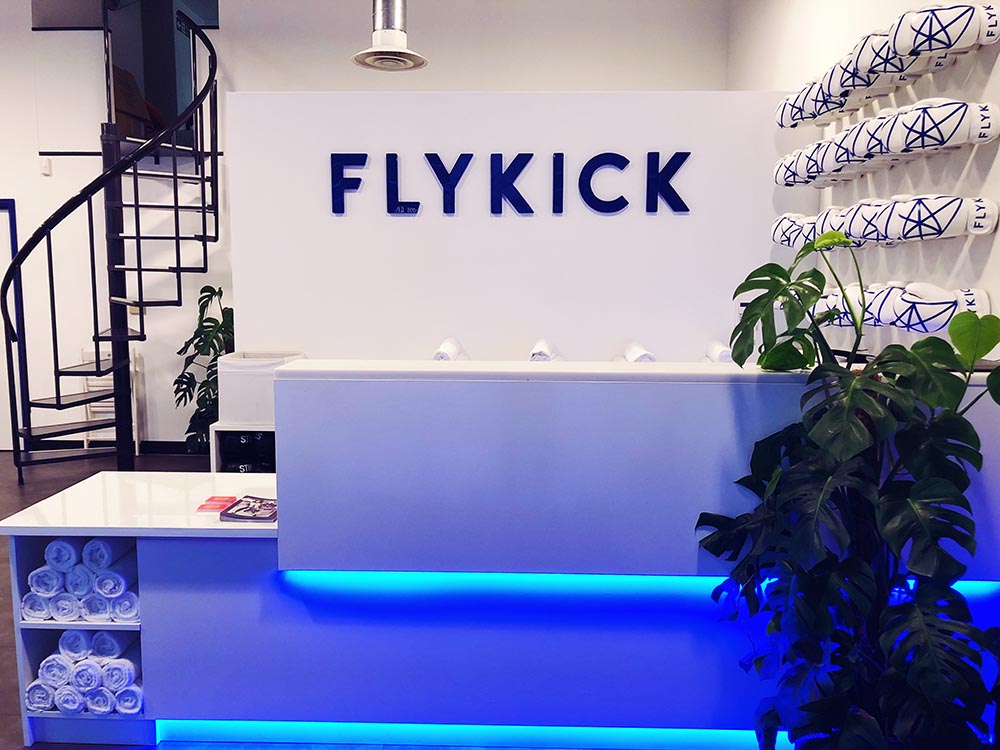 I was handed my swanky Flykick gloves, wraps and a sweat towel (first sign it was going to be sweaty work) and shown to the changing rooms which were also very white, bright and clean. Being new to boxing I came out in my gym kit with my trainers on – as you do. I was then told that Flykick classes are done barefoot or if you really must, socks are allowed too. Luckily my feet were in a decent pedicured condition thank goodness.
I put on my 'wraps' which are a requirement at Flykick as they help to keep the fist in proper shape and support the wrist by keeping it aligned while you're delivering a punch.
Time for the Flykick class…
Pain factor: 3/5
Fun factor: 100/5
Intimidation factor: 2/5
Sweat Factor: 4/5
Best for: Beginner, intermediate and advanced
I entered a dark room, lit up with blue lights all the way down to the end, that showed rows of free standing punch bags that were taller than me (not that that's hard) on either side of the floor.
Our teacher introduced himself as Anthony and explained that we would be doing a warm-up followed by a HIIT workout which he quickly mentioned was going to be hard-going, then we would be able to put our gloves on and get to the boxing.
We each stood next to a punching bag and faced a partner for our warm up. Then it was time for the HIIT, was as fun as HIIT can get I guess, but still hard work. This involved four sets of two 30 second intervals that we repeated three or four times. Push ups, squats, lunges, jumping squats, tuck jumps, burpees and mountain climbers – you name it, we did it.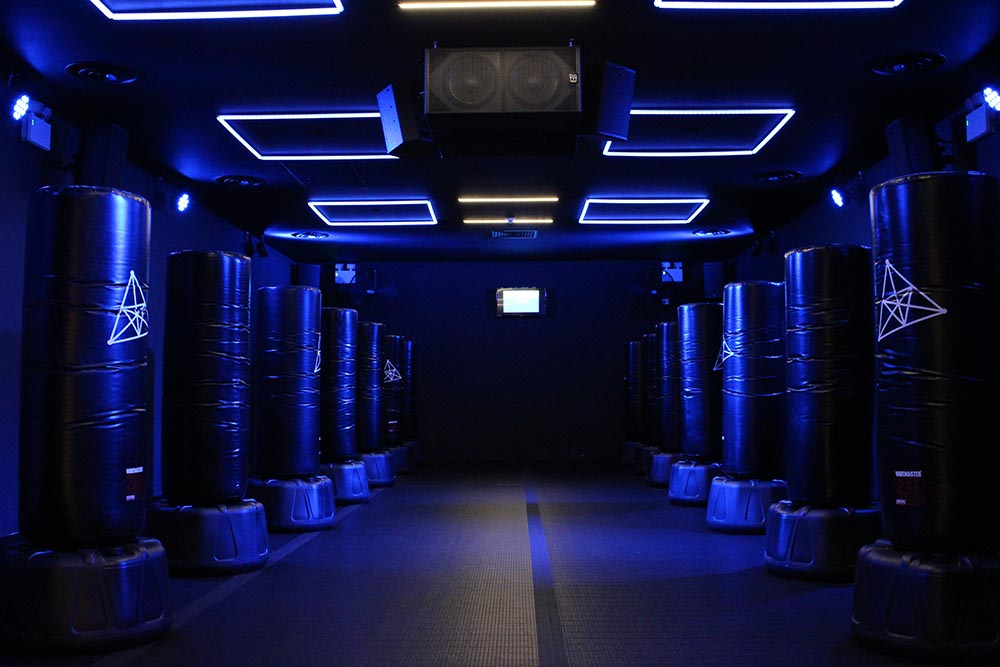 We got to have a little stretch after the HIIT workout which I definitely needed if I was going to be kicking and punching for my life. I wasn't worried that I wouldn't be able to do the boxing because how hard can it be to punch a bag right? But I was worried that I would tire quickly whilst others were still throwing punches but this wasn't the case at all.
I wont lie, I was very tired and rather sweaty but I clearly had some anger or aggression that had been building up because I would not and could not stop punching and kicking the poor punching bag. In fact Anthony had to keep coming over and move my punch bag back to its original position – oops.
Anthony showed us a routine that developed from a jab and punch to a jab, punch, hook then kick etc. He timed us each time but I was having too much fun to take notice of how long each set of punching took, I do think it was around a minute and a half though.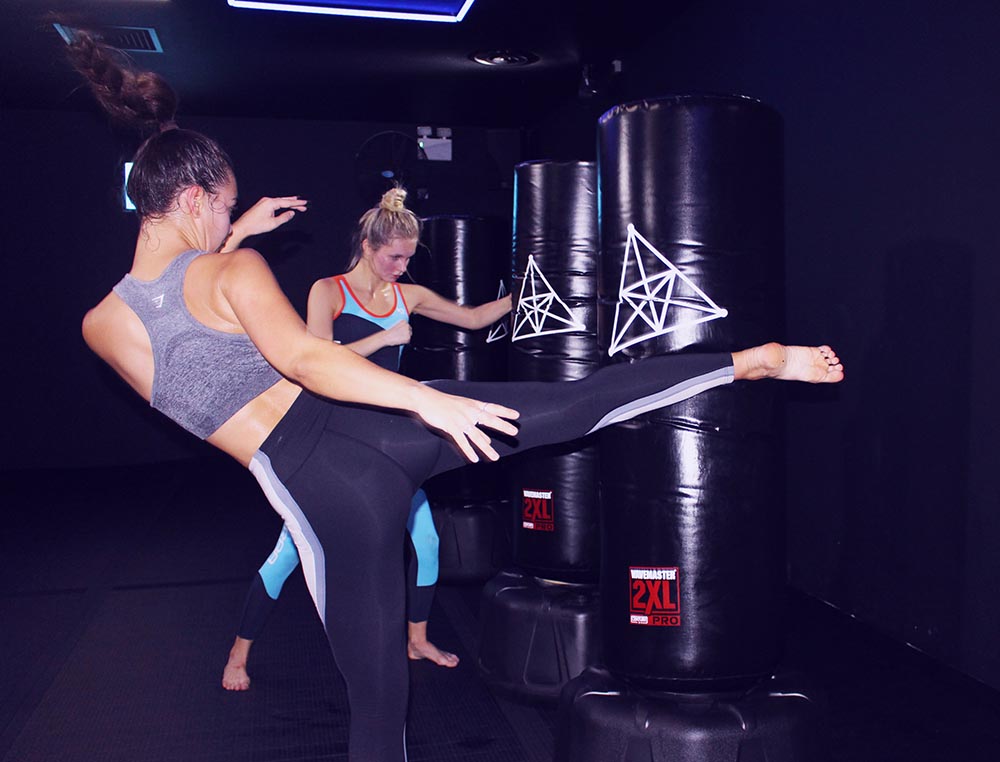 I couldn't quite believe how much fun I was having, I was actually quite annoyed I had to keep stopping to catch my breath. Because the room was dark it felt like it was just you and that punch bag, that's probably the reason I went for this poor punch bag or it could have been the fact that I may or may not have been imagining someone who has done me wrong.
Looking around everyone seemed just as passionate about punching the bags as I did, and it was good to see that I wasn't the only one who was a sweaty mess – as per usual.
3 things I learnt:
#1 I'm not as weak as I thought. I think I used and abused those punch bags as much as I possibly could.
#2 People wear wraps under boxing gloves – this just proves how new I was to the whole thing.
#3 Boxing is a full body workout. It took a couple of days to feel it, but boy did I feel it my arms, legs, tummy and my hand – weird I know.
Would I go back?
Hell yeah! I can't wait to go back, I plan on going at least once a week – sorry punch bags.
Vist their website to sign up for your class now: www.flykick.co.uk
Follow Flykick on Instagram: @flykick
More Healthista Content:
I asked my exes for dating advice and this is what happened
Celebrity trainer secrets: PT to I'm A Celeb's James McVey reveals how he got him jungle ready
5 surprising reasons you aren't losing weight
Walking as therapy – 5 reasons Britain's favourite nature presenter loves it
Like this article? Sign up to our newsletter to get more articles like this delivered straight to your inbox.