Female boxing is hot on trend with boxing boutiques and sparring celebs popping up everywhere. Here's why – plus, the launch of Healthista's new Boxing School video series in collaboration with BXR London
Has anyone noticed just how HOT boxing has become? In recent years boxing seems to be everywhere, with an abundance of celebrities saying it's their favourite way to keep fit.
Dua Lipa, Angelina Jolie, Khloe and Kourtney Kardashian, Eva Mendes, Gigi Hadid, Adriana Lima, Caroline Flack, Shay Mitchell, Ellie Goulding, Demi Lovato – the list is endless. Female celebs just can't get enough of hitting stuff.
Plus, boxing is an intense full-body workout and they all have figures to keep. Maybe boxing is their secret to a hot body?
Here's 23 year old superstar Dua Lipa training with professional boxer Sohail Ahmad at Healthista favourite boxing boutique BXR London.
https://www.instagram.com/p/BSar9bGFNsl/?utm_source=ig_embed
The rise of female boxing
Nowadays when someone says boxing, the image of a man in a boxing ring with a bloody face and a black eye is no longer the first image that comes to mind (except for maybe the image of Mark Wahlberg in the film The Fighter – amazing).
'Women' and 'boxing' are two words that no longer sound odd if used in the same sentence. In fact women's participation in boxing and other fight styled sports has risen dramatically in recent years.
In fact, today in Philadelphia around 11pm UK time, Ireland's Katie Taylor will be fighting US Rose Volante
The 2012 Olympic Games were the first ever to include women's boxing, with Nicola Adams winning a gold medal for Great Britain.
The US, MMA fighter Ronda Rousey is also a well known name after making headlines with every single fight, and becoming one of the most talked-about fighters in the Ultimate Fighting Championship (the largest fighting promotion company in the world).
Her reason for making headlines? Her fights rarely ever lasted more than two minutes – she's that good.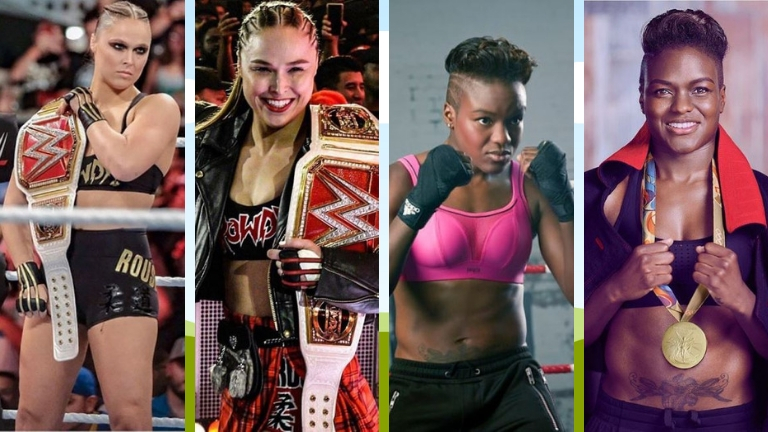 The most recent female boxer to make headlines is 32 year old Irish boxer, Katie Taylor. She is currently a lightweight female world champion, having held the WBA title since 2017 and the IBF title since 2018. As of January 2019, she is ranked as the world's best active female lightweight boxer.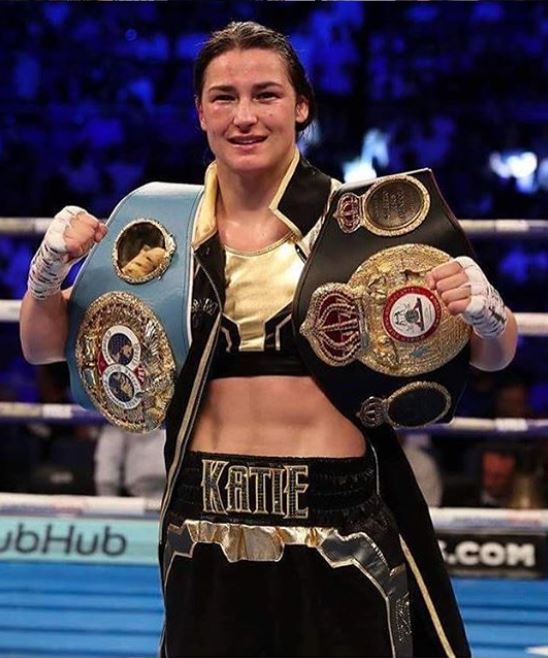 Over the course of her very successful career, Taylor has managed to bring a heap of gold medals back to her hometown in Ireland from fights in the European Championships, Olympic Games and the World Championships.
Unlike some Irish boxers who have caused quite a lot of controversy (*cough cough* Conor McGregor), Taylor has remained an extremely positive role model to young people, especially to young women, showing them just how far they can get in what used to be considered a male-dominated sport.
Taylor has been hailed as the best female boxer that ever lived both inside and outside of Ireland and she is still living up to that title.
In fact, today in Philadelphia around 11pm UK time, Katie Taylor will be fighting Brazil's Rose Volante. If you have Sky Sports you will be able to watch Katie Taylor in all her fighting glory.
If Taylor wins this fight, she will create history by becoming the first Irish fighter to simultaneously hold three World Championship belts, and become the undisputed World Lightweight champion – wow – imagine having that title. What a role model – you go girl!
https://www.instagram.com/p/Bu1x6udHho6/
The rise of the boutique boxing gym
Due to such a rise in popularity, boxing gyms are popping up all over London. Boutique boxing gyms help you to train like a boxer, without actually finding yourself in any real physical fights, because who would want that after a long day at work.
This is particularly perfect for those who are slightly nervous – hitting a bag is far less nerve-racking and intimidating than hitting an actual person.
Boxing gyms are set up to take people from a beginner level to a more advanced stage, so if you are worried you'll be the only one there who has never boxed before, think again.
Oh and don't worry about what other people in your class are thinking – they'll be just as busy as you, worrying about what they're doing to judge you or anyone else.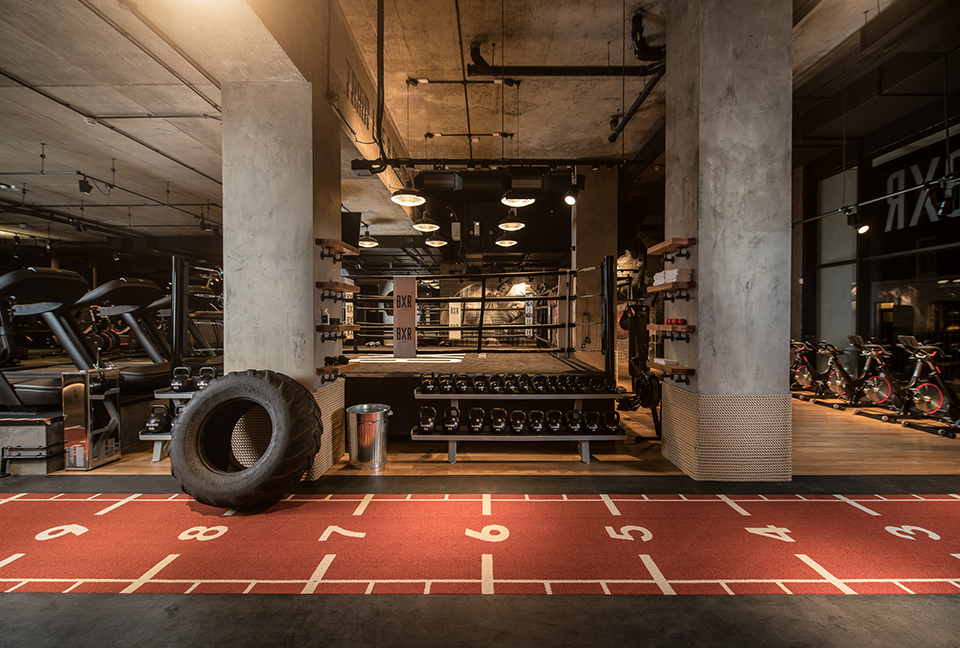 One cool London boxing gym that seems to stand out from the rest is Healthista favourite BXR London. The luxury boxing gym was launched in January 2017 and is located in Marylebone, London and is owned by the brothers of supermodels Jourdan Dunn and Rosie Huntington-Whiteley.
BXR is also known as 'the Anthony Joshua gym'. The Olympic boxing champion is an investing partner who has said that, 'BXR is a passion project for me. I want people to train like I train. We have pulled together the best coaches, medical team, and equipment in the business and brought the ring to Chiltern Street, offering state-of-the-art training facilities for anyone who wants to join'.
Classes at BXR are lead by a group of elite trainers who are at the top-of-their-game. Boxing coaches, current professional fighters, ex-champion boxers and strength and conditioning coaches, that way you can cover all fitness bases under one roof.
BXR is also known as 'the Anthony Joshua gym'.
BXR's tagline is 'Train Like a Champion', so don't expect to go there if you want to go for a light jog on the treadmill and hang around for a relaxing chat in the sauna (which they do have by the way, along with a steam room).
BXR is swish: polished concrete, open space, a picture of Mohammid Ali painted on the wall, a glass cabinet containing boxing gloves signed by World Champion Anthony Joshua and pristine equipment.
Athletic authenticity and ultimate luxury is not an easy combination to achieve. But with bright luxurious changing rooms, a lounge area and a full sized boxing ring at it's core, BXR has managed to do just that. It really is well worth a visit just to see the place, designed by a top award-winning interior design company called Bergman Interiors.
Check out BXR's membership options here.
Healthista does boxing school – starts today
If you've been reading this and have decided that you would love to try boxing then stick with us.
Healthista have done something very cool – just for you.
We've teamed up with BXR (an obvious choice) to bring you ten 'Boxing School' videos with BXR's head boxing coach Gary Logan.
A former champion boxer himself, Gary has trained top clients, including a number of celebrities, since he retired from professional boxing. Gary knows his stuff, and although he can be strict he also makes sure you have a great time and learn loads from your experience – so naturally he was the perfect choice.
Gary's mantra is 'it's all in the details', which is what our new Boxing School series will focus on – how to execute the details of correct boxing technique correctly.
From footwork to stance, keeping your guard up to balance, each working day for the next ten days, we will upload a new video adding a boxing lesson to your repertoire – videos will cover techniques for stance and balance (today), hooks, upper cuts, defence and more. If head boxing coach Gary Logan can't teach you how to deliver a punch fit for a professional fight then no one can.
See here for the first video: Boxing School Lesson One – Stance and Balance
https://www.instagram.com/p/BQyRgNyFi6e/
What you'll need…
If you've signed up for your own boxing class and are unsure what to expect here are some things you will need, other than sheer determination and the motivation to hit as hard as you can:
A pair of trainers
A good sports bra
Comfortable training clothes
Boxing gloves (most clubs will lend you a pair on your first visit but bare in mind these will have been worn many times before)
Wraps (available online or from most sports shops).
More Healthista Content:
How to be happy everyday – 7 surprising things that really help
How to calm down in 60 seconds
Tess & Claudia's 'Danceathon' training – Professor Greg Whyte reveals how they got fit to dance for over 24 hours