Looking for a bra that will keep you in place during your sweatiest, most vigorous workouts? Healthista has tried and tested the best sports bras for high impact cardio
Do you ever find yourself working out at the gym and just not getting the support you need from your bra? Working out without the right support can increase the risk of developing back and breast pain, not to mention add a lot of unnecessary discomfort during your workout – and while pain is gain, we don't need any more discomfort than necessary. Healthista has tried and tested some of the best sports bras for high impact cardio.
MORE: 5 best sports bras for large breasts
When you think of North Face your mind might spring to big waterproof jackets and walking boots but this sports bra proves that there is so much more to this brand. This reversible bra is designed specifically for high impact workouts. It uses high-stretch elastane fabric and North Face's signature fast drying technology to keep you comfortable while you work out. North Face say that this fabric is high stretch whilst also being compressive and supportive. One thing for sure is that with it's on-trend pastel hues it's certainly pretty to look at.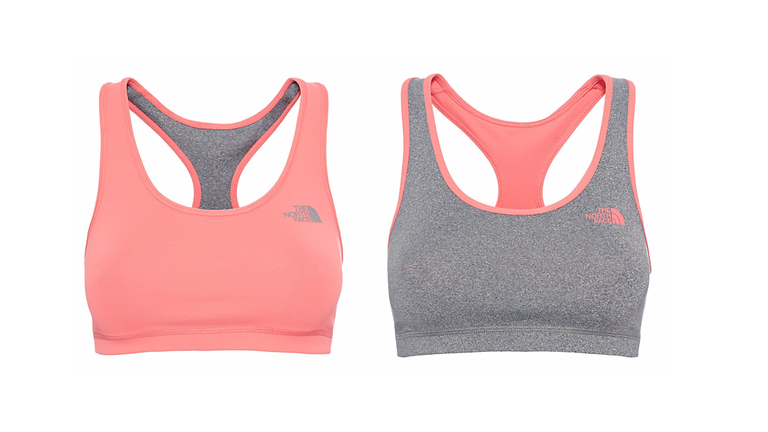 Healthista writer Parisa Hashempour says: 
When I first saw this bra I wasn't convinced that it would be supportive as there isn't much shape to it. But this is part of why it appealed to me. I've got a smaller bust and high impact bras don't often come in my size – usually, they gape where the cup is. But I was in for a pleasant surprise. The compression fabric on this bra worked wonders and it quickly became my workout staple. No shape was needed because the bra simply flattened my breasts and kept them in place. I have boxed, ran and burpeed myself into a frenzy in this bra and while doing so I could have forgotten that my boobs are there at all. It is a bit of a squeeze fitting this tight bra over your head but it's worth it. The fabric and seams are smooth and the bra almost disappears underneath your workout top, so there are no awkward visible lines. The racer back makes the bra feel a little prettier – the bra was both fashionable and functional which is a huge plus. I especially love the grey marl colour but also the fact that it's reversible. It meant I could alternate which side I wore depending on the colour of my gym top.
The North Face Bounce Be Gone Sports Bra is available for £30 from The North Face here.
This incredibly stylish sports bra is part of Shock Absorber's reliable collection. It's available from 32A, the smallest size, to a 32F, so not as full range as others, but still considering women need actual sizing. The bra shape is flattering, as Shock Absorber have creatively used a low cut plunge line in black mesh and padded cups to outline the chests shape. Sometimes a supportive sports bras can be either too flattening or bulky, but the design of this has allowed style whilst being supportive, all in breathable and high performing fabrics.
MORE: GymTote fashion fitness backpacks and handbags reviewed – our verdict: LIFE CHANGING for Healthistas!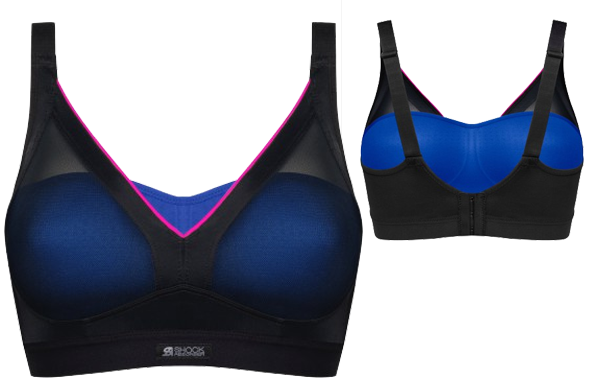 Healthista intern, Anna Baron says: 
It was easy to put on as you clip yourself in, in the same way as you do with a normal bra, even adjusting the straps for a better fit. The fabric was a little heavy and held the sweat in a bit too much for my liking, but it was comfortable and wasn't overly bulky like some sports bras designed for high impact. It's such a great design I would be comfortable to wear it without a top in hot weather whilst working out. It also felt as though it held me in enough that I'd feel comfortable wearing it without a shirt in the summer and not feel self-conscious. There was quite a bit of spillage around my cleavage area, but despite this, I would still feel supported enough to do high-intensity training. I liked that I could adjust the straps to make it snugger as this completely stopped my boobs from bouncing. This bra was beautiful but also totally functional which is rare to find, I would definitely recommend it.
The Shock Absorber Active Shape Support bra is available for £24 from John Lewis here.
This sports bra is part of Proskins DNAmic range. To create this range they've woven together gradient compression and body wrapping technology to ensure every individual muscle group has the correct level of compression and support. We love compression fabric for holding us in when we're working out so we couldn't wait to try this bra for our high impact cardio workouts. According to Proskins, the tight fit of this bra also eliminates vibration feedback which apparently delays the onset of fatigue and lactic acid build-up by increasing blood flow and protecting against injury.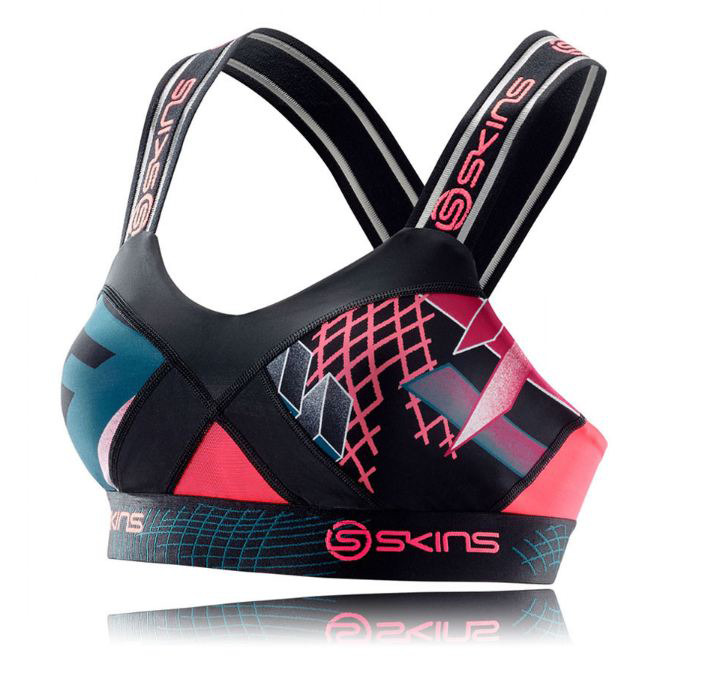 Healthista tester, Carly Cochrane: 
The first thing that I loved about this bra was the fact that it was so colourful – it completely jazzed up my usually plain black gym kit. I went out for a run in this bra and found that it gave AMAZING support. The padded cups and the thick elastic band really helped me to stay in place. The compression fabric held me in and I also really liked the way I looked in this bra – I don't always feel my best when wearing a sports bra but this was very flattering. I loved the thick racer back style because it wasn't just comfortable and gave my back support but I felt that it also really flattered my figure.
The Proskins Dynamic Women's Compression top is available for £19.99 from Sportsshoes.com here. 
The Adidas Women's Racer Back Bra is part of the sports giant's ClimaCool range. This range is specially made to help keep sweat off the body when you're working out. The garments have special ventilation zones throughout which allow air to circulate close to your skin. The bra also has foam pads which Adidas say are breathable and help add support. The rounded neck and mesh racer back is also supposed to add ventilation to the bra so it really is built to keep you feeling cool throughout a hard workout. As a bonus, the product is part of Adidas' sustainable product program.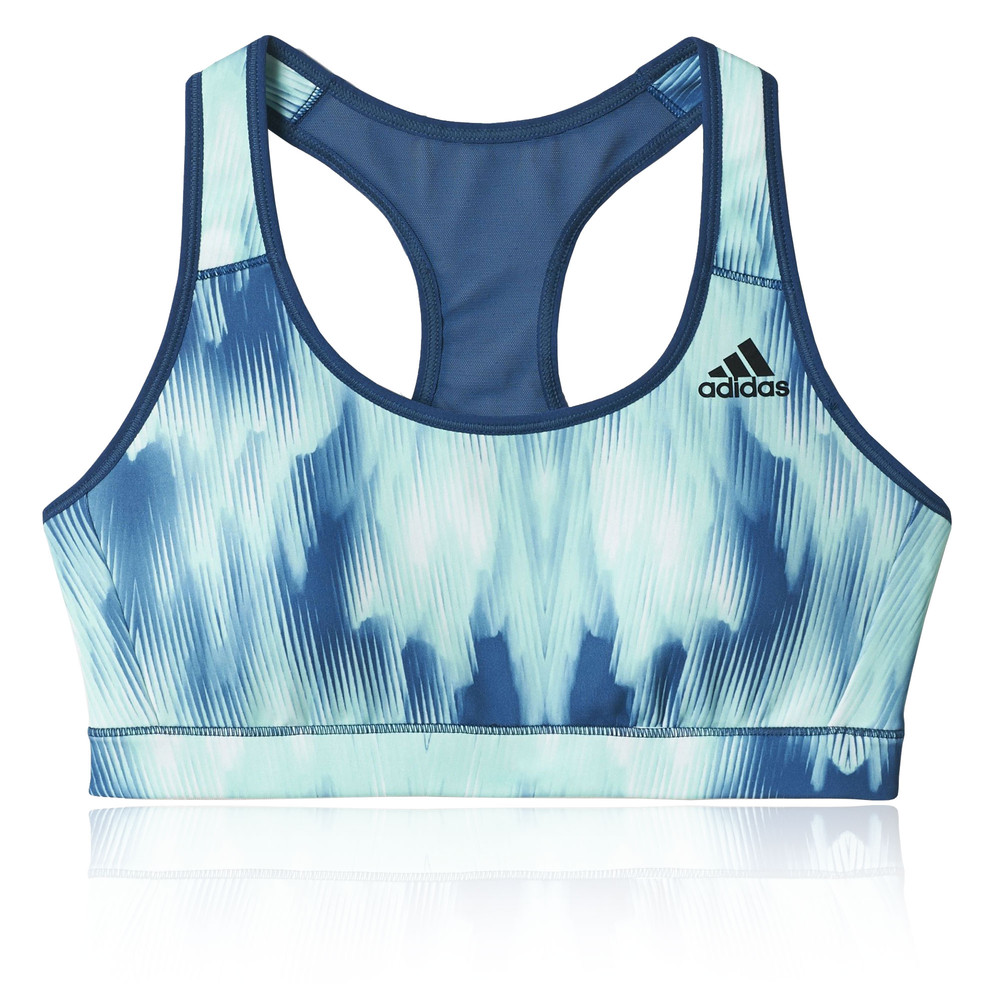 Healthista writer Vanessa Chalmers says: 
Adidas is one of my favourite sports brands so I was really excited to try out this bra, I loved the blue design, there's nothing better than a sports bra that straps you in but is also beautiful. I wore the bra as I did my high-intensity workout and found it really comfortable to wear. The racer back offered a lot of support, however, the shape of the bra did limit my movement ever so slightly. The cups are good for proper shaping and hold instead of just being a stretchy fabric that you get with some sports bras. This was really great for me as I have a large bust and often find that sports bras don't hold me in place like this one did. I really liked the fact that it had a clip on the side, this made it easy to get on and tighten to my closest fit. After a workout, it's wet to the touch which shows it absorbs moisture from the body. I love the halterneck design but worry that it won't be enough support for my shoulders.
MORE: Best sports bras for larger breasts
The Adidas Women's Racer Back bra is available for £19.77 from Sportsshoes.com here.
Victoria's Secret might not be the first brand you'd look to for a high support sports bra but the Incredible bra from VSX Sport might just surprise you. It has breathable padding with a wicking liner which Victoria's Secret will keep you extra dry. Plus this bra is big on comfort, with a flexible underwire and bonded fully adjustable straps. Seamless technology is also used to help eliminate irritation so you can just focus on your workout. Plus there is a supersoft elastic band on the bra for comfort and movement. Even the adjustable back closure on this bra is cushioned for more comfortable wear. It has a large keyhole racer back and Victoria's Secret recommend wearing it for high-impact sports such as running, boxing and cardio.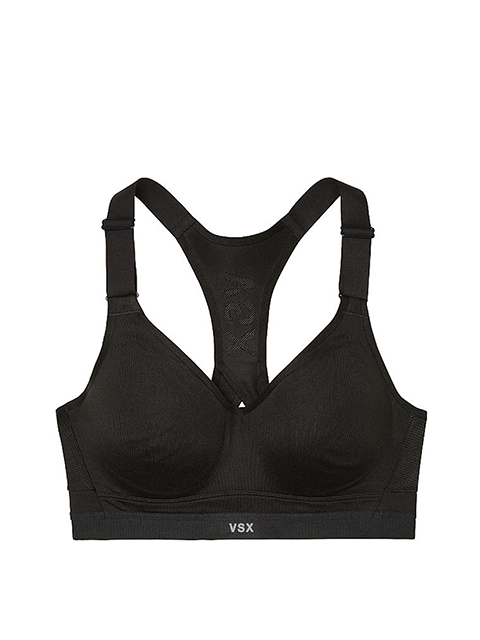 Healthista editor, Anna Magee says:
Before I tried this bra I used to always wear two sports bras at a time for extra support but now I only wear this one. I love that it doesn't move  at all during my runs and also gives great shape to my cleavage and waistline and the cups have a tiny bit of lift and support to give me extra confidence.  It really is the best sports bra I have ever worn.
The Victoria's Secret Incredible Bra is £33.18 from Victoria's Secret and is available here.
Gym? Volleyball? Horse riding? Whatever your cup size and whatever the sport, according to Shock Absorber this bra will support you. The cropped bra has a fully opening back to make it easy to take on and off, it has a racer back for extra support and shaped, adjustable padded straps for comfort. There are mesh panels on the side for breathability and Shock Absorber say the bra is made from a moisture-wicking, breathable, high-performance fabric.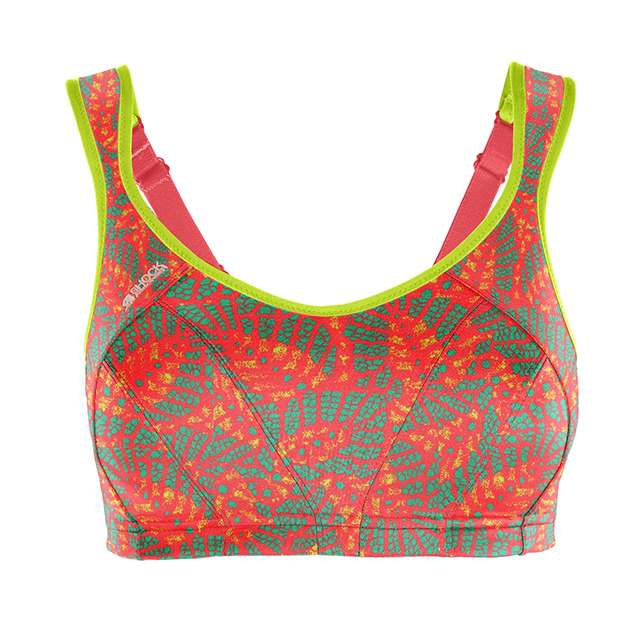 Healthista digital director, Yanar Alkayat says: 
Shock Absorber bras have seen me through years of running training and a couple of marathons so I'm familiar with the style and support and have always been trusted a fan. The new Active Multi Sports Support is supposed to give support while doing any type of sport. What made it really unique is the two sets of adjustable straps which allow you to customise for the perfect fit. I like the mid-length neckline making it comfortable to bend down to do lifts at the gym without worrying about cleavage. The second clasp can be a bit awkward to reach but the full support is worth the effort. I can always trust Shock Absorber for high impact support not only because they are award-winning but because the products have been tested too.
The Shock Absorber Multi-Active Sports bra is available for £28 from John Lewis here.
Read more
The rise of ethical fitness fashion
5 best sports bras you'll WANT to wear
WE LOVE: Reebok's new kit and Train Fusion shoe PLUS pieces are UNDER £50