Sports bras for large breasts do exist, and we have sourced the best five. Make burpees the focus of your workout, rather than the bounce, with these specially designed bras.
Any woman's pair of breasts deserves the right support. After all, they are the only pair you're blessed with (well, for most of us). Finding a sports bra for big busts was a quest of mine when I became fed up with pain in my chest during a workout. All that bouncing and free movement – you get the idea – it can lead 25 per cent of women to cut a workout short, according to sportswear retailer Odlo.
A 'size S, M, or L' just does not cut it when you have a larger than average chest. So we've tested a load and found the best five sports bras that take all the anatomical issues into account, and still look hot.
Best for sizes D and up: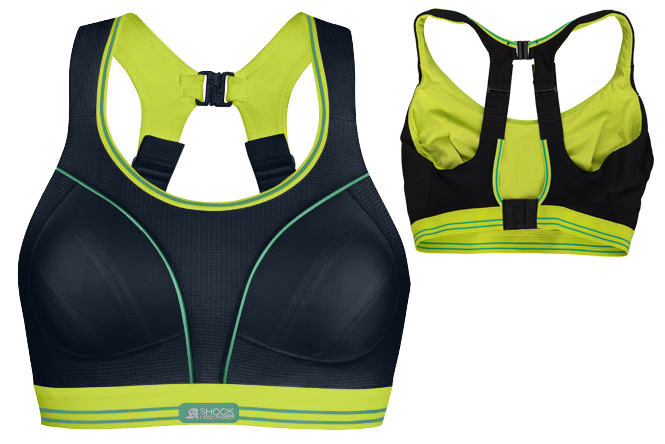 Bravissimo, who specialise in lingerie for cups sizes D and up, have expanded their expertise to provide sports bras – hallelujah! The run bra has been designed by Shock Absorber, who's original sports bra came out in 1994, and has been found to reduce bounce by up to 78 per cent in a study by University of Portsmouth in 2009, carried out against no bra conditions (ouch). This is with Infinity-8 support system which counteracts the movement of breasts' figure-of-eight movement during running. Since then it has won an award at The 2016 Run Awards for women's sports bra.
I didn't experience any bounce, and that is something hugely important for me as a runner to keep going.
Inside, it's seam-free and the elastic components are concelead to reduce rubbing, in sport perforning fabric polyamid polyester. There is no underwiring, but an optional racer back with a clip pulls your chest in tighter if needs be. It comes in a black and neon lime colours, which really stands out.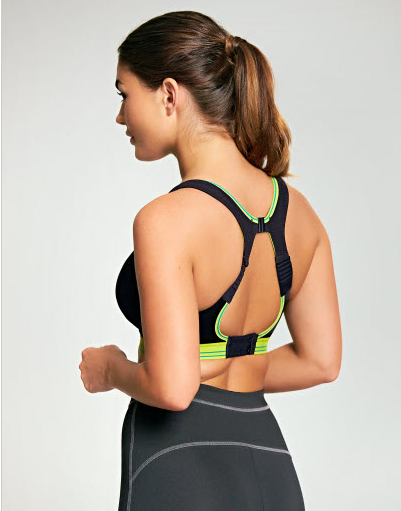 Tester says: It fit like a glove once I put it on, mainly because it had been fitted for me in store, which was an excellent advantage of Bravissimo. I actually forgot that I had taken this bra for a trail run, because it was that unoticeable. I didn't experience any bounce, and that is something hugely important for me as a runner to keep going. When I took it off, the underband was a little rubbery and sweaty feeling, but I believe that is to be expected when moulding to fit the back size so tight and well. Top marks.
Run Bra by Shock Absorber, Bravissimo, now £37
Best for looks: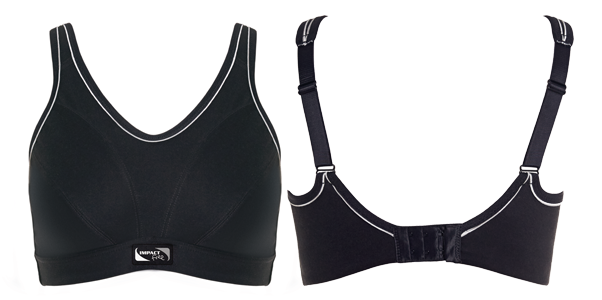 The Royce is robust feeling without underwiring, but the black sports bra is still shapely and flattering on. Designed for all sized breasts, the bra comes in three variations: petite for sizes A-D, Impact Free D-FF, and Impact Free G-K in black and hot pink. The gently structured cup offers full coverage to minimise wobble. With a fully encased under-bust band, which feels thick and very sturdy, the bra wraps snug against the skin with little room for movement.
It's 100 per cent Pima (extra long, staple cotton associated with higher quality) cotton, and cotton has been found to be less smelly after a workout than synthetic textiles like polyester. Scientists at Ghent University in Belgium stuffed 26 T-shirts made from either natural or synthetic fibres into a plastic bag and stored them in the dark after they had been worn in a spin class. After 28 hours, an independent panel of odor connoisseurs judged that the polyester shirts stank worse than cotton-based ones.
Tester says: I tried the Impact Free sports bra which is in size D-FF. Putting this on, I noticed the underneath band gives that extra hold, unlike that elastic-y type material on crop top style sport bras which is too stretchy to be tight. I liked how much of the chest is covered, without being bulky, as often there can still be a lot of bounce at the top where there is no restriction. This has me covered.
Royce Impact Free D-FF sports bra, £32
Best for sweat-wicking: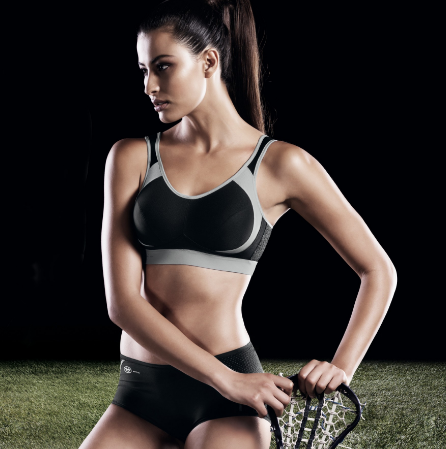 On a hanger, this bra looks too delicate to hold you in. But the secret is in its design- the flexible under-bust band moulds to the body's contours, and the adjustable straps are ergonomically designed, padded for maximum comfort on the shoulders whilst being tightly fit. For quick moisture transportation, the cups are made with piqué fabric on the outside, avoiding any awkward boob sweat through the top. Inside the seamless cups is towelling material, which is super-soft, to keep the skin dry and stop chaffing. Whilst still having all the highly supportive components, it remains dainty and feminine.
I would really recommend Anita.
Tester says: I would really recommend Anita. The product was much easier to put on than over the head ones, with a simple back fastening. The fabric was so light and breathable, and dry after I took it off after a sweaty high intensity workout. I was hoping there would be no bounce, with a bra that was tight fitting but not uncomfortable. This is what I got, so I'm very impressed.
Anita, £32.12
Best for extra support: 
The only wired sports bra of the bunch is the new sports bra from Freya at Bravissimo, a lingerie brand specialising in bigger busts, the Epic Bra. It is pretty epic, giving phenomenal support up to a 38H with concealed wiring and moulded cup. Whilst the majority of sports bras are without wire, it not necessarily advised against to wear one. By NHS recommendations, the underwire of a sports bra should follow the natural crease of the breasts and not rest on any tissue, the same as a normal bra. So if fitted properly to your size, the Epic Bra is fantastic for those who are worried about ditching their every-day bra support, (and the every-day bra certainly wont be doing any justice during exercise).
The Coolmax fabric in the inner cups, which are shaped to provide full and sculpted coverage, wicks away moisture. The straps aren't heavily padded, although they can be fastened together with a small, slightly too fragile, J hook clip at the back for extra support.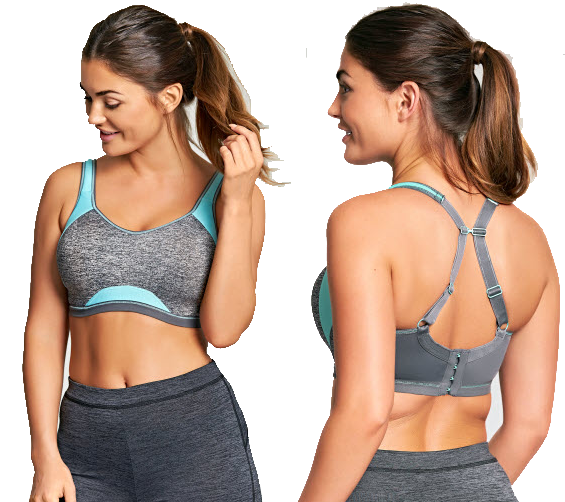 Tester says: I like that there are three hooks at the fastening, as this feels more substantial than regular sports bras and I know I can tighten it when it loosens in the wash over time. The colours are quite bland but this makes it great for an all-rounder bra that will go with anything. It's not easy to fasten the J hook at the back by yourself, however I found the sports bra supportive enough to not do this anyway. It just adds a nice stylish feature if you want it.
Epic Bra by Freya, Bravissimo, now £35
Best for shaping: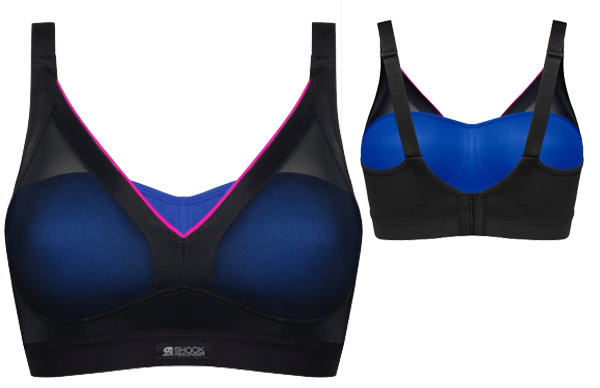 This incredibly stylish sports bra is part of Shock Absorber's reliable collection. It's available from 32A, the smallest size, to a 32F, so not as full range as others, but still considering women need actual sizing. The bra shape is flattering, as Shock Absorber have creatively used a low cut plunge line in black mesh and padded cups to outline the chests shape. Sometimes a supportive sports bras can be either too flattening or bulky, but the design of this has allowed style whilst being supportive, all in breathable and high performing fabrics.
Tester says: It was easy to put on, the same as a bra, and I could adjust the straps to fit. The fabric was a little heavy and held the sweat in a bit too much for my liking, but it was comfortable. It's such a great design I would be comfortable to wear it without a top in hot weather whilst working out. There was quite a bit of spillage around my cleavage area, but despite this I would feel supported enough to do high intensity training.