Our Healthista Eats blogger, Charlotte Dormon, gives us the lowdown of where to eat healthy this week for breakfast, lunch and dinner from Peruvian food to Tapas.
Breakfast fit for a King
Hubbard & Bell – Hoxton Hotel Holborn
You that old saying, breakfast like a King, lunch like a Prince and dinner like a Pauper…well the other morning I thought I would put this old saying to the test and start my day with Hubbard and Bell's breakfast feast of Fillet Steak, Poached Eggs and Hash browns. It was around 10am, so my hunger levels were pretty high by now, and I had already power walked a good 40 minutes prior to my meeting with Queen Healthista – Editor and Healthista founder, Anna Magee – to check out this new trendy Holborn hangout.
On arrival I knew I liked the place a lot. The Hoxton Hotel, where Hubbard & Bell is situated, has a masculine sexiness that allows it to look effortlessly well dressed and rather cool (when I say masculine, think Johnny Depp in a rugged pair of biker boots, ripped jeans, sunglasses and a white vest). With high ceilings, lots of natural daylight flooding through giant glass windows, NYC loft apartment style décor, a coffee bar and big comfy booth seating to allow you privacy and space – without even trying the food, I'd already decided I wanted this place to be a regular hangout for me.

Today Anna and I had met for a power hour to discuss her exciting new plans and great things happening for the Healthista website. It was a rare treat for us to do this over breakfast as Anna scarcely has time to escape the office. As the Editor, she is forever busy, working around the clock to make sure the site is always covering everything we women could need or want to know. That means a weekly schedule of interviews with amazing health gurus, researching the latest fitness craze, face creams or vitamin supplements to help us look and feel fantastic. When we do meet, it's usually in the kitchen at Healthista HQ with her powering us up with a quick protein shake, homemade soup or mega-green juice. So today it was all about the big cooked breakfast. We had our steaks medium, eggs poached (far healthier option than fried), asked them to hold the hollandaise (not an essential indulgence as runny eggs do the job), load up on the spinach (always a nutritional winner), and hell yeah to the hash browns (gluten-free and homemade – so why not).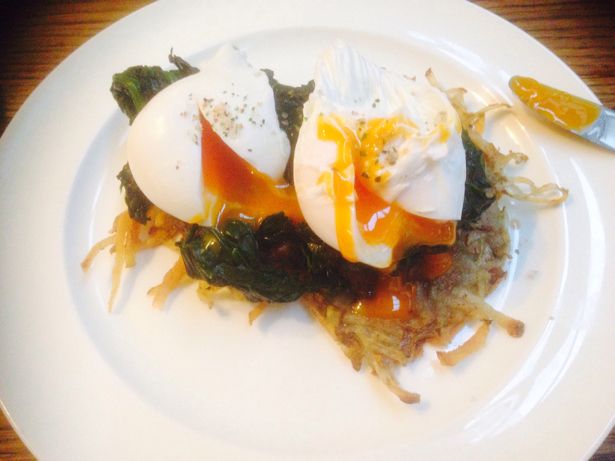 Steak might seem to some like a slightly odd choice for breakfast? Yet it's not really any different to ordering sausage or bacon. And not odd to the pro-paleo diet people I know who give red meat a thumbs up in the mornings. In fact, a lot of people have found that having a protein-rich breakfast can set you up for the day, especially if you have a long one ahead of you, and particularly if you are prone to frequent sugar cravings throughout the day.
Pro-paleo diet people I know who give red meat a thumbs up in the mornings.
The steak and eggs served are excellent quality, cooked perfectly and taste delish. The hash brown was light and crispy (rather good combo with the runny egg and no need for bread) and spinach steamed and fresh.  If eggs or meat in the morning is not for you, there are plenty of light options, such as the ricotta with pomegranate, honey and mint, or the gluten and dairy-free quinoa porridge with almond milk, banana and bee pollen – we didn't try any of this that day, but all looked rather yum.   There is also a fantastic selection cold-pressed vegetable and fruit juices, ultra nutritious smoothies almond and soya milk coffees.  Gluten free is well catered for here, so just request menu options on arrival.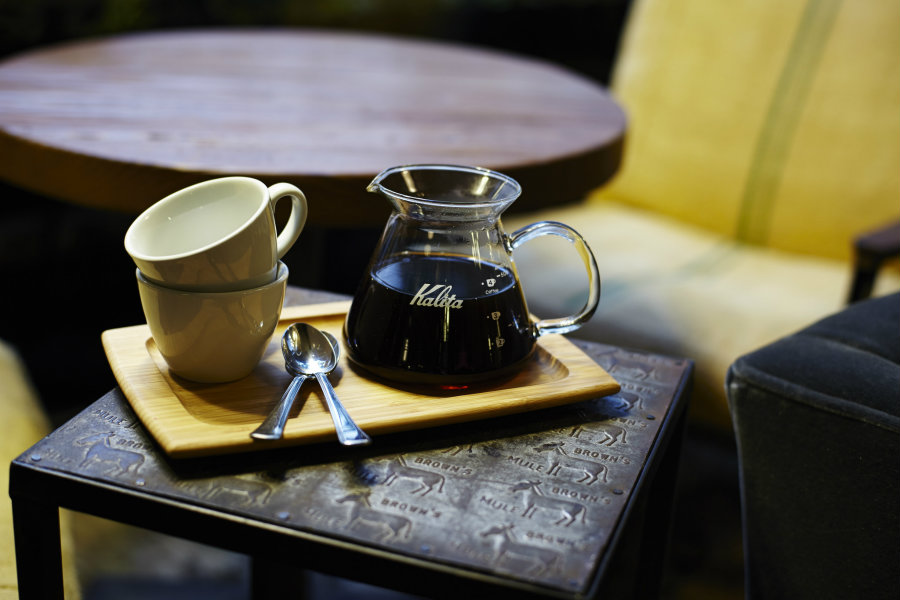 Find out more about Hubbard and Bell here.
Address: 199 – 206 High Holborn, London, WC1V 7BW
Telephone: 0207 661 3000
Peruvian Long Lunch
Lima Floral – Covent Garden
Weekend lunches are always so fab.  They are usually a far nicer and more chilled option than a rushed post-work evening dinner with friends, when you can often be far too exhausted from a day of meetings and just dying to curl up in your PJ's watching your favourite show. Last Saturday I spent my afternoon with my beautiful mother Jo, to sample the weekend 'Long Lunch' menu at new Peruvian restaurant Lima Floral in Covent Garden.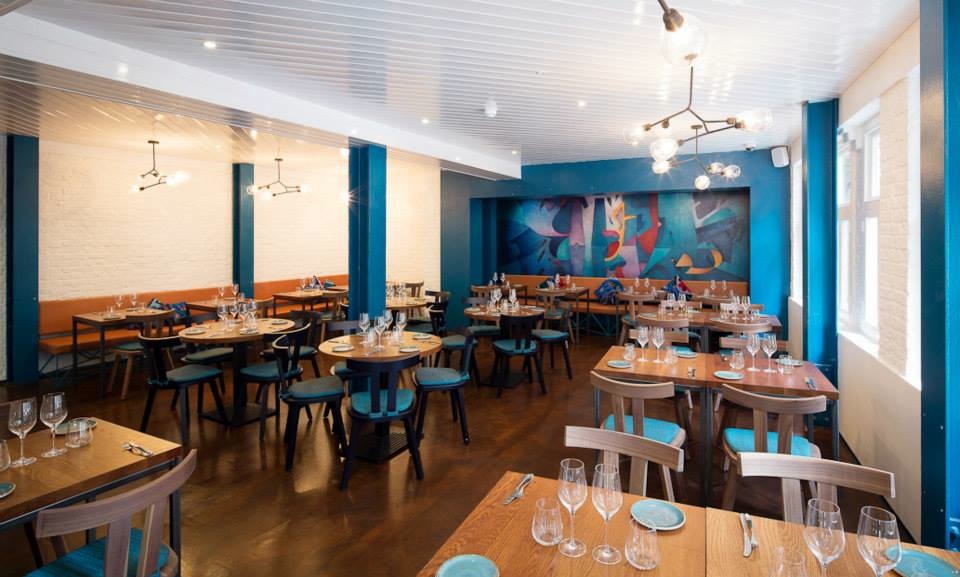 A few years ago I am not sure I would have been so excited about dining out on Peruvian food, but these days this cuisine seems to be getting roaring reviews from food critics and accolades within the London restaurant industry.  Good news though for us healthy eaters with these new joints springing up all over town, as Peruvian food can be rather wholesome and nutritious.  Peruvians are big fans of using healthy gluten-free super- grains such as quinoa and amaranth, as well as pepping up on turbocharged superfoods like maca (good for energy, hormonal health and virility) and purple corn (high in anti-ageing antioxidants), which are usually featured on the menu.  Ceviche (traditional Peruvian dish of raw fish, seafood or meat cured with a zesty lime and coriander marinade) is popular as a starter and a very healthy, nutritious way to get your daily protein fix.  Peruvian restaurant Lima uses all that goodness and traditional cooking techniques that come from Peru, whilst still buying good British produce (meat, fish, veg and dairy) and sustainably sourced ingredients.
MORE: 5 best juice bars in London
Lima Floral's Long Lunch menu is reasonably good value for £30.00 per head for three courses. It is available all day Sat & Sun, and enables you to get a taste and flavour of some classic Peruvian cooking. We shared a selection of starters including; sea bream ceviche with tiger's milk (a marinade with lemon and herbs, not milk from a tiger…just to be clear) and sweet potato; Huancaina beef with popcorn and coriander cress; tuna tiradito with rocoto, lemongrass and coriander. These also came with steamed Asian dumplings and a chilli dipping sauce (was not quite sure why this addition was part of the menu, but my mum said they tasted good), I didn't eat them as they did contain gluten, but the tuna and sea bass was very good and so different in flavour from anything I had tried before.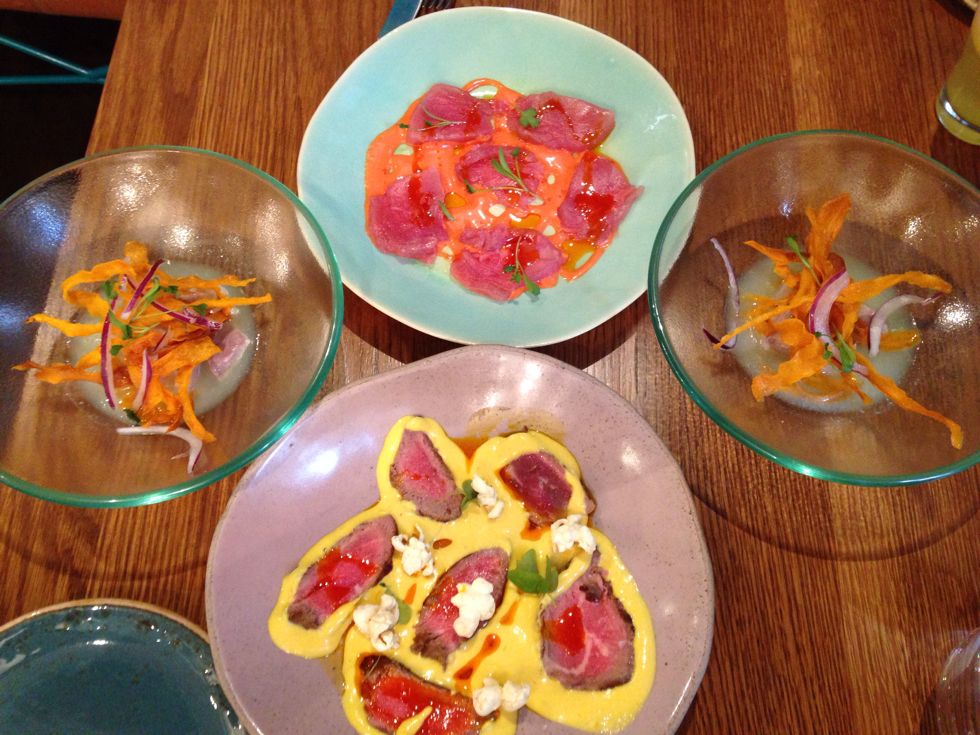 For mains we shared the Hot and Spicy Hake Sudado served with seaweed and tree tomato, and the Chicken Pachamanca with salsa criolla and cuzco corn (white and blue corn is used a lot in Peruvian cooking).  These came with big vegetable side dish of cauliflower, asparagus peppers, corn and green kale. And a nice complex carbs portion to fill you up of steamed quinoa and potatoes with a tomato, garlic and onions and creamy cashew nut sauce.   Both of the mains are healthy.  The grilled chicken is delicious with the veg and grains and hake is light and moist and full with a slight tomato and chilli flavour.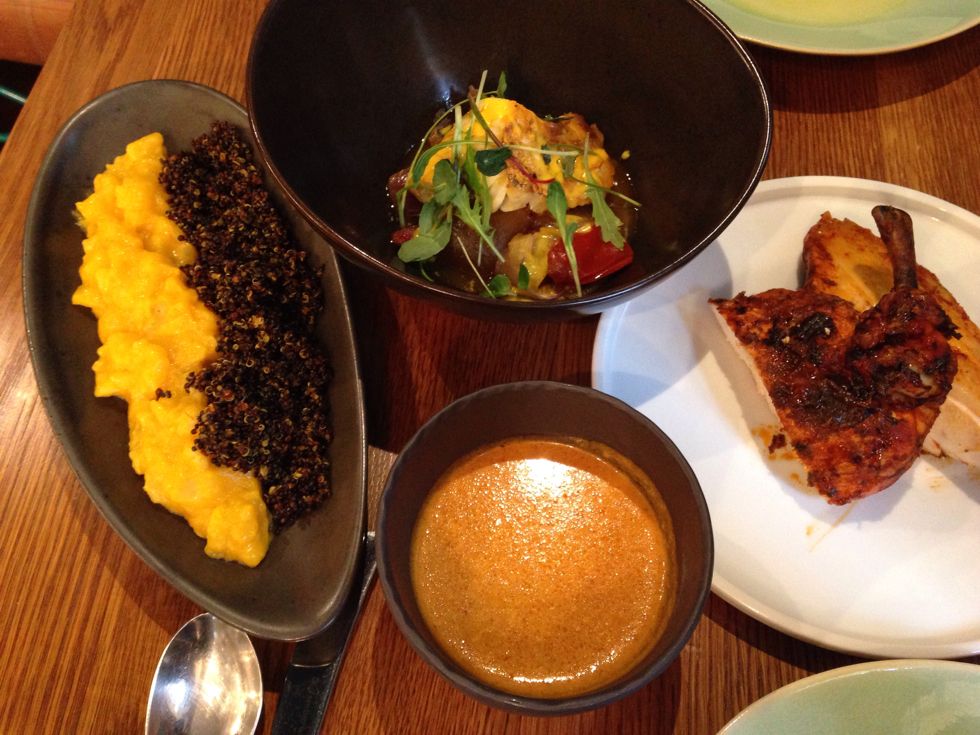 As puddings were part of the set menu, we decided to not miss out.  As the mains are starters are high in lean protein and low fat, it's not so bad after all. They serve a selection of mini meringues with a raisin syrup and tiny bit of berry mouse; a little scoop of homemade coffee ice cream on top of a light crumble, and just before you think you can't have anymore, there are also two almond and cinnamon biscuits dusted with icing sugar.  No, puddings like these are not really good for you in anyway (similar to a night on tequila – great at the time, but its usually ends with a little bit of guilt or regret), but there is no denying, they do make you smile quite a lot as well as making a few ooooohhh and aaaahhh noises whilst eating them.   If you are not trying to fit into a skimpy dress that evening (mum and I had no plans that day and anyway, my mum luckily always looks great in a skimpy dress), then Lima's homemade selection of miniature puddings at the end of this lunch are quite a treat. Mum and I thought the lunch was rather yummy and a good healthy option when eating out.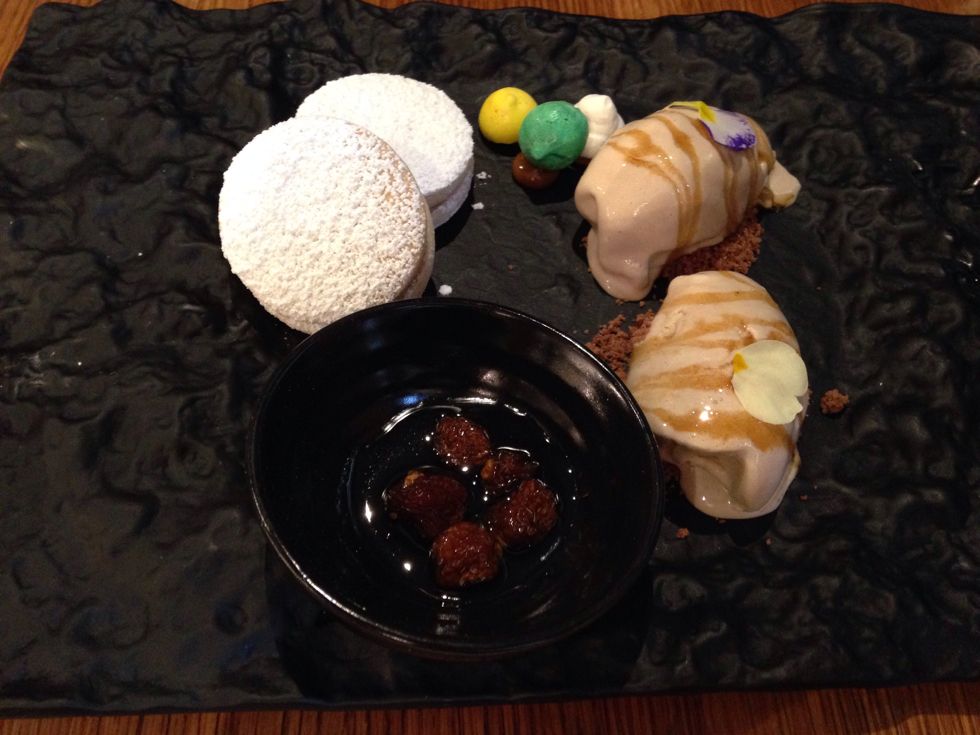 The restaurant has a fun and laid-back feel, which fits well with its 'Long Lunch' offering; but I am most intrigued to come back and check out the very cool looking Pisco cocktail bar located downstairs.  Pisco is a traditional Peruvian alcoholic drink than can be mixed into cocktails with an assortment of different flavours.  The Lima bar looked like an ideal spot for a fun date (pic) providing a good selection of punchy drinks and Peruvian nibbles to share.
Find out more about Lima Floral here.
Address: 14 Garrick Street, London, WC2E 9BJ
Telephone: 0207 240 5778
Smoking Hot Dinner Date
Ember Yard – Soho
I really like the traditional tapas style of eating when I am out with friends for a meal, as the experience of sharing small plates is much more interactive, fun and sociable. It's good to have that extended period of excitement as you get to sample new dishes and graze throughout the evening chatting with a glass or two of vino.
As well as catering for those avoiding gluten or lactose – chefs here take great pride in sourcing the finest quality, sustainable and seasonal ingredients
Traditional tapas has a bad reputation amongst the 'health conscious' and is often seen as pretty unhealthy food to eat out – which is true if you do go to a run-of-the-mill tapas restaurant where everything is often deep fried and served on chunks of white bread.  Ember Yard is far from bad for you.  It is extremely good, and is everything you would want your tapas to be. As well as having no problems catering for those avoiding gluten or lactose – chefs here take great pride in sourcing the finest quality, sustainable and seasonal ingredients so their food is always as fresh and nutritious as possible.  Ember Yard's cooking is inspired by the region of Spain and Italy – in particular the Basque country and Tuscany influences the menus. Completely inspired by the primal and traditional technique of cooking food simply over wood and charcoal, the restaurant commissioned and custom built, a bespoke, Basque-style charcoal and wood grill – allowing the food cooked to not only be far better for you, but also taste rather amazing.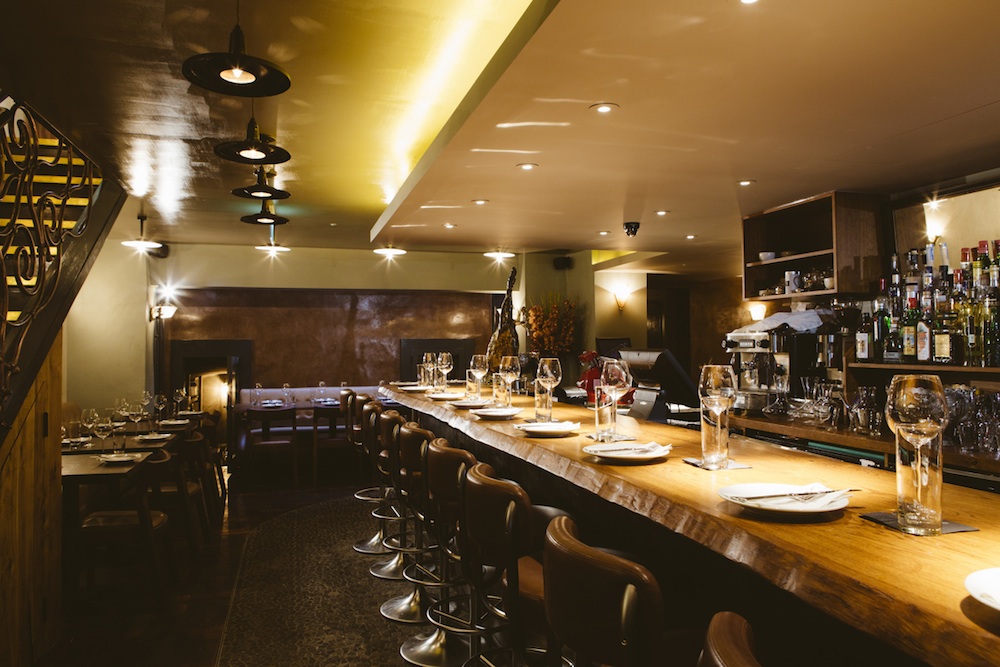 Last Friday I went on a date night with my fiancé Oliver to try out the tapas menu. We arrived reasonably stressed and disgruntled after a heated argument in the car about where to park, him driving the wrong way which meant we missed a free space, and me grumbling about him being late to pick me up – usual couple stuff, but it was not a great start to my evening of romance. As soon as we entered Ember Yard the atmosphere swept my grumpy scowl into a big smile. The restaurant looked the part – dark wood, sultry low lighting and red leather seats. Clearly, it was a popular spot, with every table full, whilst others waited eagerly at the door desperate to get in. The restaurant was full of happy chatter and laughter, with everyone clearly enjoying their meal. The smell of the air was delicious, with a good waft of charcoal and sweet smoky wood coming along to arouse you. The waitress promptly seated us upstairs by the window and took our drinks order immediately (love it when they do that!) and soon we forgot the car parking drama and began laughing and smooching over a glass of Spanish Cava. By the way, for those of you that drink fizz and haven't tried Cava, I would strongly recommend you give it a go. A good Cava is usually more dry and less sweet (a good thing if you wanting less sugar) than Prosecco and is very similar to a Champagne…but quarter of the price.  The one here is crisp and fruity and is a reasonably priced glass of fizz for £7.00.
MORE: Best gluten-free pancakes in London
For portion-controlled dieters, protein fans and those avoiding carbs, this menu will suit your style, as each portion is reasonably small, but rich in flavour and if you want anything adapted (sauce on the side, or avoided), they are happy to do so – within reason of course.  For our dinner, we ate through a selection of fish, seafood and meat tapas, including; Josper Roasted Corn Fed Chicken Leg with Morcilla, Ajo Blanco and Smoked Almond; Smoked and Grilled Loch Duart Salmon with Crispy Kale and Horseradish Velouté; Applewood Smoked Bream Carpaccio with Pomegranate, Coriander and Bottarga; Smoked and Grilled Gurnard with Pancetta, Fennel Purèe and Pickled Fennel; Steamed and Chargrilled Octopus with Pepperonata and Mojo Verde Alioli; Chargrilled Cuttlefish with Honey Roasted Pumpkin and Gremolata; Hot Smoked Butternut Squash with Goats' Curd and Grape Jam.  We did order a lot, but you could simply choose a couple of dishes (prices for tapas start at £4.50 – £9.50), with some pimentos peppers or olives and that would do, but Oliver and I both have a healthy appetite and absolutely love our food – which is a good thing really, as most of my life revolves around it.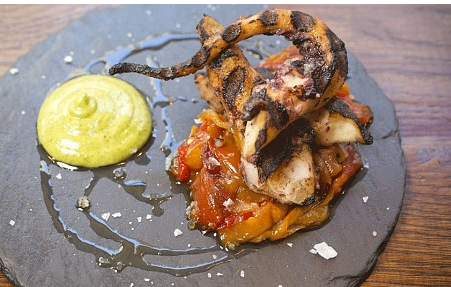 The beauty of this tapas style of eating is everything comes in stages, so you don't get too full too soon, allowing the evening's meal to be more of an ongoing taste adventure. And if one of you eats more than the other (usually Oliver much more than me), then you can share a little more or less to suit your appetite accordingly.   Ember Yard is also a good spot for vegetarians, there is plenty to enjoy, with a number of veg-only dishes on the menu.
Our meal was exquisite. Every mouthful was a delight from start to finish, with the bespoke Basque grill notably enhancing the flavour of the meat and fish. This was a breath of fresh air compared to the big plates of boring, greasy, bread-based tapas I had been so put off eating before.
For a date night, or any eating-out occasion, I would highly recommend Ember Yard as a smoking hot place to go.
Find out more about Ember Yard here.
Address: 60 Berwick Street, London, W1F 8SU
Telephone: 0207 439 8057
MORE Healthista Eats blogs from Charlotte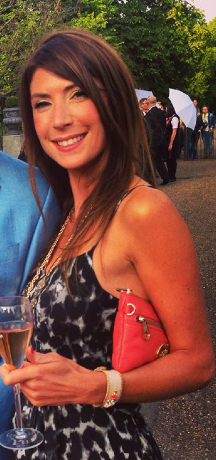 CHARLOTTE DORMON is our Healthista Eats blogger.  She's not a chef, or even that much of a cook.  If it's recipes you're looking for – you're in the wrong place.  But whether it's Sunday lunch or Friday night cocktails, she's the one friends and family turn to when they want to know how to eat out and be relatively healthy.  Each week she'll now be bringing you the same insider knowledge.  We'll drink – and eat – to that. Follow Charlotte on Twitter @lottielurvsu
Like this article? Sign up to our newsletter to get more articles like this delivered straight to your inbox.