Can't live without your latte? A new study says it's perfectly safe to have up to 25 cups a day.  Charlotte Dormon finds the 9 best coffee shops in London that cater to the Healthista in all of us 
Today brings good news for all you coffee lovers out there. It turns out you can drink up to 25 cups a day as scientists say we can now be rest assured that the drink is not bad for heart health.
In the past people have been told to watch and limit their consumption of the much loved beverage. Some previous studies have suggested that coffee stiffens arteries, putting pressure on the heart and increasing the likelihood of a heart attack or stroke.
drinking five cups a day, and even up to 25, was no worse for the arteries than drinking less than a cup a day
However, a new study of more than 8,000 people across the UK has found that drinking five cups a day, and even up to 25, was no worse for the arteries than drinking less than a cup a day.
The research, part-funded by the British Heart Foundation (BHF) divided 8,412 people into three groups for the study.
The first group was of those who drink less than one cup of coffee a day, the second was of those who drink between one and three cups a day, and the third was those who drink more than three. Some people in the latter group drank up to a whopping 25 cups a day
Researchers found that even those drinking up to 25 cups of coffee a day were no more likely to have stiffening of arteries than those who drank less than one cup a day. All participants underwent an MRI heart scan and the results held true even after factors such as age, weight and smoking status were taken into account.
To drink or not to drink coffee?
…has always been the question.  Coffee certainly has found its place in stimulating the fast-paced society that we now live in.
It's not just the caffeine addiction we can't live without – good coffee is now an obsession for many of us; so much so that leading coffee experts say London is fast becoming one of the most advanced coffee drinking cities on earth.
When I say good coffee, I'm not talking about the Starbuck's 'low-fat, skinny' type, or the mediocre high-street coffee served up alongside a horrible choice of highly-processed prepackaged, plastic looking cakes and soggy sandwiches.
No – I am talking about the new breed of cool independent cafes making a big noise within the London foodie scene.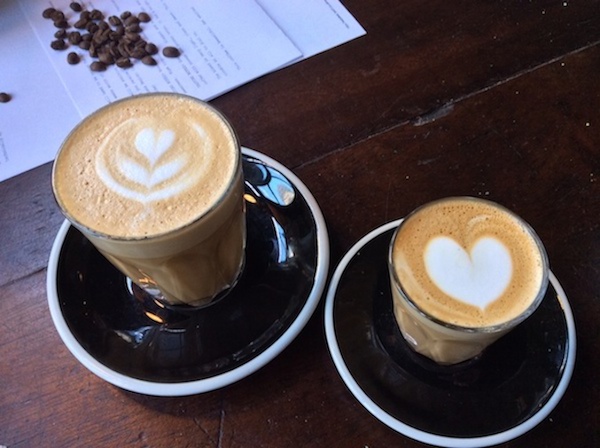 -Coffee at the Elgin in Maida Vale
Once you've set foot inside one of these coffee shops, been seduced by the scent of their freshly roasted artisan espresso beans and experienced the taste of a barista-made creamy flat white, you may struggle to ever go back to drinking your coffee anywhere else again.
These coffee connoisseurs have not just set up shop to fit in with the crowd.  Many have given up high-salary careers to do this and are extremely passionate about what they do.
A number of these guys have come over from Australia or New Zealand where outstanding coffee has been part of the culture since the 1980s. They don't really have the mass-market chains we do with our Starbucks and Costa's, so in cities like Sydney and Melbourne the staff are in the know about their beans and highly qualified when it comes to making good coffee taste great.
If you have not experienced Aussie or Kiwi café culture before (otherwise known as Antipodean style), you're in for a surprise. Now these coffee dudes from Down Under have taken over London, things are going up a gear; a bit like walking away from the underwear department in Marks & Spencer and into the aisle of Agent Provocateur.
These sweet-talking baristas will arouse your senses, tantalize your taste-buds and make your a mornings a hell of a lot sexier with their full-bodied artisan roast.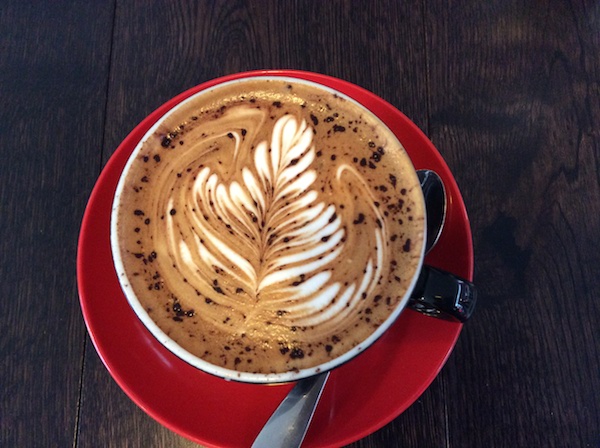 You may already know of many coffee shops with good coffee in London, but not so many ones that also focus on homemade fresh healthy food. If you want somewhere with something more to eat than counters piled high with calorie-crammed chocolate croissants – these places are where you need to go.
These guys put as they put as much love into their coffee as they do their food.  I quote, from the Aussie and head barista at The Elgin in Maida Vale 'Of course we have great food.  Why would we serve really great coffee with shit food? That just wouldn't make sense'.  Apparently that is the norm in Sydney he told me – not in London I told him.
As well as the food and coffee tasting great, I have made sure all the places mentioned have something to suit free-from diets – in particular those looking to avoid wheat, gluten and dairy, as well as something suitable for vegans and vegetarians.
All have dairy-free milk options and most use organic cow's milk and all coffee is sustainably sourced.
Enjoy some morning glory at my top 9 boutique hotspots:
The food: These guys are true winners when it comes to offering both free-from and healthy eating options. I love the selection of homemade gluten and dairy free flapjacks and granola bars.
They have at least three or four free-from cake options and some with the bonus of no added sugar – it would hard to find any good reason to resist one.
For lunchtime and evening eating, Flat Planet are packed with customers eager to eat their homemade organic wheat free, wholemeal spelt pizza. To either eat in or takeaway, you will be spoilt for choice with their healthy salads and daily specials.
The feel: Light and bright and full of fun.  With big open doors that open out onto the street and a small seating area outside. Around the clock coffee pretty much all day – this place is a relaxing and enjoyable hang out for anytime of the day. Grab a seat outside, get some sun and watch the world go by.
The food: When it comes to breakfast to eat in or go, these guys will certainly get your day off to a good start. Very tasty gluten and wheat free granola, gluten-free porridge and gluten-free bread are available.
Freshly squeezed orange juice and made to order veggie and other fresh fruit juices are available as well as fresh fruit smoothies made with cow, soy, coconut, or almond milk. Bonsoy soya milk is used. This soya milk is most popular with cafes down-under as they say the taste is great, it heats well for serving with coffee and is way better quality than other brands as it's free of certain additives, no sugar is added and free from GMO.
Lunch options are also available as well a good choice of vegan and gluten-free cakes. One of my favorites is the mashed avocado on toast and free-range scrambled eggs. Milk Bar also uses non-homogenized milk for coffee, or soya and almond when asked.
The feel: Well-known trendy coffee hangout crammed full with frazzled musicians, tattoo artists and media moguls. Enjoy the ever-changing art displays from local talent.
Milk Bar is always busy, but a great place to just soak up the atmosphere, listen to the great playlist and let your day be brightened up by a natter with the friendly chatty staff.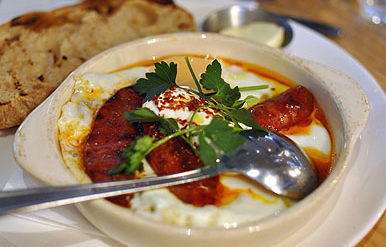 3. Ozone, Shoreditch:
The food: This is a great place for real coffee freaks. They roast their beans onsite and are very well known by enthusiasts for their excellent quality. The food, although not as well set up for those in need of free-from, it is freshly made and of superb quality.
Breakfast and brunch is taken very seriously and there is plenty to choose from.  My friend who is a high profile sports nutritionist introduced me to Ozone on our last meeting and I have enjoyed visiting ever since.  If you like eggs (sports nutritionists certainly do), you will just love Ozone.
Besides the regular scrambled and poached options, the veggie omelet, baked eggs and kedgeree and are worth stopping by for.  Veggie brekkie options are also available and a separate lunch menu is served later the day.
I am also a big fan of their decaffeinated coffee, it is excellent quality and if like me, you love the taste of coffee, but can't have one too late in the day, I do like the one they offer here
The feel: Ozone is great for a meeting, as there seems to be plenty of space.  It is relaxed and laid back if you need to switch on the laptop and catch up on work.  Booth seating is available, so great if you are hanging out at the weekend with friends.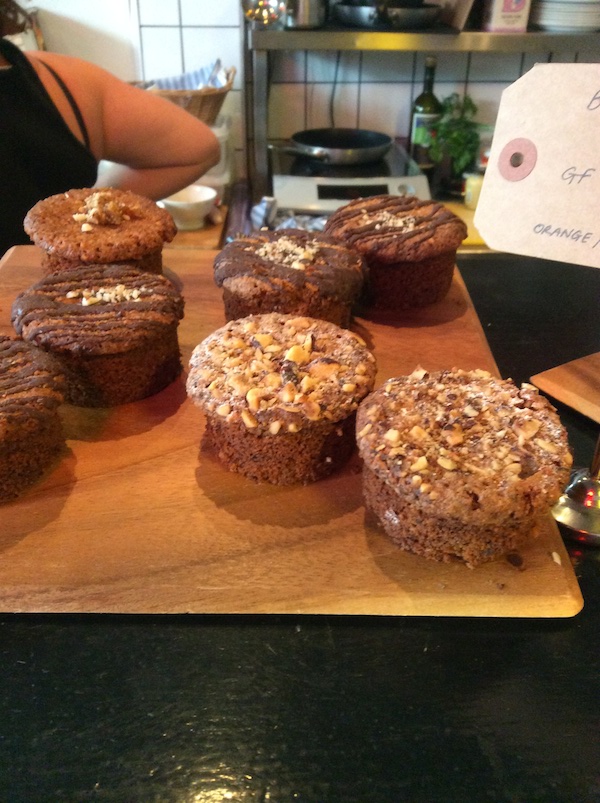 The food: Gluten, diary and sugar free diets are certainly put as a priority here. With the owner being raised by a nutritionist mother with a passion for healthy cooking, it has really benefited Little Ones health conscious customers who flock here each day to stock up on the healthy muffins and other eats.
I am a total sucker for their gluten, diary and sugar free banana muffins – a perfect pick-me-up with a coffee after a weekend walk through Primrose Hill.  Everything is made fresh each day by the husband and wife team and aside from having tiny premises, their food quality does not fall behind in any way.
They even manage to whip up low calorie dairy and gluten-free sweet and savory crepes.  I haven't tried it yet, but the spinach crepe is popular with the yoga girls as it is so light and low in fat and calories.
The feel: Both have only recently opened so finishing touches are in place.  Both spots are tiny and seating is limited, so unless you are on your own or in a two, it may be best to just grab and go.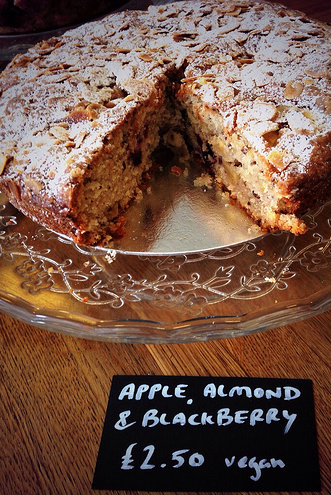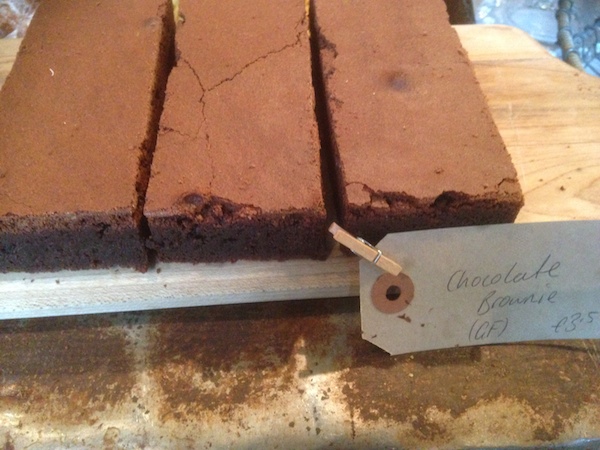 The food: The food here is excellent quality and whether you are heading in for breakfast, lunch or dinner, you will not be disappointed.  I am a big fan of breakfast here and there are lots of healthy breakfast options to have alongside your coffee including – Greek yoghurt with homemade granola, topped with fresh fruit.
Ginger pig (a high quality meat supplier) sausage sandwich with brown bread, organic porridge with poached fruits, mashed avocado, chili coriander, spring onion on toast and smoked salmon and free-range scrambled eggs.  There are also good healthy options for kids.
The baristas here are really passionate about their coffee and go to great lengths to source their beans from small London-based artisan roasters. They like to keep their customers excited by trying out all the new roasts and different flavors. The Elgin use organic milk and Bonsoy soya milk as a dairy-free option.
The feel: The Elgin is predominantly a cool bar, lounge and dining area – rather than just a regular café. There is plenty of space to bring in buggies, family and friends for brekkie.
The Elgin is open morning until late at night, so ideal if you fancy a coffee date rather than a boozy one. Music is a big deal to these guys and I am always impressed by their impeccable taste.
I often go in when I have time for a coffee, a chat about life and mainly just to hear some new music from the latest playlist.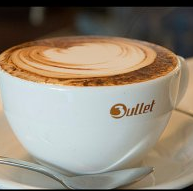 The food: Another brilliant independently owned Aussie and Kiwi style café that has helped put us on the map for its exceptionally good coffee. Sumptuous fresh salads are made on site and change depending on what's in season.
They cater well for vegetarians and have a regular gluten and vegan cake option. Light and healthy breakfast dishes include sugar-free Bircher muesli with raspberry compote and granola and porridge with seeds, fruit and cinnamon.
Organic milk is served as standard.  I also liked the big glass coolers of complimentary fresh lemon and mint water available.
The feel: Smart professionals with iPads. More investment banker and young entrepreneurial types can be found, rather than the arty, creative or media dudes.  Seating area is small, not ideal to spend a great deal of time here for due to shortage of space, but if you pick the right time of day, you will be fine.
Kaffeine has a very slick feel and you won't be disappointed with the love and passion they have for their coffee that is presented in every cup they serve.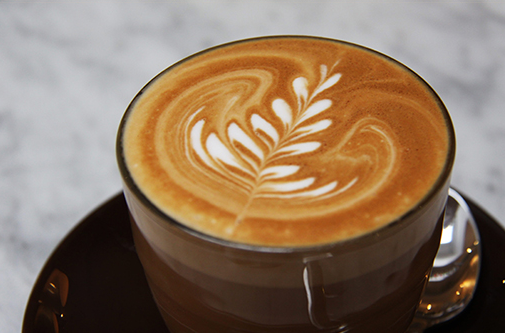 7. Brew, Wimbledon:
The food: You know a place must be good when you have to wait in line for 30 minutes for it.  I would never normally consider this an option, but on Sunday's with a hangover, their brunches are just so good, that it is worth bringing a paper and joining the masses as they wait for their golden goose egg.
Packed with Australians and Kiwis all buzzing with happiness by finally getting a brunch they are used to back home, Brew has a loyal following and has always been a perfect experience for me every time.  The coffee is glorious and breakfast and brunch menu is vast.
I love the gluten-free sweetcorn fritters with avocado, tomato jam and lime aioli as well as their many breakfast egg options.  Fresh juices and smoothie options are a plenty and if you can't make it for breakfast or brunch, they also have a lunch and dinner menu that is equally as impressive.
The feel: Wealthy bankers enjoying a weekend brunch, yummy mummies, preppy types, late night party crowd recovering from hangovers and chatty Aussies.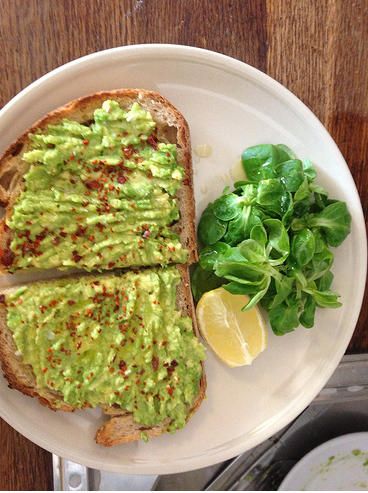 8. Caravan, Kings Cross & Farringdon: 
The food: indulgent breakfast and brunch menu that will leave you deliciously satisfied.  Baked eggs with tomato and pepper ragout and Greek yoghurt are a wonderful dish.  The smoked salmon is a good choice if you like that with brunch.
My other favorite (also very common on the Antipodean eating scene) is the mashed avocado on toast with olive oil and a pinch of fresh chili. Fresh exotic fruit salad and honey roasted muesli is a nice option for a light breakfast.
The feel: Caravan oozes great taste and the utter coolness that can only be found in places created by people with a heartfelt passion. It is a great place for a lazy Sunday brunch and where you just want to hang out for hours soaking up the atmosphere, sipping on silky coffees and reading a good book.
The food: This health store come café, is owned by husband and wife team. Both with a background in food & nutrition, they cater well for vegans and those with food intolerances. They have a stonking sarnie selection -many of which are available as gluten-free. Freshen up with one of their fresh juices or smoothies or if you are feeling indulgent, there are some rather incredible vegan & gluten-free cakes to enjoy. For breakfast, homemade granola and pumpkinseed or varied nut butters on sourdough or gluten-free toast is available.
The feel: Small but perfectly formed.  Not a place to come with a group all expecting a table, but if you are a local, this could certainly become a regular on your hit list. Tables are full with yummy mummies, eco ladies and trendy East London hipsters.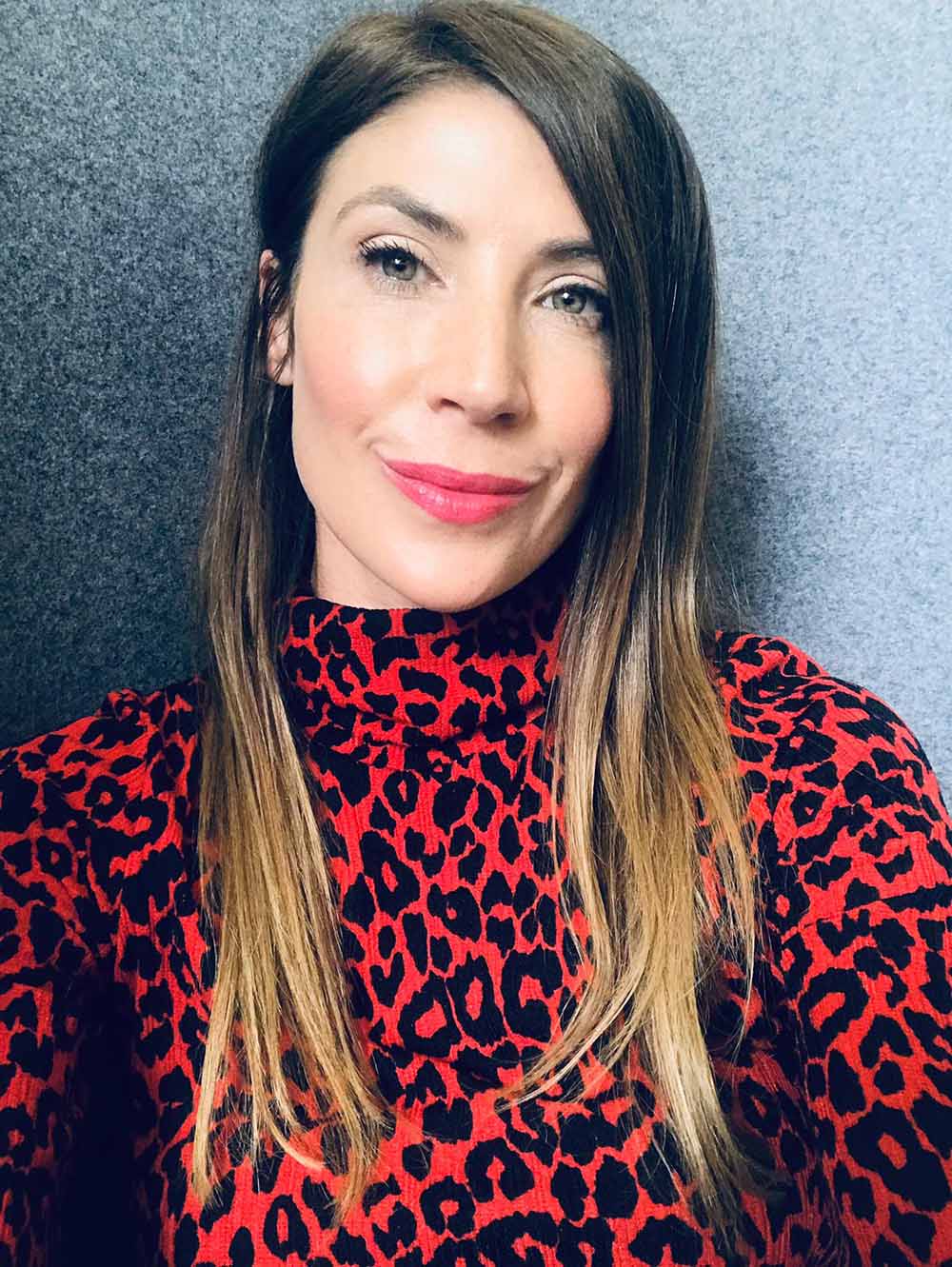 CHARLOTTE DORMON is our Healthista Eats blogger.  She's not a chef, or even that much of a cook.  If it's recipes you're looking for – you're in the wrong place.
But whether it's Sunday lunch or Friday night cocktails, she's the one with the nutrition know-how that friends and family turn to when they want to know how to eat out yet stay healthy.
We'll drink – and eat – to that.
Follow Charlotte on Twitter @healthyeatsLDN
Instagram @healthyeatslondon
More Healthista Content:
30 Day Yoga Challenge with Sarah Malcolm – Day 1
Is this the best new plant based tasting menu in London?
From feeling ugly to drinking too much…7 ways childhood trauma is affecting you today
Love nut butter? Take our quick survey for a chance to win a month's supply (12 jars) of our current favourite, Pip & Nut, plus a luscious nut butter cookbook from founder Pippa Murray
Like this article? Sign up to our newsletter to get more articles like this delivered straight to your inbox.