Healthista Eats columnist and Healthista Collective Expert, Charlotte Dormon (@healthyeatslondon) shares her latest new London vegan brunch spot – Redemption 
Does a London vegan brunch spot with an alcohol free bar exist? Yes, yes it does. And it's called Redemption.
Venue?
Redemption Covent Garden – Seven Dials, Covent Garden in London.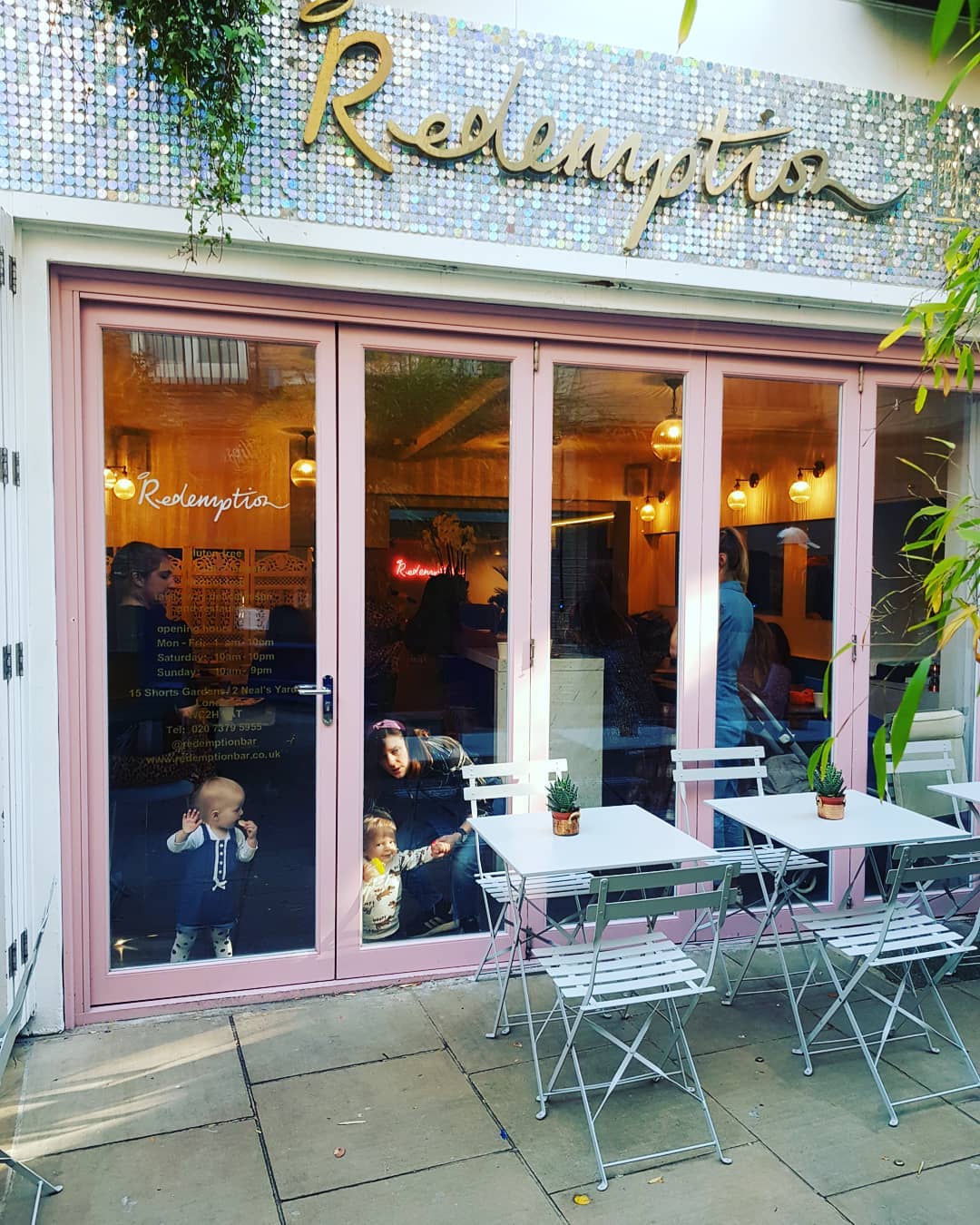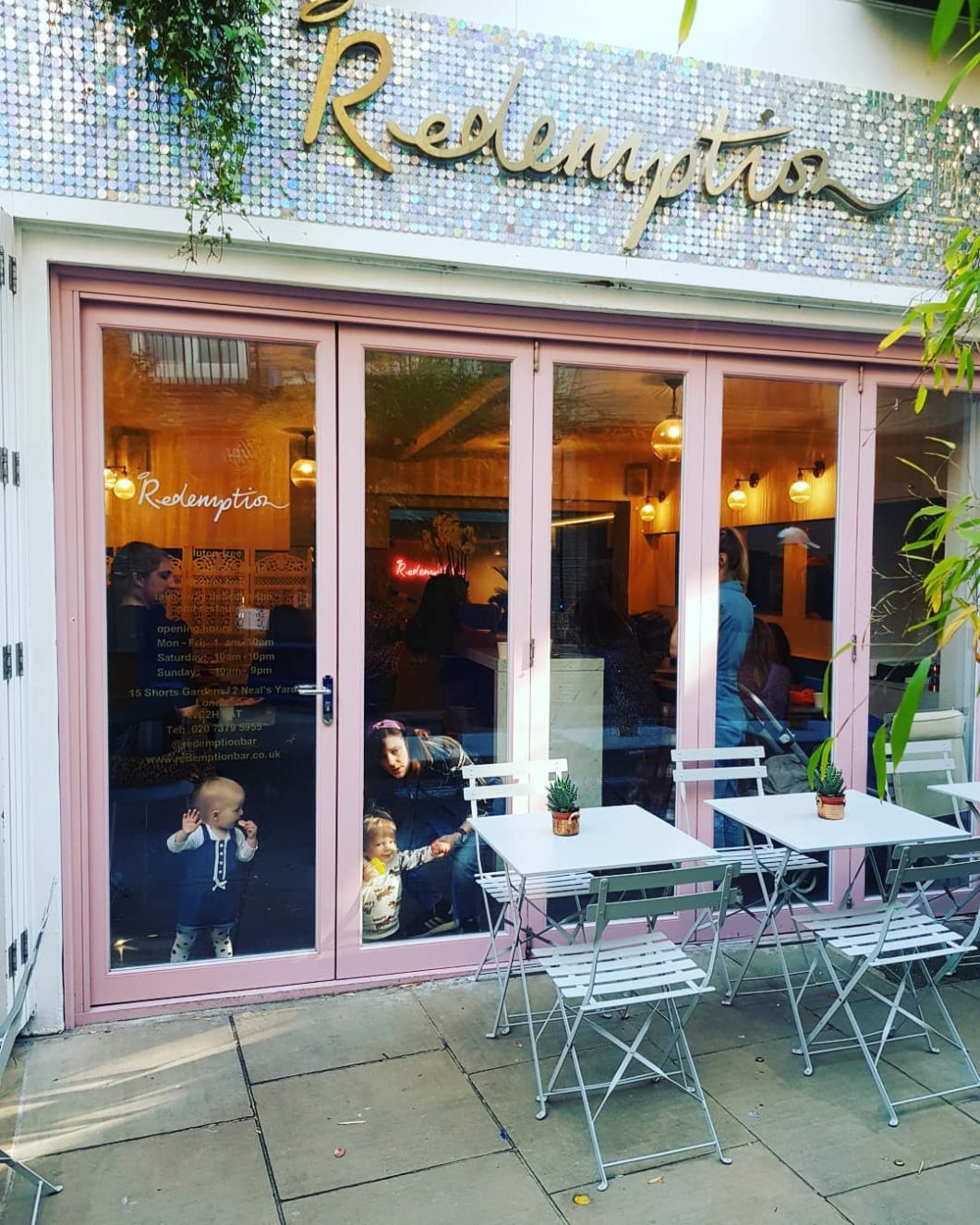 What's hot & healthy on the menu?
What isn't healthy on the menu would be a quicker response…
Vegan and gluten-free buckwheat American style pancakes topped with coconut yogurt, banana, berry compote and chocolate sauce.
Sweetcorn and red pepper pancakes made with polenta, chilli, spring onion and coriander with avocado, roasted tomatoes and salad leaves plus a 100% alcohol-free wine, beer and cocktail bar menu.
As I am a huge fan of all things healthy, delicious and plant-based, I was thrilled to hear that one of my most favored and frequented London veg hot spots, Redemption Bar, had opened a brand new third restaurant with a deli and bar in the Seven Dials area of Covent Garden.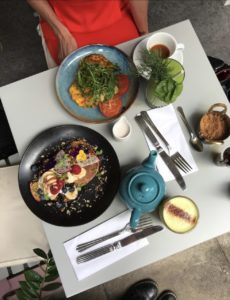 Tell me more…
Redemption Bar is the brainchild of two empowered female entrepreneurs: Catherine Salway – with a background in business at Virgin; and Andrea Waters – an experienced restauranteur, vegan and raw chef, who believes that socialising should not be at the expense of your health.
On the back of this, they have created what they say is 'London's healthiest restaurant' serving up vegan, sugar-free, and wheat-free food with an alcohol-free bar.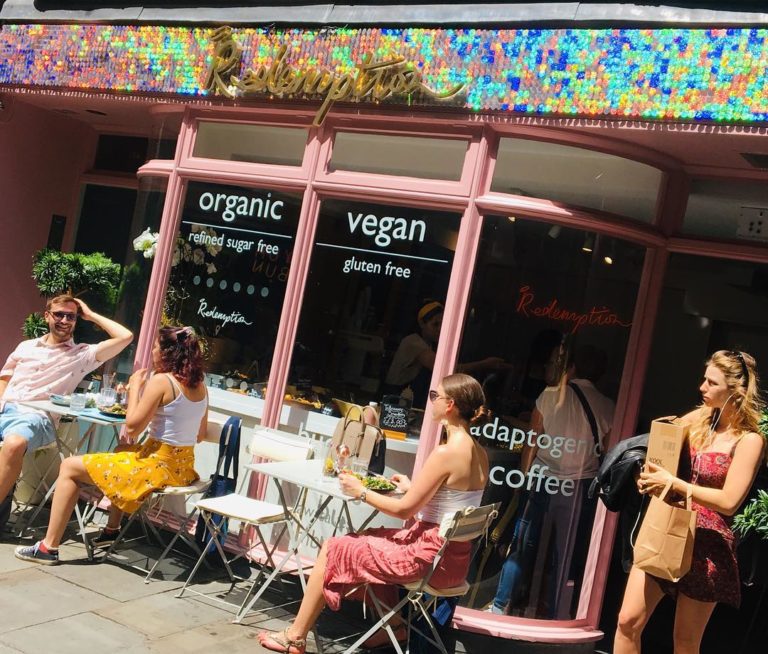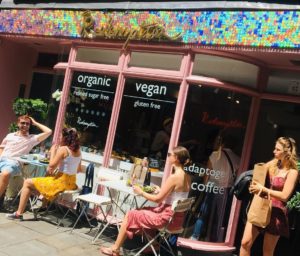 Sound too good to be true?
Luckily, this is not the case. From my personal experience, I would say that dining out meat, wheat and dairy-free doesn't get much better than this.
Their motto as a business is 'spoil yourself without spoiling yourself', and their personal and professional ethos is rooted firmly in caring for the planet, its animals, and the people.
And what about the food?
Despite having enjoyed the lunch and dinner menu at their sister branches in Notting Hill and Shoreditch numerous times, I have never checked out the brunch menu and this time around for brunching in Seven Dials, I was excited to try something new.
And of course, it had to be the pancakes. Because if you have ever read any of my other reviews, you will know that I'm a serious pancake fiend, and if there are healthy pancakes to be had, then this will always be my top brunch choice.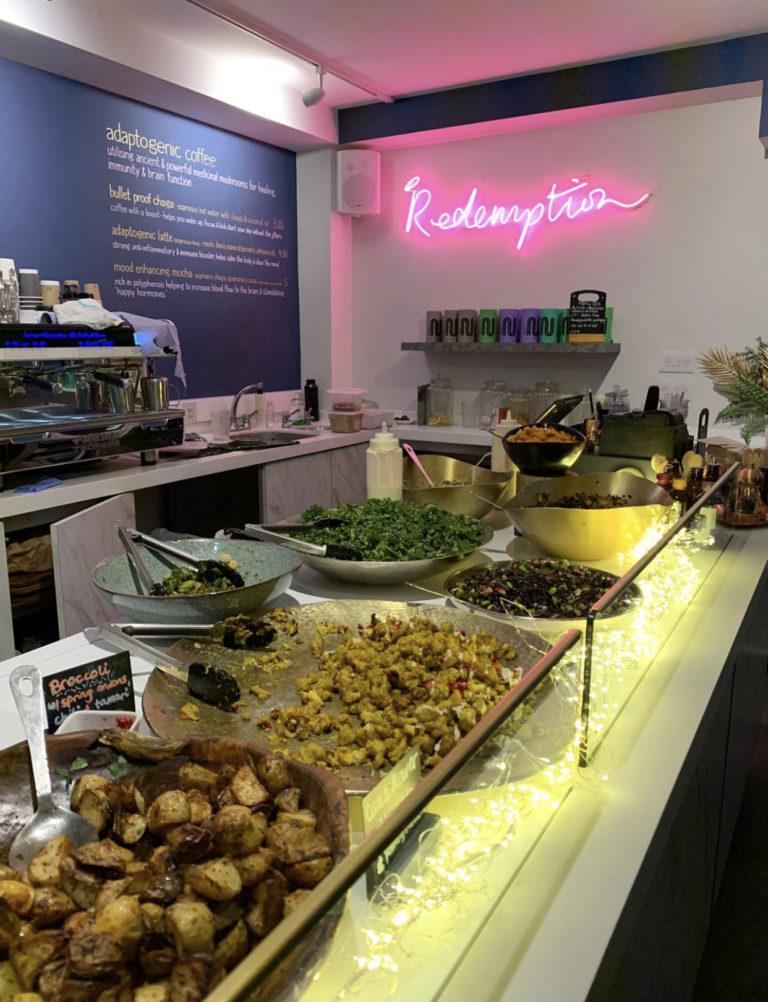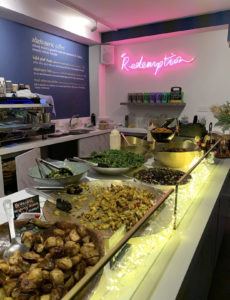 So along with my delightful date Model and influencer Rebecca, we ate the Very Berry pancakes  (GF)– big, hot and fluffy American style stacked pancakes layered with creamy coconut yoghurt, chocolate sauce, berry compote and soft banana and the Sweetcorn and Red Pepper pancakes (GF) – made with polenta (cornmeal), topped with chunky avocado, roasted tomatoes and fresh spring onion.
To drink, we chose a matcha latte (not just any old matcha, but premium ceremonial grade – basically the top notch highest quality green tea) whisked up with coconut milk, a blue spirulina smoothie made with spinach, spirulina, banana, cold pressed lemon orange and ginger and after our food we tried the Apple Mockjito – fresh apple juice muddled with fresh mint and lime, topped up with kombucha.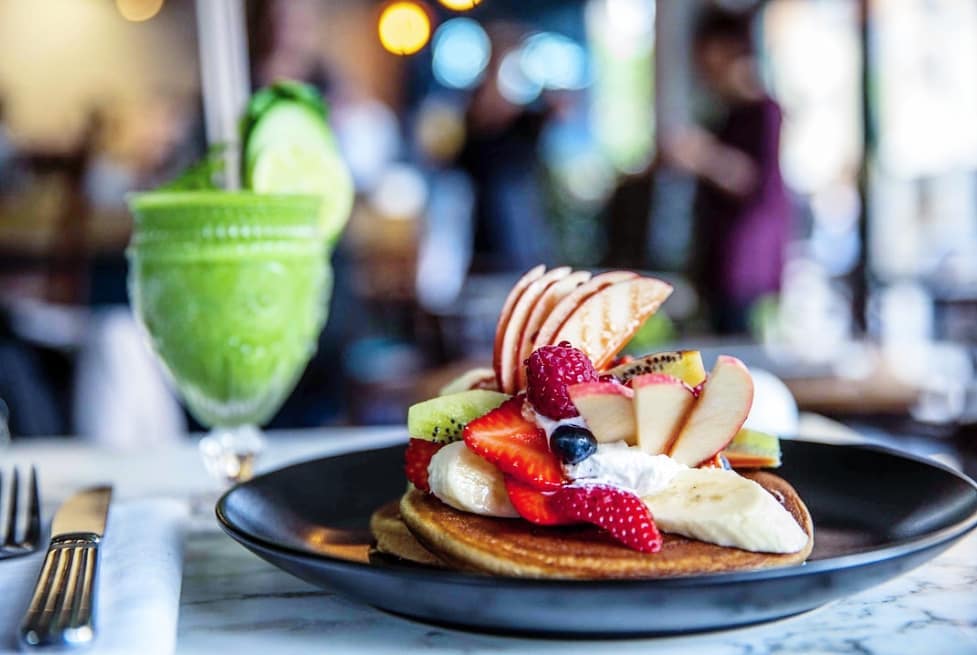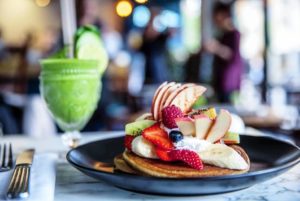 How did it taste?
Thank goodness, after me having such high hopes from my previous dining experiences being good, it did indeed live up to my expectations.
For those who like savoury pancakes, then you will be pleased to know that we thought the polenta & sweet corn option was a real hit.
The soft, yet crispy texture of polenta, coupled with the crunchy sweet corn, made it a hearty and satisfying dish and made the perfect pancake pillow for layering the creamy avocado and sweet roasted cherry tomatoes.
However, the winner for me had to be without a doubt the Very Berry pancakes.  This dish actually blew my mind with happiness and I think my taste buds and brain chemicals were dancing in a collective trance and tantric-like orgasmic state of joy throughout the meal.
The deep and fluffy warm pancakes caressed by the cool coconut yoghurt and luxurious chocolate sauce make for a seriously hot ménage a trois.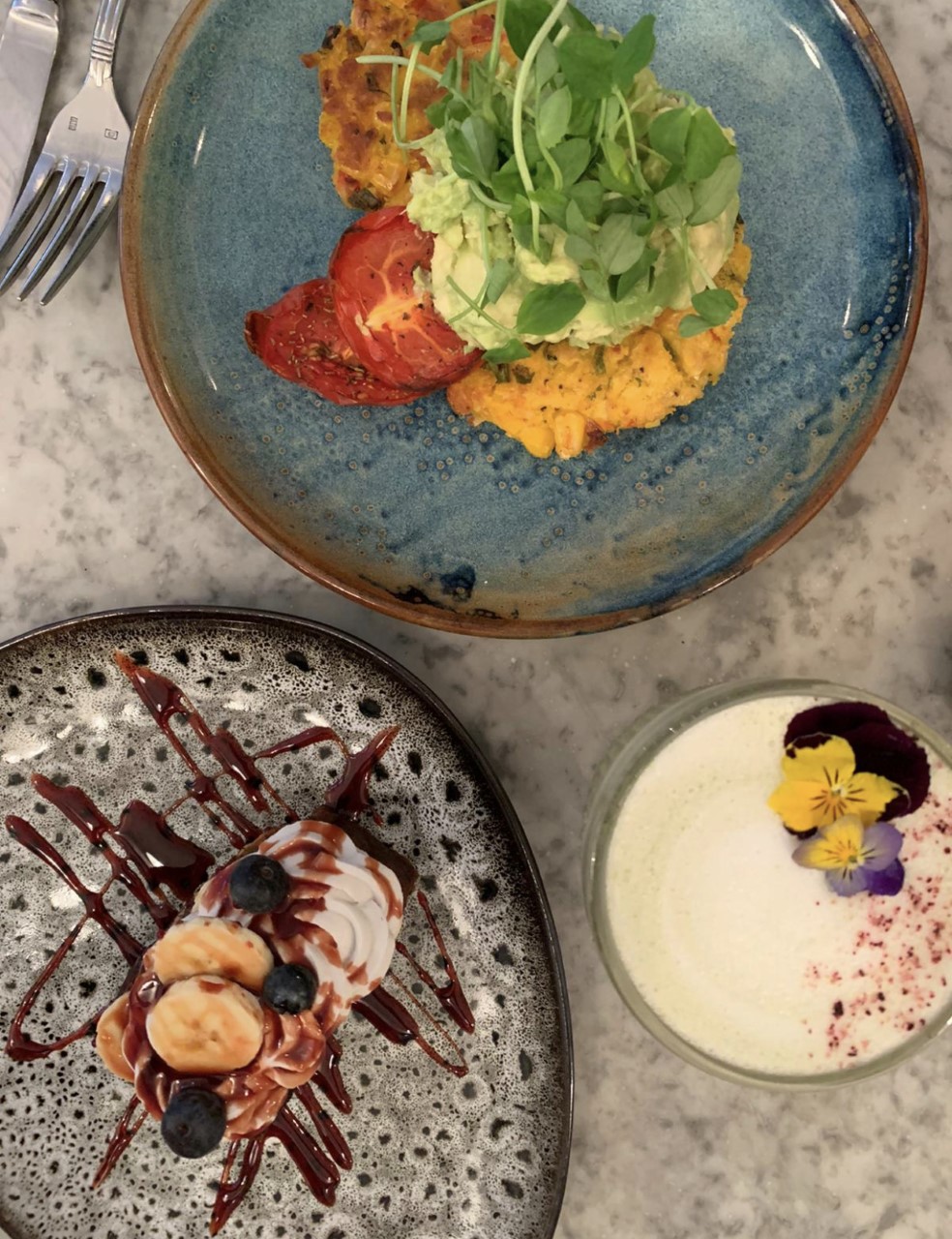 The Banana bread, albeit sounding like I am repeating myself, was also really delicious. I didn't have much doubt that it wouldn't be good, but my problem with a lot of the gluten & vegan cakes is they can be a little too sweet and too dry without the addition of eggs.
The Redemption banana bread is neither too dry nor too sweet. They don't use refined sugar in their baking so although you are still getting a big dose of sweet stuff, it's going to play less havoc with your blood sugar in comparison to many of the shop bought 'free from/healthier' baked goods.
Just got on the wagon?
No problem for you here. One of the big things that makes Redemption so great to visit is the drinks selection.
Be that the freshly made fruit and veg packed smoothies and juices, the medicinal mushroom coffees or the long list of organic & alcohol free, beer wine and mocktail options, there's certainly no shortage of healthy hydration options for you and your guests to enjoy.
Our blue spirulina smoothie tasted surprisingly good for something that sounds like should taste hideous, and was also beautifully presented with pretty little flower on top and some green edible type of foliage.
This was pleasing to experience as I think one being served a thick greenish looking thick liquid with a touch more elegance, is always more pleasing on the eye.
The Apple Mockjito was a refreshing burst of fruity fun for those opting to drink without alcohol, and was made far more interesting with a splash of kombucha to give it a little healthy and fizzy lift.
Who's it great for?
Vegetarians, vegans and plant-based foodies will be on Cloud Nine as the whole menu here just rocks and it ticks all dietary needs.
As well as the abundance of savoury options to enjoy, the cakes, biscuits and indulgent puddings are seriously good.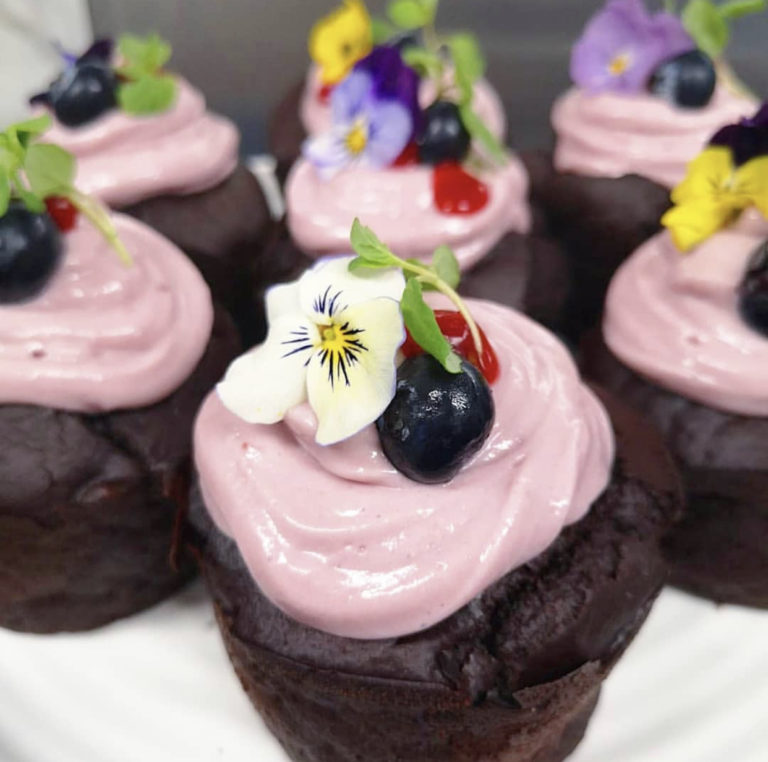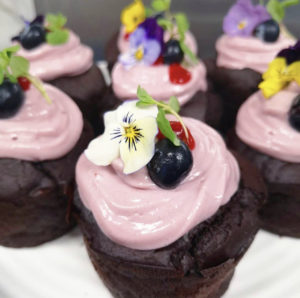 For those with coeliac disease, or on a gluten or wheat-free diet, you are in good company, as pretty much most of the menu is coeliac friendly and all of it is wheat-free.
Gone teetotal or just in need of a drink that gives you a break from hangovers?
This really is the place to be as the whole bar is stocked with the best alcohol-free options you could wish for.
Whether you fancy a alcohol free G&T or a bottle of larger, you can finally let your hair down, relax and enjoy a whole load of fun and tasty drink options.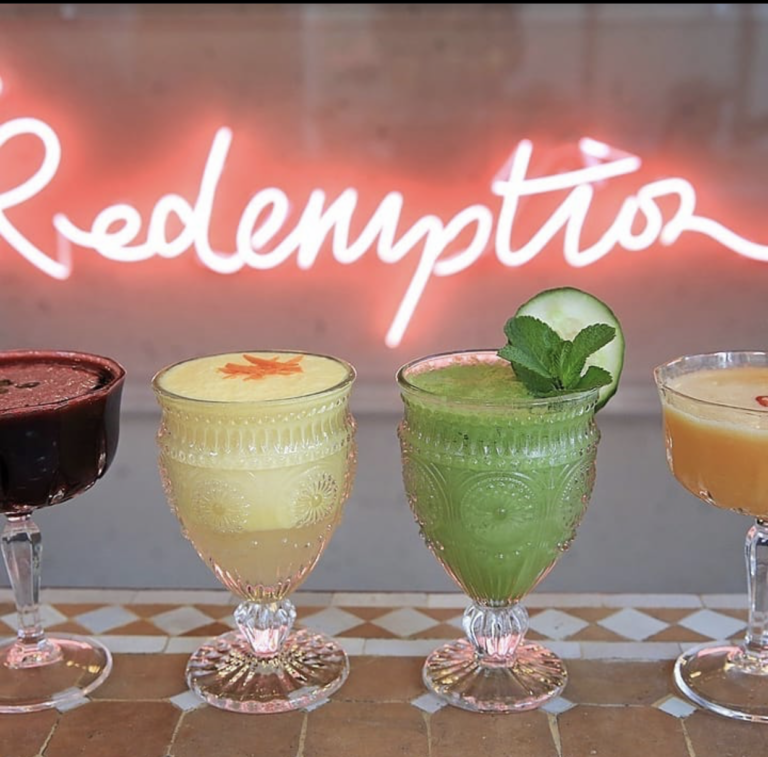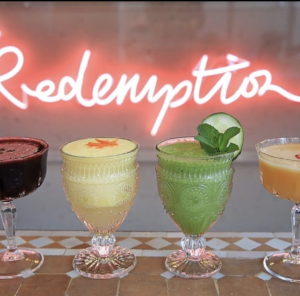 This place obviously caters well for those looking to eat healthily, but also would satisfy friends who are curious to try out more plant based cuisine.
And as the portions are big, you won't need to worry about those with a big appetite moaning that they are still hungry as they have just eaten veg (cue the boyfriend/mate who can't imagine a meal without meat – yes, we have all been there faced with that person staring you like it's going to ruin their day).
What's not to miss?
If you are too full after your meal to try out a cake, make sure you head out via the deli side to take one away with you.  There are about ten or more to choose from, all of which are vegan and gluten-free.
My personal fave, just in case you need a little inspiration, is most certainly the peanut butter & chocolate cup.
And if you fancy recreating the healthy Redemption vibes in your kitchen? Be sure to pick up a copy of their food and cocktail recipe book.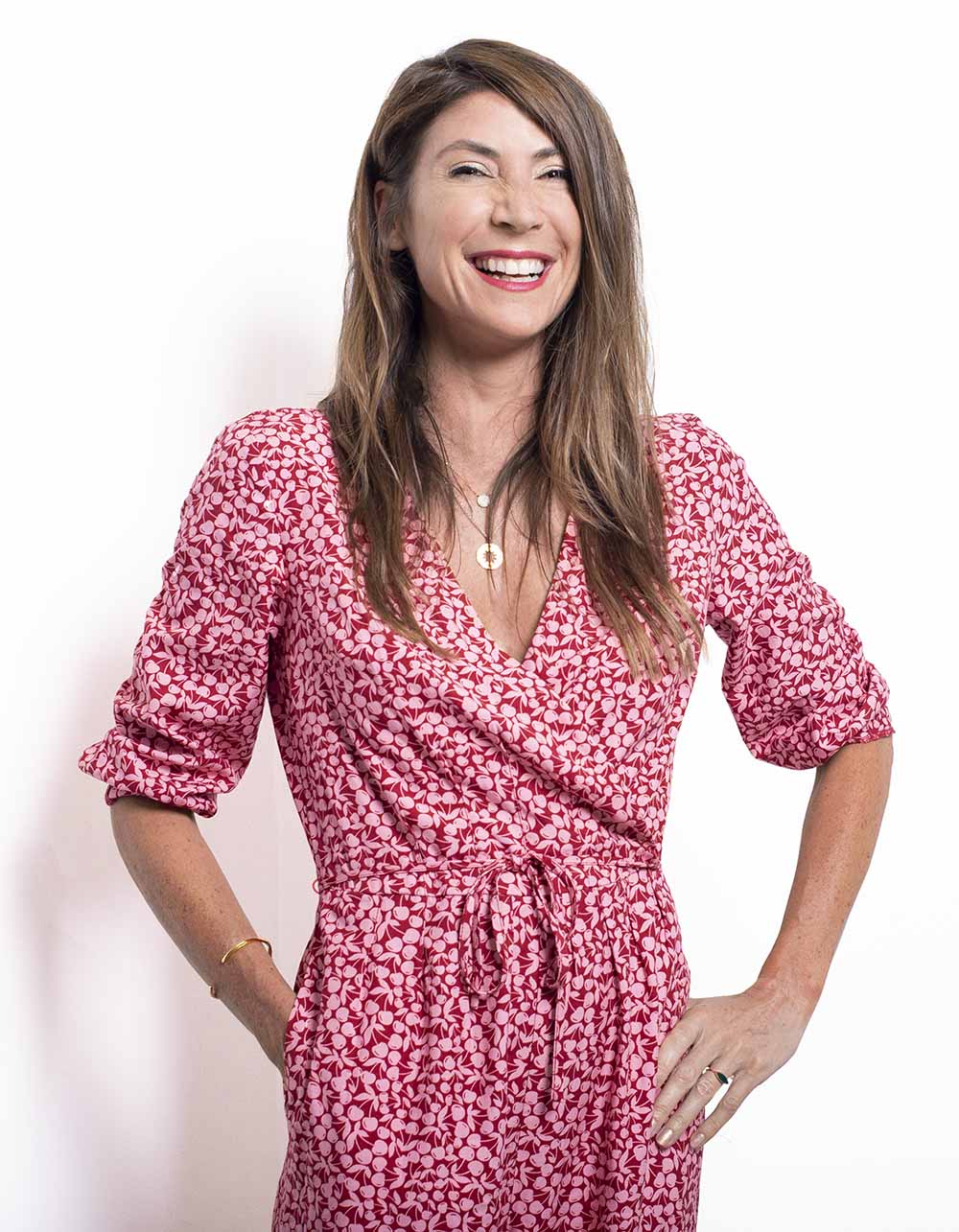 Charlotte Dormon is not a chef, or even that much of a cook. If it's recipes you're looking for – you're in the wrong place. But whether it's Sunday lunch or Friday night cocktails, she's the one friends and family turn to when they want to know how to eat out and be relatively healthy. Each week she'll now be bringing you the same insider knowledge. We'll drink – and eat – to that.
Relevant Healthista Content
On a plant based diet? These 9 vegan hotspots in London will help
Healthy Spanish food restaurant we're loving
10 best gluten free restaurants in London
Where to eat plant-based in London from this top vegan blogger
Other Healthista Content You May Like
Like this article? Sign up to our newsletter to get more articles like this delivered straight to your inbox.