Looking for healthy recipes that could really help your health? Instagram medic Dr Rupy Aujla brings you three that can help skin, eye or heart health
In an era where there are self-proclaimed health experts lurking all over social media, it's hard to know who is actually qualified and who can be genuinely trusted.
Enter Dr Rupy Ajula, who has the credentials we can trust. Not only is he an NHS Doctor and GP, but he is the leading voice in the Culinary Medicine movement.
His latest book The Doctor's Kitchen, Eat to Beat Illness (£16.99, Harper Thorsons) covers everything from how to eat for optimal heart health to how to stimulate brain growth.
The cookbook (also available on Amazon) gives great insight into which foods trigger and amplify your defences against illness.
The best part? These meals are quick and simple to make, and taste absolutely delicious.
So if you want to increase your chances of staying healthy through eating wholesome meals, these recipes are just the ticket.
Best for eye health – carrot and courgette laksa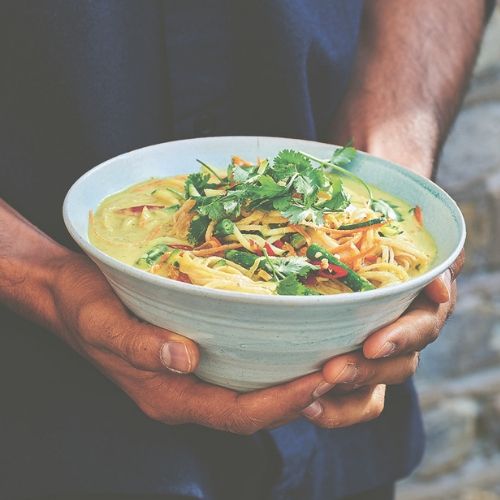 Making the paste for this delicious meal from scratch is so simple and totally worth the effort (see page 246), but you could use a ready-made Malaysian-style red curry (laksa) paste if you prefer – in fact, most south-east Asian pastes will work in this dish.
Curries are a fantastic vehicle for nutrient-rich vegetables. Carrots are a rich and widely available source of beta-carotene.
You could easily use grated sweet potato or butternut squash for similar nutrient and health properties.
The grated apple brings a touch of sweetness to the final dish that mellows the heat of the paste.
Ingredients:
600ml water
1 vegetable stock cube
1 quantity Malaysian Laksa Paste (see page 246 or use shop-bought paste)
400ml tin coconut milk
200g brown rice noodles
200g carrots, grated
300g courgettes, grated
200g green beans, roughly chopped
½ red chilli, finely chopped a little chopped fresh coriander, to serve
½ red apple
1 lime, halved
Preparation:
1)Bring the water to the boil in a large saucepan and dissolve the stock cube in the water. Add the laksa paste and coconut milk and bring to a simmer.
2)Add the noodles and stir for 2–3 minutes then add all the vegetables. Bring to a simmer and allow the flavours to marry for a few minutes before dividing among large bowls.
3)Scatter the chilli over each serving along with a little chopped coriander. Grate some apple over each serving and finish with a squeeze of fresh lime juice.
Variations:
+ Swap the brown rice noodles for white rice noodles or other noodles you have on hand (bearing in mind that they might take less or more time to cook).
+ Try grating other vegetables like celeriac, parsnip or even beetroot for a delicious earthy twist.
Best for skin health – seasonal soup with pesto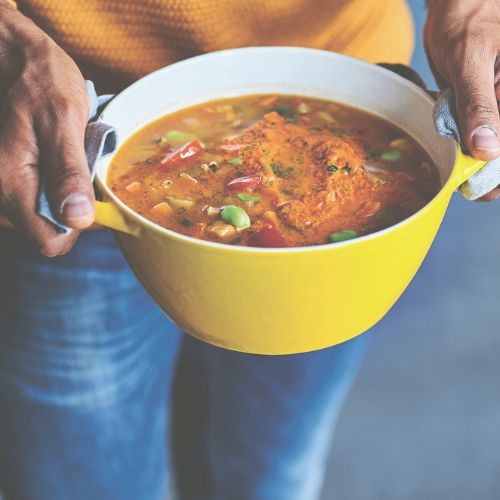 The simplest meals are often the most satisfying. Instead of having to remember complicated cooking steps and intricate techniques, you can focus on what's important – flavour!
This dish is incredibly versatile and straightforward, it delivers so much in the way of nutrition, it's exceptionally pleasing to the eye and is a perfect dish for the family.
You can mix up the vegetables to suit your taste or depending on what's in season. You'll be eating the rainbow in no time.
Ingredients:
2 tbsp olive oil
1 red onion, finely diced
3 carrots, finely diced
4 celery stalks, finely diced
300g fennel bulb, finely diced
200g courgette, finely diced
800ml water
300g podded broad beans (fresh, tinned or frozen)
2 large tomatoes, cut into 3cm cubes
sea salt and freshly ground black pepper
15g Parmesan cheese, grated (or nutritional yeast flakes if you prefer a plant-based soup), to serve
For the red pesto:
25g fresh basil leaves
50ml olive oil
100g sun-dried tomatoes in oil, drained
100g roasted red peppers from a jar
2 garlic cloves
Preparation:
Heat the olive oil in a large saucepan over a medium-high heat and add all the vegetables, apart from the broad beans and tomatoes. Season with salt and pepper and sauté for 20–25 minutes, stirring occasionally, until the vegetables have slightly caramelised.
Boil the water and add it to the saucepan along with the broad beans (you can add frozen ones as they are – no need to defrost first) and simmer for another 6–8 minutes until the vegetables are soft but not mushy. Add the tomatoes and cook for a further minute then take off the heat.
Put all the red pesto ingredients into a blender or food processor and blitz until nice and smooth.
Pour the soup into bowls, swirl the pesto into the soup and sprinkle with a dusting of Parmesan for umami flavour.
Variation:
+ Swap the broad beans for canned cannellini beans or borlotti beans if you like.
Tip:
+ Swap the broad beans for canned cannellini beans or borlotti beans if you like.
Best for brain health – Sweet Cajun Salmon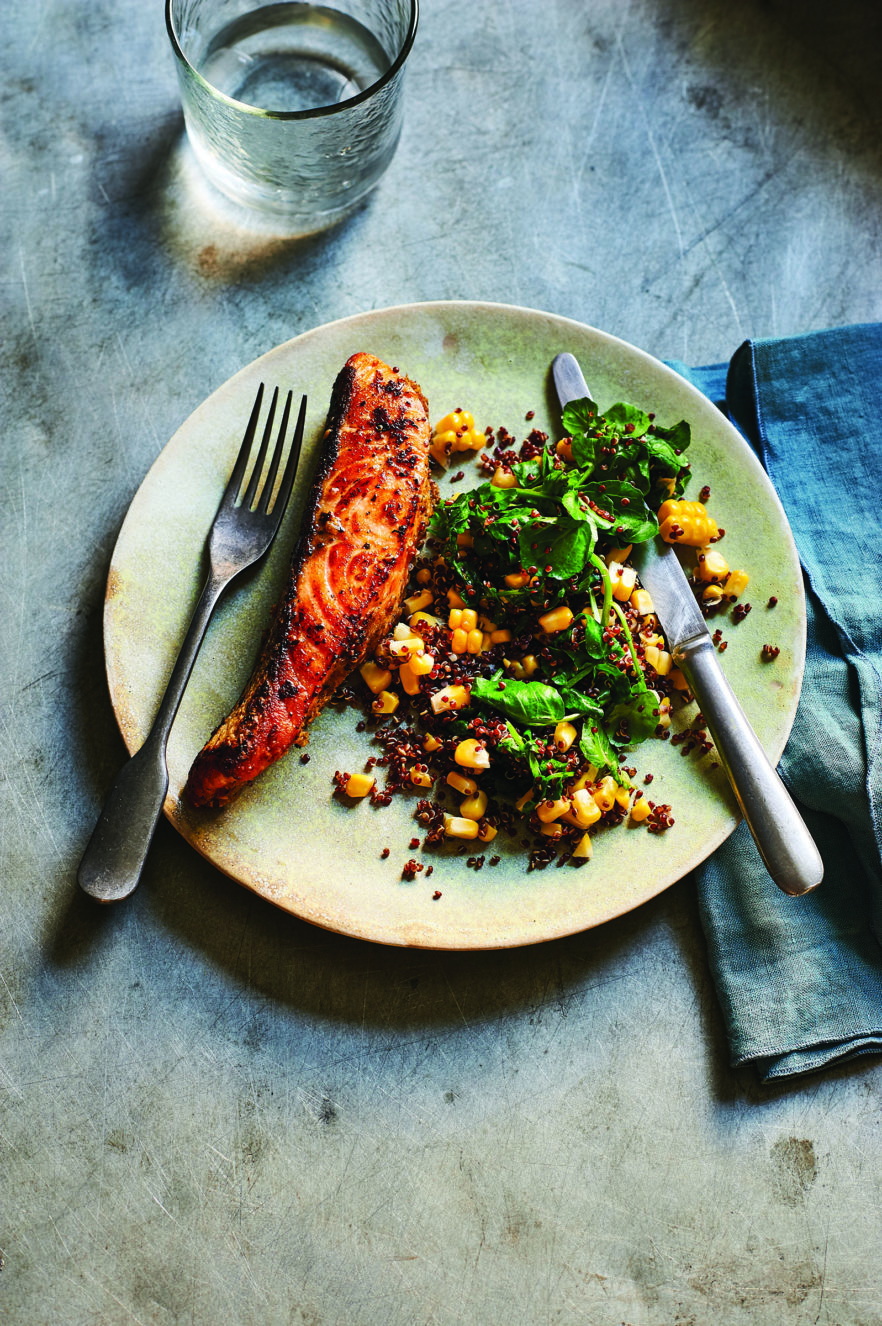 Salmon is a fantastic oily fish that contains essential fatty acids to support brain and heart health. Combined with quinoa, watercress and sweetcorn, it's a delicious satisfying meal. The hot Cajun spices contrast well with a small amount of sweetness from dark sugar.
Ingredients:
2 x 200g salmon fillets (preferably wild line-caught)
200g quinoa
500ml water
1 tsp sweet paprika
150g sweetcorn, sliced off the cob (or frozen kernels)
sea salt and freshly ground black pepper
150g watercress, roughly chopped, to serve
For the Cajun marinade:
2 tbsp milled flaxseed (or wholemeal breadcrumbs will work)
2 tsp Cajun spice blend
grated zest and juice of 1 lime
1 tsp brown sugar or coconut sugar
2 tbsp coconut oil, melted
Preparation:
Mix the marinade ingredients together in a bowl. Add the salmon fillets and leave to marinate for 20 minutes. While the salmon is marinating, soak the quinoa in a bowl of water for the same amount of time.
Add the quinoa to a dry saucepan over a medium heat and toast the grains for a few minutes. Boil the 500ml water then add it to the pan of quinoa along with the paprika, sweetcorn and some salt and pepper. Simmer for 15 minutes then plate up with the watercress.
Heat a frying pan over a medium-low heat and place the marinated fillets in the pan skin side down, pressing them gently for the first 30 seconds. Cook for about 6 minutes until the top side begins to turn opaque, then flip the fillets over and cook on the other side for a further 3–4 minutes until cooked through.
Place the salmon on top of the quinoa and watercress and enjoy.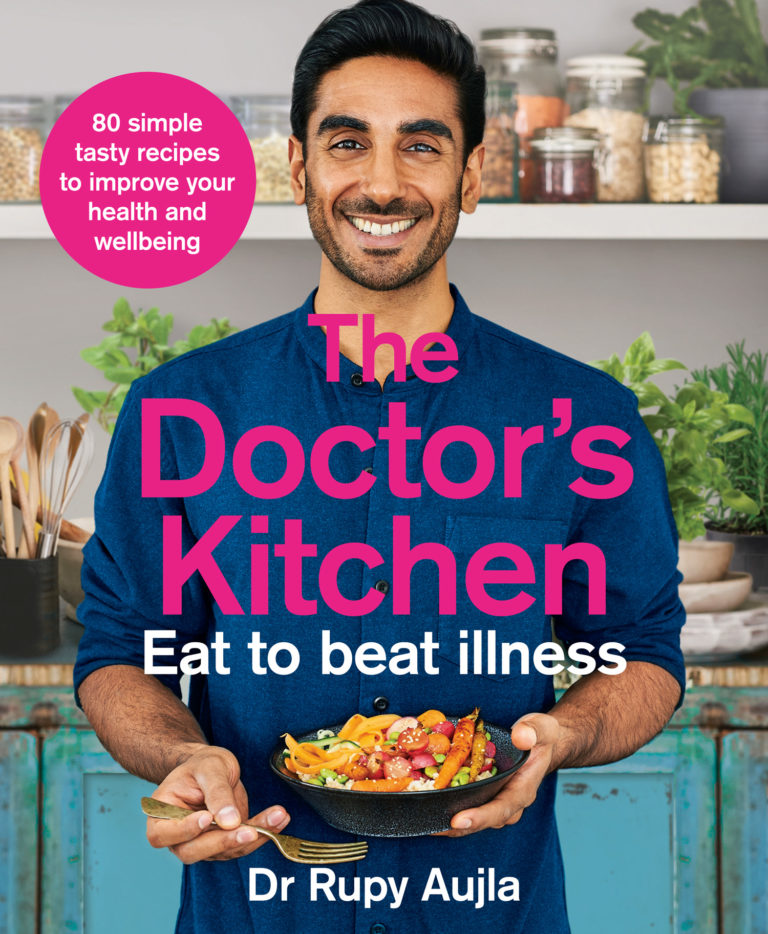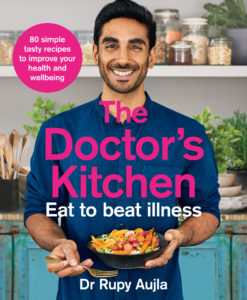 Dr Rupy Aujla is the NHS GP who started 'The Doctor's Kitchen', a project to inspire patients about the beauty of food and the medicinal effects of eating well. He is the author of the bestselling books, The Doctor's Kitchen & Eat to Beat Illness..
In his role as clinical adviser to the Royal College of GP's, he has big aspirations to bring the concept of 'Culinary Medicine' to the profession globally.
"As a doctor, I see the effects of poor dietary and lifestyle choices every day. I got so many questions about nutrition whilst working as a general practitioner that I plucked up the courage to get behind a camera and literally show my patients how to get phenomenal ingredients onto their plate. I'm just a straight talking doctor giving healthy eating inspiration and demonstrating why food is medicine."
Relevant Healthista Content
5 healthy soup recipes to warm up your weekend
3 healthy dinner recipes to help you sleep
5 healthy vegan recipes that will spice up your weekend
7 healthy Christmas recipes to try this year
Other Healthista Content You May Like
Can echinacea really prevent a cold?
Squats, lunges, deadlifts and more – the ultimate trainer's how-to guide
5 diet rules to lose weight from exercise – body transformation week 2
Like this article? Sign up to our newsletter to get more articles like this delivered straight to your inbox.