Healthy soups are an easy way to get lots of nutrients into you while also warming up your body. These are our favourites from new book Broth to Bowl from Drew Smith, former editor of The Good food Guide
Although the autumnal breeze can be a brutal reminder of summer's end, nothing screams seasonal happiness like a homemade cup of your favourite soup.
Mastering the craft of artisanal medleys is Drew Smith's distinctive healthy soups recipe book, Broth to Bowl (£14.00 Amazon).
Among his signature blends of poultry, beef and veggie, Smith offers a little healthy taste of everything for our Healthista foodies.
That's why we've selected five of his delectable and nourishing soups for you to dive into. And with toasty combos of creamy bases and fall's crisp flavours, what more could you want on a cosy night in?
So turn the stove on, slip into your comfiest robe and put with your feet up with one of these warm bites. You deserve it…
Healthy Soups Recipe #1: Old-Fashioned Split Pea Soup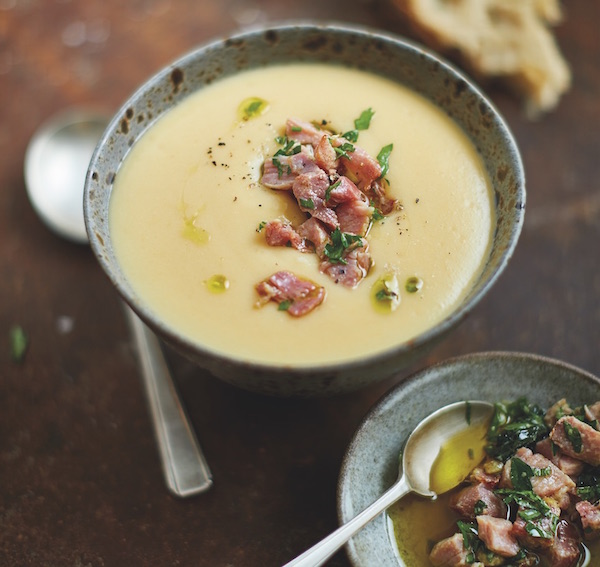 Serves 4
This is old-school, peasant country fare. You can imagine digging out dried peas from a sack and pulling the ham hock down from the rafters of an old farmhouse. It is completely different to the fresh pea and ham soup (p112). This one is rib-stickingly nutritious and filling; ideal winter food.
Ingredients: 
100g dried split peas
1 ham hock, unsmoked
2 tbsp double cream
Vinegar, mustard and olive oil for vinaigrette
Chopped fresh parsley
Bread to serve
Start mixing: 
Soak the split peas overnight in cold water.
Place the ham hock in a cooking pot, cover with water and bring to the boil. Let it bubble for a couple of minutes and skim off any scum that rises.
Throw away the water and fill up with fresh water.
Bring back to the boil, then leave to simmer on the stove at the lowest temperature for 4–5 hours until the hock has completely collapsed.
Strain the peas and add to a casserole. Cover with enough hock broth and bring to a good rolling boil for 5 minutes.
Then turn down and let it simmer for 50 minutes.
It is done when the peas start to burst.
Turn off the heat.
Liquidize thoroughly to a purée.
Stir in the cream.
Taste and season.
While the soup is cooking, remove the ham hock from the broth and trim the meat away from the fat and bones.
Cut into small shards.
Mix up a sharp little vinaigrette with vinegar, mustard and olive oil – in that order – to taste.
Spoon over the ham shards and toss in chopped fresh parsley.
Serve the soup topped with the ham vinaigrette and fresh bread.
Healthy Soups Recipe #2: Dalston Bouillabaisse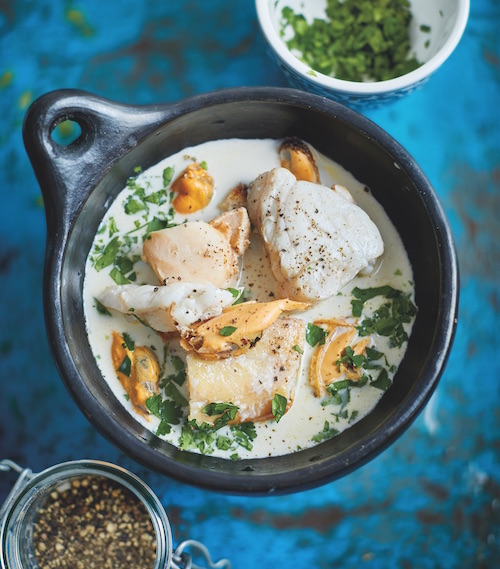 Serves 4 
Unless you live in Marseille or Sete you cannot find the kind of small warm-water fish like rascasse and grondin that give bouillabaisse its distinct accent. But other mixes of fish can work for fine soup too. The Ridley Road market in Dalston, London got me started on different approaches with its colourful array of mullets, parrot and declensions of prawns. This needs to be made ahead of time, so it is a leisurely afternoon assembly line. The great thing about this approach is that you don't get any bones.
Ingredients: 
800ML Mussel broth (p135)
150g smoked fish, cod or haddock
1 gurnard
1 monkfish tail
150g hake
1 tbsp double cream
Chopped fresh parsley to serve
Start mixing: 
Strain the mussel broth, reserving the mussels.
Lay all the fish in a wide saucepan. Cover with the broth and let the liquid come to a slow simmer over a medium heat.
Cover and let it cook for a few minutes – not too long, just so the fish changes complexion.
Take off the heat.
Pick over the mussels and throw away the shells.
Lift out and break the smoked fish into chunks, take the meat off the bones of the gurnard watching out for bones, the do the same with the hake and finally the monkfish tail; you want good solid steaks of fish in there.
Add the fish and mussels to the broth.
Bring the pan to a simmer; you don't want to boil it, just warm enough.
Stir in the cream and garnish with the chopped parsley leaves.
Cook's tip: If you make more than you need, you can add different fish the next day, such as scallops or even lobster for an upscale variation. Cod, haddock and coley are all contenders. It is a good way of using up offcuts from the fishmonger's slab.
Healthy Soups Recipe #3: Two Mushroom Miso Soup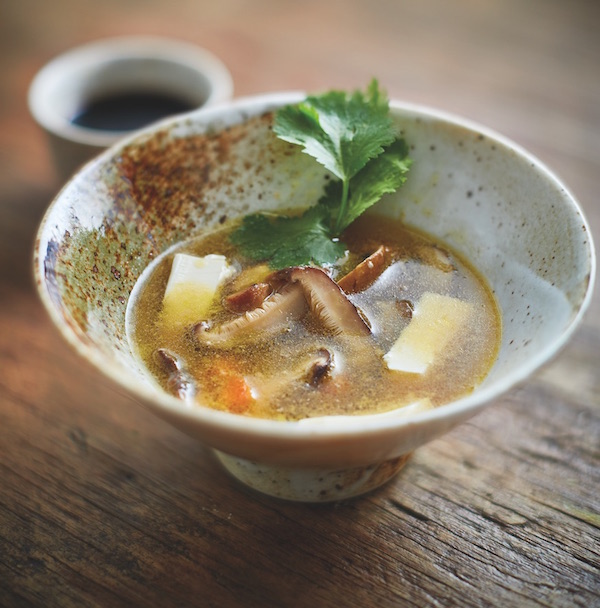 Serves 4 
Basic miso soup is mostly the triumph of the Japanese grocery. The only skill left in a culinary sense is boiling water to rehydrate the wakame and dissolve the paste. It is wonderfully simple. This recipe, Buddhist in inspiration, is a more evolved variation. In Japan the vegetables might be burdock and daikon but Western root vegetables work equally well for the base. What this recipe does demonstrate is the full power of the kombu.
Ingredients: 
12 dried shitake mushrooms
1 carrot
1 parsnip
1 celeriac
Vegetable oil for frying
125g oyster mushrooms
Sheet of kombu
3 tsp miso paste
125g silken tofu
Soy sauce or Sesame oil
Fresh Coriander to garnish
Start mixing: 
Soak the dried mushrooms in boiled water for 15 minutes, until soft.
Wash and peel the carrot, parsnip and celeriac and dice into small cubes.
Shallow fry lightly in olive or vegetable oil for 5 minutes.
Tear the oyster mushrooms into small pieces and add to the vegetables, stirring everything together.
Cover with boiled water.
Add the shitake and the liquid they are soaked in, making about 2 litres in all in the pan.
Cover everything with the whole sheet of kombu.
Cover the pan and let it simmer quietly for 30 minutes.
Dissolve the miso paste in a twice as much hot water and stir well to get rid of any lumps.
Carve the tofu into batons.
Take the pan off the heat.
Lift out the kombu and add the miso and the tofu.
Garnish with coriander leaves, soy sauce or sesame oil.
Healthy Soups Recipe #4: Roast Partridge Soup With Chestnuts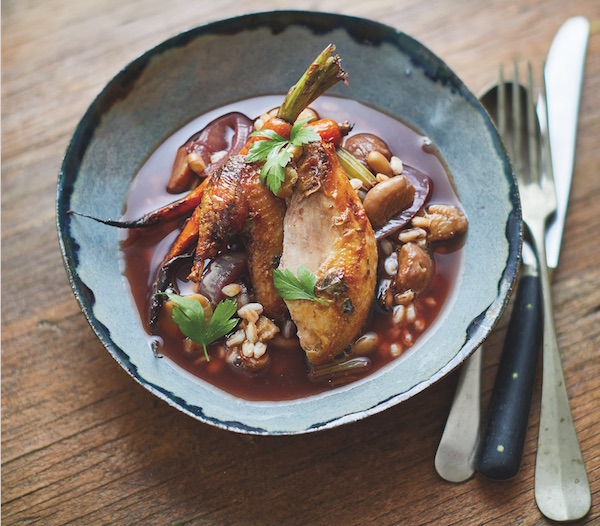 Serves 4 
This is a wonderful and surprising autumn dish. The partridge is interchangeable with most small game birds, even perhaps a quail, but every other ingredient, like any good cast, has something to contribute. This is a bit of a backwards soup: you build it up as if making gravy, adding finely diced small vegetables from the get go.
Ingredients: 
1 partridge
1 carrot
1 onion
2 or 3 stalks celery
Knob of butter
1 glass red wine
100g farro
150g chestnuts, peeled
200g tinned flageolets
Start mixing:
Preheat the oven to 190°C/Gas mark 5.
Pour boiling water through your partridge and pat dry with kitchen paper.
Chop your carrot, onion and celery into small pieces and make a bed of them in the bottom of a roasting pan.
Place your bird on top.
Cover the base of the roasting pan with a thumb-depth of water.
Put a knob of butter inside the bird and roast for 30 minutes.
Lift out the bird and set aside to rest.
Pour the remaining contents of the roasting pan into a medium saucepan.
Bring to a bubble and add the glass of wine, with an equal amount of water.
Carve off the breasts and legs and add the carcass to the saucepan.
Cover and cook hard for 10 minutes.
Then add the farro and chestnuts and cook for 15 minutes, until softer but still nutty.
Reduce the heat to low.
Rinse the flageolet beans until the water runs clear and add them to the soup along with the partridge breast and wings.
Warm through.
Drain the broth into a jug to serve on the side.
Arrange your ingredients into a neat pile in individual bowls and dress with the soup.
Cook's tip: For an indulgent lunch, return any leftover gravy and ingredients to the pan and add the carcass again, plus any leg bones. Add a knob of butter and cook for another 5 minutes. Dress any leftover meat on toast and drizzle the broth over.
Healthy Soups Recipe #5: Cream Of Green Vegetables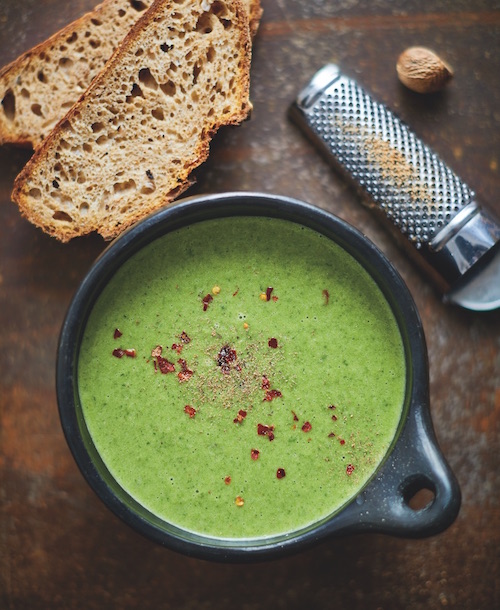 Serves 4 
A simple little trick will transform the second-stage chunky vegetable broth into something that looks and tastes completely different.
Ingredients: 
1l chunky vegetable broth
2 handfuls of spinach
2 tbsp double cream
Pinch of dried chili flakes
Nutmeg to grate
Rye or Spelt Bread to serve
Start mixing: 
Put the chunky broth in a saucepan on the stove to warm through.
As it starts to simmer, lay in the spinach and swirl it around so it is well covered.
The moment it starts to wilt – 1 minute maybe, not 2, take it off the heat.
In a liquidizer or using a hand-held blender, blitz everything to a purée.
Last of all add the cream – it should not cook – sprinkle on the dried chilli, and grate over the nutmeg.
Serve with rye or spelt bread if desired.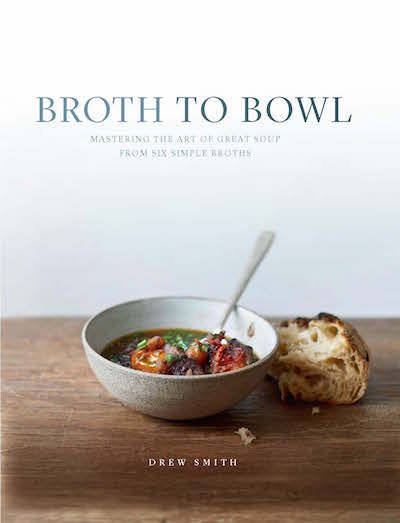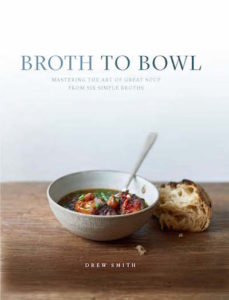 Drew Smith is an editor, cook and food writer, best known for coining the term 'modern British cooking' when he was editor of The Good Food Guide for 10 years. He has been a restaurant writer for the Guardian and has won the Glenfiddich award three times. Recent works have included translating La Mere Brazier from the French, which was an Observer Food Monthly Book of the Year and voted by Bill Buford as his favourite cookbook of all time. His Oyster: A Gastronomic History (with Recipes) was a Vogue book of the year.
Broth to Bowl, Mastering the Art of Great Soup from Six Simple Broths by Drew Smith
Published by Modern Books
Priced at £20.00
©Elwin Street Productions Limited
Relevant Healthista content:
4 healthy recipes from the new Wagamama cookbook
5 healthy mocktail recipes from London's hottest alcohol-free bar
6 healthy salad recipes that will actually fill you up
4 oily fish recipes that will make you want to eat it
Other Healthista content you might like:
7 hottest health trends for 2020 – from clothes that predict a heart attack to a wearable that instantly makes you calmer
5 steps to starting a weight loss transformation – your new body starts here
What is Ubuntu? Desmond Tutu's granddaughter explains the South African culture of connection
From depression to body image – 7 mindfulness meditation videos for mental health
Like this article? Sign up to our newsletter to get more articles like this delivered straight to your inbox.