It's more important than ever to aim for a healthier Christmas this year after it was revealed that Christmas can be deadly for asthma sufferers. From gluten-free gravy and healthy Christmas pudding to nut roast for the vegans, nutritionist Sarah Flower brings you 7 healthy Christmas recipes
Turns out Christmas can be deadly for some asthma sufferers thanks to main culprits pigs in blankets, mulled wine and even Christmas trees. It's more important than ever to aim for a healthier Christmas this year.
Pigs in blankets are known to be a top favourite Christmas treat but a charity has warned that they could in fact pose a serious threat to asthma sufferers.
Turns out Christmas can be deadly for some asthma sufferers thanks to main culprits pigs in blankets, mulled wine and even Christmas trees.
Asthma UK revealed today sulphites found in processed meats can trigger potentially life-threatening asthma attacks. But it isn't just our beloved pigs in blankets that threaten asthma sufferers, Asthma UK also warned that Christmas trees, mulled wine and Christmas season stress can also be bad news fo the millions of sufferers.
With around 5.4million people who suffer from the common condition in the UK, Asthma affects the small tubes and airways that carry air in and out of our lungs, with attacks triggered by 'allergens' that are harmless to most people but can cause and immune system reaction for those that do suffer from asthma.
These allergens will lead to the lining of the lungs becoming inflamed and swollen, the airways will narrow, making it increasingly hard for air to pass through.
With this in mind, if you are having more than the desired amount of guests round for Christmas lunch maybe it would be wise to go for some healthier options and recipes. Sarah Flower brings you seven healthy Christmas recipes that can do just that.
Healthy Christmas Recipe #1 Spicy Red Cabbage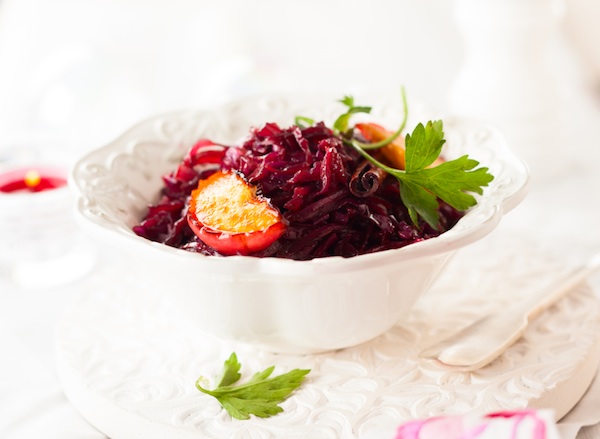 I love the vibrant colour and this is perfect to liven up your Christmas lunch. But don't just make this at Christmas, use it to add colour and flavour to your meals. It is cheap and easy to prepare. Red cabbage is also packed with antioxidants and has an anti-inflammatory affect. The flavonoids in red cabbage have also been shown to help lower blood pressure. If you want to go sugar-free, add a little rice malt syrup, stevia or Xylitol to taste.
Serves 4
Suitable for Vegetarians
Gluten Free
Can be cooked in Advance
Prepare 2, Save 1
Can be Frozen
Ingredients:
1 red cabbage
2 onions
2 Bramley apples
4 teaspoons cinnamon powder
1 teaspoon mixed spice
1 teaspoon dried cardamom
25g soft brown sugar
Rind and juice of one orange
50ml apple juice
1 glass/200ml of red wine
Method:
I use my slow cooker to make this, but you can use an ovenproof dish and cook in the oven, or on a low heat on the hob.
Shred the cabbage, chop the onion, core and chop the apple (I leave the peel on, but it is up to you).
Place in the pan with all the remaining ingredients and mix thoroughly.
Cook on a low heat until cabbage is soft. This will take approximately 4-6 hours in the slow cooker, 2 hours on low heat in the oven or an hour on a low heat on the hob. Stir occasionally.
Serve as a side vegetable dish. If you make a large batch don't waste it; you can bottle it to preserve until needed.
Healthy Christmas Recipe #2 Leek and Stilton Stuffed Cabbage Leaves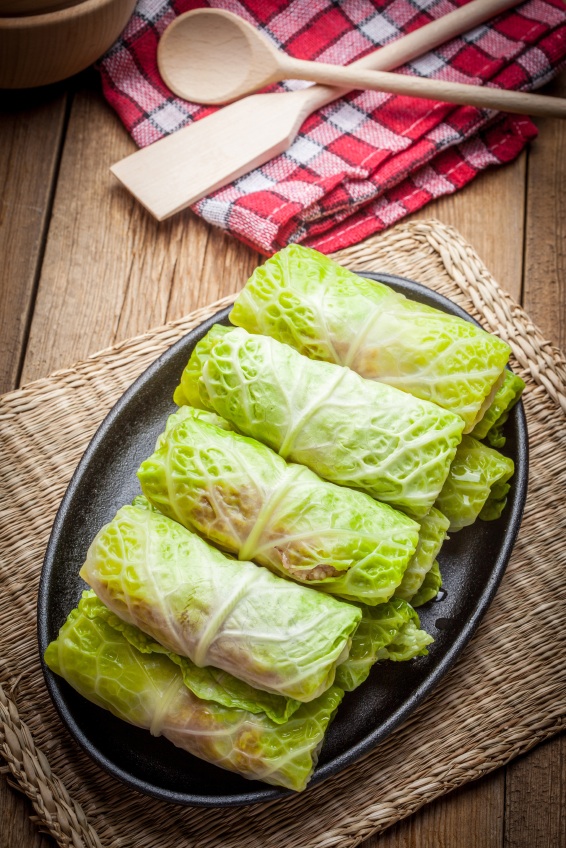 Stuffed cabbage leaves is surprisingly easy and a great way to use up some leftovers. Here I have used a vegetarian recipe, however see below for other variations.
Serves 4
Suitable for Vegetarians
Gluten Free
Can be cooked in Advance
Ingredients:
8-12 large cabbage leaves
1 leek, finely chopped
50-75g stilton or blue cheese
100g chestnut mushrooms, quartered
Method:
In a sauté pan, fry the leeks for 2 minutes. Add the mushroom and fry for one minute. Season with black pepper and leave to one side.
Meanwhile, add cabbage leaves to a pan of boiling water for 2-3 minutes to help soften the leaves. Do not discard the water as you will use it to steam the parcels when formed.
Place some of the leek and mushroom filling in the centre of the leaves, then add a sprinkle of the cheese and roll into a parcel. If you need to, you can use a wooden cocktail stick to help secure.
When all the cabbage leaves are parcelled up, place in steamer. I use a bamboo steamer for this as it seems to give a nicer flavour.
Steam for 5-10 minutes before serving.
NB: Here are some suggestions for variations to this recipe:
Pancetta and Gorgonzola Cheese Parcels
Mozzarella, Basil and Tomato Parcels
Bolognaise Parcels – great for using up any spare bolognaise mince
Bubble & Squeak Parcels – great for using up leftover roast veg and meat. Chop some roast potatoes, veg and even some cold meat.
Healthy Christmas Recipe #3 Vegetable & Bean Crumble
This is a very filling one-pot dish packed with goodness and is also a good way of using up the odd vegetables you have in the fridge. Serve on its own or with a salad for a perfect meal.
BOGOF & Freeze! – Why not double the recipe and freeze before cooking into single of family size portions. Perfect for the after-Christmas slump when you just want to grab a handy but nutritious meal from the freezer. Don't forget to label before freezing.
Serves 4-6
(Hob and Oven Recipe)
Ingredients:
Olive oil
1 sweet potato, diced
1 white potato, diced
1 carrot, diced
2-3 cloves of garlic, finely chopped
1 onion, finely chopped
1 red pepper, diced
1 stick of celery, diced
1 tin of chopped tomatoes
1 tin of mixed beans
1-2 Handfuls of fresh baby leaf spinach
Small handful of mixed fresh herbs
Seasoning to taste
75g butter (if vegan us vegan spread)
175g plain flour (if gluten free, opt for Doves Farm gluten free plain flour)
50g roasted mixed seeds
50g mature cheddar (if vegan, omit the cheese or substitute with a sprinkle of nutritional yeast flakes or vegan cheese).
Method:
Prepare your vegetables. Place the potatoes and carrots in a steamer and steam for 10 minutes to help soften.
Meanwhile, place olive oil in sauté pan and cook the onion and garlic until it starts to soften. Add the pepper, celery, chopped tomatoes, 200ml vegetable stock, spinach and herbs and cook for 10 minutes.
Preheat your oven to 180 ̊c
Add the potatoes and carrots to the tomato mixture and season to taste. Pour this into a deep ovenproof dish.
In a bowl, add the flour and rub in the butter to form a texture similar to breadcrumbs. Add the seeds and grated cheese and season.
Sprinkle this over the vegetable base. You can leave this to cool and freeze, leave in the fridge until ready to cook or place immediately into your preheated oven.
Place the crumble in the oven and cook for 20 minutes until golden and bubbling.
Serve immediately.
Healthy Christmas Recipe #4 Mushroom and Cashew Nut Roast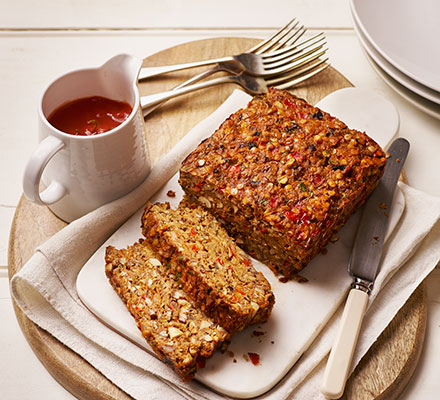 This is a fantastic recipe for a roast or Christmas dinner. It has always been really popular with meat eaters and vegetarians. It does really speed up the preparation process if you have a food processor .
Serves 6
Suitable for vegetarians & vegans
Gluten Free
BOGOF & Freeze! – Why not double the recipe and freeze before cooking. I freeze mine in the loaf tin, then remove and freeze ready to pop back in the tin whenever I want to cook it. Don't forget to label before freezing.
Ingredients:
1 large onion finely chopped
200g Cashew nuts (chopped)
250g mushrooms (I prefer chestnut but choose whatever works for you)
50g breadcrumbs (from your own bread)
2 tsp yeast extract
Method:
Fry onion in a little oil until translucent.
Add onions and nuts and cook for five minutes
Add yeast extract, followed by the breadcrumbs.
Place into lined loaf tin and press down to form firm base
Bake in oven for 40 minutes.
Can be frozen (before baking) and used when needed.
NB: Another variation of this is to wrap the mixture in puff pastry – this makes a Mushroom En Croute which looks very impressive, particularly for Christmas lunch or as an alternative to meat when putting together a roast. Roll out the pasty and place on a baking tray. Add the mixture in the middle long ways. Using a sharp knife, cut 1-2inch strips either side of the mixture – you will then fold these over the mixture to form a pleated effect. Fold the pastry over the top and seal well with beaten egg or milk. Bake for 40 minutes until golden.
Top Tip: why not make double the mixture to make one nut roast and a mushroom en croute. Freeze both uncooked until needed.
Healthy Christmas Recipe #5 Thai Bean Cakes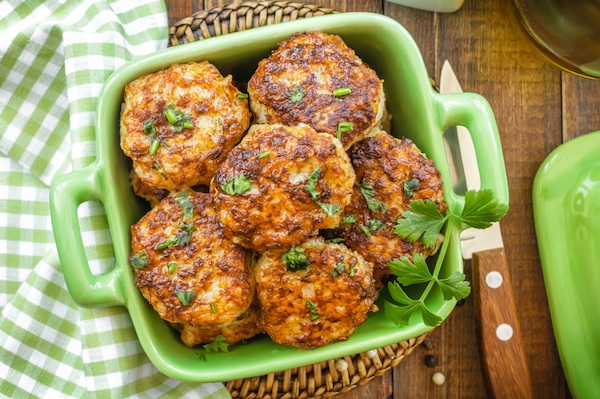 This is a really versatile recipe and can be adapted to suit what is in your store cupboard. If you don't have cannellini beans, you can use chickpeas or even butterbeans. I have also made the same recipe with left-over mashed potato (a sort of Thai potato cake) and it has worked well.
BOGOF & Freeze! – Why not double the recipe and freeze before cooking into single of family size portions. Don't forget to label before freezing.
Serves 4
(Hob Recipe)
Suitable for vegetarians and vegans
Gluten Free
Cooks in under 20 minutes
Ingredients:
Half a bunch of spring onions, chopped finely
1 tin of cannellini beans
Handful of coriander leaves, finely chopped
2-3 teaspoons red Thai paste
Zest of one lime
Juice of half lime
Method:
Drain and rinse the beans with cold water. Shake dry.
Place beans, onions, coriander, Thai paste and zest and juice of lime in a food processor and whiz until combined.
Place mixture on floured board and form into 4-6 bean cakes.
Heat olive oil in sauté pan and cook bean cakes on both sides until golden.
Serve with a sweet chilli sauce
Healthy Christmas Recipe #6 Gluten Free Gravy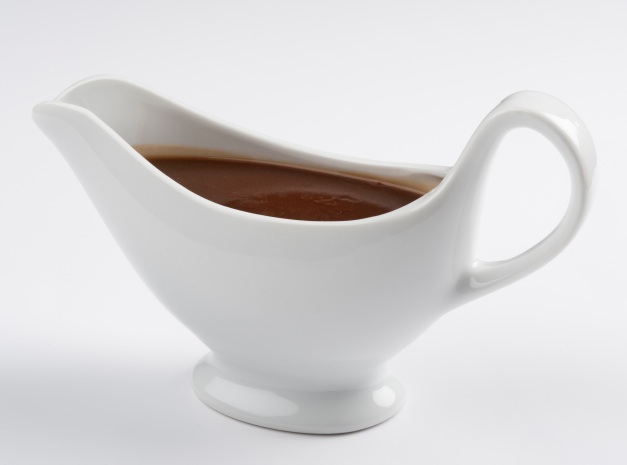 Gluten free Gravy is really simple – just use your favourite recipe and replace standard flour with cornflour. I always use red current jelly in my gravy. I tend to add the juices and fat of the meat to a saucepan (I find if you do this in the roasting tray you get a horrible smeechy smell in the kitchen) and heat gently, before adding the redcurrant jelly. I then add a tablespoon of cornflour and stir well, gradually adding my stock until it reaches the right consistency and that's it!
Healthy Christmas Recipe #7 Gluten Free Christmas Pudding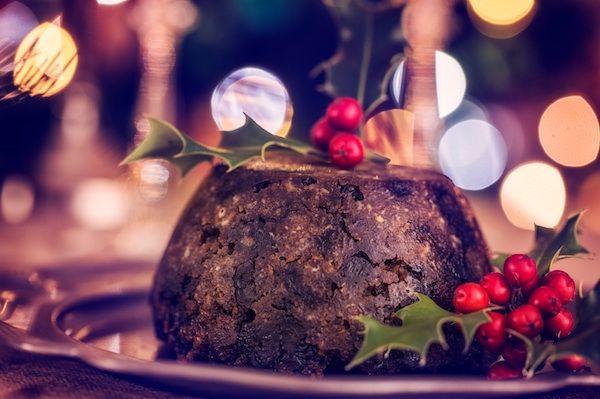 I love Christmas pudding and although I am not coeliac, I find that I do not tolerate wheat very well, so I tend to go Gluten Free whenever I can. I am a big fan of Dove Farm Gluten Free flours as they give me perfect results without messing around with a range of potato, rice or other grain flour. I always cook in my slow cooker but you could steam yours until cooked.
Ingredients:
3 tablespoons brandy
150g currants
125g raisins
125g sultanas
75g Doves Farm Plain flour
1 teaspoon ground nutmeg
2 teaspoon mixed spice
75g suet
150g dark brown sugar
25g almonds, roughly chopped
100g fresh gluten free breadcrumbs
50g mixed peel
1 small cooking apple, grated
Grated zest and juice of 1 lemon
2 eggs, beaten
Baking paper, foil and string
Method:
Soak your dried fruit in the brandy for a couple of hours or overnight.
Grease 1.2 litre pudding basin
Sift together the flour, nutmeg and mixed spice in a bowl
Add the suet, brown sugar, soaked dried fruit, almonds, breadcrumbs and peel. Mix well.
Add apple, lemon zest and juice and eggs. Stir well until all ingredients are well combined.
Pour into the greased pudding basin and cover with a greased round of baking parchment.
Take a square of foil, larger than the top of the basin; make a pleat in the centre to allow for any expansion during cooking.
Place over basin and seal well with string, making sure it is tight. It is advisable to make a handle with string to make it easy to remove the basin from the slow cooker.
Place pudding in the stoneware and pour boiling water three quarters of the way up the basin.
Cook for 8-10 hours on low, the longer the cook, the darker the pudding.
To reheat the pudding, place in stoneware with boiling water and reheat on high for 3 hours.
NB: The pudding may be made a few months before Christmas, stored in a cool dark place and occasionally fed with brandy.
More Healthista Content:
Could a £79 anti-ageing serum REALLY reverse damage to this woman's skin?
How to do hand reflexology for blocked sinuses and cold
Celebrity trainer secrets: PT to I'm A Celeb's James McVey reveals how he got him jungle ready
11 healthiest alcoholic drinks – a nutritionist's guide
Like this article? Sign up to our newsletter to get more articles like this delivered straight to your inbox.