Healthista Eats columnist Charlotte Dormon (@healthyeatslondon) shares one of her favourite summer restaurants – Laxeiro
Finding really good Spanish food in London has not been an easy feat for me over the years, with many a disappointing dining experience due to the restaurants being too busy, too overpriced, with  not enough gluten free options or menus that can be adapted to suit dietary needs. With that or they are just way too greasy and heavy for my digestion to deal with – and often a far cry from the quality you get when dining in Spain. That was until I discovered the hidden gem that is Laxeiro.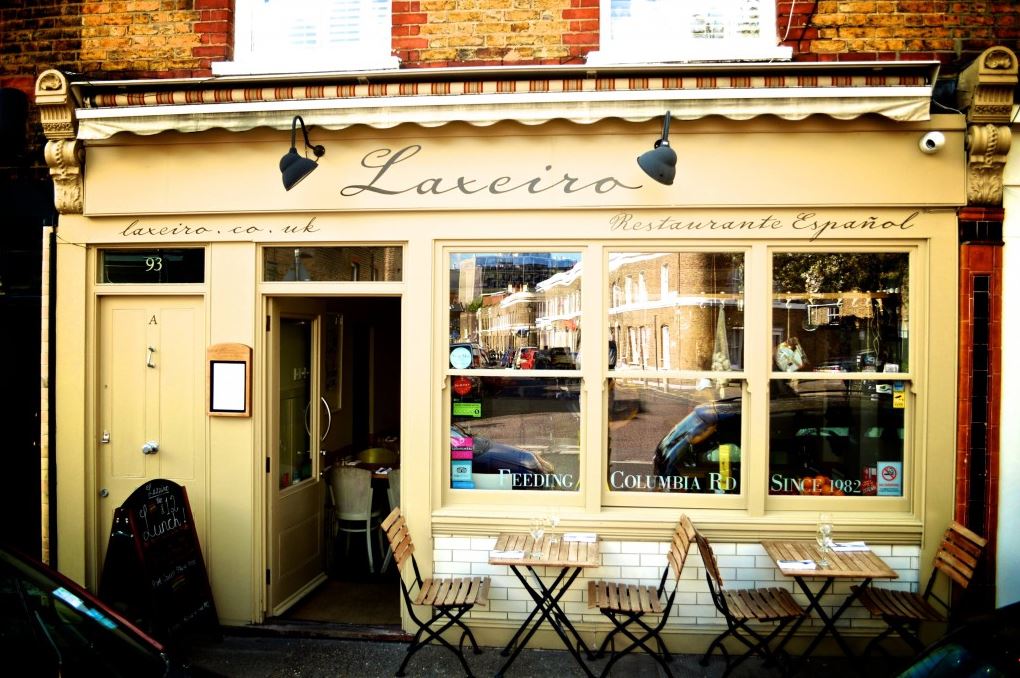 For over 35 years this passionate and talented, foodie loving family run business has been serving up their classic Spanish dishes to loyal fans and East London locals; some of which still come on a weekly basis to enjoy their favourite meal on the menu.
Venue?
Laxeiro – Columbia Road, East London 
What's hot & healthy on the menu?
Gluten free calamari rings made with chickpea flour and homemade garlic aioli, Barbequed courgette with Manchego cheese & honey, grilled Padron peppers, Barbequed sardines, Catalan style tomato bread with olive oil, Aubergine, tomato and peppers with fried egg.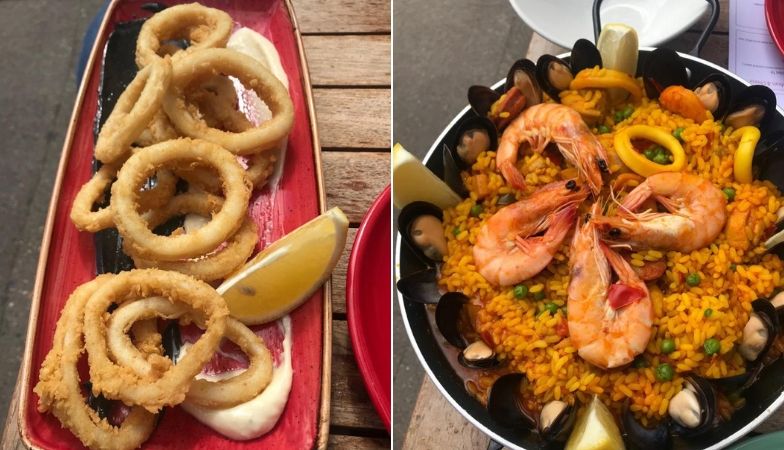 What makes them so special?
As well as the restaurant offering very decently priced dishes for the potion size you are given; the presentation and excellent quality of ingredients used in each of the dishes (especially noted in the taste and texture of the seafood) was, for me, what made it so outstanding. 
From chatting to the owners, Isabella and her son Edwardo, it seems they are very well connected with all the top food producers, fisherman, vineyard owners and food artisans across Spain; so  those magical flavours we often experience when travelling, are able to be recreated and enjoyed within a small restaurant in East London.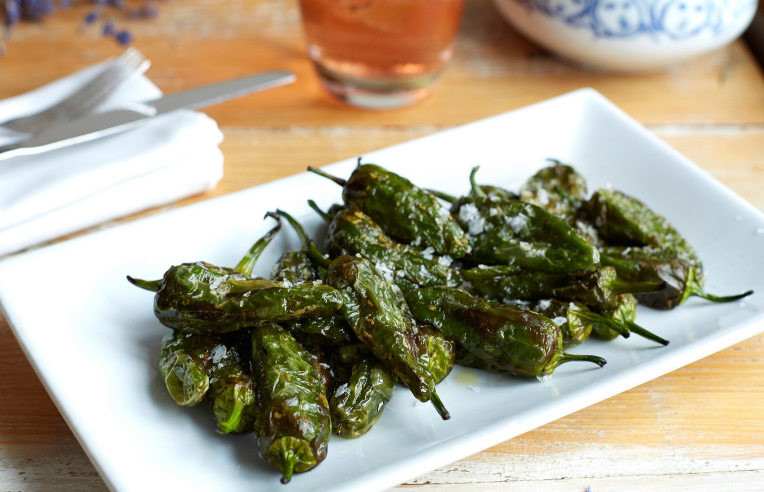 How did it taste?
As I have now been back about five times now and not stopped telling everyone about it, it's safe to say that I am giving it a 10/10 and suggesting you get down there ASAP.
I am a massive fan of simple dishes that use good ingredients that just taste great.  Which is why I adore a really good paella dish with a chilled glass of crisp white wine.  Sadly it's one of those meals that can be so very hit and miss. 
They are either too dry, too greasy, uncooked, not enough seafood, too salty, not enough flavour…the list can go on and on when it comes to my bad paella bad experiences. The same goes for calamari.  I wouldn't even like to recall the number of times I have been served deep fried overcooked calamari that, once eaten, (if you even can get that far), leaves you feeling bloated and queasy. 
Dining experience
Dining at Laxeiro has been a far better and very positive experience. My first time there was a sunny Sunday afternoon. I had gone for a stroll through Columbia Road flower market, purchased numerous potted plants to take home – as you do – then caught sight of a cute looking restaurant with a free table outside in the sunshine – how heavenly and lucky to get this in London – where I proceeded, along with my friend (who at the time declared he was not a huge fan of Spanish food), to order Padron peppers, a bottle of rose, paella and a beetroot and goats cheese salad. 
The experience from start to finish was amazing. As well the food being so delicious. The service was excellent and the staff were super knowledgeable about the menu, as well as being competent at selecting foods/adapting dishes to suit dietary needs – if you want no cheese to make it dairy free? It was not a problem.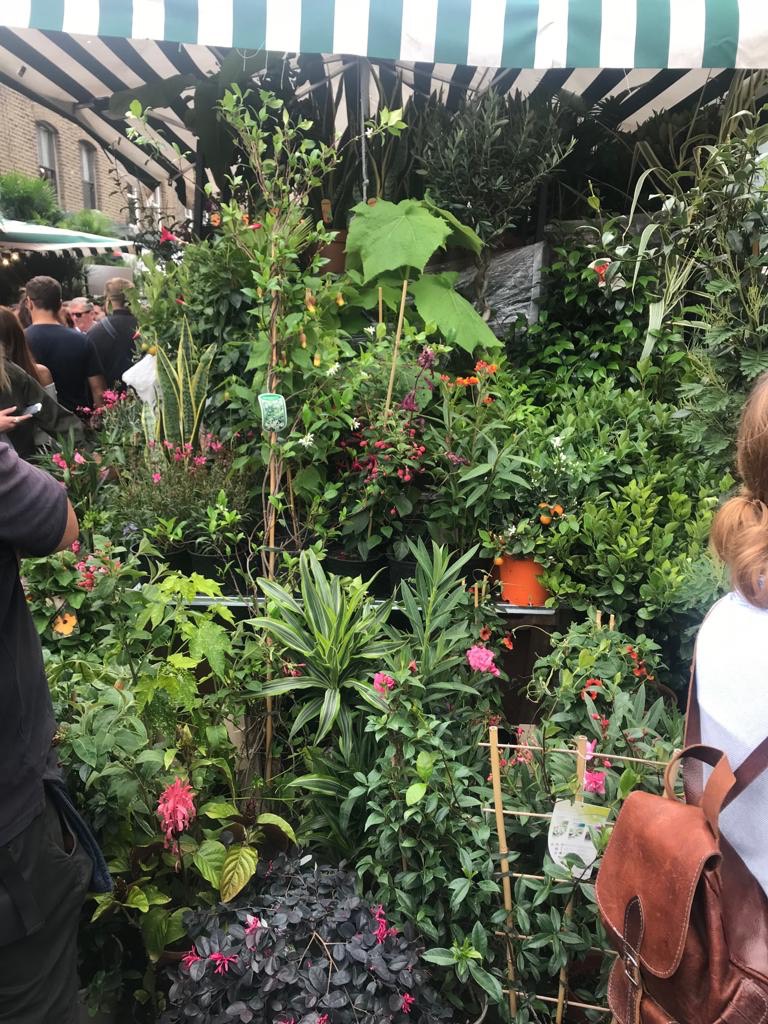 What's not to miss?
Do not miss anything, as it's all very good.  For me, as I can't eat gluten, I am rather obsessed with the calamari and also adore the veggie dishes and salads as well as the Spanish Tortilla – again, another dish that can often be disappointing elsewhere, was outstandingly good here.  Paella is an absolute must if you eat meat and fish.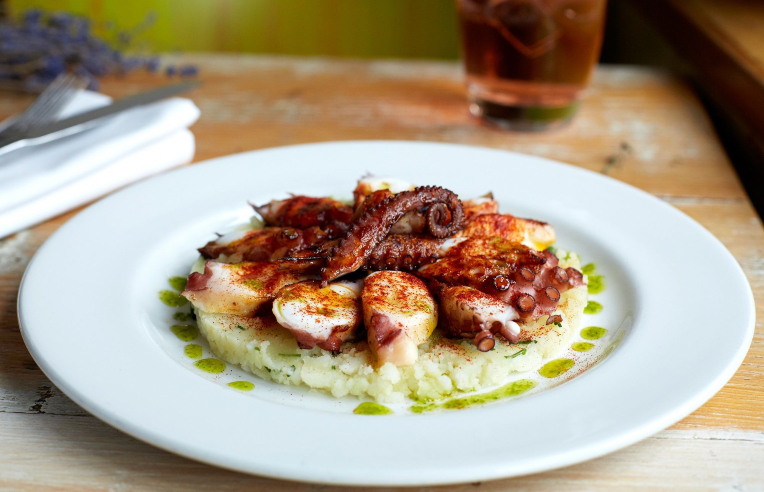 Who is it great for?
People that love Spanish food and tapas style eating. Paleo, keto, no grain, gluten free diets and carnivores. 
A great spot for fun family lunches, casual catch-ups with friends, first dates, nibbles and a bottle of wine in the sunshine and for lapping up the chilled vibes. 
What dietary needs can be catered for?
Vegetarians will be all good here as there are plenty of veggie dishes.  Vegan is not as easy unless you are happy to graze on salads and peppers. Gluten free is marked on the menu, but no GF bread options.
Dress Code?
Casual/smart and relaxed, or glam if you wanna go for it and deck your bod in a mini an high heels – no one will judge you here, in fact you'll probably be treated like the queen that you are. Otherwise trainers and jeans are cool, you are in East London after all.
Charlotte Dormon, Healthista's very own Healthista Eats blogger. She's not a chef, or even that much of a cook. If it's recipes you're looking for – you're in the wrong place.
But whether it's Sunday lunch or Friday night cocktails, she's the one friends and family turn to when they want to know how to eat out and be relatively healthy.
We'll drink – and eat – to that. Follow Charlotte on Instagram: @healthyeatslondon
More Healthista Content:
4 Celebrities who love Pilates
This guided meditation will improve your relationships
9 nut butter obsessed Instagram stars share their snack hacks
5 celebrities you didn't know had anxiety
Like this article? Sign up to our newsletter to get more articles like this delivered straight to your inbox.