Healthista Eats blogger Charlotte Dormon gives you the lowdown on London's best juice and smoothie bars to get your greens on the go
If you really want to kick-start your health resolutions this year, then I can tell you that going green should not just be for January.  Some of the most flawless faces and slim-line bods in showbiz (model Rosie Huntington-Whiteley and actresses Jennifer Anniston and Gwyneth Paltrow to name a few) swear that sipping on greens like kale, spirulina and spinach helps you feel good and look pretty all year round.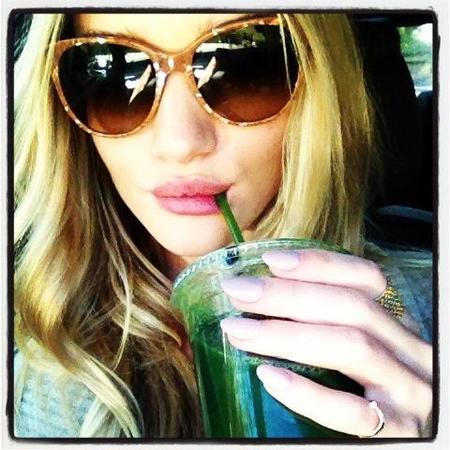 When it comes to detoxing, getting more greens is certainly the way to go.  It's not is just celebrities that love them; every nutritionist will tell you a good dose is vital for your health.  If you are trying to shift some of the festive seasons toxic clutter from your kidneys and liver, fresh greens contain specific nutrient compounds that will give you a helping hand to cleanse more effectively.
For overall health benefits the list is pretty endless, but in general, green vegetables are a valuable source of fibre, chlorophyll, essential vitamins such as vitamin K and C and minerals such as iron, boron, calcium and magnesium.  Green vegetables also help to alkaline the body, meaning your blood is less acidic and will keep your body in a healthier state.
Although pure fruit-based smoothies taste good and offer a great boost of vitamins, a number of health experts now warn that a they can be too high in natural fruit sugar (not the best when your trying to lose the love- handles) and when released quickly into the bloodstream (due to them being blended up into a liquid) this can play havoc with your hormones. If you're sensitive to sugar, they can make you crave even more sugary foods, as well as potentially making you want to overeat the wrong types of food later in the day.
Smoothies or Juice?  Although green juices are still good for you, personally I am not so much of a fan as they don't fill me up enough.  I prefer the creamy texture of a smoothie and find them far more satisfying as a snack between meals with some almonds or extra protein, or as a light breakfast/lunch before exercise.  But be aware that if you are looking for nutrition and not just taste, buying fresh is extremely important as heat-treated, bottled smoothies can sit in a supermarket chiller for over a week and are no way near as good for you as freshly made ones.
Fancy a gulp of fresh kale, spinach and spirulina to get your detox on the go? Here are a few of my favorite tried and tested places to get your greens.
1. Juice Tonic Organic Juicery (Soho)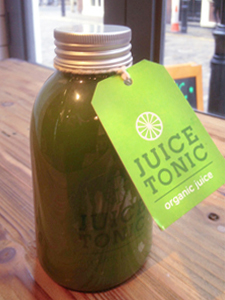 Fresh from California, this juice bar screams of health.  The owner of Juice Tonic (a nutritionist and health coach that has worked with some of the world's greatest detox masterminds) has put together a drinks menu that could fix almost every health problem.  From bloating and fatigue to a diminishing sex drive, there is a blend ready to get you on the road to good health.  Organic produce is a priority, which is good news for the purists. If you like to customise your drink with extra goodness then Juice Tonic has an abundance of green superfoods and botanical boosters they can throw in to pimp your blend.  For a little guilt-free indulgence, daily homemade raw food puddings can be found in the fridge, including sugar-free coconut and chocolate mousse and homemade goji berry and cocoa macaroons.  The bar is pretty tiny but has a few seats available for a quick sit down. It's not really ideal if you're looking to stay for a while.  My go green smoothie suggestion on the menu is the Green Power – freshly pressed organic apple Juice, pineapple, banana, kale, maca, hemp protein, spirulina, chia seeds, xylitol.  This rich green smoothie tastes exceptionally good, is full of protein, fibre and with the added maca and spirulina will give you a good dose of super-charged nutrition.
Prices start from £5.50 – Juice Tonic only has one branch at present and can be found at : 3 Winnett Street Soho, London W1D 6JY.  They also offer daily and weekly cleanse packages that can be delivered in Central London. Visit juicetonic.com for more information.
Here's a recipe for another the Green Giant smoothie from Juice Tonic founder, Marco Proietti. He's also kindly offered a 10 per cent discount for all Healthistas who visit the Juicery during January and mention this article.
STEAL THIS RECIPE: The Green Giant Smoothie from Juice Tonic to you
The fresh juice of 3 medium apples
A fifth of a medium sized pineapple
1 banana (frozen if you prefer)
2 leaves of kale (take out stem)
1 big handful of spinach
1 tbsp chia seeds
1 tsp spirulina
(All organic ingredients recommended)
Collect the juice of the three apples, (use frozen banana if you want more consistency), then put with all the rest of the ingredients in a high speed blender and blend for 40 seconds, or in a regular blender for 90 seconds. Then serve and enjoy. This super green smoothies gives you a good amount of natural plant antioxidants, essential omega-3 & 6 fatty acids, vitamins and minerals.
2. CRUSSH  (branches across London)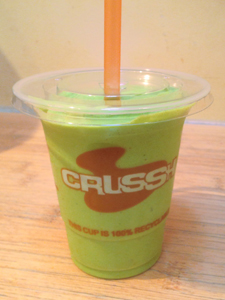 This popular chain of juice smoothie & food cafés first started 16 years ago when London hadn't really embraced this new concept of fresh smoothies yet.  I remember going in for the first time and being totally dazzled by this amazing place and trying my first-ever fresh berry-burst smoothie. There are now 25 branches across London whizzing up an assortment of delicious juices and super smoothies.  Just like Juice Tonic, they also have a big selection of super-boosters to allow you to fire up your health when needed.  As well having a specialist smoothie bar, CRUSSH has a number of good nutritional gluten-free and dairy-free lunch options that have saved me many times from serious hunger when stuck rushing around town.  In almost all branches there a number of tables to relax, making it a good place to stop and stay for lunch.  My go green smoothie suggestion is the Green Mintavado – spinach, avocado, lime, banana and soya milk with 98% fat free yoghurt or dairy free sorbet.  This rich and creamy smoothie is delightfully refreshing and reassuringly healthy, the frozen yoghurt and banana make it taste so much more indulgent – a little bit like a yummy green dessert.  The good fat in the avocado and protein in the soya is good to help slow down the release of the sugar in from the banana.
Prices start from £3.50.  Branches can be found across London – visit crussh.com to find your closest one.
3.  Wild Juicery (Covent Garden)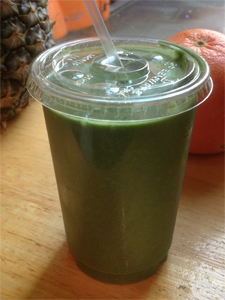 From the first day of this juice bar opening I fell in love.  This bohemian little bar in Neal's Yard has created some of the wildest and yummiest smoothies I have ever tried.   When it comes to getting your dose of greens, I rate this place very highly for giving you the ultimate hit. The founder of Wild Juicery is not only seriously passionate about giving his customers good nutrition that tastes great, but has over 15 years experience of working with healing wholefoods, herbs and natural medicine.  It gets very busy in here and there are only a couple of seats by the entrance, so its better to come by to grab and go than to sit and sip.  As well as a vast menu of drinks to choose from, they have a specialist range of artisan raw savory foods, such as crackers and nut butters and the homemade raw chocolate truffles are so good that I cannot even begin to tell you. My go green smoothie suggestion is the Green Incredible – apple, celery, lemon, banana, kale, fresh coconut, fresh aloe vera, fresh Irish moss, and Wild Juicery's own greens powder.  This combination is amazingly good and has many health benefits.  You would think with some of those ingredients that is would not be as palatable as you would wish for, but it really is quite the opposite. This smoothie is both cleansing and healing for your digestive system and tastes delish.
Prices start at £4.80. Wild Juicery only has one branch at present, which can be found at 16a Neal's Yard, Covent Garden, WC2H 9DP. They also offer daily and weekly cleanse packages that can be delivered around London.  Visit wildjuicery.com for more information.
4. Pure (branches across Central London and The City)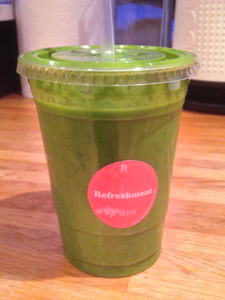 A bit like CRUSSH, Pure café has put together a menu that offers a lot of good things for those wanting to eat healthy on the go. Pure's main USP is the salad selection. At lunchtime it is heaving with customers queuing for their freshly prepared, well-dressed salads.  Although they never started off with a juice & smoothie bar, it seems demand has driven Pure to start and they have recently added a number of fresh green blends to the list.  As there are plenty of tables available, I often head here for lunch meetings, or just as a place of refuge to eat and get five moments peace from the busy office. My go green suggestion is the Go Green – kale, avocado, spinach, apple, orange, mint.  The avocado gives a wonderful creamy texture to the smoothie and although you have a pretty big load of kale and spinach inside, the apple and orange give it a very subtle sweetness alongside the refreshing addition of mint.  Although ingredients used are not as high quality as those found in Wild Juicery or Juice Tonic, it tastes great and certainly hits the health spot when needed.
Prices start at £3.90. Pure has six branches across central London, but also offers a delivery service. Visit pure-madeforyou.co.uk to find your closest one.
5. Joe and the juice (branches across Central and West London)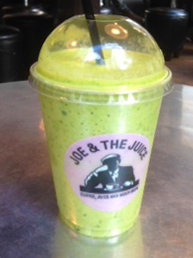 This juice bar has a unique, cool vibe that makes you want to keep going back for more. Joe & The Juice was first founded in Sweden and has now expanded in mass across Germany, Iceland and other parts of Europe and, from what it seems, has gone down very well with us Londoners.  It's far more of a place to hangout than somewhere you would just go to get your quick drink health fix.  If I am not meeting someone to drink booze, eat food or grab a coffee, then I like to meet up at Joe & The Juice. Unlike the other juice pickups I have mentioned, it has much more of an upbeat, lively atmosphere, good music and bar staff that ooze that certain type of laidback cool. Seating is comfortable and there is plenty of space to work, chat, relax and chill out. As well as a selection of wholegrain rye bread sandwiches to eat, the juice and shake choices are a plenty. They are not great for green smoothies as the others, but my go green suggestion to try is the 'Arth, Away' – spinach, pineapple and apple.  To make it more of a smoothie rather than a juice, I ask them to add extra avocado to provide me with good fats that I know keep me full.
Prices start at £3.85 and extras at 20p each. Joe & The Juice is also open in the evenings, so ideal for a late night detox date.   Visit joejuice.com to find your closest one.
 RELATED:
The Healthista team's live January 7-day juice fast
READ MORE HEALTHISTA EATS
HEALTHISTA EATS Designer vegan
HEALTHISTA EATS The 5 best gluten free afternoon teas
HEALTHISTA EATS Quick hot lunch 
HOW to eat PIZZA without the bloat
Have a HAPPY NEW YEAR with these skinny cocktail recipes we stole from London's hottest bar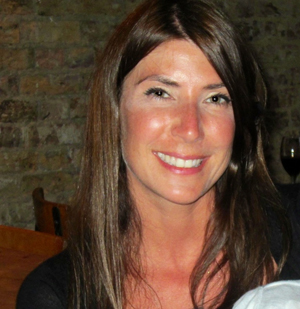 CHARLOTTE DORMON is our Healthista Eats blogger.  She's not a chef, or even that much of a cook.  If it's recipes you're looking for – you're in the wrong place.  But whether it's Sunday lunch or Friday night cocktails, she's the one friends and family turn to when they want to know how to eat out and be relatively healthy.  Each week she'll now be bringing you the same insider knowledge.  We'll drink – and eat – to that. Follow Charlotte on Twitter @lottielurvsu
Like this article? Sign up to our newsletter to get more articles like this delivered straight to your inbox.