Ditch the Irish potatoes for sweet potatoes and you'll never look back.  Healthista's lunch queen Ony Anukem brings you a healthy lunch recipe of vegan black bean, avocado and sweet potato salad with lime dressing recipe 
Last week I shared my Super Green Spinach Mayo Tuna Pasta Salad, so I thought it was only fair to share my alternative potato salad recipe too. Growing up potato salad was a regular side in my household as it was one of my dad's favourites. A typical summer dish would be something like: ham and cheese quiche served with dollops of pasta salad, potato salad and a sprinkling of green salad – and though we thought we were being super healthy, but we were easily consuming in excess of 800 calories thanks to all the cream, cheese and fatty meats. Thankfully, I have learnt the secrets of substitution and instead of creamy potato salad with egg and bacon – I now have black bean, avocado  and sweet potato salad with lime dressing.
we thought we were being super healthy, but we were easily consuming in excess of 800 calories
I love sweet potatoes and after I found out last week that they count as a portion of my 10-a-day, I started to love them a little bit more. They are versatile, warm and best of all for a sweet fiend like me – they satisfy my craving. Best of all each serving is only 251 calories and it is so delicious and filling; so I leave the creamy potato salad with egg and bacon as annual treat (because I believe all things are good in moderation and if they aren't well, who cares?).
More: How to get your 10-a-day without REALLY noticing
Serves: 4
Prep Time: 15 minutes
Cooking Time : 30 minutes
Ingredients
1 can of black beans, drained and rinsed
2 handfuls of chopped fresh coriander
1  can of sweetcorn, drained
3 large sweet potatoes peeled diced into cubes
1 large ripe avocados, cubed
1 tbsp coconut oil
2 tsp sweet paprika
1 teaspoon cayenne pepper
For the dressing: 
The juice of 2 limes

3 tbsp extra virgin olive oil

2 teaspoon agave nectar

Sea salt and freshly ground black pepper to taste
Instructions
Start off by pre-heating the oven to 200°C.
Then grab your sweet potato and place it into in a large bowl, at this add a tablespoon of olive oil, the paprika and the cayenne pepper. Mix well to ensure that the potatoes are evenly coated then transfer onto a baking tray lined with baking paper and roast for approximately 30 minutes until soft.
Place the black beans, the sweetcorn, the avocado and the chopped coriander in a large salad bowl and tip in the roasted sweet potato chunks.
Prepare the dressing by mixing the lime juice with the olive oil, the agave nectar and seasoning to taste with sea salt and black pepper.
Add the dressing to the salad and toss to mix. Enjoy!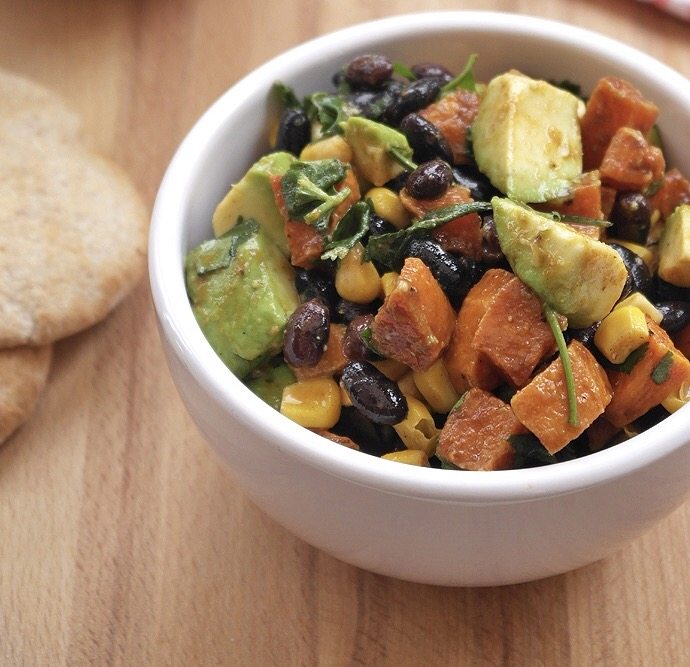 Thinking of trying it out? We would love to see how to you get on with this vegan black bean, avocado & sweet potato salad, upload a photo to Twitter (@healthistatv) or Instagram (@healthistatv) and tag us in your picture with the hashtag #HealthistaLunch. 
Read More Healthy Lunch Recipes from Ony:
Vietnamese noodle soup (chicken & egg)
Falafel and Hummus Quesadillas